Support TFG by using the links in our articles to shop. We receive a small commission (at no extra cost to you) so we can continue to create helpful free content. As an Amazon Associate, we earn from qualifying purchases made on Amazon in addition to other retailers featured on the blog. Thank you, we appreciate your support!
One of the most frequent questions travelers ask is "what is the difference between a travel adapter and a converter?" If you're wondering, we have the answer! Plus, we're sharing our pick for the best adapter for travel. Keep reading to find out!
---
Travel Adapters and Voltage Converters
---
Table Of Contents
One of the most confusing topics that I hear about in the Travel Fashion Girl Facebook group is the difference between travel adapters, converters, and voltage. What is a travel adapter? What's a travel adapter versus a converter? What does dual voltage mean?
We've covered some of the basics about travel adapters versus voltage converters here, but I'm covering all of those topics in more depth, along with sharing the best adapters and converters so you can finally feel stress-free about traveling abroad.
Read this easy guide on voltage converters vs travel adapters for a simplified explanation!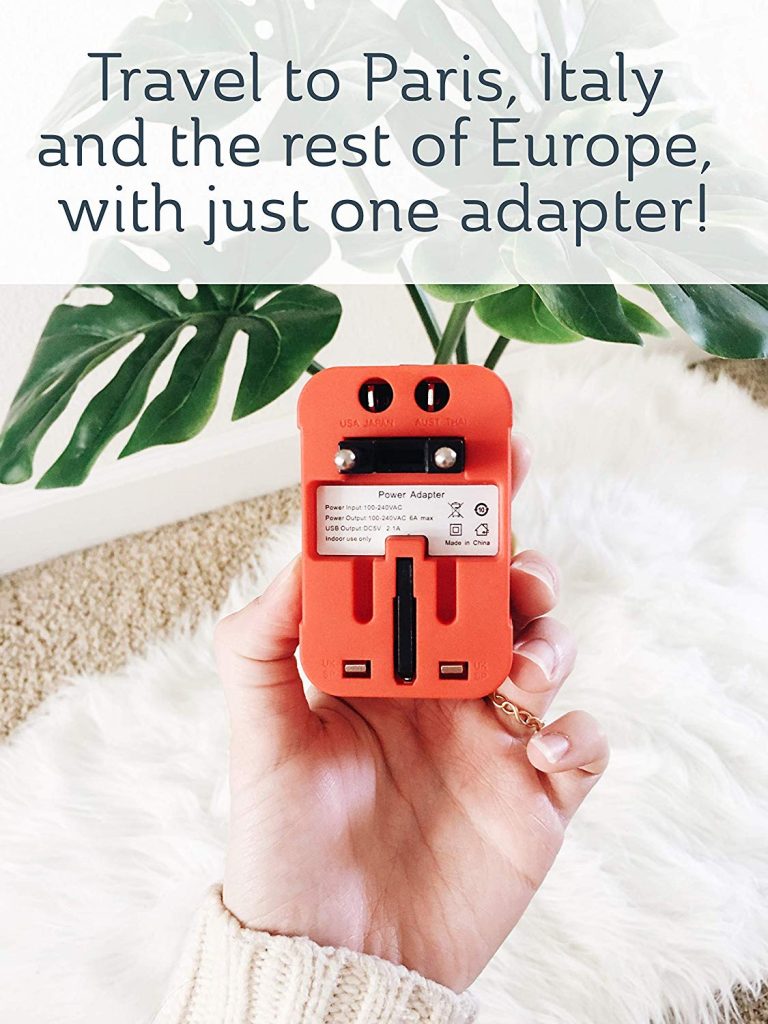 What is a Travel Adapter?
First, let's start with the basics. A travel adapter is a device you use to adapt your plugs. What we mean by this is that it allows you to use your U.S. two or three flat prong hair dryer in the U.K. where the outlet has two or three round holes.
You plug your U.S. device into the adapter, which then plugs into the U.K. outlet. It's like a Lego piece that you add on to make everything fit together.
Just remember, not all countries use the same plugs. Additionally, some countries do use the same outlets, so you may not even need an adapter, depending on where you're going. If you're from the U.S. and are visiting Mexico or Canada, you won't need an adapter.
There are a few different types of adapters, including ones that only work for one country and universal adapters, which work across multiple continents. The best travel adapters are those that are compact and easy to use, so check out our recommendations below.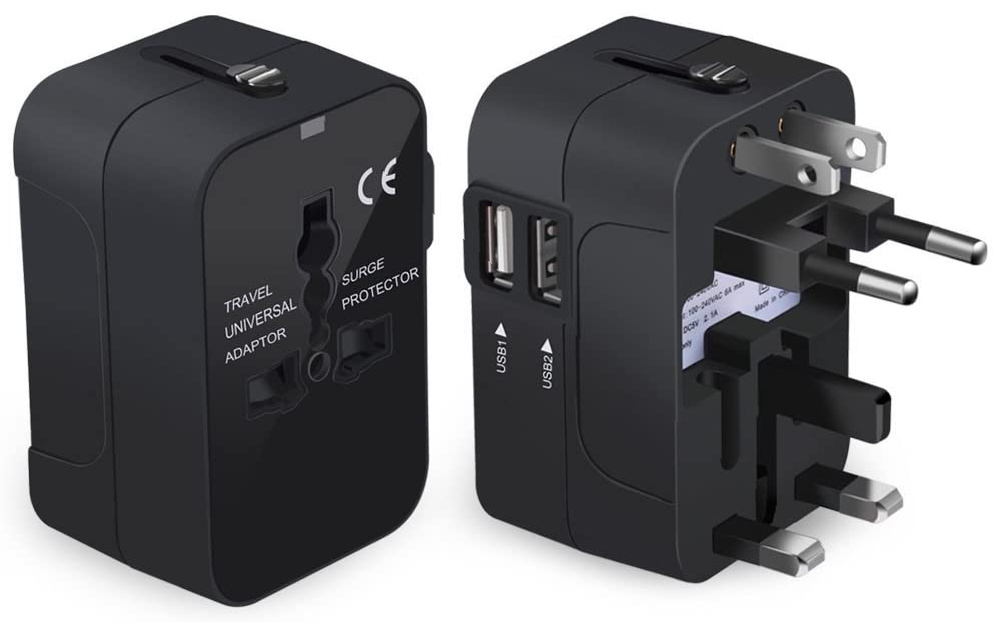 Best Universal Travel Adapter: Newvanga Travel Adapter
The Best Universal Travel Adapter
If you're traveling to multiple countries in Europe or around the world, for example, you'll want to bring a universal adapter, which is much easier than taking several different adapters for each country. I think the best travel power adapter is one that works internationally, even if you're only traveling to one country. You never know when you'll need it!
A universal travel adapter means you can plug in a variety of different plugs, whether it's from the U.S., U.K., or other country. You can use it when you're traveling to a variety of regions around the world. You can charge 3 devices at once and use it in over 150+ countries. 
Orei U2U-7 OREI Travel Plug Adapter
The Best Single Travel Adapter
If you're only traveling to one country and want to keep your luggage to a minimum, you can a smaller travel adapter that just has the attachment you need for that one country.
For example, this is a great compact option that works if you're traveling from the U.S. to the UK. Plus, it's inexpensive and features two USB ports along with the standard plug, making it the best travel plug adapter.
Apple World Travel Adapter Kit
The Best Mac Travel Adapter
I love traveling with the World Travel Adapter Kit from Apple. I use it for my Mac laptop when I'm traveling. All I have to do is switch out an adapter piece and use the one for the country I'm in and then plug the charger cord into the outlet. It's so easy to use and doesn't take up a lot of space.
This adapter also makes it easy to charge multiple devices. What I do is plug in my laptop – even if it's already charged – and then use the USB ports to charge several of my other electronics, such as a camera and phone. I can maximize wall space and only use one plug to charge three devices. I think this is the best travel adapter for Europe when it comes to charging Mac products.
Mogics Bagel Universal Travel Power Strip
The Best Power Strip Adapter
If you're traveling with a partner or have multiple tech items, our readers love the Mogics Bagel, a universal travel power strip. One reader says, "it fits in the palm of your hand, and is fairly lightweight."
This small, circular power strip has five outlets and 2 USB ports. The circular shape is so innovative, as it allows you to plug in all devices in at once without any cord tangles. It's small enough to fit in a carry-on bag or even a handbag to take with you everywhere.
AmoVee 2 in 1 Flat Iron Curling Iron
What are Voltage Converters?
In addition to making sure the plug fits (with an adapter), you have to make sure the voltage matches, which is where a travel converter comes into play.
Take a look at your hair dryer or curling iron, for example. On the tag or cord, it should show a number, such as 110 or 220. This is referring to what voltage it is. If your device is 110, you have to be careful about plugging it into a socket designed for 220, and vice versa.
If your device is 110 voltage and you're traveling to a country with 240 voltage, you use a converter to "convert" the voltage amount. Going back to the Lego reference, you now need two Lego pieces to make everything fit, instead of one. Your adapter goes into the socket, the converter goes into the adapter, and your device goes into the converter.
These are the five best travel curling iron options for domestic and international trips!
Foval Power Step Down 220V to 110V Voltage Converter
The Best Converter
This converter is a best-selling option when you need to convert from 220V to 110V, and includes a 4-Port USB international travel adapter so you have everything you need to plug in your electronics.
Key Power Voltage Converter & International Travel Adapter
The Best Travel Adapter Converter
One reader recommends this converter kit as the best travel adapter and converter, saying "I'm in Italy right now and I brought this converter kit. It's been great!"
This all-in-one international converter and adapter is not only the best travel adapter for Italy, but it can work with 220V, 240V, 110V, and 120V so you can use your U.S. electronics all over Europe, Asia, the UK, and beyond.
BaBylisspro Tourmaline Titanium Travel Dryer
Do I Need a Converter if My Device is Dual Voltage?
If you look at a device and see a range of numbers, such as 110V-240V, that means it's dual voltage. You can use that device in any socket that ranges from 110 to 240 voltage, so you could use your device in the U.S. and in European countries without a converter.
Just remember, you might still need to use an adapter!
I find that converters can be a pain to deal with, especially as you already need to use an adapter. I prefer to travel with dual voltage devices, instead. I always bring my dual voltage hair dryer. For me, it's a travel essential and because it's dual voltage, I don't need a converter, I only need an adapter.
There is one key thing I've noticed many people miss when it comes to blow dryers. So often, I hear about issues with hair styling tools when traveling abroad, and that's really because of one big reason: the manual switch.
Some hair dryers are dual voltage but they require you to "set" the voltage with a switch. Check to see if your device has a switch. You may need to change it depending on your location's voltage. Most modern electronics don't have a manual switch and will automatically adjust to the right voltage.
Here's the best travel hair dryer with dual voltage!
Do I Need Both an Adapter and Converter When Traveling Abroad?
Let's quickly recap everything. A travel adapter lets you plug a device into the outlet in another country. So, if you're from the U.S. with a U.S. device, you'll need an adapter to plug it into an outlet in any countries outside of North and South America.
However, an adapter doesn't convert voltage. If your device isn't dual voltage, you will need an adapter and a converter. But as I mentioned before, I highly recommend using a dual voltage device so you don't have to deal with a converter.
Most modern electronics, like iPhones, iPads, and Kindles, are dual voltage, but always double check to make sure.
Find out what's the best reading device for travel!
---
Do you have a recommendation for the best travel adapter? Comment below!
---
For more tips on travel accessories and technology, please read:
---
LIKED THIS POST? PIN THIS PIC TO SAVE IT!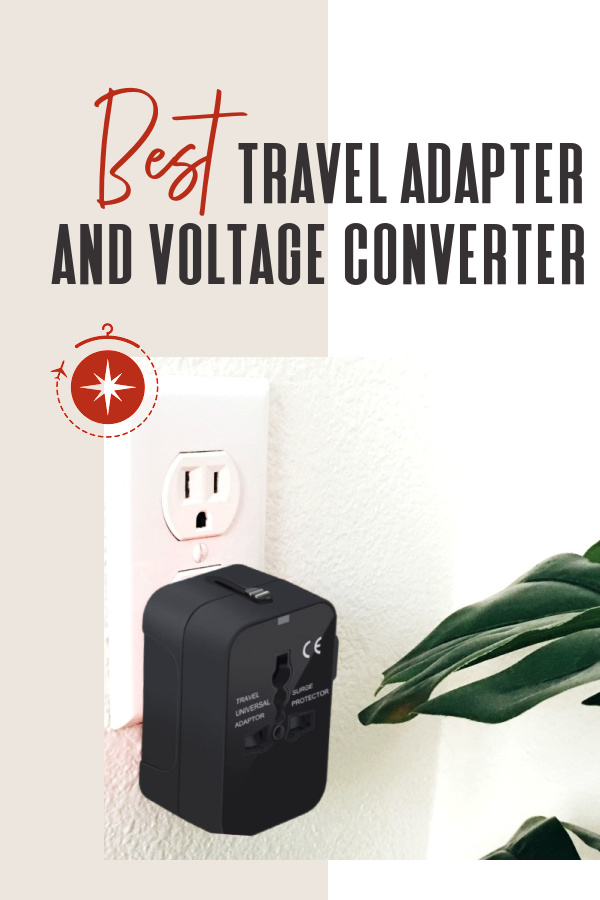 ---
Hope you enjoyed this post on the best travel adapters. Please share it with your friends on Facebook, Twitter, or Pinterest. Thanks for reading!
---