Support TFG by using the links in our articles to shop. We receive a small commission (at no extra cost to you) so we can continue to create helpful free content. We earn from qualifying purchases made to the featured retailers. Thank you, we appreciate your support!
Milan is one of the fashion capitals of the world and a beautiful city to add to your tour of Italy. Here are our tips for what to wear in Milan this season!
For more ideas on what to wear in Italy, please read this Ten Step Italy Packing Guide!
---
What to Wear in Milan: A Year-Round Packing List
Written By: Maggie Fogg and Lola Mendez
---
Milan holds the title of the most fashionable city in Italy, and one of the top stylish locales in the world. Both locals and tourists help maintain the chic ambiance that oozes from every street corner in the city.
Milan is also recognized as the main sartorial hub of the country – meaning it's Italy's primary location for style of dress, tailoring, clothing production and fashion design. The history of fashion, textiles and design in Milan was established in the late 19th century.
Despite taking inspiration from Parisian couture at the time, Milan fashion developed its own approach and produced a number of important designers throughout the 20th century.
Read our complete Italy packing list for more tips!
Milan Clothing Style
This city is a European hub of fashion, which should be remembered when choosing what to wear in Milan. As a result, the style in Milan tends to be dressier certainly than North America, and generally more cutting edge than other parts of Europe. From day to evening, Italians dress to impress when they're deciding what to wear in Milan.
The style is well-tailored certainly, but often focused around statement-making pieces: an intricately designed lace-up pair of leather boots, a well-cut coat, with fanciful detailing, like faux fur trim, or hand-embroidered accents.
Find out why leather boots are some of the best travel shoes to Europe!
In Milan's history, fashion has been regarded as both a mark of creativity and a measure of status; there is a lingering of both of these sentiments today. Locals embrace their unique sense of fashion that combines timeless style with edgier pieces. Milan style isn't quite punk, but not altogether sophisticated either, it's a little bit rough around the edges, and entirely glamorous.
Satirical street style stars don't only come out to play during the Mercedes Benz Fashion Week, which is held in September and February each year. You can get outfit inspiration from the bella Italian ladies who stroll these ancient streets any time of year. There is no shame in mimicking looks that inspire you, so take notes for your capsule wardrobe!
Try some of these Italian outfits if you're heading to any of these cities!
Dress | Bag | Earrings | Top | Boots | Tights | Coat | Sneakers | Pants | Sunglasses | Umbrella | Scarf | Flats
What to Wear in Milan in Spring
By March, the weather in Milan takes a drastic turn from cold and rainy to bright sunny days. Flowers begin to bloom and the city becomes enjoyable to stroll around. Rain showers are still possible so it's wise to keep a compact umbrella on hand.
March temperatures tend to stay around 14°C/48°F, April heats up to 17°C/63°F, and summer begins to creep in during May when days are typically 21°C/70°F.
Start by reading these general tips on packing for spring travel:
Milan Spring Packing List
There is so much to see in Milan that you'll likely leave your hotel early in the morning and head back late at night so you'll want to curate outfits that can easily go from day to night. As temperatures are still fresh, leather leggings, tailored trousers, and sleek dark denim are staples to pack for bottoms.
Sophisticated patterns like paisley, plaid, stripes, and subtle florals are great to mix and match in your top selection and pair well with neutral bottoms. Stick with shoes you can actually walk in like over the knee flat boots, stylish sneakers, and foldable ballet flats.
We've got a round up of the most comfortable and the best ballet flats to wear at home and abroad!
Many women in Milan brave the elements and wear high street dresses and high heels, even in the middle of the morning. Don't feel pressure to recreate this look, though.
High heels and walking for miles are not a good mix. Instead, pair your favorite girly frock with a low heel ankle bootie or motorcycle boot to give your look some edge. If you love to wear dresses and skirts make sure to pack tights, especially for cooler evenings.
Take a look at these skirt outfits to learn how to wear them in cold weather!!
During the spring, the weather can still be a bit sporadic, so while you don't need a heavy coat it's still good to pack some layering options so you can stay comfortable as you explore the city.
A lightweight leather motorcycle jacket, classic denim jacket, or traditional khaki trench are great outerwear options for spring in Milan.
Find out why and how to wear a leather jacket on your next trip!
Dress 1 | Sunglasses | Bag | Top | Hat | Dress 2 | Sandals | Watch | Pants | Earrings | Necklace | Flats | Cardigan | Lipstick
What to Wear in Milan in Summer
Summer in Milan guarantees balmy sunny days that require a double dose of daily gelato. Summer brings in temperatures that range from 25°C-31°C/77°F-88°F.
This season is typically drier but because of the tropical heat, it is very important to stay hydrated and take breaks from the sun whenever you're feeling overheated.
Start by reading these general tips on packing for summer travel:
Milan Summer Packing List
Have fun with your outfit planning when packing for a summer trip to Milan. Make sure to toss in a floral frock and breezy white cotton sundress along with some mix-and-match pieces.
Although summer can be scorching, Milanos never really show a lot of skin. If you're going to pair a crop top with a mini skirt, wear a thin duster cardigan over the top to balance out the look. Avoid packing thick fabrics, and even denim could be too heavy to wear in the summer. Denim shorts aren't really worn in Milan–pack culotte pants that are just as light to wear.
For added versatility, these are popular convertible travel dress styles!
Summer in Milan is a time to show off all of your fabulous accessories. Over-the-top floppy hats, small yet stylish cross body bags, and cat-eye sunglasses are all purposeful pieces that will also enhance your outfits. A great rose-gold watch will keep you on schedule when running around and site seeing.
Make sure your shoes are comfortable as you're going to be on your feet walking and standing a lot. Leave your plastic flip-flops and Birkenstocks at home. Go for high-quality leather strappy sandals and slide on mules. Packing cubes make the perfect shoe bags to protect your luggage from dirty shoes.
Here are comfortable walking sandals that are stylish, too!
Coat | Dress | Bag | Tights | Blouse | Flats | Sweater | Beanie | Pants 1 | Scarf | Pants 2 | Palette | Lipstick | Sunglasses | Earrings | Boots
What to Wear in Milan in Fall
The weather slowly plummets in the fall from the soaring summer temps. As per all seasons in Milan the weather can be seriously temperamental so always be sure to check the forecast before you head out for the day.
You can expect temperatures to be around 18°C/65°F in September, cooling down to 15°C/59°F in October and getting brisk in November at 12°C/53°F. At night the temp gets much cooler throughout the season.
Start by reading these general tips on packing for autumn travel:
Milan Fall Packing List
Late September brings Mercedes Benz fashion week to the city along with the top fashionistas from around the globe. Even if you can't enter any events, just witnessing the fashion spectacles on the street is a memorable experience.
To stand out, avoid wearing all black and opt for luxe fabrics like velvet pants, jewel-toned colors like a faux fur burgundy jacket, and a unique handbag that will stand out with fascinating metal hardware and bold colors.
Looking for ethical clothing that you can wear at home and on your travels, too? Find out what they are!
Outside of fashion week, fall is still a fun time to dress for Milan. Cooler temperatures mean more opportunities to layer. As you'll be heading in and out of famous museums, cafes, and sites you'll want to layer smartly as to not be too hot indoors, or too cold outside.
Most places will have a free coat check so don't worry about carrying a jacket. I always stuff my beanie and scarf into a sleeve of the jacket so I don't have to make room for them in my purse.
Here are a few trench coat outfits to inspire your travel wardrobe this season!
Coat | Blouse | Top | Scarf | Sweater | Lipstick | Tights | Skirt | Vest | Bracelet | Jeans | Earrings | Boots | Bag
What to Wear in Milan in Winter
The winter weather can be quite drab and foggy, which will impact your decisions on what to wear in Milan. Particularly at night, the temperature can drop, leaving visitors feeling quite chilly.
In the months of December and January, average temperatures hover around 3 or 4°C (37-39°F), with an average high of 7°C (45°F) and average lows in and around the 0°C mark (32°F). February is slightly milder, with an average temperature of 6°C (43°F), with an average high of 11°C (52°F) and an average low of 1°C (34°F).
Start by reading these general tips on packing for winter travel:
Milan Winter Packing List
Key pieces for what to wear in Milan in winter include beautiful leather pieces, like a figure-flattering leather pencil skirt.
A modern, high-waist style is ultimately very flexible, and can be paired with sweaters, blouses, simple shells – and even crop tops, if you are so inclined. If you don't already own a leather pencil skirt, Milan would be a great city to invest in this wardrobe essential.
Read this post specifically on what to bring to Italy in winter!
Opting for well-cut sweaters made of beautiful materials like cashmere or merino wool are a stylish choice for winter in Milan as well. Look for styles with interesting details, like a wide boat-neck or off the shoulder style, a chic bell-sleeve, or an interesting and figure flattering gather or tie detail.
Layering pieces are also important for a climate like Milan's winter, as well as offering more versatility in your outfits throughout your trip. A fashion-forward and cozy vest would be a great addition to your packing list. A cape or heavy wrap is also an incredibly stylish way to stay cozy, warm and comfortable in Milan without looking too casual.
The secret to packing light in winter is thermal underwear for women – find out why!
Jeans are always a go-to staple for travel, so if you aren't sure what to wear in Milan, go for these. Italian denim tends to again be on the fashion-forward side, frequently with interesting details.
Finally, a classic wool coat to keep you warm throughout your trip is essential. Opt for a style that is relatively versatile and basic so that you can wear it throughout your trip, but is stylishly cut, perhaps with a belt, flattering and has a unique and fashionable aspect, like faux-firm trim.
Find out why merino wool clothing is the best for travel!
As for shoes, leather rules in Italy, so it should be included when choosing what to wear in Milan. Opt for sturdy, yet stylish boots and shoes in the winter months.
Although it's not particularly snowy or rainy in Milan, if you are packing leather-made footwear, ensure that you have treated it with a protective solution for the winter months.
Find out what's the best women's waterproof leather boots!
Milan Accommodation
We love Airbnb for accommodation in Milan and other parts of Italy. Sign up here for a free $40 credit!
I prefer to to book "the entire home" instead of opting for shared accommodation on Airbnb. Aside from safety, I also like to feel like I'm living in the destination. It's a small taste of local life plus you get more amenities than you would at a hotel such as a kitchen and washing machine.
If you prefer the convenience and comfort of a hotel room, I like using both Agoda.com and Hotels.com. Tip: Hotels.com gives you a free night for every ten nights you book!
For hostels, we recommend Hostelworld and Hostelbookers. Always read the reviews before booking to get the best idea if the hostel is right for you. Some are quiet and family friendly while others are known for their party atmosphere.
Milan Transportation
For flights, we like booking through Travelocity or Cheapoair (whichever one's cheapest). One bonus is that Travelocity has a 24 hour money back guarantee.
To maximize your vacation time, fly into the city where you're starting your trip and out of the city where your trip ends. Many times it's the same price and saves you from having to spend extra time and money to go back to where you started your trip.
Once you're in Milan, there are several ways to get around the city, including the subway, bus, and tram. Whichever option you prefer, they all connect across the city center, so it's easy to get to wherever you want to go. It's also a lot cheaper than taking a cab.
Milan Must-See Sites in Winter
If you're a music lover, schedule your trip so you're there during La Scala's winter season opening night, which is generally in early December. Even if you don't buy tickets to an event, the famous opera house is beautiful and worth a visit to see the architecture. Along with opera, ballet performances are very popular, so try to catch a show.
Winter is also a great season for walking around the streets of Milan, which are decorated with Christmas decor. You won't be able to resist the holiday cheer!
For something more athletic, Milan is near a number of ski sites. Whether you're a novice or expert, there are plenty of resorts you can visit to hit the slopes.
These are other destination-based articles for Italy:
And a few popular Italy guidebooks: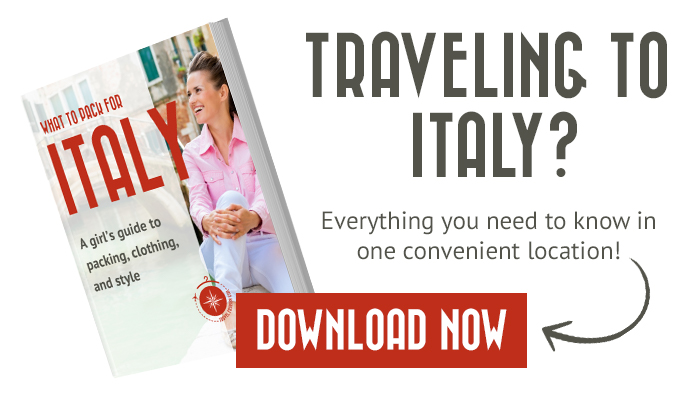 ---
What are your tips on what to wear in Milan? Share in the comments!
---
For more ideas on how to pack for Europe, please read:
---
LIKED THIS POST? PIN THIS PIC TO SAVE IT!
---
We hope you liked this post on what to wear in Milan. Don't forget to share the love on Facebook, Twitter, and Pinterest. Thanks for reading!
---
Author Bio: Maggie Fogg is a full-time traveler and writer. She left Toronto with a one-way ticket to Spain and has been making her way around the globe ever since. Currently, you can find her dancing and hiking her way around South America. Follow Maggie on Instagram.
---
Author Bio: Lola Méndez is a full-time traveler sharing her adventures on Miss Filatelista as she adds to her collection of passport stamps. She travels to develop her own worldview and has explored 46 countries. Passionate about sustainable travel, she seeks out ethical experiences that benefit local communities. You can follow her on Facebook, Instagram, and Twitter.
---