Support TFG by using the links in our articles to shop. We receive a small commission (at no extra cost to you) so we can continue to create helpful free content. Thank you, we appreciate it!
When you're visiting a hot weather location, there's nothing better than wearing a dress. It's less constricting than pants and more comfortable than shorts. We've compiled the ultimate list of what our readers rank as the best dress for hot weather travels. Find out which dresses made the list and add them to your wardrobe for your next trip.
---
Best Dress for Hot Weather Travels
---
Travel Fashion Girl help! A reader asks:
I'm looking for the perfect warm/hot weather travel dress. Roughly knee length, wrinkle resistant, not tight, not sleeveless, versatile. Who has a favorite?
Dresses are a travel essential when you're visiting a hot weather location. But dresses can also be one of the more challenging fashion essentials to find. Certain materials wrinkle too easily, while others are stiff or too hot.
Luckily, our readers are sharing their top picks for the best dress for hot weather travels.
Old Navy Jersey Plus-Size Sheath Dress
The Best Plus Size Summer Dress
Our readers love Old Navy for the best plus size dresses, thanks to their comfort and classic designs. The jersey fabric is so comfy and soft and can be dressed up or down. You may need a wrinkle spray, however, to keep it wrinkle-free after having packed it in a suitcase.
One reader says, "I've had good luck with Old Navy dresses! I think the jersey ones are the ones I've had the best luck with. Minimal wrinkling and shrinkage. I always bring a travel size bottle of wrinkle release just in case." Another reader added, "I LOVE traveling with the knit swing dresses from Old Navy. They are inexpensive, pack well, and are comfy. I don't think I have traveled overseas without one in at least 5 years."
Dresses are the perfect staple to add to your functional travel capsule wardrobe. Learn more in my guide!
Land's End Fit and Flare Dress
The Best Summer Dress for Every Size and Height
Whether you're tall, petite, or plus size, there's nothing better than having options designed just for you.
This dress from Land's End is not only a stylish and classic wrap style, but it's also available in tall, petite, and plus sizes. The cherry on top is the smooth cotton/modal fabric that is comfy to wear and easy to pack.
Several readers love this dress, with one saying, "I bought this dress for my trip to Italy last summer. Excellent travel dress!"
Use packing cubes to pack your dresses and save space in your suitcase!
Fair Indigo Fair Trade Organic Boat Neck Dress
The Best Fair Trade Summer Dress
If you prefer to shop organic and fair trade, our readers have a recommendation for you!
This dress proves that there's nothing better than a cotton sundress for a hot day. Cotton breathes and is easy to wash, making it great for summer travels.
One reader recommends this Fair Indigo dress, saying, "Fair indigo has a great boat neck dress with everything you're looking for. It's 100% cotton though, so not the most wrinkle resistant, but I found if you don't roll it too tight you can shake out the dress and it's fine after being hung up for a couple hours. Pretty stink resistant too, and they have some gorgeous jewel tones. They do run a half size large, so if you're in between sizes, size down."
Animapop Line Tank Reversible Dress
The Most Versatile Summer Dress
What could be more versatile than a reversible dress, offering you two styles in one?
It's hard to imagine a dress made out of neoprene to be comfortable and cool for summer, but one reader swears by this dress by Animapop. While it's not a budget-friendly pick, it is reversible, making it perfect for traveling carry-on.
"I LOVE Animapop. So easy to travel with! They are reversible, don't wrinkle, dry fast, and so stylish. They come with a travel bag and take up little room in your suitcase. Check them out!"
The Best Classic Summer Dress
Love simplicity and sophisticated styles with simple silhouettes? Boden is known for making effortlessly cool styles that are easy and comfy to wear.
One reader recommends the Margot dress, saying she "wore it all around hot Italy last summer" and it kept her feeling stylish and cool.
The Margot dress features soft cotton with an elegant scoop neck and front pockets for a contemporary look. The ruched waist gives it a super flattering shape, too. The cap sleeves and knee length keep it modest enough for visits to religious sites that require conservative clothing.
The Best Summer Swing Dress
Several readers swear by Karen Kane for cute and travel-friendly dresses. One says, "My go-to are the Karen Kane short sleeve swing dress!" while another adds, "Mine too! I have them in the short sleeve & sleeveless versions."
We love the Quinn dress, which is a casual version of the LBD. It's cut from a rich stretch jersey and simply styled so you can doll it up or keep it laid-back, depending on your mood. The pockets make it practical, while the v-neck and a-line cut are so flattering.
Eileen Fisher Jersey Shift Dress
The Best Casual Summer Shift Dress
Sometimes we just want to dress casually while still looking stylish. Luckily, you can do just that with the Eileen Fisher and Leith dresses.
Our readers love Eileen Fisher, and if you're a longtime TFG reader, you've likely seen this brand mentioned quite a few times. One reader says of their dresses, "I have an Eileen Fisher one and I have worn it for 3 years. Sometimes I put a sweater over it so it looks like a skirt and top. It just always seems to look good. It was worth the money."
This jersey shift dress is the perfect example of a simple yet sophisticated and casual summer dress. It comes in an assortment of fun colors and features a swingy A-line cut of fluid stretch jersey.
Leith Ruched Body-Con Tank Dress
The Best Casual Summer Fitted Dress
For the ultimate body-hugging and flattering yet casual and comfortable dress, look no further than the Leith body-con tank dress. As a reader says, "I love the Leith dress from Nordstrom!"
The gentle ruching at one side adds soft texture to a slinky tulip-hem tank dress. There are several colors to choose from, all in a perfectly soft polyester/cotton blend. And with more than 1,300 reviews, you know it's a good pick!
The Best Sporty Summer Dress
If you like to stay active on your vacation, you need a dress that can keep up with your adventures. Athleta has you covered.
You know we can't get enough of Athleta, and neither can our readers. This brand makes the most perfect clothing for travel, including dresses. As one reader says, "I love the many options from Athleta!"
The La Palma dress is ideal for sporty summer getaways. This super-soft dress has a crossover hem that won't ride up while you walk. The fabric is made of fibers from fast-growing beechwood trees, and it offers UPF 50+ protection.
Athleta Santorini V Neck Dress
The Best Summer Dress with UPF Protection
Looking for the perfect mix of sporty and comfortable yet classic and sophisticated? The Santorini dress from Athleta ticks all the boxes.
This customer-favorite dress has a wide v-neck, and the empire fit flatters all body types. It's made of fabric with UPF 50+ protection, making it ideal for adventure travel.
Several readers rave about this dress, with one saying, "I have had several of those over the last couple of years, and have gotten so much use out of them. Very easy to pack and versatile."
The Best Budget-Friendly Summer Dress
A dress for less than $20? Count us in! You don't need to break the bank to find a stylish and comfy dress for hot weather travels.
A classic sundress style, the print and silhouette are flirty, while the belt offers a waist-flattering touch. This is a great option if you don't normally wear dresses and don't want to break the bank on your vacation wardrobe.
One reader recommends this dress, saying, "I just got this for around $15 and found it particularly comfy."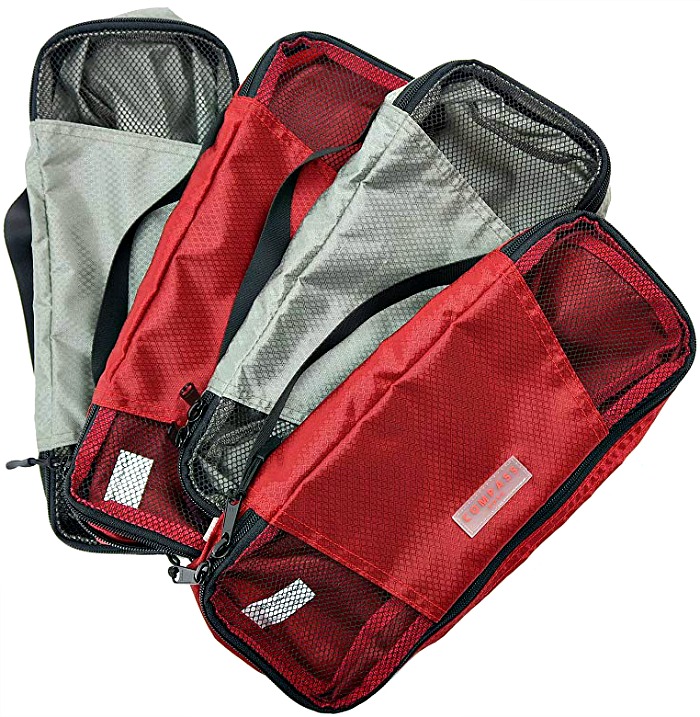 How to Pack Dresses
Packing dresses are the perfect way to create a fresh outfit every day. If you're going on a seven-day trip, pack seven dresses. It's as easy as that!
Then, use slim packing cubes to save space in your suitcase and travel carry-on only.
Learn our hacks with packing cubes in the video above!
We put together a five-part YouTube series showing the different methods to use packing cubes for travel. If you use this specific packing strategy, packing cubes can also compress your belongings. This is the secret to traveling carry-on only!
Buy Compass Rose Packing Cubes here!
---
What are your recommendations for the best dress for hot weather travels? Share in the comments below!
---
For more tips on travel dresses, please read these posts:
---
LIKED THIS POST? PIN THIS PIC TO SAVE IT!
---
I hope you liked this post on the best dress for hot weather travels. Please share with your friends on Facebook, Twitter, and Pinterest. Thanks for reading!
---