Support TFG by using the links in our articles to shop. We receive a small commission (at no extra cost to you) so we can continue to create helpful free content. As an Amazon Associate, we earn from qualifying purchases made on Amazon in addition to other retailers featured on the blog. Thank you, we appreciate your support!
Considering a European vacation? On the cusp of the travel high season, spring and summer are great times to experience all that Croatia has to offer. Find out what to wear in Croatia in spring and summer.
---
What to Wear in Croatia in Spring and Summer
---
Croatia has quickly become a hotspot destination for those looking to explore the Mediterranean while avoiding some of the costs of Italy or Greece. From hiking to exploring waterfalls, Croatia appeals to nature lovers with over 300 miles of beautiful, sprawling coastline.
The southern part of the country consists of hundreds of islands nestled between the two major cities of Split and Dubrovnik. The north holds hotspot tourist destinations like Zagreb and the Plitvice Lakes National Park.
Croatia Clothing Style
Day-to-day European style is more dressy than American style. This DOES NOT mean business clothing. Think dressy top (or the type of top you'd wear to work) plus nice jeans (dark colors are always a good choice).
Casual clothes can work for most days, but evenings tend to be dressier. Dresses are an easy choice but skirts can provide more outfit options, though skirts may require a little more planning.
You'll also want scarves or something to cover up with when visiting religious sites. As with most destinations, practical sense applies. Leave the beachwear on the beach because it doesn't translate well to streetwear in the city.
The same goes for gym wear; unless you're actually headed to the gym, don't dress in your gym attire as the locals will instantly recognize you as a tourist for the lack of effort that has been put into your wardrobe.
Tip: Want to pack light, create the perfect capsule travel wardrobe which can easily fit into a carryon suitcase with the help of packing cubes to compress your clothing!   
Croatia Spring and Summer Weather
Spring in Croatia is considered the shoulder season. The beach is beautiful and the ocean is already warm enough to swim in. It can be windy, which is great for sailing but not so great for short skirts or fancy hair-dos. On an average day, you can expect perfect 70° F days.
Start by reading these general tips on packing for spring travel:
Summer is peak season, and you can expect a lot of sun and crowds. Temperatures will get up to the mid-80s F. You'll still have a beautiful breeze, though.
Start by reading these Europe packing tips for summer:
Croatia Spring and Summer Packing List
When planning what to wear in Croatia, consider bringing one full skirt or dress that cinches at your waist, a maxi skirt, and a simple dress that can double as a beach cover-up.
Bring along your normal beachwear, but consider swim cover-ups that can double as daywear. Two swimsuits are usually enough, and look for styles that can be mixed for versatility. Be sure to pack along sandals or flip-flops as the beaches tend to be pebbly.
If you plan on hiking or biking the beautiful natural landscape of the region, you will need suitable apparel. Lightweight clothes that can be layered work best.
Try and select options that will work for other activities during your trip. Athletic shorts can double as pajamas, and tights can also be appropriate for exploring the towns.
Don't forget your scarf to cover up at any religious sites you may visit. A shirtdress with a colorful belt would also be a great addition to your travel wardrobe, and would keep you looking chic while walking the area's historic streets.
Sunglasses | Bag | Flats | Dress | Hat | Sunscreen | Earrings
Sailing Trip
What to pack for this sort of Croatian adventure largely depends on the type of cruise you're setting off for. If you're choosing a party boat full of backpackers, pretty much anything goes when it comes to beachwear.
If you're seeking a more refined sailing experience, pack plenty of cute summer dresses, because they are be the easiest way to look stylish while staying comfortable on deck and when exploring cities.
No matter what, pack a big floppy hat to protect yourself from the sun and plenty of strong sunscreen. You can try a solid sunscreen to cut down on the amount of liquid toiletries in your bag!
Take a look at this list of solid toiletries for travel!
Hat | Necklace | Bag | Top | Sunglasses | Shorts | Sandals
Zagreb City Tour
In the capital and largest city of Zagreb, jeans, shorts, and basically any casual dress you're comfortable in will be acceptable for the day.
If you're planning to eat out in the evenings, however, make sure to pack a slightly more dressy outfit or jacket. Once the sun went down, the crowds were much more dressy than during the day.
Rain Jacket | T-shirt | Leggings | Backpack | Rain Cover | Sneaker | Water Bottle
Hiking and Waterfall Exploring
In the off season, weather can change quickly, pack a lightweight rain coat and a rain cover for your daypack.
Most of the trails that the average person will visit aren't extremely difficult, so hiking sandals or normal sneakers should suffice. If you're planning on getting a bit more extreme, don't forget your hiking shoes.
Sunglasses | Bracelet | Earrings | Dress | Hat | Bag | Sandals
Walking Around Split
The beautiful streets of Split are reserved for walking, making it a lovely place to get lost in alleys and buildings. Note that most of the stone walkways in the town get extremely slippery when wet; make sure you have a pair of shoes with good traction on slippery surfaces!
Take a look at these cute walking sandals!
Split is a luxurious oceanfront city, so pack some dressy casual clothing to explore during the day and slightly dressier ensembles for the evenings. If you must bring heels, choose wedge varieties to make walking on the cobblestone streets a bit easier.
Here are the best shoes for walking on Europe's cobblestone streets!
Dress | Hat | Romper | Sandals | Swimsuit | Bracelet | Sunglasses
Trip to Hvar and Other Islands
This is a great place to pack your cute coverups and beachy dresses! Everyone is either on their way to a boat or beach or returning from one, so it's normal to see beachwear on the streets. The beach attire is still stylish, however–not old t-shirts or super casual coverups.
If Hvar or the other islands are on your list for your trip to Croatia, choose a backpack as your luggage instead of a suitcase.
The towns on the islands are built into the hillsides, so in order to get to your guesthouse or hotel, you often have quite a few steps to climb with your luggage. Make it easy on yourself and use a backpack instead!
The evenings can get chilly here, so pack layers if you're going to be out all day. Especially for day trips on boats, a light jacket or cardigan is essential to beat the cool breeze.
Hat | Bag | Sandals | Dress | Scarf | Earrings | Sunscreen | Bracelet
Relaxing in Dubrovnik
This city is packed during the summer months because of the filming of the popular TV show Game of Thrones. Visiting in the shoulder season helps to avoid some of those crowds.
When it comes to a daypack or purse for exploring during the day, look for an anti-theft style as the crowds are intense and pickpocketing can be worse in crowded areas. To save money, pack a refillable water bottle and ask for a carafe of tap water at restaurants.
Croatia Travel Essentials
You may be surprised to learn that most beaches in Croatia are not sand beaches, but stone or gravel; do your toes a favor and bring a pair of water shoes or water sandals to make wading out into the water more enjoyable.
I loved bringing an inflatable raft to the beach so I didn't have to stand on the rocks in the water or tread water all the time. There are stands selling them all around the swimming areas, so you can pick one up there. You could even sell it back or to other travelers when it's time to leave!
Worried about theft, add items like a money belt or Secret Bra Pocket to your packing list for Croatia.
Croatia Packing Don'ts
Try to leave your heels at home. The cobblestone streets will do a number on your feet so opt for nice ballet flats or cute summer sandals instead. An fun or embellished shoe is the perfect way to add interest to your outfits.
Opt for wedges instead if you must bring a heel. Do include one pair of shoes and one outfit that can be worn for dining out or experiencing the local nightlife.
Croatia Luggage Tips
So the hard part's out of the way; after much turmoil you've finally perfected your travel wardrobe and created a chic capsule collection – now it's time to get packing! Which luggage will work best for you?
Depending on how many days or weeks you're traveling, you may want to use packing organizers, which allow optimum use of the space in your luggage, keeping everything organized and in place during your travels, and making the task of unpacking and repacking simple and stress-free.
As you're headed to fashionable Europe, use an equally stylish carry-on, such as the Osprey Ozone, which is a personal favorite. Keep in mind that most of Europe's budget airlines have a carry-on bag allowance of 55cm x 40cm x 20cm. Always check your airlines individual baggage rules and regulations in advance.
Croatia Accommodations
We love Airbnb for accommodation in Croatia. Sign up here for a free $40 credit!
I prefer to book "the entire home" instead of opting for shared accommodation on Airbnb. Aside from safety, I also like to feel like I'm living in the destination. It's a small taste of local life plus you get more amenities than you would at a hotel such as a kitchen and washing machine.
Read these Airbnb tips for more info!
If you prefer the convenience and comfort of a hotel room, I like using both Agoda.com and Hotels.com. Tip: Hotels.com gives you a free night for every ten nights you book!
For hostels, we recommend Hostelworld and Hostelbookers. Always read the reviews before booking to get the best idea if the hostel is right for you. Some are quiet and family friendly while others are known for their party atmosphere.
Not sure about staying at a hostel? Read this.
Croatia Transportation
Getting around Croatia and visiting multiple cities can be tricky because the country is shaped so strangely. To get to the islands, you'll need to catch a local ferry, but their schedules can vary, so check a day beforehand.
Dubrovnik, which is a star city in Croatia, is in an awkward location compared to Zagreb and other popular cities. You can take a flight to Zagreb, but it may not be cheap. Instead, opt for a bus or train. You can also rent a car. The roads are very modern and well-maintained, so you won't find them to be too difficult to navigate.
For flights, I like booking through Travelocity or Cheapoair (whichever one's cheapest). Although I prefer Travelocity because they have a 24 hour money back guarantee.
To maximize your vacation time, fly into the city where you're starting your trip and out of the city where your trip ends. Many times it's the same price and saves you from having to spend extra time and money to go back to where you started your trip.
What to Do in Croatia in Spring and Summer
In late spring and throughout summer, yacht weeks or sailing trips can take you to some of the many islands. The shoulder seasons are a great time to hop aboard one of these boats because the prices will be significantly lower, the crowds dissipated, and the weather will still be plenty warm enough.
There are also tons of historical sites to visit, along with Game of Thrones tours to see where they filmed. Many of these sites are in Dubrovnik, which is considered to be a must-see city when traveling to Croatia.
Lastly, spring and summer are the perfect seasons for visiting one of Croatia's eight national parks. If you can only visit one of them, go to Plitvice Lakes National Park, which is a UNESCO World Heritage Site. It's not in the most easily accessible area, but it only takes around two hours to get there by bus from Zagreb.
These are a few popular Croatia guidebooks: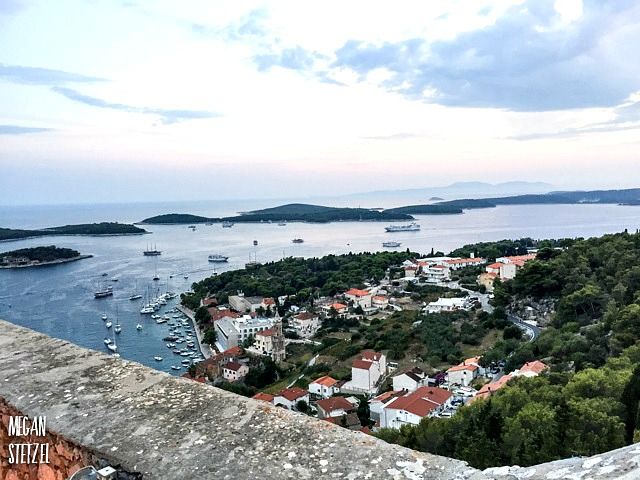 ---
What are your tips for what to wear in Croatia in spring and summer? Tell us in the comments!
---
For more tips on what to wear in Europe, please read:
Suggested travel resources:
---
Hope you liked this post on what to wear in Croatia in spring and summer. Please share with your friends on Facebook, Twitter, and Pinterest. Thanks for Sharing!
---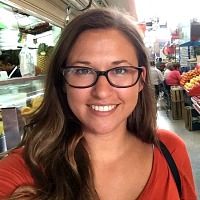 Author Bio: Megan is a full-time traveler and loves to eat her way through new places, even though she's gluten-free. Find more of her stories, mishaps, and adventures on her travel blog, ForksAndFootprints or follow her on Snapchat as ForksFootprints.
---