Support TFG by using the links in our articles to shop. We receive a small commission (at no extra cost to you) so we can continue to create helpful free content. As an Amazon Associate, we earn from qualifying purchases made on Amazon in addition to other retailers featured on the blog. Thank you, we appreciate your support!
I spent a few weeks in Europe in the summer of 2022 to celebrate a milestone birthday, starting in Athens, and it felt SO GOOD to travel again! Check out my trip report of Athens, including what I packed and my wardrobe wins and lessons!
---
Athens Trip Recap
---
Table Of Contents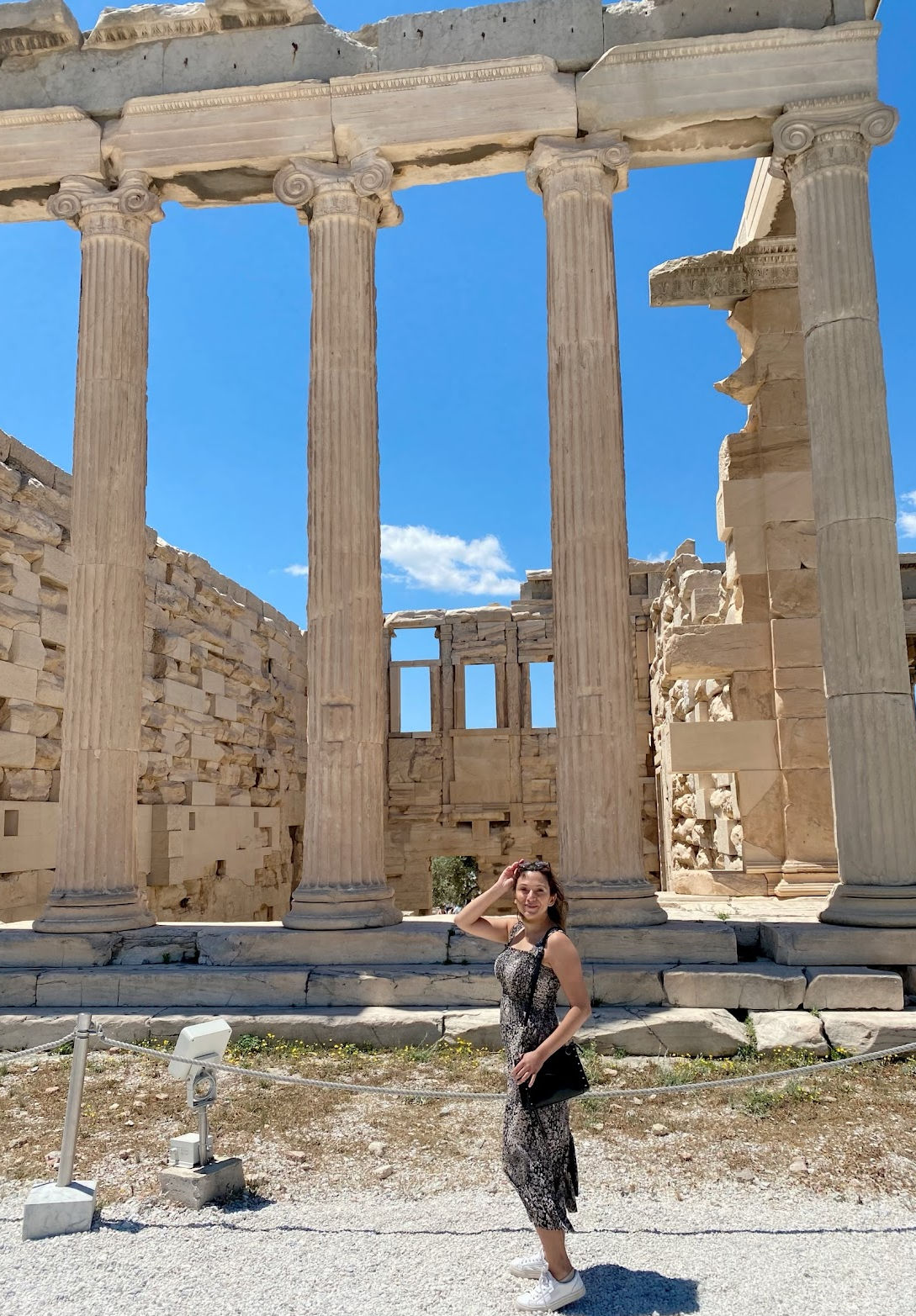 At the Acropolis in my Roan + Ryan Gianna Smocked Jumpsuit (sold out), with my Taos Sneakers!
The first stop on my European tour was Greece. I spent a chilled out week in Athens, taking in the city, viewing the sights at a slow (very slow) pace, and mostly adjusting to an intense jet lag made 10x worse by overall exhaustion. I should've taken a vacation before my vacation! 
I was LOVING the fashion I saw all over Athens! It made me feel nostalgic for the 90s. 
I must admit, I was a little rusty with travel and packing, but as with everything, you can always figure it out on the go! For this trip, I packed mostly for a summery, hot weather trip and wore about half the items. It was hot half the time and cold and windy the other half. I flew one way and didn't know where I'd end up and for how long, so I figured I could supplement my wardrobe with warmer clothing if needed.
I went on a massive shopping spree on this trip! Both because I had a baby 9 months ago, and I'm also currently reevaluating my fashion identity – which is what partially inspired Travel Fashion Girl 10 years ago! Overall, I was incredibly pleased with my new buys, and they're all things I'll wear for everyday life, too. I've been eager to share them with you!! 
If you want to read about my whole journey, here are all the trip reports:
You'll want to look your best when you travel! Read my travel tips to Pack Light Stylishly!
Flight Outfit and Luggage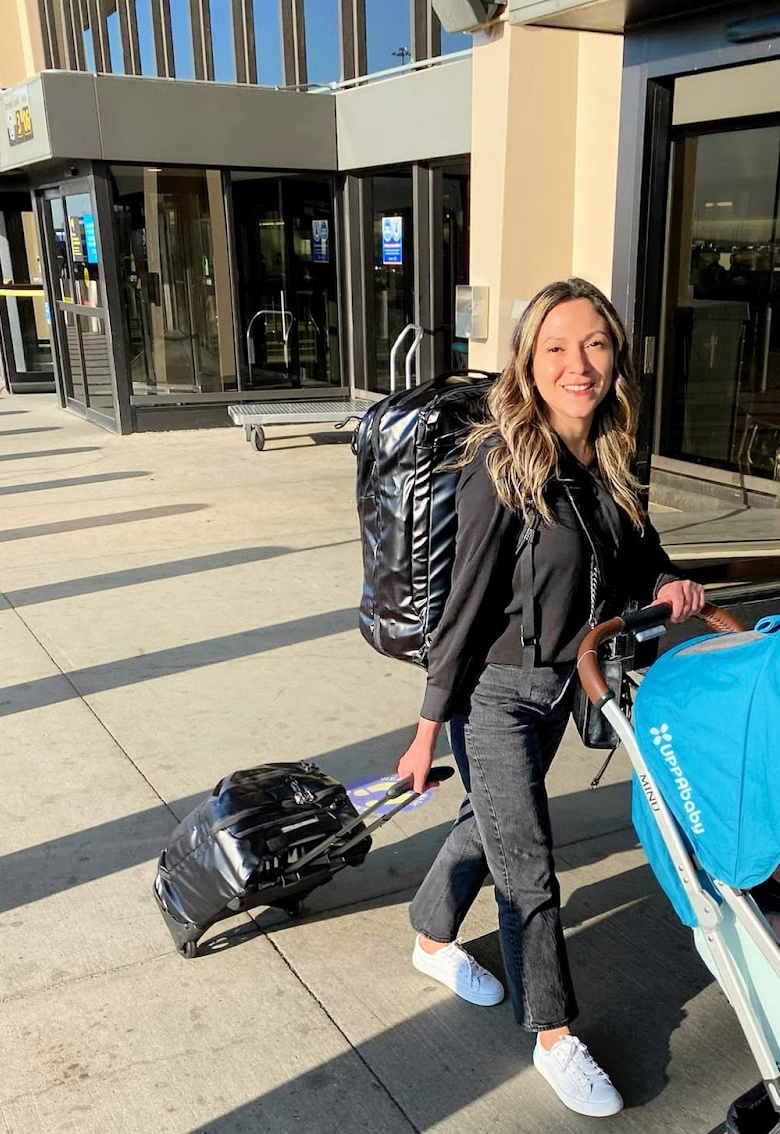 My H&M travel uniform for every single flight!!!! (Also my everyday uniform.)
What I Wore on the Flight
Sorry, no links for the H&M products yet. I've been trying to find them. The top's been sold out for some time and the replacement version isn't the same. If I can find them, I'll post them for sure!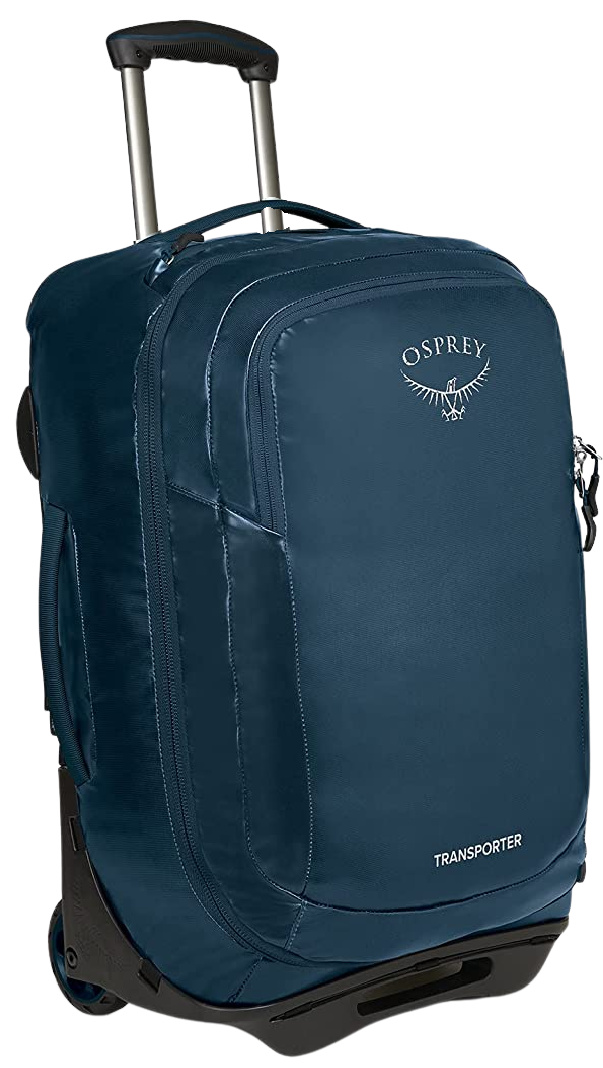 Osprey Transporter Wheeled 38L Carry-On Luggage
Luggage
I used all new Osprey Transporter bags for the trip. I'm loving them so far and couldn't have been happier with my choices! 
For my suitcase, I used the Osprey Transporter 38L wheeled suitcase. It's carry on compliant but super spacious and easy to pack, with a wide opening, tons of pockets and dividers, and even a 16" laptop sleeve. Overall, it's such a great, durable suitcase!
To help you avoid overweight baggage fees, we've rounded up the best lightweight luggage!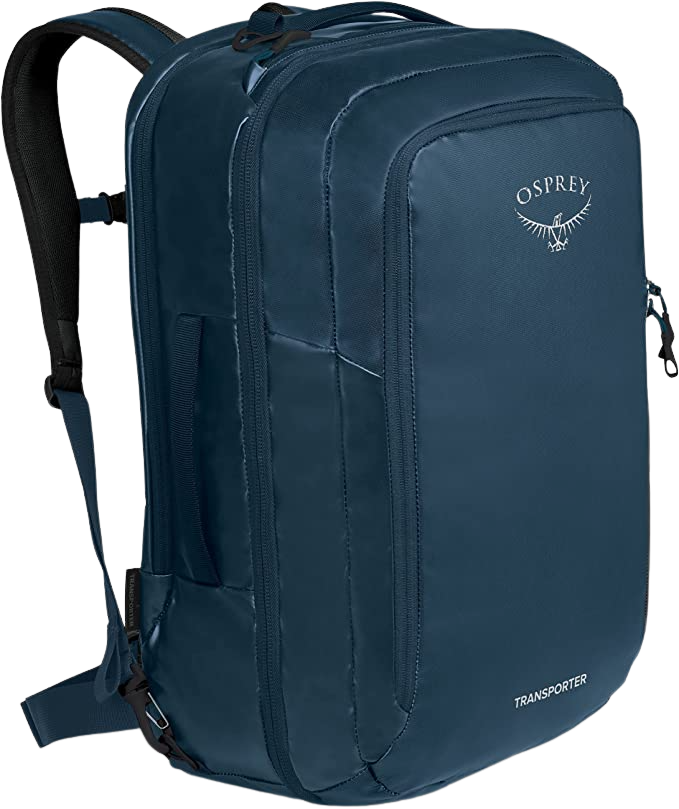 Osprey Transporter 44L Carry-On Bag
As my personal item, I brought the Osprey Transporter 44L backpack to use as a diaper bag for the flight and to store Jade's belongings. It's so comfortable to carry, and has separate compartments to keep everything ultra organized. Loved it! 
We then used the Osprey Farpoint 70L Backpack: for my partner's belongings and have extra room to bring additional baby items if needed.
Here's What I Packed for Athens (And the Rest of my European Destinations)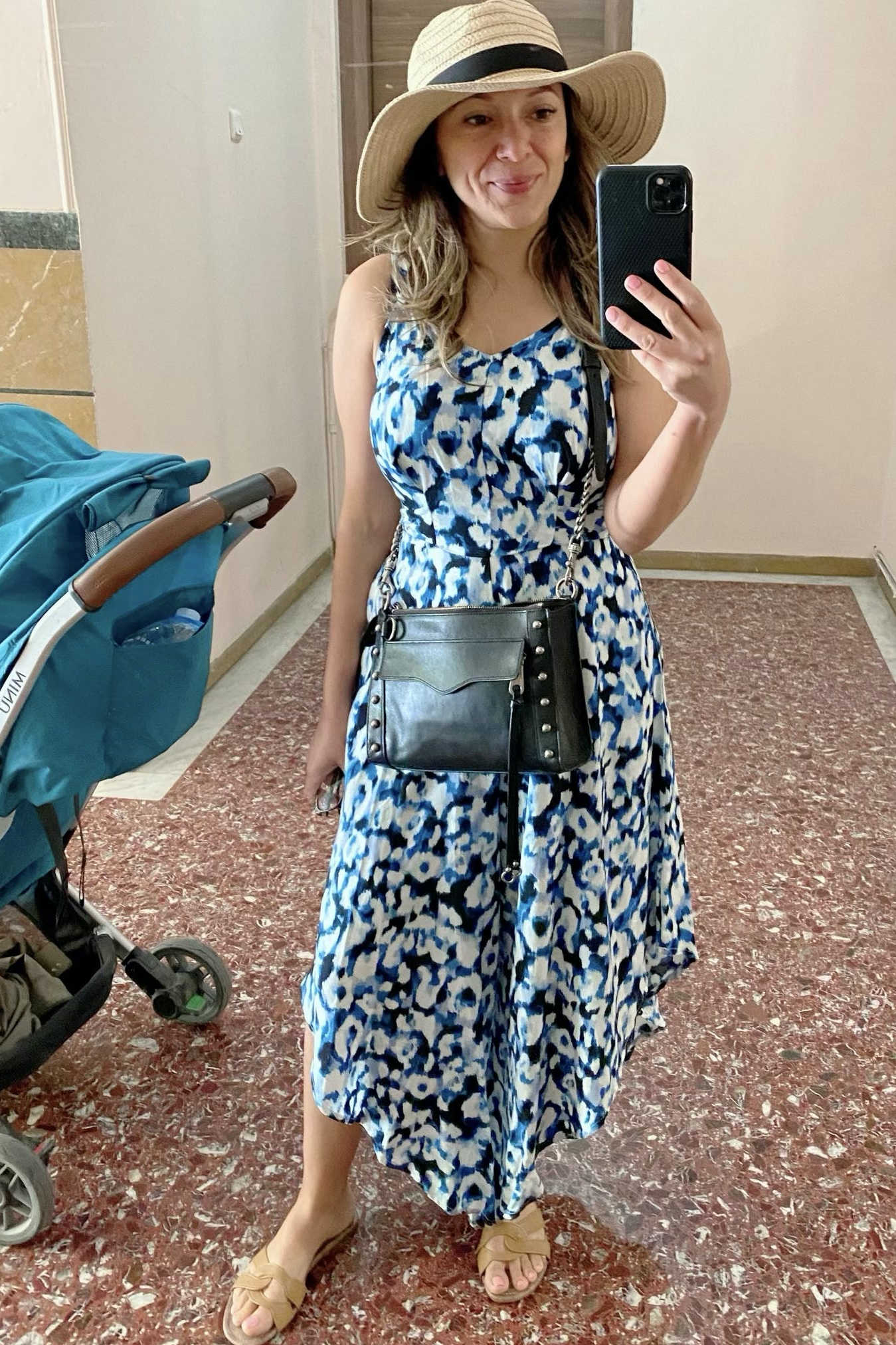 Rushing off for a quick breakfast in my breezy, rayon Vince Camuto jumpsuit plus Coach slide sandals (similar)!
​Jumpsuits
I LOVED my jumpsuits on this trip! They were versatile, comfy, and cute. I was loving my Vince Camuto jumpsuit, both for its comfort and cute, summery look.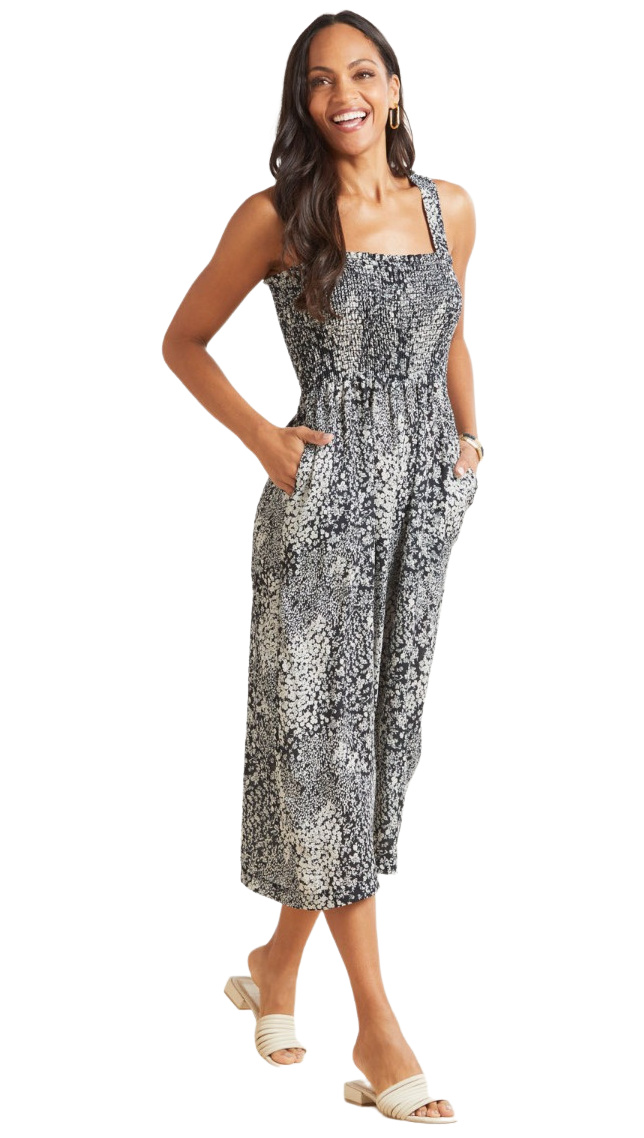 Roan + Ryan Jumpsuit (sold out)
I particularly loved my Roan + Ryan Gianna smocked jumpsuit because I was able to wear it repeatedly at all my destinations and when I got back home. I love rayon fabric for travel in summer, too. If I had to pack a 5-piece capsule, this piece would be in it! 
The Roam + Ryan printed romper is currently sold out, but Evereve has a bunch of new styles (I'm obsessed with the store Evereve right now!!!) 
A chic, wide-leg jumpsuit is perfect for the summer anywhere from Athens to Paris and beyond. Bonus points for being airy and wrinkle-resistant!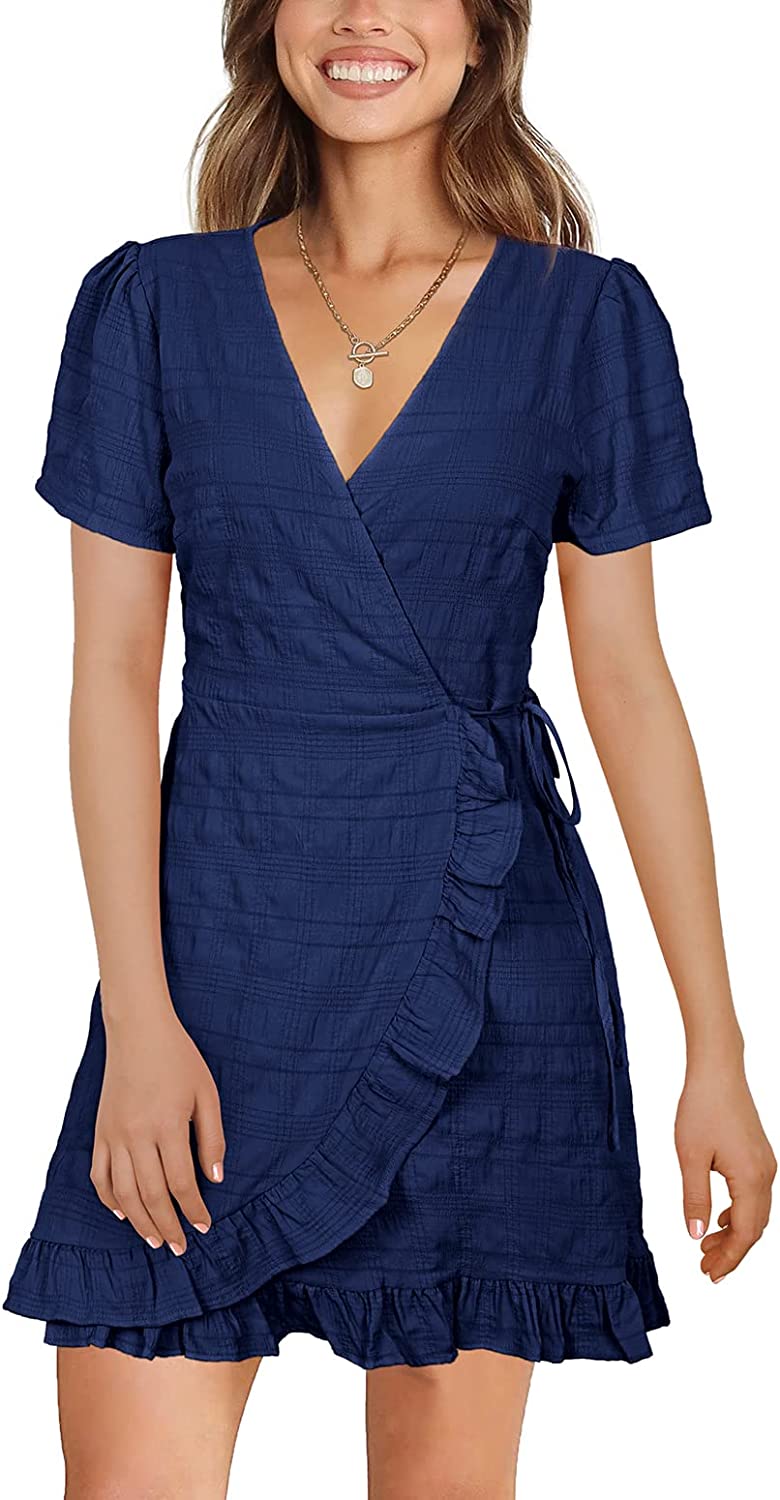 Jescakoo Casual Wrap V Neck Dress
Dresses
On days when I wanted to look a little more elevated, I went with a summer dress, like the Jescakoo navy blue wrap dress. It's cute, lightweight, and budget-friendly, too (under $25!). I sized up to a medium for a more comfortable fit. This is for sure a new TFG staple!!!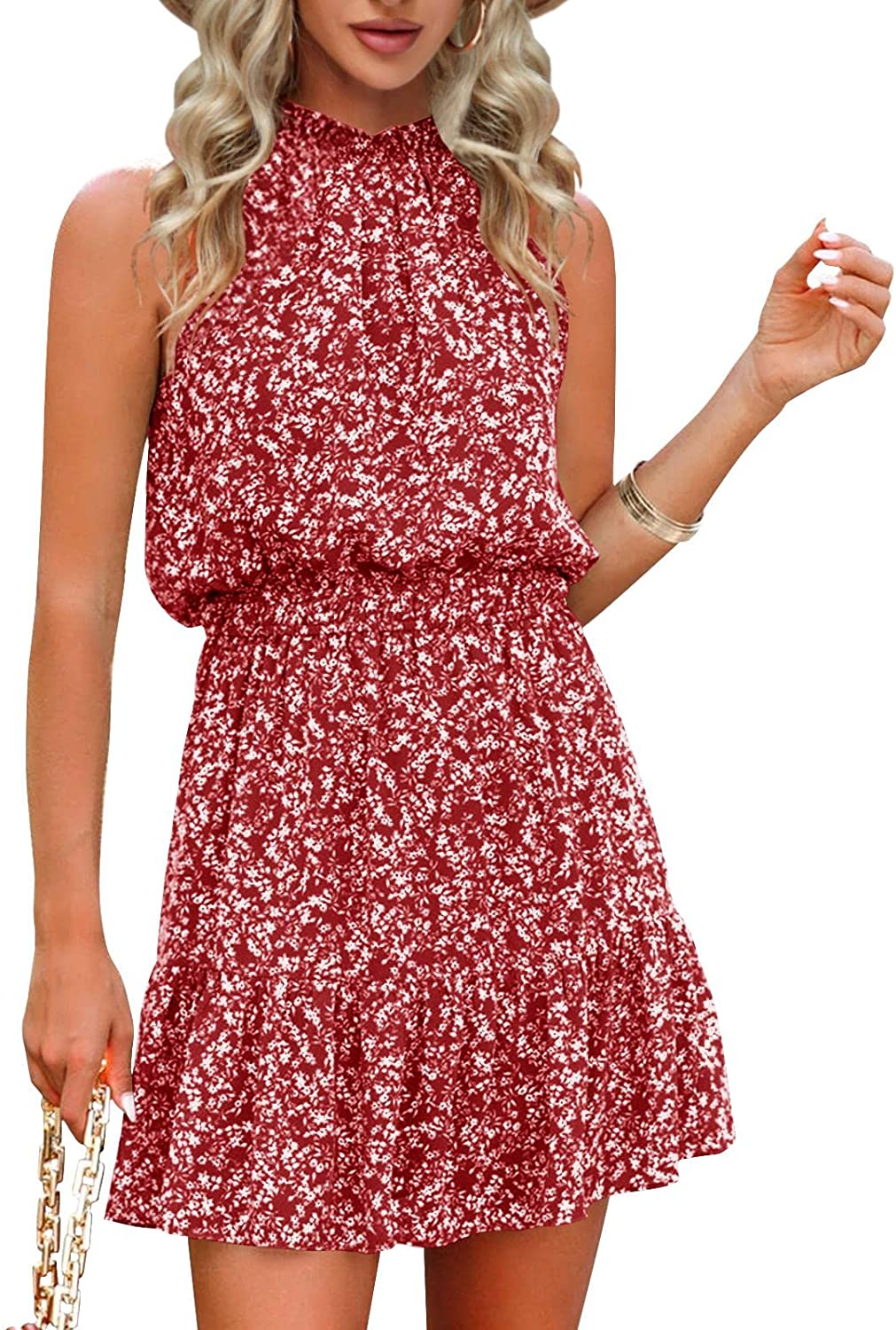 Gevomir Halter Neck Summer Boho Floral Dress
The Gevomir printed summer dress was another great addition to my travel wardrobe. It's so cute, wrinkle-resistant, and under $40! It's great for hot weather and really flattering, too. I loved the red color contrasted with the blue and white tones of Greece, but it comes in a lot of other pretty colors as well. 
I was so happy with the Gevomir dress that I even did a review for it; read that here!
I also packed this Madewell Joanna Midi Dress, which is really beautiful. It's sadly sold out in standard and petite sizes, but you can still get it in plus sizes!
Stay cool and stylish with these travel dress styles for Europe!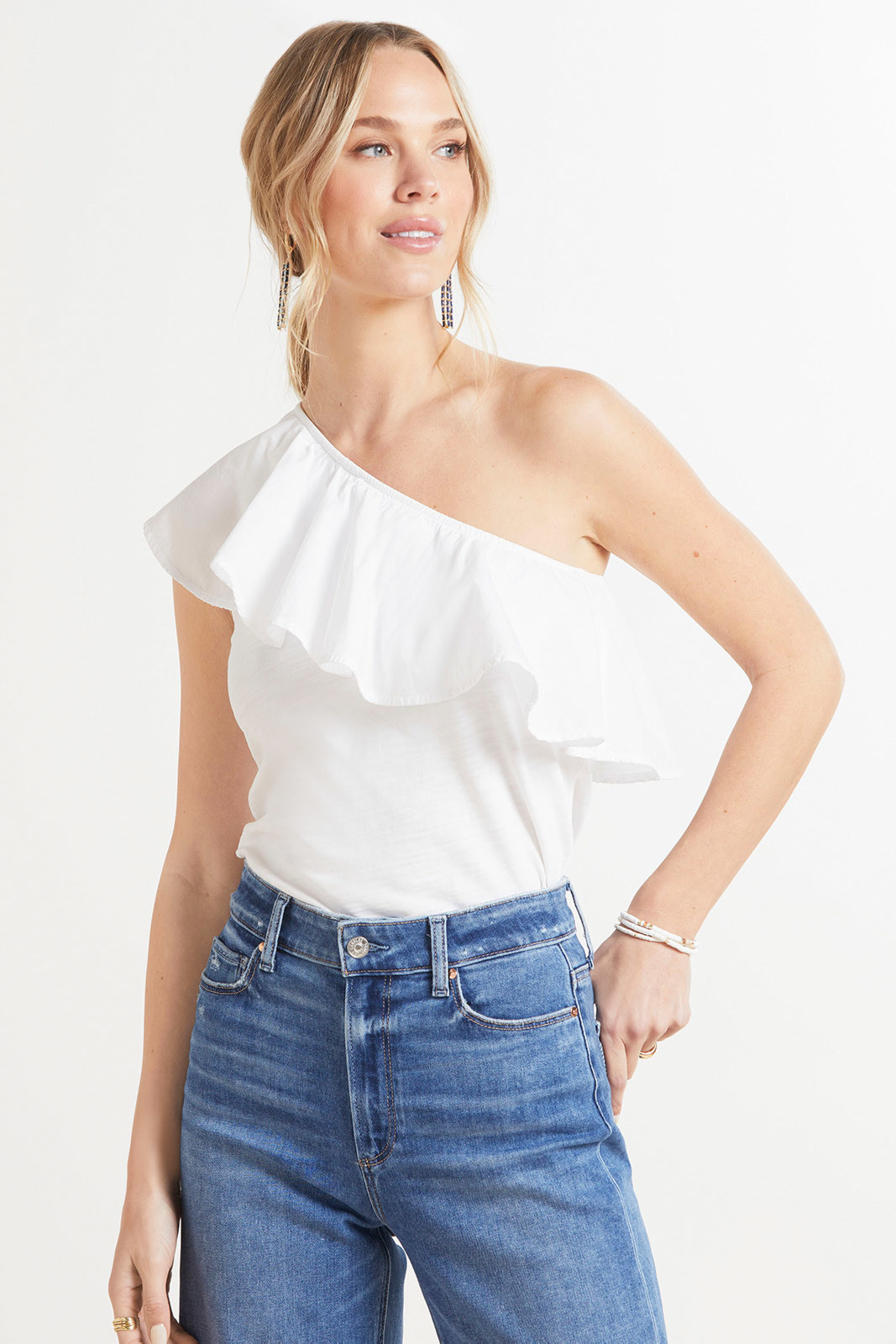 Tops
I brought one sleeveless top for the trip and chose it because it's neutral, comfortable, wrinkle-resistant, and has some cute details in the front, so it wouldn't look overly plain. 
I've been loving shopping at Evereve and got two tops from them for this trip: The Nation Ltd. Noella ruffle one-shoulder top and the Rails Alena Shadow Stripe top. These picks are selling out fast, but Evereve has so many cute options!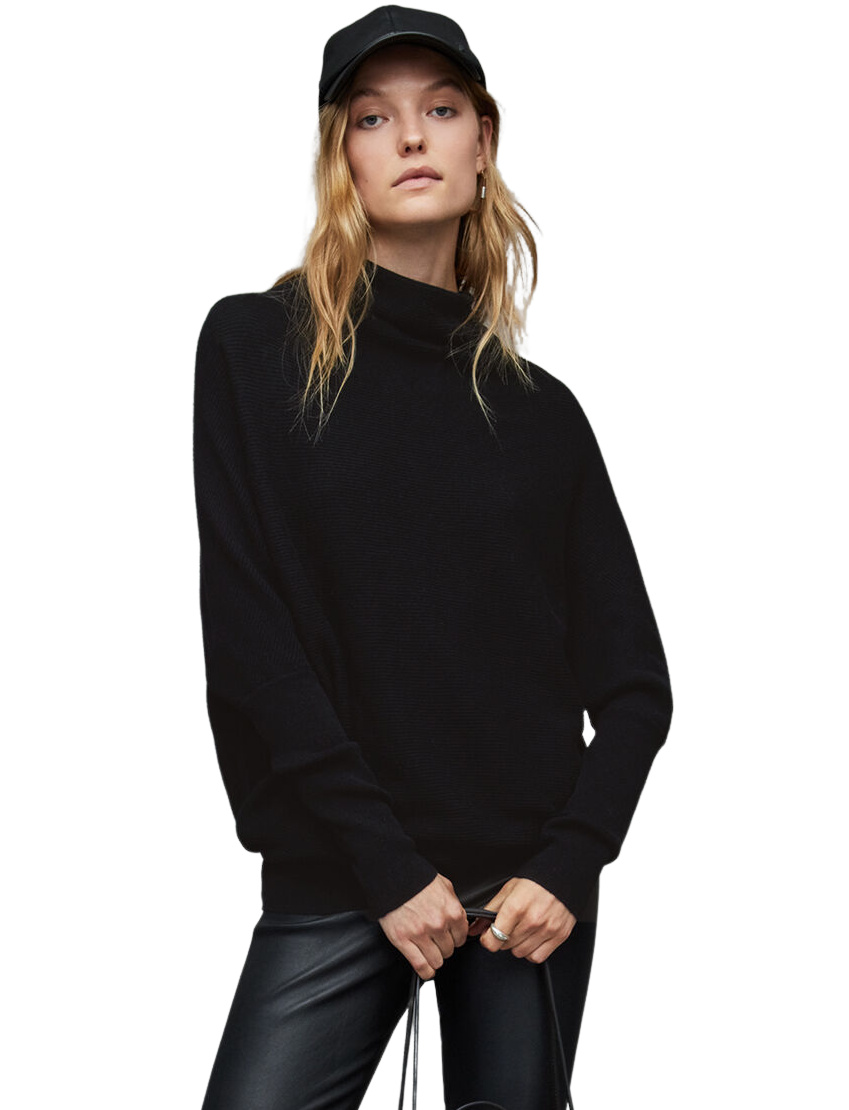 All Saints Ridley Wool-Cashmere Blend Sweater
On chillier days, I paired jeans with my All Saints Ridley Sweater that I absolutely love! It's a warm cashmere and wool fabric. 
I brought this instead of my go-to J. Crew Merino Wool Sweater, which I regretted not bringing because it's a lighter, thinner layer I could wear under anything. This All Saints one is a bit bulkier, but I loved the look and thought it was perfect for Europe!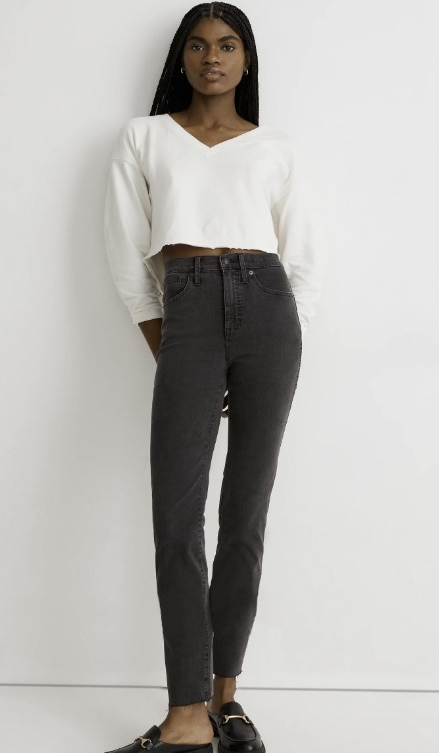 Stovepipe Jeans in Banberry Wash
Bottoms
I packed one pair of black jeans and one pair of blue denim shorts. These are comfy and casual go-to bottoms for me when I travel. Plus, I saw a lot of people wearing denim in Athens. 
When the weather got chilly, and I didn't want to wear a romper, I loved having my black jeans. They're so versatile, easy to style, and instantly make an outfit look put together. I wore them with sneakers at the airport and for sightseeing and with sandals for strolling around.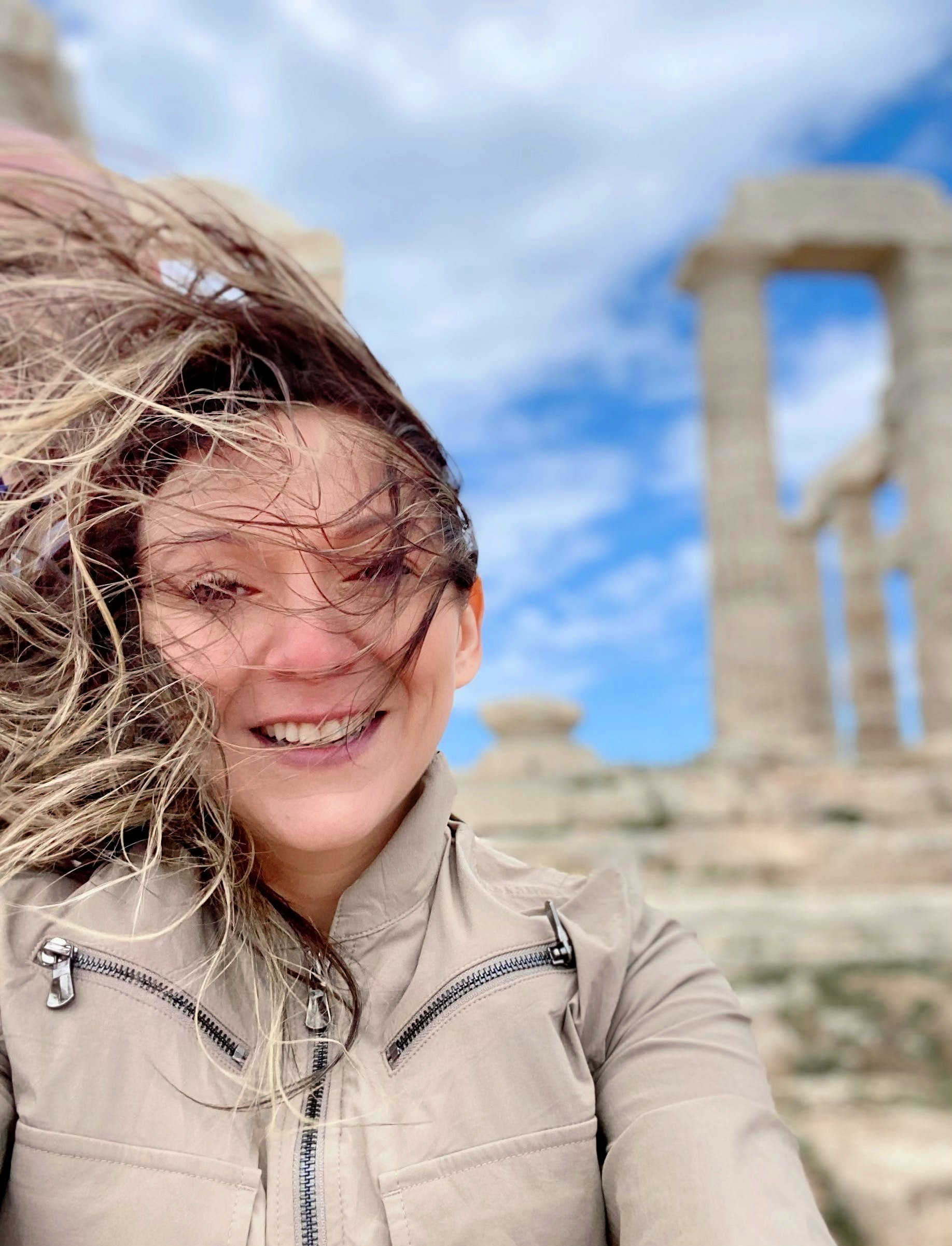 Freezing cold in the wind at the Temple of Poseidon
Outerwear
The ultimate travel jacket for me is something lightweight and functional, and it's the only piece of outwear I needed this whole trip! I love the look – chic with a bit of an edge. It's practical, warm, packable and the perfect mix of practicality and style.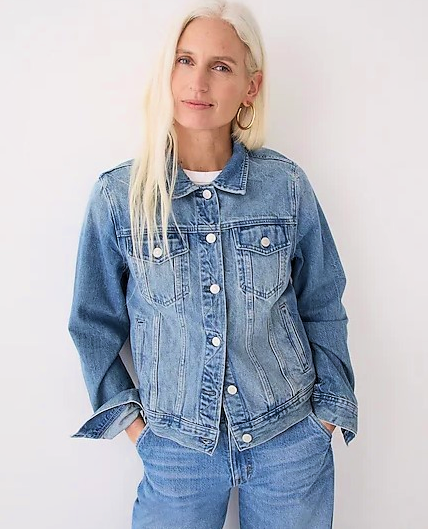 J. Crew Brilliant Day Wash Denim Jacket
A cute alternative for summer travel is a denim jacket. This J. Crew Classic Denim Jacket is a popular option. Super chic, comfy, and the perfect weight for summer!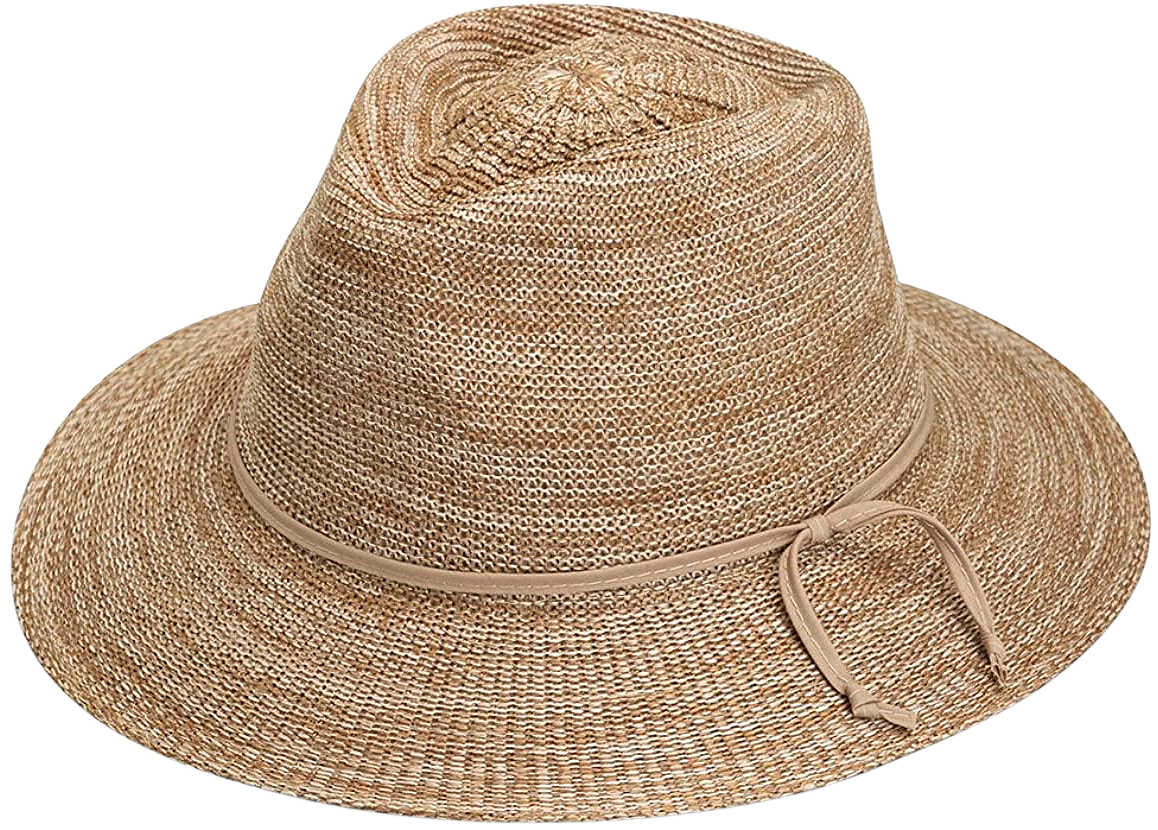 Accessories
For accessories, I brought a packable sun hat that I could easily stash in my bag whenever I didn't need it. My favorite (and a reader favorite, too!) is the Wallaroo Victoria sun hat. It's adjustable, lightweight, super packable, and offers UPF 50+ sun protection. Plus, it styles up an outfit so well. 
Take a look at our readers' tried and tested sun hat recommendations!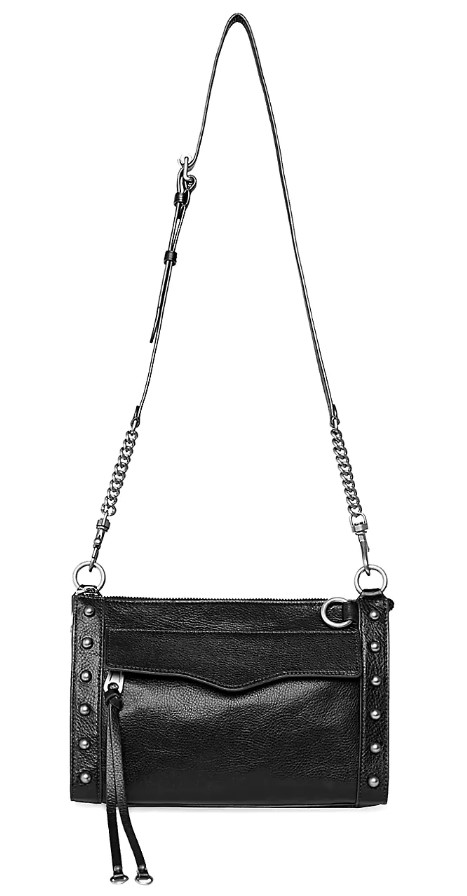 My purse for this trip was the Rebecca Minkoff M.A.B. leather crossbody bag. It's super functional and the perfect size to hold the essentials. It's really cute, too, with beautiful leather and silver hardware that gives it an edgier look.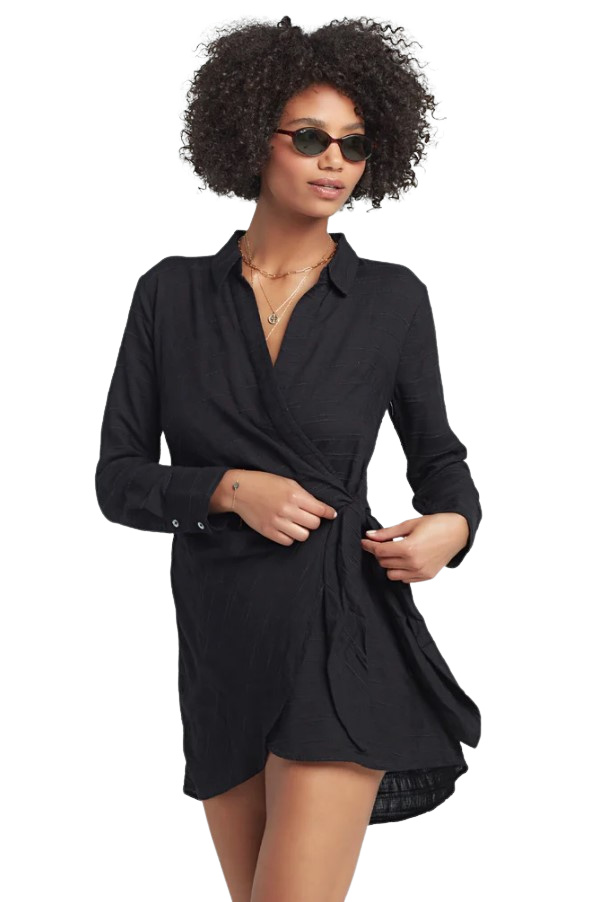 I also bought the L Space Daydream Cover Up for this trip, and I loved it! I actually ran out of clothes on laundry day so I layered it over a tank top and shorts to wear it as a dress in Santorini. It's super cute! I'll be wearing this as a sundress layered over a slip dress in the future.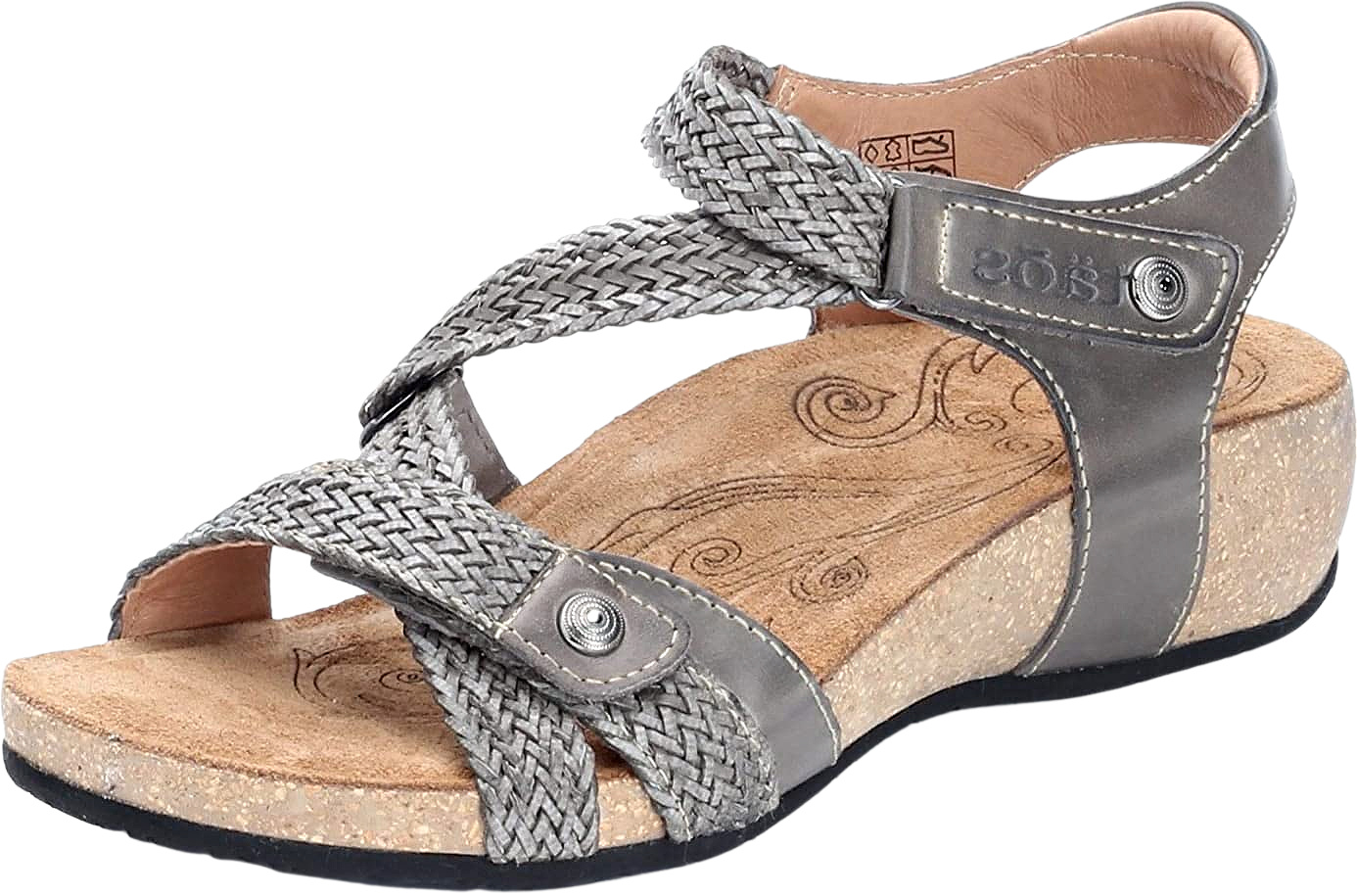 Shoes 
I brought three pairs of shoes on this trip: Taos Trulie Sandals, Taos Sneakers, and Coach Slides (similar style here). I loved and wore all three pairs! 
I brought my Taos Trulies in dark gray, a chic and neutral color, to go with all of my outfits. They have two adjustable straps making them ideal to get a secure fit, even on medium to narrow feet! And they come in wide sizes, too. 
Find out how and why to choose the best walking shoes for Europe!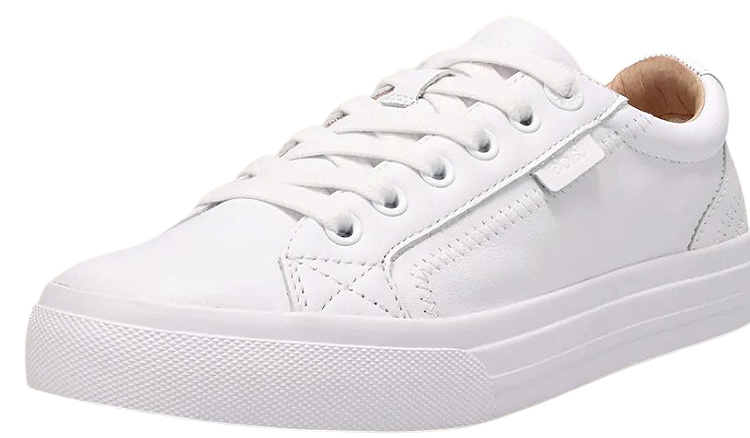 If you're wondering whether or not you should pack white sneakers, don't hesitate. They're stylishly appropriate for Europe – they can be seen everywhere! White sneakers are way more popular than sandals in Athens and Rome, too. Despite the heat, I've also seen combat boots paired with dresses and skirts in both locations. ​
I brought the Taos Plim Soul Lux sneakers, which are incredibly comfortable for all day walking given the arch support. I opted for the leather version over the canvas for easier cleaning. I wore them on the flight and for any longer sightseeing days throughout my trip, with both jeans and dresses. 
I also brought a pair of slides that were neutral enough to wear for a nice meal but also practical enough to wear to a beach. They were the perfect replacement for flip flops and a nice break from regular shoes at the end of the day when we went for a light stroll or to grab dinner. I bought the Coach Essie Tan Slide Sandals, but unfortunately, they are sold out, but here are some similar looking ones.
I also ordered the Taos Trophy 2 in black, and they were actually really cute, too! I probably would've considered bringing them had I ordered tan instead, as it would've been a more versatile neutral with my wardrobe. The sandals in black clashed with all my navy blue clothing.
Here's What Worked and What I Would've Done Differently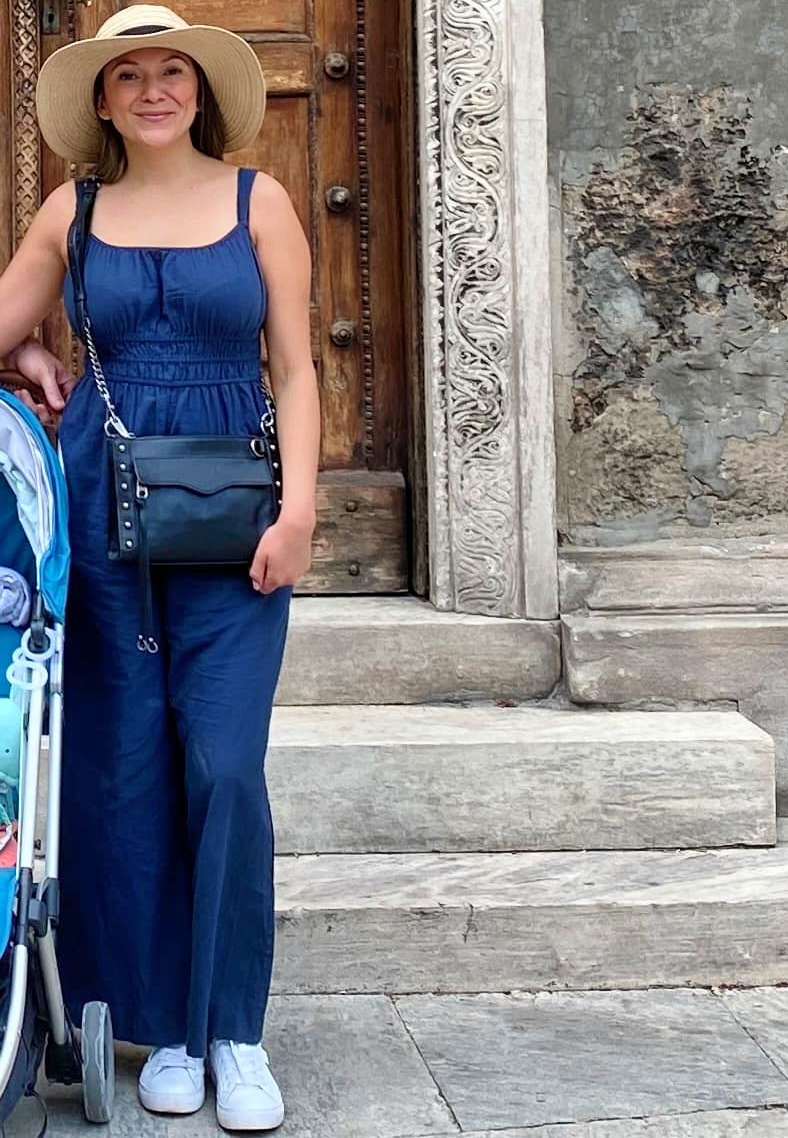 Wearing my Madewell Jumpsuit, Taos Sneakers, and Madewell Hat!
Athens Wardrobe Wins
Jumpsuits!!!!!
I don't even know why I packed anything else! I can wear my jumpsuits all day long. In one week, I'd already worn each twice. So easy to style, super comfortable, and great for the weather, too.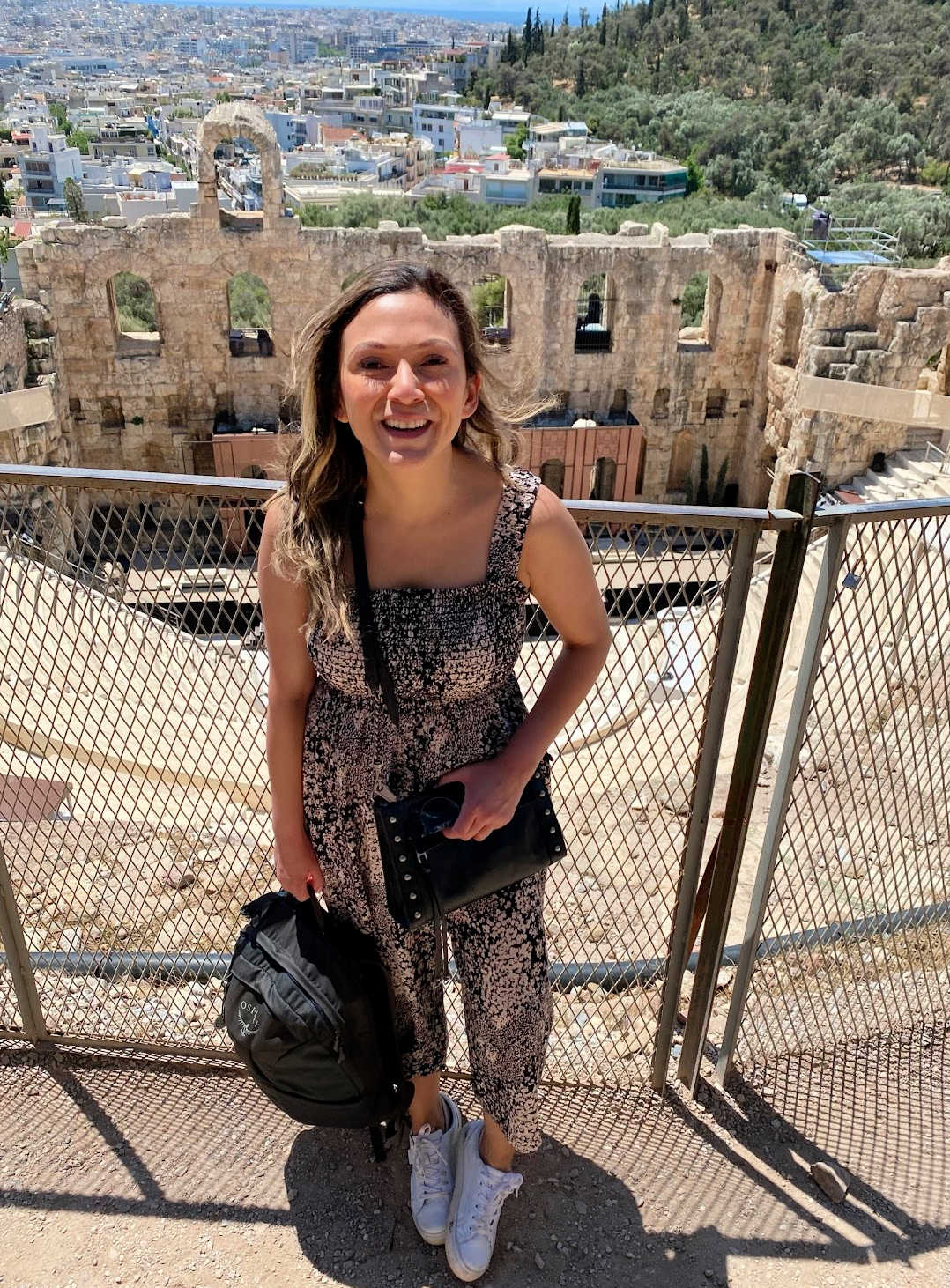 Loved wearing my Taos sneakers with my Rebecca Minkoff Crossbody and Tumi Carson Backpack
My white leather sneakers are a major win!!!
​They were super stylish at every destination, and they went with everything I brought!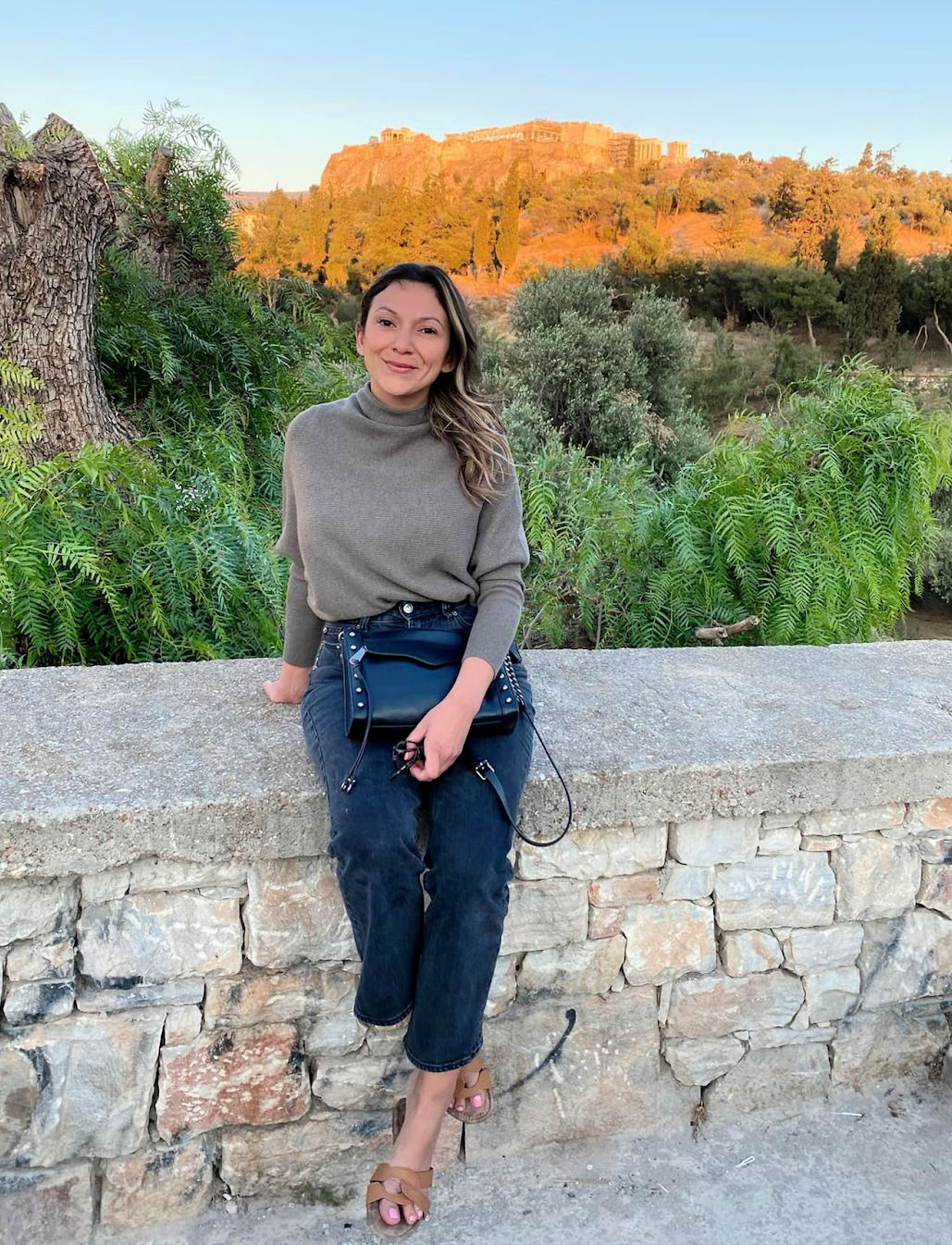 Wearing my H&M Jeans, All Saints Sweater, Rebecca Minkoff M.A.B Crossbody, and Coach Slide Sandals (similar)
Wide leg high waisted jeans!
Everyone seemed to be wearing a wide leg, so I was happy I brought my current favorites from H&M. My jumpsuits are also both wide leg.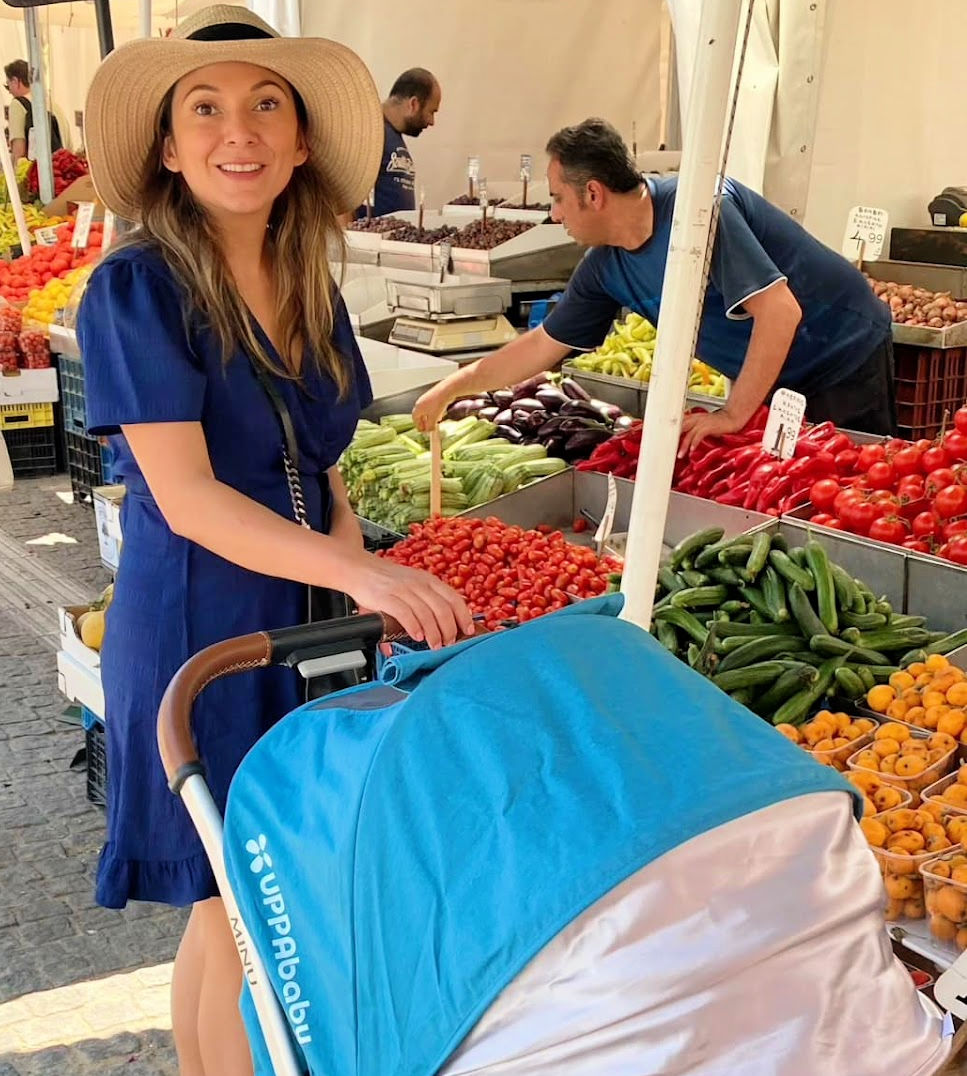 One of my regrets: not bringing this wrap dress in red too!
Athens Wardrobe Fails
---
Have you traveled to Athens? 'd love to know about your packing wins and lessons. Share with us in the comments!
---
For more Greece packing tips, please read:
---
LIKE THIS POST? PIN THIS PIC TO SAVE IT!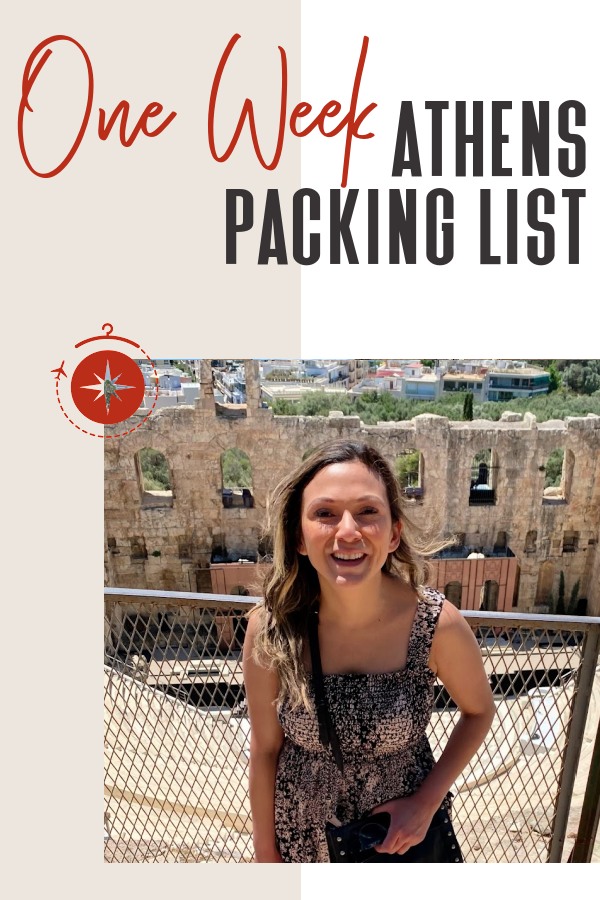 ---
We hope you liked this post on my packing list for Athens. Please share with your friends on Facebook, Twitter, and Pinterest. Thanks for reading!
---