Support TFG by using the links in our articles to shop. We receive a small commission (at no extra cost to you) so we can continue to create helpful free content. As an Amazon Associate, we earn from qualifying purchases made on Amazon in addition to other retailers featured on the blog. Thank you, we appreciate your support!
My big birthday trip continued! After spending 2 weeks in Greece, I made my way to Rome for a one-week stay and took in the local scene, including food and fashion. Check out how my 4th time in The Eternal City went! 
---
Rome Trip Recap
---
Table Of Contents
Greece was definitely wonderful, but it was time for more bustling city life, so I found myself in Rome for a one-week stay.
If you want to read about my whole journey, here are all the trip reports:
This was my 4th time in Rome, and just like Athens and Santorini, my visit was slow-paced and relaxed. I loved the location where I stayed and felt like I was "living" in Rome, even for a few days. After so many years traveling, this is one of my favorite ways to experience a destination, which is ideal since I am also traveling more slowly with my now 10-month-old baby.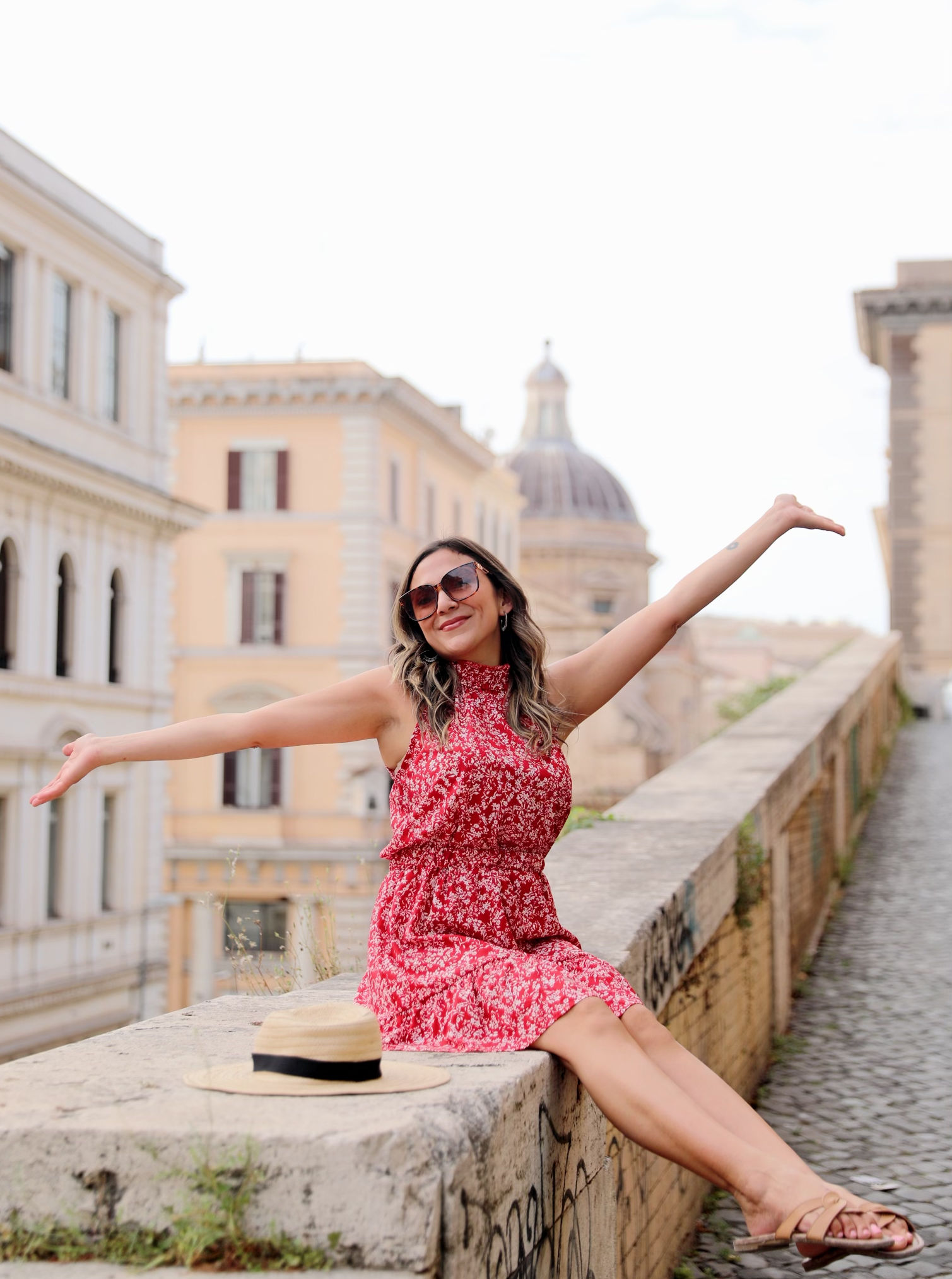 My Clothing in Rome
​
For Rome, I pretty much wore the same 4 things on repeat: my red dress, my blue dress, my printed black jumpsuit (sold out), and navy jumpsuit. I rotated between all of these items.
While I had a washing machine at my Airbnb, even when traveling to hot destinations like Rome in summer, I rewear the clothes 2-4 times in between washes – so long as they don't smell and are not dirty. The fabric from my favorite items below have been awesome for travel as they haven't absorbed scents and stains.
​Tip: hang up your clothes at the end of the day to air them out.
My Rome Mini Capsule
​
The weather was HOT in June (which is when I went), and it was exactly the same on each of my three summer visits to Rome. While many European countries may currently be experiencing an unexpected heat wave, you can almost guarantee that a visit to Rome in the summer will be HOT.
Regardless, always Google the expected weather averages for EACH destination in advance, 2 weeks before a trip and the week of. Remember, mother nature is not predictable, and not all countries in Europe have the same weather – just as all the cities and states in the USA don't have the same weather.
Follow these tips for stress free packing for your dream Italy trip!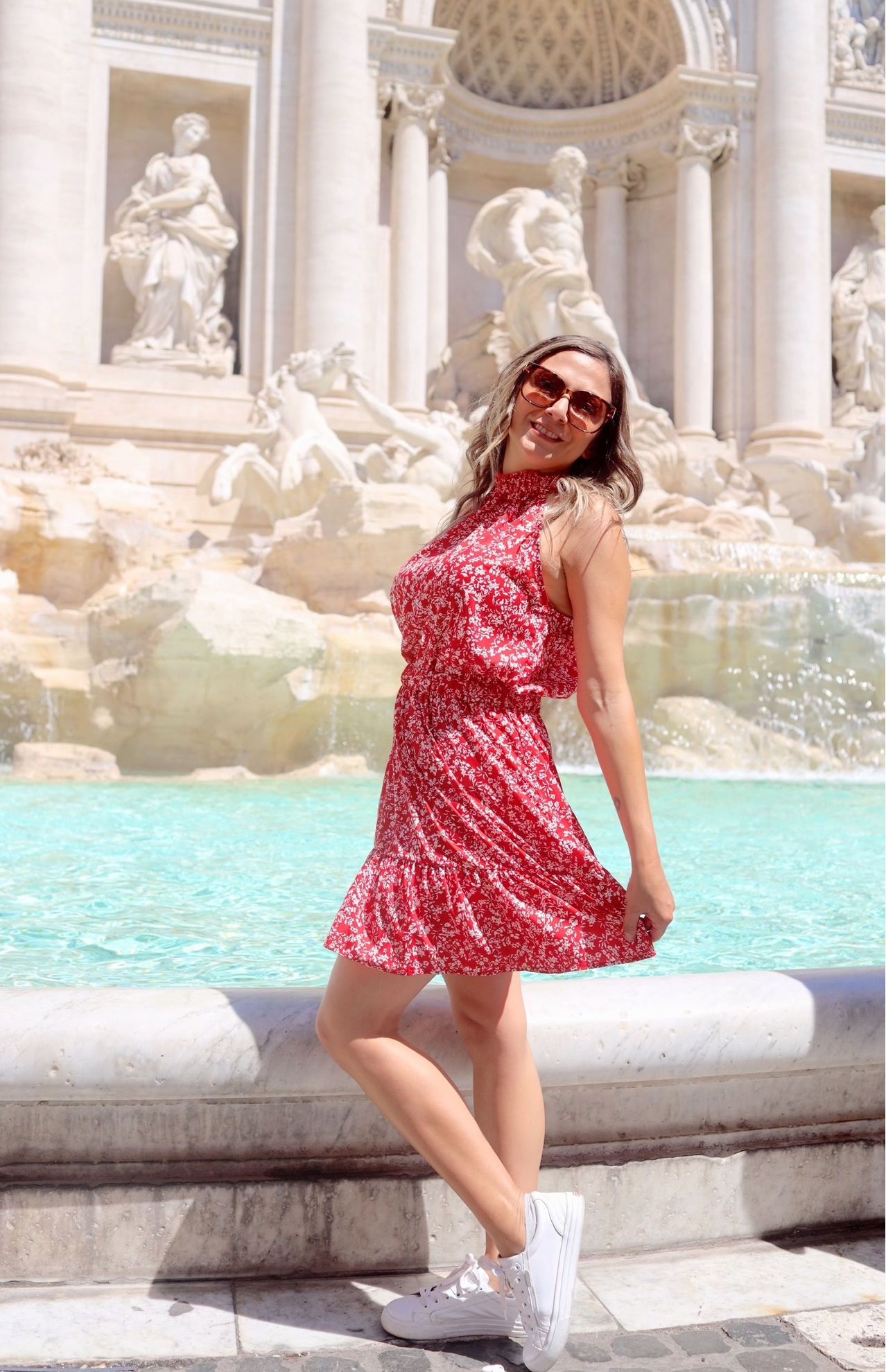 My Taos Plim Soul Lux White Sneakers were so comfy and stylish in Rome!
My Shoes in Rome
​
The first day I arrived, I wore my Taos sandals with my blue jumpsuit but felt like my white sneakers would've elevated the outfit, so I opted to wear the sneakers vs. the sandals the rest of my time in Rome. While the sandals are comfortable, they'd be more appropriate in a seaside vs. city destination as the sneakers are more fitting to current fashion trends.
When I wasn't sightseeing or just wanted my feet to breathe, I wore my Coach slide flat sandals. I will note that I'd be surprised if I saw any locals wearing flat slide sandals, but contrary to what some might think, my priority is not "blending in"; it's always comfort, although I think everyone defines comfort differently.
At the end of a long hot day, I just wanted to air out my feet and not have them restricted, so the slides were as comfortable as flip flops but cute enough that I felt my outfits still looked pretty enough for me – not for the locals.
​
I wear Bombas lightweight no-show socks with my sneakers. This is our Bombas socks review!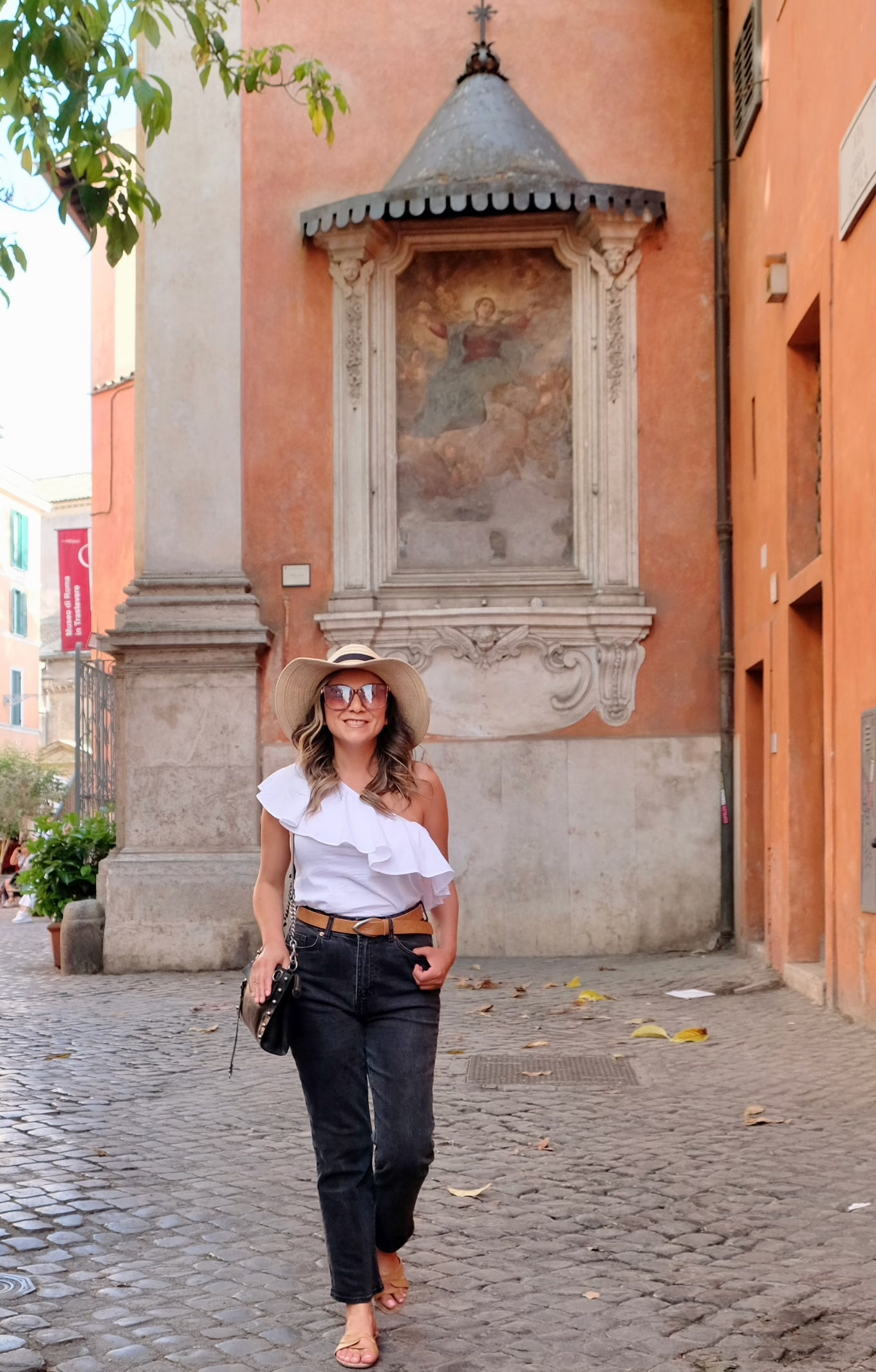 Rocking some of my purchases from Santorini; the belt and glasses! ​
Local Fashion in Rome
​
​White sneakers are still going strong as they are probably also trending in most of the world. They've become a footwear staple, and while they've been popular for years now, I don't see this trend changing this summer.
In addition, combat boots or other mid-calf boots seem to be a popular choice paired with dresses. If Rome was my only stop and I wasn't destination hopping, I would've loved to have brought mine! Boots were also popular in Athens. I'm not sure if girls will stop wearing boots as the heat intensifies as my visits were at the end of May and beginning of June, but in the 00s I'd wear my boots even in the blistering heat because I loved the look. Again, this style may not work with all women, especially for travel.
​Fashion-wise, I saw both wide leg and skinny jeans, but a wide leg still dominates, which makes sense as the skinny leg has been around since the 00s and has died down quite a bit now. While I saw a lot of denim in Athens, I didn't see as much in Rome, probably due to the weather, not fashion. I didn't see locals wearing fitness wear or athleisure as clothing in either destination.
Here's our Gevomir Red Printed Halter Summer Dress Review: Perfect for Europe!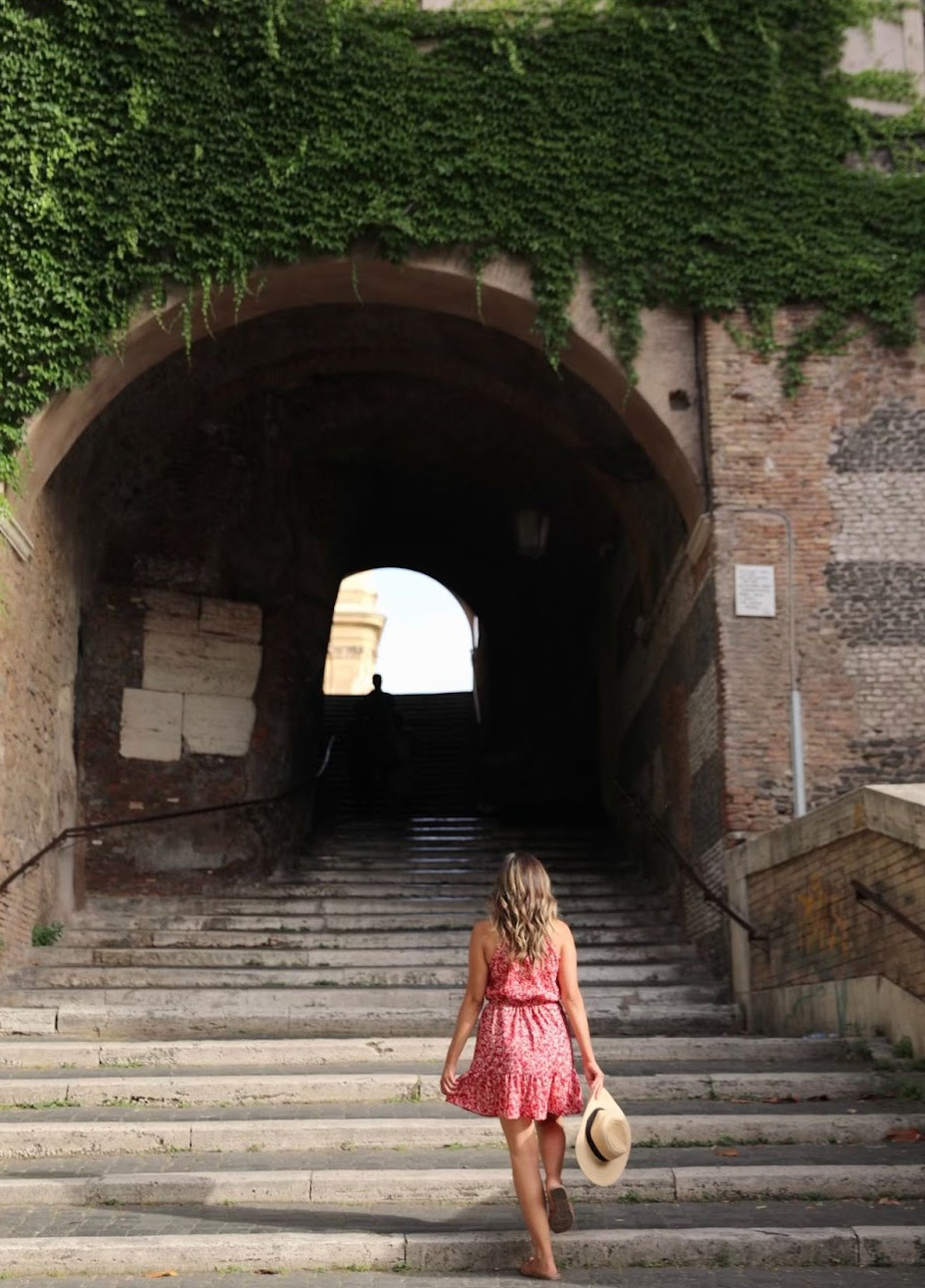 While I loved my outfits, and they were perfectly suitable for my travel needs, to be honest, I felt like I looked frumpy in Rome in comparison to the local women, as I'm pretty sure most of us will feel. But that's okay!
I was satisfied with my choices as my goal was to create a wardrobe that was suitable for travel and that also made me feel good from a physical and emotional comfort level.
​My goal was not to "blend in with the locals". Unless I moved to Rome and immersed myself in the local fashion culture, that's just not gonna happen. Remember, the most important thing is that you pack clothing that you feel good in, so whether or not you feel like you look frumpy in comparison, it won't matter to you once you're there.
With that being said, I feel there are a couple of things that helped give my outfits a more Rome-approved flare: nicely ironed clothes, jewelry, and hair and makeup – which make any outfit look more polished at home or abroad.
​I will also mention that one of the only major differences between European and American clothing styles overall is tailoring. In the US, we expect clothing to fit us out of the box, whereas in Europe, people are more likely to get their clothes tailored. When clothes fit properly, they look more refined, regardless of their price tag. Even if an item is designer or expensive, it will look "frumpy" on someone if it doesn't fit well.
​
Tip: I had both of my jumpsuit straps shortened in the USA, and one of the straps came undone. I went inside a Zyp tailor in Rome, and not only did she fix this and secure all the straps within minutes, but she also didn't charge me because she said the job was so easy! If you have time, maybe you can get some clothing tailored while you're there. I know next time I will!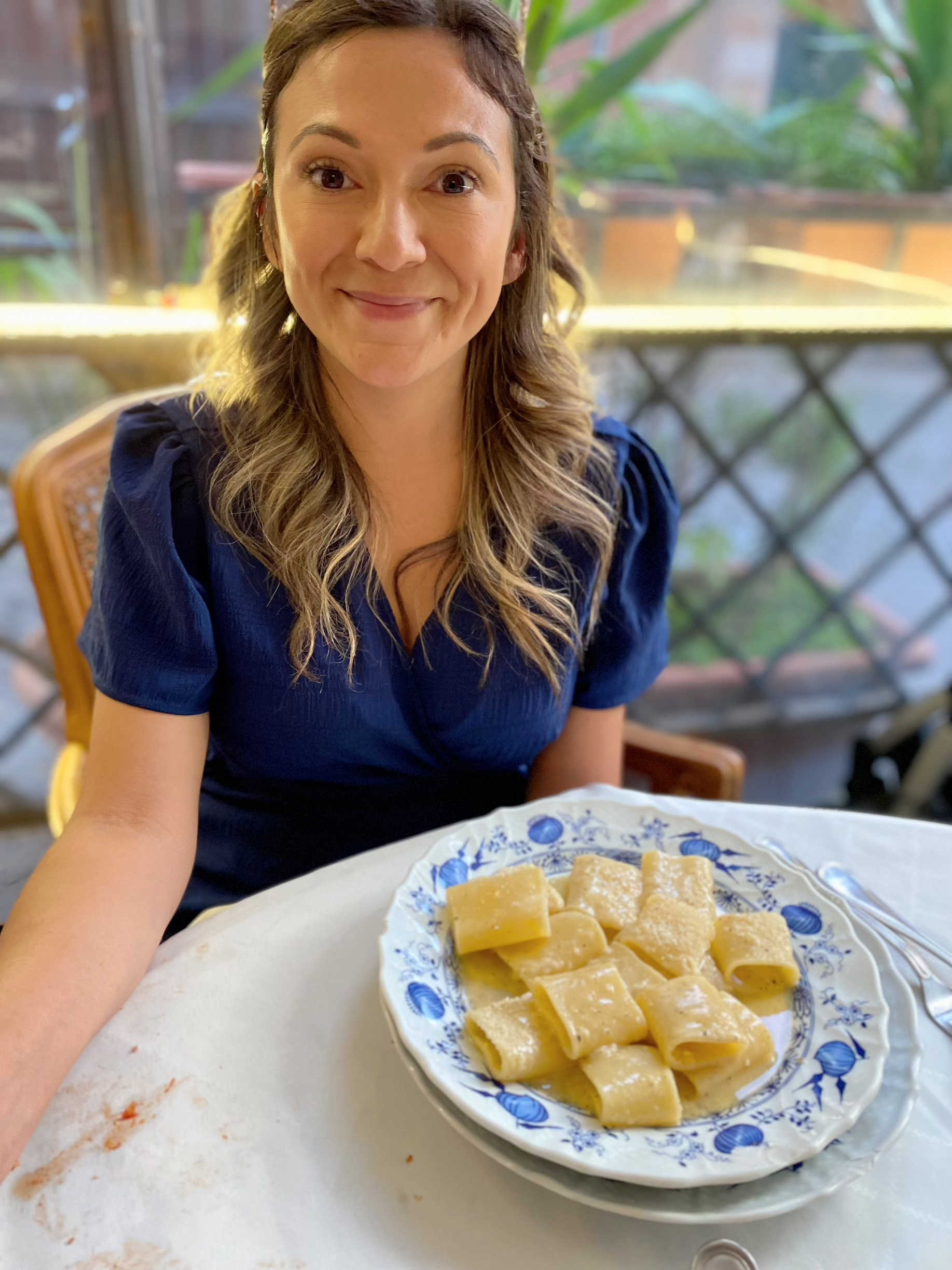 To touch on Italian cuisine for a moment… an incredible, quiet dining experience at Osteria Romana, just around the corner from busy restaurants. The food is incredible and authentic Roman. The owner was super friendly and made Jade her first pasta dish!
We've rounded up the best anti theft travel bags for women, here's our list!
Shopping (And Packing Lessons)
​
I went on an unexpected shopping spree on my trip to Rome. I highly doubted that everything would fit in my luggage, but shockingly, it did incredibly well! Perhaps because when we originally departed the USA, we stuffed a ton of diapers in the luggage, so now that we were buying as we went, we had plenty of extra space.
​This is what I bought, some items practical and others for fun:
​

As mentioned in a previous trip report, one of my original packing fails was that I forgot my contact lenses at home, but I discovered that Rome pharmacies sold them without a prescription, which was cheap too! A 30-day supply for about 25 euros!!
Another thing I was able to buy at a Rome pharmacy without a prescription was my daily thyroid medication. I left mine in my Athens Airbnb, and I was very relieved to be able to replace it here.
As far as clothing is concerned, I bought a beautiful royal blue jumpsuit at a store called Class. I thought it looked great when I walked out of the fitting room, but the sales lady quickly styled it up properly – the Italian way. Much better!
I forgot all my jewelry at home, so I bought a pair of hoop earrings at a small, inexpensive accessory boutique next to my hotel. I instantly felt so much chicer! Just like my sneakers, a little bit of jewelry made me feel just a tad more "local".
With the exception of my foundation (which I didn't decant into a travel container as I normally would), I didn't realize my makeup was almost all gone before I departed, so I stopped by the MAC store and re-bought everything.
I also bought an olive linen romper (can't find it online) and linen blue halter dress at Zara, which I felt guilty about buying and thought about returning. Then I was so glad I didn't because I wore the blue dress as a cover up EVERY DAY on my Croatia sailing trip the following week!
Tip: I love shopping at Zara in Rome and Paris because they have THE best options, so much better than what they offer in the US. In Paris, I go to every location I see and still love and wear the things I purchased years ago. This is also my favorite place to buy linen. Shop Zara linen clothing!
​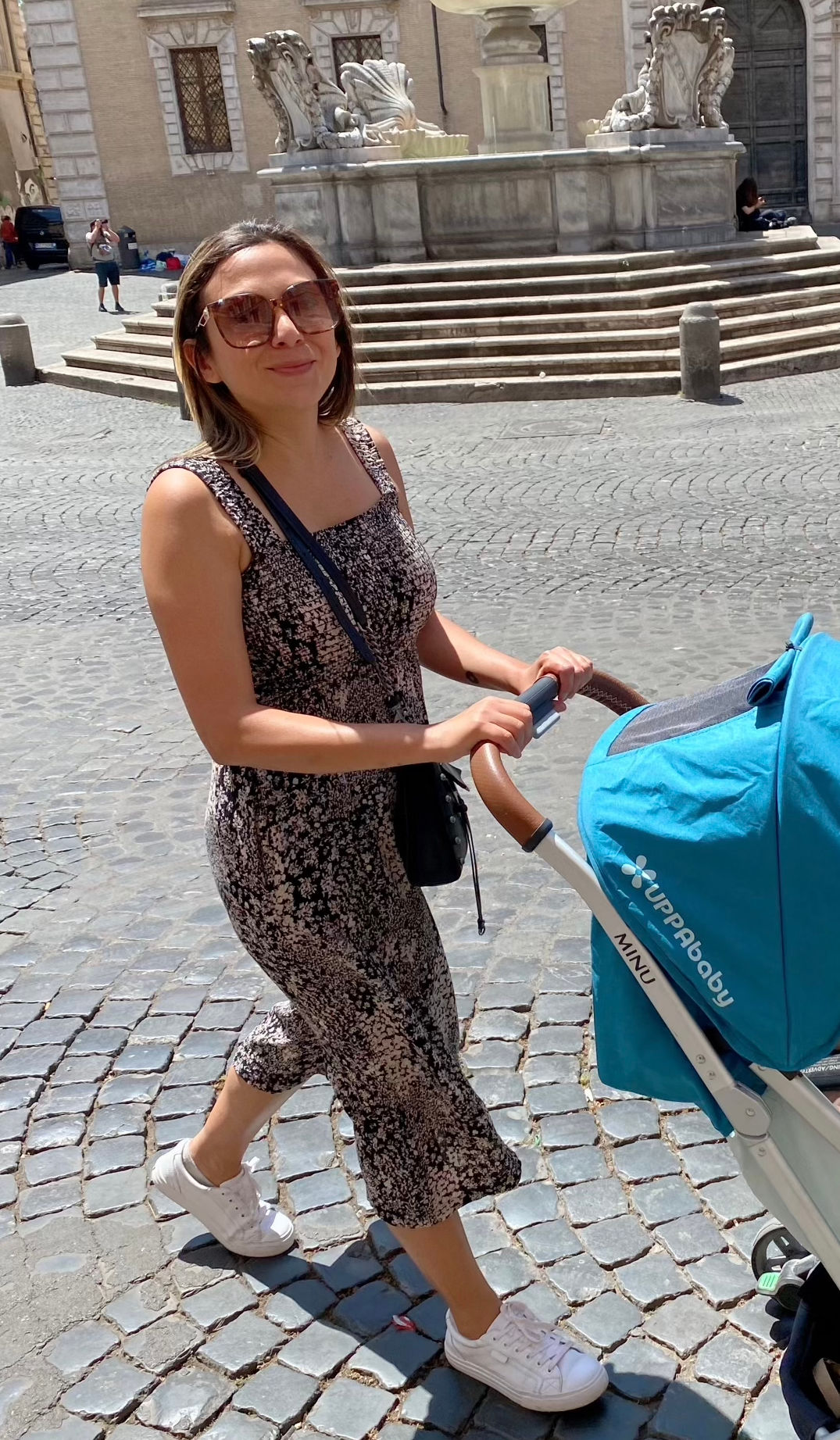 Happy with this travel stroller for everyday use and travel, just wish I would've bought it in a dark grey or black color!
I bought the baby a mini-capsule at

H&M

because I wanted cute but more comfortable clothing for her. I realized that my travel clothing options for her weren't perfect and that those cute little rompers didn't seem too comfortable on her little thighs while sitting in the stroller or carrier for long periods of time, so I bought her some soft sets I could mix and match. I also didn't like that I brought her tops that weren't onesies as I couldn't use them as a stand alone outfit in the heat, so I wanted more onesies that were short sleeved. Now almost everything I have can mix and match and fit her more generously. She just turned 10 months on the trip!

I also bought her some things at Zara. It had a much better baby selection than Zara in the USA – their baby clothes were so cute but went up a size to ensure they last! I packed some clothes she was almost going to outgrow so I could leave them behind on the trip if I bought new ones.
Lastly, I eagerly went to the pharmacy to find new baby food flavors, as I wanted her to try out different flavors in each location. So far, the options I found in both Greece and Rome have been a big hit! I also found pasta for babies, so I thought it would be fitting that the first place she eats pasta would be Italy!
Avoid looking like a tourist with our readers' expert tips on the best travel shoes for Italy!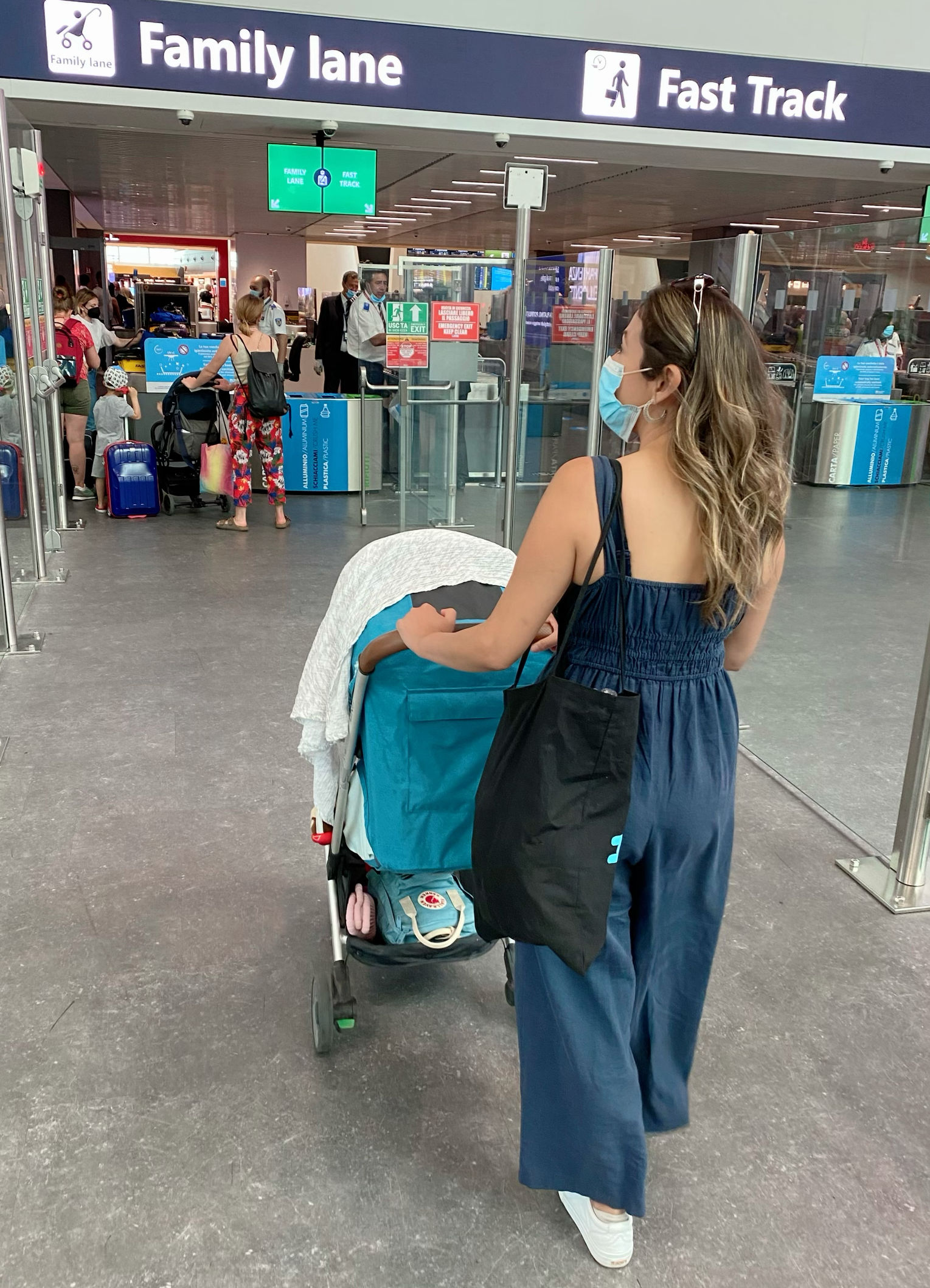 Love that various European airports have family (and fast track) security lines!
Packing Regrets
I've consistently wished I had brought my

Tumi Voyageur Just in Case Packable Tote

so I would've had a little bit more flexibility with my packing strategy for the baby. My solution: use the free tote I got at MAC as a diaper bag for the internal flights (shown above).

In addition, I wish I would've also brought a cute but packable backpack that I could've used as a diaper bag/day pack instead of the Osprey 15L daypack while sightseeing. Something that looked as timeless as a Le Pliage bag mixed with the practicality of an Osprey day pack. I'll be on the hunt for this item!
Ultimately, I still haven't worn a couple of things that I packed, including a black top and a white top as I have only worn my jeans on a couple of occasions in Athens – it's been too hot! I wish I would've traveled with my lighter Anatomie pants instead – mainly for the plane ride!
​
​Tip: I booked 3 photoshoots through Airbnb Experiences and my favorite experience was with Roma Portrait. Here's her Instagram to peek at some of the gorgeous photo sessions she captures!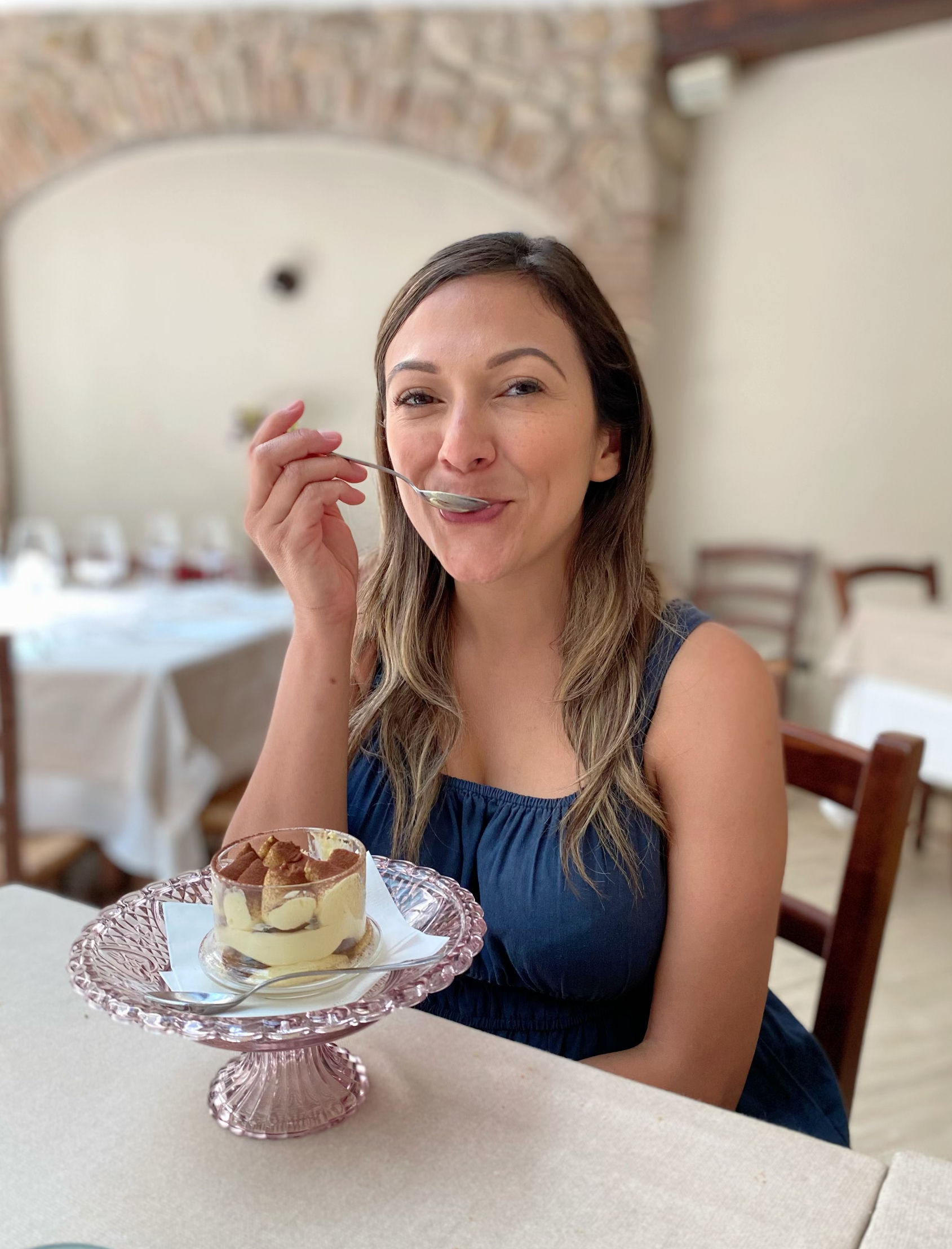 Tiramisu after the most mouthwatering meal ever at Il Giardino Antica Osteria 1909. Perfect for a special occasion!
All in all, Rome was a fun whirlwind, and it was certainly enjoyable people-watching and eyeing the local fashion scene! 
---
What are your Rome travel fashion wins or lessons? Share your experience in the comments!
---
For more Rome and Italy packing tips, please read:
---
LIKE THIS POST? PIN THIS PIC TO SAVE IT!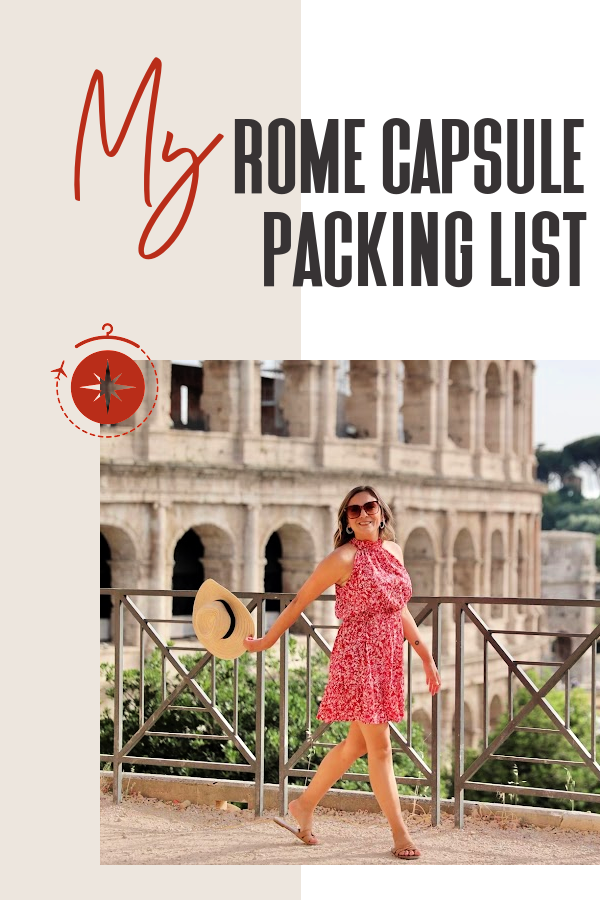 ---
We hope you liked this post on Rome and what I packed for my capsule to this romantic city. Please share with your friends on Facebook, Twitter, and Pinterest. Thanks for reading!
---