Support TFG by using the links in our articles to shop. We receive a small commission (at no extra cost to you) so we can continue to create helpful free content. As an Amazon Associate, we earn from qualifying purchases made on Amazon in addition to other retailers featured on the blog. Thank you, we appreciate your support!
The next part of my European birthday trip moved to Santorini, Greece. Such a stunning place, so check out my trip report, including some travel and wardrobe lessons and what I loved about this leg of the trip!
---
Santorini Trip Recap
---
Table Of Contents
My birthday trip continued to Santorini, and it's as picturesque and postcard-perfect as it looks in photos! I booked 5 days and stayed for 7. My trip was even slower paced than Athens, with minimal sightseeing and just enjoying the setting plus a bucket list yacht sailing trip around the nearby islands. (If you didn't know, I loooove boats and even lived on one when I spent time in San Diego several years ago.)
Despite the hoards of people posing everywhere, literally EVERYWHERE, for that perfect Instagram shot, Santorini was truly romantic, beautiful, and just generally breathtaking.
If you want to read about my whole journey, here are all the trip reports: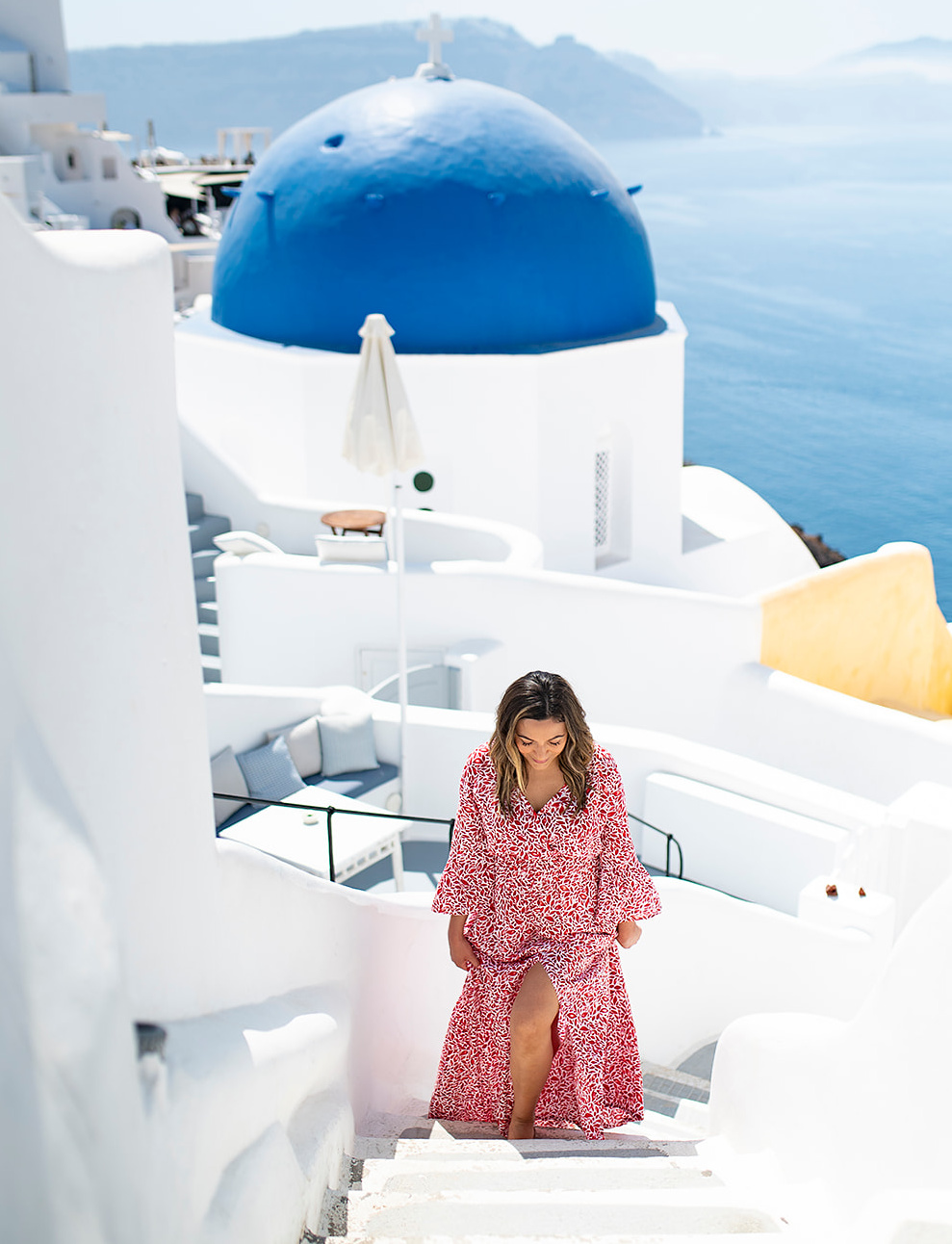 The shopping here is INCREDIBLE!!!
Overall, the fashion is feminine and pretty because many women are wearing beautiful flowy dresses paired with anything from heels to sandals or sneakers for that coveted Santorini Instagram picture. The most popular colors to wear seemed to be white and blue, blue, or red. If you want a good picture, red really pops in the background! 
Rest assured, if creating a gorgeous Instagram feed isn't your thing (and trust me, if it wasn't for the blog, it wouldn't be mine either), there was also a mix of non-social obsessed travelers with regular clothing, too. Because of the heat, dresses or wide linen pants seem to be a popular choice across the board.
I'd happily have gone to Santorini with an empty suitcase and just purchased clothing there. In fact, I bought two red dresses in a cute local shop and could've bought so much more. The fabrics, colors, and styles of many of the cover ups and dresses were perfect for the vibe and the weather, too.
With regards to footwear, I didn't find Santorini nearly as slippery as Athens, but there were so many steps, so comfortable sandals are a must. I really felt like I got a decent leg workout! I didn't wear my white sneakers in Santorini at all. I mostly wore my Coach Essie Slide Sandals but used my Taos Trulie Sandals for sightseeing days. Sadly, the Coach sandals are sold out, but here are some similar Sam Edelman slides that are cute! 
I will note that white sneakers were way more popular in Athens and Rome vs. sandals, which were more common in Santorini. 
Traveling to Santorini? Here's our packing list!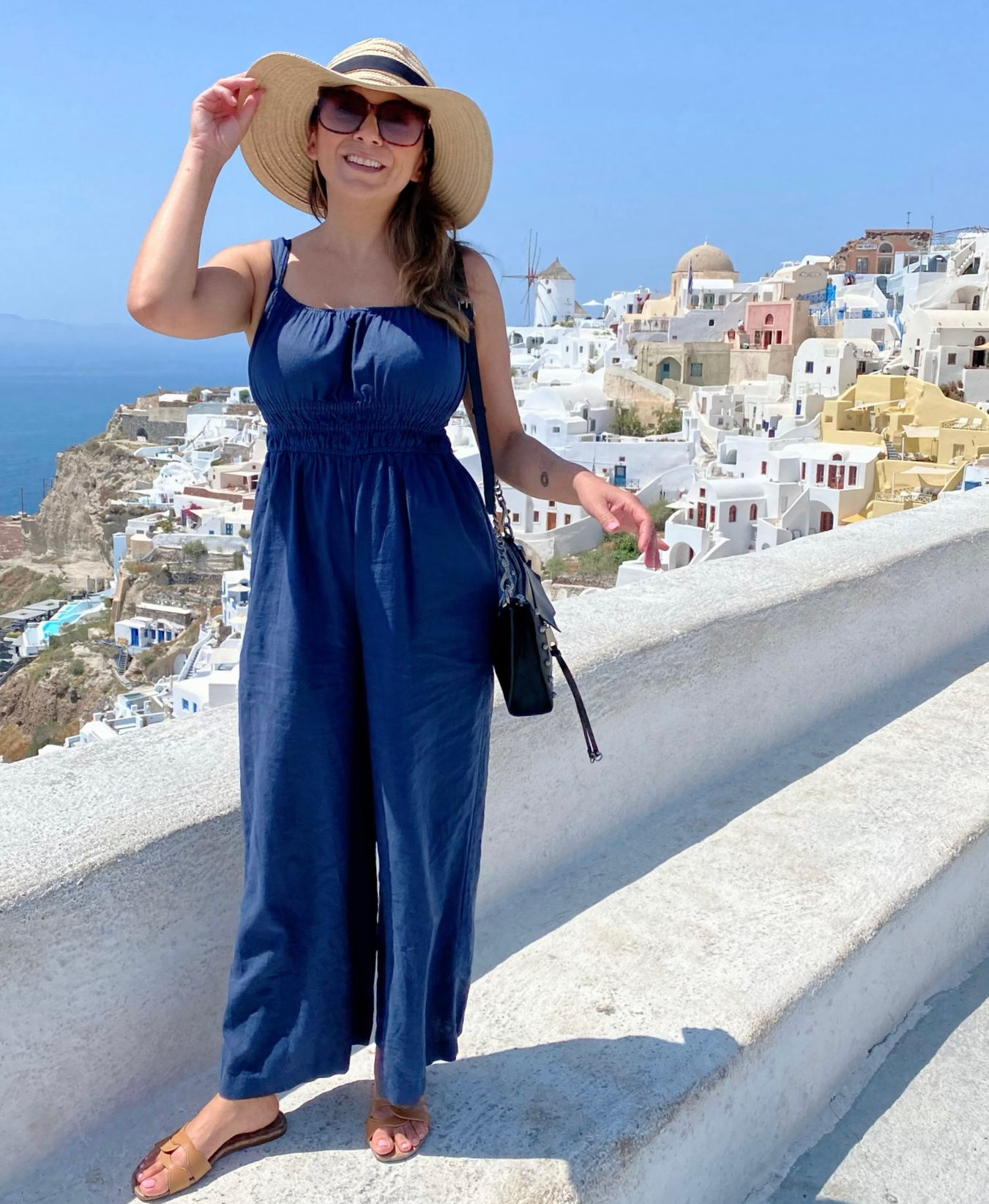 Wearing one of the standout pieces from my trip: Madewell Jumpsuit

Wardrobe Update for Santorini
Although I took pictures of all the dresses I brought and bought, I still haven't actually worn all the items I packed. I think this is an important reminder of three things:
Wear what makes you feel comfortable,

not

what others like to wear.

Plan for the trip you'll have,

not

the one you idealize.

Pack for your trip,

not

someone else's.
For example, dresses are some of the most practical items to pack for a summer trip, and they make so much sense to travel with. They're an all-in-one outfit; they pack light, they're pretty, and they're perfect for the heat. 
The problem is that I'm not a dress person. Over the past couple of years, I've come to the realization that I'd rather wear jeans, shorts, or a romper any day over a dress.
With so many iconic Instagram pictures of girls in beautiful dresses, it's very tempting to want to pack gorgeous flowy dresses and try to take the same pictures. Because of Travel Fashion Girl, I did have photoshoots to create social content, but the reality is that I didn't actually want to wear the dresses the rest of the time.
I've always wondered if the girls that show gorgeous, viral pictures wearing over-the-top outfits while traveling are actually wearing some seemingly impractical things all day.  I found myself constantly reaching for all three jumpsuits and have only worn one of my dresses. 
If I didn't have a blog and a social media account to complement it, I probably would've felt less pressure to pack things that weren't practical for my needs. 
We've compiled the ultimate list of what our readers rank as the best dress for hot weather travels!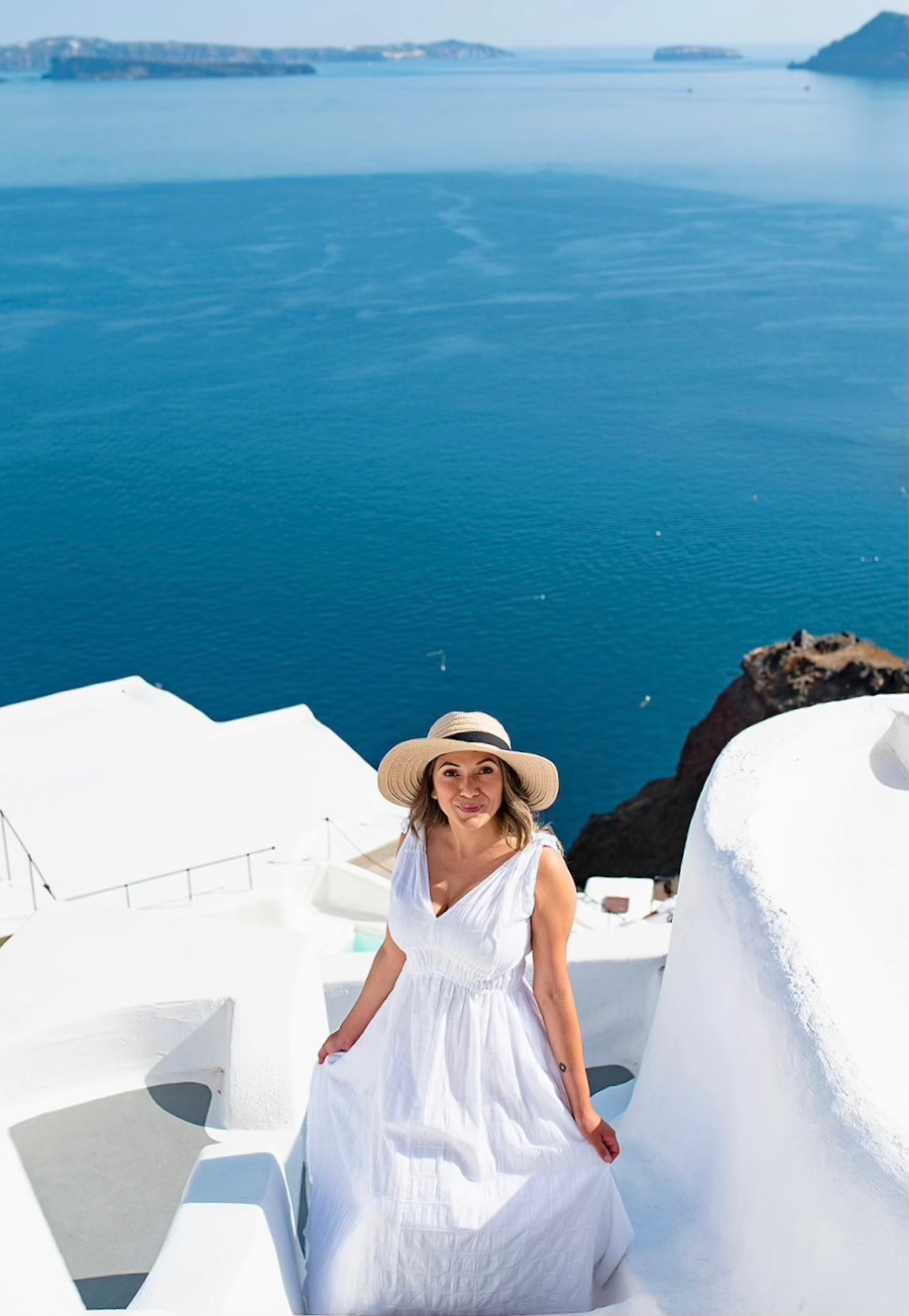 Packing light AND BEING COMFORTABLE physically and emotionally is always a priority for me
For example, I packed a pretty white dress from Madewell that I took pictures in but haven't actually worn. Firstly, the dress is white, and while I'd be fine wearing this color at home in Playa del Carmen for a few hours, with a baby, the risk is too high that it will get stained and I'll be stuck wearing chicken and vegetable baby food for the rest of the trip. Sadly, the white dress is only available in plus sizes now, but Madewell has a list of smocked dresses here.
Note to self: No matter how tempting, accept the current reality and do not buy any more white clothing until the baby's older.
In addition, I packed two bathing suits based on other people's island-hopping wardrobes, but I didn't have a lot of beach time in mind, so just one bathing suit would've been enough. 
Ultimately, I could've easily packed just the three jumpsuits (Roan + Ryan Gianna Smocked Jumpsuit (sold out), Madewell Jumpsuit, Vince Camuto Animal Print Jumpsuit) plus the one navy dress, one pair of jeans, two tops, one sweater, my Anatomie jacket, and one cover up for a total of 10 items. 
Side note: Everyone asked me how I managed with the difficulty of putting on and taking off a jumpsuit, but this was a foreign notion as the ones I packed I found incredibly easy to throw on quickly and know that I'd feel comfortable for the heat and practical to run around with a small baby.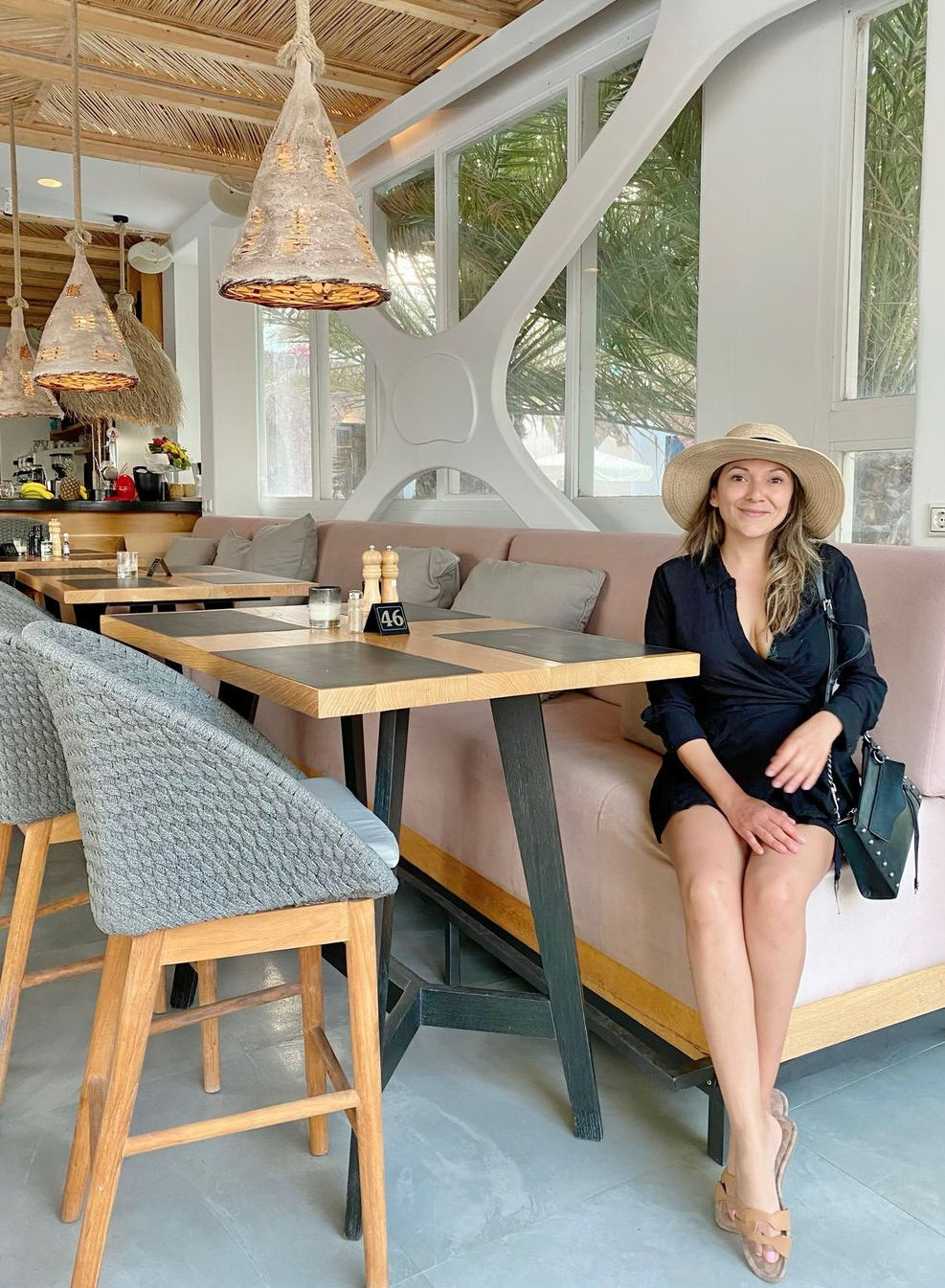 I bought this ​Cover Up for my trip, and I love it! I actually ran out of clothes on laundry day and layered it over a tank top and shorts to wear it as a dress!
As a major win, I was incredibly happy with my three shoe choices – and the surprise star has actually been my Coach sandals–these are sold out, but you could try these similar Sam Edelman slides. I didn't expect to get as much use out of them as I have. My days have been more relaxed with less hardcore sightseeing (for which the sneakers or Taos sandals are better). 
Transform & style your swim ensemble with these best swimsuit coverups!
My Santorini Packing Fails
Not packing for my activities
I wish I would've brought my go-to sleepwear in the heat, which I also use as loungewear for home: a lightweight rayon romper. I've worn it in so many pictures because it's one of the most comfortable things I wear all the time at home and when I travel. It's so multi-purpose, so I miss this item.
Toiletries
I was disappointed that I didn't pack an initial supply of toiletries using these various travel containers. This week, I remembered part of the reason why I was never concerned about this – because it's a fun chance to discover new brands, especially at European Pharmacies. 
Power Bank
For over a decade, one of my in-flight essentials has been a small Anker Power Bank. As a systematic process, I'd always charge it before any flight, along with my phone and noise canceling headphones. 
Since I hadn't been using it over the past years of flights, I finally took it out and retired it. Little did I realize that I hadn't been using it because I wasn't traveling properly, sightseeing, and flying on budget airlines like RyanAir or Volotea in Europe.
As I was on my flight from Santorini to Rome, a couple of things happened to make me regret my decision to retire my loyal little power bank:
My phone battery ran low overnight playing white noise for the baby – mental note to look into a travel-size white noise device

The power went out in Santorini in the morning when I woke up, so no coffee, no styling my hair, and no charging my phone

As it turns out, my Airbnb host didn't schedule an airport pick up for us (my fault for misreading her message), so my phone might die before we arrive, and I didn't have access to the Airbnb address. 
Rest assured; it's not the end of the world. Once we got to the airport, I managed to find a place to charge my phone and sought out an airport taxi.
Needless to say, while flying by the seat of my pants has been okay for my long-term solo travels, I may have to get slightly more organized flying with a baby! If you relate to my story, here are a few more common mistakes I've made in Europe!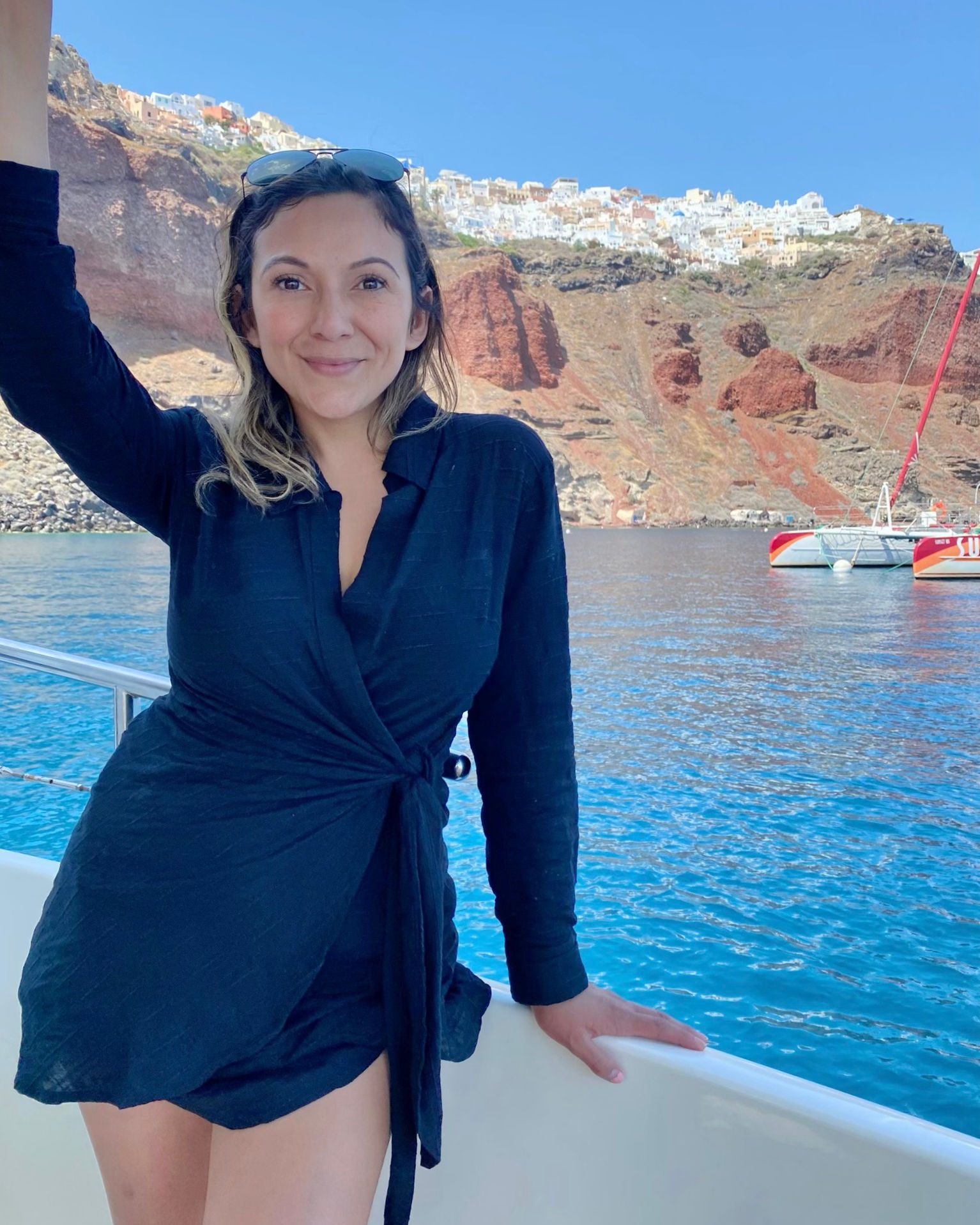 When it comes to packing, I wanted to note that the intention of the blog and the TFG FB community is to help women pack based on the weather at the destination and the activities available there. 
We've created four signature capsule wardrobes to explain how to pack a carryon yet have all the clothes you need for a trip. We also touch on what people wear to provide insight for those interested in the local style. 
The goal is for you to have all the information and choose the clothing that will work for your specific trip and your unique style. 
Learn more about the art of creating a capsule wardrobe and master how to combine your clothes into versatile outfits with my exclusive Pack Light Stylishly Ebook!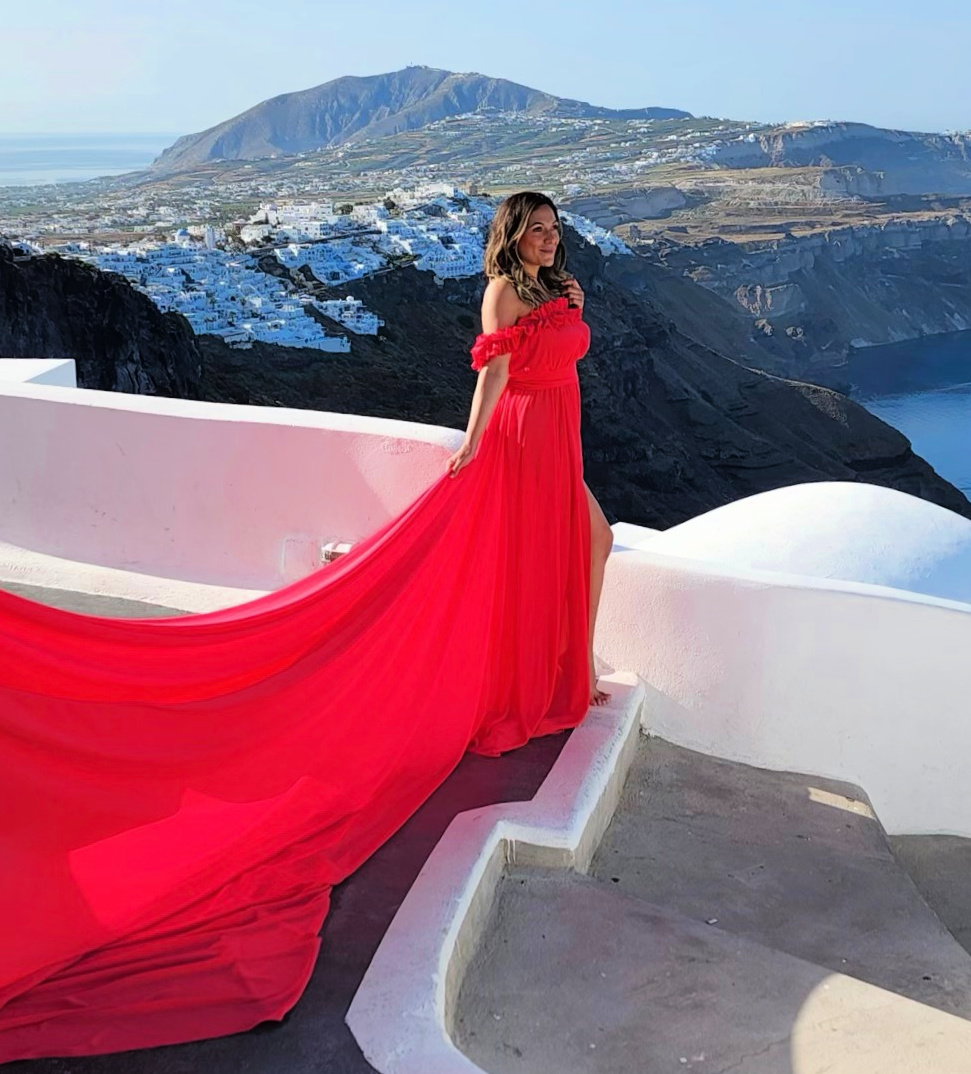 You see, many people use the word "comfortable" to describe how they feel physically, but I also use it to describe how my clothing makes me feel emotionally. 
If I feel comfortable with myself in my clothing, I'll be happy and confident no matter what I'm wearing, I'll always look good – perhaps to others but more importantly to myself.
I'm sure you've seen pictures on the blog where I just don't look comfortable – the Flying Dress photo shoot would be a perfect example. I did it for fun, but it was impossible to act glamorous because it isn't really how I feel about myself, particularly in a giant gown. I feel way more glamorous in a pair of ripped jeans, edgy blazer, and awesome heels! That's my go-to outfit to speak on stage – it inspires comfort and confidence within.
Likewise, my trip is probably way more chilled out than the average Greece vacation, so my clothing choices may not be relevant to someone else. My sightseeing days were limited to the weekends due to work schedules. Our days start in the morning and end in the afternoon when he starts work and the baby naps. So I have had time to do laundry and rewear the same few low-key things, mainly my rompers! 
I went at an extra slow pace with the baby, because I just wanted to exist in a destination and be immersed in the environment vs. ticking items off a checklist. I'm fortunate that I've spent many years traveling and have checked a lot of boxes. Now, I'm enjoying strolling down the streets, sitting at a restaurant to people-watch, and just taking a moment to exist and remember what it feels like to fly and feel free again. That's the beauty of travel!
---
Have you visited Santorini? Share your experience in the comments!
---
For more Greece packing tips, please read:
---
LIKE THIS POST? PIN THIS PIC TO SAVE IT!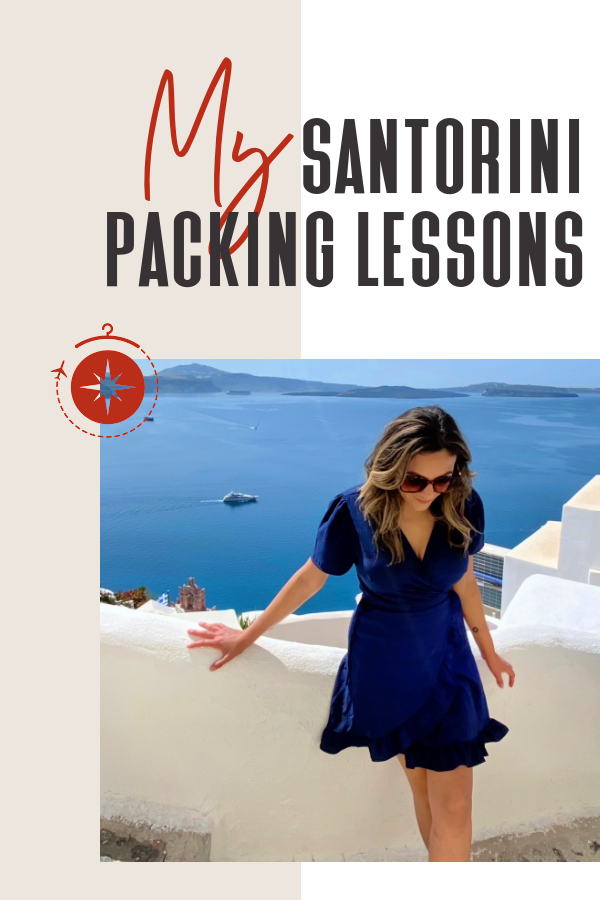 ---
We hope you liked this post on my Santorini packing lessons. Please share with your friends on Facebook, Twitter, and Pinterest. Thanks for reading!
---