Support TFG by using the links in our articles to shop. We receive a small commission (at no extra cost to you) so we can continue to create helpful free content. As an Amazon Associate, we earn from qualifying purchases made on Amazon in addition to other retailers featured on the blog. Thank you, we appreciate your support!
Welcome to our 5 Days, 5 Ways to pack series! We're sharing our tried-and-true tips for using packing cubes like a pro. In the first post of our series, we're showing you how to pack for just about any trip, using just four packing cubes.
---
Packing for Any Trip with Packing Cubes
---
Back in 2011, before I started Travel Fashion Girl, I was a long term traveler and I was so tired of dragging around a large backpack. I really wanted the ability to pack all of my belongings into a smaller bag so I spent 2 years trying to figure out how to travel carryon only.
Using a combination of a capsule wardrobe, clothing with the best travel fabrics, and packing cubes, I managed my goal! The end result was shown in my very first packing video.
Fast forward to 2017 and I was determined to improve my packing even further so I decided to create my own packing cubes and then I recreated the original video with my new cubes and expert packing skills and came up with my 5 Days, 5 Ways to Pack series!
This is part 1, and you can find the rest of the series here:
​Watch the new version of the video below!
Watch this video and learn how to use packing cubes for carry on travel
As shown in the above video, you can pack for a trip and use a carryon, or at the very least use a smaller suitcase than you're used to carrying. The video shows how I pack 15+ items for multiple climates in just four packing cubes! You can use the packing principles to pack for a weekend road trip or an extended trip abroad.
Having all the clothing you require need not be an intimidating task. The key is packing the right clothing fabrics and using a capsule wardrobe that can be mixed and matched and worn for multiple occasions.
To give you more details about how to choose clothing, take a look at our Maximista Packing List where we recommend 15 clothing items and show you how to mix and match everything so you can maximize your luggage space.
Just as one example, five bottoms, three dresses, and seven tops are more than enough clothing for almost any type of trip and when you choose your clothing carefully, it's also possible to fit all of this in a suitcase that's 21″ – 25″ with the help of packing cubes of course! Use it as a guide to put together your own capsule wardrobe for travel!
Below you'll learn more about the clothing from the video and how to make it all fit inside four packing cubes!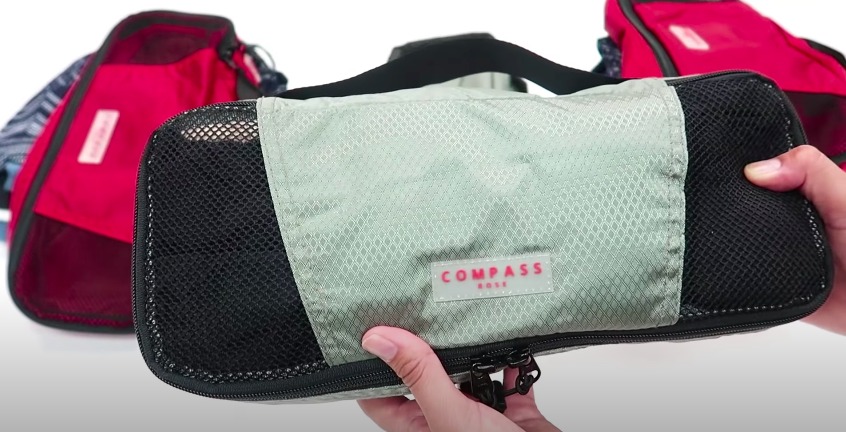 Use one packing cube for all your accessories
Packing Cube 1: Accessories
I find it's best to pack your accessories either first or last. In this cube, I recommend packing your undergarments and sleepwear. This is also where I pack thermals if needed. I list three bras below, but I would pack two and wear one on the plane to maximize space.
Tip: Avoid bulky pajamas and choose the most compact option possible! Choose items you can wear with your regular clothes, too, if needed. Leggings or shorts and a tank top can act as both sleepwear and workout wear.
However, if you're traveling to a colder climate, you may need more silk thermals or long underwear.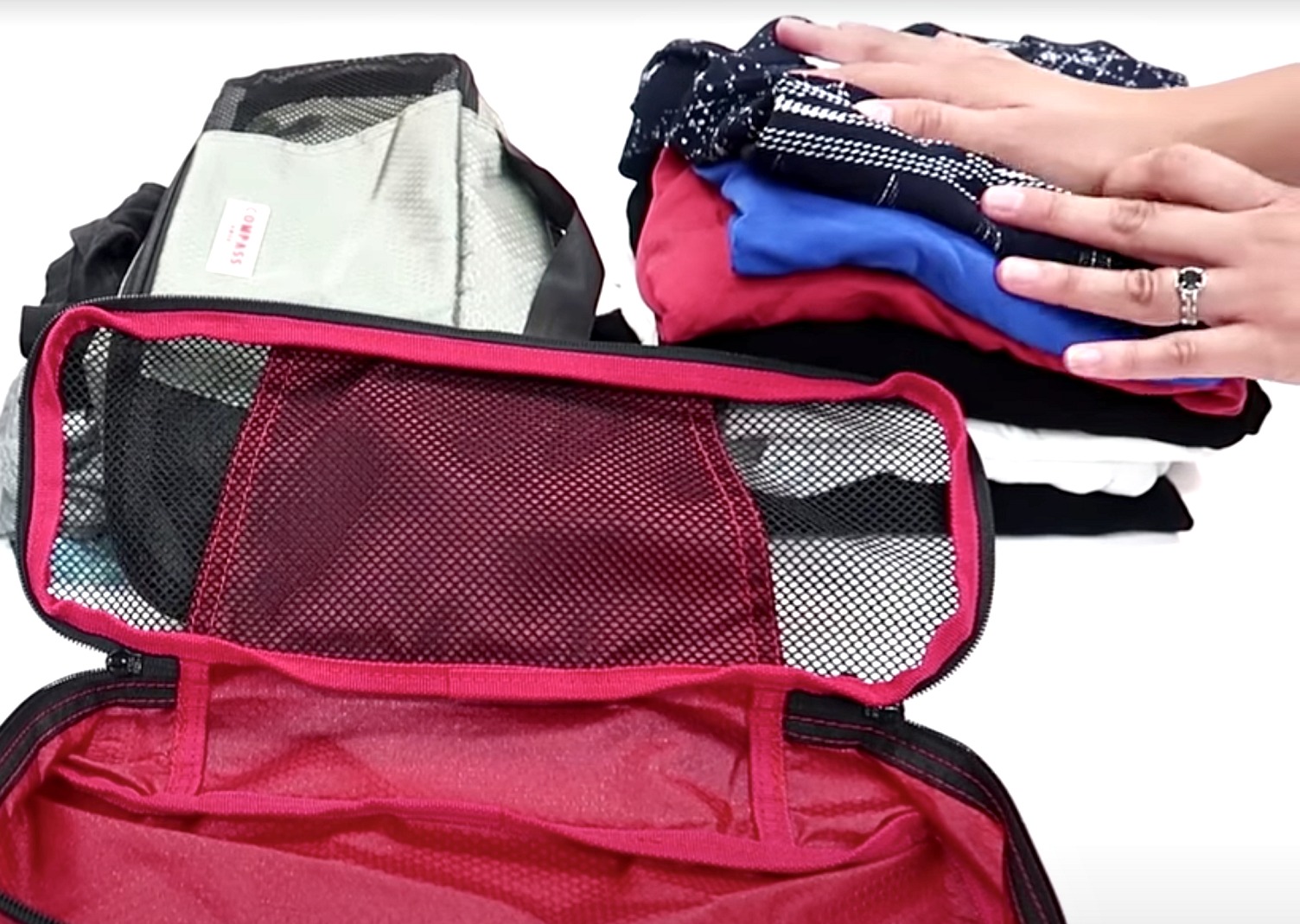 Look for lightweight fabrics for tops, like linen tees or merino wool sweaters
Packing Cube 2: Tops
Next, move on to tops. I like to pack by clothing type, but you can organize your cubes another way if you prefer. For packing a variety of tops, you might choose:
The idea behind this ratio is that you can wear all of these tops with a majority of the bottoms to mix and match and make a variety of outfits. You can also layer these together.
To pack the cube, start by folding each tank top. As you place the tank tops into the packing cube, start closing and zipping it. This way, you can adjust the clothing as you pack it, which helps you maximize the space.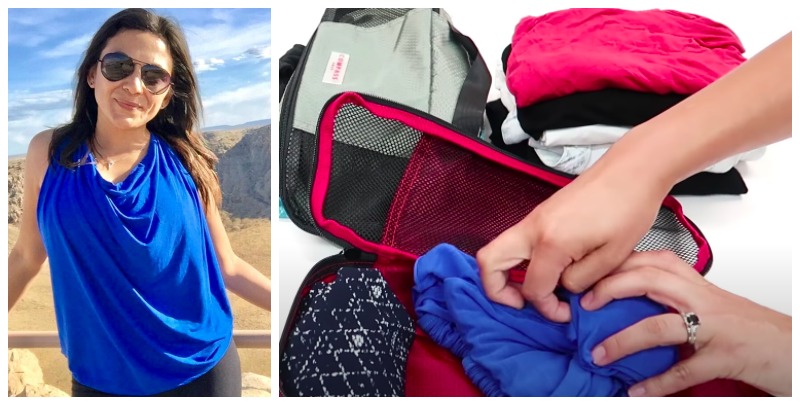 Folding and compressing the Michael Stars Top in packing cube 2
While many packing cubes look small and slim, they can hold a lot and they're durable, so don't hesitate to stuff a lot of items in them!
As you stack the tank tops, consider it like a game of Tetris. You may layer some, while others you place on the side. Push down on the cube to compress so you can add more. Once you've packed the tank tops, move to the next heavier item, which is the button-down blouse.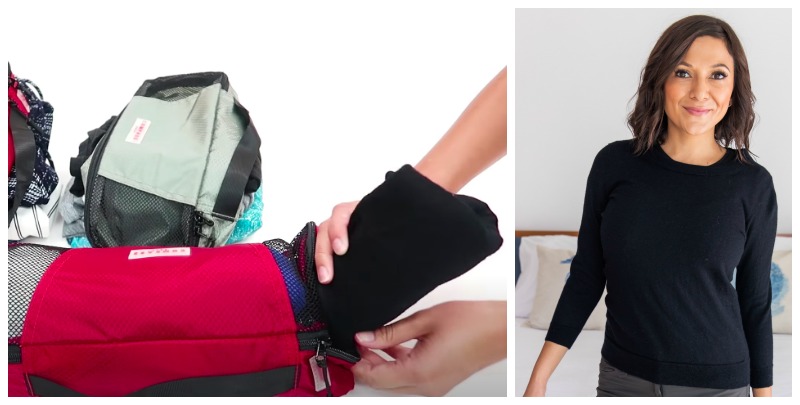 Maximizing space in cube 2 for 7th item with Merino Wool Sweater
Then, roll up the merino wool sweater. This is one of my favorite things to wear when it's cold because it provides maximum warmth without the bulk.
Voila! Seven tops in one small packing cube. You may even have room for one or two more tops, depending on the style, fabric, and how you pack. 
Tip: To make the most of your room in your packing cubes, I like to do a half-roll, half-fold combination. I find this helps me pack more in a carry-on.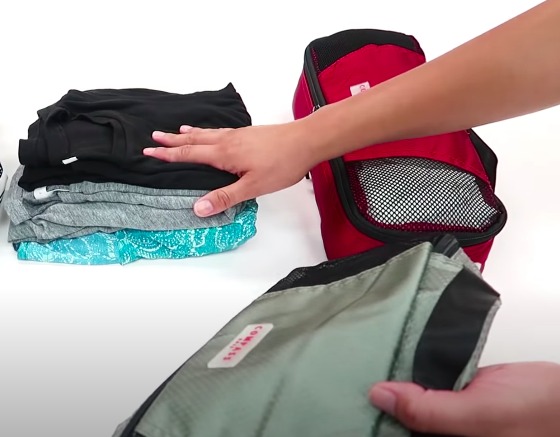 Pack efficiently with dresses that transition from day to evening
Packing Cube 3: Dresses
Now we move on to packing your dresses. For this, I like to pack:
1

LBD

of your style choice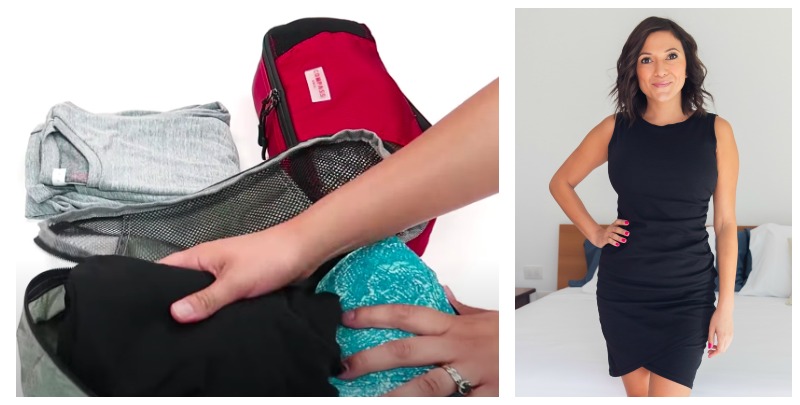 Folding (rather than rolling) the Leith Ruched Tank Dress in cube 3
Start with the dress you can roll and pack it on the side of the cube. Then, fold or roll your other two dresses and stack them into the packing cube.
Tip: I generally roll dresses made from stretchy fabrics and fold more delicate dresses. 
 Packable bottoms should be able to roll or fold into a packing cube
Packing Cube 4: Bottoms
Lastly, we have the cube for bottoms. Here, you may want to pack:
Start by folding the casual trousers and your travel pants. If you're in the market for a good pair of travel pants, here are best black travel pants for women!
They're nice and lightweight, and you can dress them up or down. I've worn them to hike Machu Picchu, to dress up and speak at conferences, and just for about any occasion.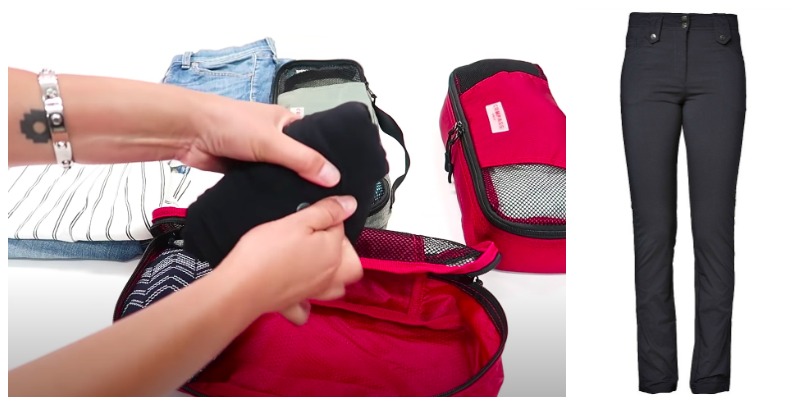 Rolling pants into packing cube 4 
I roll those vertically and with the rest of the pants, place them horizontally across the packing cube and pack them at the bottom with the jeans. Push down to compress and then continue layering your pants. Add the shorts on top since they're the smallest.
Tip: Try to pack the lightest items first and then finish with heavier ones like a merino wool sweater or jeans. Remember to zip as you start so you can compress and be able to fit what you need in each cube!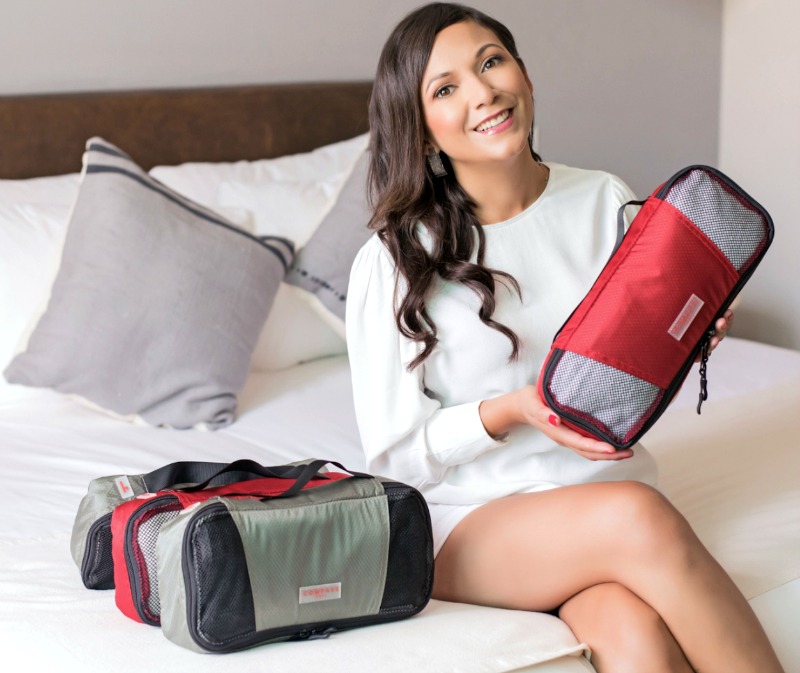 Compass Rose Carry On Packing Cubes
Packing Cubes for Carry On Travel 
Find things aren't fitting perfectly? Repack! Sometimes you have to adjust things to get the perfect fit.
I like to play around with the packing of the cubes to find the right layering technique. This also gives me a chance to double-check and make sure I have everything I need (and that I'm not taking anything I don't really need).
Additionally, while you may swap out items shown on this list for others that are more appropriate for your destination, this goes to show that you can organize a 15-item packing list for an extended trip in just four slim packing cubes!
I used Compass Rose packing cubes to demonstrate these packing methods. Check out this review, and learn more about them!
---
Do you use any packing cubes when traveling? Share your experience in the comments!
---
For more tips on travel packing cubes, please read:
---
LIKE THIS POST? PIN THIS PIC TO SAVE IT!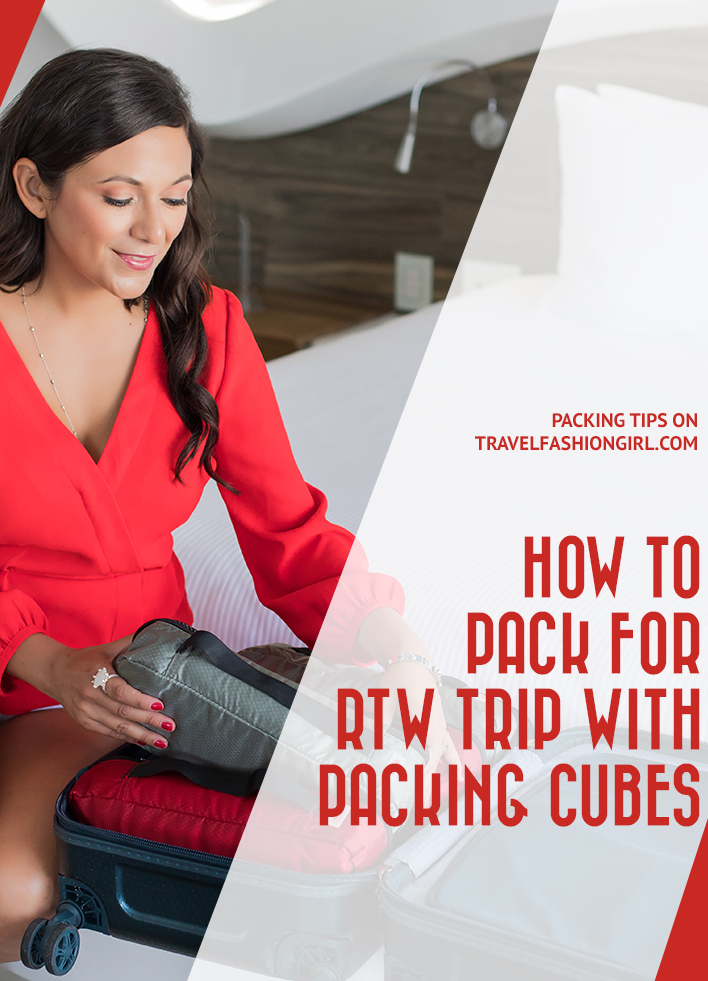 ---
I hope you like this post on how to pack for a round-the-world trip with packing cubes. Please share with your friends on Facebook, Twitter, and Pinterest. Thanks for reading!
---