Support TFG by using the links in our articles to shop. We receive a small commission (at no extra cost to you) so we can continue to create helpful free content. As an Amazon Associate, we earn from qualifying purchases made on Amazon in addition to other retailers featured on the blog. Thank you, we appreciate your support!
Packing for several days and want to keep your suitcase light? We're showing you how to use slim packing cubes to organize all of your essentials for a four-day trip. Find out more!
---
How to Pack Four Days of Outfits in Packing Cubes
---
Welcome to our 5 Days, 5 Ways to pack series! We're sharing our tried-and-true tips for using packing cubes like a pro. This is part 4, and here is the rest of the series:
In this fourth post of our series, we're showing you how to use slim packing cubes to pack four days of different outfits. Whenever I head out for a short multi-day trip I incorporate capsule wardrobe pieces in neutrals that I can work into my itinerary easily. Another thing I employ is a packing list! Many of our readers use the Minimalista packing list for shorter adventures. 
Watch this packing cubes video tutorial:
Watch this video and learn how to pack and organize outfits for a four-day trip
In this scenario, packing efficiently is about maximizing space for several days worth of clothes, and for this purpose, I'm using Compass Rose packing cubes which are numbered and color-coded. This way I can organize belongings in a variety of different ways, including using one number per day.
Let's see how easy it can be to fit a four-day trip in only four packing cubes!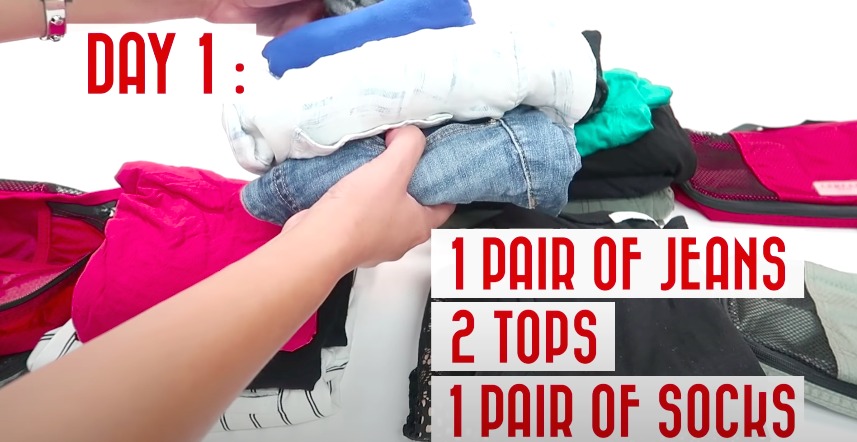 Day 1
You can begin by choosing a colored and numbered packing cube for your first day's clothes. It's probably easiest to choose packing cube 1 (red) for this purpose. For day one, we recommend packing:
Two tops allow you to change halfway through the day or layer. 
Start by packing the jeans first. Next, add a folded button-up shirt as the top layer and zip up the packing cube so everything stays in place.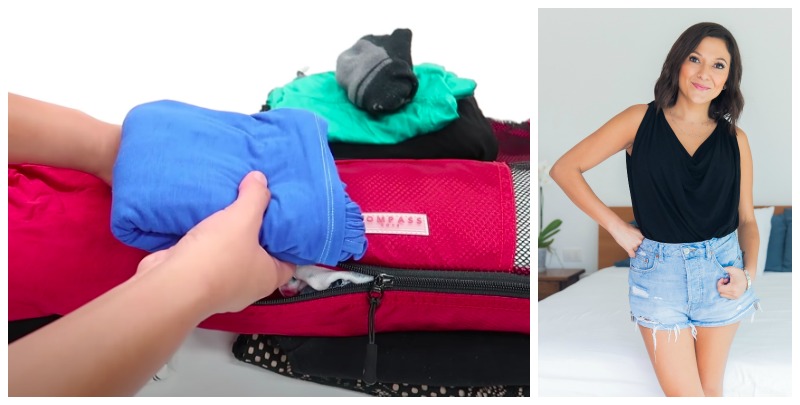 Wearing Michael Stars Drape Neck Jersey Top
But wait! You're not done yet. If you push down on the pile, you can make room for another top you can fold or roll.
Once you're done adding that last top, you can then put in the underwear and socks last. 
Tip: While you can separate your outfits by day, ultimately you want to choose items that can mix and match, especially if you're traveling for longer than a few days. So while this is one outfit, you can mix and match the pieces with the rest of the days for more options.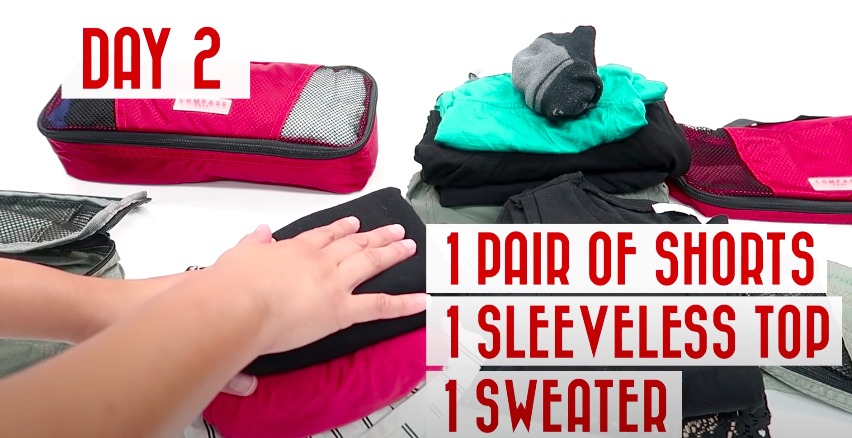 Day 2
With packing cube 2 (gray), you can add a new outfit! You may want a dressier option for your trip, so we recommend:
Start with packing the bulkiest item, which will likely be your skirt or shorts, followed by the folded sweater.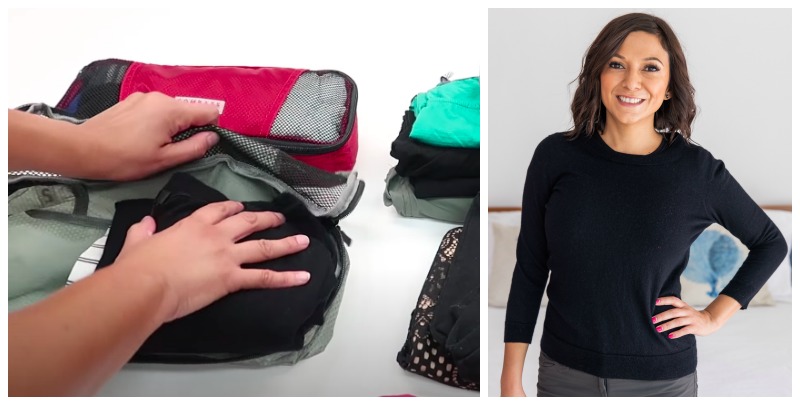 Adding packable merino wool sweater to Day 2
At the top, add the top, bra, and underwear, and you'll see that everything fits in super well! Once you're done, zip it up and you're set to go! 
There are a variety of ways to use packing cubes, including organization rather than compression.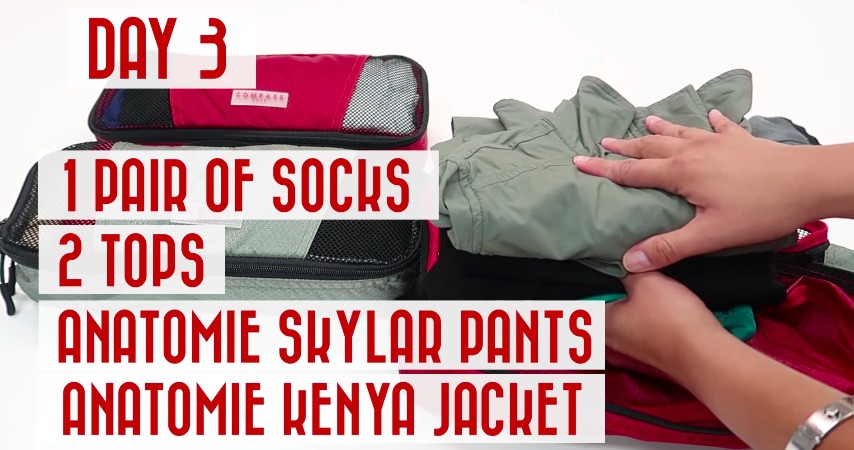 Day 3
For day 3, you may pack activewear for an outdoor adventure, such as a hike, along with a sightseeing outfit for when you return to the city. For this, pack:
For this outfit, start by packing your jacket first. Choose a waterproof jacket that will work for both city sightseeing and outdoor adventures.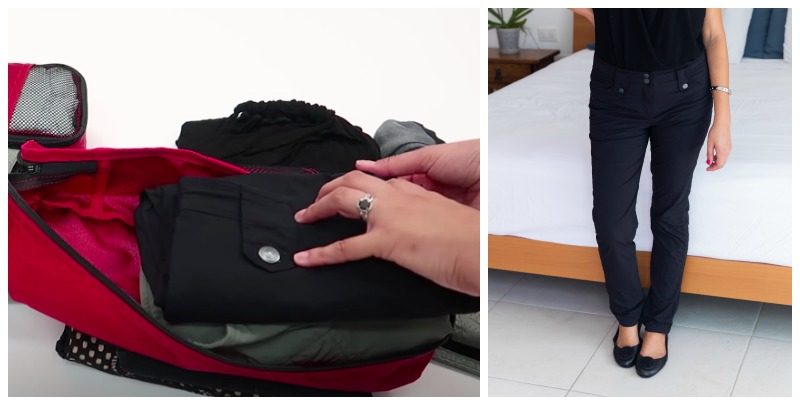 Adding Black Pants to Day 3
Fold it up tight and pack it at the bottom of the packing cube. Next, add the your pants, which you can either fold or roll. For pants, black is always a popular versatile style that can look dress while being appropriate for outdoor adventures too.
Lastly, add the tops, socks, and underwear. As you zip the cube, carefully place your finger in between the zipper and the fabric to avoid it catching.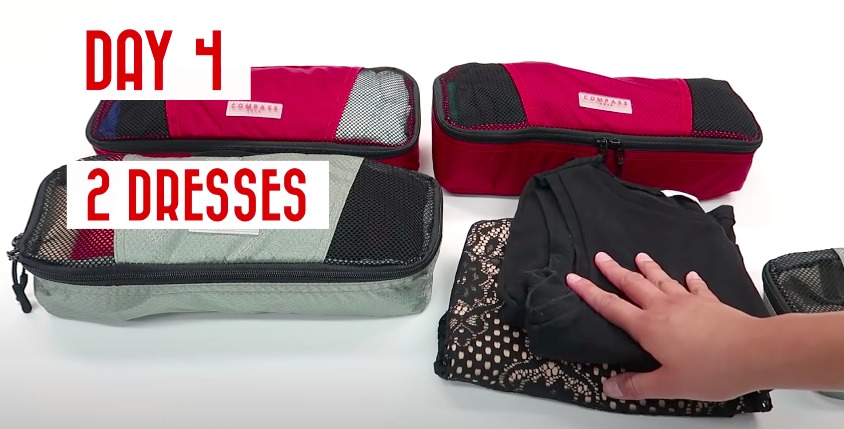 Day 4
Lastly, into packing cube 4 (red) you may want some pretty dresses for either casual or more special outings. For this day, pack:
Black tank dresses are great because they're so versatile, and lace dresses don't wrinkle, pack light, and look really nice and formal, so it works for a number of occasions.
One of the best things about dresses is that they're easy to pack! For using packing cubes, fold or roll both of the dresses and pack them on top of each other.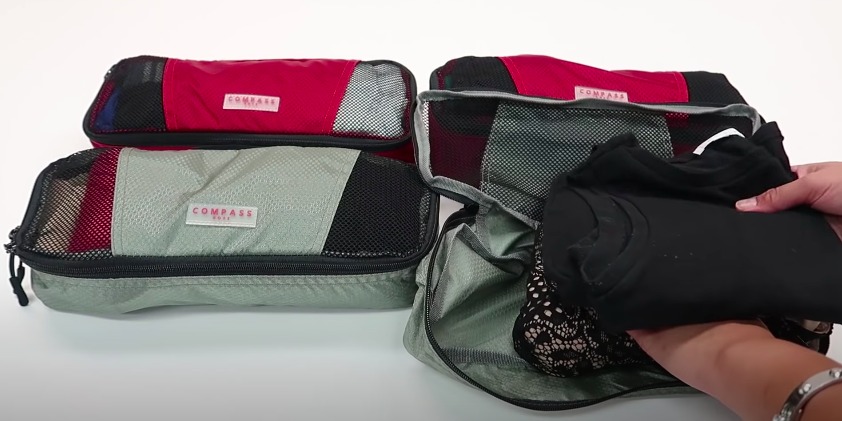 Packing my dresses in the last packing cube
One of the techniques I like to do with the packing cubes is to half pack them and then I push things in a little bit to leave some extra room, that way it can maximize the space. After packing the dresses, you can add a bra and underwear.
 Tip: While packing bras, always place the underwire along the edges of your packing cube so it lays flat and more compact, and the underwire won't get bent during transit!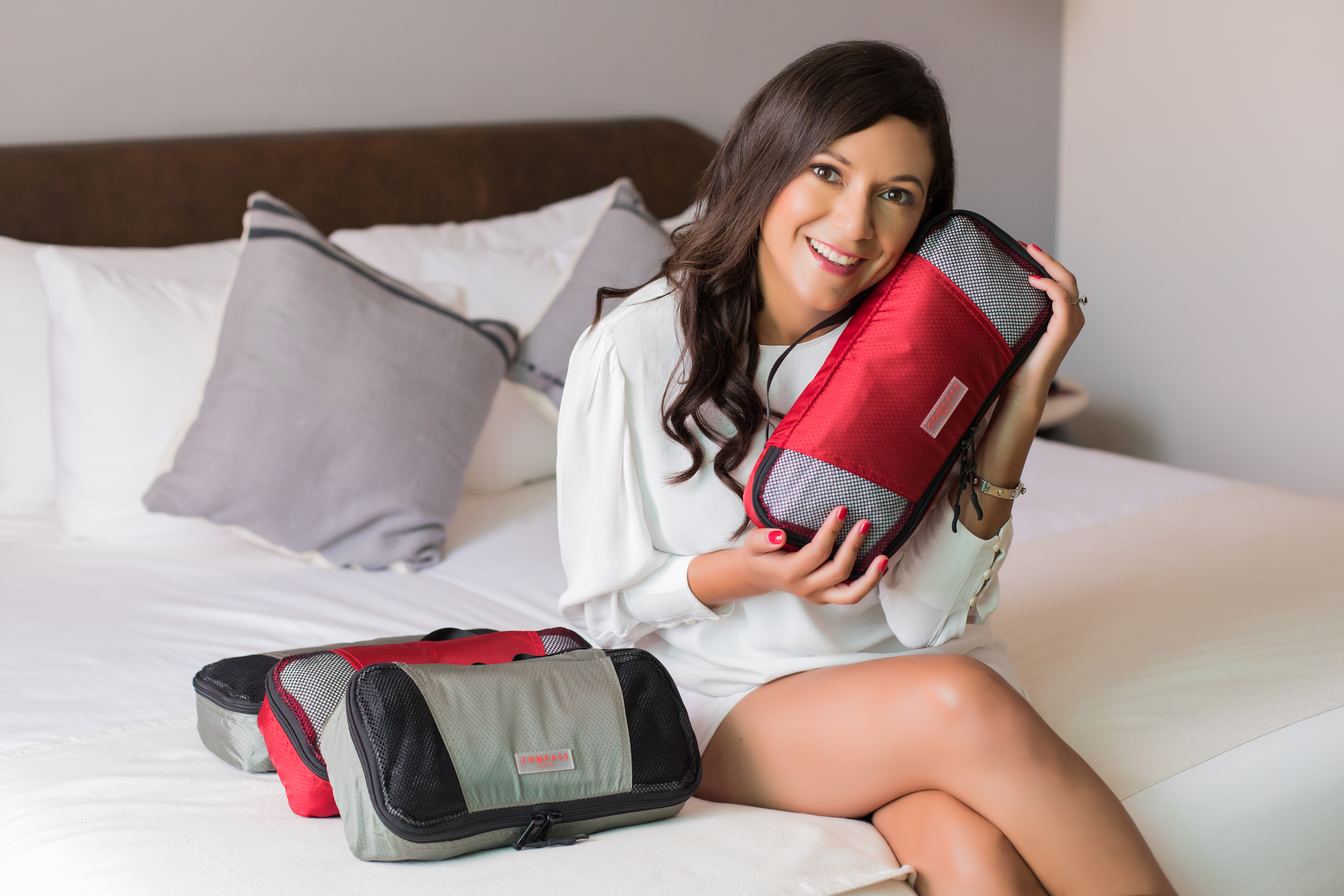 Compass Rose Slim Carry-On Packing Cubes
Mixing and Matching with Packing Cubes
This is just one example of how to pack four days of outfits with two outfits per day. Even better, all of these items can mix and match to last you much longer than a four-day trip. You could easily extend this to last over a week!
Using numbered and color-coded packing cubes, like the Compass Rose Slim Carry-On Packing Cubes, make it so easy to pack multiple outfits in a carry-on bag and travel light and in style!
If you want to learn more about Compass Rose packing cubes, check out this review!
---
Do you use packing cubes to organize and pack your clothing? Share in the comments!
---
For more tips on travel packing cubes, please read:
---
LIKE THIS POST? PIN THIS PIC TO SAVE IT!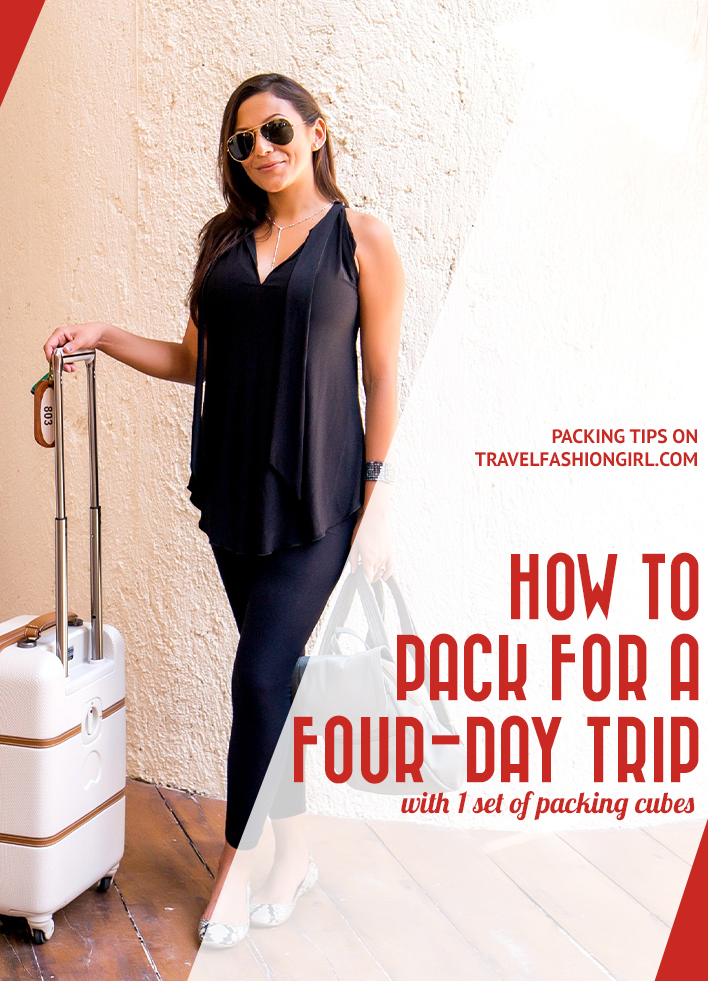 ---
I hope you like this post on how to pack four days of outfits in one set of packing cubes. Please share with your friends on Facebook, Twitter, and Pinterest. Thanks for reading!
---