Support TFG by using the links in our articles to shop. We receive a small commission (at no extra cost to you) so we can continue to create helpful free content. As an Amazon Associate, we earn from qualifying purchases made on Amazon in addition to other retailers featured on the blog. Thank you, we appreciate your support!
One of our readers recently returned from her 2-week winter trip to Lisbon, Portugal. Not only was she able to travel carry-on only, but she was even able to fit in her travel CPAP machine. She generously shared the packing list she used in our Facebook Group and was also happy for us to feature it on the blog, too. Read her tips and scroll to the end of the post for pics!
---
Plus Size Packing List for Winter
Written by Deanna Cryan
---
I'm 6' tall and a 2X plus size and I was able to pack carry-on only with a travel CPAP machine with no problems. I hope this post will encourage other plus size women to consider carry-on only.
Thanks to the amazing Travel Fashion Girls Facebook group and all the helpful advice I've read, I was able to travel both ways carry-on only for 13 nights in Lisbon, Portugal during the winter. I've been studying Travel Fashion Girl for months and I found that I could have even packed less!
It was also so beneficial to travel carry-on only, as the lines for checked baggage were extremely long. It was great getting to avoid that hassle!
Start by reading these general tips on packing for winter travel: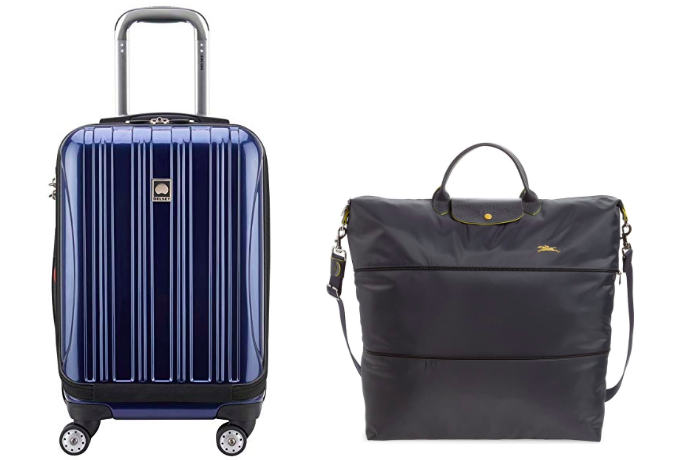 Delsey Luggage Helium Aero Carry On | Le Pliage Expandable Travel Bag
Bags
For this trip, I brought two bags. My suitcase was an IT 4 Wheel Carry-on Expandable. It's 21" x 13.5" x 8.5" unexpanded, and my personal bag was a rather large Longchamp Pliage expandable bag. However, I'm told another reliable and popular carry-on is the Delsey Paris Helium for international travel (but I stuck to my IT).
For day travel in Lisbon, I used my Baggallini crossbody, which I stuffed into my Longchamp bag for the flight. I was very lucky because TAP Airline was very lax about my personal bag. I was fully prepared to check the IT luggage at the gate if they insisted, but they didn't!
I also traveled with packing cubes in my bag. On the way there, I stuffed my jacket and vest in the packing cubes. On the way back, I used that space for gifts and wore the jacket and vest. 
Here are more carry on suitcase options for travel!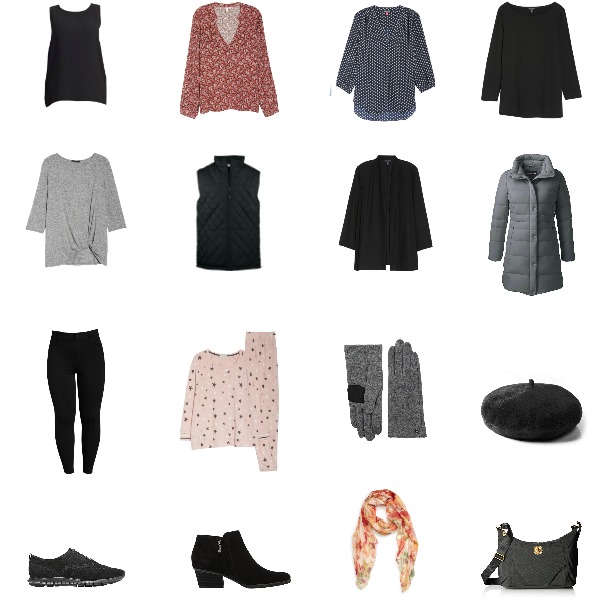 Tank | Blouse 1 | Blouse 2 | Knit Shirt | Rayon Shirt | Vest | Crepe Jacket | Down Jacket | Pants | Pajamas | Gloves | Hat | Oxfords | Boots | Scarf | Crossbody
Packing List for Europe in Winter
(links to all items listed above)
Here's what I packed in my carry-on bag:
In my Longchamp Pliage bag, I packed:
On the plane to Lisbon, I wore:
We were staying at an Airbnb that had a washing machine so I didn't pack very much, as I planned on doing some laundry while I was there.
Take a look at another reader's awesome plus-size carryon packing list!
What I Did Right and What I'd Change Next Time
Even though it was winter, I was very lucky and experienced mild weather. I definitely could have packed less. I would have left out the two dressier blouses, because I didn't end up needing them. I relied solely on my jersey knit shirts and tunics with scarves.
I also didn't need my charcoal grey wrap as it was too hot for the weather.
Versatility is key to a capsule wardrobe. Learn more in this guide!
I would also have left my Blondo boots at home. While I love them and everyone says you shouldn't wear the same shoes every day, I didn't end up wearing them once.
Instead, I relied on my Cole Haan shoes, which are as comfy as sneakers but dressy looking because of the black sole and patent leather. They were perfect for walking on cobblestone streets, too.
Here's the most comfortable and cute walking shoes for travel!
The weather was so mild that I never wore my hat or gloves. However, I'm still glad I packed them, as I have a hard time finding a good fit in both and they didn't take up much room. I would have been perfectly comfortable if the weather had dropped 10 or 15 degrees.
If the weather had been forecasted as much colder, I would have also packed a pair of Land's End silk long underwear.
Take a look on the best thermal underwear for women!
How to Organize a Carry-on Plus Size Packing List
While there are many choices, we recommend Compass Rose packing cubes. We designed these ourselves and they're the only ones that have a unique color and numbering system, so it's easy to remember where you've packed everything on your wardrobe list which is demonstrated in the video below!
Watch this video for more ideas on how to pack plus size carry-on for winter travel!
We also put together a five-part YouTube series showing the different methods to use packing cubes for travel. If you use this specific packing strategy, packing cubes can also compress your belongings. This is the secret to traveling carry-on only!
---
We'd love to know, what is on your plus size packing list?  Share and comment below!
---
For more travel tips, please read:
---
LIKED THIS POST? PIN THIS PIC TO SAVE IT!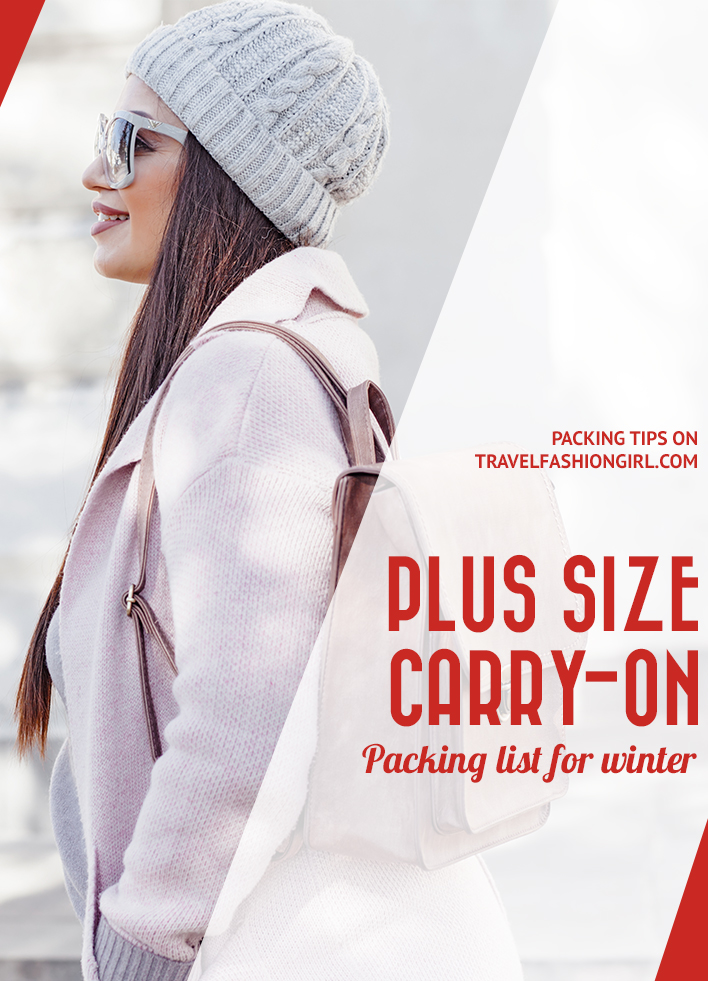 ---
We hope you liked this carryon plus size packing list for winter. Please share with your friends on Facebook, Twitter, and Pinterest. Thanks for reading!
---