Support TFG by using the links in our articles to shop. We receive a small commission (at no extra cost to you) so we can continue to create helpful free content. As an Amazon Associate, we earn from qualifying purchases made on Amazon in addition to other retailers featured on the blog. Thank you, we appreciate your support!
Peru is one of my favorite countries and the Machu Picchu hike is one of the most incredible experiences! Machu Picchu is one of the most famous destinations in South America and a sought-out wonder for international travels around the world.
I get many questions about the Inca Trail trek, and in addition to creating a Machu Picchu packing list, I'm answering readers' questions to give you a better idea of what to expect.
---
Machu Picchu Packing List and Travel Tips
---
Table Of Contents
I've made two separate journeys to this mystical world wonder: I completed the Lares Trek in July 2008 as part of the Peru Panorama
 tour and the Inca Jungle Trek in February 2011. Each of these treks was challenging in its own way.
The Lares Trek was physically challenging because it was steep, and the Inca Jungle was mentally challenging because we got stuck in a mudslide and rockslide during the rainy season.
To hike the Inca Trail or Huayna Picchu, you need to book well in advance (even months) because only a certain number of permits are given per day. However, alternate hikes, like Lares, don't require permits, so you could potentially book a tour when you arrive in Cusco.
START BY READING THESE POSTS:
What to Expect on the Machu Picchu Hike
You probably hear this tons, but plan to layer. Layers should make up a bulk of your Machu Picchu packing list. It can be very hot during the day–even in the winter–since the sun is strong due to the high altitude. Sunscreen is super important year round! I have a natural tan and still burnt to a crisp in Lake Titicaca.
This is an adventure where you're just going to have to get comfortable with the idea that you won't be able to shower, so don't feel bad about re-using the same pair of trousers for several days. You're not alone, and nobody will be walking right next to you as everyone walks at their own pace, some much further ahead than others.
(Check your itinerary as some treks include hostel or guesthouse accommodation, not camping.) Pack baby wipes so you can freshen up at the end of the day and in the morning if you're camping.
Inca Trail and Machu Picchu Tours Packing List
Please note: This list will vary slightly depending on which of the Machu Picchu tours you choose because accommodation varies, the way you arrive to Machu Picchu changes, and your activities also vary. For ease, this Machu Picchu packing list is based on the 4-Day Inca Trail.
Osprey Packs Osprey Tempest 20 Backpack
1 Daypack
You'll need a daypack to carry your daily essentials. Ideally, the size should be between 20-25L if you're not carrying your own camping equipment. Choose one with comfortable padded straps and exterior compartments to hold water bottles. If not included, use a backpack cover to keep your belongings protected from rain and dirt.
Whether you're carrying your clothing or using a porter, make everything fit into your daypack by using the Compass Rose Packing Cubes.
Footwear
This varies by person. Some wear hiking boots and others wear trainers. I've worn my trusty New Balance Trainers both times and have been very happy, but if you're unsure, try a pair of trainer/hiking boot hybrids like these Merrell shoes.
Find out how to choose the best hiking shoes!
Columbia Pardon My Trench Rain Jacket | Sizes XS-3X
1 Waterproof  Jacket
Many travelers choose to wear a plastic poncho to protect their belongings and avoid wet clothing at night and the next day. You can buy a poncho before the trek.
It can be hot and uncomfortable to wear both a rain jacket and poncho in the rain. However, it is advised to add a light waterproof or windbreaker jacket to your Machu Picchu packing list.
Here's the best waterproof jackets for stylish travel!
Athleta Trekkie North Jogger | Sizes 0-26
2 Pants
Your Machu Picchu packing list should include a pair of trekking Pants and one pair of leggings or fitness/yoga pants. Take a pair of travel pants for the trek and leggings or yoga pants for the final day when you want something clean.
Choose trekking pants or pants you would wear to work out. Rugged materials that dry quickly can be especially helpful in case of poor weather conditions. You can always pick up a cheap pair in Cusco and trash them when you're done. In fact, you can buy everything you need for this trek in Cusco so don't worry, you'll be okay if you forget something.
Wear your trekking pants every day except the last so you can arrive at Machu Picchu wearing a nice clean outfit for 3 reasons: 1) you'll be taking lots of pictures 2) you might be headed back to Cusco the same day and 3) you want to feel comfortable while exploring this magical destination.
Readers recommend the Athleta Trekkie North Pants for a versatile and stylish pair of pants you can wear on the trek and throughout the rest of your trip. One reader says, "I did the four day Inca trail trek last week and wore them, plus I plan to wear them this week in Buenos Aires. They are so comfy, versatile, go with everything, and are lightweight." They truly are the best travel pants ever!
prAna Tilda Top | Sizes XS-XL
4 Tank Tops or Tees
While quick dry, fitness, or yoga tees are great for the trek, you'll be fine wearing regular tops, too. Just add items to your Machu Picchu packing list that you feel comfortable exercising and sweating in.
Whatever you choose, remember that you should also like wearing it out to sightseeing during the day and to hang out at night in other Peruvian towns and cities. Pack a clean top for every day of the trek.
Need the best hiking gear list for women? Adventure junkie Tammy Lowe shares her ultimate packing list for trekking!
Woolx Remi Long Sleeve T-Shirt | Sizes XS-3X
1-2 Long Sleeve Tops
For your Machu Picchu packing list, include one long-sleeve top for summer or two for winter.
Choose a layering long sleeve to carry on the trek. It can add warmth if needed and easily be removed if you get too warm. A thin shell or other fitness type top is good.
Columbia Benton Springs II Long Hoodie | Sizes XS-3X
1 Fleece or Hoodie
A fleece is great to add to your Machu Picchu packing list because it won't weigh you down as much as cotton, it's lightweight and will keep you warm if it's cold. It also dries quickly, which is very helpful.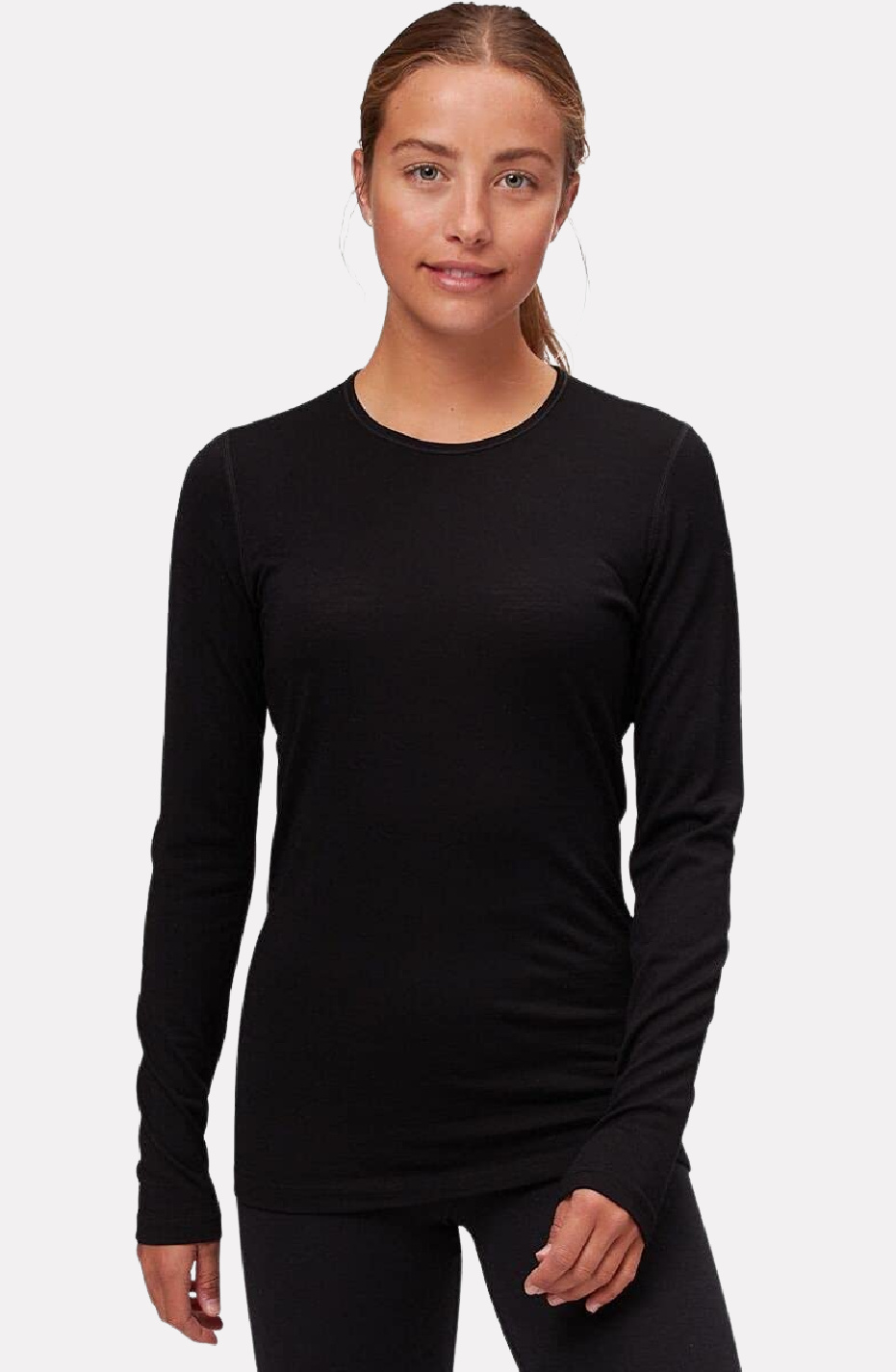 Icebreaker Long Sleeve Oasis | Sizes XS-XL
Thermals
Choose thermals in the winter or a shirt and leggings in the summer. If you're camping, then it will be cold at night. You'll be so tired you won't be interested in having a drink or a chat with your new trekking buddies for long, so don't worry too much about bringing clothing other than your sleeping clothes for nighttime.
Minimalist Machu Picchu packing list tip: If you use everyday items to sleep, then they can double as your "clean outfit" on the last day. I used my sleeping shirt/leggings as my 4th day outfit to avoid carrying excessive clothing.
If spending the night in Machupicchu Pueblo (also known as Aguas Calientes) after completing your Machu Picchu tour, then also add 1 more clean outfit, like leggings and a top. You can also find laundry service here if you don't bring an extra set of clothing.
For those heading straight back to Cusco or Ollantaytambo, make sure you save a clean set of clothes for the last day!
Find out the brands our readers most recommend the best thermal underwear for women!
4 Pairs of Socks
One clean pair for each day.
Icebreaker Merino Siren Bikini
5 Pairs of Underwear
Because you don't want to worry about washing them daily, pack enough for each day of the trek plus one or two extras.
1 Sports Bra
If you're grimy all week, having the same bra one more day doesn't hurt. You'll definitely want to add this to your Machu Picchu packing list.
Freya High Neck Underwire Top | Freya Side Tie Bottom
1 Bathing Suit
Many people soothe their sore muscles in the hot springs in Aguas Calientes after visiting Machu Picchu. If you decide not to, at least you have an emergency set of underwear/bra.
Travelon Anti-theft Packable Backpack
Preparing For the Trek
A few notes on physical preparation for this trek: having already painfully done it once, I was better prepared the second time around. What I found was that it was more helpful to "train" by using the step machine at the gym or using something with a steep incline versus running or regular aerobics. You shouldn't stop cardio altogether, but add incline workouts to your training.
Every day for two weeks before I left to Peru (it was a last-minute trip) I did a 45-60 minute hike up and down a steep hill by my house, and stopped my usual cardio. Not being in particularly good shape otherwise, I found this to be extremely helpful and it made the trek much easier the second time around.
Porters: While some tours do offer porters for your belongings, don't use this as an excuse to overpack. Normally you'll leave your main bag in Cusco, so only pack what you need on the trek. The porters can carry your clothing and while you're walking you can carry wet wipes, lip balm, sunscreen, snacks, and water in your daypack (or other versatile bag). If you're camping, the porters can carry your sleeping bag/mat.
Ruched Body-Con Tank Dress | Sizes XXS-XXL
What to Wear Everywhere Else in Peru
Read this post to find out what to wear in Peru so you can add these items to your Machu Picchu packing list if you plan on sightseeing after the trek. The general rule in many places around the world is that big cities and beach towns are more relaxed and small towns are more conservative.
Cusco and Lima have nice restaurants and a fun nightlife, so when you're out at night you probably do want to wear a cute dress or a dressy outfit with jeans. I carried on traveling with a few girls from the Machu Picchu trek that only packed travel clothes and when we were done they started looking for a "sexy" dress in Arequipa to fit in with the rest of the backpacker scene at night.
A couple outfits you can dress up or down are suggested, especially if you want to go out at night or to the nice restaurants. Keep in mind that Lima is a modern city and women care for their appearance and dress well.
Zella Live In High Waist Leggings | Sizes XXS-XXL
In Puno and Lake Titicaca, on the other hand, you might want to wear dressy jeans at night versus a short dress. As for how short is too short, if you're questioning a piece, then wear it with leggings or don't pack it.
Shorts above the knee are fine in larger cities and beachside towns like Mancora. Just wear them tastefully as you would anywhere. During the day and night, jeans are as useful in Peru as trekking pants on your Machu Picchu tour.
Creating an interchangeable capsule wardrobe is the key to simplified packing.  
Bringing Jewelry to Peru
A general rule about jewelry: Costume jewelry is totally fine, but real jewels should stay home. Cusco and Mancora have INCREDIBLE handicrafts and talented jewelry makers, so it's a travelista's dream! I'm always ready for two things in Peru: Handcrafted Jewelry and Artisan Leather Handbags.
Save your shopping for the end of your trip and buy a super cute carrier bag from the local handicraft vendors to carry all your new wearable souvenirs!
Travel Tips
Save time for 1-2 days in Cusco post-trek to recuperate after your journey. They have cheap massages to soothe your sore muscles, too.
And if you're finished hiking Machu Picchu and you still want more, head to Colca Canyon in Arequipa and do another 2-day trek or make your way up north to Mancora for beachside fun in the sun!
---
If you're not ready to travel alone, join a group travel tour–that's how I got my feet wet! My first trip to Peru in 2008 was a 17-day Peru Panorama tour with G Adventures following a Brazil/Argentina combination tour. Check out my travel timeline. Once you get comfortable with travel, you'll be ready to set off on your own solo adventures!
What items would you add to this Inca Trail and Machu Picchu packing list?
---
For tips more on what to pack for Peru, please read:
Suggested Travel Resources:
---
LIKED THIS POST? PIN THIS PIC TO SAVE IT!
---
I hope you liked this 

Inca Trail and Machu Picchu packing list. Please don't forget to share the love on Facebook, Twitter, and Pinterest. Thanks for reading!
---