Support TFG by using the links in our articles to shop. We receive a small commission (at no extra cost to you) so we can continue to create helpful free content. As an Amazon Associate, we earn from qualifying purchases made on Amazon in addition to other retailers featured on the blog. Thank you, we appreciate your support!
The Leith ruched dress is a reader and TFG editor-in-chief favorite. Find out why this stylish piece works for travel and nearly every occasion in this review!
---
Leith Dresses
---
Table Of Contents
Everyone seems to be talking about the Leith ruched body-con tank dress. It has over 3,000 five-star reviews on Nordstrom and female travelers rave about it. Our readers also feel the same way—they're always looking for ways to pack light and have clothes that can be worn multiple times for any occasion.
When traveling, versatility and comfort are vital for me which is why I've been obsessed with this dress for just that reason. It's now on my essentials packing list, and it's one of my Leith clothing staples even when I'm not traveling. Since it's a fave piece, I thought I'd share (with help from our readers) why the Nordstrom Leith bodycon is the little dress that could!
Nordstrom's signature brand Treasure & Bond is now selling an identical looking bodycon dress. We haven't had a chance to compare, so if you take the plunge and purchase one, let us know what you think!
Leith Ruched Body-Con Tank Dress Features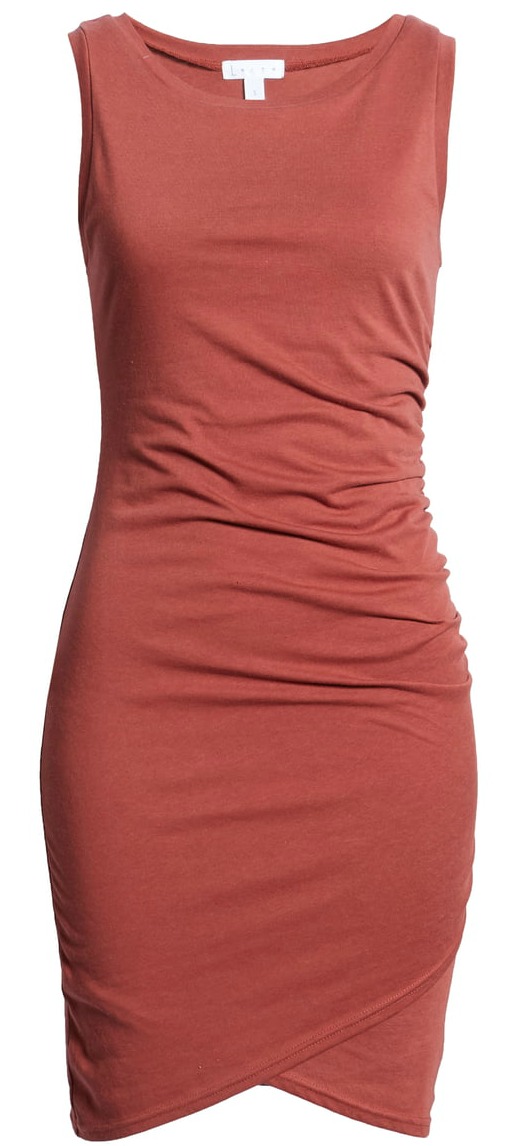 Leith Body-Con Tank Dress in Brown Henna available in Regular Size and Plus Size
Specs
Brand and Style: Ruched Body-Con Tank Dress by Leith
Price: $39.90
Fabric: 56% polyester, 44% cotton
Features: It's sleeveless and features an above the knee style with a wrapped, ruched front, versatile styling options, and a polished look
Colors and styles: Comes in nine colors including, Black, Green Thyme Heather, Grey Medium Charcoal Heather, Olive Sarma Heather, Pink Smoke, and more
Weather: Mostly for spring and summer temperatures, but if paired with a sweater and tights, the dress can be worn in cooler weather climates
Travel Type: Great for light nature outings like urban parks, city sightseeing, business travel, or as a cocktail dress for nighttime events
Dresses are the perfect staple to add to your functional travel capsule wardrobe. Learn more in my guide!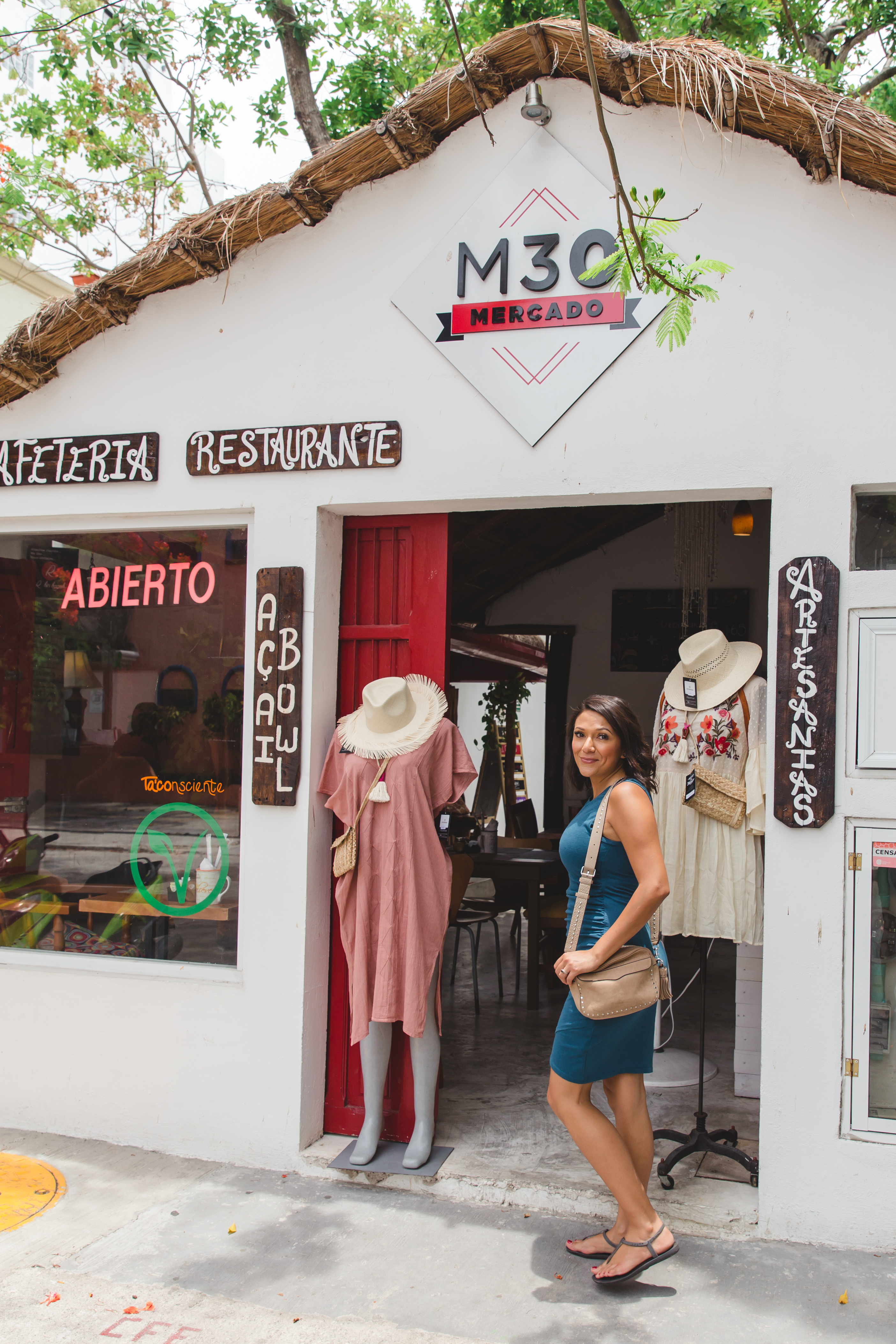 Styling
I personally love its style, because it fits the bill as a versatile dress that travels well and I can't get over how flattering it is!
You can wear it strolling a bazaar in Marrakech, walking in Central Park, or dancing in one of Paris's hottest clubs. Many readers in our Facebook community share their Leith dress reviews on the various ways it can be styled, whether it's layering, adding tops, belts, and more!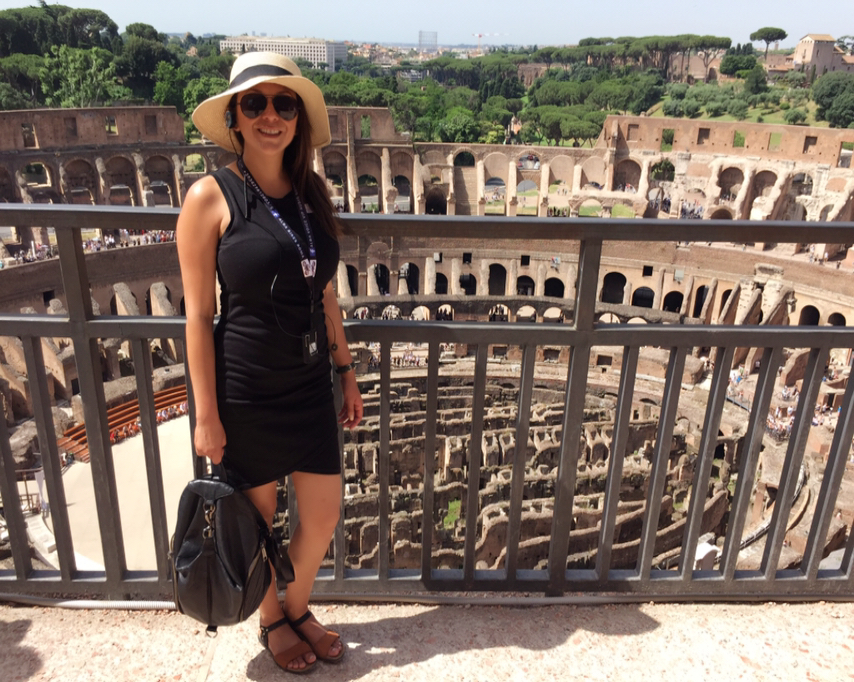 Wearing Leith Dress, Naot Sabrina Sandals and Rebecca Minkoff Backpack
One reader shares her experience wearing it in Europe. "I bought a black Leith tank dress while traveling to Italy a few years ago. It was great on warm days and could be dressed up with a cardigan. Love it."
A simple change of shoes and the addition of jewelry turns the Leith from a fun daytime frock to a dazzling dress for cocktail hour. One reader shares, "We attended a wedding on Kapalua Beach, so the Leith midi dress and flip flops were my go-to outfit there." Another reader paired it with heels and a fun necklace for a night on the town, and away she went!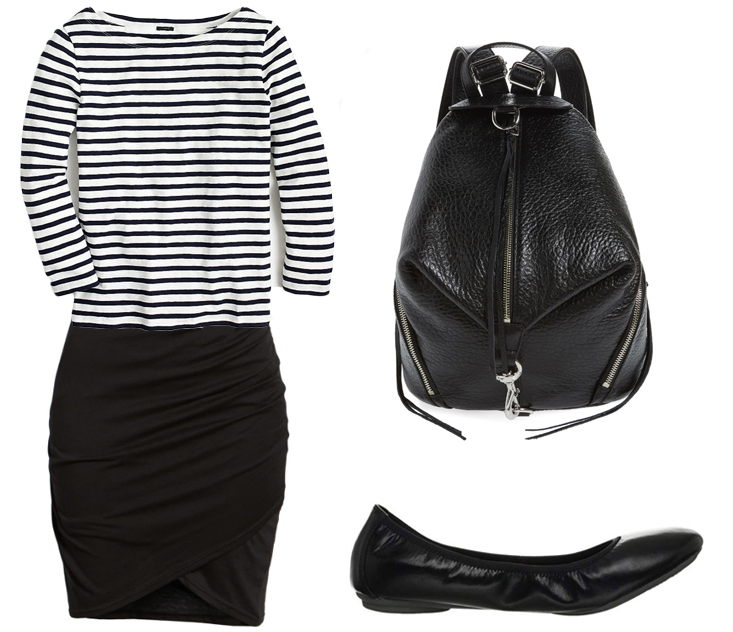 Seriously, this has become an essential must-have in my capsule wardrobe, where I'm always packing at least one or two when I travel and matching it with a number of accessories or shoes. I've worn it to conferences, cocktail hours, or just walking casually with flip-flops in my new home of Playa del Carmen.
Find our favorite black dresses for women that work well for spring or summer travel!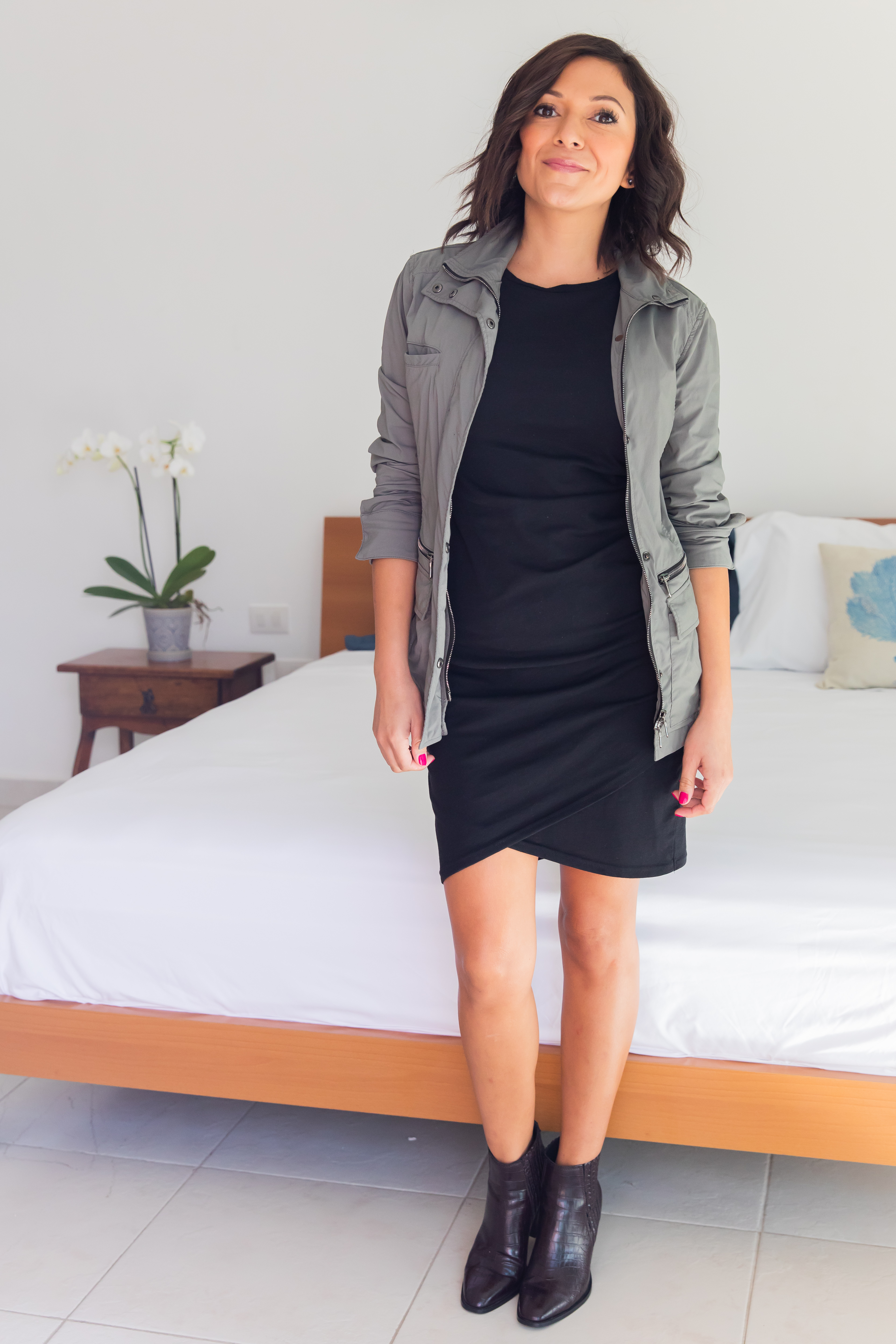 TFG Editor wearing Leith Ruched Body-Con Tank Dress
Comfort
I like comfortable clothing and the ruched body-con tank dress Leith makes is soft, yet has decent thickness and structure that fits well. Many readers have praised the polyester-cotton blend which stays mostly wrinkle-free during travel. One says, "It's cotton and won't wrinkle too badly if you roll them. I own a lot of Leith pieces and love them."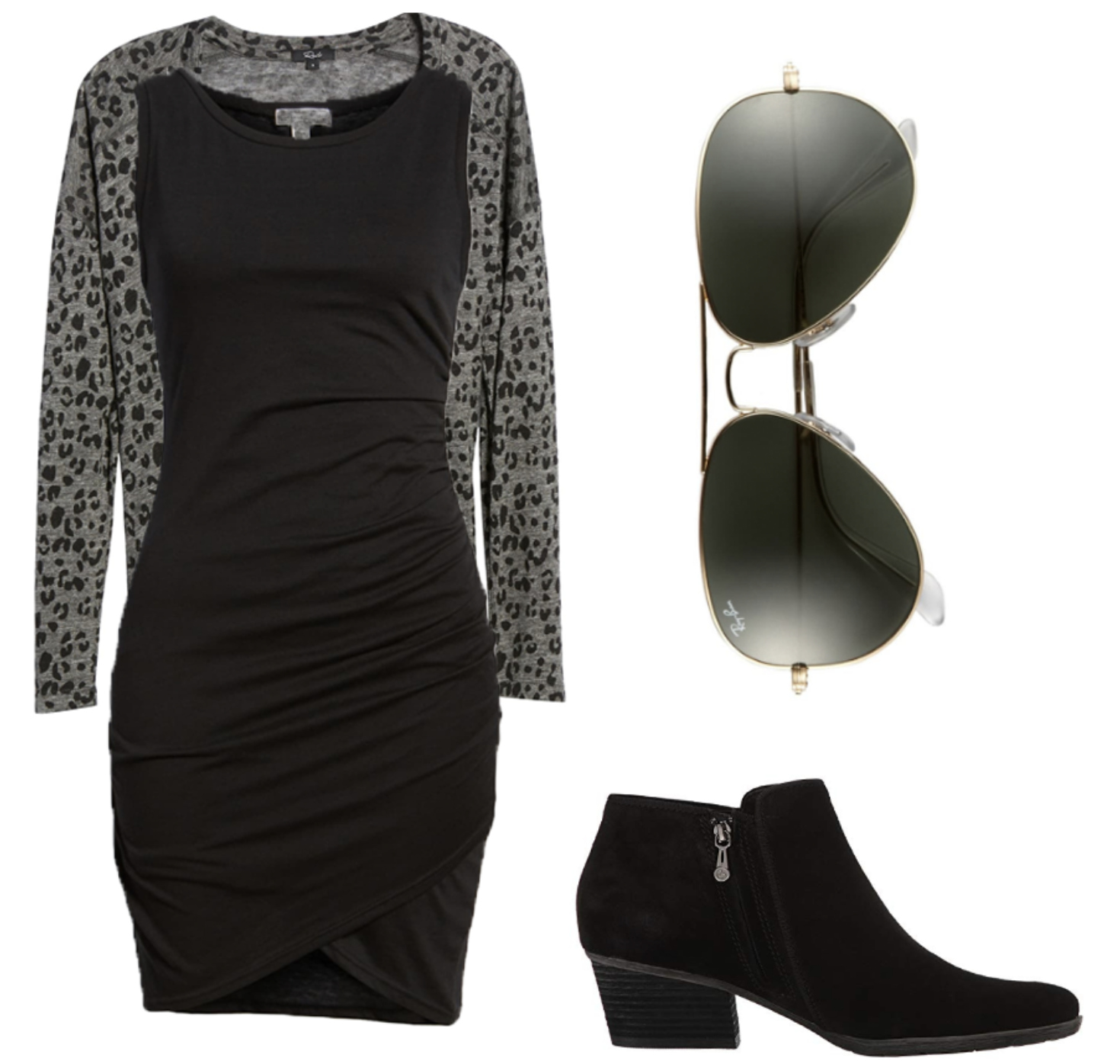 Dress | Top | Bootie | Sunglasses
The dress holds its shape and doesn't bunch or sag and is not see-through. The fabric itself is breathable and not overbearing in summer, yet when worn with a sweater and tights, some readers report it keeps them warm enough in cooler temperatures. One says, "I wore the black Leith sleeveless tank dress, black or grey tights, black knee-high flat boots, and a cardigan to the Warner Center in December. It was perfect!"
It also packs well into packing cubes so I can just throw it on and go when I arrive!
Check out more versatile dresses to choose from!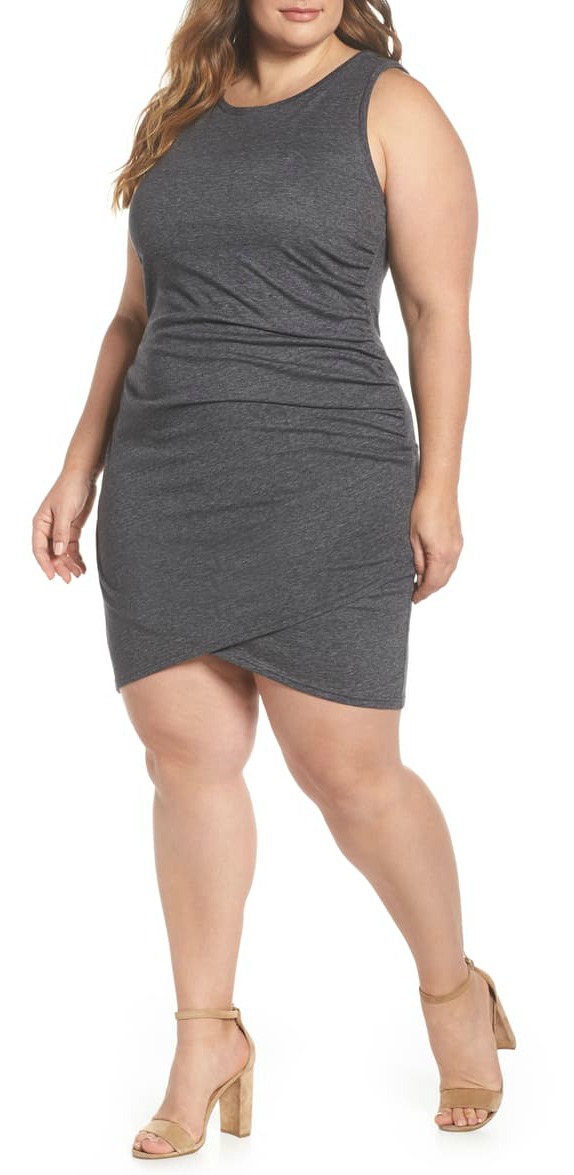 Leith Dress in Grey Medium Charcoal Heather available in Regular Size and Plus Size
Sizing
The draping makes it a flattering fit and the angled hemline works well on any frame. Readers report that sizing was a possible concern initially but was pleasantly surprised. One says, "Leith dresses are amazing and flattering for all body types!"
The womens Leith dress is offered in XXS-XL and 1X-4X, able to accommodate various shapes and sizes, which is what makes this item so popular with readers.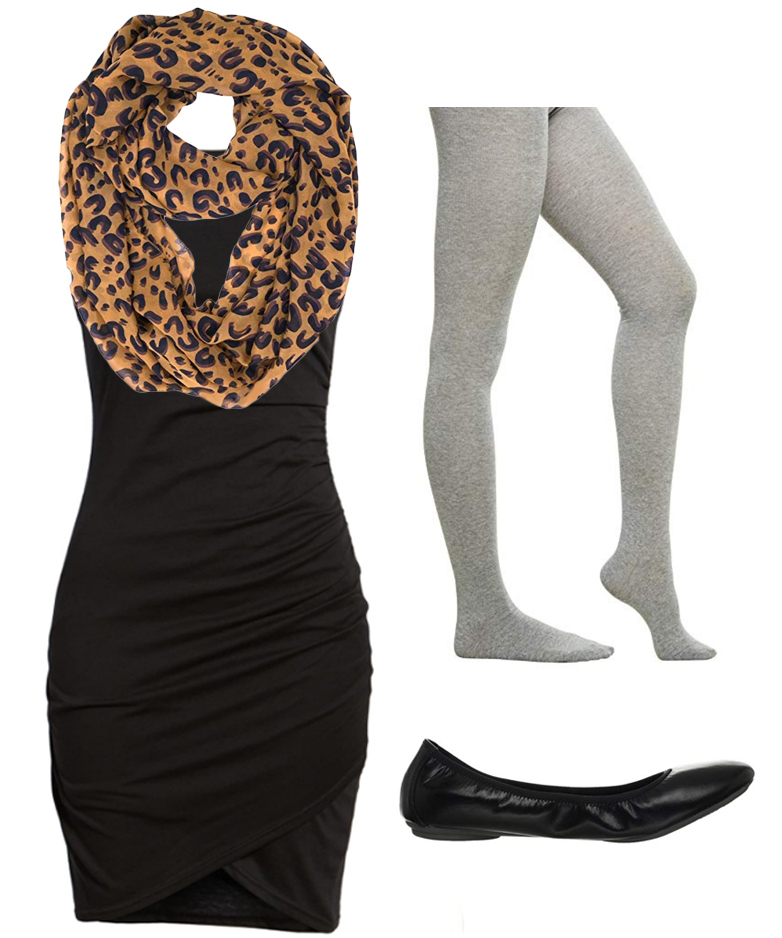 Certainly, the Leith tank dress can be clingier than other types of dresses. I'm 5'2" and have dealt with weight fluctuations and in general, like more room in my clothing so I sized up (size small) and feel very comfortable in it. Also, I wear slimming boy shorts like LastFor1 which gives me extra coverage.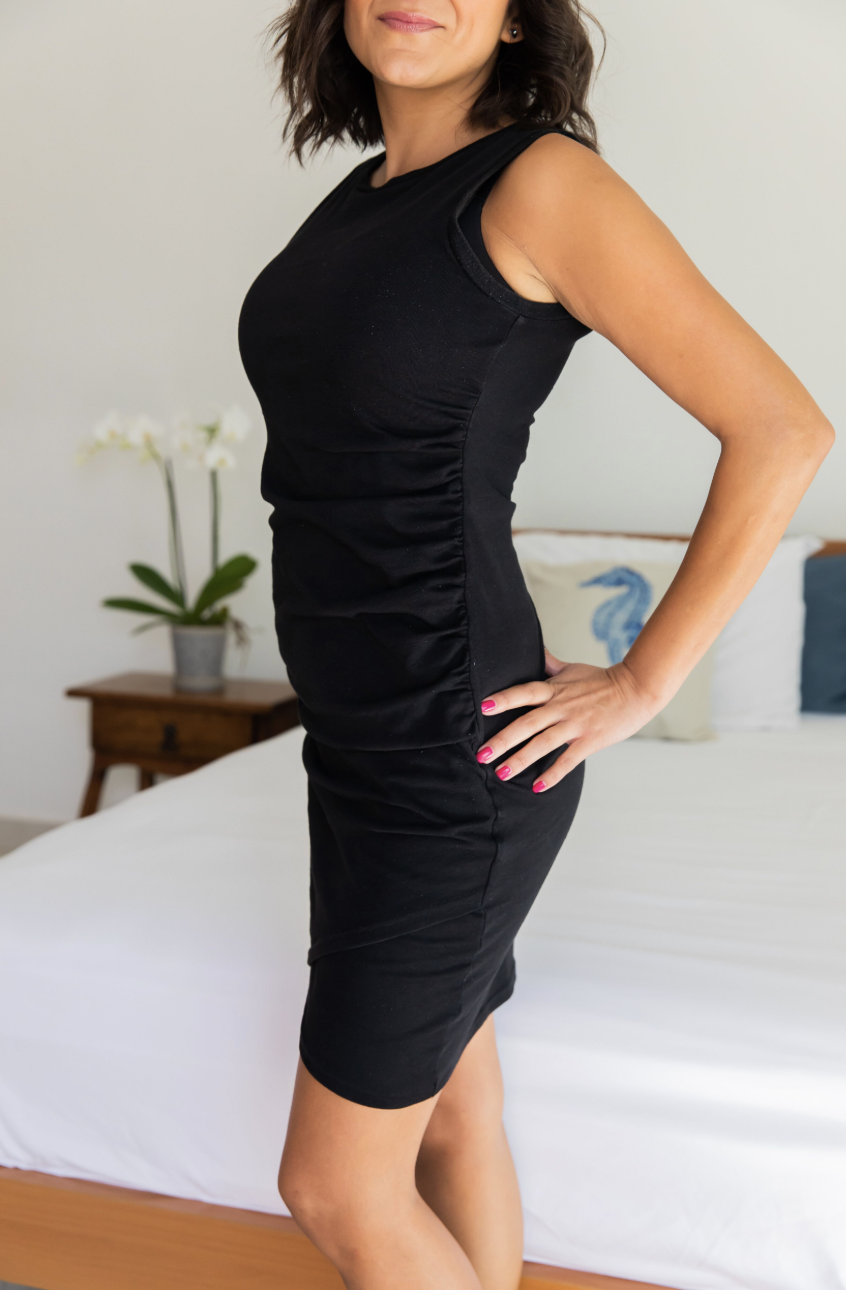 Another aspect I love is that I can wear a bra with it. Though the armholes were a bit large for me, all it took was some tailoring and now my bra stays hidden. However, not everyone has this experience, with the dress fitting perfectly "right off the rack," as one reader mentions she loves how "my bra does not show under arm."
Overall, readers advise sizing up and giving yourself variety. One says, "I think the key is to order different sizes. I ordered an extra small and medium and the extra small fit perfectly."
We've compiled the ultimate list of what our readers rank as the best dress for hot weather travels!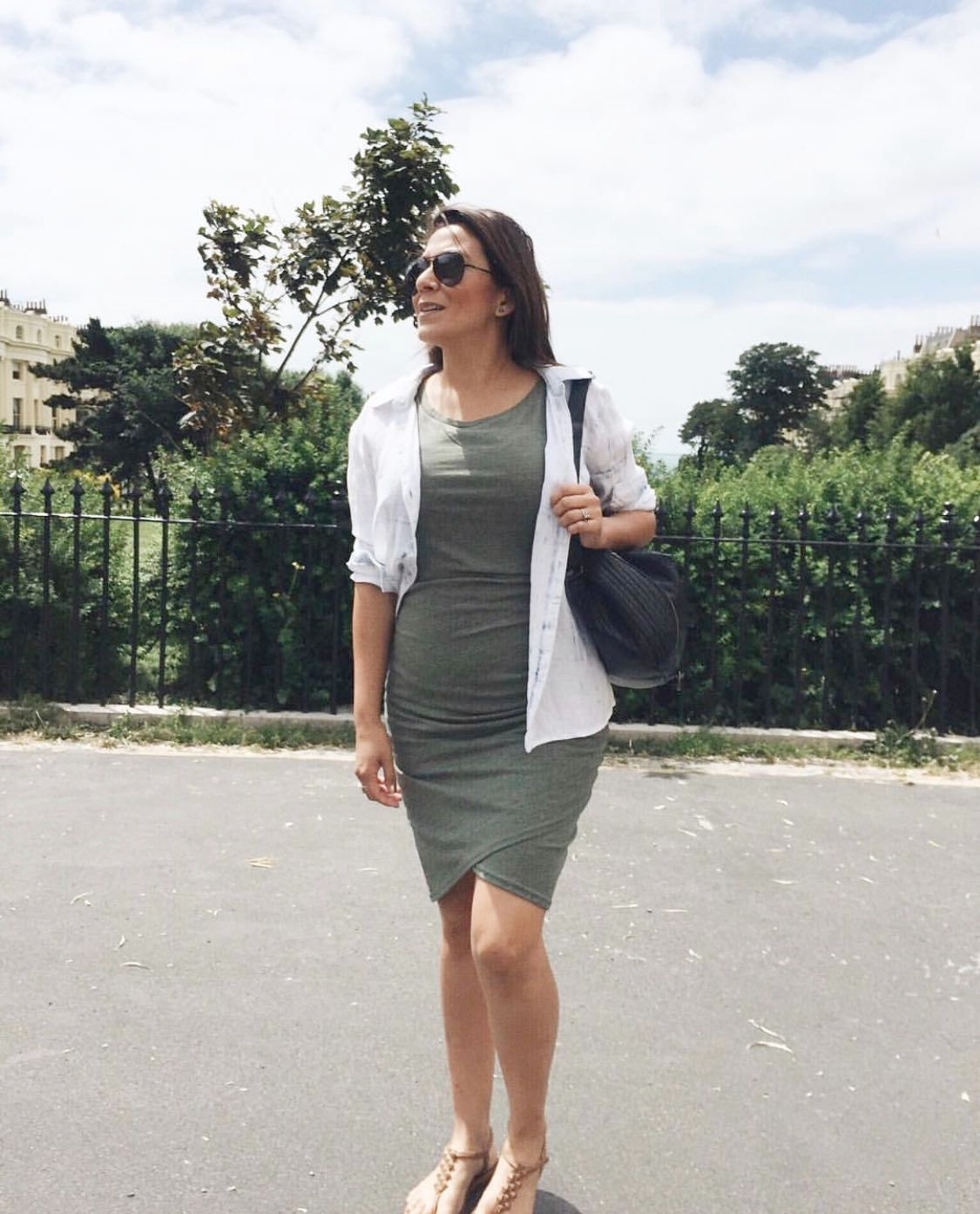 Leith Dress in Olive Sarma Heather color available in Regular Size and Plus Size
Color


TFG readers love this dress so much, they've purchased more than one. It currently comes in nine shades. Of course, the Leith dress black color is a staple in every wardrobe as it works equally well for casual and formal outings.
However, readers have their favorites outside of basic black. One reader feels "the Blue Aurora looks like a gorgeous color," while another reader is more partial to the dress in Grey Medium Charcoal Heather. The Pink Smoke's bright hue is another pretty choice, especially against summer tanned skin.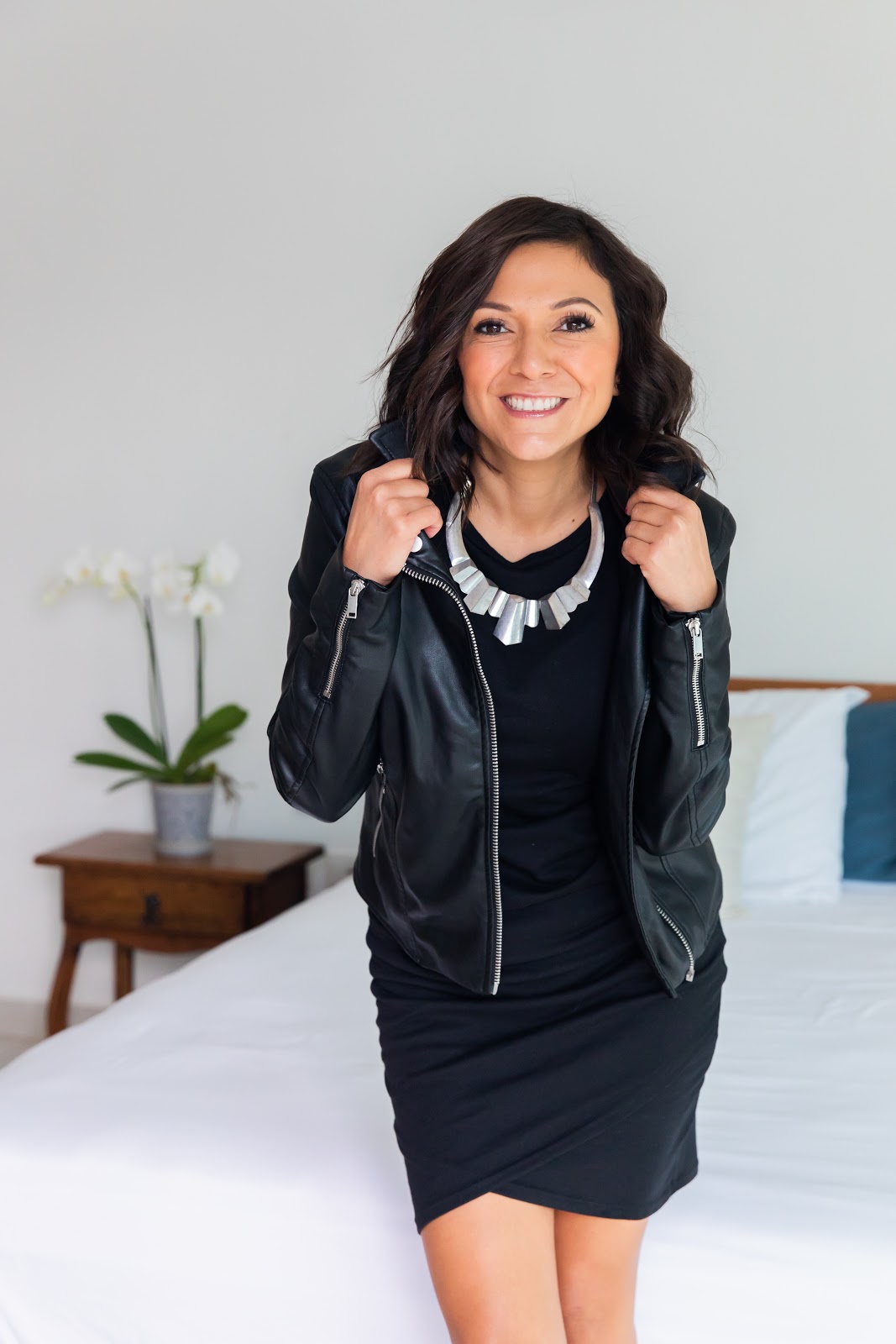 What this brand does well is offer a great range of colors that adapts to numerous accessories and outfits. I've got black, olive, and red, and now have my eye on the newest India Ink color—it's hard to resist buying just one!
Read to find out what's the best fabric for travel!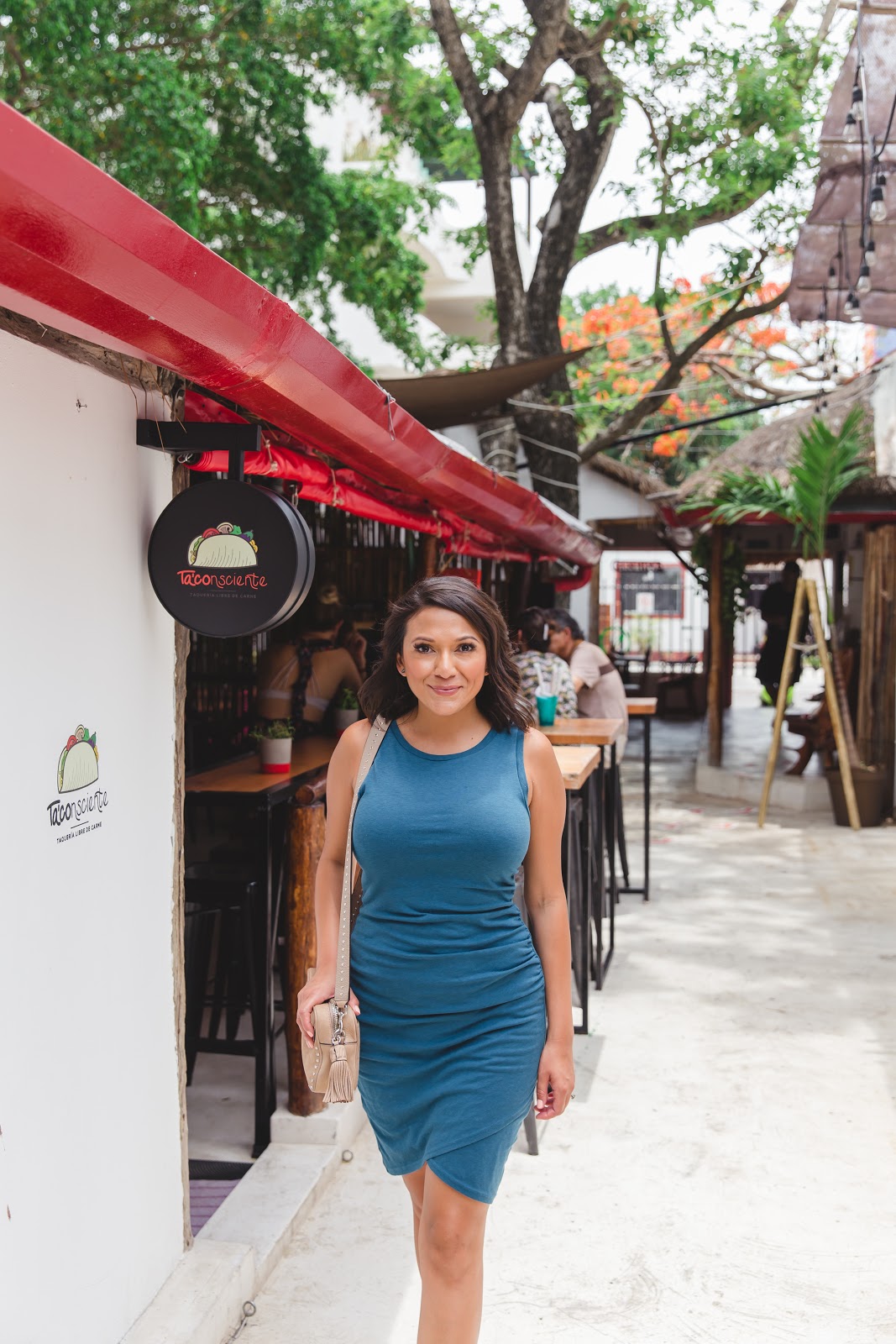 Leith Dress in Blue Ceramic color
Pros
The biggest thing readers love about the Leith is simply how it looks (and so do I!), as well as the soft fabric. The word "body-con" can sometimes strike terror in the most confident of wearers, but readers say this dress works on nearly everyone wearing it. No matter your body size or shape, it's a "total knockout" and is said to be flattering on many body types.
There's a little "wiggle room" in terms of sizing too. Some readers have sized up and love it and others have ordered a few different sizes, as they may want something loose or more fitted depending on where it's being worn. One reader, who was worried it would be too snug, was happy that it made her midsection look "relatively flat."
The dress is easy to pack too—you just roll it up and go. Readers say wrinkles aren't much of an issue due to its polyester-cotton blend. When I arrive somewhere, I unpack it, shake it out, and any bunches or creases disappear. I then hang it so it's ready for me to wear for whatever I have planned!
Stay even cooler and still look Insta-ready in one of these 13 stylish linen dresses!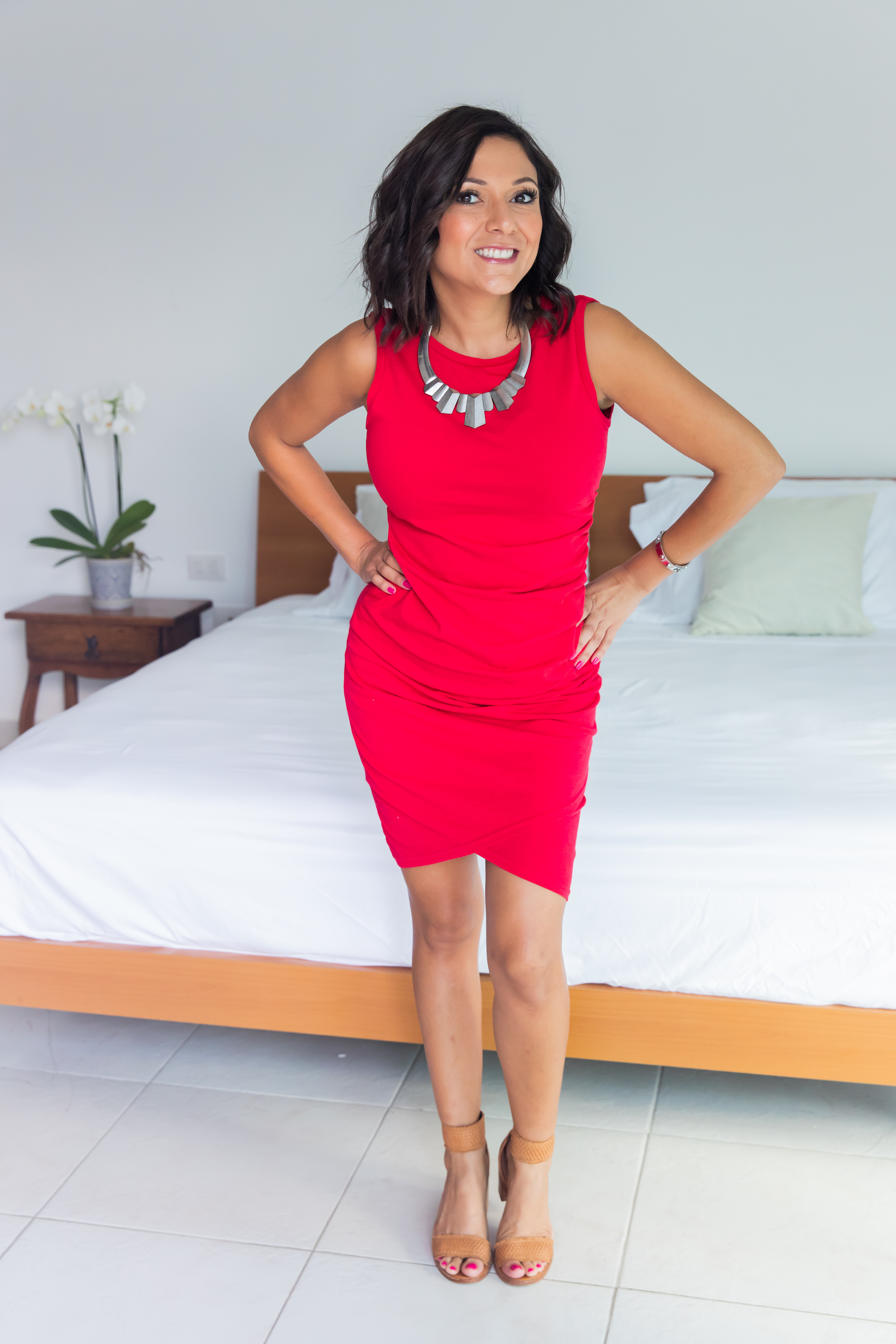 Wearing Leith Dress in Red Lipstick color
Cons
At the same time as most readers love the fabric and look of the dress, some do have concerns about sizing and feel it has less give than they would have liked.
If you're interested in buying this dress, make sure to try it on first if you can and try different sizes. Alternatively, buy it online from Nordstrom who have an excellent return policy.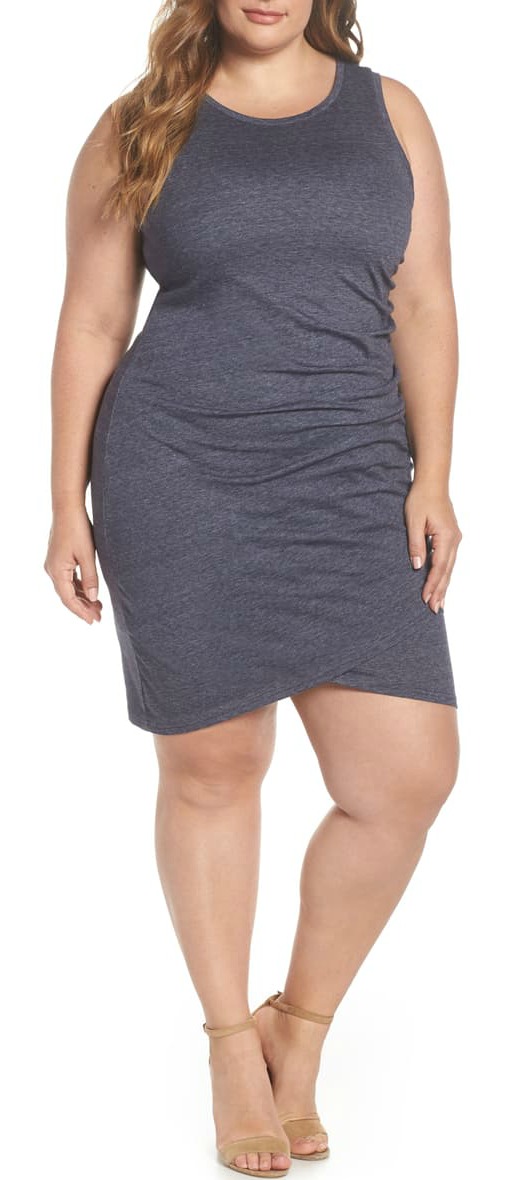 Leith Dress in Navy Night Heather available in Regular Size and Plus Size
Some readers found the material to be too thin and felt that "it's not very forgiving." I usually wear shapewear shorts which I mentioned above to give extra coverage underneath.
Another thing to consider is panty lines, as some wearers feel they were visible, particularly in the back. However, a solution shared by readers is to wear seamless underwear "that washes and dries well on the go and doesn't show panty lines."
Given this, readers say these points aren't enough to make anyone want to return it and overall, feel it's a well-priced, comfortable, no-fuss dress!
Take a look at 5 sundress outfits that transform an everyday summer dress!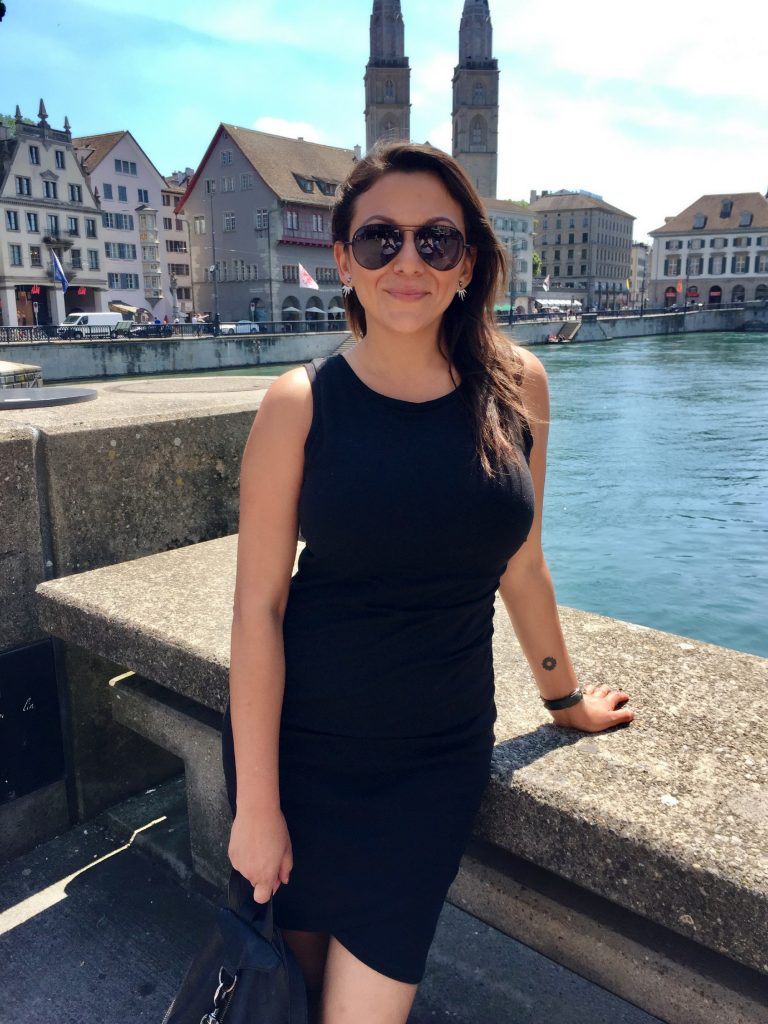 Verdict
Despite some sizing concerns, the ruched body-con dress is one of the most talked-about among our readers, who generally rave about it. One says, "Total knockout dress!!"
I bought one based on their recommendation and glad I made that choice because it really is a comfy item I wear time and again. I already have three, and for sure, on my way to buying more!
Overall, It's versatile and easy to wear, works in fair weather climates, and has a flattering fit. In short, readers highly recommend the Leith dress Nordstrom makes for women who want flexibility and packability in their travel wardrobe!
Take a look at the latest trends with these cute summer dresses for women!
Watch my video review on the Leith dress for women!
Video: Leith Ruched Dress Review
I love this dress so much, I did a video review for it. I cover why the bodycon dress Nordstrom carries is so comfortable and versatile (and pretty), on or off the plane!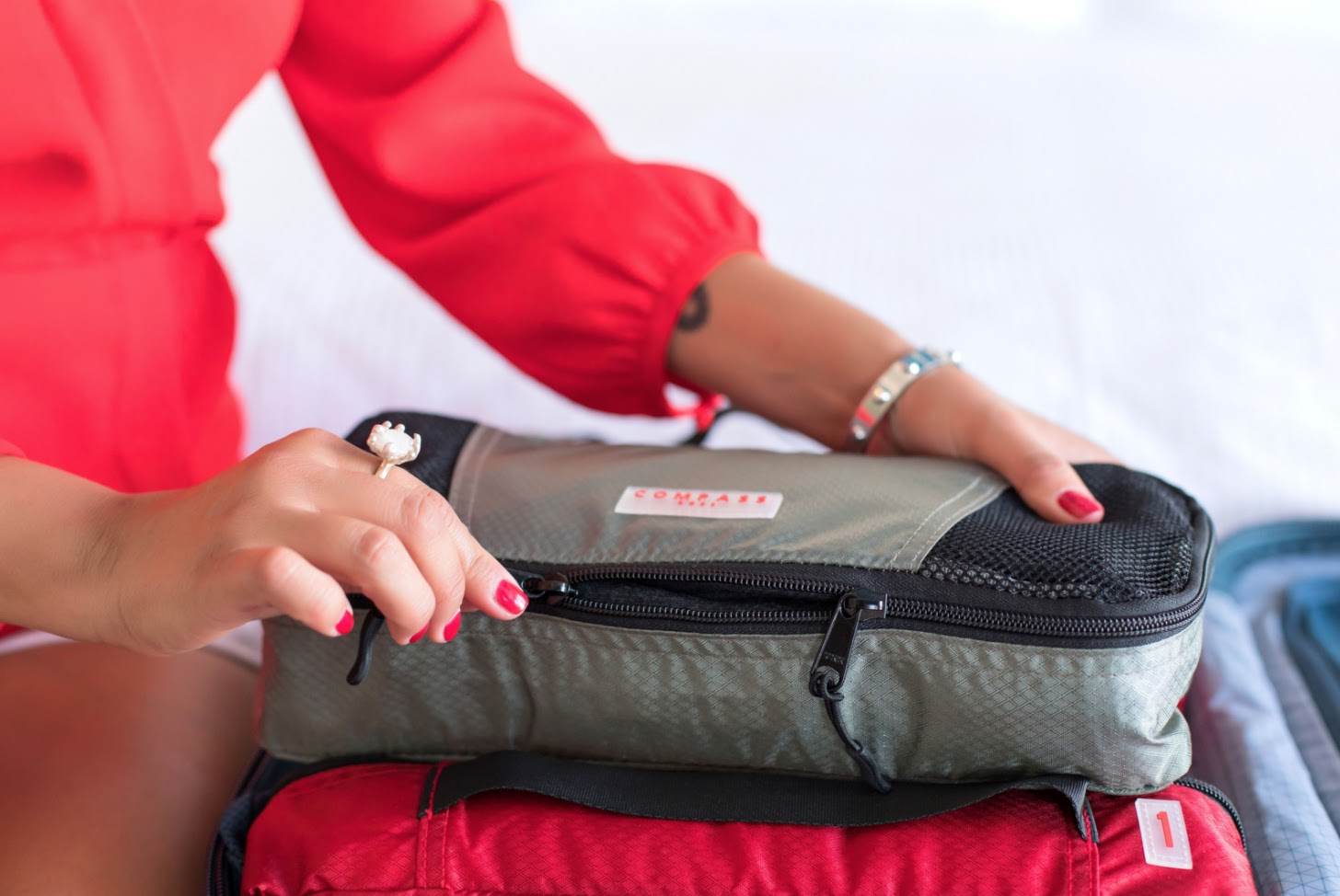 How to Pack the Leith Ruched Body Con Tank Dress
The beauty of the Leith's ruched bodycon tank dress is its ability to pack light. which is super easy to do with slim packing cubes, along with fitting the other clothes you plan to bring. The video below demonstrates this (and features the Leith, too!).
Learn our hacks with packing cubes in this video!
We also put together a five-part YouTube series showing the different methods to use packing cubes for travel. If you use this specific packing strategy, packing cubes can also compress your belongings. This is the secret to traveling carry-on only!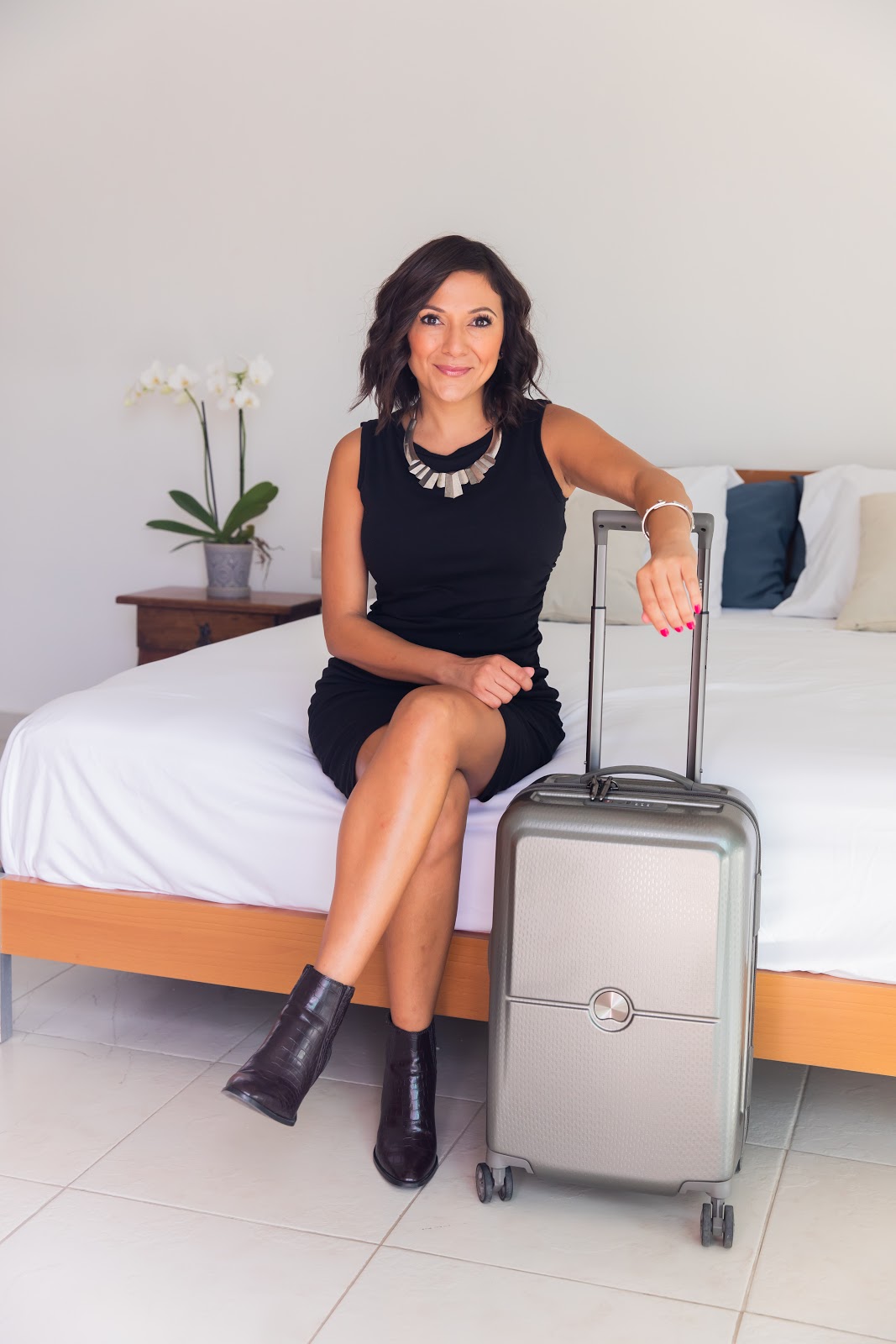 Where to Buy the Leith Body Con Tank Dress
You can find Nordstrom Leith dresses right on their website. Shop for sizes XXS-XL or sizes 1X-4X.
Nordstrom's signature brand Treasure & Bond is now selling an identical looking bodycon dress. We haven't had a chance to compare, so if you take the plunge and purchase one, let us know what you think!
TFG Editor Loves Leith
Body Con Tank Dress
---
What's your Leith ruched bodycon tank dress review? Share your experience with this dress below!
---
For more travel dresses, please read:
---
LIKE THIS POST? PIN THIS PIC TO SAVE IT!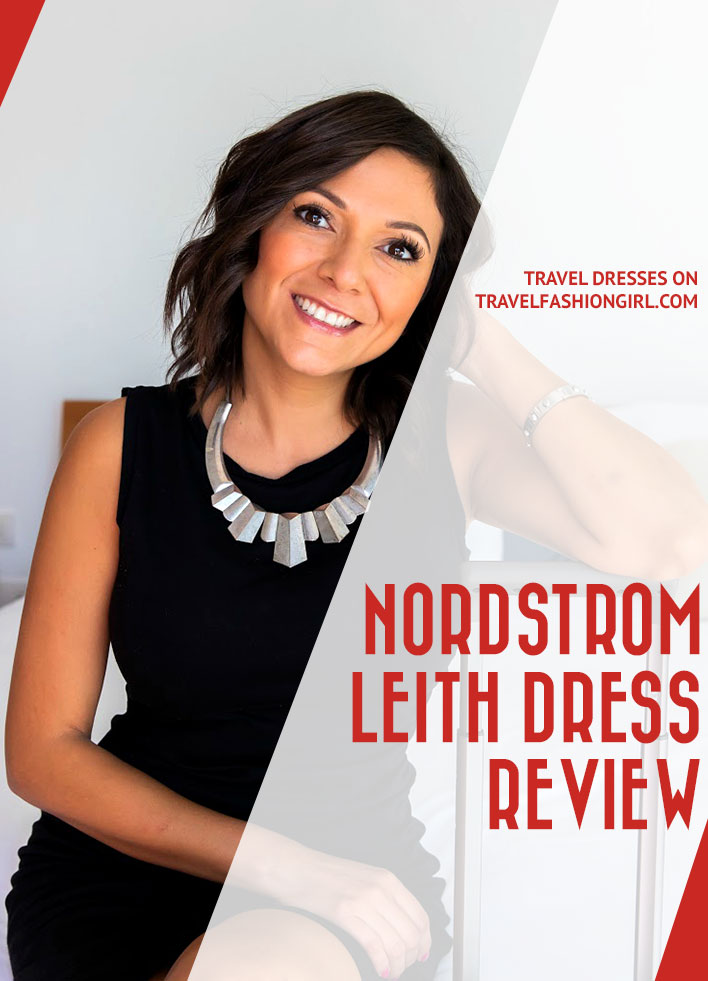 ---
We hope you found this
Leith dress
review helpful. Please share with your friends on Facebook, Twitter, and Pinterest. Thanks for reading!
---