Support TFG by using the links in our articles to shop. We receive a small commission (at no extra cost to you) so we can continue to create helpful free content. As an Amazon Associate, we earn from qualifying purchases made on Amazon in addition to other retailers featured on the blog. Thank you, we appreciate your support!
When you're headed to multiple destinations in one trip, you may have the tricky problem of packing for two different climates. Not only is it possible to pack light for a trip with hot and cold weather; you can do it with just one set of packing cubes!
---
Packing for 2 Different Destinations with 1 Set of Packing Cubes
---
Welcome to our 5 Days, 5 Ways to pack series! In this series, we're sharing our tried-and-true tips for using packing cubes like a pro. This is part 2, and here is the rest of the series:
In the second of the series, we're showing you how to pack for two different destinations with completely different weather using just four slim packing cubes! 
Many travelers assume it's going to be tough to pack for different climates, but with the right fabrics and spot-on capsule wardrobe pieces, it's possible to cover all the clothing you need without expanding luggage space. 
Watch this packing cubes video tutorial:
Watch this video and learn how to pack for 2 different destinations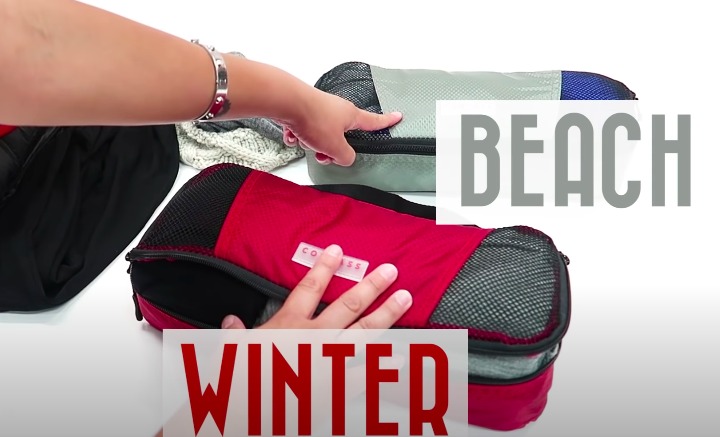 How to Organize for Different Climates in One Trip
One way is to organize by destination or weather system. For this example scenario, we're showing how you can pack for a summery, beach destination, and a cold, wintery destination. 
Thus, this means that one packing cube can be designated for summer and the next three can be designated for winter. It sounds a little daunting but once it's demonstrated it's so doable actually!
See how exactly four slim packing cubes can help you organize for multiple climates!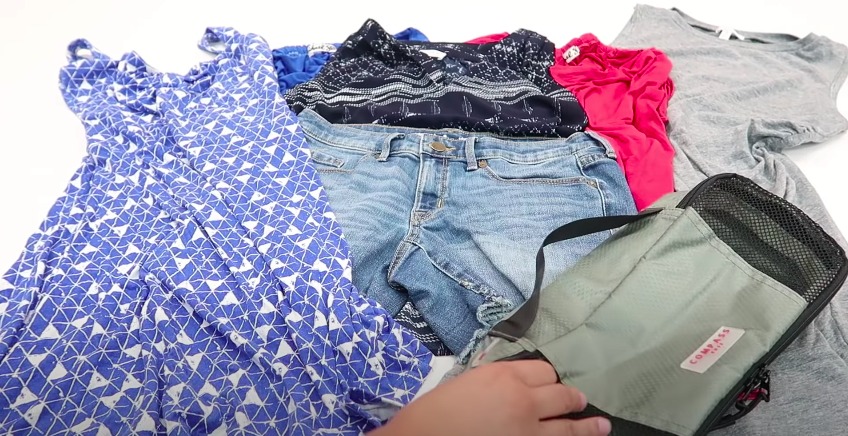 Be sure to bring a mix of shorts, airy tops, and a summer dress for your warm destination
Packing for a Warm Destination
When you're going to a warm weather destination, the clothing isn't as thick and it's a little bit less bulky than the cold-weather clothing. So, we're only going to use one packing cube for this destination.
For this, we recommend packing:
This gives you five days' worth of outfits. For this, use the number two packing cube from Compass Rose to pack the beach clothing.
How to Pack Summer Clothes in Packing Cubes
People always ask, do you roll, do you fold? I like to do a combination of rolling and folding. Fold the shorts and roll the dresses, as these are the bulkiest items. 
Pack the shorts on the bottom of the packing cube and place the rolled dresses on the side. Then, start layering the tops.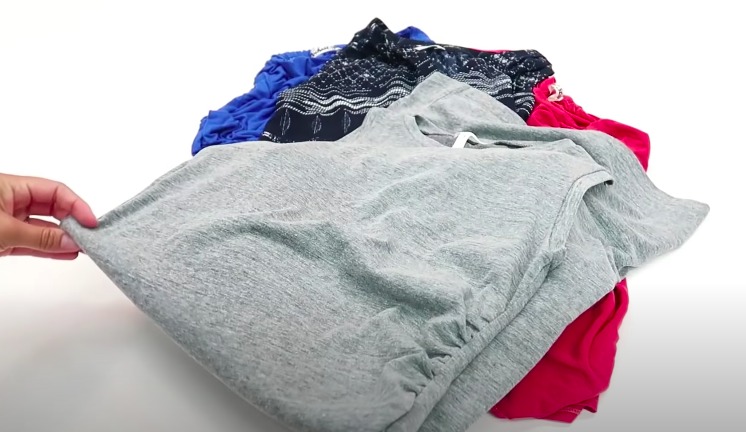 Folding Leith Ruched Tank Dress for the summer destination cube
One strategy I use with packing cubes is to zip them as you go. Generally, cubes are a really strong durable mesh, with well-made zippers. This means I can organize my clothing and the cubes' construction can help compress.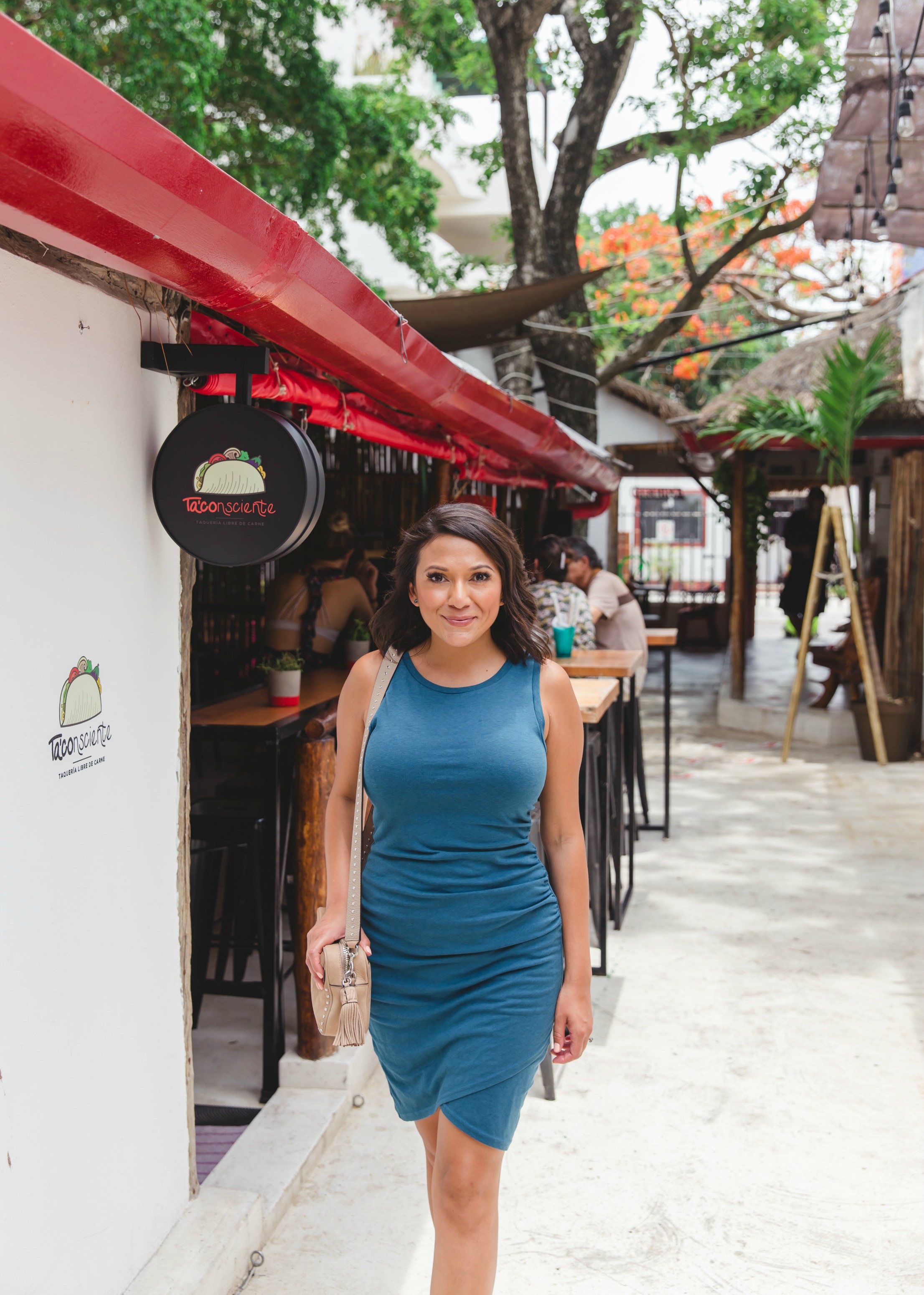 Wearing Ruched Tank Dress in Playa del Carmen
Even with these five or so items packed, there's ideally still enough space in this cube so that you can pack a couple more pieces in there, which can create a mini-capsule wardrobe for a beach destination.
Tip: One way to get clothes nice and neat is by using anti-wrinkle strategies, such as wrapping with tissue paper. I've done it before and it works wonders for nasty wrinkles!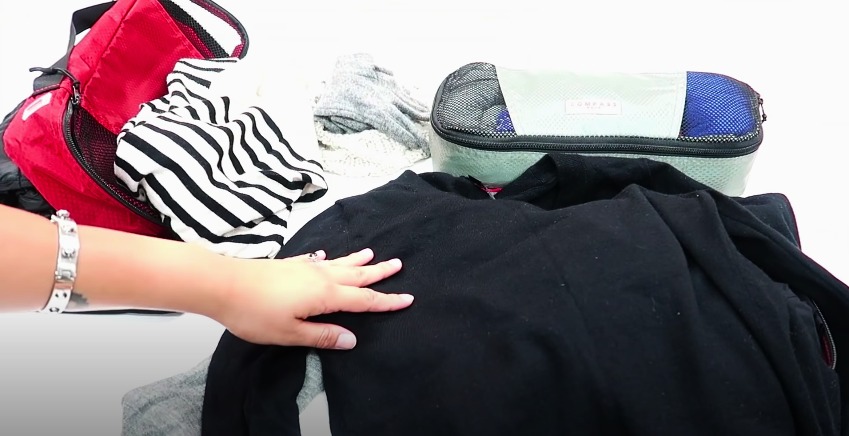 A key to packing light for winter is merino wool sweaters
Packing for a Cold Destination
For your winter destination, you'll likely need two packing cubes, since the clothing is bulkier. For this, use the number one and three cubes, which are both red.
For cold destinations, we recommend packing:
How to Pack Winter Clothes in Cubes
For the first one, start by packing your accessories. Gloves are essential for keeping you warm in the winter. You may also want a knit hat and scarf. 
Next, I recommend a merino wool dress, which packs really small. Merino wool is the best fabric for keeping you warm in winter because it's thin yet packs a punch in terms of warmth.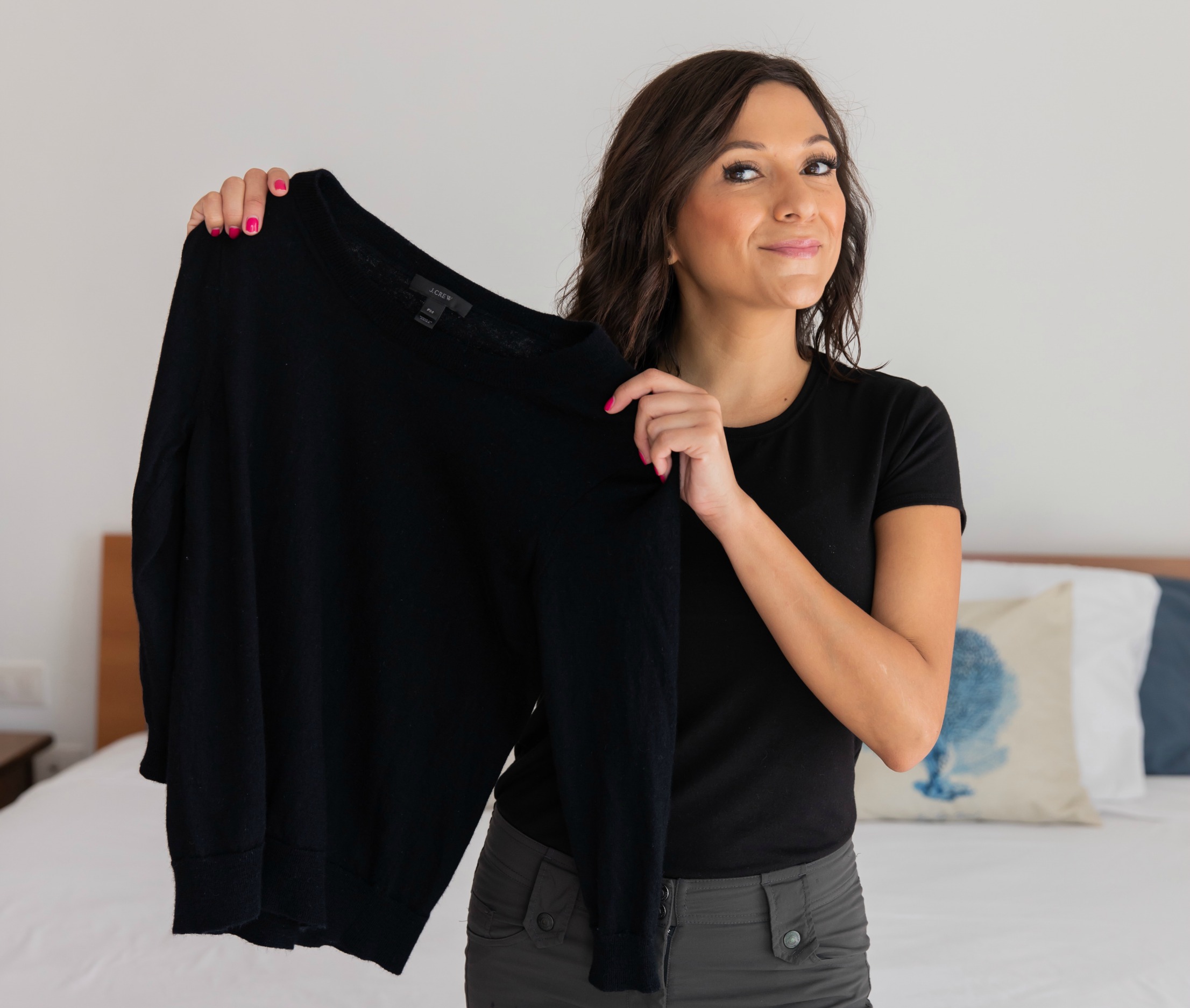 Merino wool sweater on top of my tee
For another merino wool item, I never travel without my merino wool sweater. I love this one so much that I actually have it in a couple of different colors.
Depending on where you're going, you may also want to pack a silk thermal to wear underneath a sweater and a scarf. All of these items can go in the same packing cube.
Silk thermal underwear part of winter destination packing cube
With all of these items, you have four days of outfits that you can wear again to make for eight days of outfits. For bottoms, I recommend a pair of jeans and a pair of black pants. You can also pack leggings for loungewear.
Lastly, you'll also want a down jacket. Even if you don't have a packable down jacket, you'll be amazed to find that you can still get it inside a packing cube.
Tip: By sticking to merino wool fabric, from your scarf to hat and major clothing items, compressing will be a breeze in your winter packing cubes! 
Compass Rose Slim Carry-On Packing Cubes
Packing Cubes for Different Climates
As you can see, packing cubes make it easy to pack light—even if you're traveling to multiple destinations with varying climates. 
Best of all, packing cubes can help you organize your clothing and compress items. Thanks to the durable and structured fabric, you'll never have to worry about them ripping. This key is packing for all you need, yet still traveling light!
I used Compass Rose packing cubes to demonstrate these packing methods. Check out this review, and learn more about them!
---
How do you pack for two different destinations in one suitcase? Share in the comments!
---
For more tips on travel packing cubes, please read:
---
LIKE THIS POST? PIN THIS PIC TO SAVE IT!
---
I hope you like this post on how to pack for a trip with hot and cold weather. Please share with your friends on Facebook, Twitter, and Pinterest. Thanks for reading!
---