Support TFG by using the links in our articles to shop. We receive a small commission (at no extra cost to you) so we can continue to create helpful free content. As an Amazon Associate, we earn from qualifying purchases made on Amazon in addition to other retailers featured on the blog. Thank you, we appreciate your support!
If you're traveling to a colder climate, you may be wondering what will keep you toasty on your adventure. Chances are, you're already researching the warmest long underwear for women on the market. 
While there are plenty of choices for the warmest underwear out there, we've handpicked our favorite brands to help you choose what will keep you warm on the go! 
---
Warmest Long Underwear for Women
---
Table Of Contents
Traveling in cold weather is always a challenge. The key in wearing women's cold weather underwear is to wear a set of long johns underneath and layer your clothing.
You'll want to look your best when you travel! Read my travel tips to Pack Light Stylishly!
Start by reading these packing tips for winter travel to learn more:
What is the Warmest Thermal Underwear?
We've lined up a few brands that make some of the warmest long underwear for women: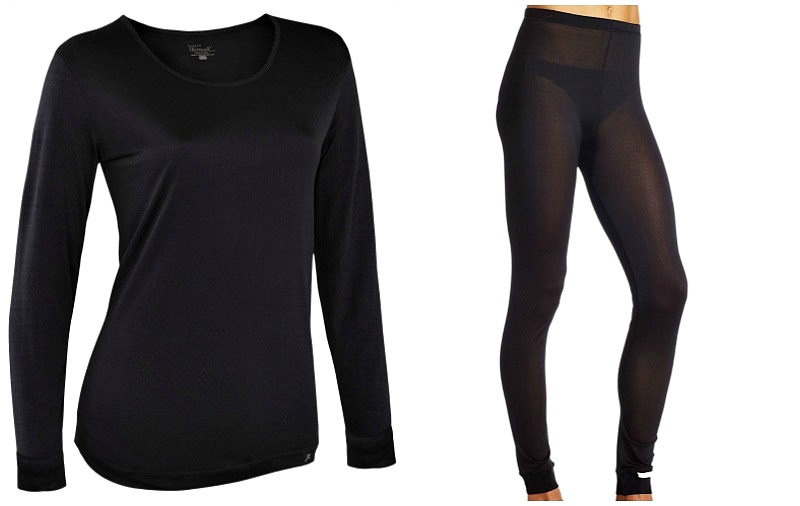 Terramar Silk Undershirts | Terramar Silk Long Johns
Terramar Silk Women's Warm Underwear Protects You From the Elements
Terramar offers fleece-lined tops and bottoms, but their silk long underwear is most noteworthy. They are made from 100% silk pointelle knit, and their antimicrobial comfort technology is a plus when you want to rewear your clothing.
The fabric offers optimal heat but is ultra lightweight. That's right—you'll stay comfortable and cozy without the bulk! One reader says, "I always take a Terramar silk undershirt. It takes up no room and layers perfectly."
As a plus, they're also the best silk underwear for warmth I've found, and Terramar is one the most affordable brands, too. I've got the silk scoop neck top and bottoms on my gift wish list for sure!
Find out what clothing tips our readers recommend to avoid overheating in cold weather!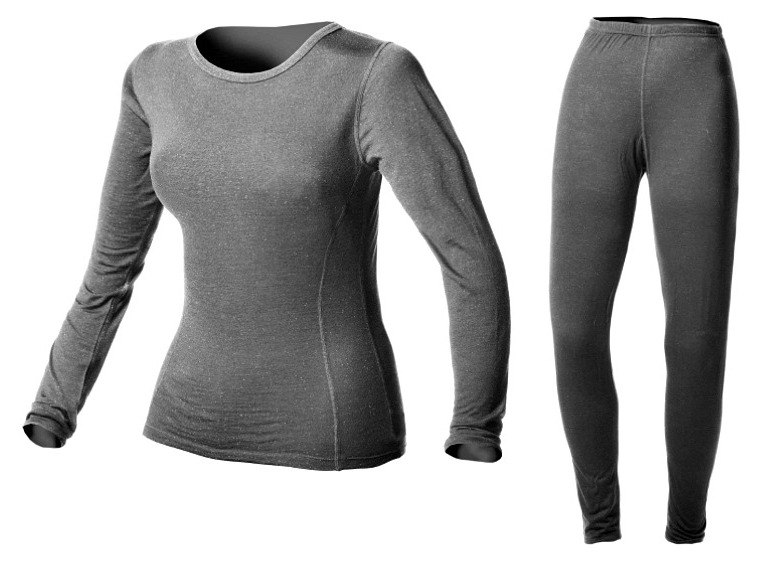 Minus33 Merino Wool Top | Minus33 Merino Wool Bottoms
Minus33 Merino Wool Is the Warmest Long Underwear Available
When you think of wool, Merino is likely the next word that comes to mind. The name is synonymous with quality fabric and protection against the elements.
Minus33 combines sustainable, 100% Merino wool with sleek design elements in all their clothing offerings. Their warm long underwear is made with basic and bright colors that work as mid-weight base layers for your cold-weather wardrobe.
Find out the best merino wool sweaters according to our readers!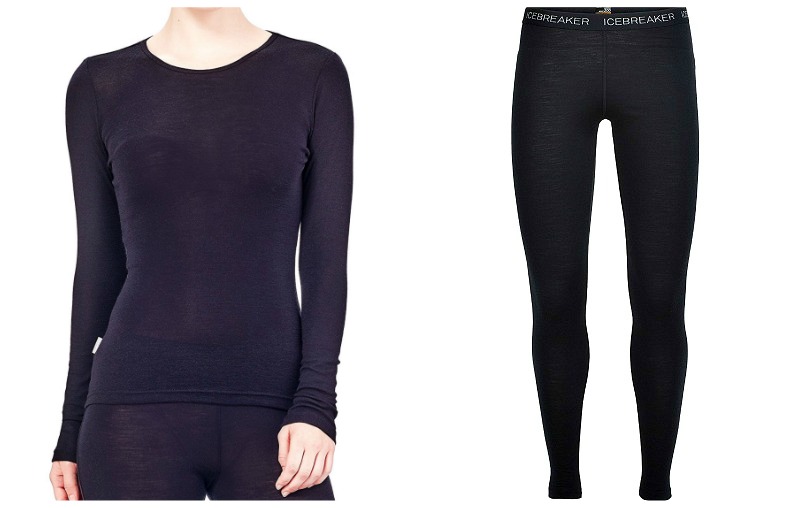 Icebreaker Longsleeve Crew Top | Icebreaker BodyFit Leggings
This Icebreaker Set Is the Best Long Underwear for Cold Weather According to Readers
The name of this brand explicitly states what it's meant to do: break the ice. Made for the adventure traveler, Icebreaker has created the warmest long johns to match your outdoor needs. Their base layers are also 100% Merino wool, which makes them perfect for winter hikes, camping, and cold weather travel.
Anubha, one of our guest writers, lives in the Canadian Arctic and wears Icebreaker long underwear all day, every day. She says, "I've found Icebreaker products perform very well in terms of fit, durability, and temperature regulation—I've had no problem throwing them in with the laundry!"
I also recommend their socks and undies; if you want to go for a full-wool ensemble. They're some of the best extreme cold weather long johns.
In terms of style and weight, I find myself reaching for the Icebreaker Long Underwear Leggings in 200gm and the Long Sleeve Crew in 200gm. If I could add anything to my Icebreaker collection, it would be the Tech Top Long Sleeve Half Zip.
These pieces are the best merino wool clothing for women looking to travel light any time of year.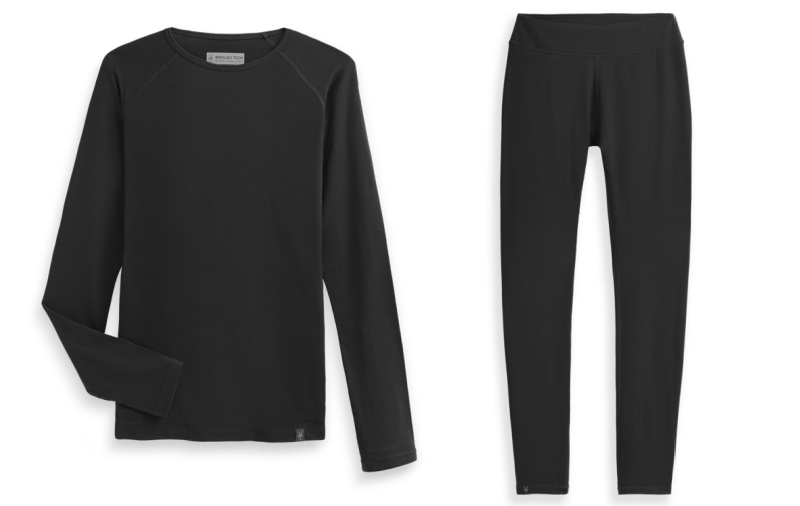 Woolies Tech Long Sleeve Shirt | Woolies Tech Layer Bottoms
Well-Made and Reliable ibex Merino Wool Thermal Underwear 
If you're looking for something well-made and reliable, the ibex merino wool thermal underwear is of superior quality and it's been a long time favorite of TFG's editor!
The Woolies Tech Long Sleeve Shirt not only works as an excellent base layer under midweights but it can be worn solo as a shirt. While the Woolies Tech Layer Bottoms are described as lightweight and work well under trousers or a dress, so not as heavy as typical tights.
One happy user endorses the Woolies soft, long sleeve shirt, "I was surprised by the versatility of this piece when it arrived and have worn it frequently since I bought it a few months ago. It's a great base layer!" 
While another reviewer can't get enough of the Woolies breathable bottoms and talks about the odor-controlling properties of merino wool, "Wonderful for staying warm inside during winter and so useful to layer. These natural fibers don't retain odor like synthetic fibers. Always a must-have addition to a wardrobe."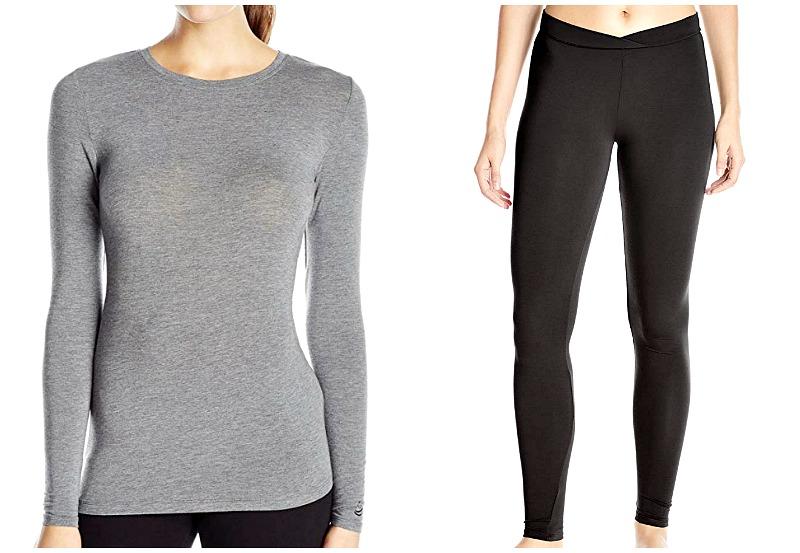 Cuddl Duds Thermal Top | Cuddl Duds Thermal Bottom
Cuddl Duds Wins Best Long Johns for Affordability, Style, and Warmth
Cuddle Duds offers winter wear that provides warmth without breaking the bank. You can choose from different waffle-knit designed patterns and colors to match your style.
Their long john leggings get top marks from our readers. Reader and guest writer says, "For an inexpensive base layer, I like the Cuddl Duds stretch leggings. They are amazing!"
When it's freezing out, I put the leggings under it, which are not constricting at all. I walked all over New York City in below freezing weather and wasn't cold. The shirts are terrific, and the leggings are excellent under other leggings or pants.
A longsleeve crewneck, with a button up shirt and a Merino sweater, was perfect for very cold weather urban sightseeing. Ditch the button up shirt for normal cold, add a decorative scarf, and stay toasty!
For a full list of our favorite long johns including synthetic and merino wool fabrics, take a look at this post on the best thermal underwear for women!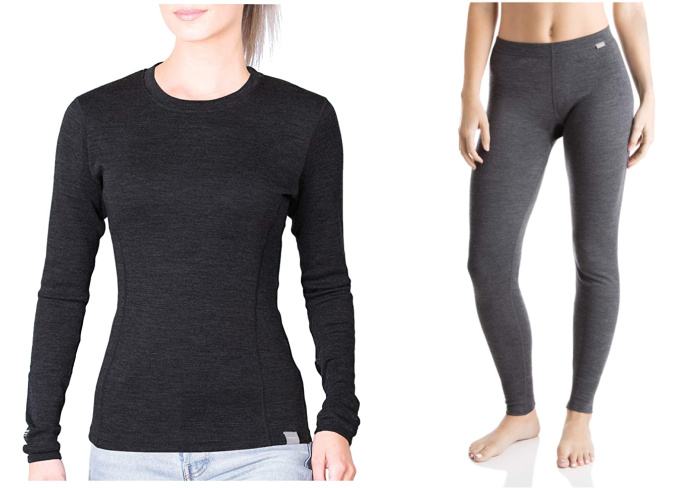 Meriwool Long Sleeve Thermal Shirt | Meriwool Base Layer Thermal Pants
Want the Warmest Base Layer for Cold Weather? Consider Meriwool
Meriwool was founded by a group of friends who had a love of the outdoors and has over 10 years of experience in manufacturing merino wool. The company creates knitted and warm long john underwear products that embody a familiar, cozy vibe.
Their products are made with 100% merino wool sourced from Austraila that's perfect for base layering. This is one of the warmest long underwear women's brands that creates affordable, quality products, including this dual layer bottom and top.
See what our readers recommended as the best cold weather pants for travel!
Warmest Long Underwear Comparison Chart
| MODEL | BRAND | RATING | PRICE |
| --- | --- | --- |
| | Terramar Silk Undershirts | Check Price |
| | Terramar Silk Long Johns | Check Price |
| | Minus33 Merino Wool Top | Check Price |
| | Minus33 Merino Wool Bottoms | Check Price |
| | Icebreaker Everyday Long Sleeve Crew Top | Check Price |
| | Icebreaker Everyday Leggings | Check Price |
| | Woolies Tech Long Sleeve Shirt | Check Price |
| | Woolies Tech Layer Bottoms | Check Price |
| | Cuddl Duds Thermal Top | Check Price |
| | Cuddl Duds Thermal Bottom | Check Price |
| | Meriwool Long Sleeve Thermal Shirt | Check Price |
| | Meriwool Base Layer Thermal Pants | Check Price |
Why Are Long Johns Necessary?
Long underwear for women is the smart traveler's secret to packing light. You can wear them underneath your regular clothing when traveling to cold weather destinations and they'll insulate you throughout your trip!
What Fabric Is Best for Long John Underwear?
During Travel Fashion Talk, one Facebook Live viewer asked, "What's the best fabric for the warmest long underwear?" 
As mentioned, long john material like Merino wool is the traveler's preferred choice. It is one of the most adaptable fabrics for keeping you comfortable all day and naturally wicks moisture away from your body. It is anti-bacterial and resists odors, too. You can also wear it seasonally—to stay warm in winter or cool in summer. 
As a bonus tip, did you know Merino wool makes a great base layer for drysuit scuba diving? Check out these scuba gear packing tips!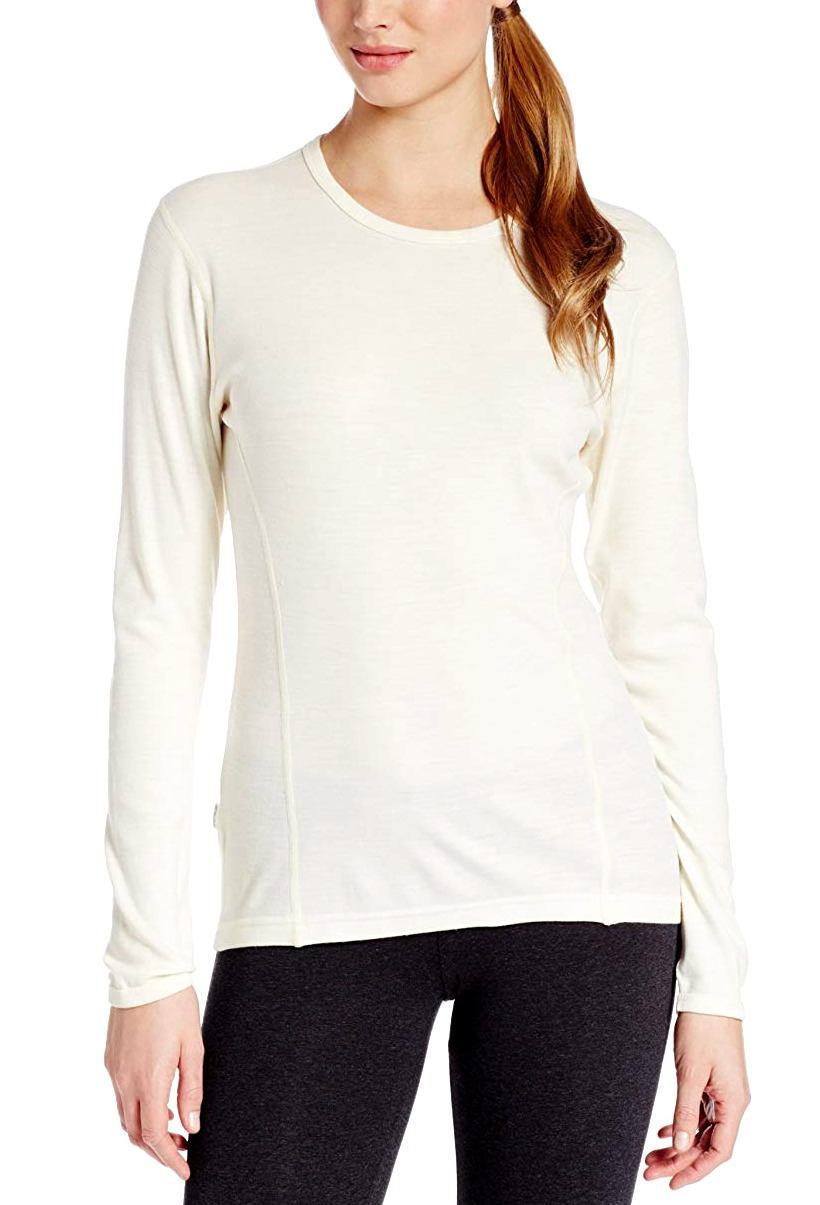 What Is the Warmest Insulated Underwear?
The best cold weather underwear will minimize the overall amount of layers you'll need to wear on top, yet keep you cozy. And consequently, saves you suitcase space.
It's important to note that bulky fabrics won't necessarily make you feel less cold! Instead, choose the right fabrics like merino wool, and layer your items strategically as explained in this article on the best merino wool clothing.
Some long johns can be re-worn repeatedly without the need to be washed, which means that you only need to pack one pair for a one to two-week vacation.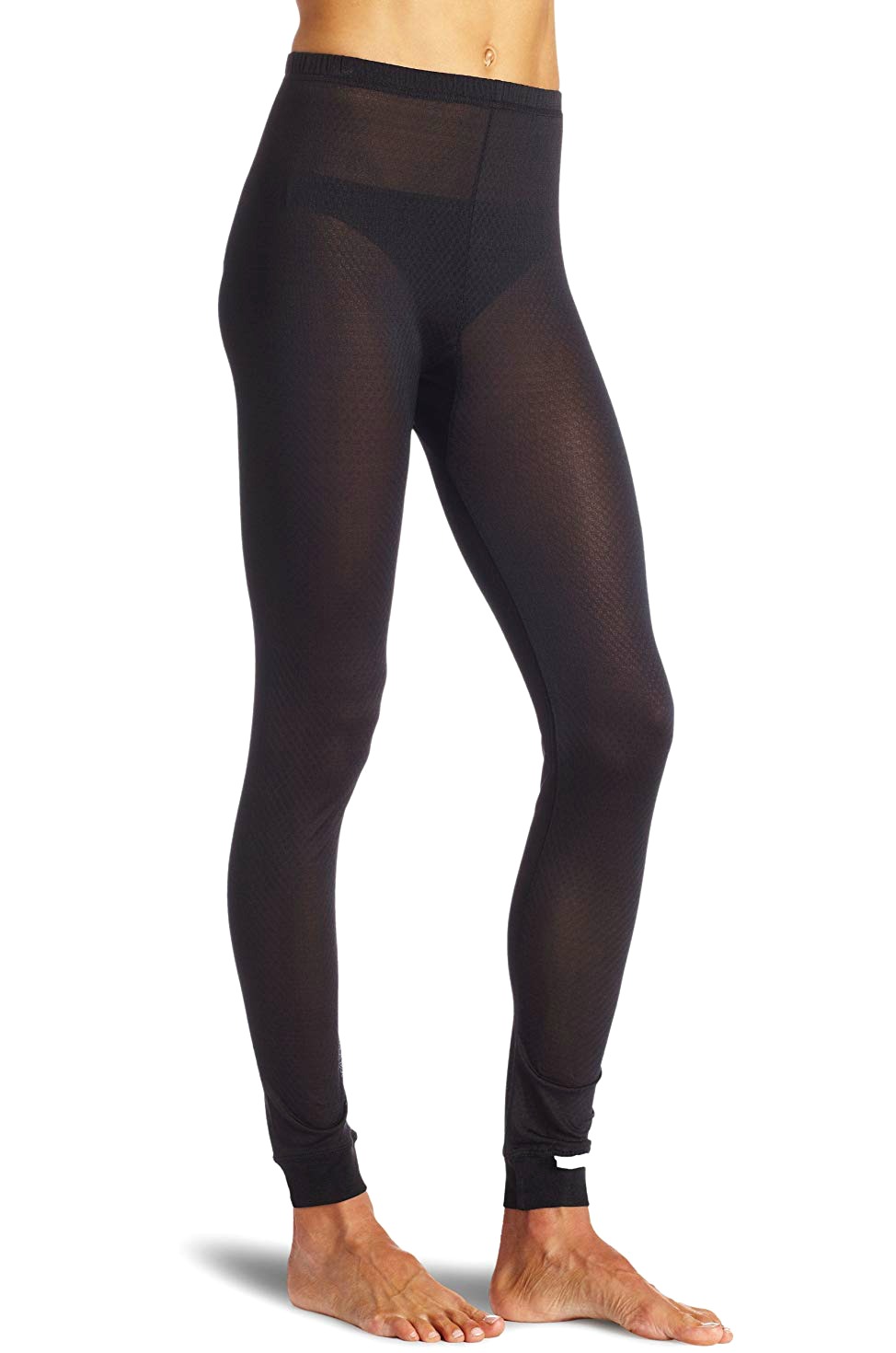 What Is the Warmest Long Johns for Extreme Cold?
You've read about Merino wool above, but silk is also a particularly awesome option for travelers since it takes up even less space. For the perfect combination in an arctic cold climate, you could even wear silk underwear for cold weather underneath your Merino wool for optimal coziness.
As you sightsee in the cold, you tend to feel hot from being active, which produces sweat.
If you're wearing cotton long underwear underneath your clothing, instead of keeping you warm, the cotton will soak up the sweat, which will then make you feel cold and uncomfortable. 
The bottom line: with Merino wool and synthetics, you can avoid this. In addition, other natural fabrics such as cashmere are excellent for long johns because they have the same properties as Merino wool.
You never want to use cotton because it absorbs moisture instead of wicking it away. Learn why cotton isn't the most breathable fabric.
Read about how to choose the best fabrics for travel!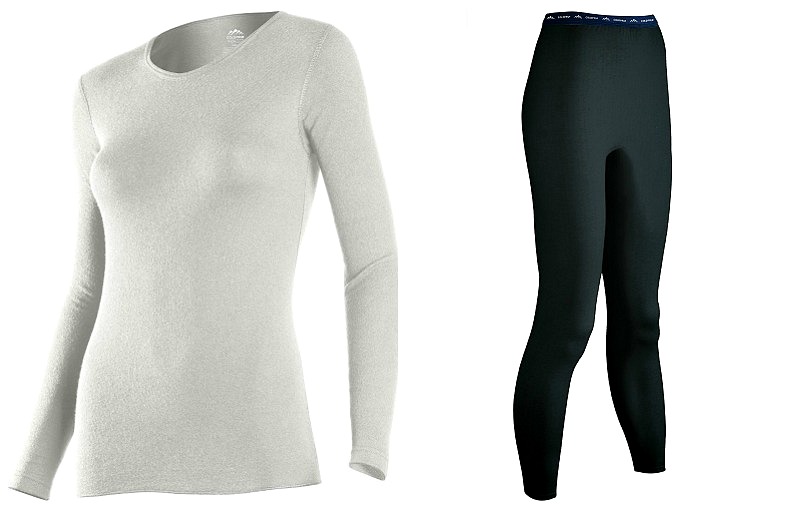 Coldpruf Base Layer Top | Coldpruf Base Layer Bottom
Is There a Cheaper Fabric Option?
Merino wool and the best silk long underwear are expensive but trust me, it's a worthy investment. Most travelers agree! 
To get the most bang for your buck, shop for sales and look at discount outdoor retailers like Sierra Trading Post. They have an amazing selection at affordable prices! I also shop on Amazon and even got one of the most popular Merino wool travel dresses for $40—it's normally twice the price!
However, if you're not ready to commit to Merino wool, you can also find a wide array of long johns available in synthetic fabrics like this comfy set from Thermajane. These are much cheaper, and while not top quality, they offer similar results for warmth.
Read our guide to find the best alternative to merino wool.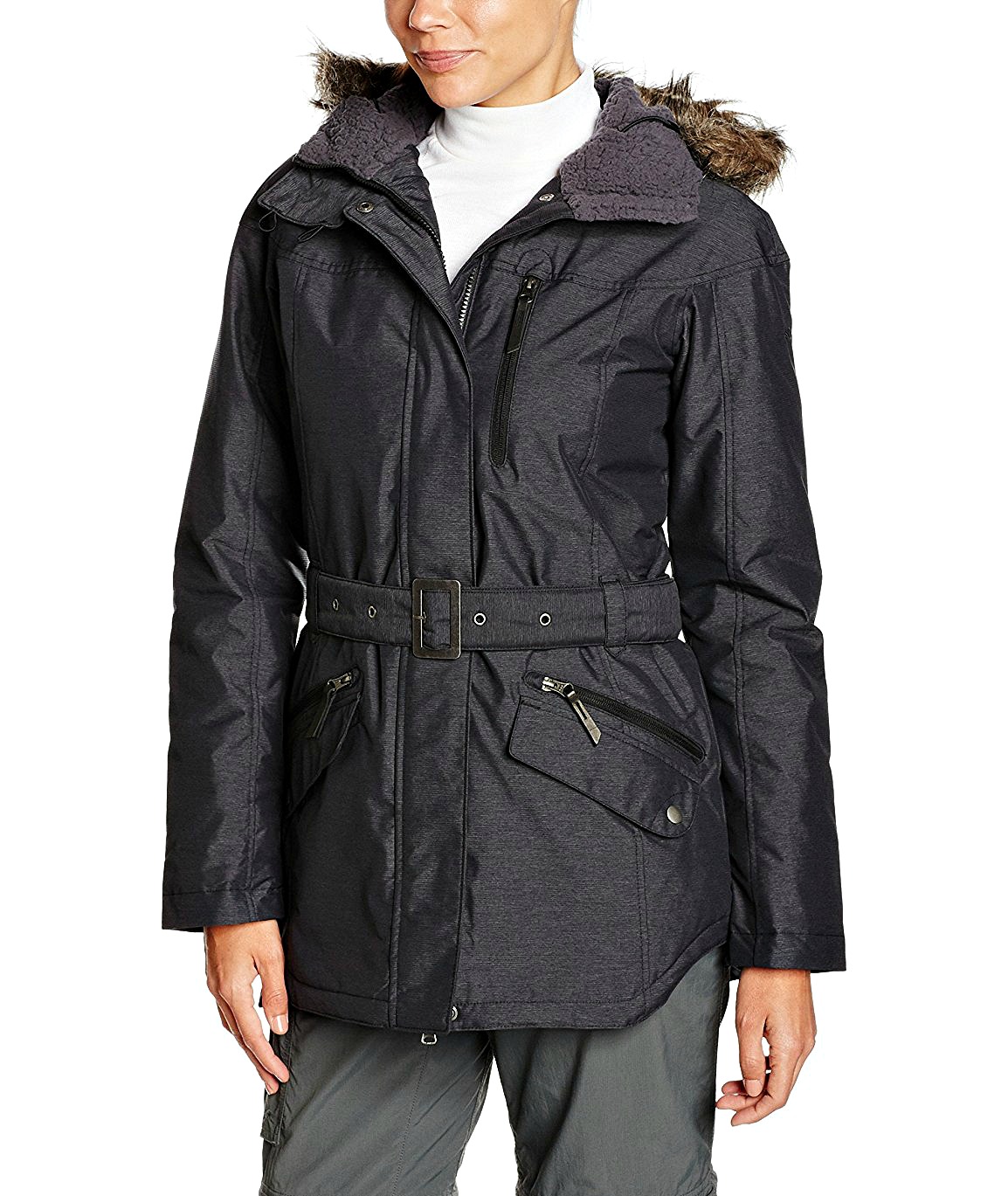 Columbia Carson Pass II Jacket
Cold Weather Travel Tips for Your Chilly Journey
When you're choosing your travel outfits for the cold you should plan to layer your clothing like this:
Long underwear

Top/bottoms

Sweater/hoodie/fleece

Coat/waterproof jacket
Depending on how cold it is, you can either wear the third and fourth item alone or together. You don't have to layer your clothing in a certain sequence unless you're headed outdoors.
For city travel, regular clothes will work just fine (but they'll work even better if you choose the long underwear)!
Watch my Facebook Live video where I show you the basics of this layering strategy with regular clothes (plus Merino wool long underwear).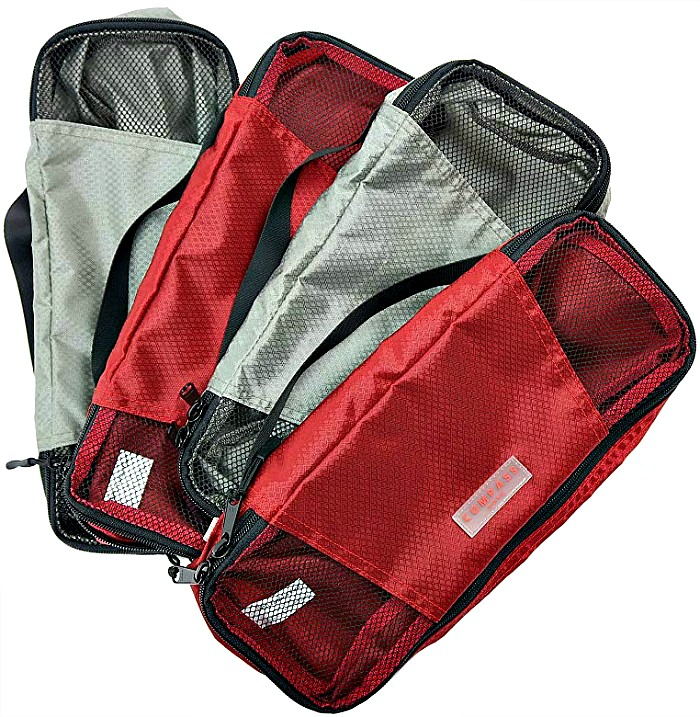 How to Pack for Cold Weather
You can still pack a small suitcase even when you travel in cold weather by using packing cubes to compress your clothing as shown in the video below.
Watch the packing tutorial on Youtube! ( Youtube video)
I also put together a five-part YouTube series showing you the different methods to use packing cubes. If you use this specific packing strategy, cubes can also compress your belongings. This is the secret to traveling carry-on only!
Buy Compass Rose Packing Cubes here!
---
What do you think are the warmest long underwear for women? Comment and share!
---
For more ideas on cold weather clothing please read:
---
LIKED THIS POST? PIN THIS PIC TO SAVE IT!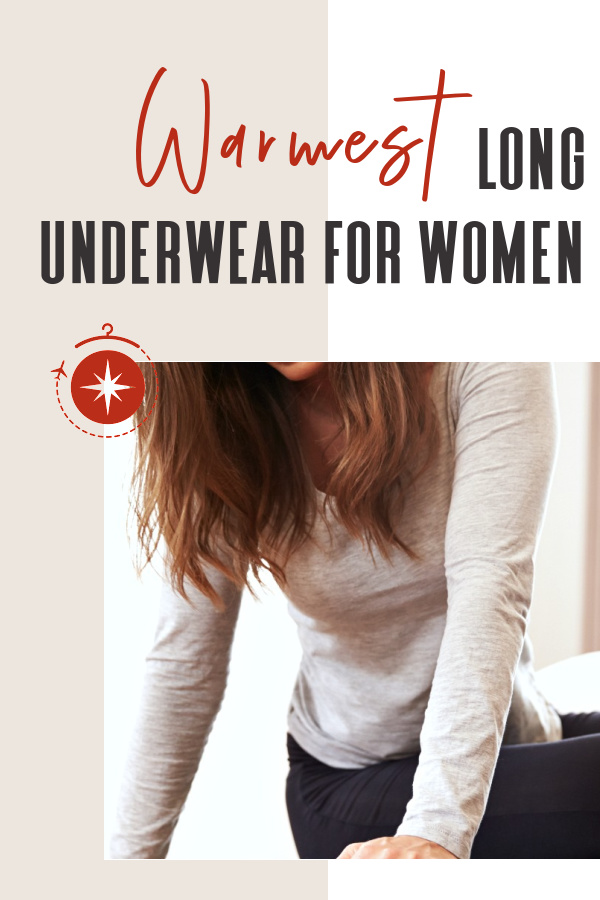 ---
I hope you liked this post on how to choose the warmest long underwear for women. Share this post with your friends on Facebook, Twitter, and Pinterest. Thanks for reading!
---