Support TFG by using the links in our articles to shop. We receive a small commission (at no extra cost to you) so we can continue to create helpful free content. Thank you, we appreciate it!
A couple of months ago Anatomie Wear offered me the chance to test out two of their new collection jackets – the Merika Windbreaker and the Loretta Leather Jacket – to see how they held up in the bitter British winter weather. The jackets have been on tour with me throughout Christmas and the New Year; check out how we got on below….
---
Loretta Leather Jacket
---
I was super excited to include the Loretta Leather Jacket as part of my winter wardrobe (it was seriously lacking a chic leather jacket, surely a sin?) and to test how it held up against the British winter climate – the weather definitely put up a good fight, it's been one of the chilliest, wettest and windiest winters in a long time!
The Loretta traveled across the country with me, from a city break in (akind of) sunny Liverpool to a wet and windy Northumberland costal New Year's trip; it's been my jacket of choice for days out, from long Sunday winter walks and afternoon tea with my pa to Friday night drinks with the girls, it's safe to say I'm a fan.
Packing
I LOVE weekends away, whether it's exciting city adventures or cozy costal breaks, I find it a great way to explore the country, experiencing chic boutique hotels and regional local foods. To make my weekend travel wardrobe the Loretta leather had to prove it could be easily packed into a small hand luggage-esque suitcase – The result? Despite being crafted from leather, (generally a heavy fabric) the jacket is lightweight and fitted compactly into my suitcase, leaving enough space for other weekend essentials.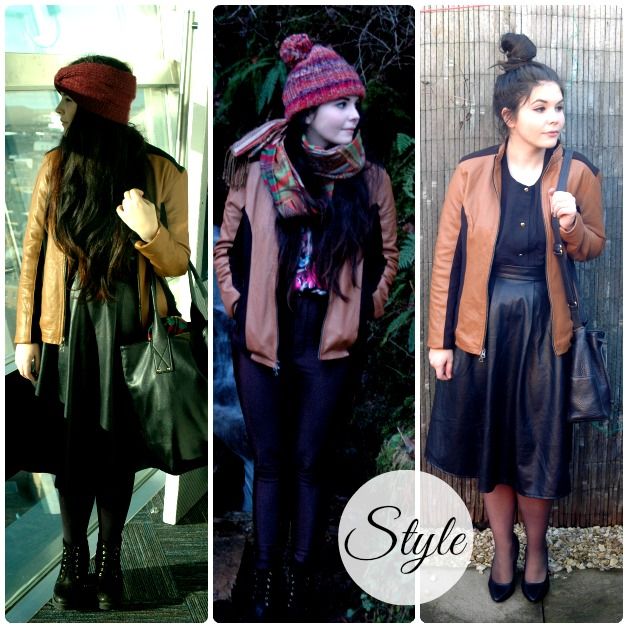 Style
The Loretta definitely makes a fashion statement, the leather and Lycra paneling create a structured yet feminine look, ensuring you gain serious style points with every wear. I found it easy to mix and match garments with the jacket meaning I had a versatile jacket that could be worn day to night – with a printed shirt, flared skirt and block heeled boots for roaming around the stylish city of Liverpool to leather trousers, a roll neck top and wedges for New Year's Eve.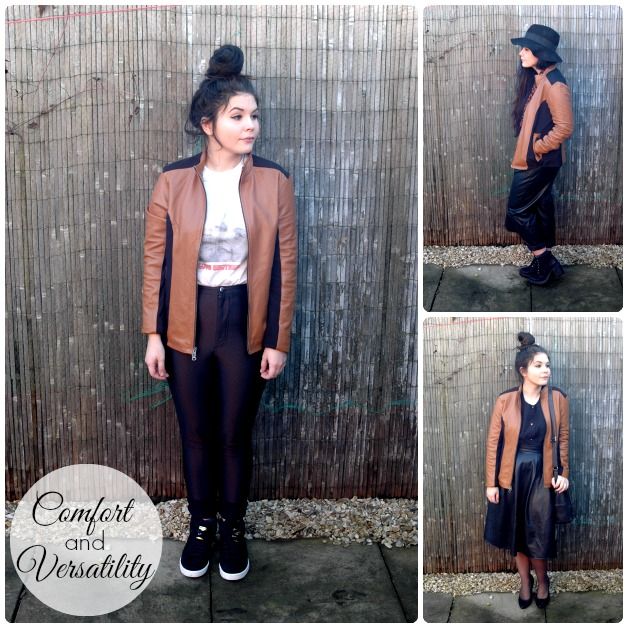 Comfort
A stylish piece can only get you so far, if it isn't comfortable to wear, it'll only end up at the back of your wardrobe, never to be seen again. For a true test of comfort I decided to pair the Loretta with a relaxed band t-shirt and leggings for the four hour drive up to Northumberland for New Year's Eve, the functional stretch Lycra panels allow you to move with ease, eliminating the bulky restricted feel of a classic leather jacket, meaning I not only traveled in comfort but in style.
Versatility
To make the cut for a travel wardrobe a garment must be versatile, items with multipurpose definitely trump pieces without. I found I could style the Loretta to suit both day and evening excursions, it adds edge to a simple day look of black leggings, ankle boots and a printed shirt – perfect for chic city sightseeing – yet is dressy enough to pair with leather trousers and heels for drinks with the girls, I even found it could be worn as a top – perfect paired with high waisted pants.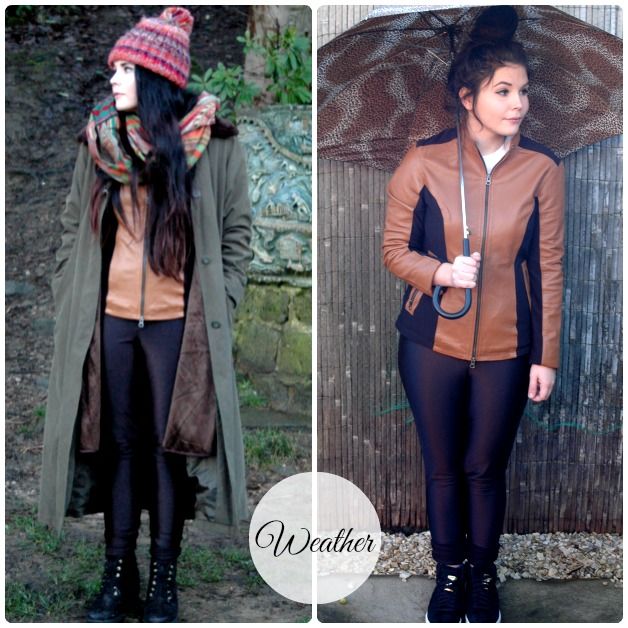 Weather
I was in two minds whether to take the Loretta to the coast for my New Year's weekend away; I knew the weather would be bitterly cold – around 4ᵒC – so presumed I wouldn't get chance to wear anything other than my huge overcoat! I decided to take the jacket and use it as a layering piece; it was worn under my trench for chilly walks on the beach and then when we reached the local pub for lunch, I could remove my bulky trench and have the perfect stylish cover-up underneath, bonus. The Loretta would make a great 'between seasons' jacket when traveling in the UK, I would recommend wear from spring into the beginning of summer and then from autumn to the beginning of winter, you'll certainly get your wear.
Fabric
I HATE stiff leather, how uncomfortable right? The lambskin leather and Lycra fabric result in a super soft feel to the Loretta, my favorite feature of the jacket by far, and the reason it became my jacket of choice for winter walks in the countryside.
Color
The Loretta leather is available in two colors – black and tan, personally I would have opted for the black option, which is more my style – owning more clothing and shoes that would match, nevertheless both hues are neutral enough to style with a variety of different outfits and match with a diverse range of color schemes.
Quick Dry
It is essential that a jacket or coat to be worn in Britain is quick-drying, it rains, A LOT! Having being caught in an unexpected winter rain shower I left the coat to dry overnight in a semi-heated room and came down in the morning to a completely dry garment, ready to wear the very next day, perfect for if it's your only jacket of choice on your travels.
Fit
I am wearing the size Medium Loretta in all of the images, being slightly vertically challenged (at 5" 3) the sleeves came up slightly long on the jacket, I had to under roll each up to get the perfect fit.
The Loretta is a great investment piece, I would certainly recommend for travel in the UK – a chic leather jacket is definitely required if you want to blend in with the locals, especially if you plan on visiting London!
The jacket ticks the top two of my leather jacket requirements – comfort (who doesn't hate stiff leather) and style – I haven't stopped getting compliments, my mums in love! It's safe to say the jacket gets the big British thumbs up from me.
---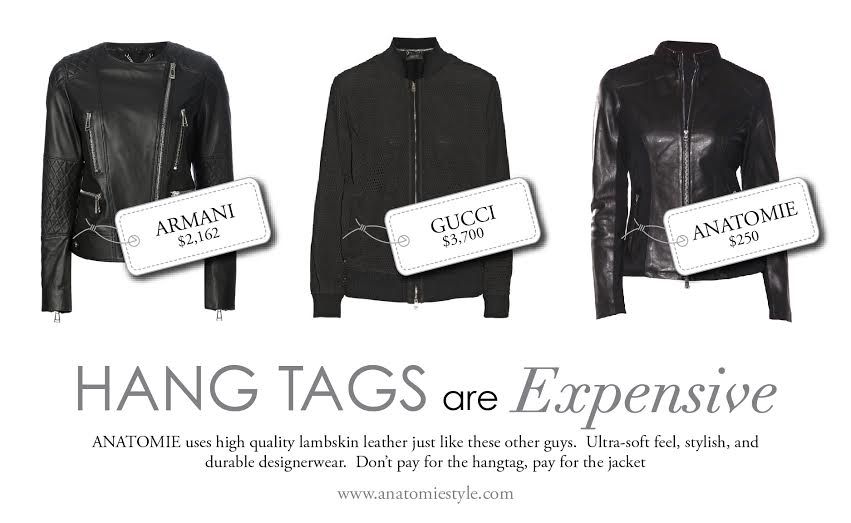 ---
Let's go shopping!
---
Read more about ANATOMIE DESIGNER travel clothes:
---
Please share this travel jacket review with your friends on Facebook, Twitter, and Pinterest. Thanks for reading!
---