Support TFG by using the links in our articles to shop. We receive a small commission (at no extra cost to you) so we can continue to create helpful free content. As an Amazon Associate, we earn from qualifying purchases made on Amazon in addition to other retailers featured on the blog. Thank you, we appreciate your support!
Wondering what to wear in Rome Italy? We've got the do's and don'ts of what to add to your Rome packing list when visiting this fabulous city. Keep reading to learn more!
---
What to Wear in Rome
---
Table Of Contents
When in Rome, do as the Romans! The best way to dress appropriately when visiting a new city is by taking a look at what the locals are wearing. Review this comprehensive Travel Fashion Girls advice on fashion in Rome and what to wear when visiting this beautiful city during the summer.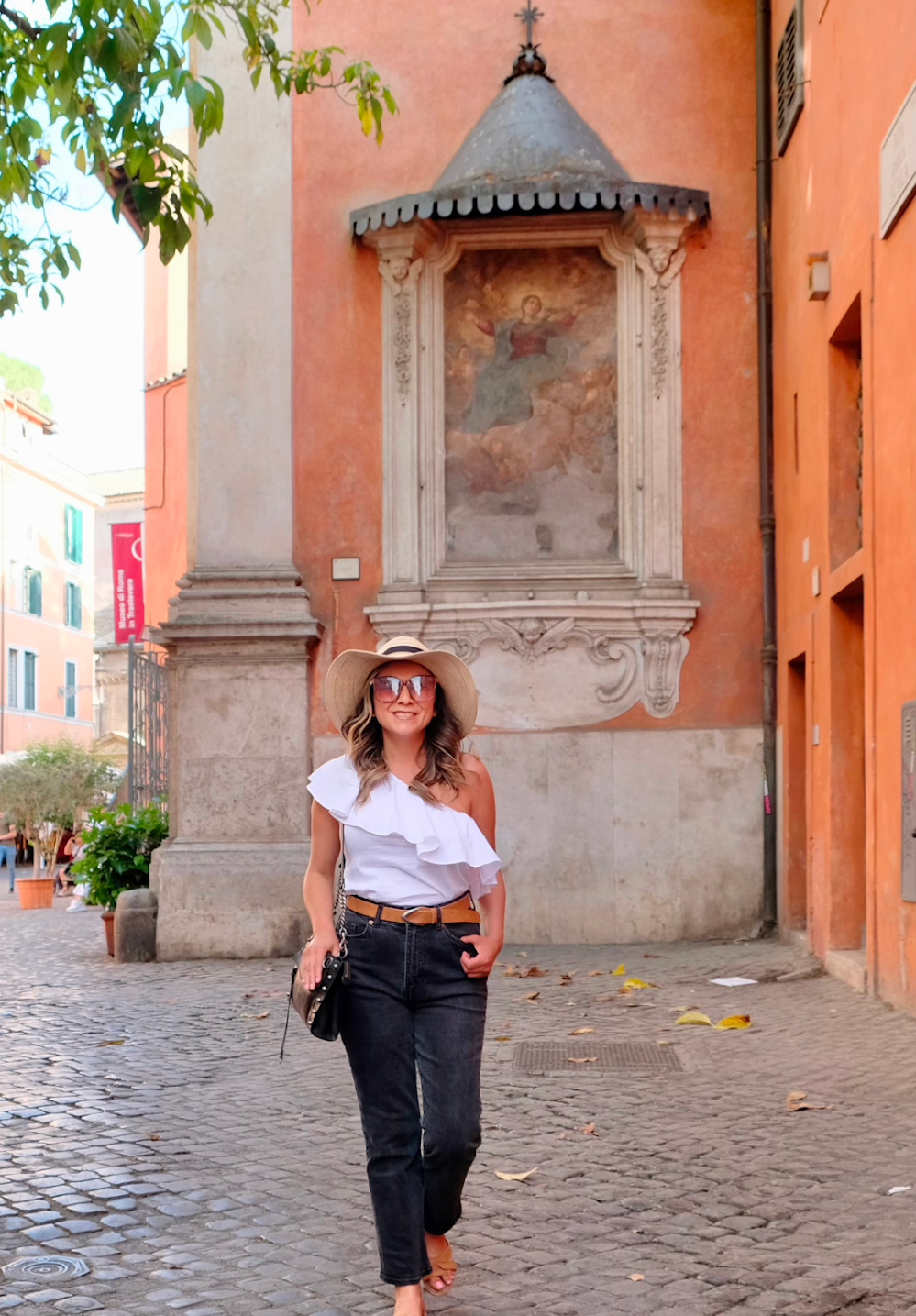 Ejoyed a fun Airbnb experience in Rome with a photographer doing a photo sesh, and this was my outfit: H&M Jeans, Noella Ruffle One Shoulder Top, Madewell Sun Hat, and Coach Sandals (similar)
To enjoy your stay in the Eternal City, you need to pack the right clothes so you can comfortably enjoy all the beautiful Italian sights.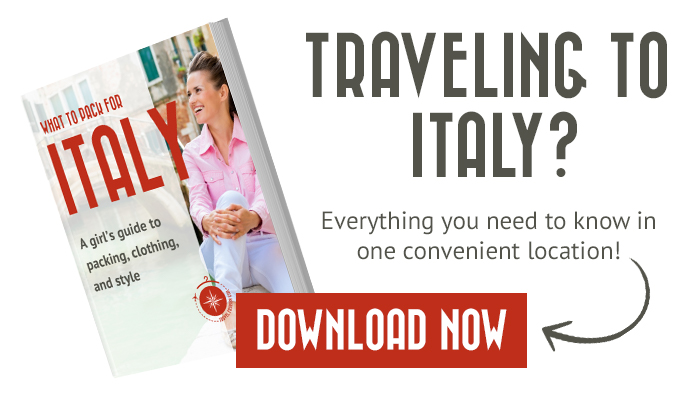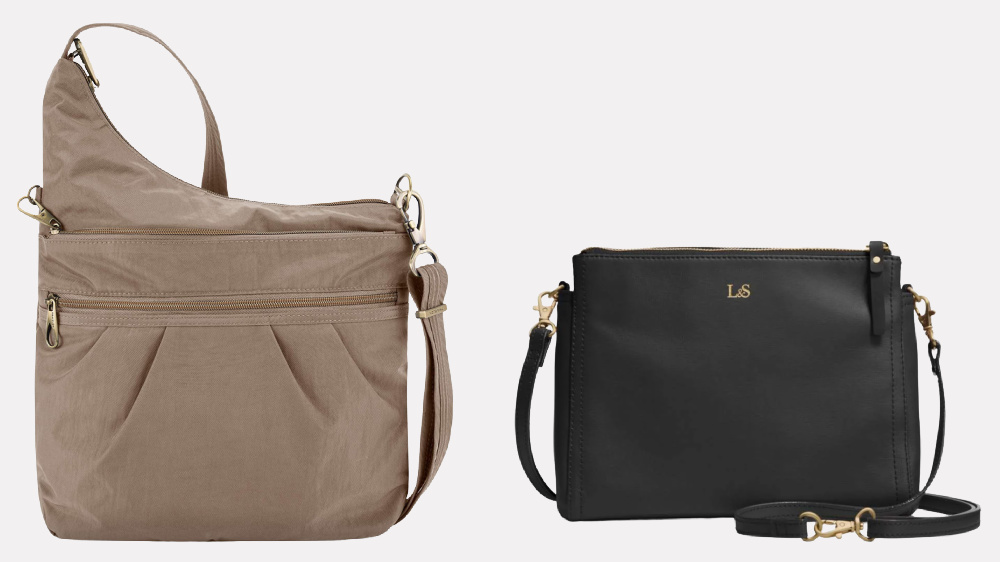 Travelon Anti-theft Signature 3 Compartment Crossbody Bag | Lo&Sons Pearl Crossbody Purse
What do People Wear in Rome? Italy Clothing Style
The most important thing to remember about Rome fashion trends, is that they're more than likely going to be very similar to what's popular at home and in other parts of the world.
Deciding on your Rome style and figuring out what to wear in Italy overall should be about balancing comfort, practicality, and your personal style. When you feel good you look good and confidence is the most important thing you can pack.
Generally speaking, Italian style is more dressy than American style, but this DOES NOT mean business attire. The easiest way to put together polished travel outfits for Rome is to start with well-fitted basics and add tasteful jewelry with well groomed hair and makeup.
The secret to a polished "European" look is for your clothing to fit your body well. Choose clothing that isn't overly snug or loose. You can achieve this by tailoring things such as jeans, tees, and dresses. It's the small details such as tailoring and accessories that will elevate your Rome outfits.
Learn more about how to create a capsule wardrobe, which can easily fit in a carryon suitcase with the help of packing cubes!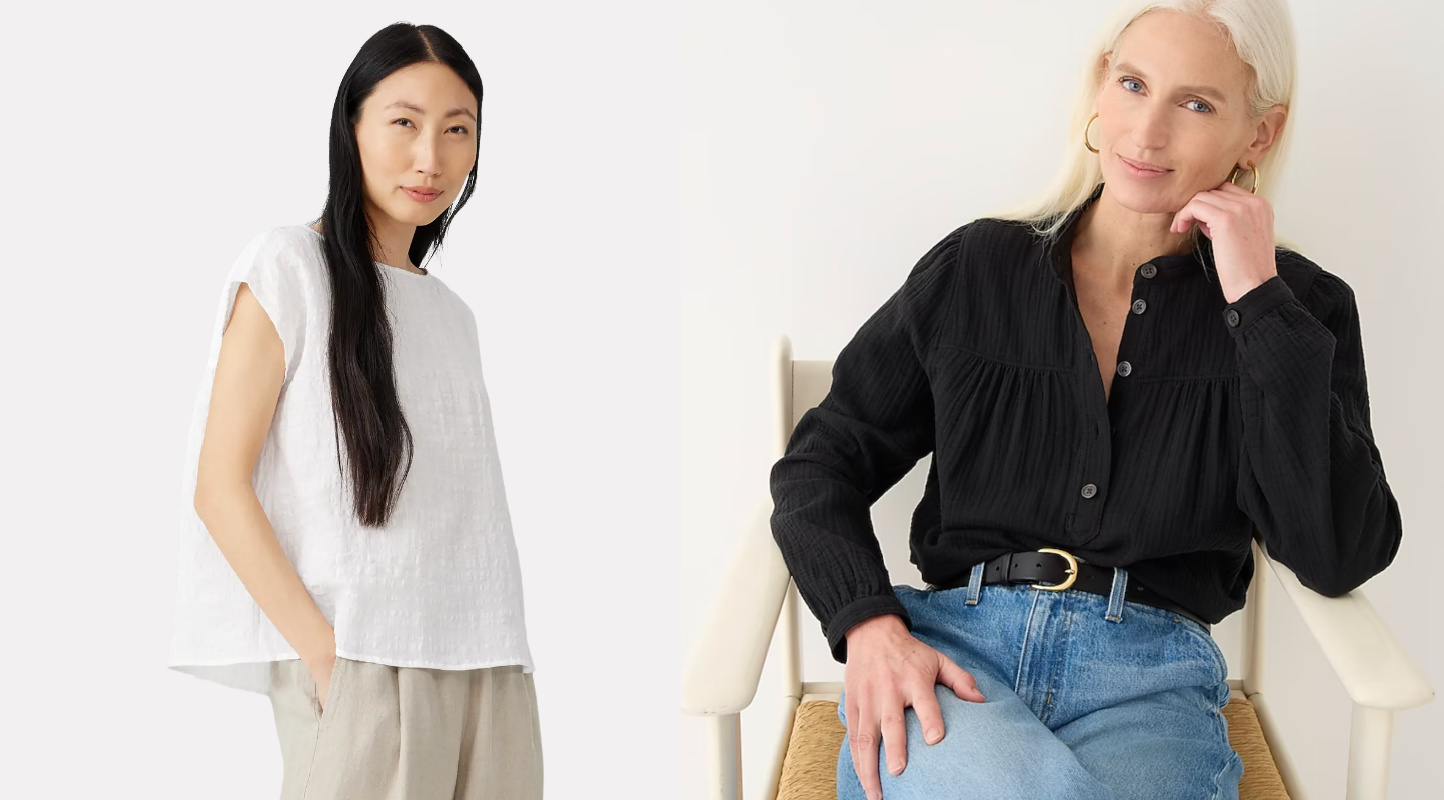 Eileen Fisher Organic Linen & Cotton Top | J.Crew Fresco Top in Soft Gauze
Tips for What to Wear in Rome
There are three main things to keep in mind when planning what to wear in Rome:
1. The weather in the summer is scorching hot. You might find yourself so overwhelmed by the heat that all concept of style goes out the door in desperation to stay cool.

Always Google the expected weather averages for each destination in advance, two weeks before a trip and the week of. Remember, mother nature is not predictable, and not all countries in Europe have the same weather – just as all the cities and states in the USA don't have the same weather.
Choose pretty but practical clothing in breathable fabrics like cotton, linen, and rayon. The best clothes to wear in Rome in summer are dresses. Specific suggestions below.
These are our readers tips on how to stay cool in the heat.
2. While there isn't a "Rome dress code", when visiting religious sites like the Vatican please plan for modest clothing. You should cover your shoulders and knees.
However, if you're traveling in summer, you likely won't want to cover up in the heat. The easy solution: an airy dress that covers your knees. Store a light layer in your purse, like a thin cardigan, a casul-chic blazer, or travel wrap, so you can throw it on when you enter the site.
Read this post to find out exactly what to wear to the Vatican.

Taos Trulie Walking Sandal | Vionic Aura Paisley Lace Up Sneaker
3. The cobblestone streets are brutal. Those cute strappy sandals or fabulous heels you planned to wear in your Instagram pics in front of the Colosseum? Forget them.
When it comes to Rome in the summer, most travelers had one of two looks: cute dress and sandals or cute dress and trainers. My guess is that by the end of their first day sightseeing they quickly realized they wouldn't be able to continue unless they wore more practical shoes.
​Comfortable white sneakers are a highly popular shoe choice for locals and travelers, as the trend is still going strong in most of the world. They've become a footwear staple, and they've been popular for years now. 
In addition, Rome street fashion in the summer encompasses combat boots or other mid-calf boots are a secondary option paired with dresses. It becomes a personal decision to wear boots, but given the heat levels in Rome during the summer, you're better off allowing feet to breathe, so comfy sneakers or cushioned sandals is better to pack. 
While it can be tempting to mimic Rome street style, it's best to always plan for comfort!!! These are the most cute and comfortable sightseeing shoes to wear in Rome.

Taos Footwear Plim Soul Lux Sneaker | Sorel Ella II Sandals
The last thing you'll care about after a long, hot day of walking around Rome is whether or not your shoes are fashionable! When your feet hurt, nothing else matters, so plan strategically from the start. Plan for tired feet and consider the 90+ degree heat when you plan what to wear in Rome in summer.
Also, while ballet flats are cute, don't make these your main sightseeing shoe!
Here are some ideas of practical yet fashionable shoes to wear when tackling cobblestones in Europe!
What to Pack for Rome: Clothing
Take the above items into consideration when planning your Rome packing list and deciding how to dress in Rome. Now, let's address some detailed packing suggestions.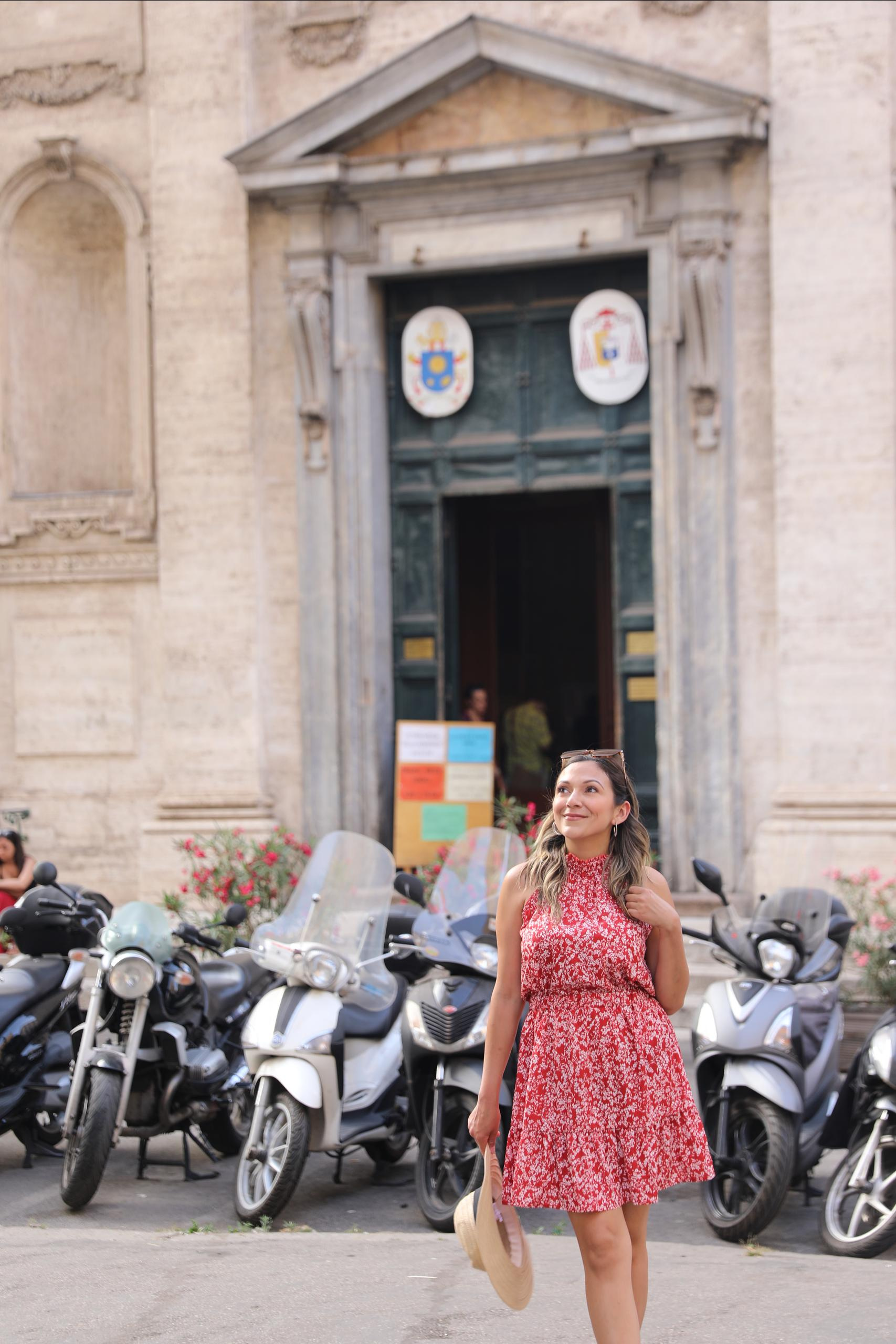 Gevomir Summer Halter Dress Sizes S-XXL
Dresses
Dresses are a top choice when it comes to traveling, especially when you're deciding what to wear in Rome!
Wearing

Rome dresses

is stylish, so you instantly feel polished and dressed up.

You don't have to worry about mixing and matching; they're an all-in-one outfit.

The right dress can keep you fresh and cool in the oppressive summer heat of Rome (or any destination)!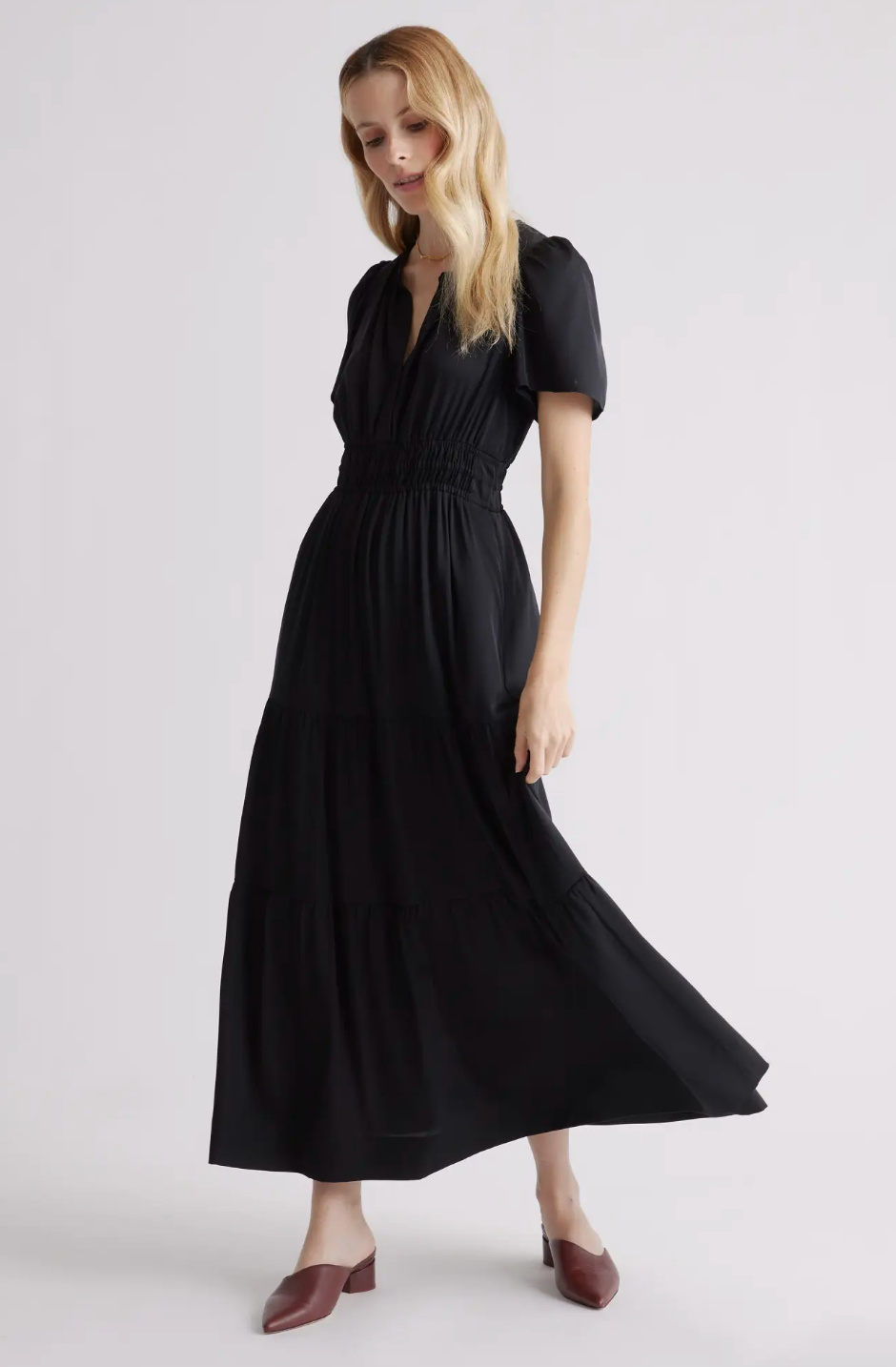 Quince Washable Stretch Silk Tiered Maxi Dress Sizes XS-XL
The key to choosing the right dresses is all in the fabric. For summertime, avoid fabrics like polyester and opt for breathable styles in various lengths in rayon, cotton, viscose, and linen.
Specifically, linen dresses is the most airy pick, because they wick away moisture and are highly breathable in the heat. 
Start by reading these general tips on packing for summer travel:
As you plan what to wear in Rome, make sure you pack at least one dress that falls below your knees so you can wear it to the Vatican, looking respectful but feeling fresh. Whether it's a maxi (long length) dress or a midi dress that falls just below your knees, choose a classic cut that doesn't scream beach.
Another popular dress type is dresses with pockets. While small pockets are not recommended for storing valuable items, they can hold non-essentials and overall, pocket dresses emit a retro feel (think Audrey Hepburn in Roman Holiday!).
Want more inspiration? Take a look at these summer maxi dresses!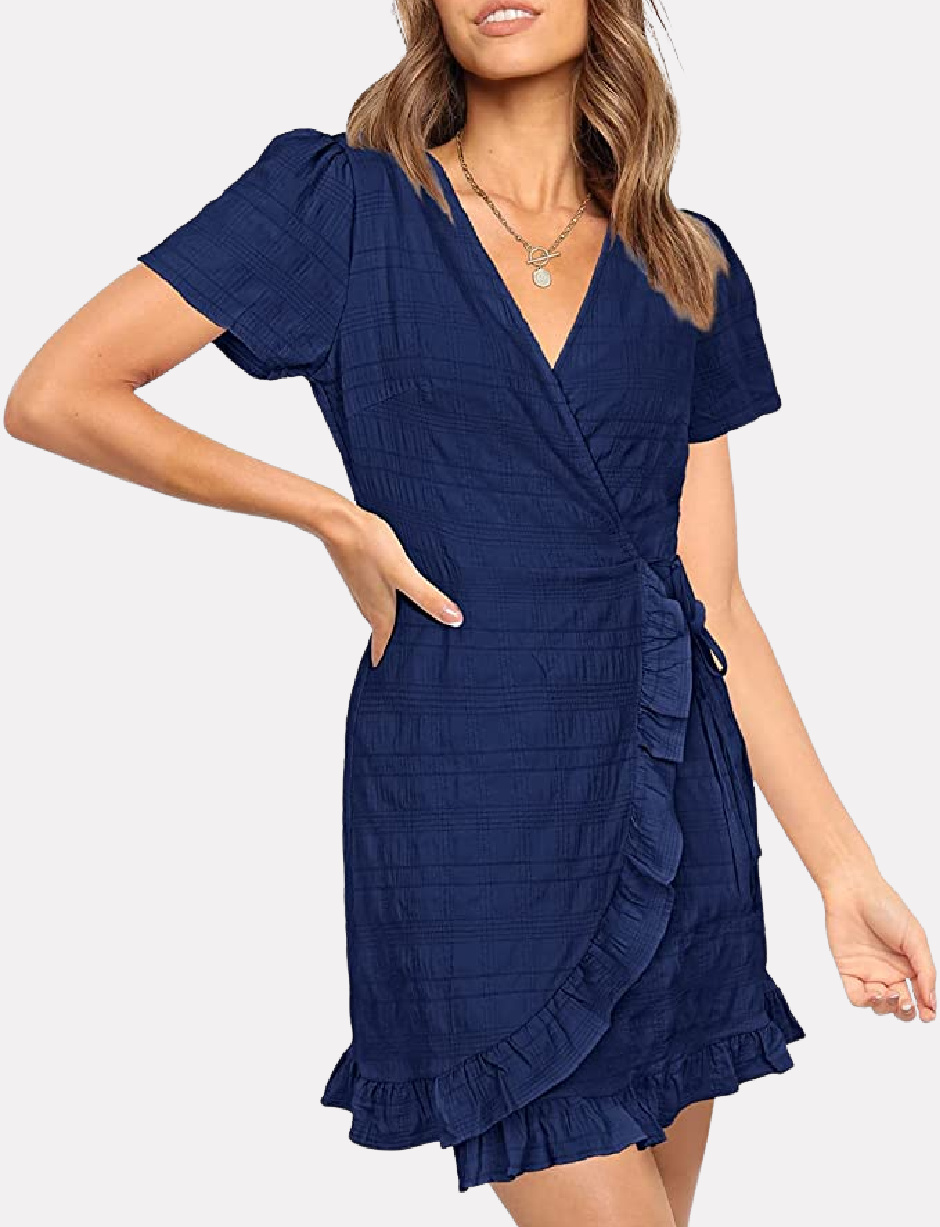 Jescakoo Summer Casual Wrap V Neck Dress Sizes S-XXL
Packing for Rome can be very simple. If you're traveling for one week, just pack seven dresses! Talk about a minimalist, feminine, and SIMPLE capsule wardrobe! After experiencing the blistering June heat in Rome, I'd now choose to only pack airy dresses on a summer trip.
For added versatility, these are popular convertible travel dress styles!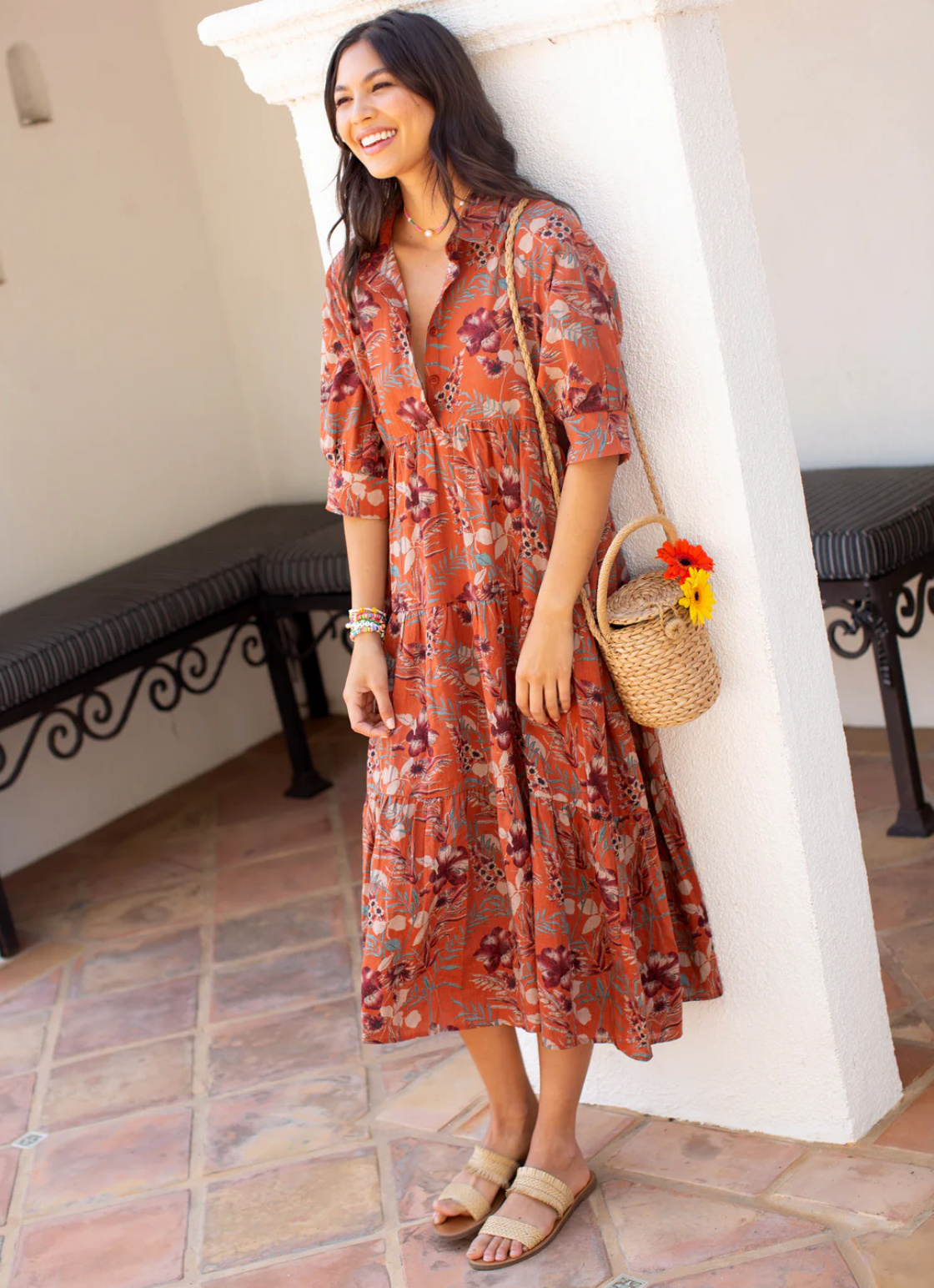 Eddie Bauer Departure Easy Tank Dress Sizes S-3X
Choose whatever length of dress is most comfortable for you, but don't forget the secret is all in the fabrics. Sleeveless styles will offer the most comfort in the heat.
What it comes to colors, dresses can be more more playful in design and shades, but a classic white dress and LBD (little black dress), are both timeless and add instant chic to your Rome look. As long as the materials are breathable, you'll be able to walk around in comfort and style!
 If you like dresses but hate the dreaded chub rub, find solace in these thigh chafing products! 
Strapless bras don't work for you? Have you ever had a bra fitting? It's life changing NO MATTER your size! Knowing your right bra size can open up many new clothing options. Learn more!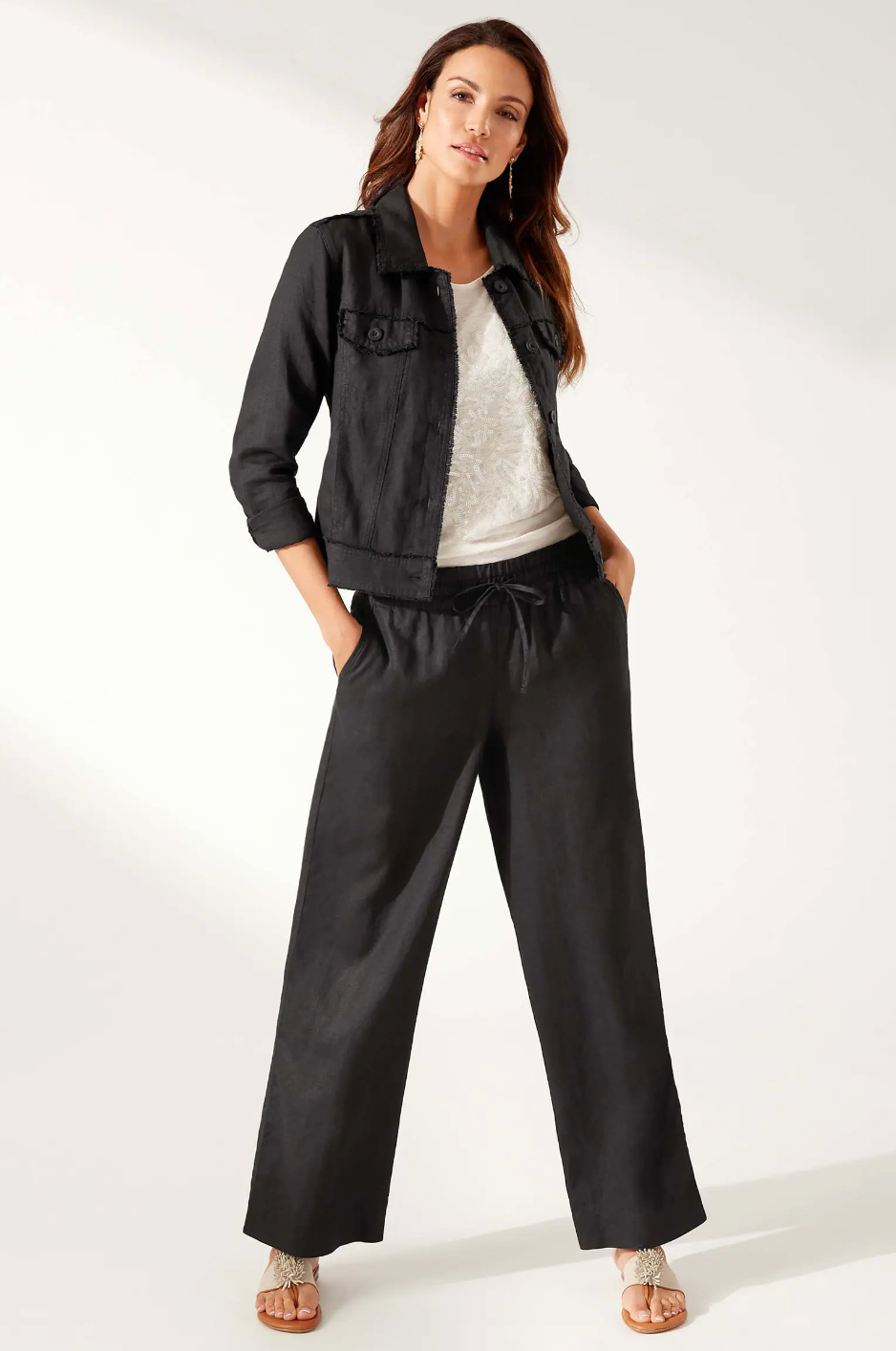 Tommy Bahama Two Palms High Waist Linen Pants Sizes XS-XL
Pants
If you're not a fan of long skirts, dresses, or rompers, bring trousers that you know you'll be comfortable wearing in the heat. Avoid jeans and opt for lightweight capris or wide leg linen trousers that are breathable in the heat.
Always check the weather before your trip to determine the expected highs and lows in the forecast, which will impact your decisions for what to wear in Rome. This will give you an accurate idea of whether you need to bring trousers to wear in Rome. If the temperature in the day or night seems like it will be cool during your trip, bring one pair of pants.
Start by reading these general tips on packing for spring travel: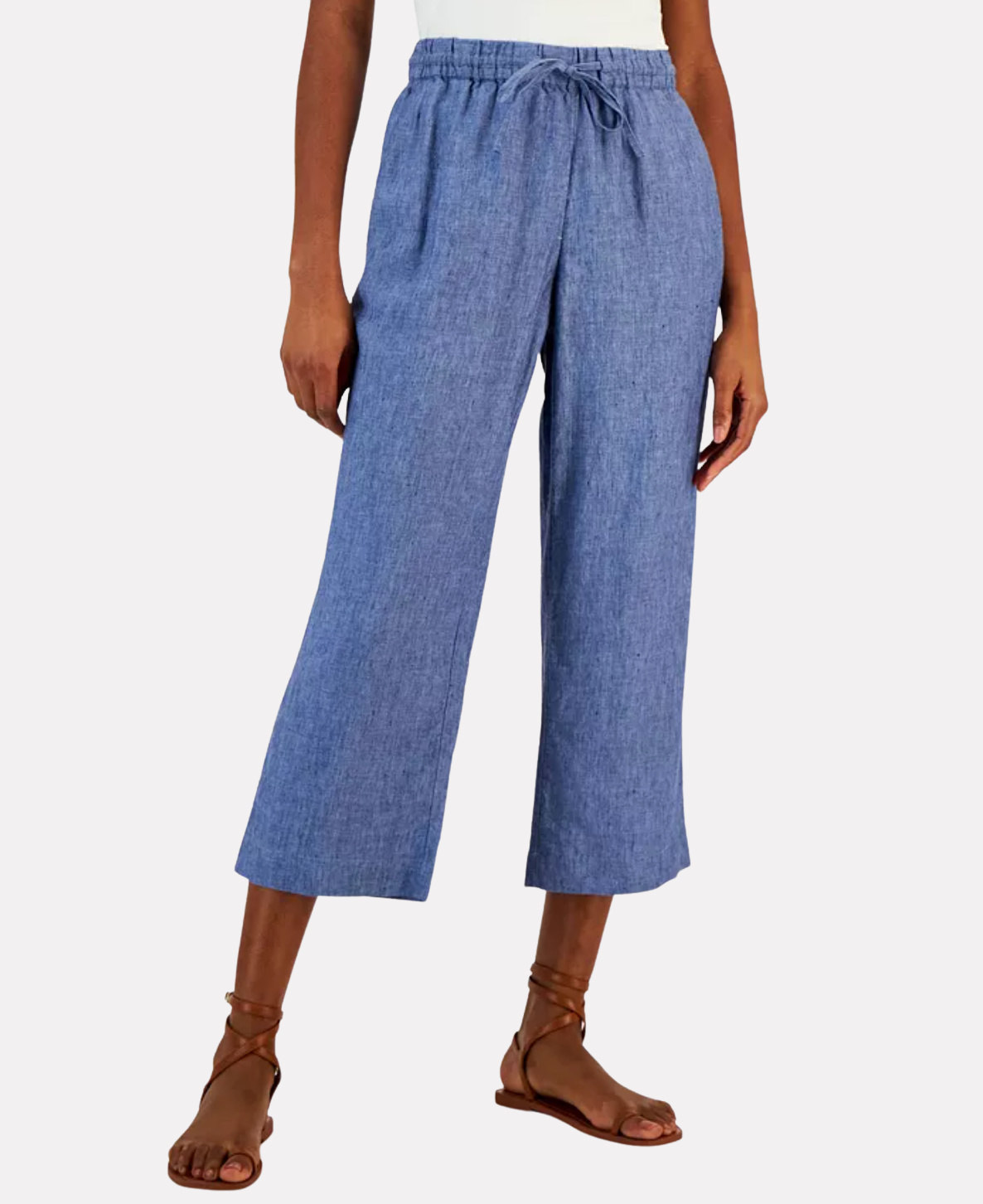 Charter Club Women's Linen Capri Tie-Waist Pants Sizes XS-XXL
Even if you don't plan to wear pants during your trip, you may want to wear a pair to travel to and from Rome from your destination. In this case, wear a pair of comfortable pants for flying that you could also wear in the city if needed.
While you may love leggings travel, consider a ponte knit pant or something comfortable and chic such as the J.Jill Wearever Slim-Leg Pants or the Perfect Pants from Spanx.
If you're looking for the best black travel pants, here's what our readers favorite styles!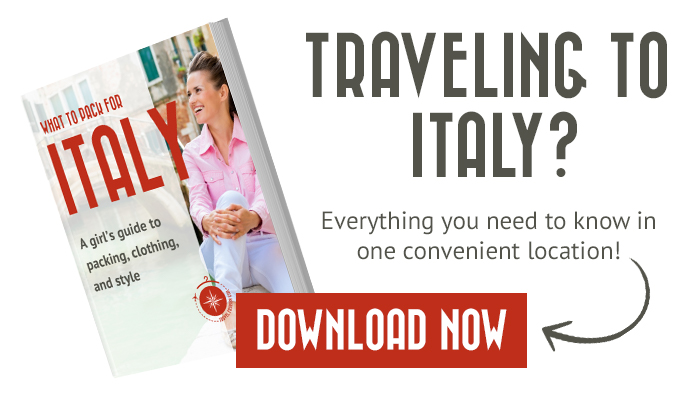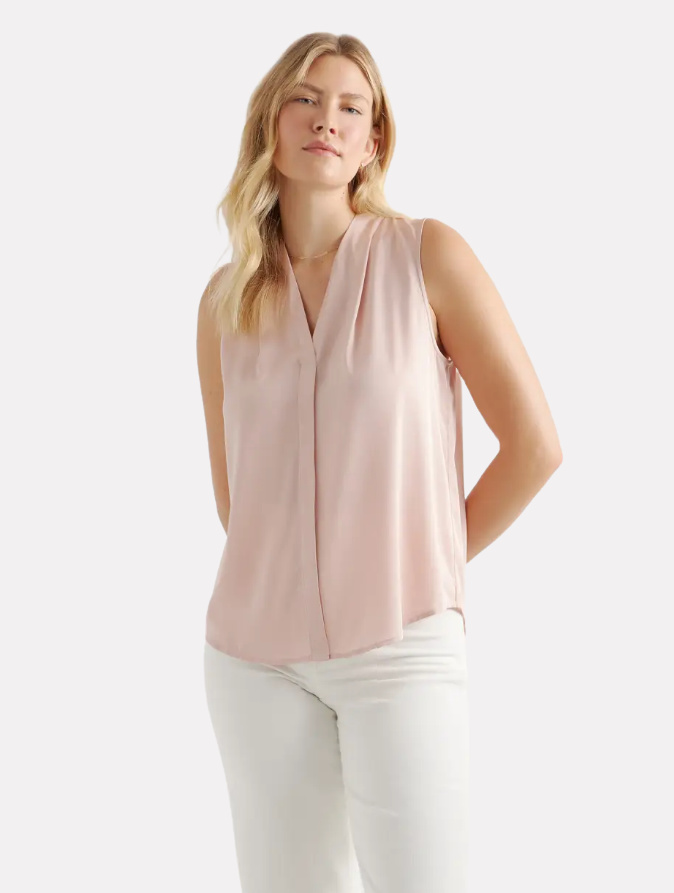 Quince Washable Stretch Silk Sleeveless Blouse Sizes XS-XL
Tops
It can be difficult to find summer tops that look city- versus beach-ready. However, the key is to choose neutral colors in classic shapes and styles that can be paired with detailed, structured, or colorful bottoms.
Bring along a few basics you can mix and match with anything, like a timeless white v-neck tee or a sleeveless well-fit blouse. Avoid logo t-shirts and choose comfortable but polished tops that fit properly, look simple yet are effortlessly chic. 
Speaking of fitting clothes properly, one of the only major differences between European and American clothing styles overall is tailoring. In the US, we expect clothing to fit us out of the box, whereas in Europe, people are more likely to get their clothes tailored. 
When clothes fit properly, they look more refined, regardless of their price tag. Even if an item is designer or expensive, it will look "frumpy" on someone if it doesn't fit well. While getting something tailored seems like an age-old practice in Europe, modern roman fashion still adheres to this and it shows in the surrounding beauty of the people and landscapes!
Tip: I had brought two jumpsuits and had the straps shortened in the USA, and one of the straps came undone. I went inside a Zyp tailor in Rome, and not only did she fix this and secure all the straps within minutes, but she also didn't charge me because she said the job was so easy! If you have tailoring to do and have time, it's worth a visit to get something tailored while you're there!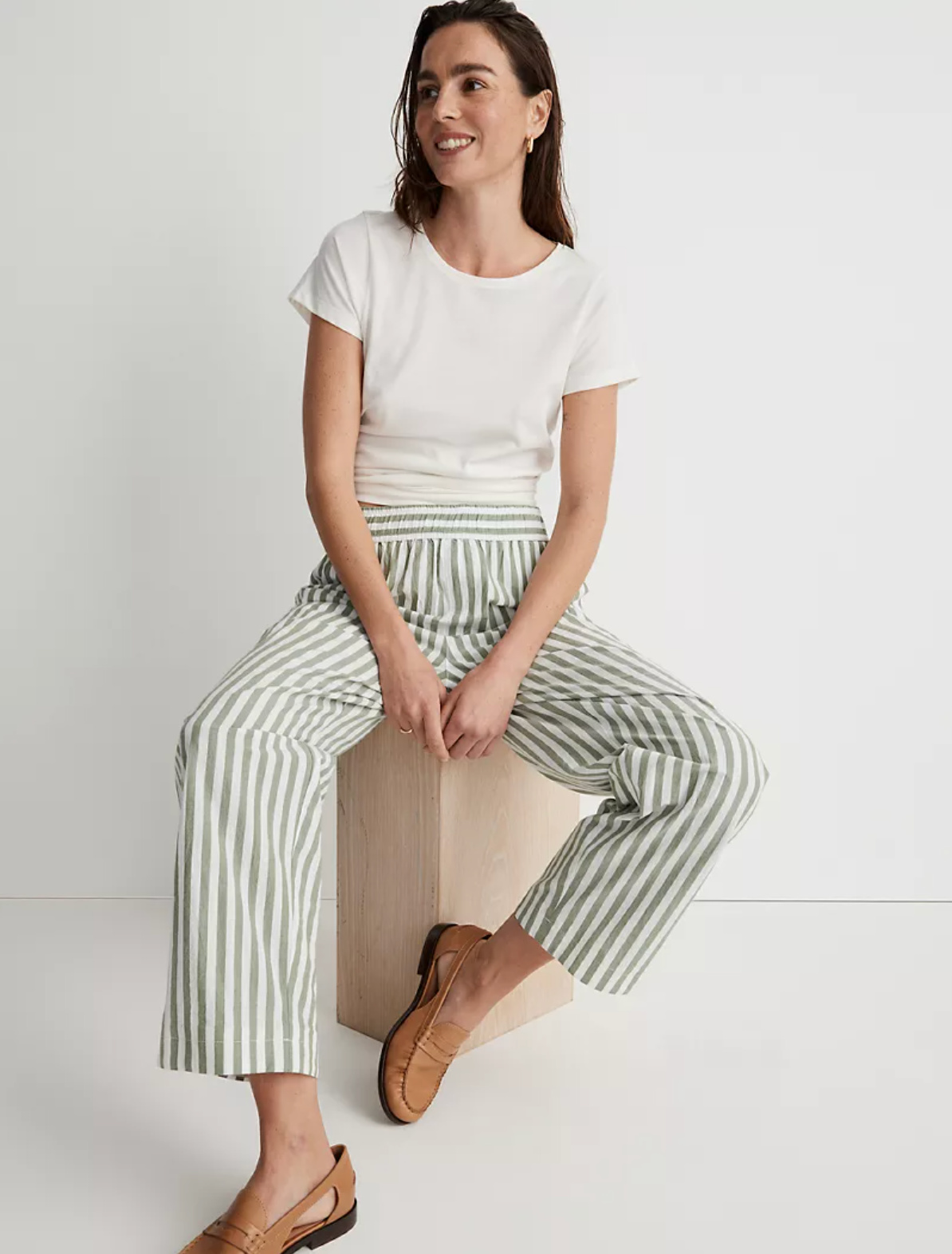 Madewell Drapey Crewneck Tee Sizes XXS-4X

If you're traveling for one week, then plan for seven outfits. In this case, if you plan to bring dresses, just subtract seven with the number of dresses you plan to pack and then you know how many tops you need.
For example, if you plan to bring four dresses, then you only need three tops and one or two bottoms to make seven days' worth of outfits ​.
Likewise, if you plan to bring two dresses, then you'll need five tops plus two or three bottoms so you can have a unique outfit every day of the week without needing to do laundry.
Read our four custom capsule wardrobe guides for a more thorough breakdown!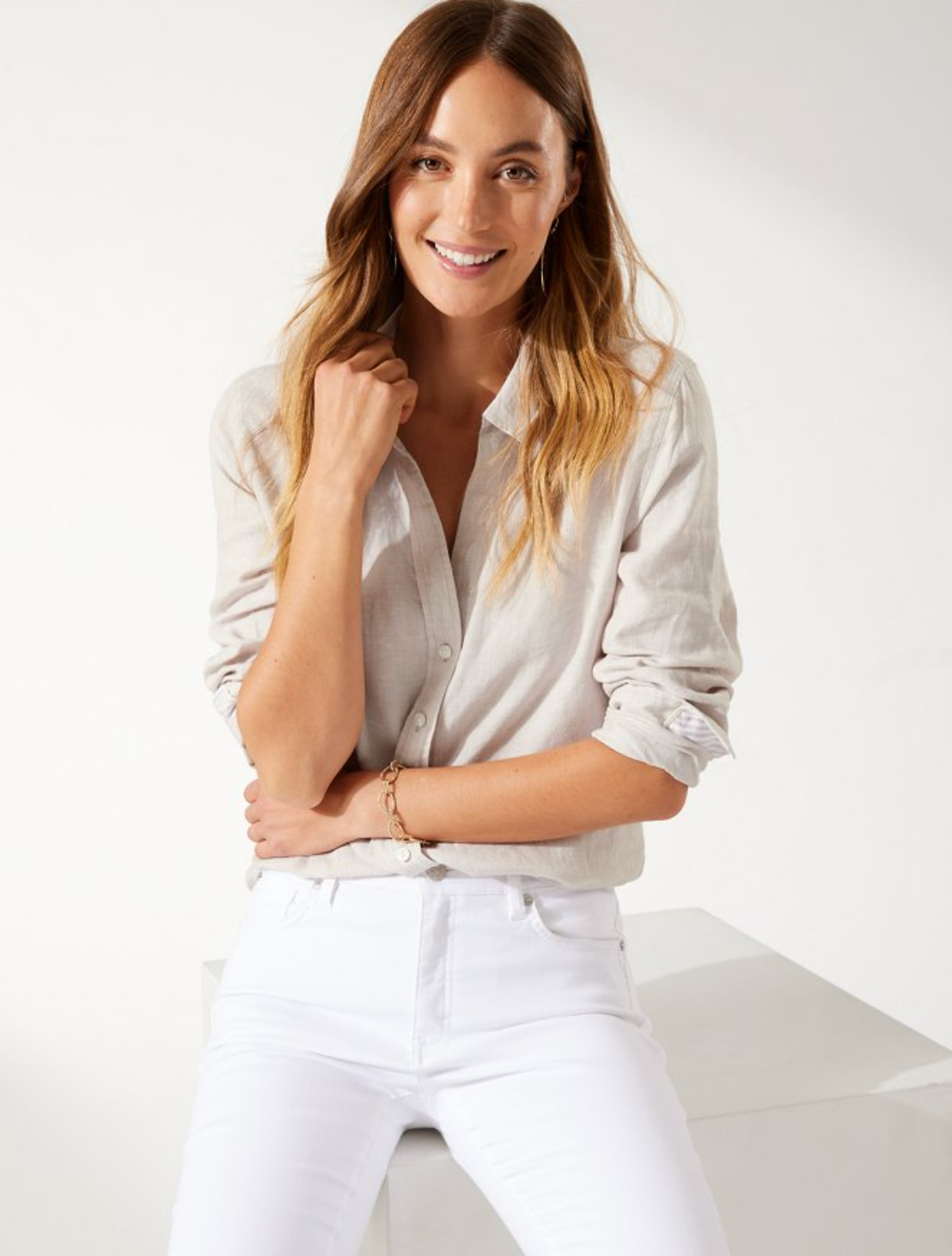 Tommy Bahama Long-Sleeve Coastalina Linen Shirt Sizes XXS-XL
Also available on Nordstrom
For tops, bring at least one light long sleeve that you can layer over the other tops on a cooler day or during your visit the Vatican. The rest of your tops should be breathable, to keep you cool.
Avoid any blouses that need under layers–you want to keep your clothing as far away from your skin as possible, especially on humid days. Linen shirts and moisture wicking tops can help keep moisture at bay due to their ability to draw away sweat, so you won't overheat or feel sticky and gross.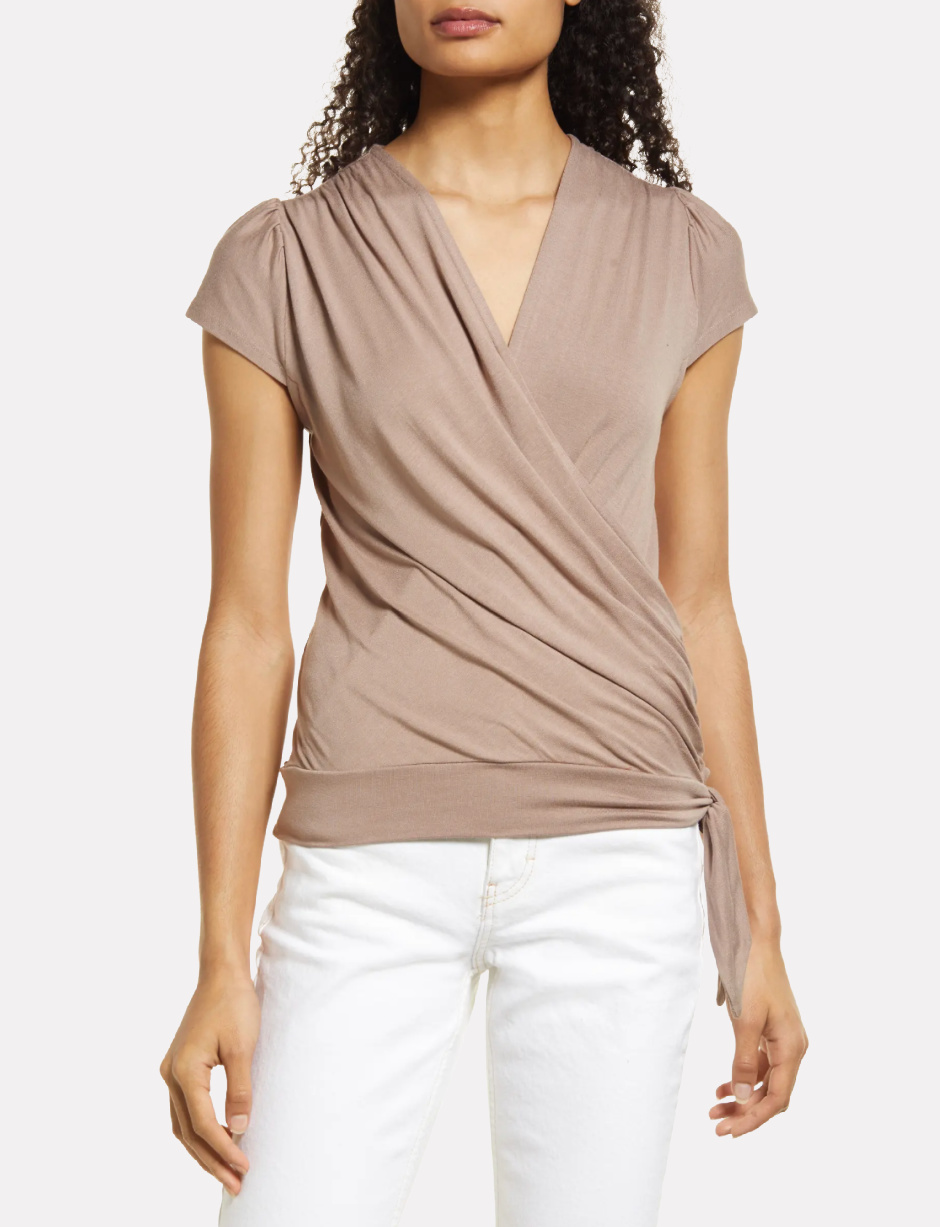 Loveappella Faux Wrap Top Sizes XS-XL
Choose neutral colors that can mix and match with all your skirts or pants so you can wear them interchangeably to make various outfits.
Did you know you can make three weeks' worth of outfits with just eight to ten pieces of clothing? Learn how here!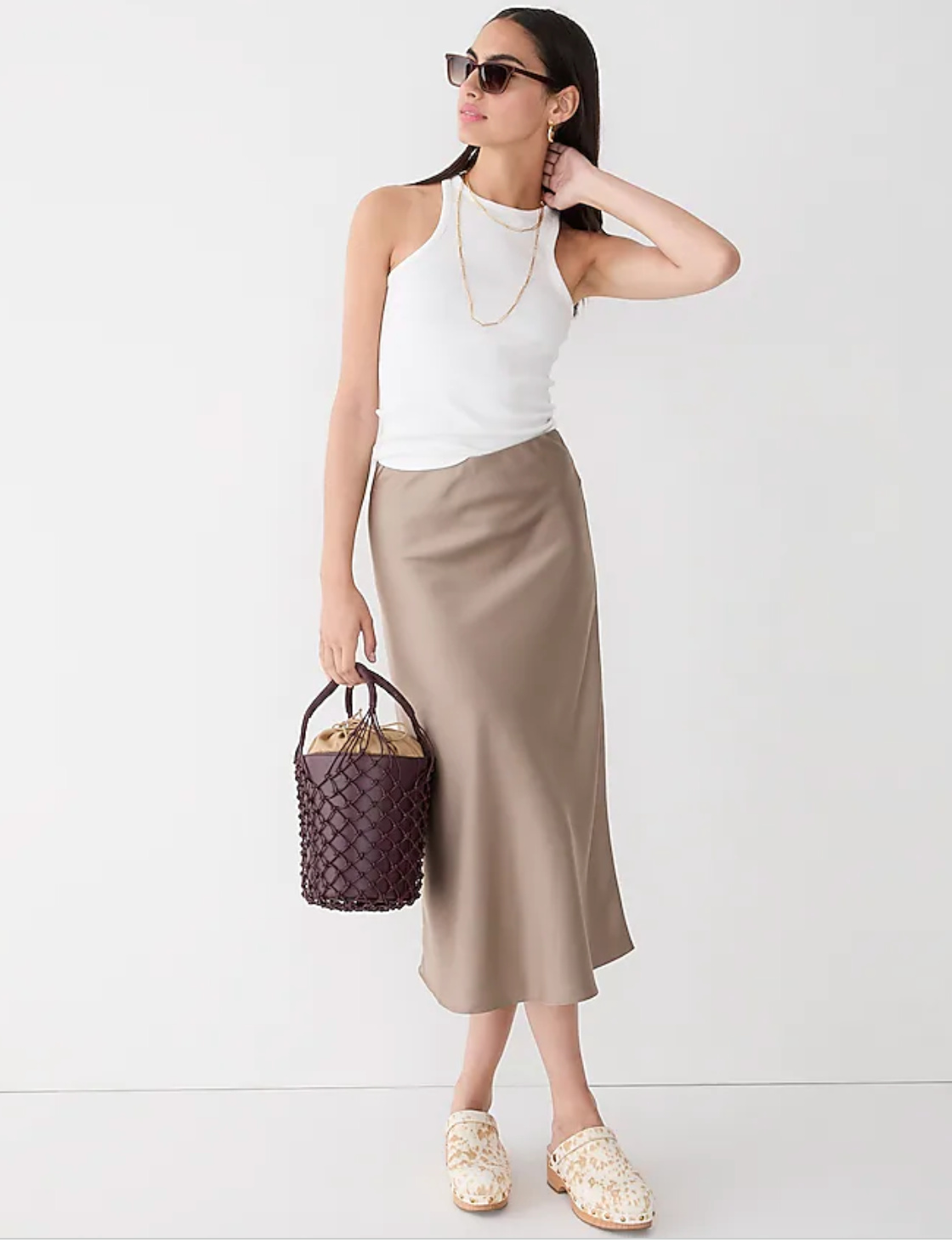 J.Crew Gwyneth Slip Skirt Sizes XXS-3X
Skirts
If you're not much of a dress person and prefer separates that can mix and match, then a skirt is perfect, so definitely bring it to Rome! Like dresses, choose summer-appropriate fabrics like rayon, cotton, silk, and linen.
For added versatility, these are popular convertible travel dress styles!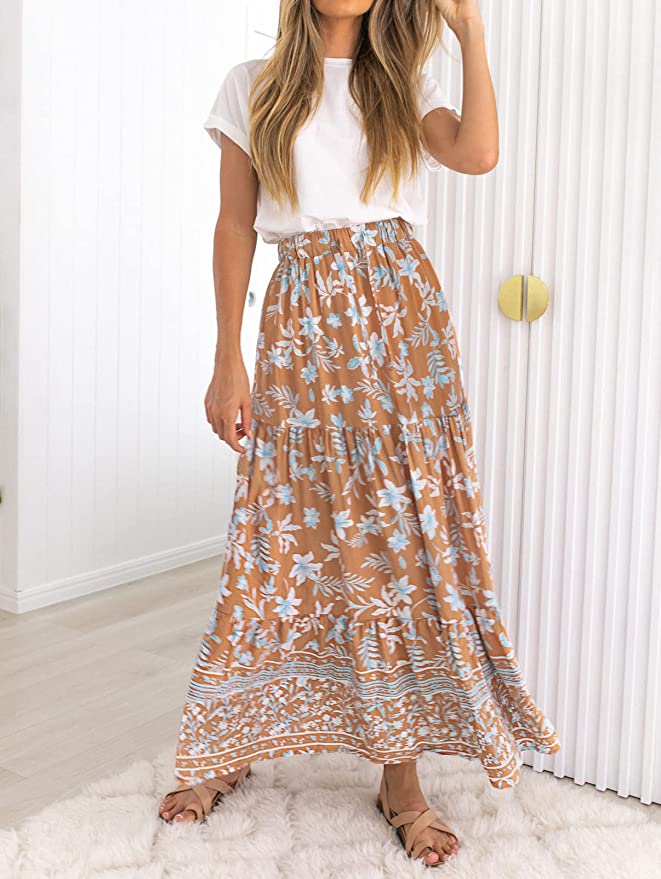 ZESICA A Line Maxi Skirt with Pockets Sizes S-XL
If you only pack one skirt, choose one that can be worn with all your tops, for maximum versatility.
The easiest way to pair separates is to choose solid, neutral color tops and a printed or solid color skirt to match. Unless you're a pattern pro, avoid too many prints and colors in both tops and bottoms.
This is a list of the most recommended travel skirts!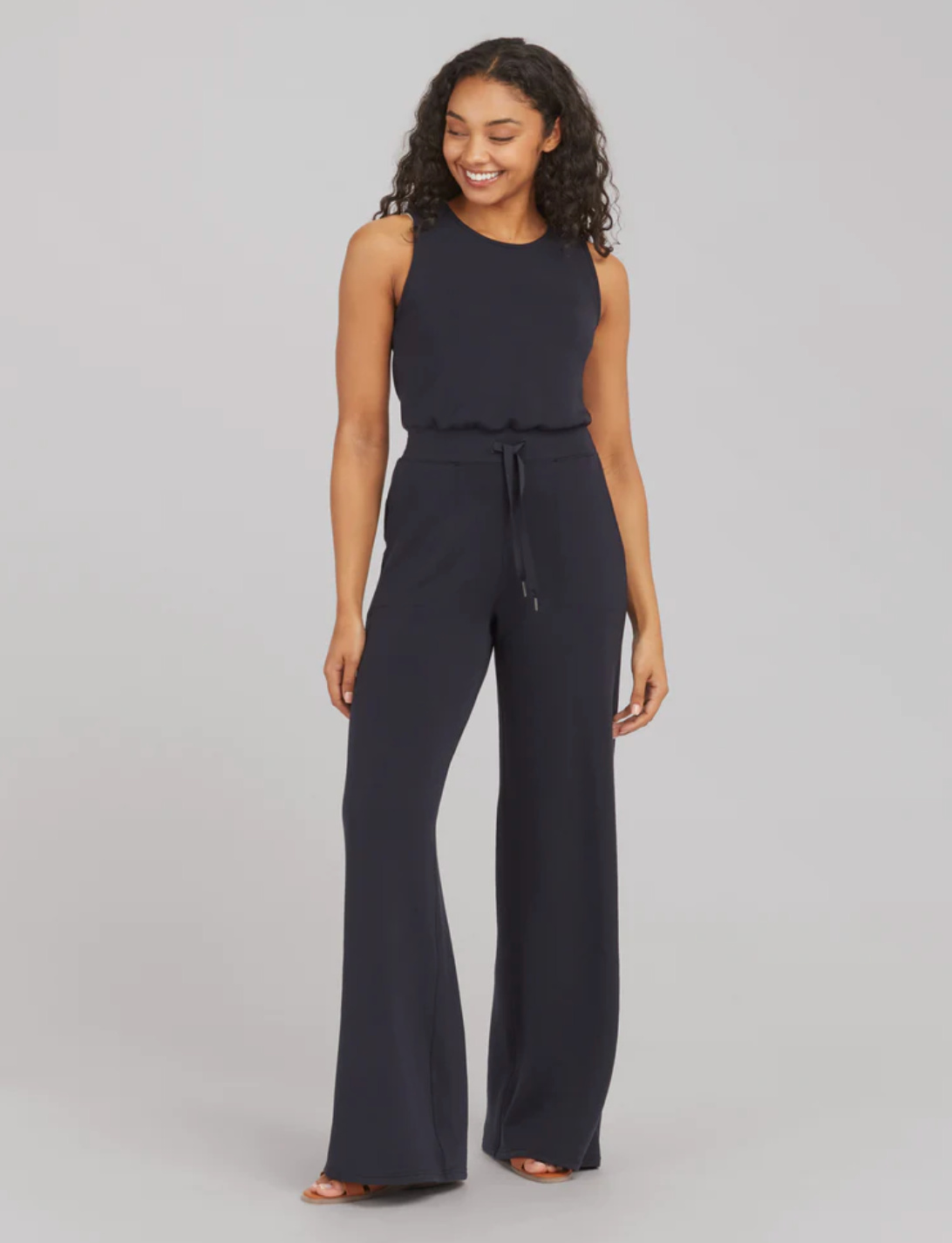 Spanx AirEssentials Jumpsuit Sizes XS-3X
Rompers
A wonderful alternative for your Rome outfits is a jumpsuit or romper. These are great because you have the convenience of wearing shorts without feeling like you're dressed inappropriately in a stylish city like Rome.
The main thing to remember when choosing what to wear in Rome is to avoid items that are overly casual. Look for structured fabrics. In this case, a polyester (or other synthetic) blend would usually be dressier than an all-cotton style.
If you're looking for the best women romper for travel, here's a selection of outfits that are perfect for your next adventure!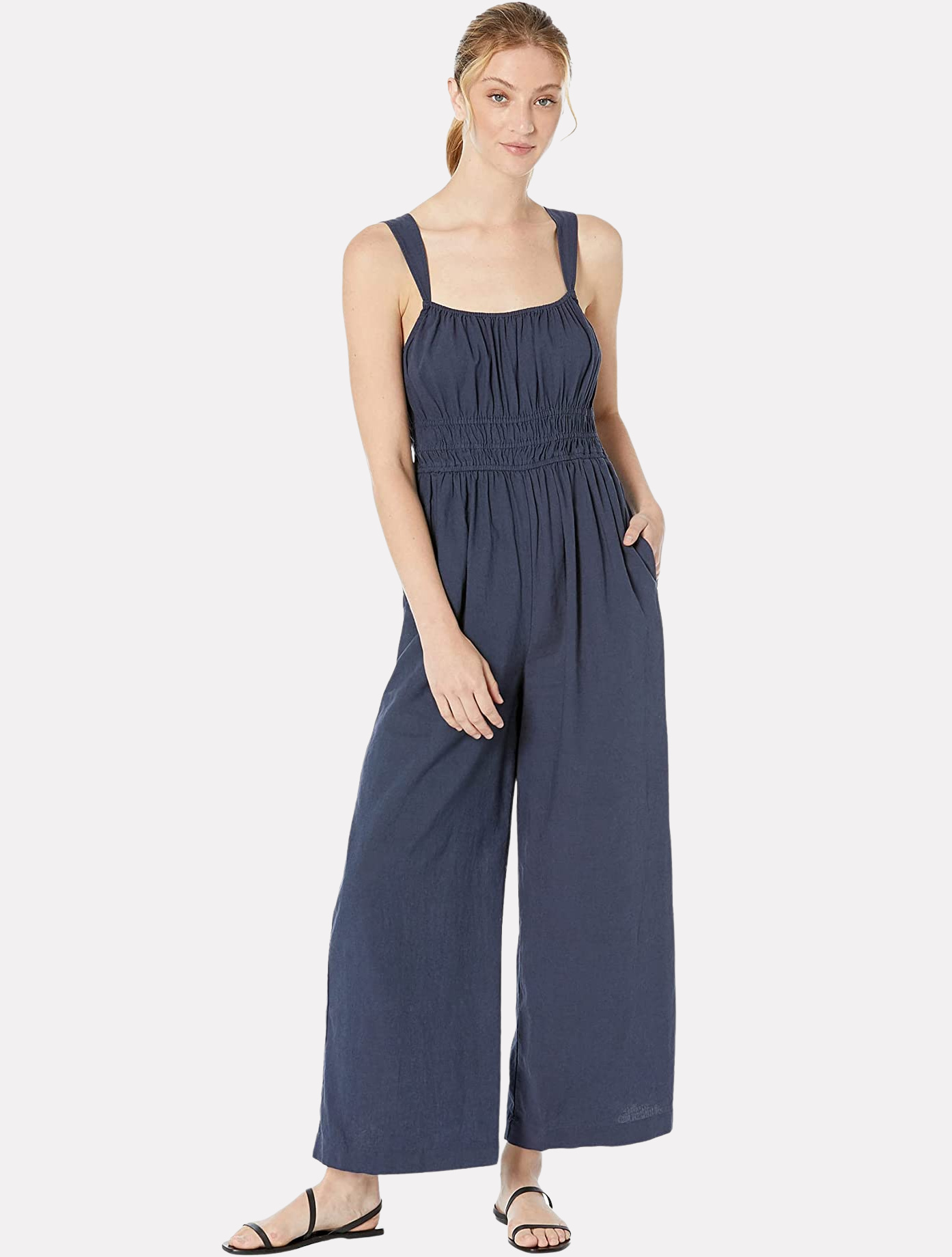 Madewell Linen-Blend Sophie Tank Wide-Leg Jumpsuit Sizes S-XL
We recommend a classic, neutral color romper that looks dressy, comfortable, and casual at the same time.  
Learn how to style a romper for travel with shoes and accessories!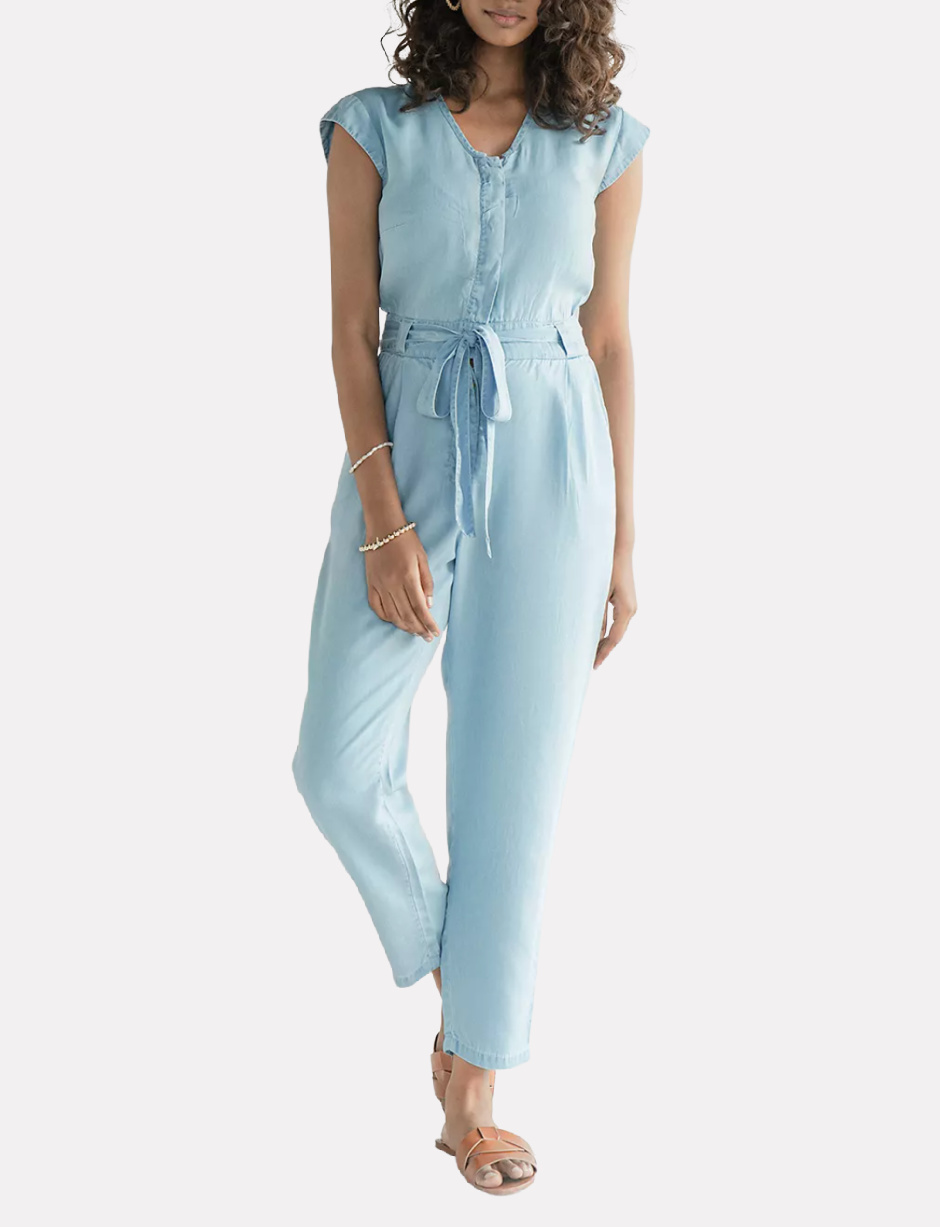 Madewell Reistor Evening Chai Jumpsuit Sizes XS-XXXL
Don't want to show your legs? Rompers come in all pant lengths! You can wear a long romper instead of a maxi dress if you feel more comfortable. Stay away from polyester when your legs are covered and look for rayon or viscose styles instead.
Read these tips on how to avoid a boring all-black wardrobe when you travel!
What to Pack for Rome: Shoes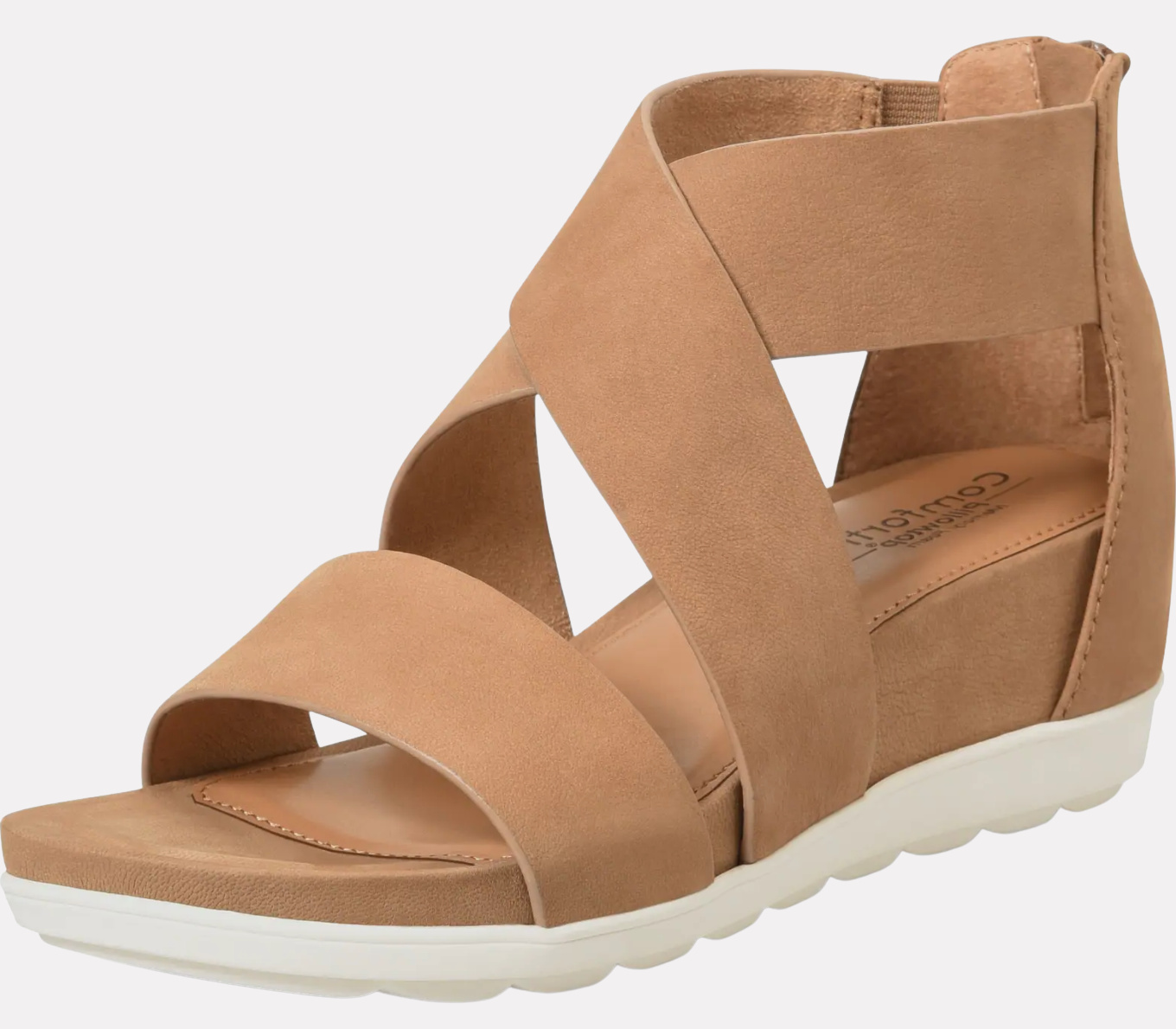 Comfortiva Pacifica Strappy Sandal Sizes 6-12 also available in wide sizes
Comfortable Sightseeing Sandals for Summer
One unexpected issue that many travelers discover once they get to Europe is the cobblestone streets.
While great to look at, stone streets aren't always the easiest to walk on and can make for sore feet even if you don't normally have discomfort. Depending on the city, these streets can also be hilly, slippery when wet, and uneven. 
Wearing comfortable sandals is important for the above reasons, but the cobblestones can also dig into your feet and the exertion can cause them to feel fatigued (it actually takes a bit of effort to walk on them, if you aren't use to it!). 
The best women's sandals have support, cushion, and even some traction as you navigate the Rome streets.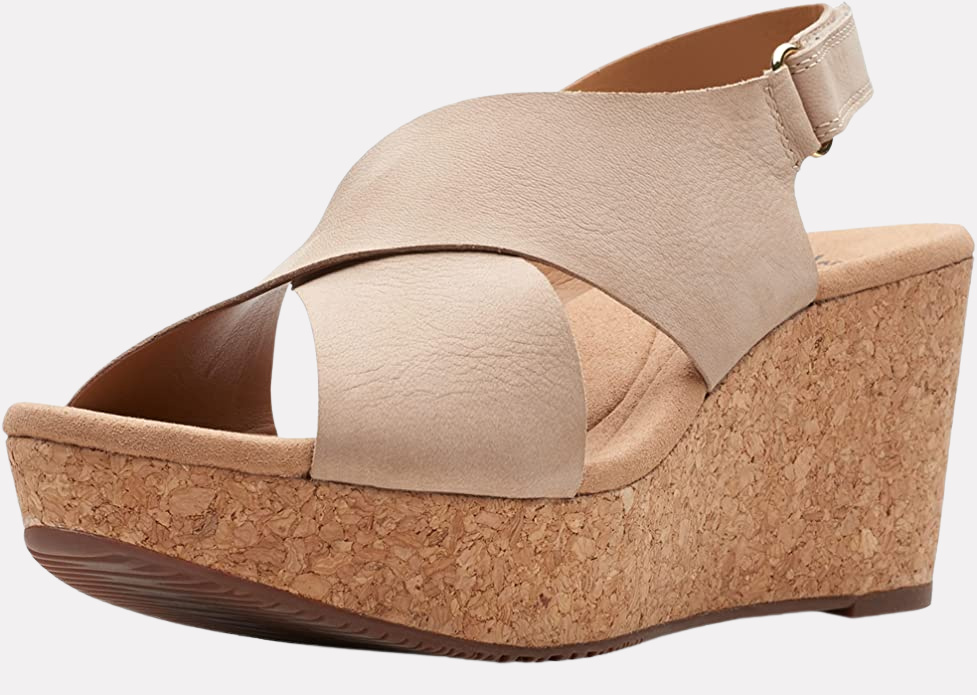 Clarks Annadel Eirwyn Wedge Sandal Sizes 5-12 available in wide sizes
Wedges, not Heels to Dress Up
In addition, we all love to dress up, but avoid heels because they'll leave you feeling uncomfortable. Opt for wedges if you must bring a heel. Do include one pair of shoes and one outfit that can be worn for dining out or experiencing the local nightlife.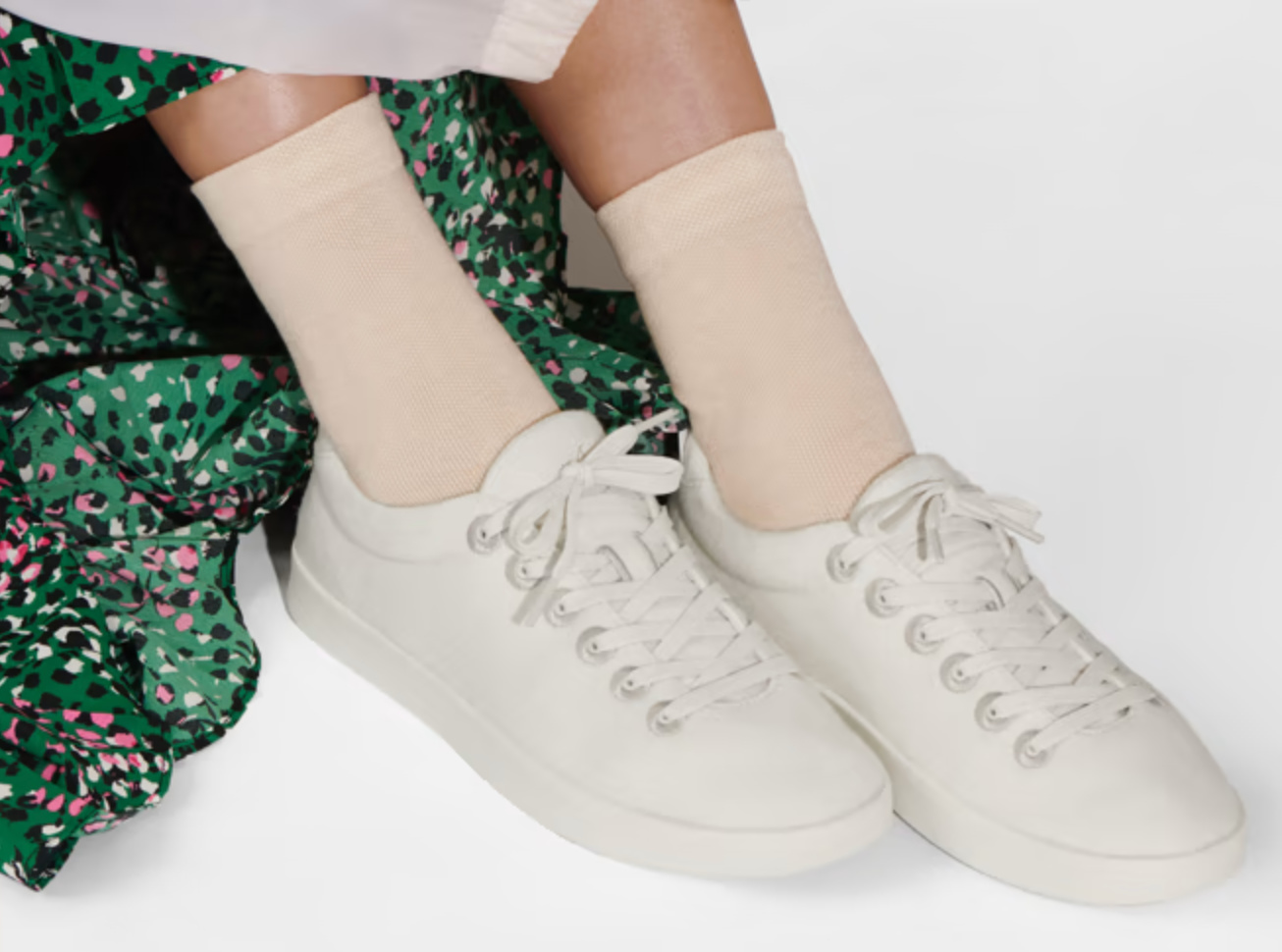 Allbirds Wool Pipers Sizes 5-11
Versatile Sneakers for Rome
While wearing sneakers are popular all year round, they're particularly perfect for fall and spring months, because they can dressed up or down, worn with wide leg jeans or dresses, and can handle a trip to Collessum or the Vatican with ease. 
Slip on sneakers are easy to wear and super stylish, while classic white sneakers and black sneakers can be matched with any outfit.  You can also opt for more fashion sneakers that still have good support and cushion for the cobblestones.
Alternatively, if you're visiting when there might be the occasional thunderstorm, wearing waterproof sneakers can keep your feet dry and protected! 
Popular shoe options for what to wear in Rome include (click each item below for suggested styles):
Read this post about the how to choose the best walking shoes for Europe.
Rome Traveling Tips
One of our biggest travel tips for any destination is to buy either a print or digital guidebook. They help you plan your itinerary, give you insight on where to stay, and even give you facts about the historical sites, too.
These are a few popular Italy guidebooks:
Learn more about why I still use travel guides!
Rome Accommodations
For accommodation, we love Airbnb for accommodation in Italy and other parts of Europe. Sign up here for a free $40 credit!
I prefer to to book "the entire home" instead of opting for shared accommodation on Airbnb. Aside from safety, I also like to feel like I'm living in the destination. It's a small taste of local life plus you get more amenities than you would at a hotel such as a kitchen and washing machine.
Read these Airbnb tips for more info!
If you prefer the convenience and comfort of a hotel room, I like using both Agoda.com and Hotels.com. Tip: Hotels.com gives you a free night for every ten nights you book!
For flights, I like booking through Travelocity or Cheapoair (whichever one's cheapest). Although I prefer Travelocity because they have a 24 hour money back guarantee.
To maximize your vacation time, fly into the city where you're starting your trip and out of the city where your trip ends. Many times it's the same price and saves you from having to spend extra time and money to go back to where you started your trip.
For hostels, we recommend Hostelworld and Hostelbookers. Always read the reviews before booking to get the best idea if the hostel is right for you. Some are quiet and family friendly while others are known for their party atmosphere.
Not sure about staying at a hostel? Read this.
Rome Tours
I felt so fortunate to have been hosted by two tour companies in Rome and I had an incredible experience with both of them.
I did a Rome City Tour and a VIP Vatican Tour with Roman Guy tours. Not only were there were only 3 people on my Vatican tour versus the groups of 25-50 around us but my guide Nina was a local fashionista. I also got to skip the massive lines and enter the Vatican one hour before the public!
The other company that hosted me was Eating Europe (the have an Italy tour). They gave me a complimentary Twilight Trastevere Tour and a Cooking Class with Nina. TFG readers and I both loved their tours! Read my reviews here and here.
In fact, I also did a tour with them in London. It was so amazing!
A fun thing to do is a photoshoot in this romantic, sweeping city. I booked three photoshoots through Airbnb Experiences and my favorite experience was with Roma Portrait. Here's her Instagram to peek at some of the gorgeous photo sessions she captures!
Disclaimer: we only work with companies that we think our readers would like and only feature them on the blog if we like them. If we don't, we apologize and tell them we can't feature them. Our readers' best interest is always top priority!
Shopping in Rome
If you find you have left behind an essential, or need to add to your travel wardrobe, don't panic. Italy is the cradle of fashion and all of the biggest brands are located in every city. Stores like H&M and Zara are highly fashionable, with a wide range of clothes.
Not only that, if you've forgotten something essential like contact lenses or even medications, the pharmacies in Rome have you covered. I managed to get my contact lenses and some vital medication during my time there without problem.
Italian department stores such as Coin and La Rinascente can be handy when looking for quality items. You can also find designer outlet stores in major shopping destinations, too!
For a fun excursion, I bought a beautiful royal blue jumpsuit at a store called Class. I thought it looked great when I walked out of the fitting room, but the sales lady quickly styled it up properly – the Italian way. Much better!
Tip: I love shopping at Zara in Rome and Paris because they have THE best options, so much better than what they offer in the US. In Paris, I go to every location I see and still love and wear the things I purchased years ago. This is also my favorite place to buy linen. Shop Zara linen clothing!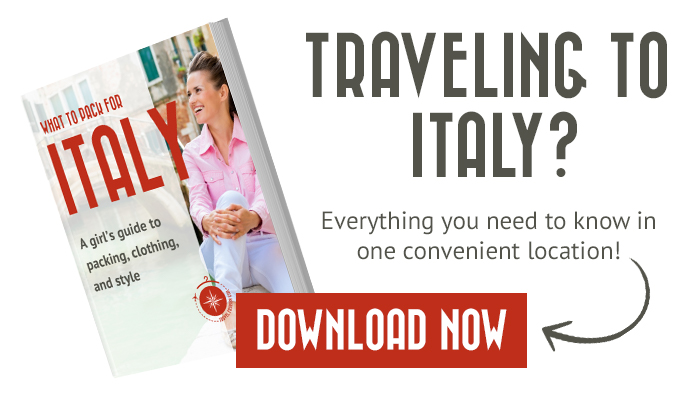 ---
Please read this 10-Step Italy Packing Guide for more tips on what to wear in Rome. 
What's on your Italy packing list? What would recommend for what to wear in Rome? Share in the comments below!
---
Please note: Most of Europe's budget airlines have this carryon bag allowance: 55cm x 40cm x 20cm. Always check your airline's individual baggage rules and regulations in advance.
---
For more Rome and Italy packing list, please read:
For more tips on Europe packing lists, please read:
Suggested travel resources:
Please read our Ultimate Packing List for Europe featuring stylish outfits and travel tips for 9 countries.
---
LIKED THIS POST? PIN THIS PIC TO SAVE IT!
---
I hope this packing list helps you plan what to wear in Rome. Don't forget to share the love on Facebook, Twitter, and Pinterest. Thanks for reading!
---