Support TFG by using the links in our articles to shop. We receive a small commission (at no extra cost to you) so we can continue to create helpful free content. As an Amazon Associate, we earn from qualifying purchases made on Amazon in addition to other retailers featured on the blog. Thank you, we appreciate your support!
Wondering what to wear on a rainy day when traveling? Here are some packing tips to help you make the most of the weather – rain or shine!
---
What to Wear on a Rainy Day When Traveling
Written By: Nina Thomas
---
"There's no such thing as bad weather, only unsuitable clothing" – Alfred Wainwright. Alfred has a good point. You're going to encounter iffy weather almost anywhere you go, but as long as you're prepared and you know what to wear when it rains, you can still have a great time on your trip.
Here are a few tips on how to ensure rain will never ruin your trip:
Repel Windproof Double Vented Travel Umbrella
Should I pack an umbrella?
When we think of a rainy day outfit, we often envision an umbrella. However, if rain is not on the horizon, don't bring one. However, if you're traveling to a temperate climate in the spring, the probability of it raining is higher, so bringing a compact travel umbrella is suggested but not necessary as you can always buy one in your destination if needed.
Always, always check the weather forecast before your trip. Once you've researched the weather, you can focus on creating a capsule travel wardrobe, which should easily fit in a carryon suitcase with the help of packing cubes to compress your clothing.
Tip: I've never packed an umbrella when traveling to Europe because I know they'll be cheaply sold at any tourist location by people on the street looking to make a buck.
Blondo Women's Villa Waterproof Ankle Bootie

What type of shoes should I bring?
Whether or not to pack rain boots is always one of the biggest dilemmas when planning your rainy day outfit while traveling.
Generally speaking, don't pack rain boots unless you can get multiple uses out of them. For example, if you are staying at a farm, planning to visit the countryside, or hiking in a forest, rain boots can protect against mud or manure.
However, if you're traveling to a city and just want to be prepared for the possibility of rain, leather boots such as the ones shown above are a great all-weather shoe. They'll go with all your outfits and can be worn in various settings. This boot is so popular among readers and the TFG Editor-in-Chief, we did a video review on them and a post. 
Watch this video review on the Blondo Villa Waterproof boot!
Packing a functional yet versatile style can help you avoid the need to pack an additional pair of boots just for rain (aka rain boots).
Check out more of the best waterproof boots for travel.
Columbia Pardon My Trench Rain Jacket
What type of coat should I bring?
Planning what to wear on rainy days doesn't mean you need a utilitarian look. You just need to plan the right clothing based on your itinerary. There are a few outerwear options you could wear in the rain: a raincoat, a regular coat with a hood, or a poncho.
If you'll be hiking or have several outdoor activities planned, we suggest a lightweight foldable rain jacket that you can put over other layers.
London Fog Single Breasted Belted Trench with Hood
If you're visiting a city and spending more time sightseeing indoors, aboard a coach, or using taxis to get to and from destinations, opt for a trench coat with a hood or another spring jacket. You can also bring an umbrella for the occasions when you'll spend more time in the rain.
If you aren't expecting much rain, but want to be prepared, a cheap, packable poncho that you can throw into your bag is an option as well. It's an often-forgotten must to add to your list for rainy day outfits.
Read this post for stylish travel raincoats for women!
What clothing should I wear?
When deciding what to wear on a rainy day, leggings, or dresses worn over tights are always a good option. Leggings, and especially tights, dry quickly because they tend to have porous material. Specifically nylon stockings, as nylon is a recommended material by outdoor companies since it dries quick, is lightweight and breathable.
Make sure to avoid cotton leggings or trousers and stick to synthetic fabrics. Jeans aren't the best option for rain either; their thick fabric holds moisture against your skin and takes longer to dry.
Take a look at the top leggings for travel!
Coat | Dress | Tights | Boots | Umbrella | Bag
For an outfit that will take you from rain to ritzy, wear leather boots that are waterproof and style-forward. Pair with black tights and a dress that can work for both day and night. Finish it off with a waterproof trench coat and a compact umbrella that can easily fit in your purse.
Here are trench coat outfits to inspire your travel wardrobe!
Too Faced Better Than Sex Waterproof Mascara
What make-up should I wear?
Even with an umbrella and the right jacket, you can't avoid the wind blowing some water into your face. So, deciding what to wear on a rainy day also includes makeup!
Obviously, waterproof mascara is a given if you do plan to wear makeup. Tinted moisturizer is also great option because it tends to soak into your skin more than foundation which rests on the surface. This will also help avoid brown streaks dripping your face. Additionally, an all-over color stick will work better than just powdered blushes or eyeshadows.
Our readers shared their favorites for the best waterproof mascara!
Color sticks make great travel products in general! Along with working well in the rain, they are multi-functional and pass through security easily. Make sure to bring them along with you on your next adventure, rain or shine.
Read this post for more tips on travel beauty products for any season!
Cole Haan Breasted Packable Rain Jacket
(Model Demonstrating Packing Method)
Will the rain ruin my trip?
Of course not! Getting caught in the rain doesn't have to put a damper on your trip. In fact, make the most of it. Purchase a brightly-colored umbrella that will stand out even in the drabbest weather or bringing a lightweight raincoat is a more practical solution. You can roll it up when you don't need it, as demonstrated above, or store it in the bag you're carrying. Some of those moments have been my most treasured travel photographs. Enjoy a hot bath at night, if the rain made you chilly.
Experiencing a traditional rainstorm in places such as England is all part of the cultural experience. Just make sure you carefully plan what to wear on a rainy day and bring the right gear.
Tip: Try to plan your itinerary according to the rain. For example, save museum visits and other indoor activities for rainy days and make the most of the sunshine when you can.
How to Organize Your Clothing
Packing cubes can help organize all the clothes you want to bring, not just your cardigan! We designed our own brand of slim packing cubes, with a unique color and numbering system, so it's easy to remember where you've packed everything. The video below shows you how! 
 Learn our hacks with packing cubes in the video!
We also put together a five-part YouTube series showing the different methods to use packing cubes for travel. If you use this specific packing strategy, packing cubes can also compress your belongings. This is the secret to traveling carry-on only!
---
What are your travel tips for what to wear on a rainy day? Comment below!
---
For more seasonal packing tips, please read:
---
LIKED THIS POST? PIN THIS PIC TO SAVE IT!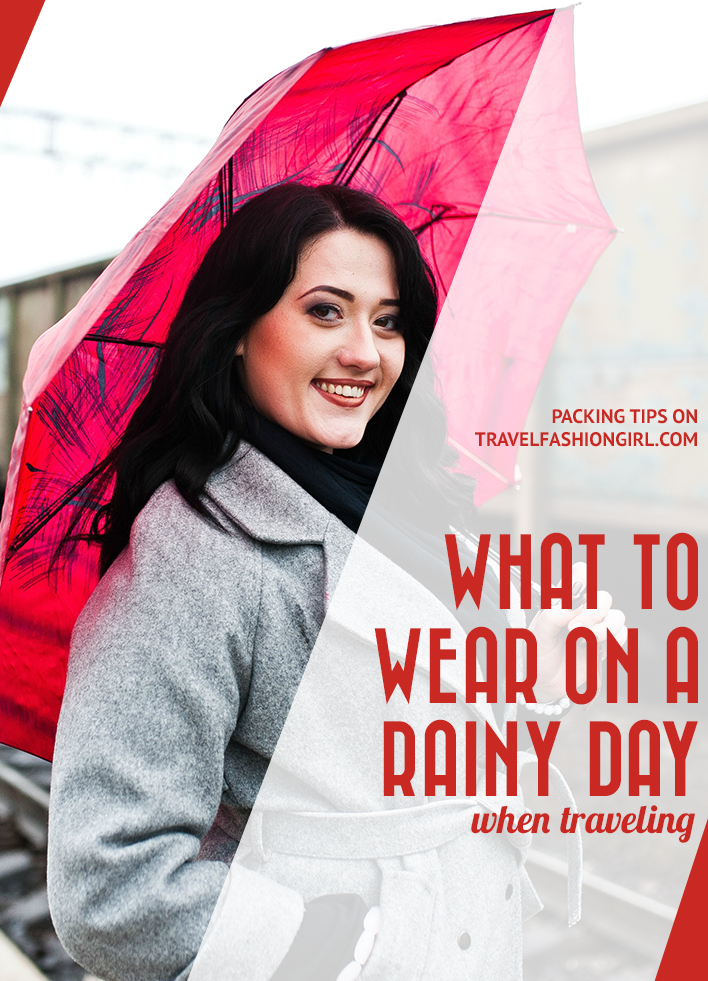 ---
Hope you liked this post on what to wear on a rainy day when traveling. Please share with your friends on Facebook, Twitter, and Pinterest. Thanks for reading!
---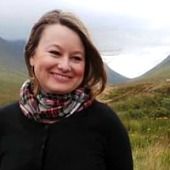 Author Bio: Nina Thomas is constantly looking for a beautiful view and a good adventure. Her travel highlights include horseback riding in the Ecuadorian Andes, hiking on top of Mount Etna in Sicily, and sheep-gazing in the Cotswolds. For more practical travel tips and ideas from a Central Ohio Girl, check out  Traveling with Nina or follow her on Twitter.
---