Support TFG by using the links in our articles to shop. We receive a small commission (at no extra cost to you) so we can continue to create helpful free content. As an Amazon Associate, we earn from qualifying purchases made on Amazon in addition to other retailers featured on the blog. Thank you, we appreciate your support!
Do flat shoes make the grade for travel? Check out our Rothys reviews and find out why Travel Fashion Girl readers love this comfortable flat!
---
Our Readers' Rothy's Reviews
Written By: Michelle Nati
---
Table Of Contents
If you've been reading TFG for a while, you've likely seen our readers mention Rothy's flats many times. They are some of the best shoes for travel because they're lightweight, durable, stylish, and easily packable. You can shove them in the smallest bag you have and hit the road. They come in a myriad of colors and styles, too!
Below, readers give their Rothys flats reviews—the good, the bad, and the factual, and tell us why they're so beloved for travel. Let's get into it, shall we?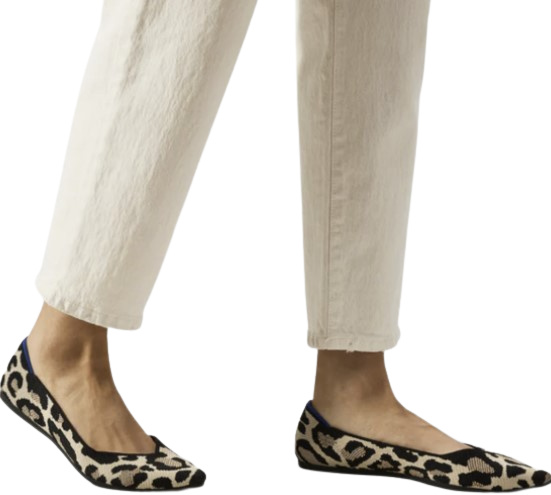 Rothy's Shoes Basics
Style: Sustainable flats in round-toe, pointed, loafer, and sneaker styles.
Material: Recycled plastic water bottles and other sustainable materials.
Colors: Multiple colors and patterns.
Travel Type: Wear these for a European trip (walking on cobblestones) or any city destination in spring or summer!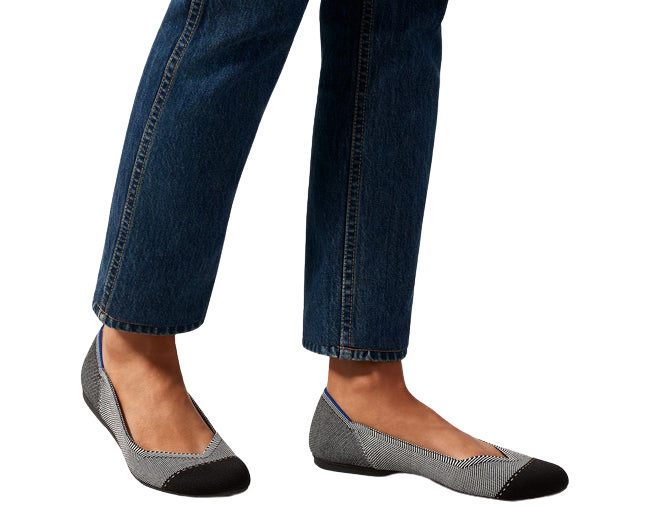 Rothy's Flats Are Versatile and Classic
The reviews sum it all up—most of our readers think this shoe is a versatile winner!  It comes in every color and pattern you can imagine and is the perfect flat for every occasion. 
Readers adore every pair they own. "I love mine," one reader says. "I have three rounded toe styles in red, grey, and mink and a pair of the sneakers in maroon! You can't go wrong with any of the colors!"
Other readers agree on just how all-around awesome these shoes are, especially their black points, which go with just about everything. Their spotted shoes are also a great neutral color and can also be worn with a ton of outfits.
You'll want to look your best when you travel! Read my travel tips to Pack Light Stylishly!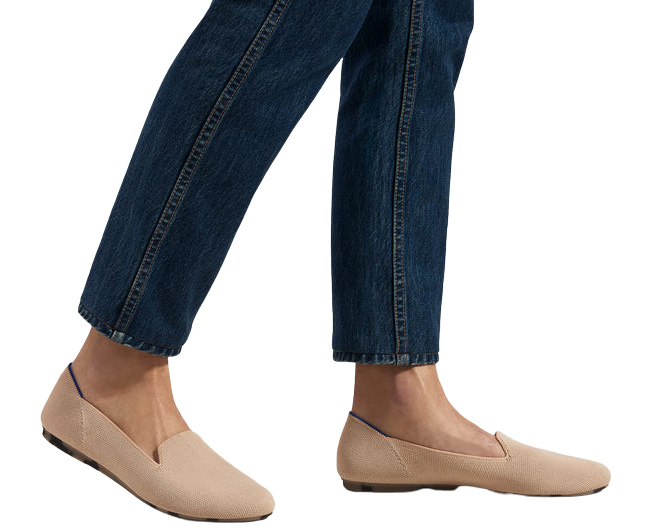 Rothy's Shoes Are Extremely Comfortable
Our readers say Rothy's feel like slippers and are comfortable immediately out of the box. Another reader's favorite pair of shoes are her hot pink, round toe Rothy's. She says, "They are my very first pair and I can't get over how comfortable they are. Plus, they are such a fun pop of color!" 
Not to mention they are washable, and even after a year, they still manage to look brand new. If you were wondering how to wash Rothys flats, place them in your machine on the cold, delicate setting with mild detergent, and don't forget to remove the insoles.
Readers Shed Light on Rothy's Different Styles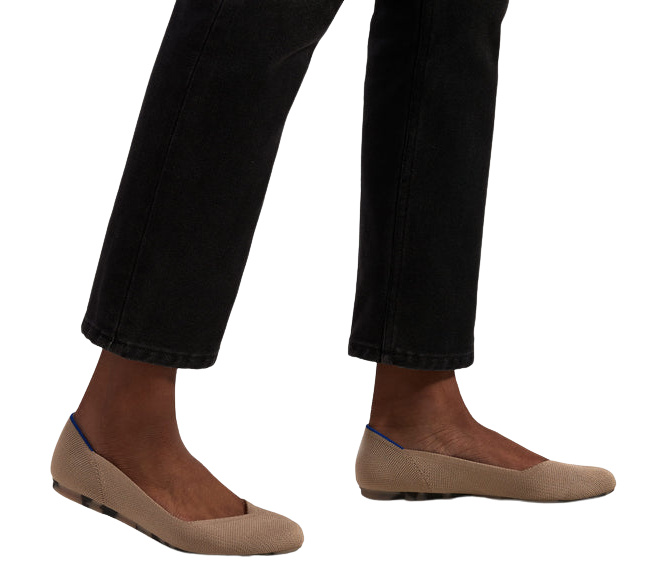 Rothy's Round Toe Flat
The round toes have it, especially for people who find that ballet shoes start to bind at the place where the seam is around the top of the foot—this gets uncomfortable when their feet swell. With Rothy's, you don't have to worry about that as there is no seam around the edge. 
One reader says, "I managed to get a blister on the ball of my foot from extensively walking around London while wearing my Allbirds. I decided to slip into Rothy's to see how they would be for a shorter walking stint (some light sightseeing and Hamilton), and I couldn't feel the blister. I walked unimpeded and pain-free. They were amazing and provided far more cushion and support for an injured foot than I had ever expected."
Read these general tips on packing the best shoes for travel!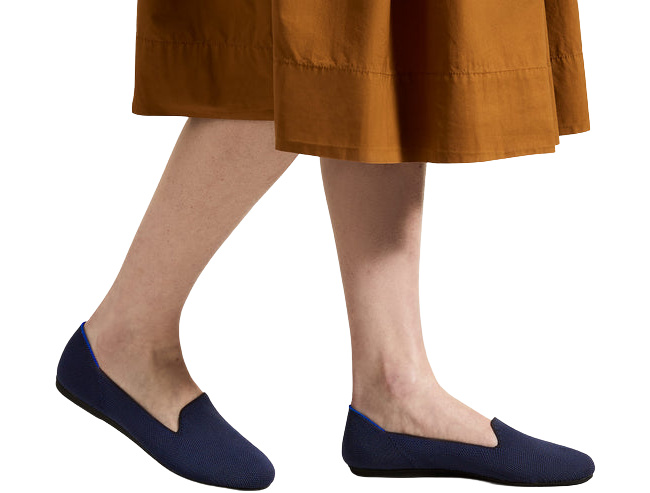 The Rothy's Loafer
Talk about comfort—our readers can't get enough of this brand's loafer style! One says, "I had them on for 15 hours, for two days in a row while on a work-related travel jaunt. They felt great. I had no issues at all."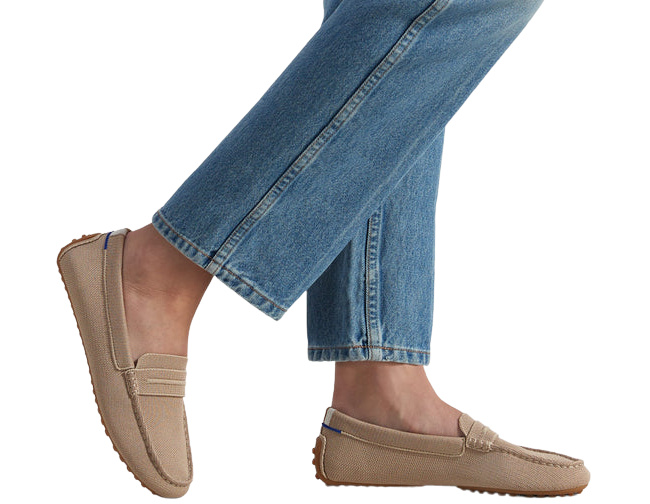 Rothy's The Driver Flat
Made to go places, this women's slip-on loafer in cool coffee brown combines versatile style with unmatched comfort for a fresh spin on the iconic driver. One wearer says, "I have never experienced a shoe so comfortable. I absolutely love my shoe! And it's cute!"
Check out the most comfortable flats to walk in – under $100!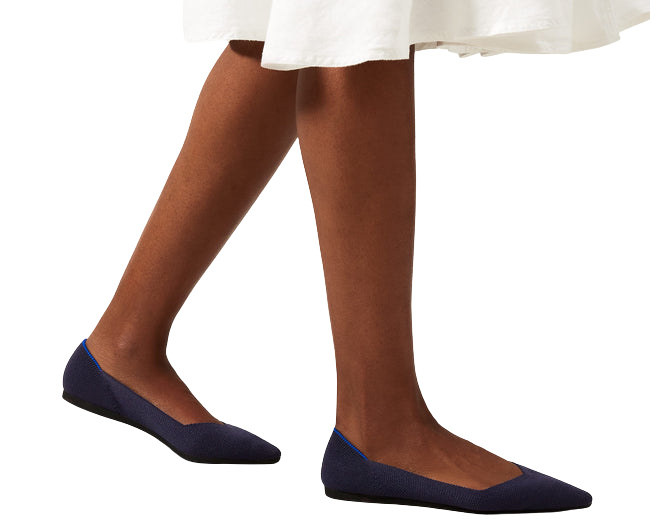 Rothy's Pointy Toe Flat
This design is both a little more funky and classic, all at the same time. You don't see pointy shoes every day, but when someone is wearing them, all heads turn—they are that attention-getting! One reader says, "I wore mine almost every day while walking over 10 miles most days. I also wore a pair for travel days to Liverpool in November. Through it all, my feet stayed happy!" 
Another reader says, "They are lightweight and easy to pack. I have points, loafers, and flats, and I think the comfort level with Rothy's comes a lot from what shape of foot you have along with your width. Depending on your foot shape, you may find another style that fits more comfortably. Mine matches the shoe shape pretty closely, which is why I find points more comfortable than flats."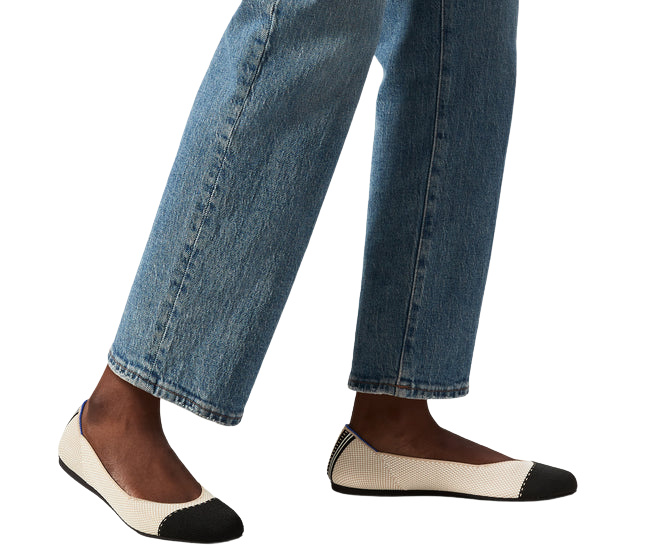 Rothy's Square Toe Flat
A classic with an edge, our square-toed flat in a cream and black captoe features a rounded vamp and exceptional comfort for style that looks good from every angle. One wearer says, "My job requires that I walk a lot and these are very comfortable and look nice with many outfits."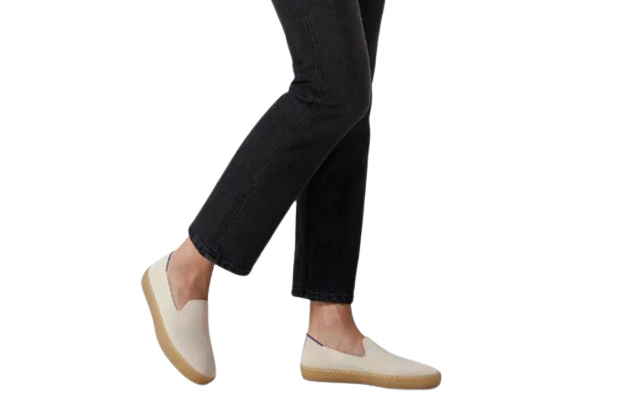 The Rothy's Sneaker
The Rothy sneaker also gets high marks for offering excellent support. Readers also claim they're addicting due to their cute styles with one saying, "I have four pairs of points, two loafers, and I just ordered the sneakers!"

Better than your favorite kicks, this washable lace-up sneaker combines cloud-like comfort with classic street style.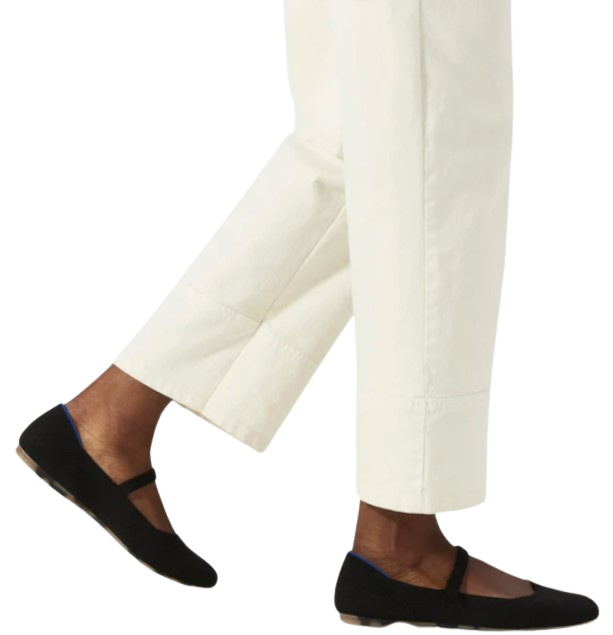 The Rothy's Square Mary Jane
What's both timeless and new? With its chic square toe and flexible strap, this incredibly comfortable flat in black puts a fresh spin on the beloved Mary Jane—and is even knit from plastic bottles. One wearer says, "I love the square Mary Janes. They are comfortable, can easily be dressed up or down, and work with many styles. I ordered one full size up from my standard street size which is standard for Rothy's of this style for me."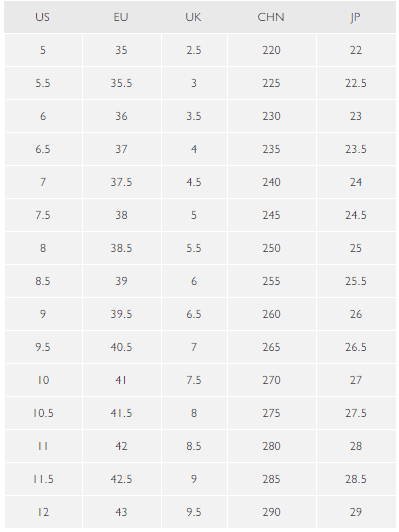 How Do Rothy's Shoes Fit?
As far as Rothys sizing goes, many people say that the shoes are indeed true for the most part, but some wearers believe that if you go up half a size on the pointy toes, you'll be better off. If you wear 8 in most shoes, try an 8.5 for the pointed-toe shoes, and they'll fit great.
One reader did just that, saying, "I know a few people who were not comfortable in the point style because they were too tight around the toe box. They either needed to size up or switch to the flat style. There are free returns, so take advantage if they don't fit well. Also, they will not stretch out with wear, so if they are too tight when you try them on, they will stay that way."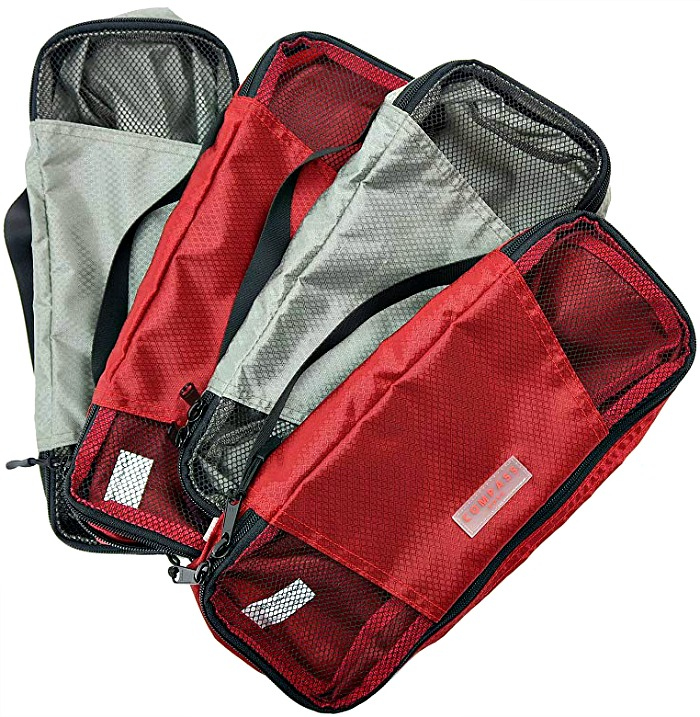 Rothy's Flats Are Easy to Pack
A flat's packability is one of the reasons why these shoes are one of the most popular styles for traveling during the warmer seasons. They keep your feet covered and aren't too bulky in your luggage and if you use packing cubes, they'll slide right in, and you'll be able to keep everything else in your luggage protected.
Buy Compass Rose Packing Cubes here!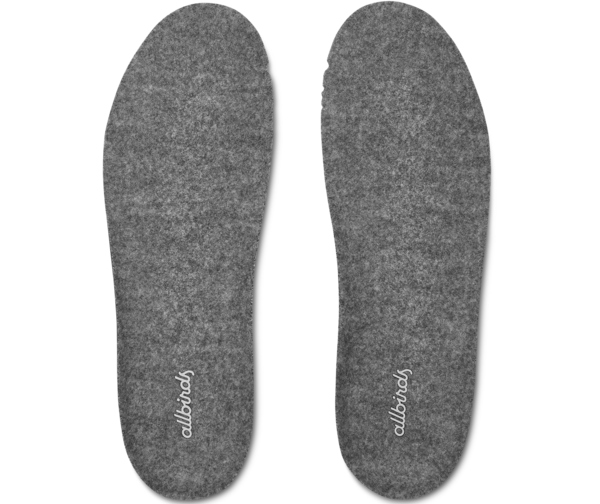 Pairing Your Rothy's With Inserts
If you want your Rothy's to go everywhere with you, you may need inserts. It's worth trying some like Allbirds wool insoles. You'll be surprised at how comfortable your shoes will be!
Memory foam insoles work great, too! One reader says, "I put them in for days at Disneyland where I walked a lot. They've made a huge difference!"
Here are our readers tried and tested recommendations for the best insoles for walking and standing all day!
How to Choose Comfortable Flats for Travel
For flat shoes, the key to comfort is all in the padding. While you may not want to wear them as a full-on sightseeing shoe, Rothy's can work well for moderate periods, especially if you don't suffer from foot issues. 
Whether they are worn for sightseeing as opposed to other aspects of travel it will depend on the wearer's comfort level. Some people require more support, so flats don't work as well for them, while others have no problem wearing them for the long haul. 
Readers suggest trying them for a short trip initially and seeing for yourself!
Where to Buy Rothy's Flats
Our readers agree Rothy's shoes can be a comfortable and a sound choice for travel. Consider buying the flats and even opting for a sneaker to round out your destination wardrobe.
You can purchase Rothy's via their website at www.rothys.com!
See our suggested travel shoes here:
---
What favorite features would you add to our Rothys reviews? Share in the comments below!
---
For more ideas on flats, please read:
---
LIKED THIS POST? PIN THIS PIC TO SAVE IT!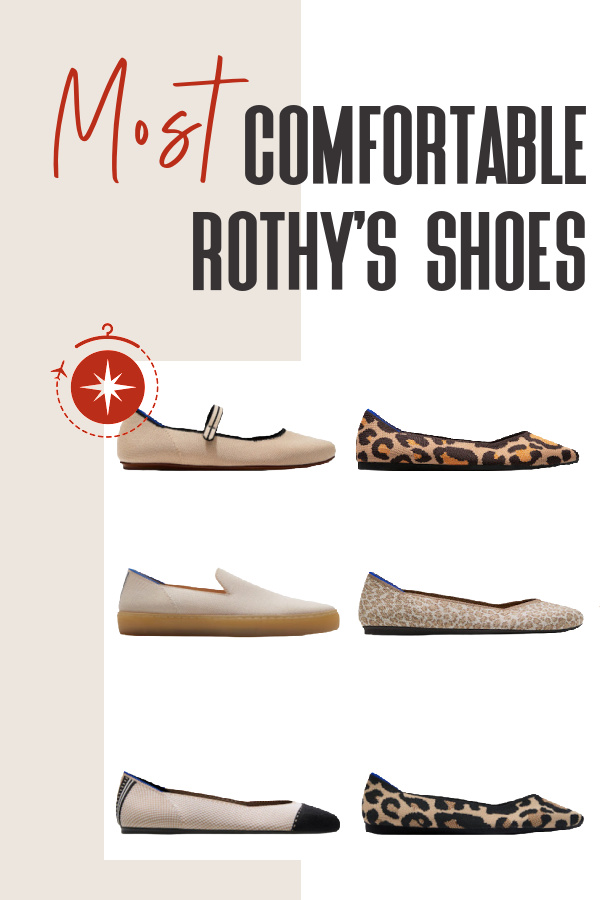 ---
Hope you liked our Rothys reviews! Share this post with your friends on Facebook, Twitter, and Pinterest. Thanks for reading!
---