Support TFG by using the links in our articles to shop. We receive a small commission (at no extra cost to you) so we can continue to create helpful free content. As an Amazon Associate, we earn from qualifying purchases made on Amazon in addition to other retailers featured on the blog. Thank you, we appreciate your support!
For this edition of Local's Approved Packing Lists, Bex has provided insight into a local's opinion of what to wear in Greece.
---
What to Wear in Greece: Athens
edited by Cailyn Cox
---
Table Of Contents
Greece is an amazing destination, and Athens is one of the most popular places to visit on your trip. Get ready for beautiful streets lined with white buildings and blue trim, sunshine, and delicious food.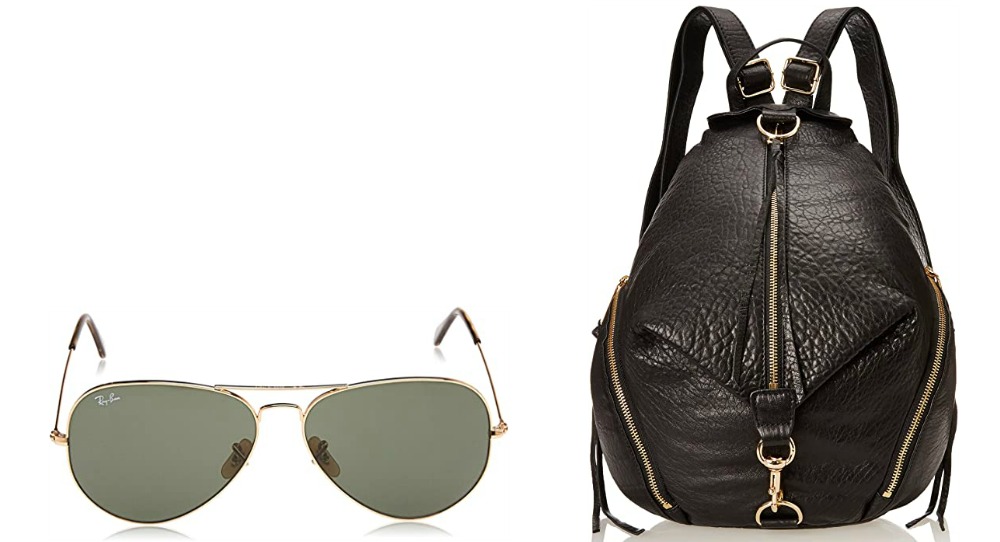 Ray-Ban Aviator Sunglasses | Rebecca Minkoff Julian Backpack
Athens Clothing Style
To ensure your wardrobe allows you to blend in with the locals, remember that Athens is known to be a city that is smart-casual. This means that the men are dressed impeccably and the women are unashamed of their bodies, opting for figure-enhancing clothes like short skirts and incredibly high heels.
It's acceptable to wear jeans around the city, providing you dress them up with a smart blazer or blouse and elegant accessories. The most important factor when traveling to Athens is to remain neat and presentable.
Tips: The key to traveling light is to create a capsule wardrobe which can easily fit into a carryon suitcase with the help of packing cubes! 
V Neck | Top | Blouse | Tank | Playsuit | Dress | Jeans | Shorts | Jacket | Poncho | Blouse | Skirt | Flats | Oxford | Hat | Backpack
What to Wear in Athens in Spring
Bex says: Spring weather can range between warm to hot, with an average temperature between 19°C to the mid 20's°C or 66-77°F.
Start by reading these general tips on packing for spring travel:
Greece Packing List: Spring
As mentioned, Athens' weather is warm, so you can enjoy the freedom that comes with the weather. Spring is considered the best season to plan a trip to Greece as the temperatures are more moderate, compared to the summer months.
When planning what to wear in Greece in spring, include jeans and smart capri trousers in darker shades that you can team with bright tank tops and blouses for the warmer days and long sleeve shirts and 3/4 tops for cooler days. Bring a light jacket for the evenings to ward off the chill.
These are the best leggings for women that travel as voted for by our readers!
Accessorize your outfit with sunglasses and a chic sun hat. Skirts and shorts are perfect to wear during the day with ankle boots. Black is a great color choice because you can wear it with anything, and it's forgiving in regards to dirt.
Remember, Athens is a city where the easiest way to explore and get around is on foot–comfortable walking shoes are essential!
Find out what's the most comfortable walking shoes for travel!
Top | Tank | Blouse | Tank | Playsuit | Dress | Denim Shorts | Shorts | Vest | Poncho | Tee | Skirt | Flats | Sandals | Hat | Backpack
What to Wear in Athens in Summer
Bex says: Athens is HOT during summer, particularly in August. Think a sweltering 40°C/104°F degrees and even higher, which means that the city practically shuts down as the locals attempt to escape the heat.
Start by reading these general tips on packing for summer travel:
Greece Packing List: Summer
You will be experiencing very hot temperatures, so you may as well take full advantage of clothing that embodies the perfect summer wardrobe. A beautiful, bright summer bikini will be your best friend; team it with a floppy sun hat for extra protection from the sun. Don't forget your sunscreen lotion and sunglasses!
When planning what to wear in Greece in summer, pack tank tops, vests, shorts, mini-skirts, and light dresses; these can all be in bright, colorful shades to reflect the season. Opt for thin, light materials like cotton and linen for extra breathability and coolness.
These are the most cute and comfortable ballet flats for travel!
This is one time when you should leave your boots at home. Bring out the summery sandals in a variety of patterns and shades; you could also opt for a pair of comfortable flats, which can be easier to walk in than sandals.
The summer evenings include cocktail parties and open air cinema screenings, which are the perfect occasion to wear your best cocktail dress and enjoy an evening out on the town, relishing in the culture and cuisine.
While it is unlikely that you will need a jacket during summer, pack a light cardigan just in case you experience a cooler evening.
For added versatility, these are popular convertible travel dress styles!
Tee | Top | Blouse | Longsleeve | Playsuit | Dress | Jeans | Shorts | Jacket | Raincoat | Blouse | Skirt | Oxford | Boots | Scarf | Backpack
What to Wear in Athens in Autumn
Bex says: It will remain warm on your trip to Greece until November. Autumn is not definable as a season between summer and winter; however, the temperatures do fluctuate, with the possibility of rain. Average temperatures range between 18-23°C / 64-73°F.
Start by reading these general tips on packing for autumn travel:
Greece Packing List: Autumn
When planning what to wear in Greece in autumn, refer to the spring guidelines–because the weather is very similar between these two seasons. You would need very little variation, if any, with perhaps the addition of a waterproof jacket and a scarf.
Longsleeve | Sweater | Shirt | Sweater | Dress | Kimono Dress | Jeans | Denim Jeans | Coat | Jackets | Sweater | Skirt | Tall Boots | Boots | Scarf | Backpack
What to Wear Athens in Winter
Bex says: Greek winters can be cold; it can even snow in Athens. With fewer daylight hours, you'll find average daytime lows between 5-8°C / 41-46°F and nighttime lows of about 3°C / 37°F.
Start by reading these general tips on packing for winter travel:
Greece Packing List: Winter
To ensure your winter wardrobe is practical, stylish, and keeps you warm, add gloves, a warm hat, and a thick wool scarf.
Use jeans as your base, and consider a pair of thermal underwear or silk long johns to wear under your jeans on the coldest days. Layering is important–so think long sleeve tops, sweaters, and even t-shirts for the warmer indoor temperatures.
Find out why thermals are a must for traveling light (and staying warm) in winter!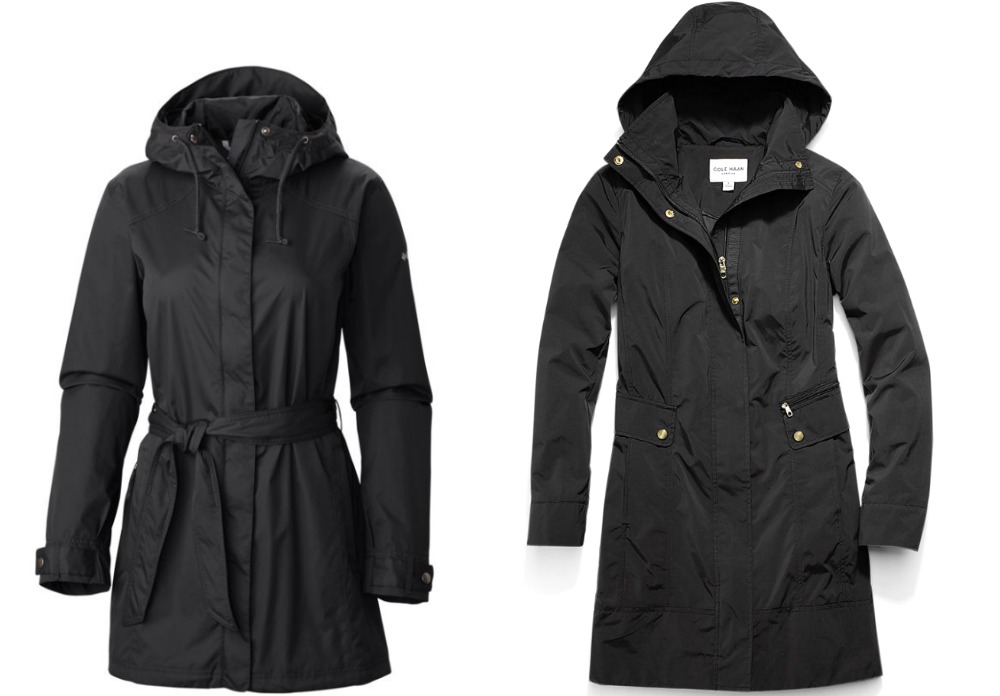 Columbia Pardon My Trench Rain Jacket | Cole Haan Packable Rain Jacket (Plus)
Athens Travel Essentials
As you plan what to wear in Greece, keep in mind that you will need sunglasses year round, even during the winter. In winter, you'll need warmer clothing like sweaters and waterproof jackets to protect you from the drop in temperature.
Read these tips on what to wear on a rainy day!

Blondo Villa Boots | Clarks Annadel Eirwyn Wedge
Since there are many historic and beautiful sites throughout the city, like the Acropolis, make sure you have appropriate footwear; the easiest method for sightseeing and getting around is on foot. Your footwear should comprise of boots for the colder months and simple, comfortable brogues for the warmer months. You also may want to consider bringing a pair of heels or better yet, comfortable wedges, to dress up your outfit in the evenings or if you're dining out.
These are the most comfortable wedges for travel!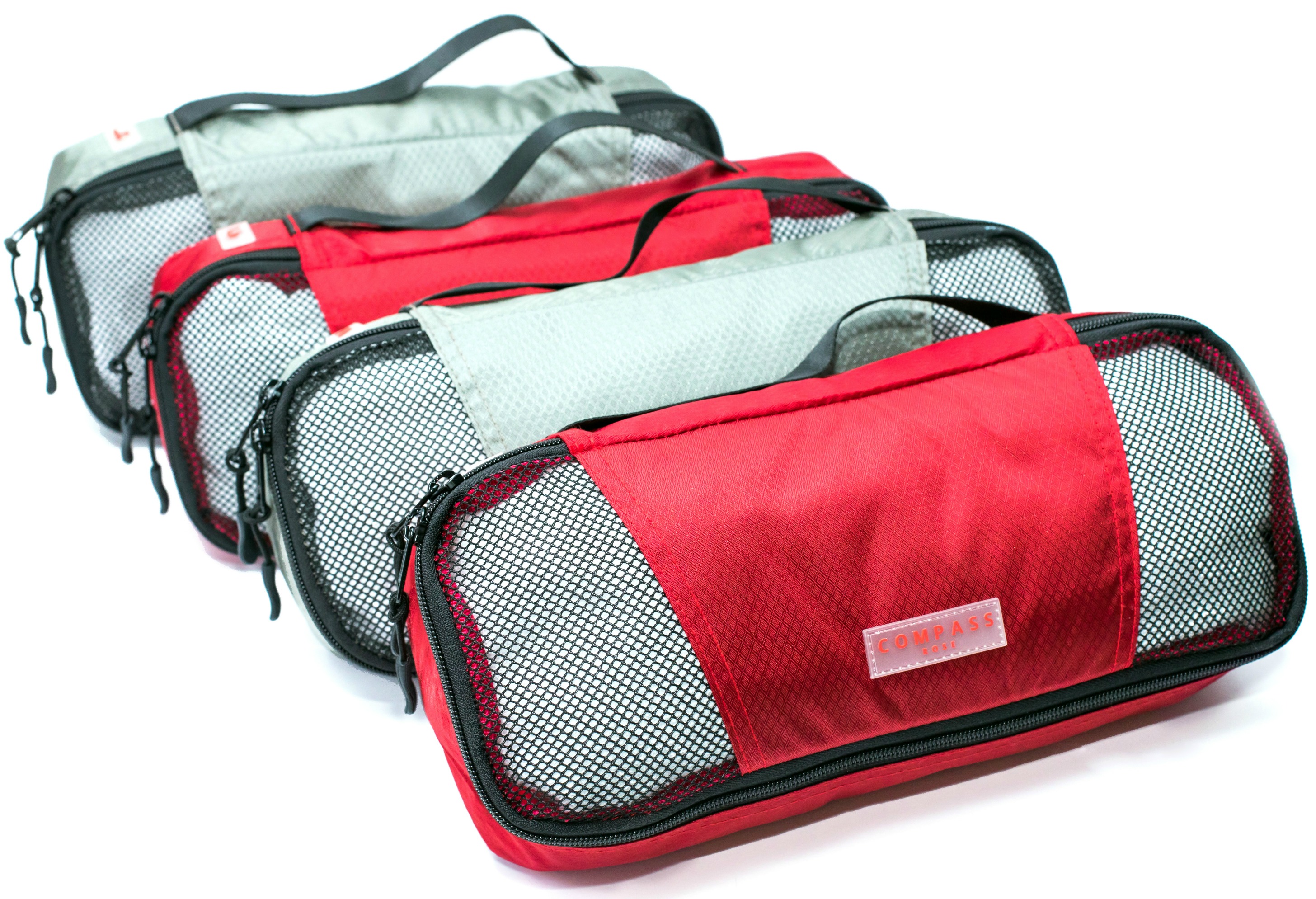 Compass Rose Compression Packing Cubes
Depending on how many days or weeks you're traveling, you may want to use luggage organizers such as packing cubes, which allow optimum use of the space in your luggage, keeping everything organized and in place during your travels, and making the task of unpacking and repacking simple and stress-free. Check out my packing video tutorial.
As you're headed to fashionable Europe, use an equally stylish carry-on, such as the Osprey Ozone, which is a personal favorite. Keep in mind that most of Europe's budget airlines have a carry-on bag allowance of 55cm x 40cm x 20cm. Always check your airlines individual baggage rules and regulations in advance.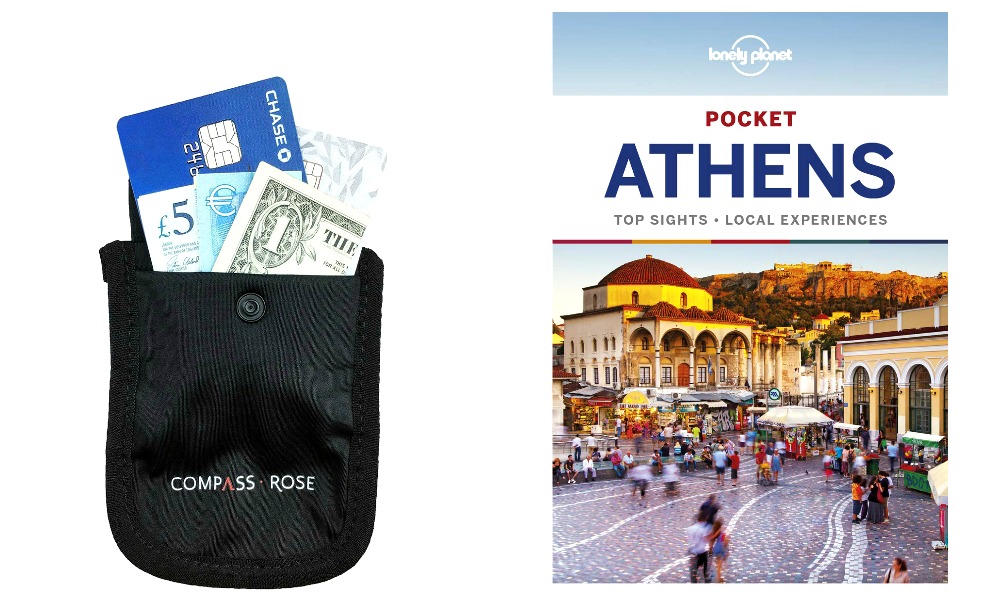 Secret Bra Wallet | Pocket Guide
Athens Shopping
If you find you've left behind an item or you need to add to your holiday wardrobe, stores like H&M and the Greek chain store Sprider have good quality and reasonably priced clothing. You can wander through the shopping district of Ermou Street, just off Parliament Square, which is the best place to find a large variety of shops to fill your every need.
Tip: Worried about theft, add items like a money belt or Secret Bra Pocket to your packing list for Athens.    
What are the best accommodations in Greece?
We love Airbnb for accommodation in Greece. Sign up here for a free $40 credit!
I prefer to book "the entire home" instead of opting for shared accommodation on Airbnb. Aside from safety, I also like to feel like I'm living in the destination. It's a small taste of local life plus you get more amenities than you would at a hotel such as a kitchen and washing machine.
Read these Airbnb tips for more info!
If you prefer the convenience and comfort of a hotel room, I like using both Agoda.com and Hotels.com. Tip: Hotels.com gives you a free night for every ten nights you book!
For hostels, we recommend Hostelworld and Hostelbookers. Always read the reviews before booking to get the best idea if the hostel is right for you. Some are quiet and family friendly while others are known for their party atmosphere.
Not sure about staying at a hostel? Read this.
---
When planning what to wear in Greece in winter, choose boots that are waterproof and lined with materials like wool, to ensure that your feet are kept dry and warm at all times; also include a waterproof jacket and/or a coat, to protect you from the elements!
What else would you suggest when planning what to wear in Greece?
---
Please note: Most of Europe's budget airlines have this carryon bag allowance: 55cm x 40cm x 20cm. Always check your airline's individual baggage rules and regulations in advance.
---
For more tips, please read these Europe packing lists:
Suggested travel resources:
Please read our Ultimate Packing List for Europe featuring stylish outfits and travel tips for 9 countries.
---
LIKED THIS POST? PIN THIS PIC TO SAVE IT!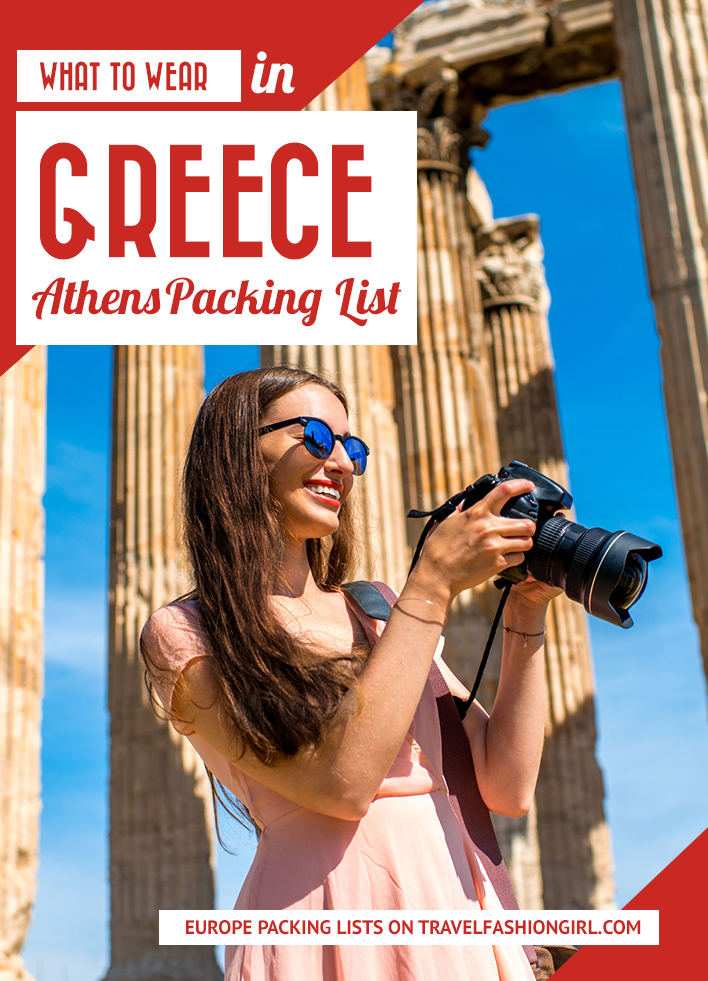 ---
I hope you liked this post on what to wear in Greece. Don't forget to share the love on Facebook, Twitter, and Pinterest. Thanks for reading!
---
Author Bio: Bex has lived in Greece since 2008. She is an award-winning blogger, teacher, Rough Guide author, Huffington Post contributor, and published short story writer. Not only is she a travel enthusiast, she also gives great tips on what any stylish traveller will need when on holiday in Athens. Check out her website: www.lifebeyondbordersblog.com.
---