Support TFG by using the links in our articles to shop. We receive a small commission (at no extra cost to you) so we can continue to create helpful free content. We earn from qualifying purchases made to the featured retailers. Thank you, we appreciate your support!
It seems as if everyone's traveling to Greece, especially in the summer when the dreamy islands warm up and entice visitors with the promise of a postcard perfect setting. They truly do not disappoint!
To help you plan the perfect Greece outfits suitable for both the weather and local Greek fashion, we've turned to the experts including expats, experienced travelers, and TFG's editor herself. Whether you're traveling to Athens, central Greece, or one of the magical Greek islands such as Santorini or Mykonos, read our ultimate packing guide on what to wear in Greece!
---
What to Wear in Greece
---
Table Of Contents
V Neck | Top | Blouse | Tank | Playsuit | Dress | Jeans | Shorts | Jacket | Poncho | Blouse | Skirt | Flats | Oxford | Hat | Backpack
What to Wear in Greece in Spring
Weather in Greece in March – May: Spring temperatures can range from warm to hot, with an average temperature between 19°C-20's°C or 66-77°F.
With the warm weather, Spring is considered the best season to visit as the temperatures are more moderate, compared to the summer months.
Award-winning blogger and Rough Guide author, Rebecca Hall from the Life Beyond Borders blog has lived in Greece since 2008 and recommends jeans and wide leg trousers in darker shades. Skirts and shorts are perfect to wear during the day with boots or sneakers. 
Pair them with vibrant sleeveless tops and blouses you can mix and match and layer under long sleeve shirts or 3/4 sleeve tops for cooler days. Bring a light jacket for the evenings to ward off the chill.
When planning what to wear in Greece in spring, don't forget to accessorize your outfit with sunglasses and a chic sun hat. 
Black, gray, or navy are good color choices because you can wear them with anything, and more importantly, are forgiving with the dust from archeological sites.
Remember, the easiest way to explore and get around is on foot–comfortable walking shoes are essential!
Top | Tank | Blouse | Tank | Playsuit | Dress | Denim Shorts | Shorts | Vest | Poncho | Tee | Skirt | Flats | Sandals | Hat | Backpack
What to Wear in Greece in Summer
Weather in Greece in June – August: Summer in Greece is HOT, particularly in August. Athens can get to a sweltering 40°C/104°F degrees and even higher, which means that many places practically shut down as the locals attempt to escape the heat.
Sonja Riemenschneider notes that the weather isn't much different throughout the country in the summer. Be prepared for hot, sunny days wherever you go, with the chance of rain increasing from zero to slight as you venture toward the mainland.
As you'll be experiencing very hot temperatures , Rebecca Hall recommends packing tank tops, shorts, skirts, and light dresses; these can all be in bright, colorful shades to reflect the season. Opt for thin, light materials like rayon, cotton, and linen for extra breathability and coolness. 
For sightseeing, pair the dresses with comfortable sneakers or walking sandals. You should leave your boots at home. 
If your Greece summer plans include nice dinners, cocktail parties, or an evening out on the town relishing in the culture and cuisine, bring a versatile and classic dress.
While it is unlikely that you will need a jacket during summer, pack a light cardigan or light layer in case you experience a cooler evening.
Tee | Top | Blouse | Longsleeve | Playsuit | Dress | Jeans | Shorts | Jacket | Raincoat | Blouse | Skirt | Flats | Boots | Scarf | Backpack
What to Wear in Greece in Autumn
Weather in Greece in September – November: It will remain warm on your trip to Greece until November. Autumn is not definable as a season between summer and winter; however, the temperatures do fluctuate, with the possibility of rain. Average temperatures range between 18-23°C / 64-73°F.
When planning what to wear in Greece in autumn, refer to the spring guidelines–because the weather is very similar between these two seasons. You would need very little variation, if any, with perhaps the addition of a waterproof jacket and a scarf.
Longsleeve | Sweater | Shirt | Sweater | Dress | Kimono Dress | Jeans | Denim Jeans | Coat | Jackets | Sweater | Skirt | Tall Boots | Boots | Scarf | Backpack
What to Wear Greece in Winter
Weather in Greece in December – February: Greek winters can be cold; it can even snow in Athens. With fewer daylight hours, you'll find average daytime lows between 5-8°C / 41-46°F and nighttime lows of about 3°C / 37°F.
To ensure your winter wardrobe is practical, stylish, and keeps you warm, add gloves, a warm hat, and a thick wool scarf.
Use jeans as your base, and consider a pair of thermal underwear or silk long johns to wear under your jeans on the coldest days. Layering is important–so think long sleeve tops, sweaters, and even t-shirts for the warmer indoor temperatures.
Find out why thermals are a must for traveling light (and staying warm) in winter!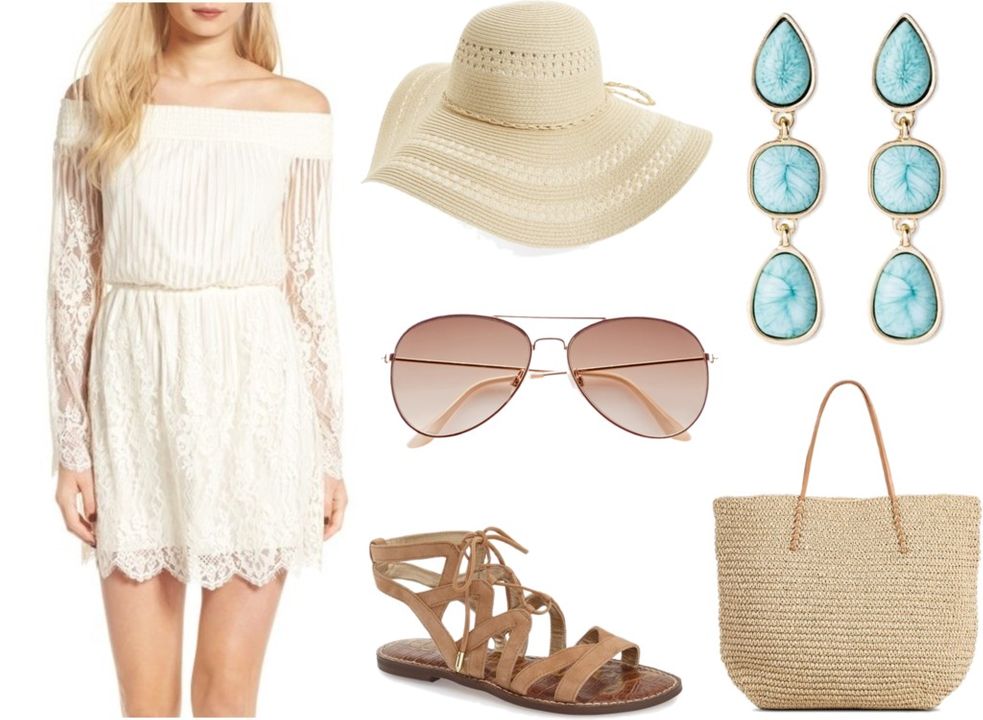 Dress | Hat | Earrings | Sunglasses | Sandal | Tote
What to Pack for Greece: Santorini
You'll fit right in wearing breezy dresses, linen shirt-dresses or lace tops, and shorts or a skirt. White is the color of choice, but bright colors are popular, too.
Pack dresses you'll be comfortable lounging in as you take advantage of killer balcony views or napping in the shade.
Stock up on this vacation staple with this season's 10 best linen clothing pieces!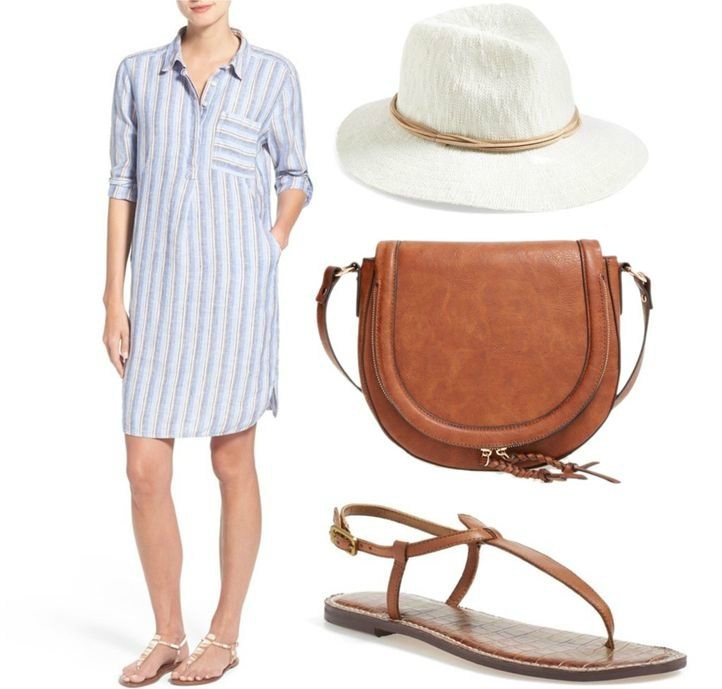 Shirtdress | Hat | Crossbody | Sandal
For shoes, sandals with an ankle strap and a sturdy sole are perfect. Heels are almost impossible to wear on the extremely hilly cobblestone streets. If you must bring heels, choose a pair of comfy wedges so you get a little more stability. 
The stacked buildings that make the cliffs of Santorini so beautiful also make for some seriously steep streets! Pack your shoes accordingly.
Check out these comfortable walking sandals that don't sacrifice style!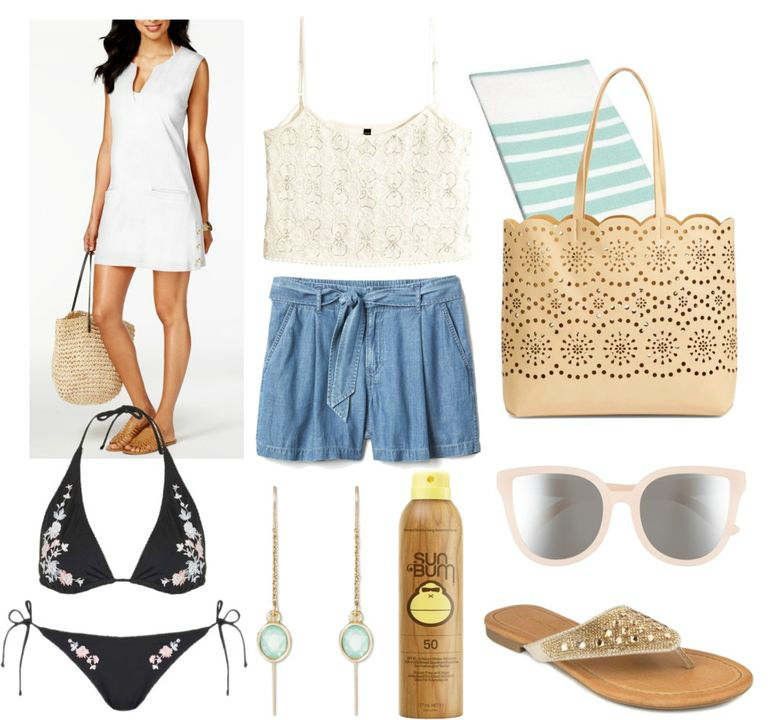 Cover-Up | Top | Shorts | Tote | Towel | Bikini | Earrings | Sunscreen | Sunglasses | Sandals
What to Pack for Greece: Mykonos
Mykonos is all about beach life and nightlife. Crop tops or see-through tops with bikinis underneath paired with high-waisted shorts or skirts will give you that perfect beach to bar look. Stylish summer shorts will take you from day to night, city to sea, and so much more!
Lacy cover-ups that can double as dresses are great, too. Flat sandals that can go from beach to club are best. 
The streets in Mykonos town are more even and flat than Santorini, so you won't need as sturdy a sole here, but it won't hurt either. Don't bother with fancy heels–it's not that kind of nightlife. Wedges are fine but not necessary.
These are the best sandals for travel in summer!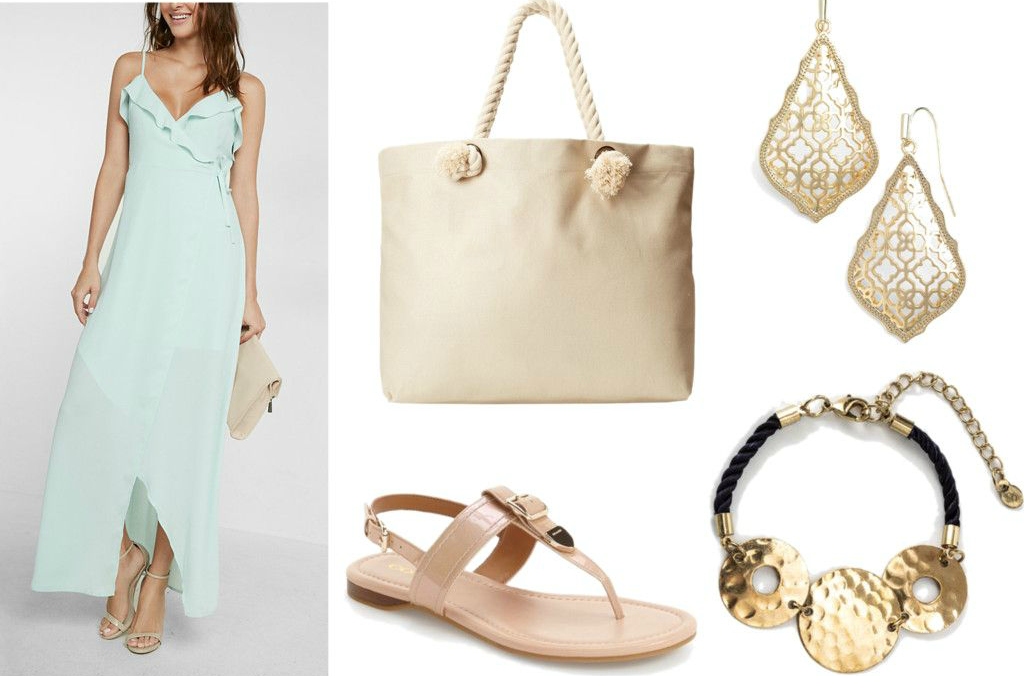 Dress | Tote | Earrings | Sandal | Bracelet
What to Pack for Greece: Hydra
Hydra is one of Greece's Saronic Islands, which is very close to Athens and the Peloponnese. It's a popular weekend destination for Athenians and tourists looking for a quick break from the traffic of Athens. Hydra is entirely traffic-free–the only mode of land transportation is by foot or by donkey!
The attire here is a little less casual, with off-the-shoulder tops, classy, lightweight dresses, and strappy leather flat sandals or wedges. The café and restaurant scene is excellent, with lots of harbor-front cafés under large sun canopies packed with comfy couches and tables perfect for leisurely lounging.
Be sure to bring a pair of cute and comfortable sandals that can handle some light trails too, as the walk from Hydra Harbor to the nearby Kamini Harbor and further Vlychos Beach will reward you with panoramic coastline and views to the nearby islands.
It's the season for easy breezy vacation style! Shop our roundup of beautiful summer maxi dresses!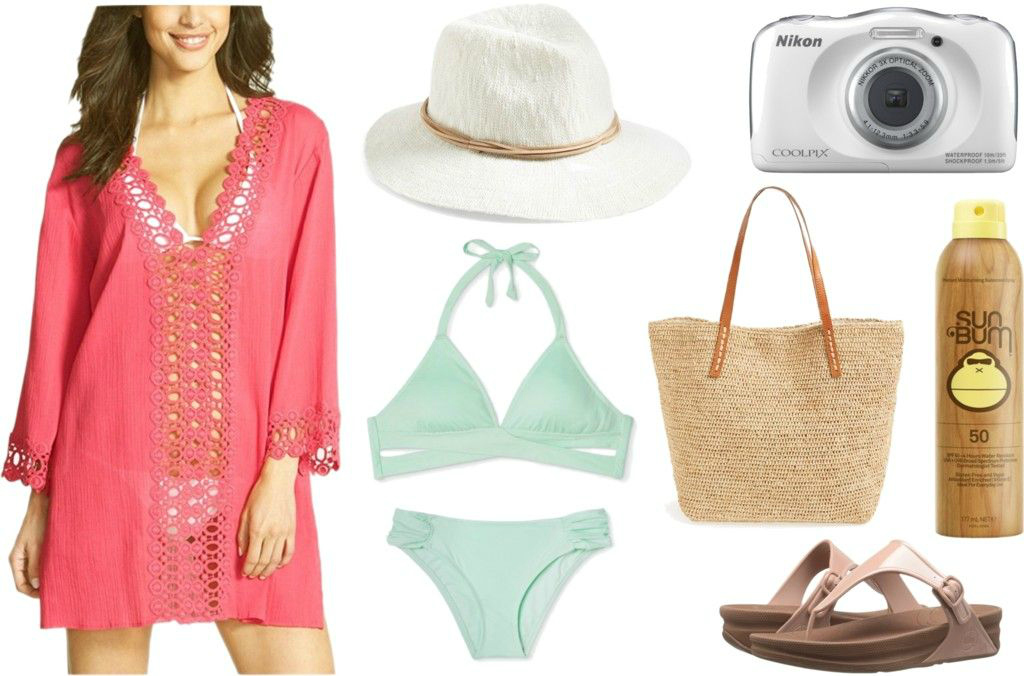 Cover-up | Hat | Camera | Bikini | Tote | Sunscreen | Sandals
What to Pack for Greece: Folegandros
Greece has many gorgeous islands that haven't yet been overwhelmed by tourism. My favorite was Folegandros but the same fashion principles apply to them all: you can wear pretty much whatever you want!
The beaches of Folegandros are quiet and pristine, and many are clothing optional. Assuming you're a bikini gal, bring multiple–as the beaches are the thing to do here. Don't miss the boat tour around the island, stopping at many of the isolated beaches and swimming coves.
Bring shoes that can get wet and a cover-up that dries quickly and will keep you from getting burned while you're out on the water. An underwater camera can be a lot of fun, too. 
These beach sandals are must-haves!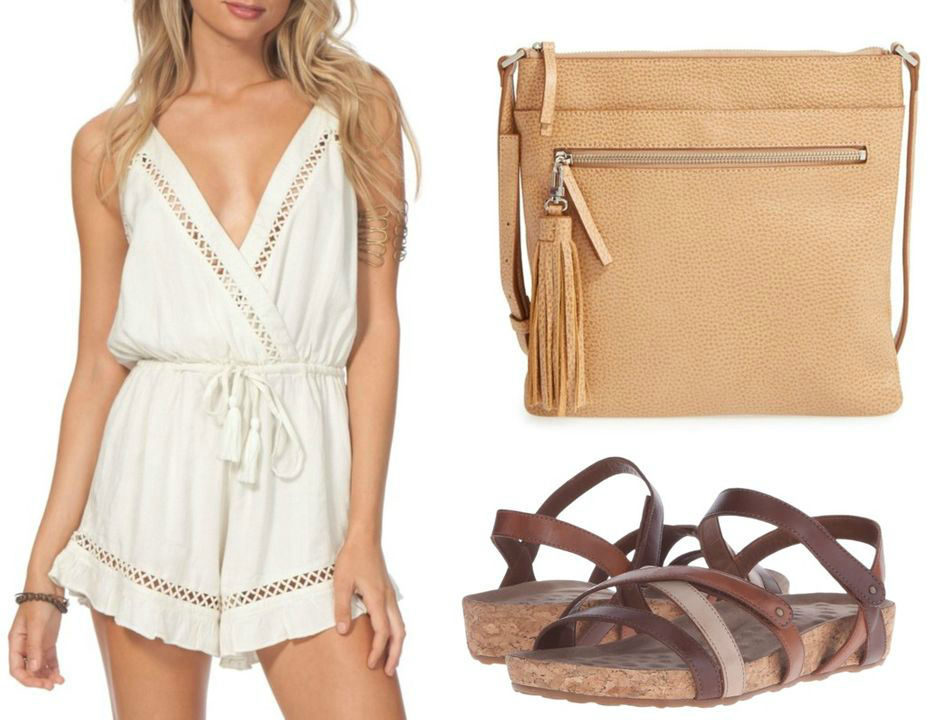 For walking around town or exploring the island by land, anything loose and comfortable will do–shorts, tanks, rompers, or dresses. Don't bother with jeans or other heavy clothes. Athletic sandals are ideal for beach days since a lot of beaches require a bit of hiking or scrambling over rocks.
There's no need for fancy accessories or heels here: your primary goal is to soak up the sun, explore the island, and splash around in the aquamarine jeweled water.
Take a look at these cute summer dresses for women!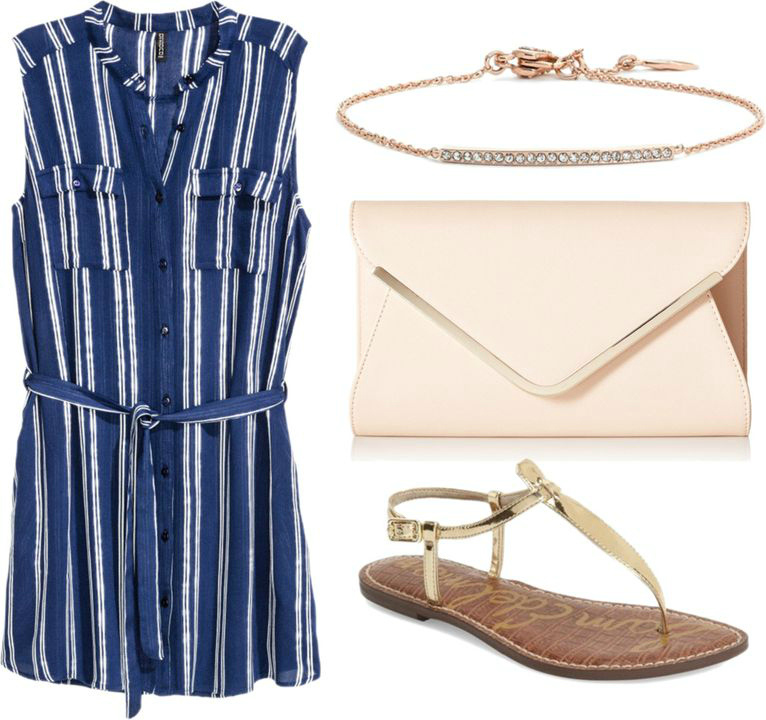 Dress | Bracelet | Clutch | Sandal
In the late afternoon, head back to your hotel to shower and change into your nicer clothes and sandals for dinner and drinks or an outdoor movie in the park. Find out how to wear a shirtdress on vacation! It's the most versatile, comfortable, easy-to-wear outfit for travel.
Pair them with lace-up sandals like these!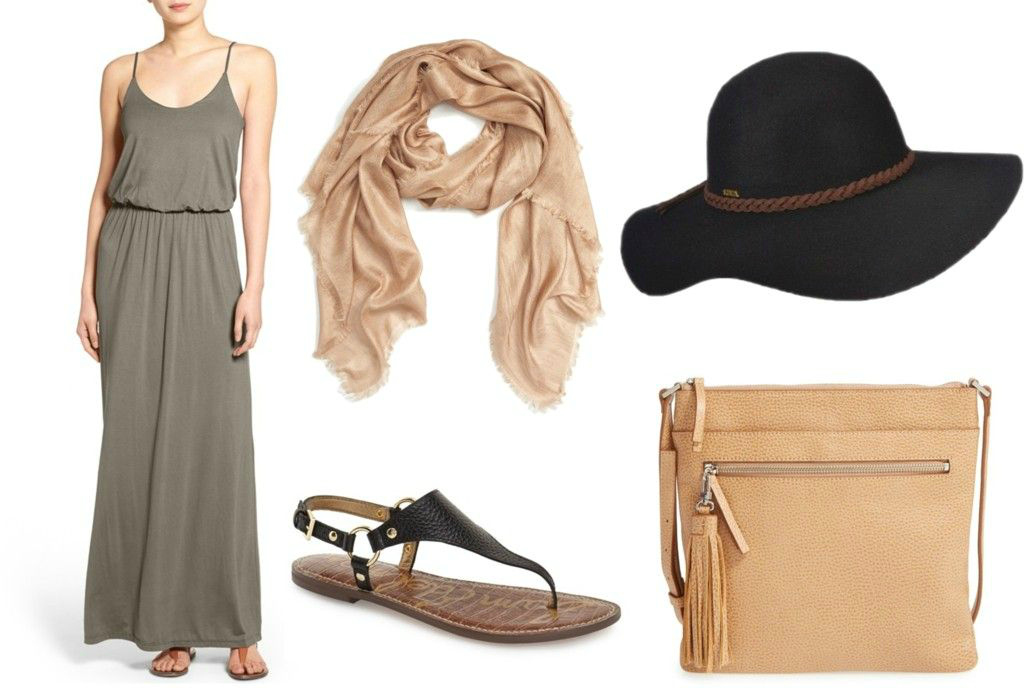 Dress | Scarf | Hat | Sandal | Crossbody
What to Pack for Greece: Mainland
Outside Athens, at the tourist sites of Delphi and Meteora, you'll see fewer short skirts and crop tops and more conservative dresses. Summer maxi dresses are great for mainland Greece. For more conservative places, knee length or longer is best.
Lightweight tanks will keep you cool and a light shawl or scarf wrapped around your shoulders will get you into the monasteries of Meteora without having to don the provided wraps at the door (which undoubtedly get a lot of use… and sweat).
Keep in mind that women wearing shorts or pants (vs skirts or dresses) will need to wear the provided wrap-around skirt to get into the monasteries.
What to Pack for Greece: Athens 
Athens' local style is smart-casual. Men dress well, and women of all ages are fashion forward and body confident. 
Sonja Riemenschneider with Breadcrumbs Guide spent a month traveling Greece, visiting Athens, Santorini, Mykonos, Folegandros, Tinos, Hydra, Delphi, and Meteora. She suggests that if you want to try to blend in with the locals, opt for a polished and neat appearance. 
Pack sundresses, belted tunic dresses, and fitted tops. High-waisted trousers are popular with all ages and stylish trendsetters love their high waisted baggy jeans, too. For summer, high waisted skirts and shorts are also worn.
The areas around the Acropolis, including the fun and recommended pedestrian street Apostolos Pavlos, are packed with both Athenian fashion forward locals and tourists dressed to explore ancient ruins.
Rebecca Hall notes that durable shoes such as comfortable sneakers or walking sandals with a non-slip sole are key, especially while you explore the ancient sites since you'll be walking on lots of steep slopes with smooth marble. It can be dangerously slippery, particularly when it rains.
Insider's Guide on Things to Do in Athens
Athens born and founder of the global platform Living Postcards shares that the city hides treasures. Treasures that the inhabitants don't even know. Athens is the oldest city in Europe and the one with the longest history. We all know that the Parthenon is a must see, but she suggests that there are many more experiences waiting such as:
Enjoy your morning coffee in Kolonaki, Glyfada, Kifissia or Thisio. You will love these places!

Take a trip to the nearest beach. Thank goodness beaches are so close to the center of Athens!
Take your friends for mezé in Piraeus, Elefsina, Drapetsona, Keratsini (great fish restaurants there too).

Try excellent cocktails at Aigli Zappeiou or at Galaxy Hilton. The view is magical or use the metro, and see other places of Athens. Visit Panormou station for example, you can drink and eat in a lot of bars, restaurants as soon as you get off the station.

The Kolonaki area is near Syntagma square. Go to Milioni or Tsakalof street and taste trendy souvlaki.

Go to the Islamic museum of Athens. It's not a place that the tourist guides would recommend, but I do. Believe me, it deserves every minute of your time.

Visit Kipseli, and especially the Market of the area, with local food, and a lot going on. It's one of the places no one would tell you to go. But you want to see things with your own eyes.

Go to Gazi, Keramikos. You will see the Industrial Museum of Athens, popular bars, sophisticated restaurants and alternative fashion markets.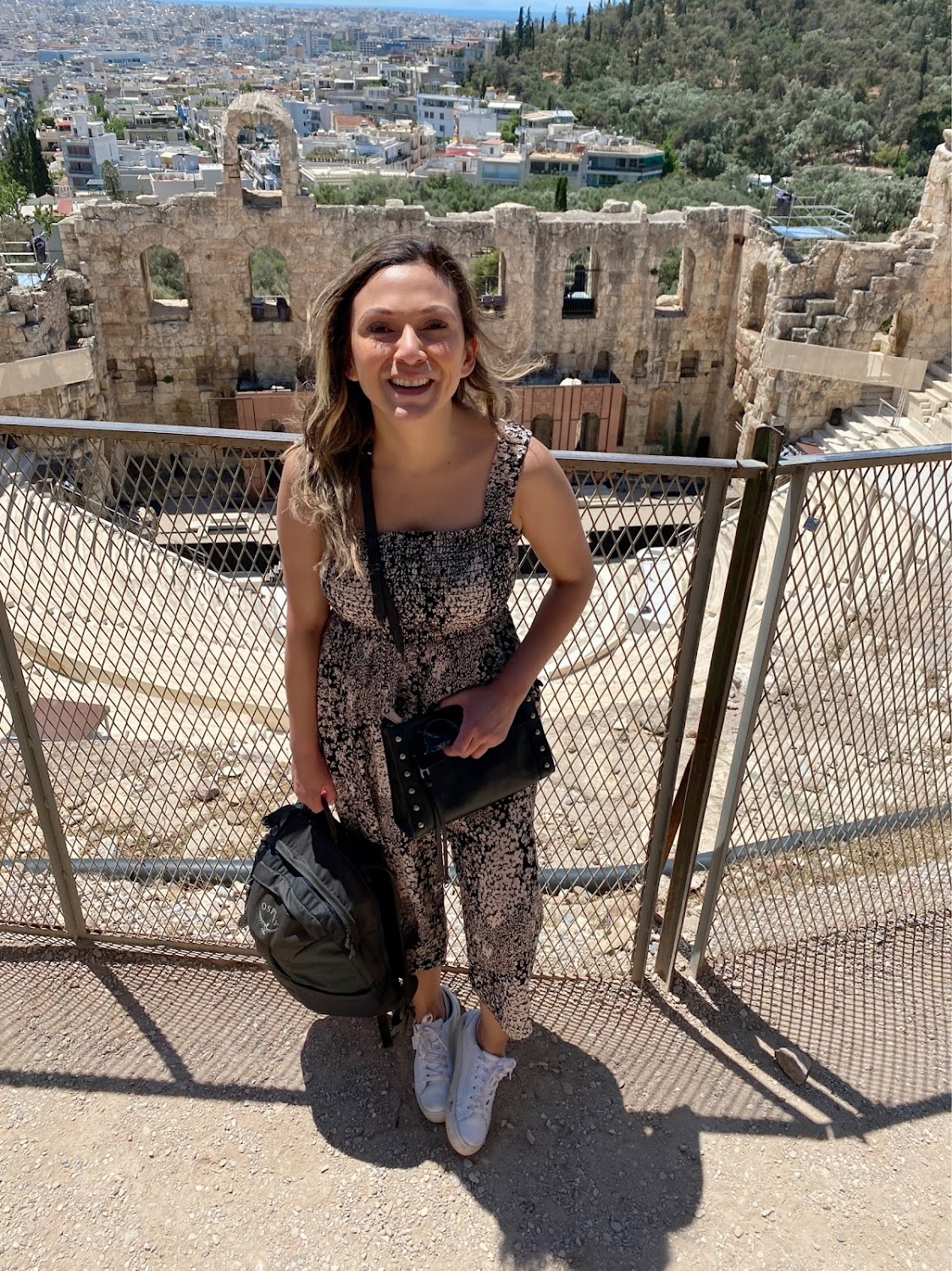 My Roan + Ryan Gianna Smocked Jumpsuit perfectly paired with my Taos Sneakers!  
TFG Editor's Tried and Tested Greece Packing List for Summer
I spent one week at the end of May and early June visiting Athens, followed by one week in Santorini, viewing the sights at a very slow pace. For this trip, I packed mostly for summer. It was hot half the time and cold and windy the other half.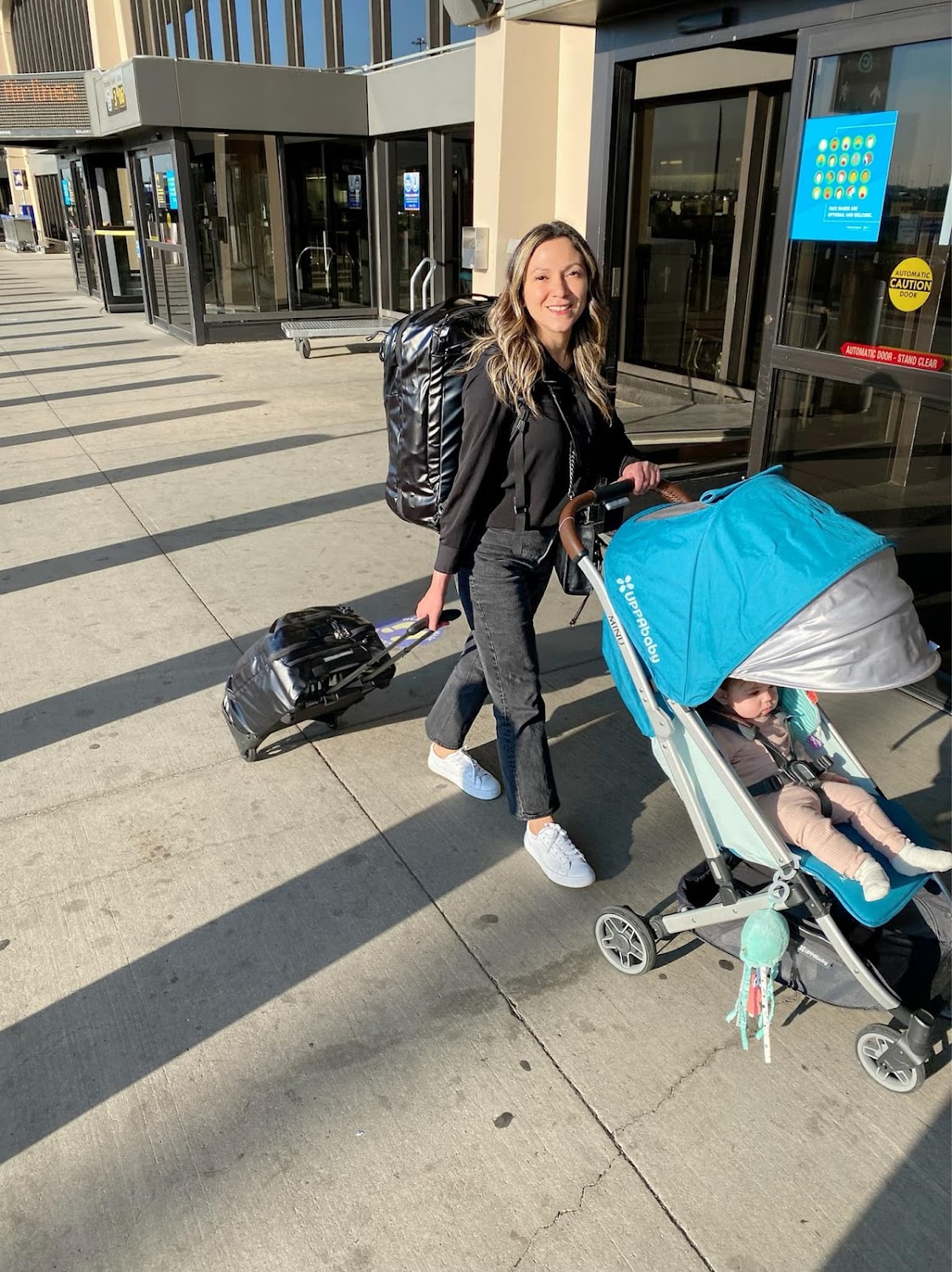 My H&M travel uniform for every single flight!!!! (Also my everyday uniform, too.)
This is My Packing List for Greece:
Note that I brought more clothing than I wore during my time in Greece because I was on a longer 5-week-long trip country hopping in Europe.
Luggage
I have all new Osprey Transporter bags for the trip. Loving them so far and couldn't have been happier with my choices.
What I Wore on the Flight
I'm sorry no links for the H&M products yet. I've been trying to find them but can't. The top's been sold out for some time and the replacement version isn't the same. If I can find them I'll post them for sure!
​Jumpsuits
Dresses
Summer Wrap Dress

:

Cute, lightweight, and budget-friendly, too (under $25!!). I sized up to a medium for a more comfortable fit. This is, for sure, a new TFG staple!!!!! 

Deep Red Printed Summer Dress

: which is super cute, wrinkle-resistant, and under $40, too!

 
Tops
Bottoms
Outerwear

Accessories
Madewell Packable Sun Hat

: This is super cute but the small/medium is too large on me so it's not too practical with the wind here. I only bought it the night before my trip when I realized I had left

my favorite Wallaroo sun hat

in Playa del Carmen since I was departing from Louisville.

L Space Daytime Cover up

:

I just bought this cover up for my trip and I love it! I actually ran out of clothes on laundry day and layered it over a tank top and shorts to wear it as a dress in Santorini. It's super cute, too! I'll be wearing this as a sundress layered over a slip dress in the future.
Shoes 
Taos sneakers

: worn on the flight. 

Taos sandals

in Dark Gray, size 7/38: They have two straps making them ideal to get a secure fit even on medium to narrow feet! 

Coach Tan Slide Sandals (similar style)

: I bought these last minute at Macy's as I thought they were neutral enough to wear fo

r a nice meal but also practical enough to wear to a beach. They've been the perfect replacement for flip flops and a nice break from regular shoes at the end of the day when we go for a light stroll or to grab dinner. 
I also ordered the Taos Trophy 2 in black and they were actually really cute, too! I probably would've considered bringing them had I ordered tan instead as it would've been a more versatile neutral with my wardrobe. The sandals in black clashed with all my navy blue clothing.
Next, here's what worked and what I would've done differently so far!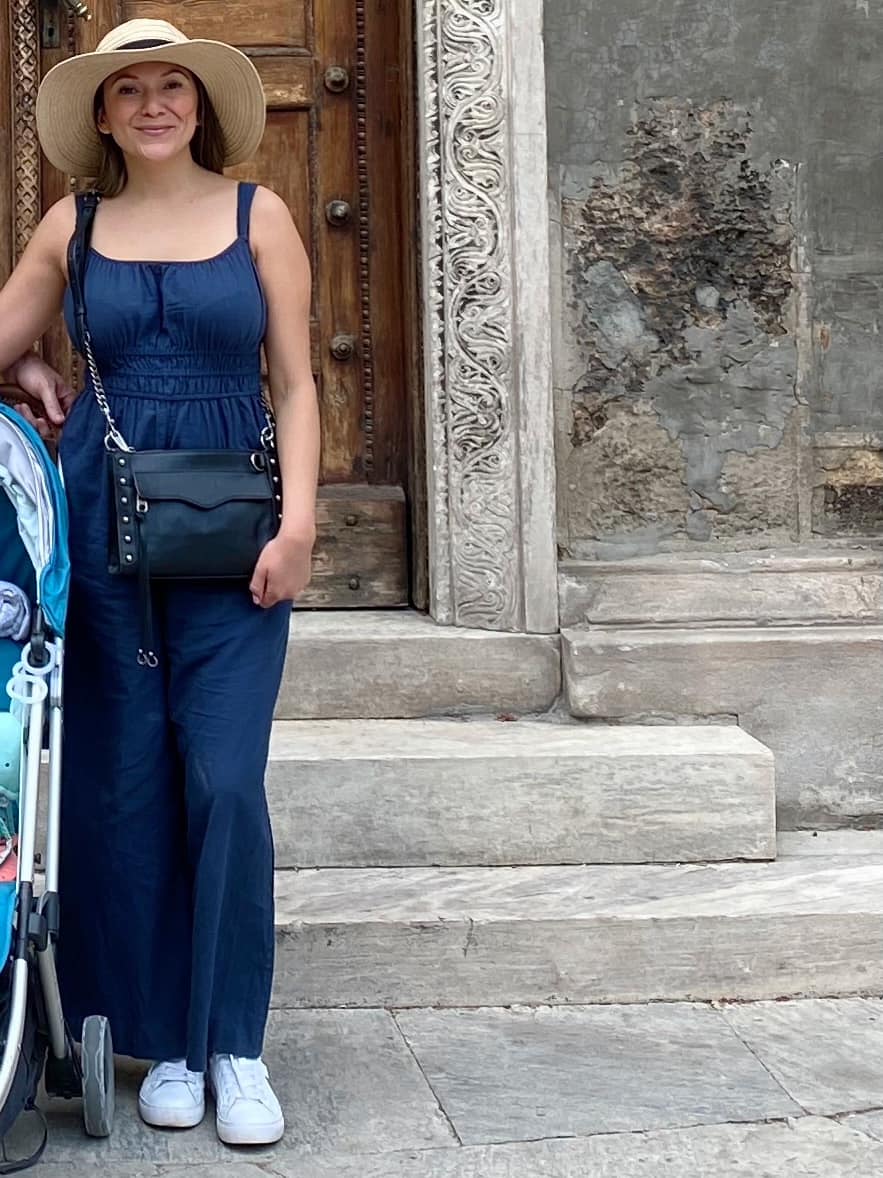 Wearing my Madewell Jumpsuit, Taos Sneakers, and Madewell Hat!
ATHENS WARDROBE WINS
Jumpsuits!!!!!
I don't even know why I packed anything else. I can wear these all day long. Out of one week, I've already worn each twice. So easy, so comfortable for my body and the weather, too.
I particularly love the Roan + Ryan Gianna Smocked Jumpsuit because I can easily see myself wearing this repeatedly. I love rayon fabric for travel in summer, it's my favorite. If I had to pack a 5-piece capsule, this piece would be in it! 
The other jumpsuit from Madewell would be perfect anywhere from Athens to Paris and beyond. It's airy, has eco-friendly linen blend fabric, and it's also wrinkle-resistant, too.
The printed romper is sold out but Evereve has a bunch of new styles (I'm sooo obsessed with the store Evereve right now!!!)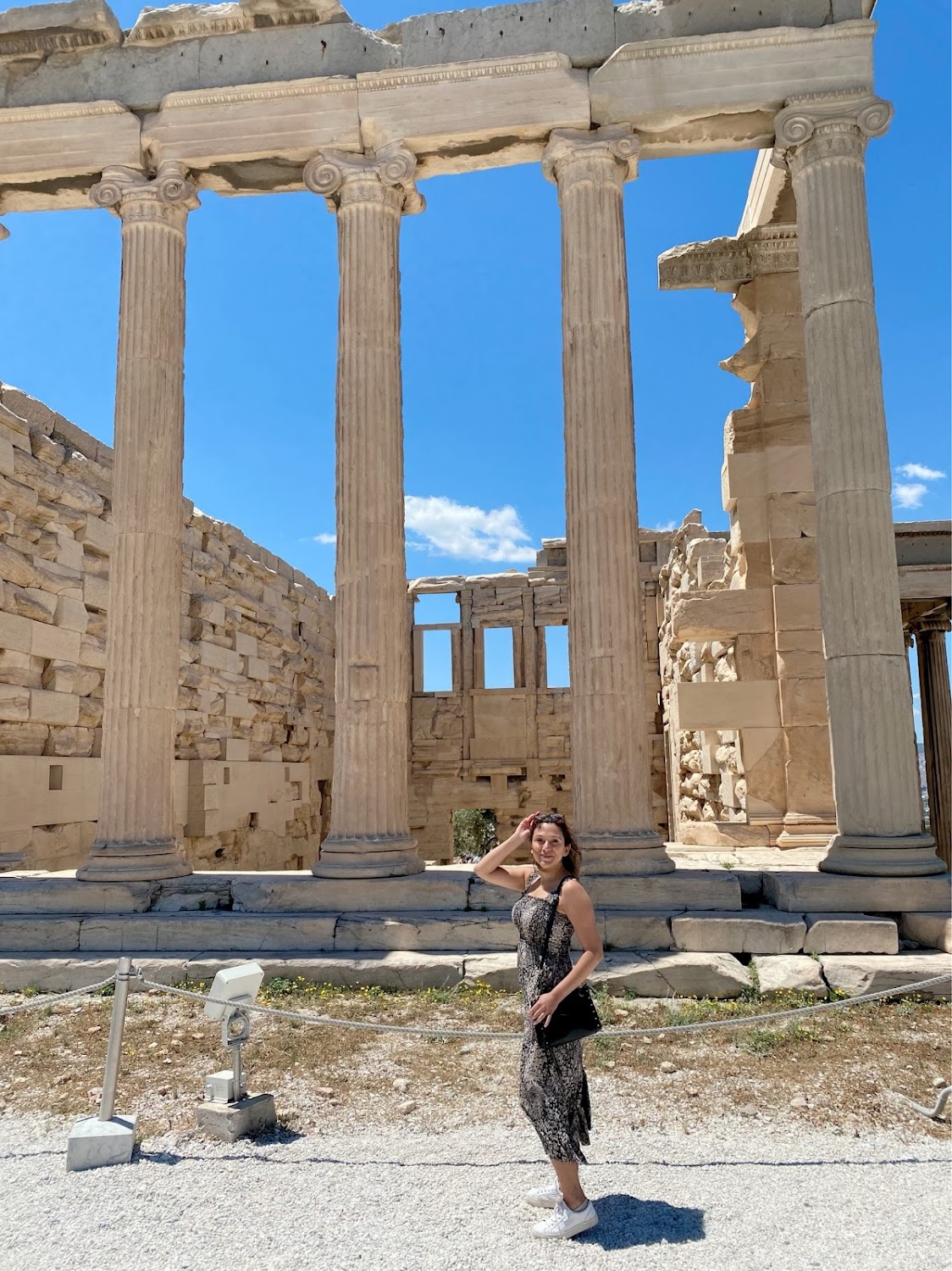 My white leather sneakers are a major win!!! 
If you're wondering whether or not you should pack white sneakers, don't hesitate. They're stylishly appropriate, and this particular pair from Taos has arch support making them shockingly comfortable for all-day walking. I opted for the leather vs. canvas for easier cleaning.
Sadly they are currently sold out but if you're looking for the best all-white sneakers for your next trip to Europe, this selection, as chosen by TFG readers, lists versatile, comfy, and fashionable options!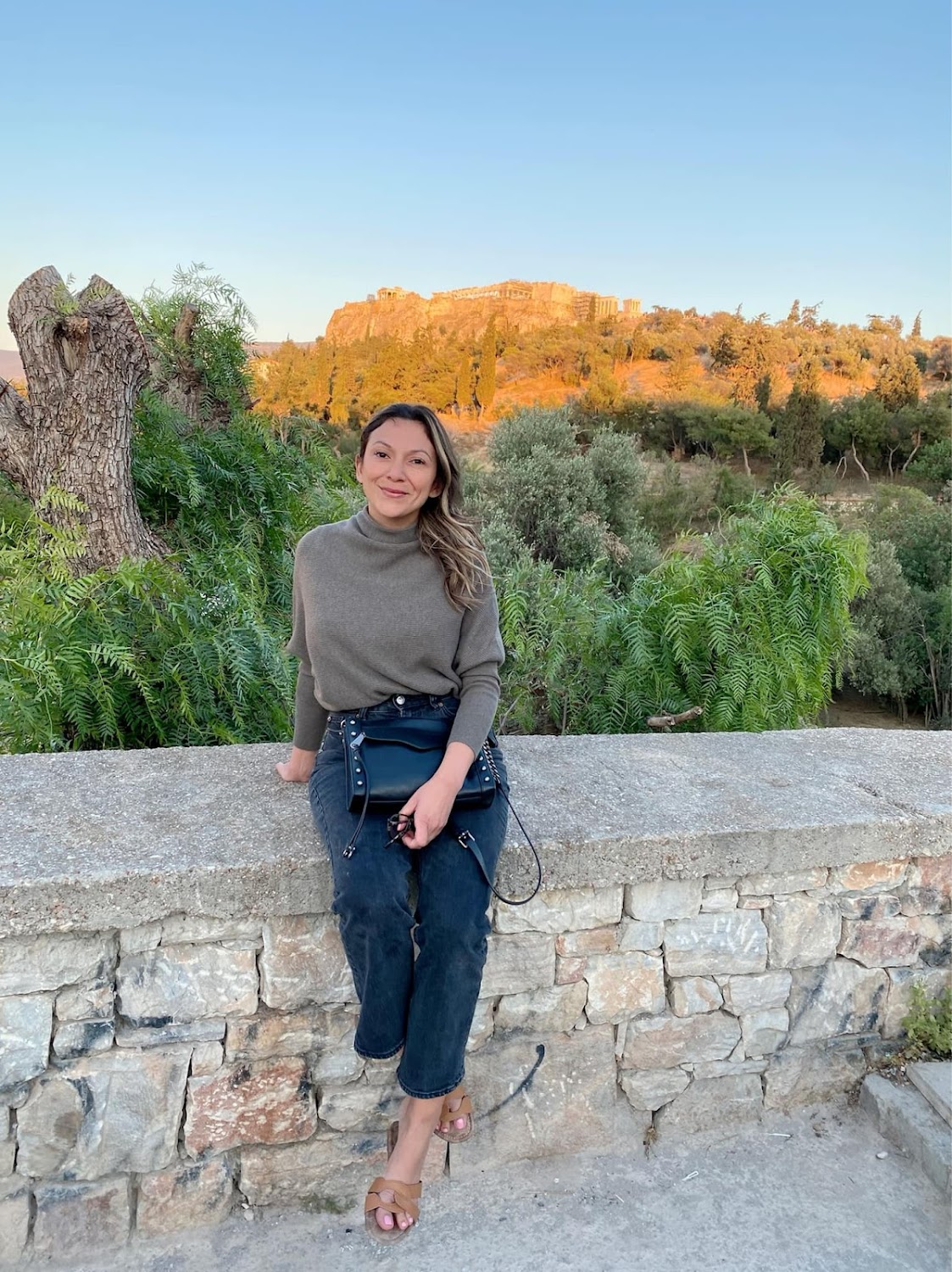 Wearing my H&M Jeans, All Saints Sweaters, Rebecca Minkoff M.A.B Crossbody, and Coach Tan Slide Sandals (Similar)
Wide leg high waist jeans! 
Everyone seems to be wearing a wide leg, and I'm happy I brought my current favorite from H&M. My jumpsuits are also both wide leg.
I'm wearing it with my All Saints Sweater that I absolutely love and got on sale! I believe the color was olive, and it's a warm cashmere and wool fabric. I brought this instead of my go-to J Crew Merino Wool Sweater, which I regret not bringing because it's a lighter, thinner layer I can wear under anything vs. this one is more bulky. 
I loved the look, though, and thought it was perfect for Europe!
---
When planning what to wear in Greece in winter, choose boots that are waterproof and lined with materials like wool, to ensure that your feet are kept dry and warm at all times; also include a waterproof jacket and/or a coat, to protect you from the elements!
What else would you suggest when planning what to wear in Greece?
---
Please note: Most of Europe's budget airlines have this carryon bag allowance: 55cm x 40cm x 20cm. Always check your airline's individual baggage rules and regulations in advance.
---
For more tips, please read these Europe packing lists:
Suggested travel resources:
Please read our Ultimate Packing List for Europe featuring stylish outfits and travel tips for 9 countries.
---
LIKED THIS POST? PIN THIS PIC TO SAVE IT!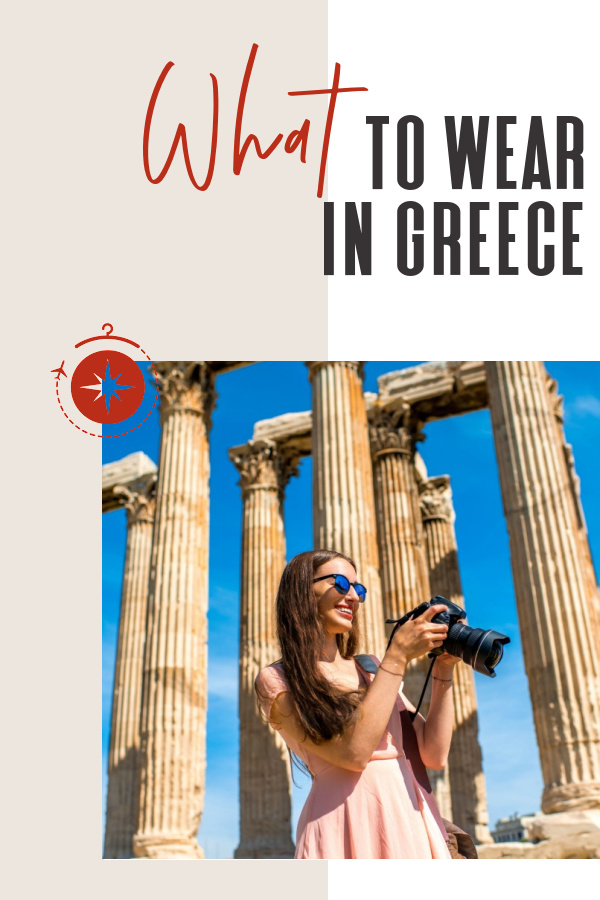 ---
I hope you liked this post on what to wear in Greece. Don't forget to share the love on Facebook, Twitter, and Pinterest. Thanks for reading!
---