Support TFG by using the links in our articles to shop. We receive a small commission (at no extra cost to you) so we can continue to create helpful free content. As an Amazon Associate, we earn from qualifying purchases made on Amazon in addition to other retailers featured on the blog. Thank you, we appreciate your support!
I've tried out a few pairs of Ecco shoes myself and liked them, so I asked TFG readers to share their experiences too. Take a look at this Ecco shoes review we compiled to find out which style would work best for you!
---
Ecco Shoes Review
---
Table Of Contents
Ecco is known for making "comfort shoes," which aren't necessarily the most desirable option if you want to strut your fashionista self on the streets of Milan. But this comfort-only reputation might be an unfair judgment.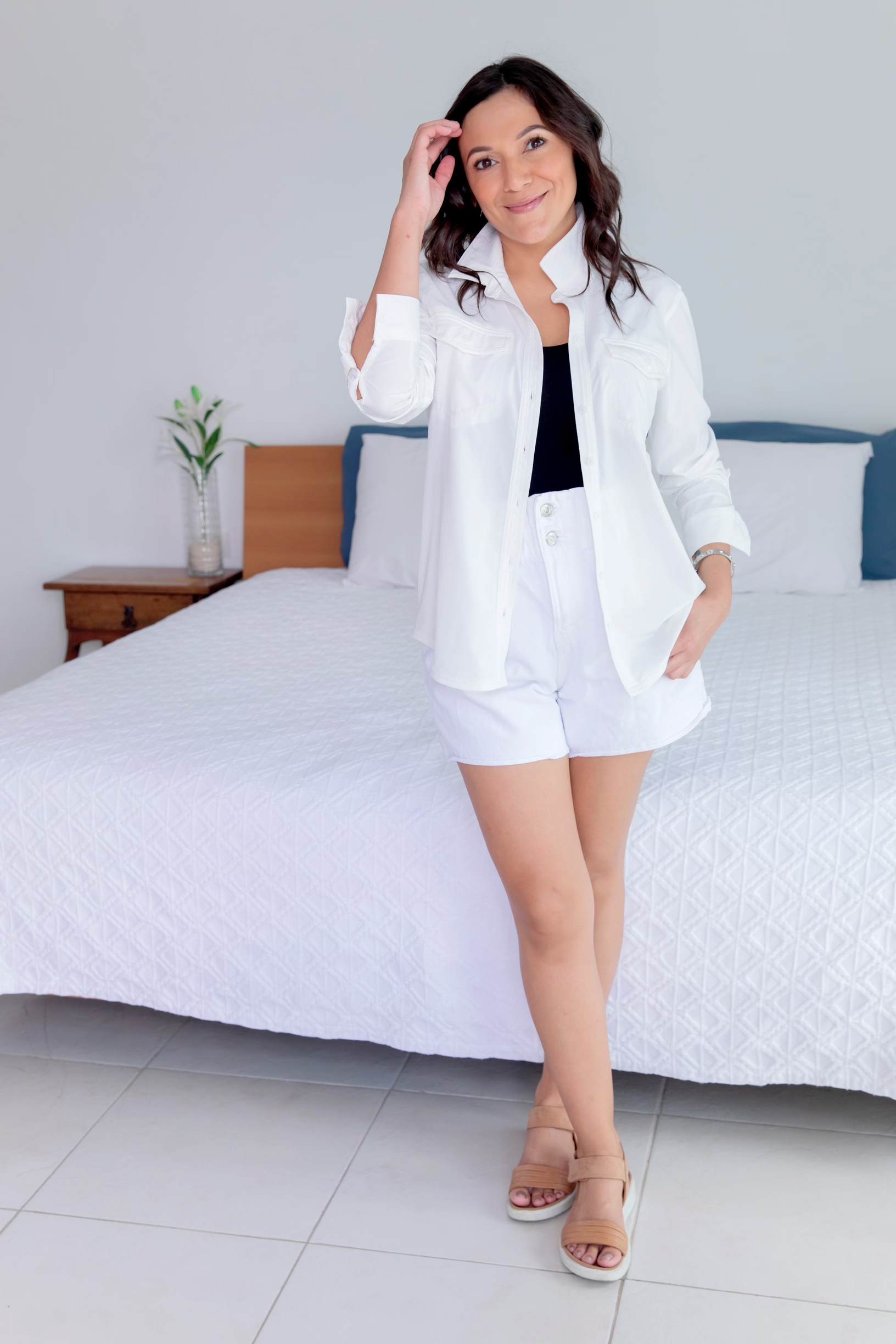 Pairing Ecco Flowt Sandals with Eddie Bauer Departure Shirt and Zara Shorts
It turns out TFG readers love their sandals, sneakers, and flats. We have to agree – many of their styles do strike a good balance between fashion and function. And they're well-priced too! 
Readers have given some great Ecco comfortable shoe recommendations and helped us shape this review—check out their favorites below! 
Best Features of Ecco Shoes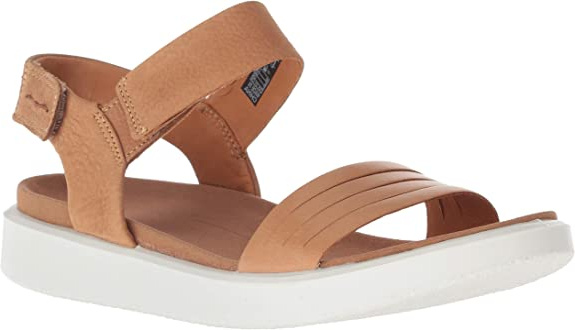 The Flowt is the #1 comfy Ecco sandal readers love!
They're Comfortable
Readers say Ecco makes some of the most comfortable travel shoes and constantly recommend them for trips where lots of standing and walking is involved. Their shoes feature an anatomical shape, with moderate arch support, super soft footbeds, and light, flexible soles. 
While readers say they're a bit on the narrower side, a lot of readers with wide feet say they fit really well! Plus, the inlay soles in the sneakers and boots are removable, which adds some extra width. 
One TFG shares some great tips on how to determine the fit of Eccos. "Honestly, you can't go wrong with Ecco! Some have a rounder toe box and others have a more narrow, almond-shaped toe box. I'd check which shape your most comfortable pair of shoes currently have and let that help narrow down the decision. If you have especially narrow feet or a high arch, you may prefer the lace-up Soft 7s because you can adjust the tightness with the laces. They're all fantastic choices though!"
Here are comfortable walking sandals that are stylish, too!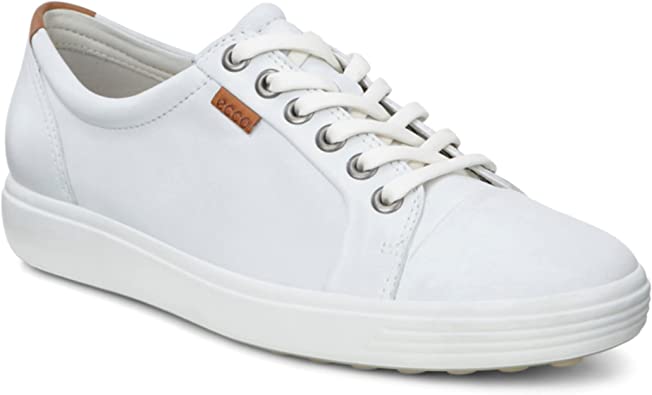 The Soft 7 Sneaker is one of the top selling Ecco shoes on the blog!
They're Supportive
Whether you're spending the day sightseeing, going on a walking tour, or meandering through museums, you'll want to make sure your feet are happy! This is why so many readers love Ecco – they're super supportive and great for walking long distances. And because they're so sturdy, they're amazing for walking over cobblestone streets!
Flat-footed TFGs say the footbeds couldn't be more comfortable, while many readers with high arches report feeling supported in them, too! Their high-quality materials are sturdy yet soft on your feet, and whether you're lacing up sneakers, slipping into loafers, or strapping yourself into sandals, your feet will feel snug, secure, and ready to take on the day's adventures! 
One reader says, "I love mine and have them in several colors. I have walked all over Europe in them, day after day, and find them very supportive and comfortable. I've had bouts of plantar fasciitis in the past, but never while wearing this shoe. I find them the perfect shoe for travel." 
Another reader shares her personalized way of wearing Ecco, "I love mine! Bought one size larger than I need, added an extra Ecco insole (which I can remove if my feet swell) and I've worn them for entire days and evenings of mega walking all over Europe and the Middle East."
Find out the top reader recommendations for the best white sneakers for women!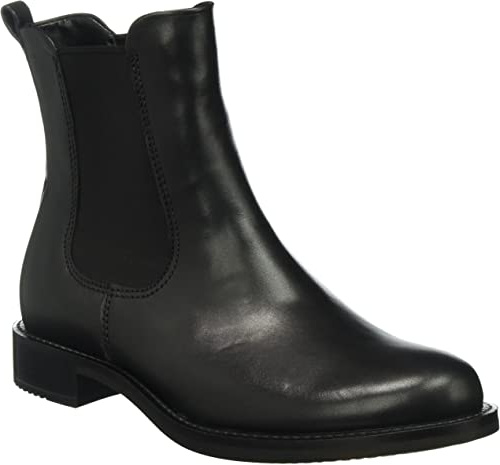 The Ecco Shape 25 Chelsea Boot is durable and long lasting
They're High Quality
Ecco shoes are high quality and hold up extremely well over time. Many readers say they've had theirs for years, and they still feel good, support their feet, AND look really nice! 
Tons of Ecco reviews in the TFG community can attest to this! One reader says of her Yucatan sandals, "I wear my Eccos 300+ days of the year. I climb steep terrain and cobblestones, go in the sea with them, and throw them in the washing machine. And I've been wearing them many years!" 
They're super durable and don't show signs of wear very easily. In their Ecco shoe reviews, readers rave about the craftsmanship, down to the laces, adjustable straps, zippers, and other little details that make these popular shoes so awesome!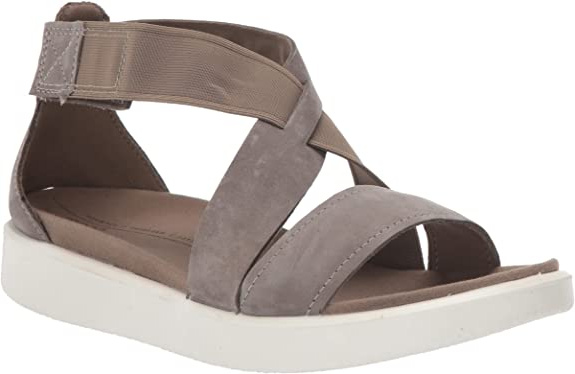 The Ecco Yuma Flat Sandals offer a lot of comfort and style for under $80.00!
They're Well Priced
The Ecco shoes price range is super reasonable given the quality, comfort, durability, and beautiful styles! Most of their shoes are priced under $200 (though there are a few boot options that are priced slightly higher). A lot of TFG readers consider a great pair of travel shoes a worthwhile investment, so while the cost may seem a bit high to some, many readers feel that the comfort, versatility, and years of use are worth it. 
Prices can range from $70 for a pair of simple sandals, to around $200 for boots that can get you through cold, rainy winters or intense hikes! 
One reader says her favorite Ecco sneakers cost, "$150 but they last very long time." The overall verdict among readers is that Ecco's stylish and functional shoes are well worth the cost, especially when it comes to staying both comfortable and chic while traveling!!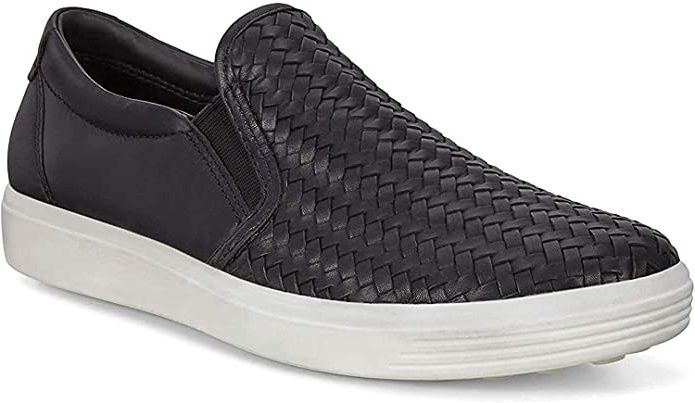 Readers love the Ecco Soft 7 Slip Ons for their easy wear, comfy style!
Pros and Cons
Ecco shoes are known for their stylish and contemporary look, with clean lines and beautiful leather. They have solid construction and tons of style, all at a great price point. 
Many Ecco wearers in the TFG community say that there was no break-in period with their shoes and that they were instantly comfortable! (Overall; however, it's always recommended that you break in ALL shoes before )
Some readers shared different experiences with the fit of Ecco shoes. For example, one reader says, "I've worn Ecco sandals for-ev-er but Ecco shoes and sneakers are too narrow for me." A lot of readers have reported that other styles, such as the Soft 7 slip on and most of their sandal options, have roomier toe boxes and are great for wide feet. 
(TFG reader pro tip: The men's version of the popular Soft 7 sneaker looks exactly the same, but has a slightly wider fit!)
If your feet require ample arch support and a good amount of cushion in the footbed, these may not be the best choice for you. Though, if you're heading to Europe, one reader says, "A sturdy shoe rather than a cushy one was better for me on cobblestones." 
Overall, readers with feet of all shapes and sizes have said their feet feel supported and comfortable in Eccos! And there are so many gorgeous styles to choose from to amp up your travel looks! 
Here are the best black sneakers our readers favor for travel!
Let's take a look at more popular Ecco styles that readers adore!
Ecco Sandal Reviews
by Readers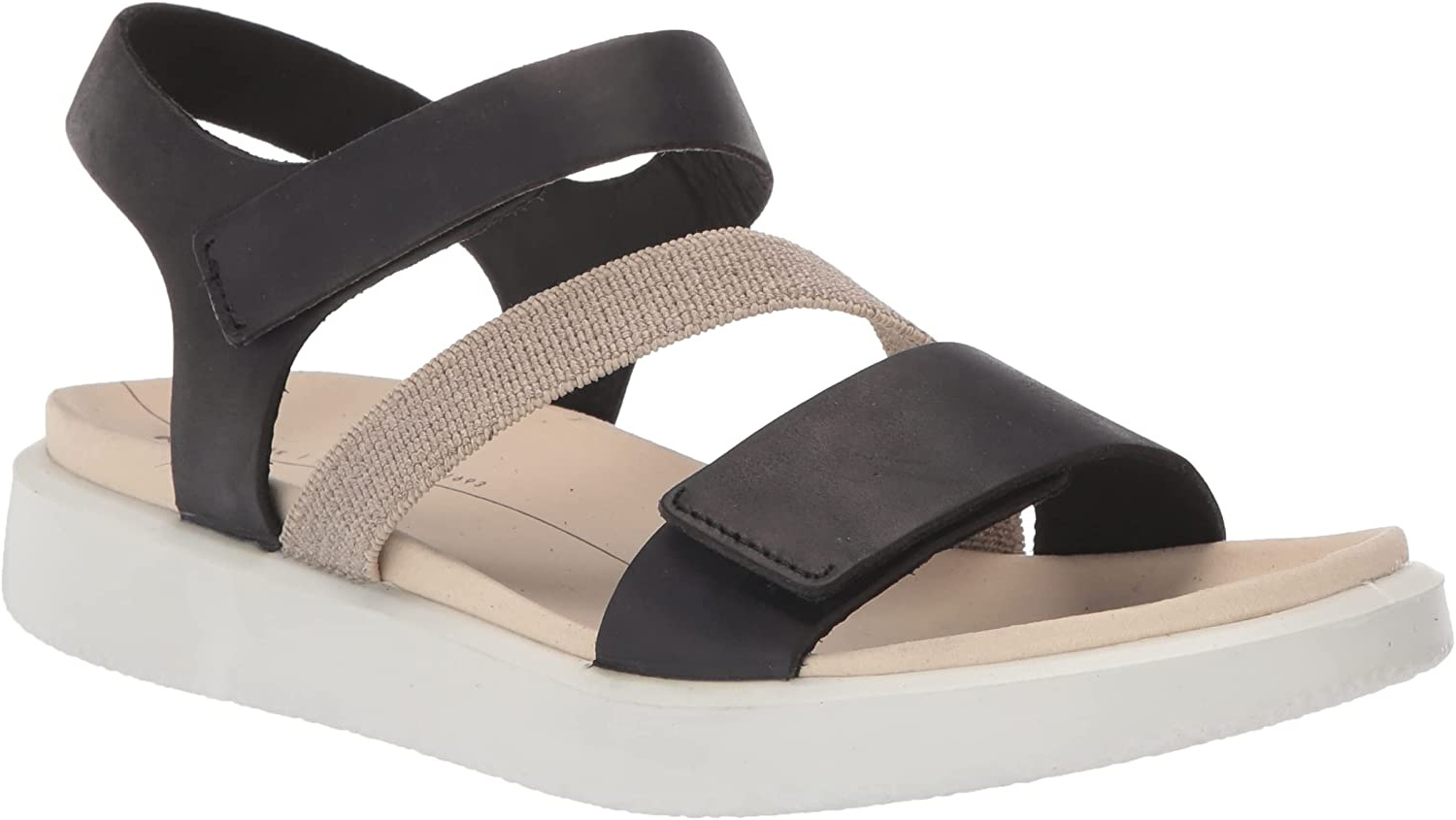 Ecco Women's Flowt 2 Band Sandal
Flowt Sandals
The Flowt is a top selling sandal on the blog! Readers especially love this sandal for Europe because it's chic and simple, and will support your feet while trekking over cobblestones! They have an adjustable leather straps and a microfiber lined insole for a perfectly cozy fit. 
While the original Ecco Flowt is super popular, the Flowt line of shoes has a lot of other sandals and shoes available, including the Ecco Flowt 2, with its contrasting colored band, adjustable strap, and cushioned footbed. So cute!
A reader says, "I've been in Italy and France for three and a half weeks now and worn my Flowt sandals almost every day. I love them! Good support, fit me well, and no rubbing or blisters." 
Check out the entire Ecco Flowt line of shoes!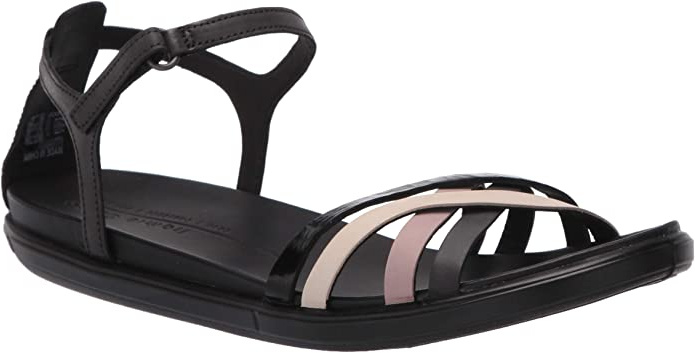 Ecco Women's Simpil Ankle Sandal
Simpil Ankle Sandals
The Simpil sandals are the perfect beach town sandals! This strappy pair comes highly rated for its fun look and incredible comfort. With their anatomically molded footbed, soft and lightweight feel, and cute design, you can stroll around all day in these feeling supported! 
The fit is great for all types of feet, too, as one wearer says, "I have high arches and they give great support. I have a narrow foot and the adjustable strap gives me a good, secure fit. That being said, my friend who has wide feet and bunions bought a second pair also because they're so comfortable for her too!"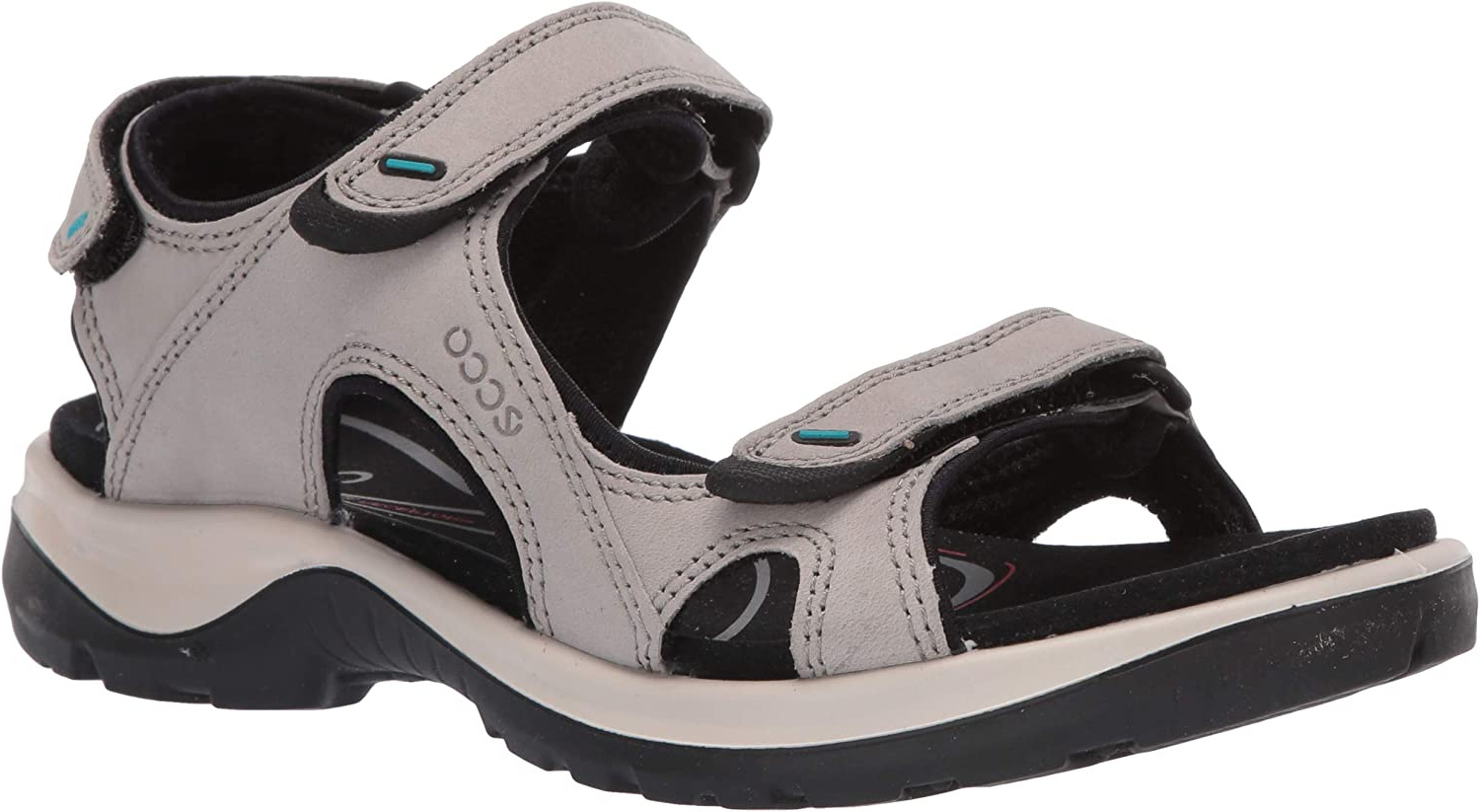 Yucatan Hiking Sandals
A classic hiking sandal, the Yucatan is sturdy, with a rubber sole and stabilizing technology to help you manage rougher terrain. There are a ton of colors to choose from, regardless of your style. So, if you're looking for solid ECCO walking shoes for women and are planning on off-roading with an adventure hike, the Yucatans will hold up for you! 
One TFG reader says, "I love my Yucatans! I have two pairs. I've had my older pair for several years, and they still look good and feel great on my feet. I wore that pair traipsing around London this summer." 
Find out what our readers voted as the best womens outdoors sandals!
Ecco Sneakers Reviews
by Readers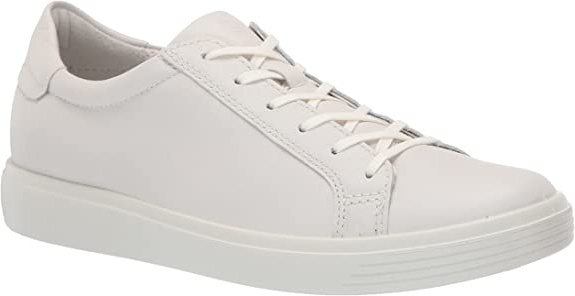 Ecco Women's Soft Classic Sneaker
Soft Classic Sneakers
The Soft Classic is another popular sneaker choice in the Soft line of shoes.  Aside from their cool, classic look that can be paired with pants, shorts, or dresses, these shoes offer tons of comfort, sturdiness, and durability. These are a beloved walking and sightseeing shoe among TFGs! 
One reader gives an impressive review: "I have 2 pairs of Soft 7s (white and the black high tops) and LOVE them! No problems after walking over cobblestones in London, Paris, Rome and eight weeks in Spain and Portugal."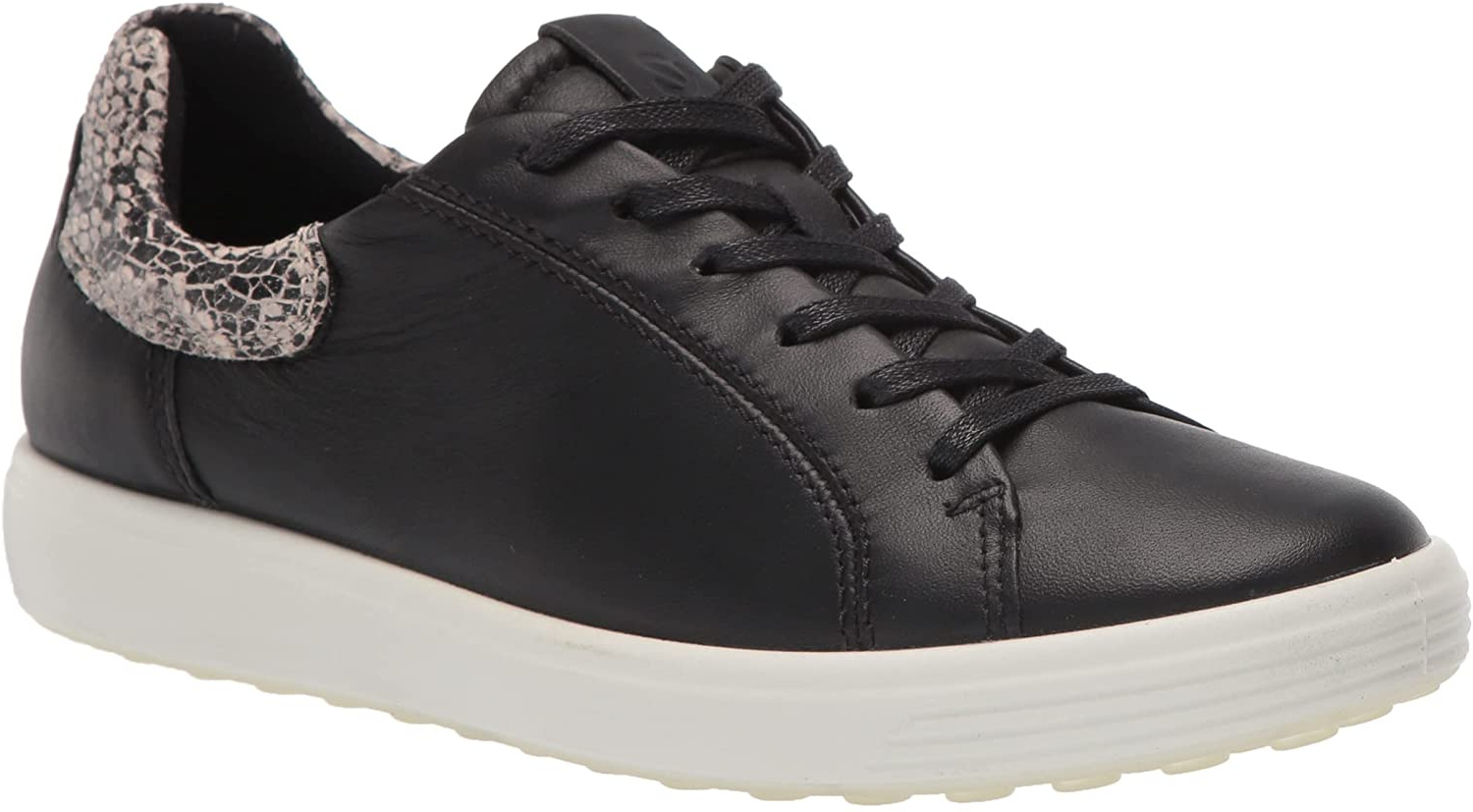 Ecco Women's Soft 7 Street 2.0 Sneaker
Soft 7 Street Sneakers
The Soft 7 Street lace up sneakers will add a bit of an edge to your look, with the classic comfort and support Ecco sneakers are known for. The slightly chunky sole offers comfort and flexibility, and the faux snakeskin trim on the back adds a fun and fashionable element! 
This Ecco fashion sneaker has some amazing reader reviews. One reader shares, "They didn't need breaking in! They are leather, so easy to clean. Great arch support. I have a wider foot as well."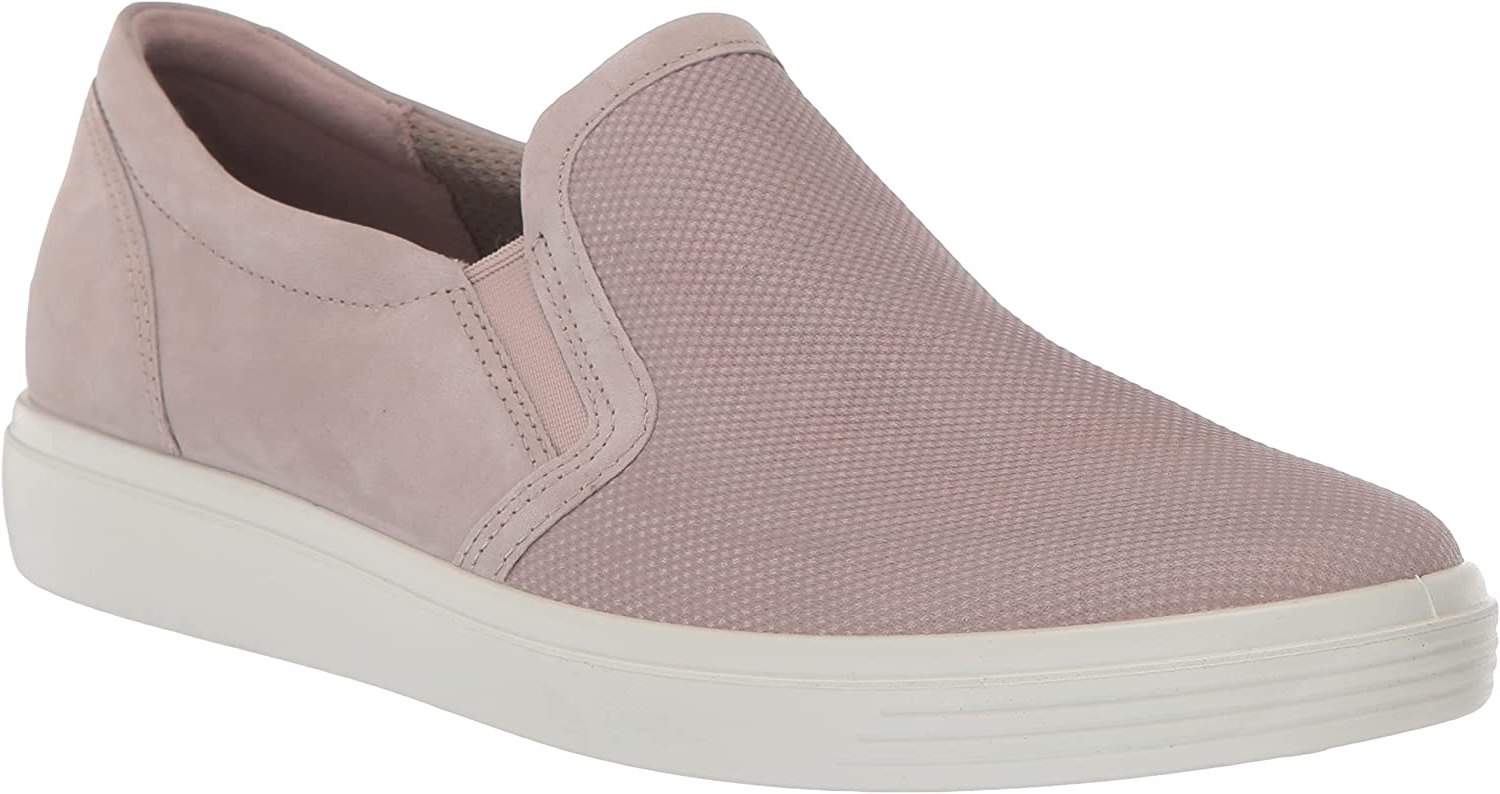 Ecco Women's Soft Classic Slip on Sneaker
Soft Classic Slip On Sneakers
Another beloved pick, the stylish Soft Classic slip on is perfect for airports and sightseeing. Readers have said these shoes feel supple and are uber comfortable.
One reader says, "They have just the right mix of cushion and support, and the upper has some give to it. I was so happy when I found them!"
You can also check out these travel-friendly casual sneakers!
Other
Ecco Shoes Reviews
by Readers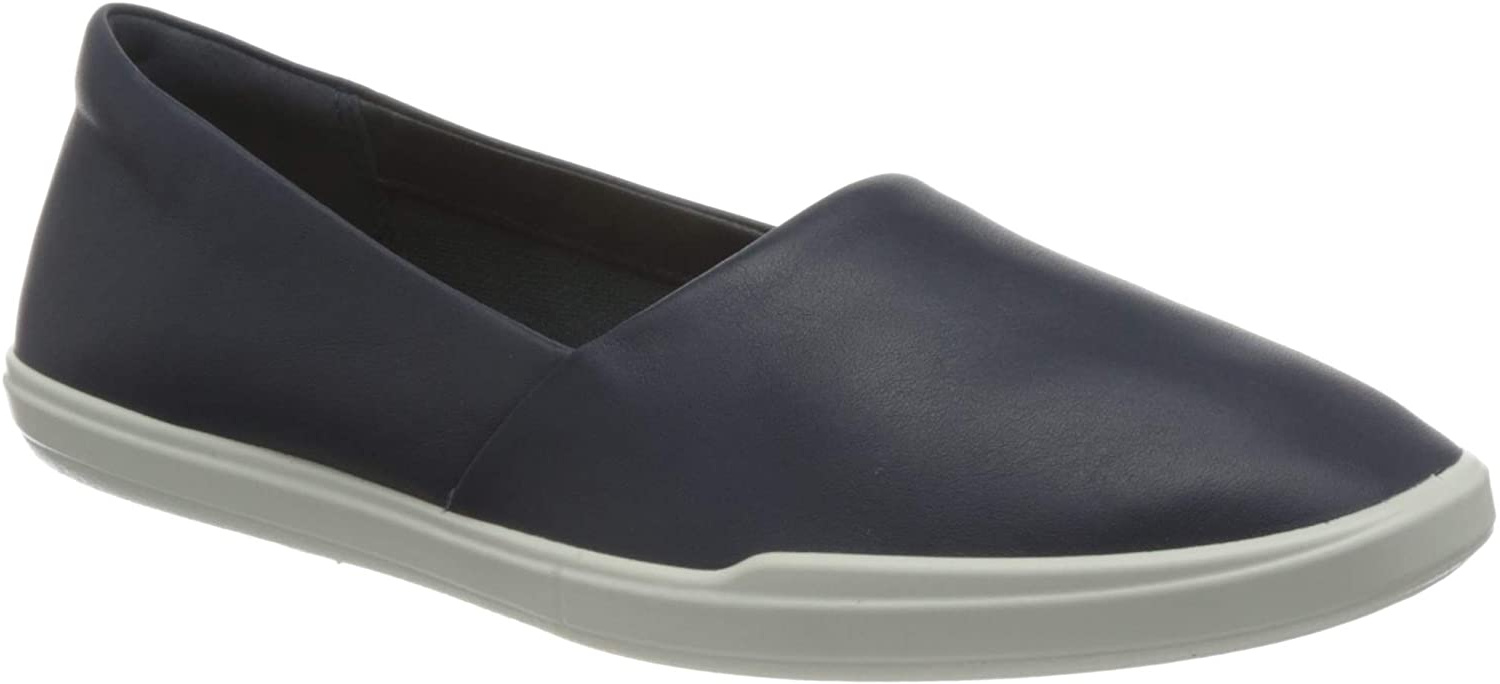 Simpil Leather Loafers
The Simpil loafers are an amazing versatile option for travel, thanks to their sleek design and comfortable footbed. These slip ons are super lightweight and flexible, and are also lined with breathable fabric so your feet won't get too hot! 
One reader says about her Eccos, "They are so comfortable! I can wear them all day and look elegant with a dress or jeans later on."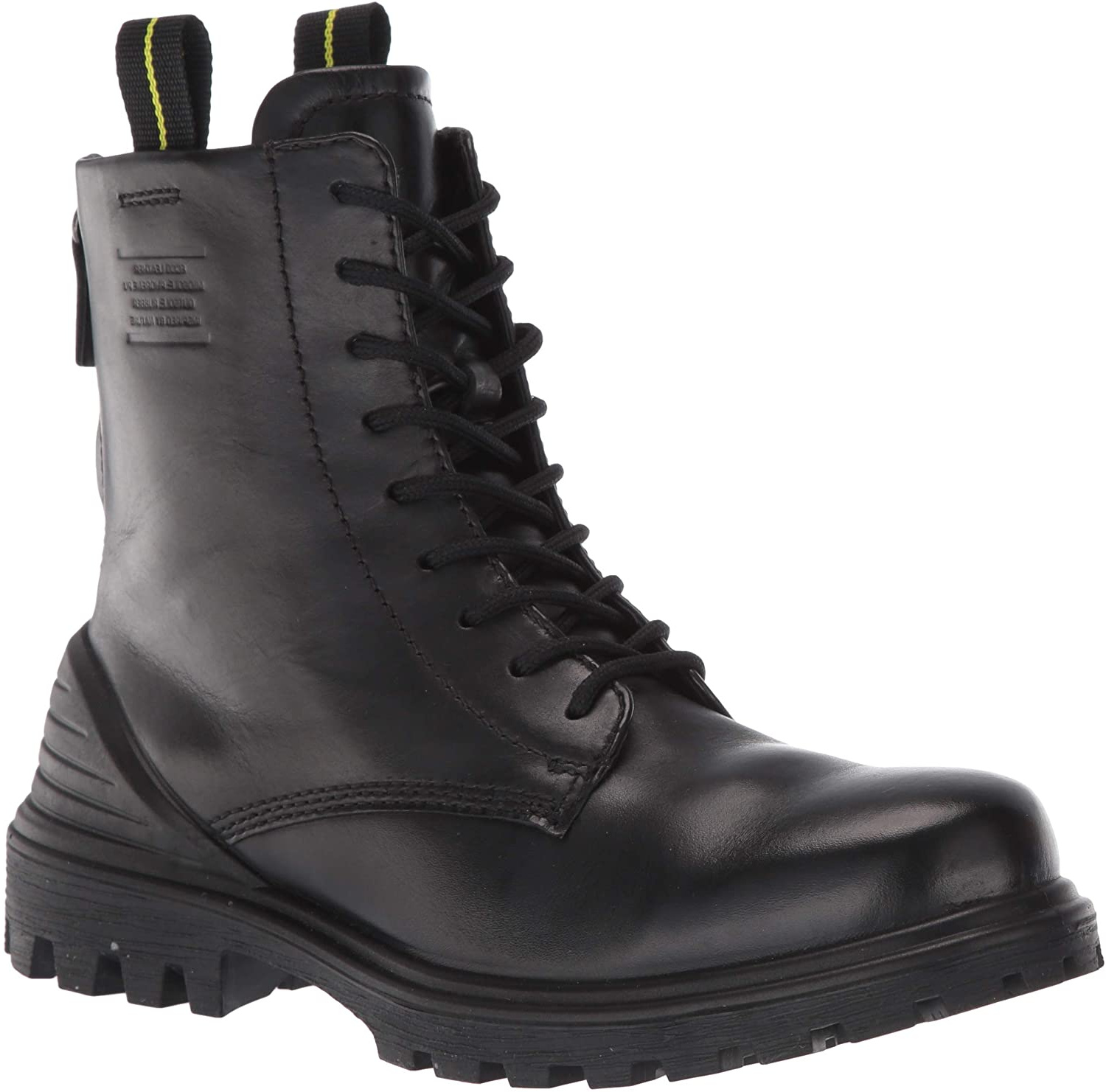 Ecco Women's Tredtray High Cut Boot Fashion
Tredtray Combat Boots
With anatomical support, shock absorption, and a soft and breathable lining, the Tredtray combat boot will keep you super comfy. They're the perfect cozy pair for fall and winter travels, and they'd look amazing with anything from jeans to dresses! 
A reader affirms, "You can't go wrong with Ecco. They are so comfortable to walk in."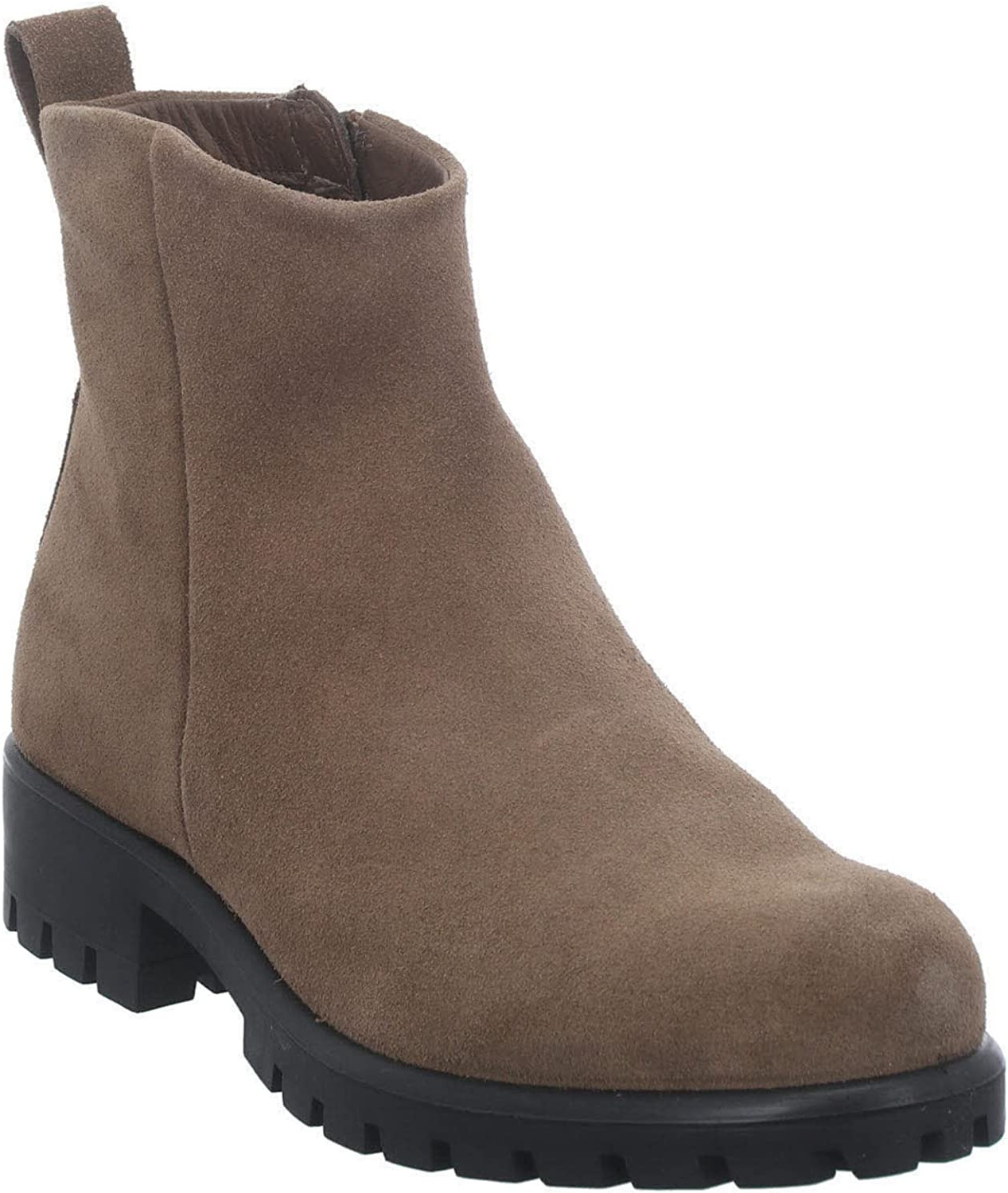 ECCO Modtray Hydromax Ankle Boot
Modtray Hydromax Ankle Boots (Water-Resistant)
The adorable Modtray ankle boot has a trendy, lug sole look that's also super functional for walking around in the rain or on uneven roads. They're lightweight, and readers say they're awesome for walking long distances. Plus, being water-resistant, that makes them perfect for rainy destinations like London! 
One reader shares, "I LOVE my slip on bootie. Wore them all over Paris!!"
Find out how to choose the best walking shoes for Europe!

A different look of the Ecco Flowt Sandals with H&M Jeans and Rebecca Minkoff Crossbody Purse
Where to Buy Ecco Shoes
?
You can shop these reader faves (and tons of other options!) at Amazon. Or, if you want to buy from Ecco direct, go to their website; however, one tip readers suggest is to buy from Amazon as often the prices are a few dollars cheaper.
---
Now it's your turn. Share your Ecco shoes review in the comments below!
---
For more comfortable travel shoes, please read:
---
LIKED THIS POST? PIN THIS PIC TO SAVE IT!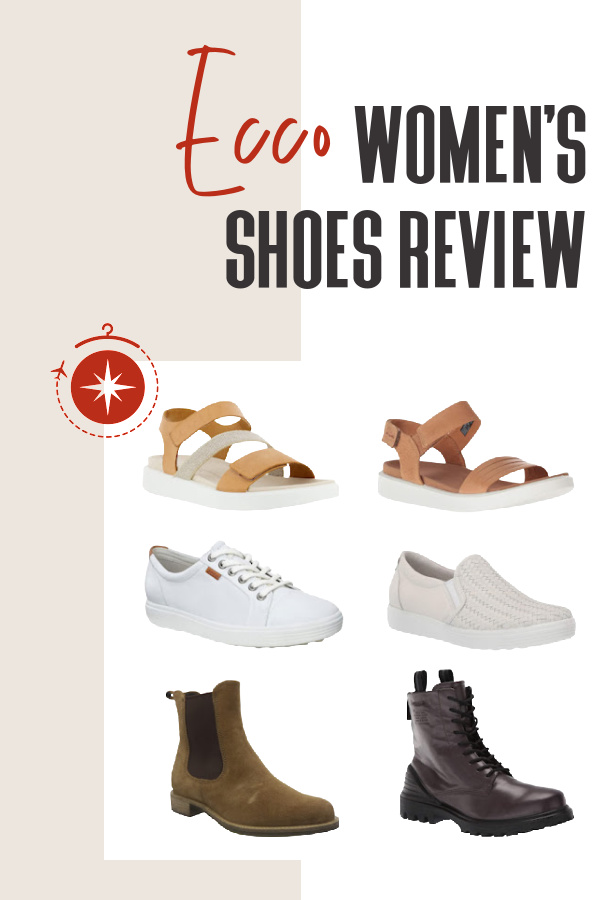 ---
Hope you liked this Ecco shoes review. Share this post with your friends on Facebook, Twitter, and Pinterest. Thanks for reading!
---