Support TFG by using the links in our articles to shop. We receive a small commission (at no extra cost to you) so we can continue to create helpful free content. Thank you, we appreciate it!
After Nikki Landry, our fashion writer, shared this post about Ecco's cute travel sandals I decided to take the plunge and try them out for myself. 
This time, however, I wanted to compare two of Ecco's most popular travel sandals: Flash Huarache vs Damara. Take a look at this Ecco shoes review to find out which style would work best for you!
---
Ecco Shoes Review: Flash Huarache Vs. Damara
---
Table Of Contents
It's important to note that I haven't traveled with the styles mentioned below. I bought both sandals in order to compare style, comfort and overall suitability for my travels.
This review is based on my initial thoughts as I go through the process of assessing the various styles recommended by TFG's readers in this post.
Although I love my current travel sandals, it's time for a change as I've been wearing the same pair for about a year. Because I've been so happy with mine I want to make sure my next pair is just as good.
I'll be sharing my initial review of any sandals I asses in a series of posts and will let you know when I finally choose the winning pair.
In the mean time, these were the results of my initial Ecco shoes review:
ECCO Shoes Review: Flash Huarache
These are the sandals recommended by our fashion writer. Read her full review here as she shares her experience traveling with them for four months in Southeast Asia.
The first thing I noticed when I took the ECCO Flash Huarache sandals out of the box was how incredibly light they are, which, as someone who loves to travel carry-on only, automatically gives them a gold star in my effort to pack light!
One of the best things about this sandal is that they're designed to look like a gladiator shoe, a refreshing style for a "comfort" shoe brand. This gives them a casual, yet bohemian and cool vibe, especially when paired with my Diane Kroe Wanderlust Wrap.
The tan color is great for summer and extremely versatile. From Lisbon to Bangkok, wear it to any destination with a warm climate and it will match with all your clothing.
In terms of comfort, these sandals have a really soft footbed, allowing my foot to sink in while still seemingly providing support.
The sturdy rubber sole also has a good grip, making it excellent for walking on cobblestone streets or loose gravel paths – more common than you might think when you're
exploring beautiful towns all over the world.
The biggest downside to these sandals is the ankle straps. If you're traveling to Asia where you'll need to remove your shoes frequently in temples or even having to go through airport security, the annoyance of having to constantly undo the buckle to remove the sandals can be a pain for some travelers.
However, the ankle strap is also a positive because it's strong and secure providing additional support when you're walking, preventing you from slipping. If shoe removal wouldn't be too inconvenient for you, then the pros would outweigh the cons.
Flash Huarache Ecco shoes review final thoughts: Their gladiator style is definitely a major plus for female travelers that want a comfort shoe they won't feel embarrassed to wear. They seem to provide comfort and support without having the appearance of an outdoor sandal. Buy them here!
ECCO Shoes Review: Damara
The first thing I noticed about the ECCO Damara Sandal was the minimalist look that mimicked many chic sandals currently available.
I immediately tried these shoes on with my black Anatomie Skylers and a dressy blouse and found I had the perfect outfit for a trip to Europe.
I like the solid black color because they are simple and don't stand out making them an easy to wear option with any outfit. They don't scream "comfort shoe".
They are available in a range of colors, including metallic, which could dress up an outfit for a seaside trip if you wanted something to add a little more vibrance to your vacation wardrobe.
These sandals have slightly more padding than the Huaraches, with a bit more support in the heel and the arch. Comfort is always an important consideration when choosing travel shoes.
The Damara sandals also have more grooves in the sole, giving them more security and structure when walking around on cobblestone streets or uneven paths.
Finally, while the Flash Huarache straps have a buckle, the Damaras have a Velcro strap, making them super easy to take on and off when visiting airports or temples.
Damara Ecco shoes review final thoughts: With a minimalist look, soft padded footbed, and easy removal they are a great option to consider if you want low maintenance travel footwear with a classic design. Buy them here!
Winner
At this time, this Ecco shoes review for the Flash Huarache vs Damara sandals remains inconclusive for my personal use. I ordered both pairs of shoes online in a size seven but it seems they run big.
The Damara, in particular, looked at least two sizes too long. The images above show my sister-in-law and I both trying on the shoes but we pushed our feet forward so we could have a better idea of what they would look like if they fit us in length.
She and I are both size seven and they looked completely different on each of us. We liked the way the Damara looked more on my feet and preferred the Flash Huarache on hers.
I would recommend trying on both styles because they are very different and the deciding factor would be based on the style of the rest of your clothing.
Our results also varied greatly based on our skin tones, foot structure (width, length), and personal preference. I'll try again and order smaller sizes when I get back in the US to give you an update.
For overall feedback, in terms of comfort and support the Damara wins hands down as the extra arch support and good grip make them a great shoe for travel. The velcro strap is also a winner as it makes them an easier sandal to handle.
On the other hand, the gladiator look of the Flash Huarache is cuter and makes a comfort shoe look more fashion forward. This shoe is a winner in terms of packing light, as the Damara is just slightly heavier.
Ultimately, if the shoes were to fit me properly, I'd go for the Damara paired with a classic, minimalist wardrobe and the Flash Huarache with a boho, chic style.
---
Now it's your turn. Share your Ecco shoes review in the comments below!
---
Fore more ideas on travel shoes, please read:
---
LIKED THIS POST? PIN THIS PIC TO SAVE IT!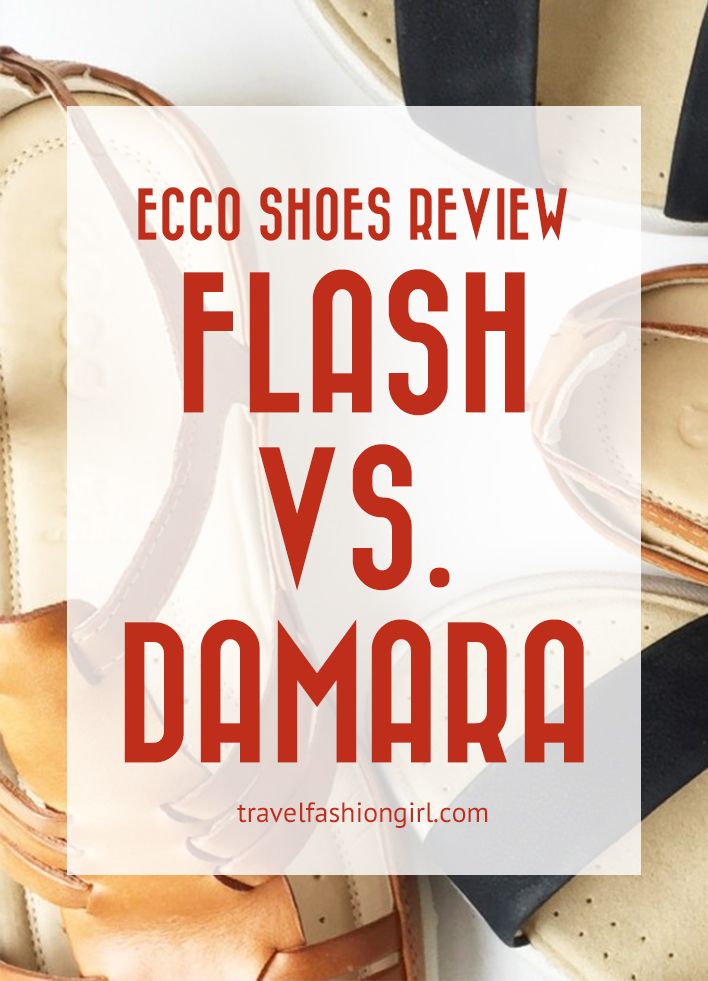 ---
Hope you liked this Ecco shoes review. Share this post with your friends on Facebook, Twitter and Pinterest. Thanks for reading!
---