Support TFG by using the links in our articles to shop. We receive a small commission (at no extra cost to you) so we can continue to create helpful free content. As an Amazon Associate, we earn from qualifying purchases made on Amazon in addition to other retailers featured on the blog. Thank you, we appreciate your support!
White is one of our favorite summer colors! Find out how to wear white clothes on vacation plus what to wear underneath!
---
How to Wear White Clothes
---
Table Of Contents
White clothing creates a fresh and chic summer wardrobe. It's the perfect neutral to replace the usual all-black outfits in a basic travel wardrobe. Replace your black clothing items for white instead!
White pants and shorts look particularly attractive by the seaside and summer dresses can easily transition in between seasons.
The most important thing to keep in mind when determining how to wear white clothes on vacation is to choose the right undergarments! Always choose nude (or the color closest to your skin tone).
For a range of "nude" colors to blend in with a variety of skin tones, we recommend the Skims brand at Nordstrom!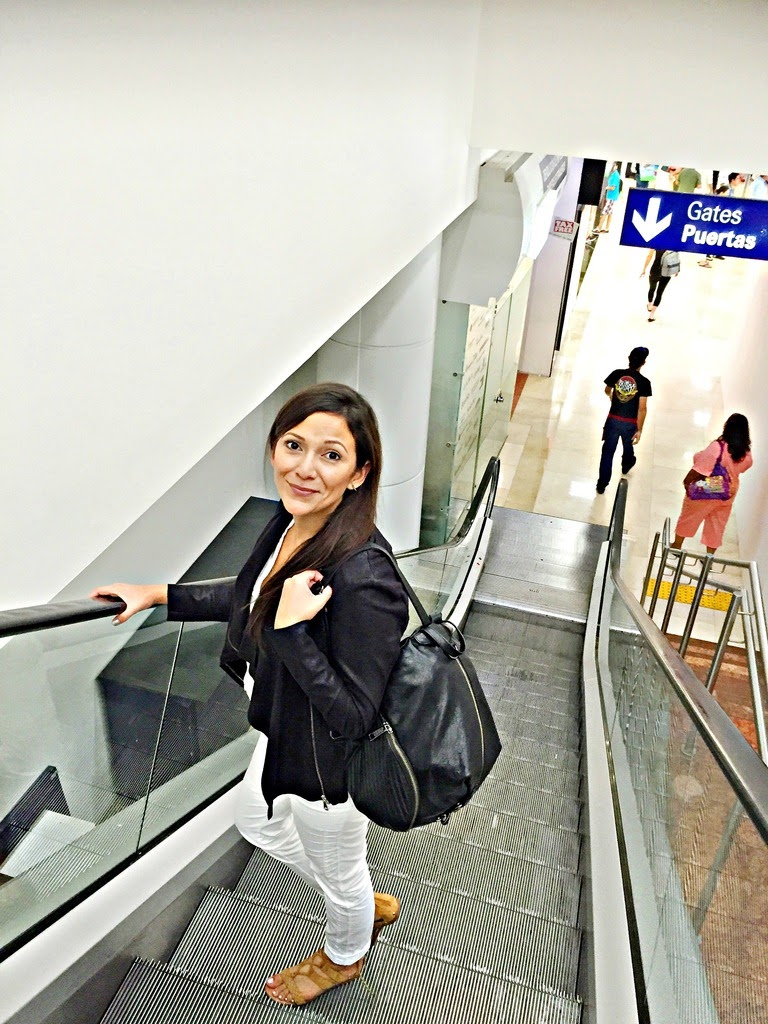 Wearing Sandals, Zara Jacket, Rebecca Minkoff Backpack
I wore nude long shorts like these underneath for smoothing results that avoided panty lines while concealing any embarrassing ripple effects!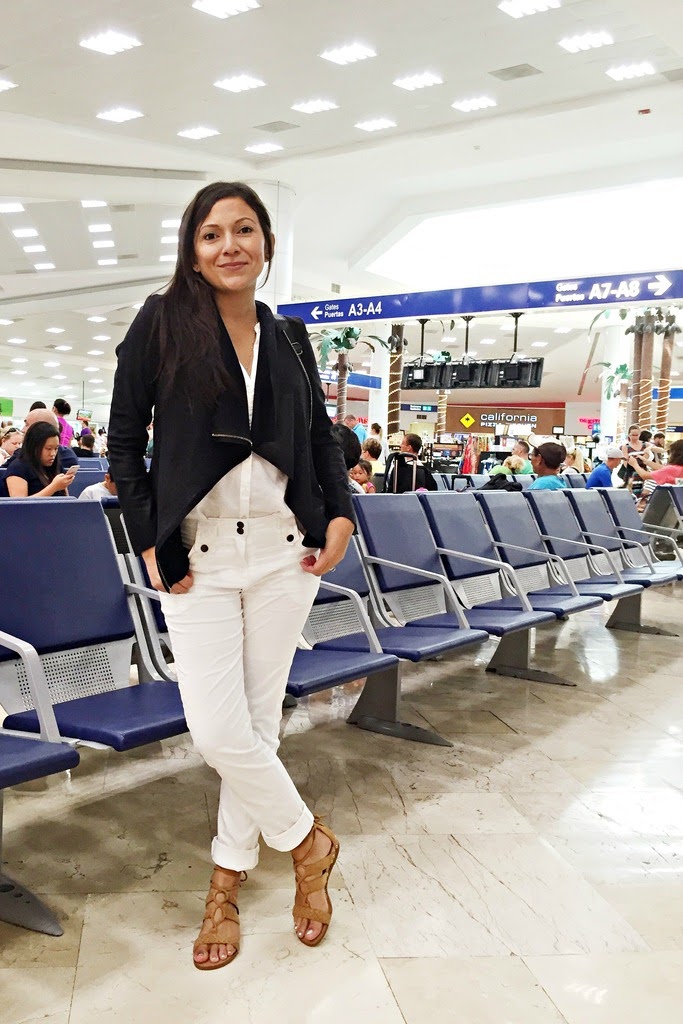 Let's look at how to wear white clothes plus the right undergarments to wear with them: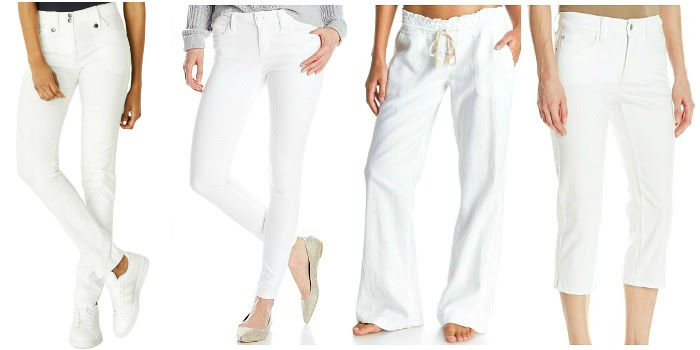 Joes Jeans Ankle Jean | Roxy Linen Pant | NYDJ Cropped Pant
White Pants
Swap your basic black pants for chic white trousers this summer! Go for a white linen pant on the beach, cropped skinny jean in the city, or slim classic trouser on a plane.
Wear with pretty ballet flats in light colors or metallic sandals. Neutral shoe colors such as tan leather are always a winner!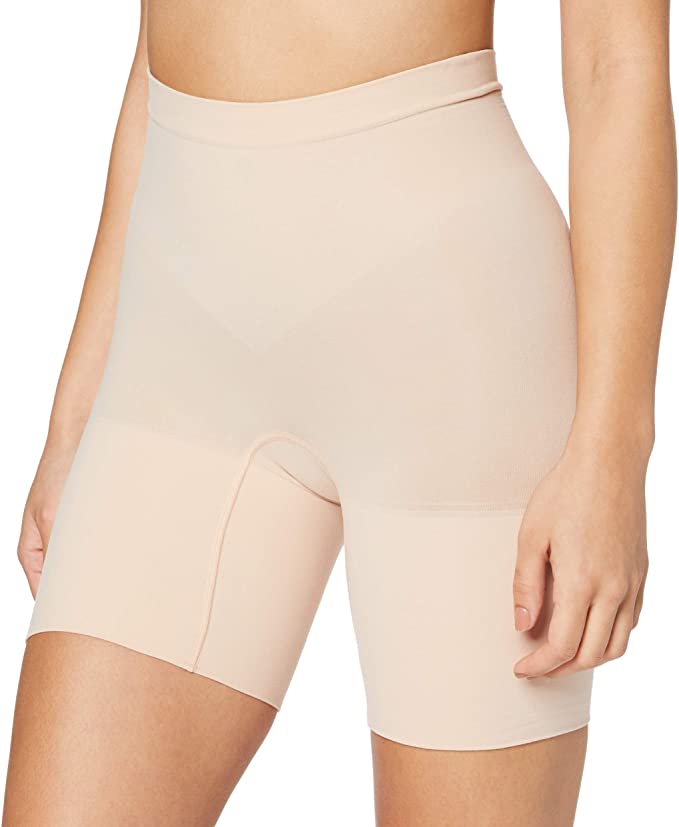 How to Wear White Pants: Undergarments
Opt for long nude shorts, boyshorts, or seamless thong (only under thick jeans).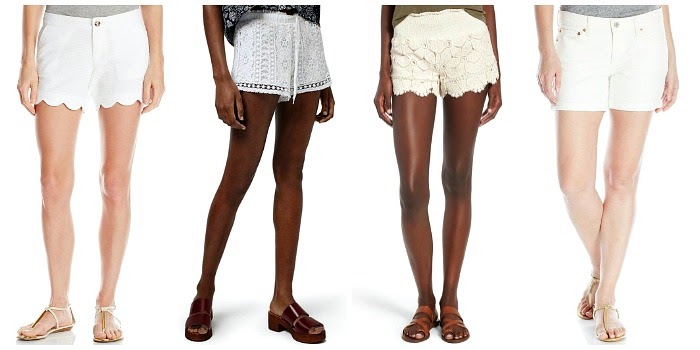 Buttercup Shorts | Floral Crochet Shorts | Lace Shorts | Denim Shorts
White Shorts
Like the pants shown above, white shorts gives you a bright, fun wardrobe update. Choose a dressy, thick fabric for city travel, lace or crochet culottes for a resort, and classic denim for beaches.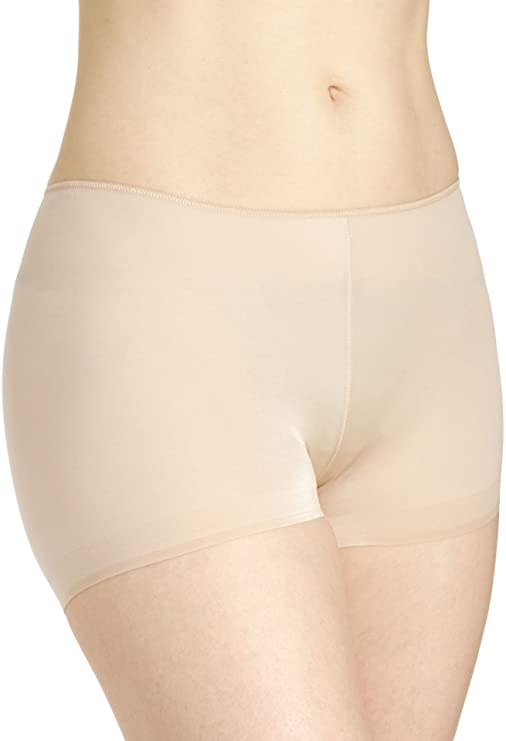 How to Wear White Shorts: Undergarments
Choose undergarments similar to those shown in the pants section above. Microfiber or nylon fabrics offer a smooth look under your clothing. Opt for an underwear type based on the length of your shorts and personal preference.

Sleeveless Shirt | Long Sleeve Button-up | Plus Jersey & Linen Top | Peasant Top
White Tops
A sleeveless white button up top is the perfect summer version of a classic long sleeve shirt. Wear this with everything even layered over dresses or other tops for varied looks!
Linen, 100% cotton, and rayon are the best fabrics for white tops (and dresses) in hot weather. They're also the easiest wash and tend to retain stains less than thicker fabrics like modal or knits.
Stay cool in the summer weather in these linen shirts!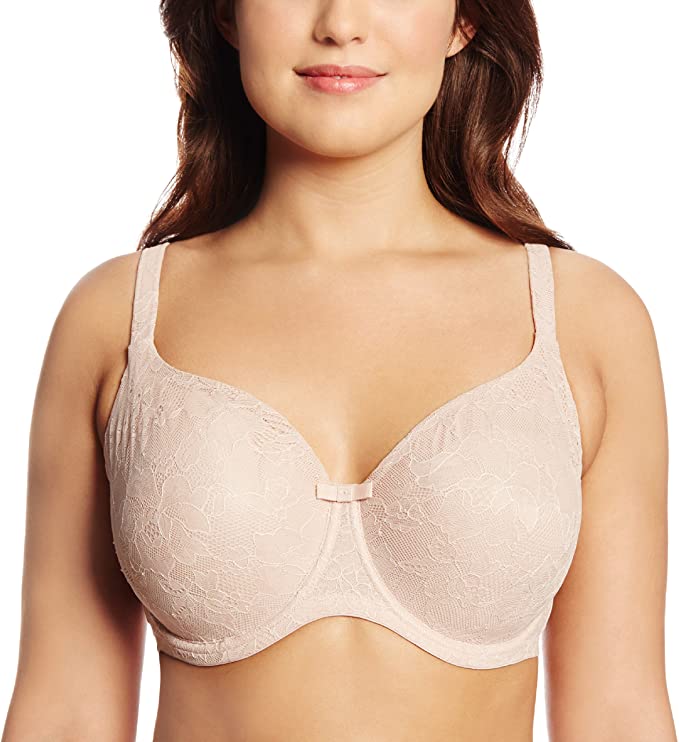 Sculptresse by Panache T-Shirt Bra
How to Wear White Tops: Undergarments
You might want to wear a white camisole top underneath but I'd recommend skipping the cami and just wearing a nude NOT WHITE bra. If you wear a bra the color closest to your skin tone, it will just blend in with the rest of your upper body.
Tip: you can wear a nude color bra under all colors even black! It's the most versatile color. Learn more here!
If you feel more comfortable wearing a cami, opt for an ultra-lightweight style like this bra-friendly cami by Adea! I love it!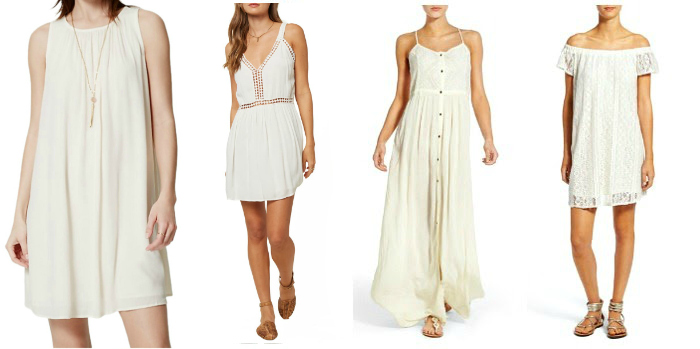 Trapeze Dress | Tank Dress | Maxi Cover-Up | Off the Shoulder Shift
White Dresses
Nothing says summer like a lovely white sundress! The best part is they're super versatile and certain style can be worn in spring and fall when styled accordingly.
Add tights, boots, and a knit sweater for a romantic look you can wear in transitional seasons or to transform a summer outfit into one more appropriate for a colder destination.
Stay looking effortless cool in these white dresses that never go out of style!
In the summer wear them with anything from pretty flip flops on the sand, sparkly sandals in a resort, cute sneakers in the city, and ankle boots for a festival.
Liven up your summer wardrobe with these white sandals!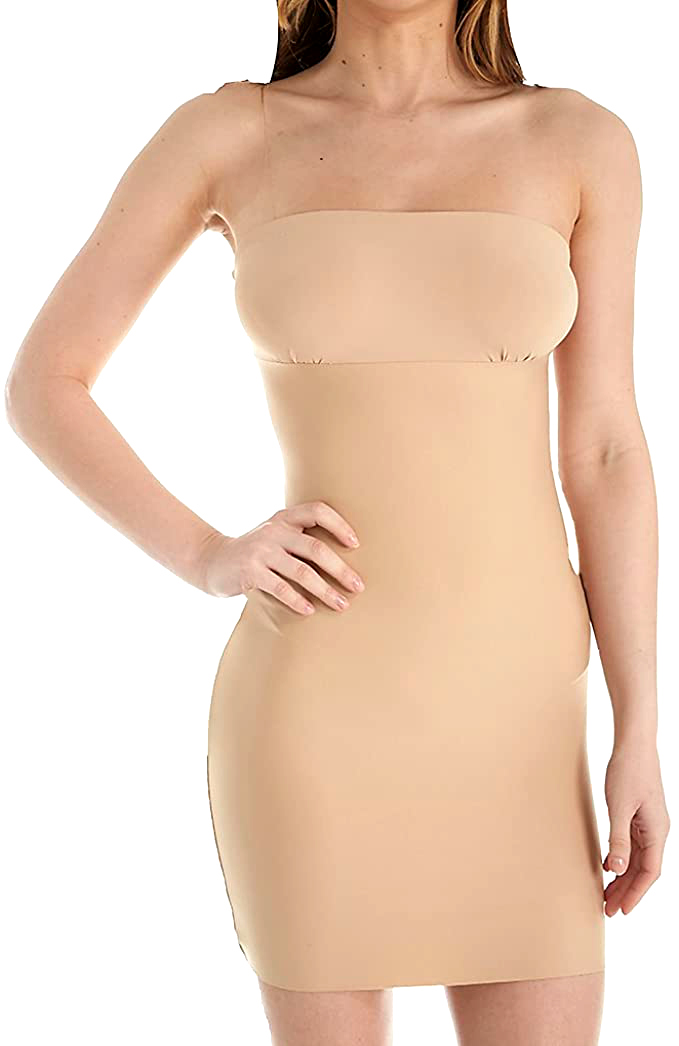 How to Wear White Dresses: Undergarments
Depending on the dress, a strapless nude bra plus nude boy shorts would suffice. However, you can also choose full body coverage with a nude body smoother or flirty layered slip dress.
These linen dresses make the perfect outfit to keep you looking cool on vacation!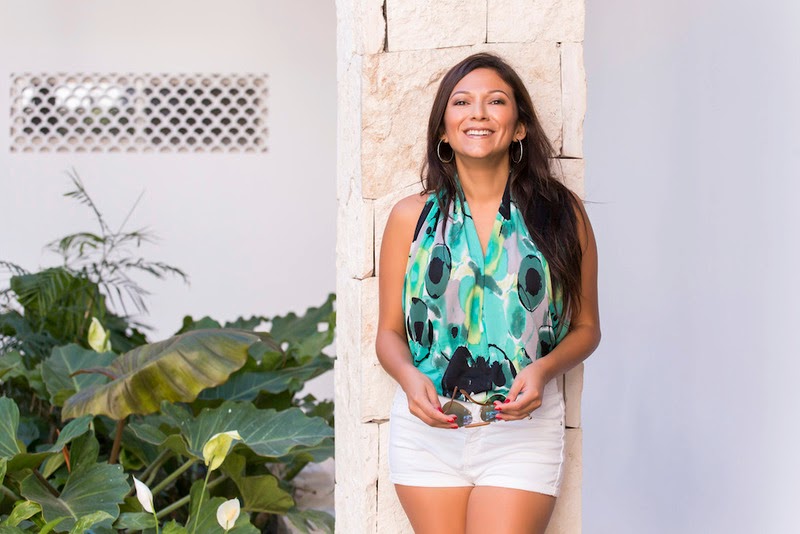 Wearing white H&M shorts and Diane Kroe Endless
Afraid to travel with white clothing? Here are a few tips:
If the thought of spills and stains scares you, ask yourself: do I usually stain my clothing? If you answered yes then opt for summer prints instead. If you don't typically stain your clothing, then traveling with white clothing shouldn't be any different!
Don't travel with just one piece, travel with several. I like having several light colors that I can wash together in one laundry load when I'm on the go. Air dry in the sun for a natural lightening effect!
---
Do you have any tips on how to wear white clothes on vacation? Please comment below!
---
For more ideas on travel fashion, please read:
---
LIKED THIS POST? PIN THIS PIC TO SAVE IT!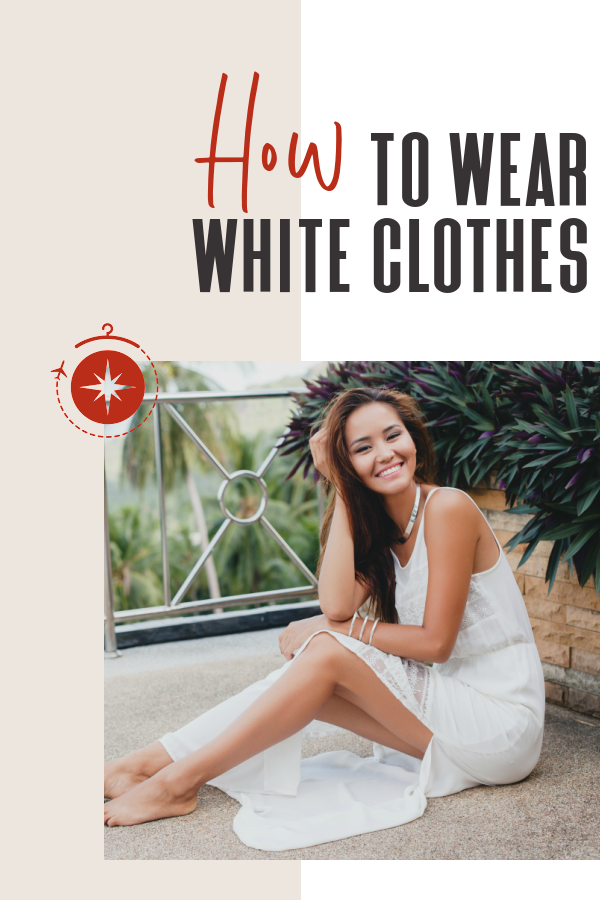 ---
We hope you liked this post on how to wear white clothes on vacation. Please share with your friends on Facebook, Twitter, and Pinterest. Thanks for reading!
---