Support TFG by using the links in our articles to shop. We receive a small commission (at no extra cost to you) so we can continue to create helpful free content. We earn from qualifying purchases made to the featured retailers. Thank you, we appreciate your support!
TFG readers love Aerosoles Conchlusion Gladiator sandals and Aerosoles shoes in general. They love these sandals so much that I had to get them myself to test them out too—find out more in this review!
---
Aerosoles Conchlusion Gladiator Sandals Review
---
Table Of Contents
Aerosole womens shoes are a timeless brand and have been around forever. They're known for their comfort, their durability. And in addition to that, they're also price-friendly as well—at only around $51. 
So when readers kept raving about the Aerosoles Conchlusion Gladiator sandals, I had to get them myself to test them out too. The verdict? With good foot support and a variety of colors, it's a stylish, yet comfy summer choice.
Find out more about these Aerosole sandals in my review below!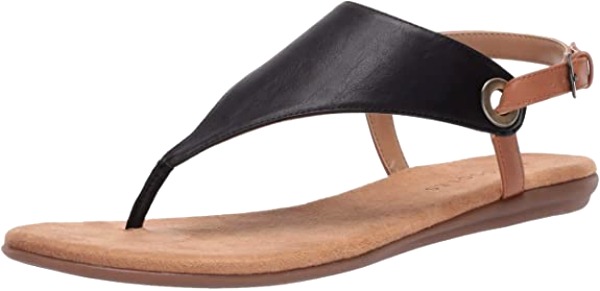 Aerosoles Black Sandals – Conchlusion Gladiator
Aerosoles Gladiator Sandals
Specs
Brand and Style: Aerosoles Conchlusion Gladiator sandals; ankle strap, thong style, with silver metal ornamental details. Has a soft rolled toe band to help against abrasion between the toes. Has a unique "diamond" flex sole to disburse friction when walking.
Material: Synthetic upper with a memory foam footbed. 
Colors: Comes in numerous modern colors such as black, red, metallic, tan, and even in snake print (in various shades).
Travel Type: Good for traveling through airports and light sightseeing activities in a European city, or any city destination in spring and summer! They do have some foot support but are not recommended for women with specific foot problems, or long bouts of walking.
Find out the best sandals for travel this summer!
Aerosoles Conchlusion Gladiator Sandals Features

Aerosoles Tan Sandals – Conchlusion Gladiator 
Comfortable
These Aerosoles flat sandals have an ultra-soft footbed. It feels like a little cushion when you're walking, so they're extremely comfortable. The soles are rubber which helps obviously to have a secure grip when you're walking. 
In addition to that, they have slight arch support. So if you need something more sturdy, like if you have back issues or if you have foot issues, then I'd recommend something with a little bit more arch support, like the Naot Sabrina sandals, which I talk about in a different review. But if you need moderate to minimal support, the Aerosoles Conchlusion Gladiators are fantastic!
One TFG reader shares her experience, "I wore these shoes (in black) all day… hit about seven miles in them during a trip and my feet don't hurt at all!"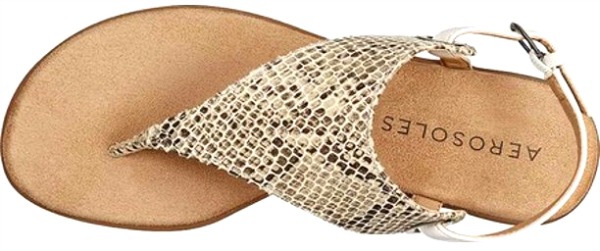 Aerosoles Tan Leather Snake Sandals – Conchlusion Gladiator
Styling
They're available in a wide variety of colors and styles, but I like the tan leather snake. That's my favorite one because it's a neutral, it's got black, but it also adds a little bit of fun to the shoe. 
I generally wear a lot of black but this one lets me play a bit. I've worn this with denim shorts, my fave Zella leggings, and another fave of mine, the Leith dress. I often wear fairly classic silhouettes but add statement pieces like earrings or a necklace.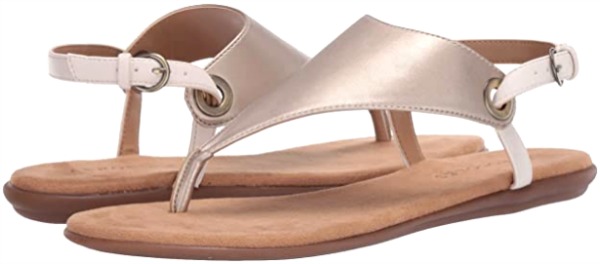 Aerosoles Gold Sandals – Conchlusion Gladiator
The sandals also have silver hardware on the side and I really like those little details which is awesome from a comfort shoe brand. Comfort does not have to be hideous! You can find a great balance between comfort and fashion if you just take a little bit of time to search.
One reader shares her thoughts on styling these. "I bought the Aerosoles Conchlusion sandals tan color for my first trip to Europe. They went with everything! My plane outfit was a sundress with a shawl which I ended up wearing to so many sites without a problem."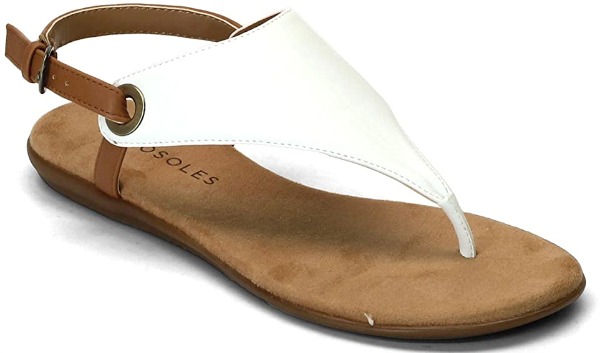 Aerosoles White Sandals – Conchlusion Gladiator 
Versatility
These Aerosoles thong sandals can really act as a neutral shoe because so many of the available colors such as metallic, tan, black, navy, snake print, and so on would be able to match with a variety of travel outfits. 
A lot of wearers feel the same, with one saying, "It's a great fit and comfortable for daily activities. Looks nice with all types of clothing."
And one user dons them in daily life, saying, "Love these sandals. My second time buying the Aerosoles shoes sandals and this time I got a new color (black). Comfiest flat sandals I've found. I can work a whole day as a hairdresser and my feet feel great."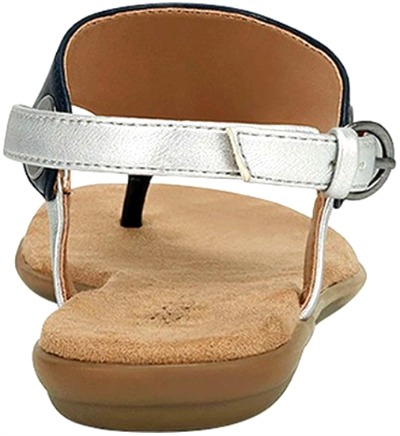 Aerosoles Navy Blue Sandals – Conchlusion Gladiator 
Fit
Most readers feel the Aerosoles women's Conchlusion Gladiator sandal fits well, and since they come in half sizes they can accommodate different foot sizes. 
They have an adjustable strap, so you can secure them around your ankle, ensuring that you have the support and fit that you need. 
Though some wearers say they had to adjust sizes due to wider feet. One says, " I'm usually a size 8-8 1/2, but I find a 9 fits perfect because I need the extra width."
Overall though, sizing doesn't seem to be an issue for most women and one user describes these as "true to size," which makes readers love these even more!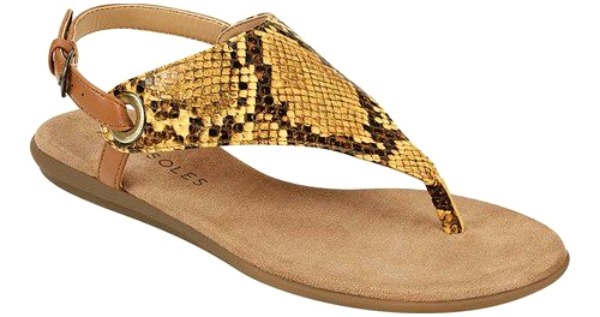 Aerosoles Yellow Snake Sandals – Conchlusion Gladiator
Pros
Readers LOVE Aerosoles sandals Conchlusion Gladiators for their comfort, style, and versatility. They come in a variety of colors and a cute snake pattern that can match with different travel outfits—day to evening! 
The memory foam footbed has cushion and the rubber sole provides stability and some protection between your feet and the ground allowing you to maneuver through different surfaces with ease. 
Price is also a huge positive factor, as these sandals are not expensive at only $51—they won't break the bank! 
One fan sums it up, "Great price! I got the snake print and they are cute and comfortable sandals. I love Aerosoles womens sandals and buy a pair every year."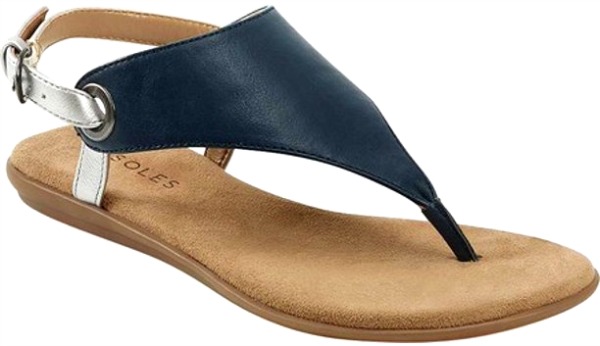 Aerosoles Navy Sandals – Conchlusion Gladiator
Cons
Though a lot of wearers say the Conchlusion Aerosoles for women are comfortable, many do feel these are not suitable for long bouts of walking. 
One wearer says, "These sandals are adorable. They look great and match everything but offer no support. I thought with the Aerosoles name they would be more comfortable."
Another user felt the Gladiator Aerosoles sandals are not as durable as other types, having experienced some issues. "These are some of my favorite sandals. Super cute and comfortable. But they scuff easily on the front if you have a misstep on concrete while walking. I wish there was an added protective piece around the toe to prevent this damage."
Given some of these negatives, even the buyers who had issues still have positive things to say about these sandals. Overall, it's recommended to purchase them from a retailer that has a good return policy, try them out, and be aware they may not offer full foot support for specific problems.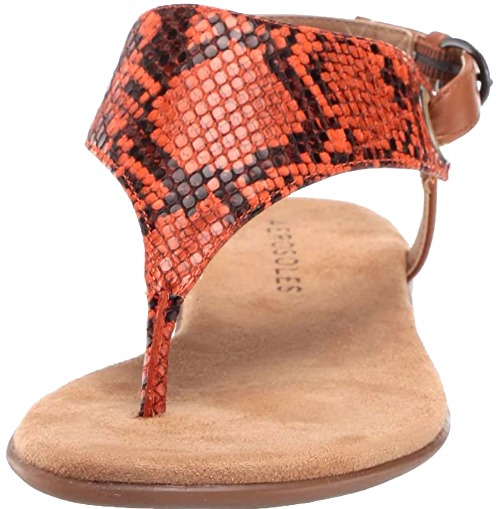 Aerosoles Orange Snake Sandals – Conchlusion Gladiator
Verdict
I'm really happy with the Aerosoles Gladiator sandals. They're cute and they're comfortable; I'm SO glad the Travel Fashion Girl readers recommended these!
I especially love them because they're affordable and you can buy them online and also in stores, look for an Aerosoles shoe sale, or find them at discount stores in the US as well, and get them at a super price! 
Overall, fit, comfort, styling, and price get high marks from readers. Although some feel these are not supportive enough for walking a long time or can't support specific foot issues, they could work for short bouts and as a good beachside shoe since they're synthetic and won't get too affected in the heat and humidity. 
One user can't get enough of her Aerosoles ladies shoes. "These are the absolute best sandals for casual dress, more formal occasions, and are SO comfortable! I have them in several different colors. I also get SO many compliments on them." Try them out and see for yourself!
 Here are the most comfortable walking sandals!
Video:
Aerosoles Conchlusion Gladiator Sandals Review
I did a video review on why the Aerosoles Conchlusion sandals are not only comfy but a stylish choice for travel shoes!
Take a look at these beach sandals our readers rave about!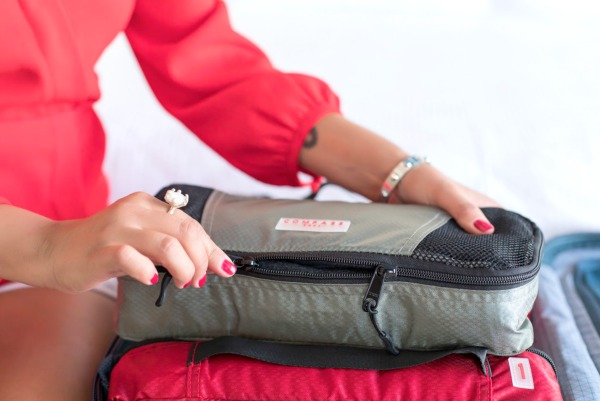 How to Pack Your Sandals
Maybe you want to pack your sandals after wearing them on the plane or choose to wear a different pair home, start by selecting a container such as a shoe bag or a packing cube, then pack according to your type of luggage. See more in the video below.
Watch this video to start learning how to organize with packing cubes!
Whether you have a front loading or top loading backpack, it's crucial to put your shoes first, at the bottom. If you're planning to pack shoes in a rolling carry-on, remember that it stands sideways, so it's important to note how it functions when it is upright. Most often, your shoes will need to be packed close to the wheels, so that the luggage maintains its balance in transit.
Check out our top vacation picks for cute summer sandals for women!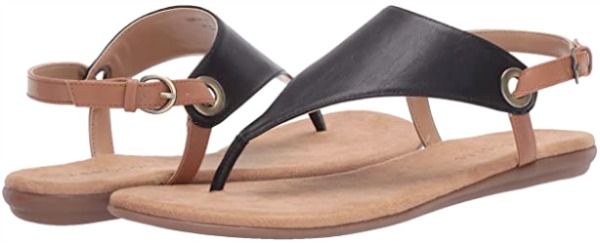 Aerosoles Black Flat Sandals – Conchlusion Gladiator 
Where to Buy
Aerosoles Conchlusion Gladiator
Sandals
You can buy Aerosoles Conchlusion Gladiators at these retailers: Amazon, Aerosoles, Macy's, Kohl's, and DSW. Though these aren't very expensive, you could try to grab an Aerosoles sandals sale!
---
What has been your experience with Aerosoles Conchlusion Gladiator sandals? Share your review of these shoes in the comments below!
---
For more travel sandals, please read:
---
LIKE THIS POST? PIN THIS PIC TO SAVE IT!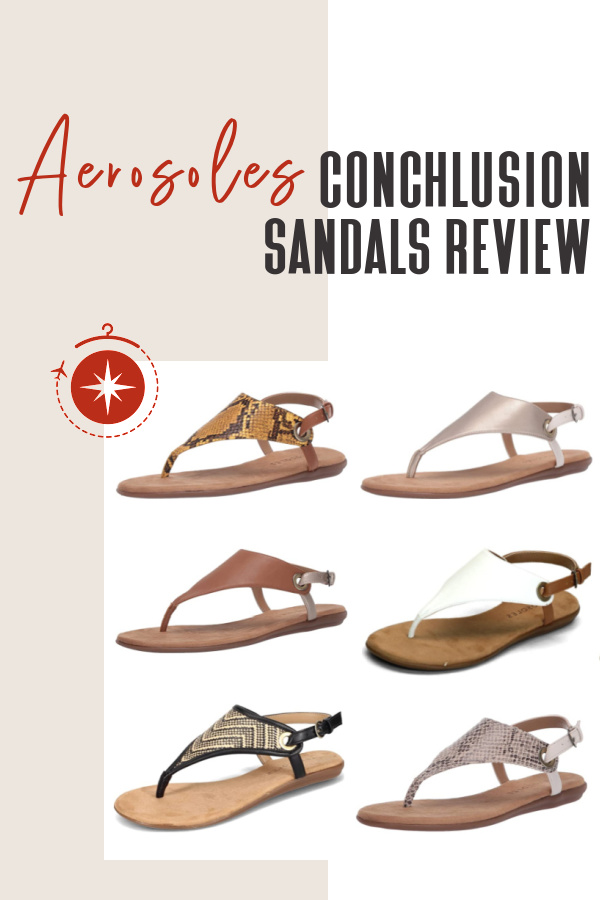 ---
We hope you found this review on Aerosoles sandals helpful. Please share with your friends on Facebook, Twitter, and Pinterest. Thanks for reading!
---