Support TFG by using the links in our articles to shop. We receive a small commission (at no extra cost to you) so we can continue to create helpful free content. As an Amazon Associate, we earn from qualifying purchases made on Amazon in addition to other retailers featured on the blog. Thank you, we appreciate your support!
This Local's Approved Packing List is brought to you by TFG's own fashion blogger Cailyn Cox who is originally from South Africa. Read on as she gives you her Cape Town fashion tips to help you plan what to wear in South Africa.
---
What to Wear in South Africa: Cape Town Fashion
by Cailyn Cox
---
Cape Town is a city that has it all, glorious beaches, beautiful winelands and a vibrant nightlife. Known as the mother city of South Africa, Cape Town is a warm, energetic place that consists of trendy artistic and model types. There is no better city for fashion, culture, beauty and maybe even weather as the city enjoys a Mediterranean climate, with clearly defined wet winters and dry summers.
The quandary for every woman is what to wear in South Africa? If you want to blend in with the beautiful people, follow these Cape Town fashion tips when you choose your essential holiday items.
Cape Town Travel Essentials
 Sunglasses – it is important that you bring eyewear protection as you don't want the African sun to burn to leave you squinting and unable to enjoy the sunshine.
A pair of black skinny jeans– these will ensure you are both comfortable and stylish. Read about choosing the best jeans for travel.
A crossbody bag – to keep your basics on you at all times, the design gives you more security from possibly prying eyes or hands, you don't want to lose your stuff whilst on holiday and this bag allows you to only bring your essentials out with you, and gives you added security. Check out TFG's top cross body purse picks.
Walking shoes – whether it be in the markets, the wine route, hiking up lions head- you need appropriate shoes. There will never be a time when there isn't something to do, and you don't want to miss out because a poor choice in footwear are holding you back. Here are some tips on how to choose travel shoes.
Lip balm – you don't want your lips to be chaffed and the hot dry climate can cause that if your skin is not used to the climate change
Tip: The secret to traveling light is to create a capsule travel wardrobe which can easily fit into a carryon suitcase with the help of packing cubes!   
Cape Town Shopping
Cape Town is filled with many upmarket shopping malls that include the V&A Waterfront which stocks high-end fashion labels, however if that's not what you're after there are also plenty of markets where you can purchase items from young local designers.
These markets include Cape Quarter market or Greenpoint Market on a Sunday. Furthermore there are trendy streets such as Long Street and Kloof Street that stock young and hip apparel.
Tip: If you are worried about theft, add items like a money belt or Secret Bra Pocket to your packing list.
Blouse | Top | T- Shirt | Tee | Dress | Maxi Dress | Jeans | Shorts | Jacket | Denim | Basic Tee | Skirt | Sandals | Boots | Hat | Bag
What to Wear in Cape Town in Spring
Cape Town Weather in Spring:
In Cape Town Spring is famous for its flower season, as everything is in bloom, creating an enchanted look within the city. The average maximum temperature is around 21°C / 70 F and has an average minimum temperature of 11°C / 52 F.
Cape Town Spring Packing List:
1. Tees and vests / tank tops: similar to the summer season in temperature, trendy vests and t-shirts are essentials. These can be of your favourite bands or seasonal prints to ensure you remain cool and comfortable at all times. Try to include a minimum of two neutral colour vests to easily mix and match your outfits.
2. A good jacket or jersey: for the cooler days. It does not have to be very bulky, just a precaution to keep you warm on the cooler days or during the evenings.
3. A Maxi dress: the design is flattering, long and feminine, and because spring is not quite as hot as the summer months a maxi is the perfect item.
4. Boots: nearly everyone should have a pair of boots, flat combat style boots for walking. Spring is the perfect season for hiking, so if you are interested in hiking be sure to bring your hiking boots with you.
5. A pair of pumps or sandals: that are bright, comfortable and allow for breathability.
6. A short dress: in a floral print as spring is the known as the flower season and this seems fitting. Try to opt for light materials like cotton so that you are kept cool in the heat.
7. The same beach wear: that applies to the summer applies to spring. So include your bikini, sunglasses and sunscreen, as you'll still have days that are warm enough to enjoy the beach.
8. Skirts: again the same applies to the summer seasons.
9. Denim shorts: these are cute for during the day or over a costume, there is such a large range to choose from that you can bring your favorites.
Learn how to make your own with this DIY Denim Shorts tutorial.
10. Trousers or jeans: for the cooler evenings, as the temperature will drop and you want to ensure you are warm. For trousers and jeans dark colours are always best for stylishness and dirt.
Blouse | Top | Tank | T- Shirt | Dress | Maxi Dress | Denim | Short | Poncho | Jacket | Jeans | Swimsuit | Wedge | Sandals | Hat | Bag
What to Wear in Cape Town in Summer
Cape Town Weather In Summer
The Summer season lasts from early December until the end of February and consist of months that are warm and dry, with an average maximum temperature of around 26°C / 79 F and an average minimum temperature of 16°C / 60 F, and virtually no rainfall.
Cape Towns' summers attract many tourists creating a wonderful lively atmosphere and guarantees that there is always something to do.
Cape Town Summer Packing List:
1. A stunning swimsuit: there are so many amazing beaches; Camps Bay and Clifton are amongst the best! Although during summer you may have to fight for a spot on the sandy shores during as locals and tourists alike cover every inch of the 'beautiful' beaches.
2. Denim shorts: every local owns a pair of great denim shorts. There is such a 'vast selection' on offer you can pick a pair that reflects your personality and individuality. They are also great for the heat, allowing you to stay cool and catch a tan. (Even if it's a short tan)
3. A hat: not the peak cap type though, opt for a floppy straw hat or a bowler hat, this way you can remain stylish and still have protection from the sun.
4. A cross body bag: to keep your essentials close at hand. The design gives you more security from any prying eyes or fingers.
5. Sunblock: if you aren't used to the heat, you don't want to find your skin turning to a blistering hot red, there is nothing worse than sunburn, and you want to be able to enjoy the magnificent beaches and sidewalk cafes without pain.
6. A great pair of summery sandals or gladiator sandals: choose something durable and comfortable. Try to stay away from the plastic ones as these will get too hot in the sunshine.
Check out these stylish dress sandals.
7. A cool summer dress: in a pastel print to bring in the summer months. Opt for light materials like linen or cotton so that you have added breathability and the material won't stick to you in the summer heat.
8. Vests / Tank Tops: you want to remain cool and comfortable at all times, and vests are a great option. Sleeveless so they allow for added comfort and freshness. You can purchase vests with all the latest print trends, you'll be able to bring multiple vests as they are small and light-weight, they are also easily interchangeable with your shorts or jeans.
9. High-waisted jeans: these jeans are comfortable and trendy for the cooler days (which won't be often) and they give you the option for something different in the evenings.
10. Sunglasses: it is important that you bring eyewear protection so you can enjoy the African sun without having to squinting.
11. Skirts: you can add one or two skirts to your wardrobe;try to pick skirts that are flowing and light. These can be prints of the seasonal trends or you can stick to the neutral colours. (Stay away from black though as this will attract the sun)
Top | Blouse | Shirt | Longsleeve | Shirtdress | Dress | Shorts | Jeans | Jacket | Leather Jacket | Pants | Playsuit | Sneakers | Boots | Hat | Bag
What to Wear in Cape Town in Autumn
Cape Town Weather In Autumn
Autumn in Cape Town is during the March and April months, with an average temperature of 20°C / 68 F in March and 18°C / 64 F in April.
Cape Town Autumn Packing List:
1. Hoodies: are casual and warm and if you get caught in a rain shower you will have a little protection.
2. Jeans: are both comfortable and trendy, and perfect for the cooler weather and the evenings. Again, try to opt for the darker colors, burgundy is in this season and black is always a trusted favorite.
3. A good jacket or parka: this item can be a black biker jacket or a khaki colored parka- both are waterproof, durable and trendy for the autumn season.
4. Boots: as mentioned before, it is beneficial to never go anywhere without boots and they are an essential wardrobe piece for autumn as they will protect you from all elements.
5. A Jumper: casual to wear for the cooler days and you can find an amazing selection which means you can purchase a chic one that is in your own color preference.
6. Shorts: my favorite are from the selection of distressed denims, however black shorts always work well, and compliment any outfit
7. Leggings: are a great alternative to jeans as they add extra comfort and allow for greater movement. You will need at least two pairs, one a dark color so you can dress it up or down with accessories and tops with prints of your choice- my favorite are the floral, galaxy or metallic leggings.
Here are some great ideas for travel leggings!
8. Long sleeve tops: because autumn is cooler, it is a good idea to layer. Long sleeve tops are great to wear underneath jackets or on their own depending on the weather.
9. An umbrella: to protect you from the rain, ensure that it is a sturdy one though as the wind can be quite strong.
10. Vests / Tank Tops: simple casual designs, for the warmer days to or use as layers underneath jackets.
Blouse | Shirt 1 | Shirt 2 | Longsleeve | Dress | Shirtdress | Jeans | Pants | Jacket | Sweater | Skirt | Sneakers | Boots | Scarf | Bag
What to Wear in Cape Town in Winter
Cape Town Weather In Winter
The winter season, lasts from the end of May to the end of August, with strong winds and is really rather wet weather, with an average maximum temperature around 18°C / 64 Fand an average minimum of 8°C / 46 F. Winter is occasionally referred to as the 'secret season' due to the drastic change in weather from day to day.
Cape Town Autumn Packing List:
1. An umbrella: the wind is even worse during winter than in autumn and includes increased rainfall, so it is very important to pack a well-made umbrella.
2. A good waterproof rain coat: even more important than an umbrella is a waterproof rain coat, this doesn't mean that it needs to look like a child's coat, but the most important factor is that you are kept dry.
3. A good jacket: the winds can be strong and you don't want to be cold, I'd opt for leather as it can transition easily between day and night and is also waterproof and durable.
4. Jeans: oxblood or black are great colors for winter and jeans will keep you warm and comfortable, as well as stylish if you get the right fit in the darker shades.
5. Leggings: perfect for multipurpose use they are relaxed and come in a range of different styles, colors and prints which allows you to dress up your leggings accordingly.
6. Leather or pleather shorts: Winter is the best season to wear leather, and the material is much warmer than regular shorts. If you find it too cold, then you can always team your shorts with stockings.
7. Boots: As stated before, they are sturdy and practical protecting you from all elements and more specifically the rain. Try to opt for flat boots for walking that are lined as they produce more warmth than regular shoes.
8. Distressed denim long sleeve shirt: these shirts are both fashionable and denim is a relatively warm material, you can use the shirt for layering or on its own during the warmer days.
9. Stockings: stockings are wonderful to wear with shorts or dresses, ensuring you are able to wear your favorite pieces yet still protected from the wind and cold nights.
10. A warm scarf: to keep your neck and chest protected from the cold winds, you can also use the scarf as an accessory and "pop of color".
Travel Tips
Try to avoid skirts and dresses during the autumn and winter months, as the wind will leave you uncomfortable and exposed. However if you still feel the need to pack them you can team them with stockings.
If you bring a piece of your favorite jewelry with it can be used to accessorize and individualize any outfit- and the locals love, and know exactly how to, accessorize perfectly.
A single pair of heels could come in handy. There are endless clubs, and fancy restaurants that you may want to dress up when attending and heels may be appropriate for this.
And don't forget your camera, as there will be plenty of amazing photo opportunities!
Stellenbosch, South Africa
If you are looking for a wine interlude on an Africa adventure, add Stellenbosch to your Cape Town travel itinerary. I had a phenomenal time in wine tasting here with a few girls I met on my RTW trip. We rented a car and drove out to Stellenbosch for the day for delicious wine and yummy cheese nibbles. The countryside is gorgeous!
The most famous producer of wine in South Africa, Stellenbosch is found in the coastal region of Western Cape and is home to the Cabernet Sauvignon. This grape variety is found with the Bordeaux Blend along with Merlot, which wine enthusiasts will surely love. Housed in the wide vineyard is the warmly tempered climate with a charming view of the Simonsberg Mountain slopes.
---
Planning a safari adventure in South Africa not city trip? Check out this Safari Packing List and these tips on What to Pack for African Safari Tours.
---
For more South Africa packing list, please read:
Suggested Travel Resource:
---
LIKE THIS POST? PIN IT TO SAVE IT!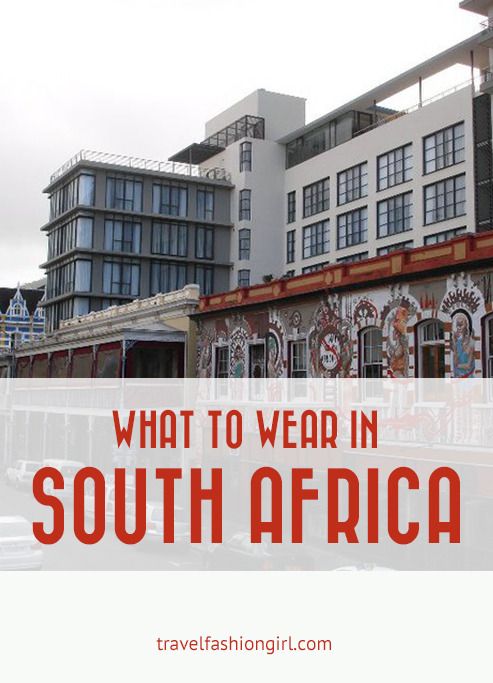 ---
I hope you liked this post on what to wear in South Africa. Please share with your friends on Facebook, Twitter, and Pinterest. Thanks for reading!
---