Support TFG by using the links in our articles to shop. We receive a small commission (at no extra cost to you) so we can continue to create helpful free content. As an Amazon Associate, we earn from qualifying purchases made on Amazon in addition to other retailers featured on the blog. Thank you, we appreciate your support!
Wondering what to wear in Scotland? With these packing tips you'll take the right clothes, regardless of the weather. Read on tot find out what they are!
---
What to Wear in Scotland
Written by: Tammy Lowe
---
The average maximum temperatures in Scotland vary between 5°C/41°F in the winter, and in the summer, 19°C/66°F.
A common belief is that it's always rainy and cold in Scotland, and that's true to an extent–but believe it or not, it can get hot in the summer.
Always, always, always check the weather forecast before your trip. Once you've researched the weather, you can focus on creating a travel capsule wardrobe, which should easily fit in a carryon suitcase with the help of packing cubes to compress your clothing.
An old Scottish saying goes, "There's no such thing as bad weather, only the wrong clothes," so hopefully this Scotland packing list below will help you bring the right clothes on your trip.
The Western Highlands
A combination of rolling mountains, valleys, and Atlantic winds make the West Highlands one of the wettest and windiest places in Europe–although hardy Scots like to refer to this weather as "atmospheric." So as you can imagine, rain gear is a must when visiting this part of Scotland.
Due to the potential for strong winds, an umbrella is probably only useful for comedic effect, so instead, I'd recommend a windproof rain jacket, rain trousers or gaiters, and waterproof shoes, or even rubber boots during especially wet seasons.
Find out how to choose hiking boots and the five styles TFG readers voted as their favorites!
Columbia Pardon My Trench Rain Jacket
The East
While it may be rainy in the West, it could be completely dry and sunny in the East, so when visiting cities like Edinburgh or Aberdeen, you could experience very warm summer days and clear, dry winter days.
Winters will always be cold so a warm jacket, warm socks, woolly hat, and gloves are always advisable.
During the summer, you can walk around in a t-shirt and shorts but since rain can always appear, maybe take a light rain jacket and an umbrella with you.
Take a look at these stylish and Insta-friendly travel raincoats for women!
The Northern Highlands
If you are visiting the highest peaks in the Cairngorms, you may experience snowfall and blizzards in the winter, and in the summer, mist and torrential rain.
The coldest ever recorded temperature was -27.2°C/-17°F in Altnaharra. But as another saying goes, "If you don't like the weather, wait five minutes," as it can literally change from hail to sunshine within that timeframe.
Unless you're going skiing, I'd recommend visiting this area between April and July, as your chances of warmer and drier weather are significantly better.
In the mountains, however, you should always be prepared for any weather, so rain gear and warm layers–like long-johns and a fleece jacket–are recommended.
Check out more clothing tips on what to pack for Scotland in summer!
The Outer Hebrides
If you saw an image of the Outer Hebrides for the first time, you might be surprised to discover that they are actually in Scotland because these little gems boast turquoise waters and white sandy beaches.
Spring and summer are the best time to visit, when temperatures should be sunny and dry. But this being Scotland, it can get windy and rainy quickly. The average temperature is 6°C/43°F in the winter and 14°C/57°F in the summer, so even though it may be sunny, you should definitely consider taking warmer clothes with you.
Find out what the best travel pants for women!
---
As you can see, there is no golden rule for exactly which clothing to take, so it's best to pack for any weather condition and all seasons. That said, whatever you do, don't forget your rain gear!
Do you have any tips to add on what to wear in Scotland? Please comment below!
---
For more Europe packing tips,  please read:
Suggested travel resources:
---
LIKED THIS POST? PIN THIS PIC TO SAVE IT!
---
Hope you enjoyed this post on what to wear in Scotland. Please share it with your friends on Facebook, Twitter, or Pinterest. Thanks for reading!
---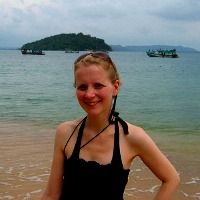 Author Bio: Tammy is a travel blogger and adventure junkie. She has endured the Everest Base Camp trek, abseiled down a skyscraper, cycled down the world's most dangerous road, and trekked through the mosquito-infested Amazon jungle. You can follow her adventures on her blog Tammy & Chris on the move or on Facebook,  Twitter,  Instagram, or Pinterest.
---