Support TFG by using the links in our articles to shop. We receive a small commission (at no extra cost to you) so we can continue to create helpful free content. As an Amazon Associate, we earn from qualifying purchases made on Amazon in addition to other retailers featured on the blog. Thank you, we appreciate your support!
One of the trickiest things about packing for Europe is being prepared for variations in the weather. We're sharing examples of what to pack for Europe during various times of the year. You can use this packing list for 2 weeks in Europe, or even longer! Just wash, rinse, mix and match, and repeat!
---
Packing List for 2 Weeks in Europe
---
While this packing list is for 2 weeks in Europe, you can adapt it for a trip of any duration. The trick to traveling for long periods of time is to re-wear clothing and to do laundry once a week or as needed.
On my first trip to Europe in March 2007, I did a two week coach tour through different countries and packed a large 36" suitcase, plus a 22" carry on. Almost all the clothing I packed went unworn.
I got so tired of getting all my luggage in and out of the bus or train every other day that I ended up transferring only what I needed into the carry on and left the larger suitcase permanently in the coach.
This is the moment I realized that everything I needed fit into a single carryon suitcase with the help of packing cubes.
Read these tips on traveling carry on only!
Europe Clothing Style
In general, day-to-day European style is dressier than American style. This DOES NOT mean business clothing. Think dressy top (or the type of top you'd wear to work) plus nice jeans (dark colors are always a good choice).
To be honest, nicely styled hair and makeup go a lot further than the clothing you bring as they instantly create a more polished appearance. An easy trick is to dress for Paris since the clothing you'd wear there will work for just about every other city in Europe, too!
Choosing Clothing for Europe
Here are some general principles to keep in mind when creating your packing list for 2 weeks in Europe:
Stick to a small selection of colors to make it easier to mix and match your items. You don't have to wear all-black outfits. If color isn't your strong suit, opt for various neutral colors that can be worn together for a travel wardrobe than can mix and match but offer a variety of looks.
Like anywhere, pack for the environment. Are you spending your time café crawling in the cities or getting lost in the wilderness? Choose clothing that is polished yet makes you feel good and, most importantly, comfortable.
Remember that if you forget anything, you'll be able to pick it up when you get there, so don't be afraid to pack light.
Read TFG's Pack Light Stylishly eBook to learn everything you need to know about creating the perfect travel wardrobe!
If you're in a new city every few days, no one will notice you wore a similar outfit a few days prior. Plus, if it's cold, no one will see what you're wearing underneath your jacket so you can re-wear items.
People have the tendency to gravitate towards the same few pieces of clothing – the ones they would normally wear at home and feel most comfortable in. Most travelers only wear half of the clothing they bring on a trip.
Keep in mind that most pictures will be of your waist up (or you can purposely plan it that way), so bring more tops than bottoms.
Look at these sample capsule wardrobes to learn more tips on choosing the best clothing for travel!
Travel Fashion Math
You can make three weeks worth of outfits with just ten pieces of clothing: 3 bottoms x 7 tops = 21 unique outfits. This is Travel Fashion Math. This idea is what we've used to create the sample Europe packing lists below.
Example of what to pack for Europe in Spring or Fall (and possibly Summer)
Top | Shirt | Tee | V Neck | Tank | Longsleeve | Tunic | Jeans | Pants | Skirt | Jacket 1 | Jacket 2 | Scarf | Backpack | Sandals | Boots
Packing List for 2 Weeks in Europe
Note: The key to using the above packing list for 2 weeks in Europe is to do laundry once at the end of week one and re-wear your bottoms throughout the week. You may be able to re-wear all clothing depending on the weather.
Download our free printable travel checklist for a complete packing list including toiletries and beauty products!
Tops or Dresses
The easiest way to create a simple packing list for 2 weeks in Europe is to take 7 tops. Based on the Travel Fashion math example mentioned above, this should provide you one unique top per day per week.
Alternatively, you can also mix things up and take 5 tops plus 2 dresses or 7 dresses. The idea is that you plan to pack enough tops (or dresses) so that you have one for every day of the week.
Always check the weather before you go to decide on how many short-sleeve or long-sleeve tops you should take based on what percentage of your trip will be cold or hot. This is an example based on equal parts cold and hot weather:
3 sleeveless/short sleeve tops and blouses

. Choose versatile pieces that you can layer with the long sleeves if needed. Choose items that are casual but classic. Avoid logo tees or shirts you'd wear to the gym.

3 long sleeve tops and blouses. Opt for at least one dressy blouse that can be dressed up or down and two knit or wool long-sleeve tops that can be worn under the blouse if needed. This is my favorite top to wear in the winter (and I have several colors).
1 additional top based on your specific activities.
Tip: if you're traveling in summer and only going to hot destinations, consider taking 7 dresses instead of taking tops and bottoms. It will be easy to pack and you'll be comfortable, feminine, and fresh in the heat!
Bottoms
Pants, jeans, shorts, and skirts can easily be worn several times without being washed. They're also the least likely clothing item (along with shoes) to show up in pictures since they're on the lower half of your body, which people tend to notice less than the top half.
Pack 3 bottoms and focus on the weather. Here's an example of an assortment of bottoms to pack.
1 pair of dark jeans

(which can be rolled up to be capris) are a great choice for Europe! For the summer a mid-blue wash or dark blue wash works well. For winter, opt for black, grey, or dark blue. 

Slim or skinny fit jeans are the preferred denim style, too.
1 skirt (of your preferred length) that can be paired with a dressy blouse or sweater for a more polished look and that can be paired with a more casual top for warm days. Here are some suggested skirt outfits.
1 additional bottom (pants or a skirt) based on the weather. These are the best pants for travel!
Tip: you can always layer leggings or tights under a shorter skirt or dress to wear this in cold weather. Use this easy strategy to transform any dress from hot to cooler weather.
Example of what to pack for Europe in Winter (and possibly Spring/Fall)
Turtleneck | Blouse | Sweater 1 | Longsleeve | Sweater 2 | Sweater 3 | Sweater 4 | Jeans | Pants | Skirt | Jacket | Coat | Boots 1 | Boots 2 | Scarf | Backpack
Outerwear
Outerwear refers to coats, jackets, or cardigans. They are some of the most re-wearable clothing items as they don't sit next to your skin and won't get as dirty as other pieces.
Save space and find pieces that you can layer together as needed (so these must mix and match) or be worn alone based on the weather.
Packable down jackets are the most popular options for winter travel. For rainy weather look for waterproof jackets like these and these.
For moderate weather in spring or fall leather moto jackets are always in style. Unless you're headed to a rainy destination, opt for a denim jacket in summer.
Choose two pieces you can layer together such as one of these combinations:
A trench and a cardigan

A leather jacket and a sweater

A packable down jacket and a waterproof coat
If you're traveling in winter read these guides before you:
Accessories
Female travelers prefer to use either a crossbody purse or backpack purse when traveling. While some women like to travel with the regular bags they'd use at home, others feel more secure with anti-theft purses.
Whatever you choose to bring in your packing list for 2 weeks in Europe, opt for something comfortable and lightweight that has enough for all your daily sightseeing essentials.
For jewelry, bring along one complete set that can mix and match together. You can use these for a polished look and to dress up your outfits, too.
If you're traveling in hot weather, skip a scarf or bring along a light one you can wear for cooler days or in the evenings. When it's cold, a scarf is a must to keep you warm. Choose one in a color or print that can be worn with all your clothes.
When it comes to the accessories, less is more.
If you haven't already downloaded your free 10 Step Guide to Packing for Europe, do it now!
SOREL Emelie II Chelsea Boot | Naot Sabrina Flat Sandal
Shoes
Generally speaking, travelers agree that three pairs is the magic number when it comes to shoes.
Choose from a combination of:
1 pair of ankle boots to sightsee in the cold, rainy weather
1 pair of slip-on sneakers for mild weather and light rain
1 pair of comfortable sandals to sightsee in the heat
1 pair of ballet flats for dressier occasions
One unexpected issue that many travelers discover once they get to Europe are the cobblestone streets. While great to look at, stone streets aren't always the easiest to walk on and can make for sore feet even if you don't normally have discomfort.
Depending on the city, these streets can also be hilly, slippery when wet, and uneven. Choose comfortable shoes with a rubber sole if possible.
Read this post on how to choose the best walking shoes for Europe!
It's no longer accurate that people don't wear tennis shoes or trainers in Europe. They do! Take a look at the most popular white sneakers.
However, they don't wear them with workout clothing such as leggings and sweats. Instead, these shoes are paired with polished outfits.
In addition, we all love to dress up, but avoid heels because they'll leave you feeling uncomfortable. Opt for wedges if you must bring a heel. Include one pair of shoes and one outfit that can be worn for dining out or experiencing the local nightlife. Keep this in mind when planning your packing list for 2 weeks in Europe.
Read this guide to learn how to choose the best travel shoes.
Popular shoe options include (click each item below for suggested styles):
Read this post about the how to choose the best walking shoes for Europe.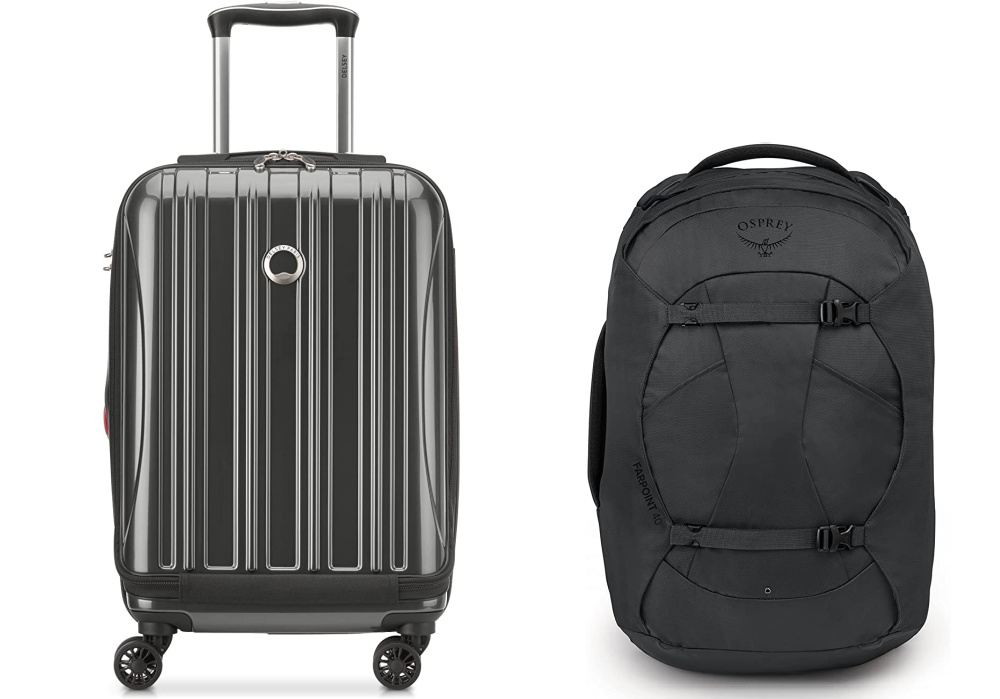 Delsey Paris Carry On | Osprey Farpoint 40 Travel Backpack
Luggage 
If you're backpacking Europe, my number one tip is to take a backpack instead of a suitcase. A backpack is more convenient, especially when going up and down endless stairs in the subway or at hostels.
If you're going to Europe on vacation, opt for a sturdy but lightweight suitcase. Use packing cubes to maximize the space in your bag. Check out my packing video tutorial.
Try to choose a backpack or suitcase that can fit as a carry-on, especially if you're planning to use Europe's budget airlines with strict luggage dimensions. Be sure to adhere to their measurement requirements because those airlines aren't messing around with the size allowances!
Europe's carry-on bag allowance is 55cm x 40cm x 20cm. Always check your airline's individual baggage rules and regulations in advance.
These are the pros and cons of traveling with a backpack or wheeled luggage.
Sea To Summit Hanging Toiletry |  Humangear GoToob Travel Bottle
Worried that all your toiletries, makeup, skincare, and hair styling tools won't fit into your suitcase? Read these tips on how to travel size toiletries to learn how to make the most of limited space without sacrificing your routine!
You can replenish your toiletries virtually anywhere during your travels. There are plenty of pharmacies in Europe that stock all of your essentials, so don't overstuff toiletries in your bag.
We recommend you take the most important products in travel containers like these and try to either buy basics like shampoo and shower gel in Europe or use the items provided by hotels.
Also, consider your makeup. In many European cities, women opt for natural makeup, focusing on a well groomed but not over-the-top appearance. While a daily salon blowout isn't necessary, be mindful of your hair and makeup.
When choosing your styling tools, choose items that have dual voltage and bring along a travel adapter for all your electronics. Just make sure to add all these items to your backpacking packing list for Europe so you don't forget them.
The voltage is different in Europe and the USA! Read this guide before you travel.
Europe Travel Tips
Along with providing you a backpacking packing list for Europe, one of our biggest travel tips for any destination is to buy either a print or digital guidebook. They help you plan your itinerary, give you insight on where to stay, and even give you facts about the historical sites, too.
These are a few popular Europe guidebooks:
While not all who wander are lost, it never hurts to have a good travel guide book to lead the way! Personally, I'm partial to the Lonely Planet guide books, especially the budget series. Some of the ebook versions are free with an Amazon account!
If you're working with a smaller budget, check out this awesome guide: Lonely Planet: Europe On a Shoestring.
Europe Transportation
Fortunately, country hopping in Europe is relatively easy with an abundance of transportation options to help you tick items off your bucket list. Research in advance to see which mode of transportation best suits your budget.
Trains can be the most expensive way to travel when you compare them to cheap flights on airlines like Ryanair and EasyJet. For even more budget prices, check out long distance bus companies, too.
For your main flights, I like booking through Travelocity or Cheapoair (whichever one's cheapest). Although I prefer Travelocity because they have a 24 hour money back guarantee.
To maximize your vacation time, fly into the city where you're starting your trip and out of the city where your trip ends. Many times it's the same price and saves you from having to spend extra time and money to go back to where you started your trip.
If you are planning an inter-railing trip around Europe, check out this post for some train travel essentials to make your journey more comfortable.
Europe Accommodation
For accommodation in Europe, we love Airbnb. Sign up here for a free $40 credit!
I prefer to to book "the entire home" instead of opting for shared accommodation on Airbnb. Aside from safety, I also like to feel like I'm living in the destination. It's a small taste of local life plus you get more amenities than you would at a hotel such as a kitchen and washing machine.
Read these Airbnb tips for more info!
If you prefer the convenience and comfort of a hotel room, I like using both Agoda.com and Hotels.com. Tip: Hotels.com gives you a free night for every ten nights you book!
For hostels, we recommend Hostelworld and Hostelbookers. Always read the reviews before booking to get the best idea if the hostel is right for you. Some are quiet and family friendly while others are known for their party atmosphere.
As a personal tip, if you're backpacking, instead of booking all your nights in advance, maybe just book one or two so you can first get a feel for the place without overcommitting. Of course, should you be traveling during a special event or holiday, book in advance.
Not sure about staying at a hostel? Read this.
Europe Dining
In the US, it's common to eat everyday meals with a fork. In Europe, however, it's generally customary to use a knife and fork even if you're eating in a casual restaurant. This small tip might help you blend in a little more than your clothing.
Europe Travel Insurance
If you plan on getting travel insurance, I highly recommend Travel Guard. I got a gross staph infection while on my RTW and it was nice to have $800 in expenses reimbursed into my depleted bank account at the end of my trip.
Compass Rose Secret Bra Wallet | Travelon Anti-theft Heritage Crossbody Bag
Europe Money and Safety
ATMs tend to offer you the best exchange rate, so pull out cash as you go. Read more tips about currency here.
Just be cautious about where you stash your cash! Some European countries like Spain are especially known for muggings and pickpockets. I always use a Secret Bra Wallet to store extra cash and cards in a discreet location.
These are articles with other suggested anti-theft products:
Remember, the safest place for your passport is locked in your accommodation. Carry a photocopy or other ID when you're sightseeing or are out at night.
Read these tips on how to keep your passport safe when you travel!
Europe Tours
Tours are a great way to travel if you're not ready to travel alone. A few top choices include G Adventures or Intrepid Travel.
While I haven't traveled through Europe with G Adventures, I did go to South America and Africa with them as a new traveler in 2008 and enjoyed my experiences!
For city tours, New Europe has excellent tours. And the best part? They're free! All you have to do is tip your guide.
---
What's on your packing list for 2 weeks in Europe? Please comment below!
---
For more Europe packing tips, please read:
Suggested travel resources:
---
LIKED THIS POST? PIN THIS PIC TO SAVE IT!
---
I hope you liked this packing list for 2 weeks in Europe. Please share it with your friends on Facebook, Twitter, and Pinterest. Thanks for reading!
---