Support TFG by using the links in our articles to shop. We receive a small commission (at no extra cost to you) so we can continue to create helpful free content. As an Amazon Associate, we earn from qualifying purchases made on Amazon in addition to other retailers featured on the blog. Thank you, we appreciate your support!
Worried that you won't have enough space for your toiletries and beauty products in your carry-on? We have the answer and they're not travel-size! These are the best travel containers because you pack only what you need. Find out what they are, where to get them, and how to use them!
---
Best Travel Containers
---
Table Of Contents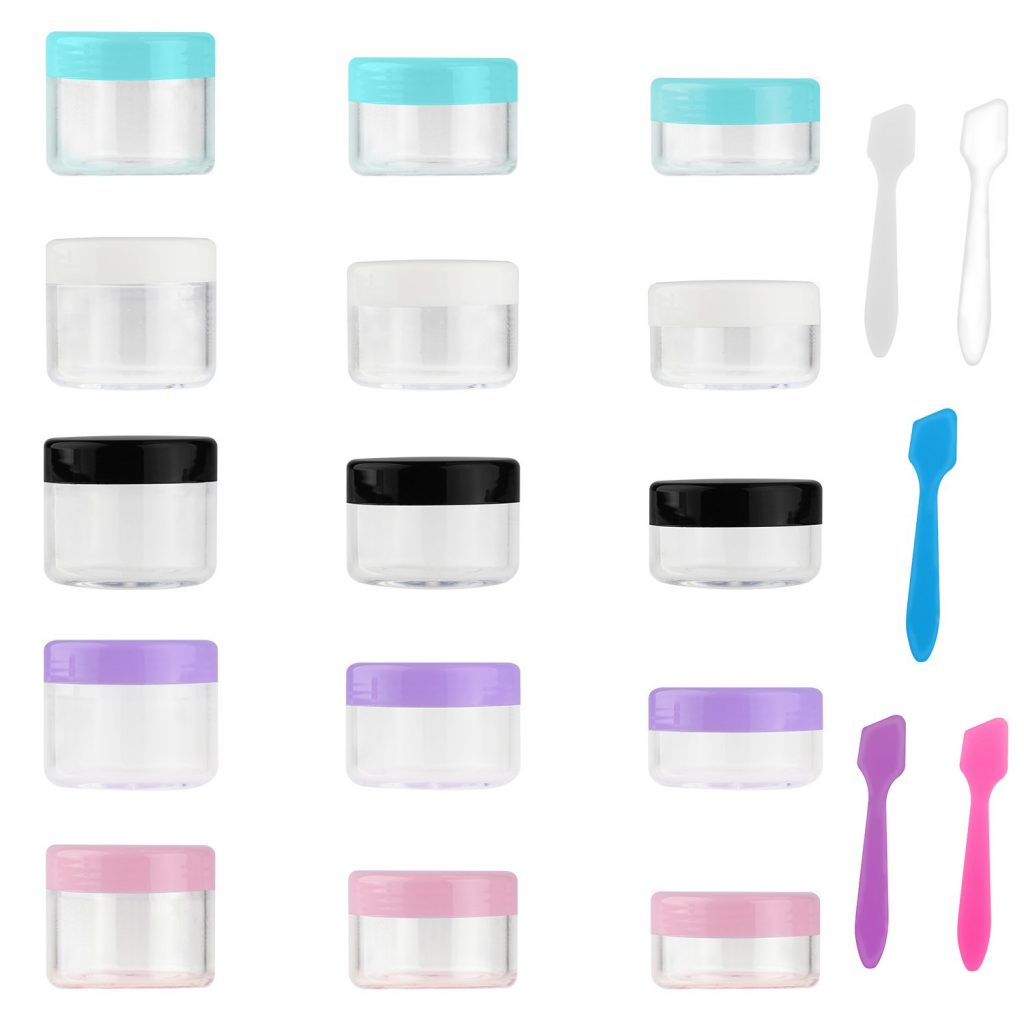 Set of 10/15/20 Gram Cosmetic Pots
Individual Pots
These are my favorite types of travel containers! I love using individual pots for items like my concealer and foundation. I don't need to use a large quantity and they usually come in a heavy glass bottle so decanting them saves weight too. I've found these to be the best travel containers for small quantities.
If you need to bring toiletries like soaked cotton rounds or makeup wipes, some TFG readers use these leakproof condiment containers which have a wider diameter. A super creative option that works really well! 
Use a capsule wardrobe to pack light but create many outfits.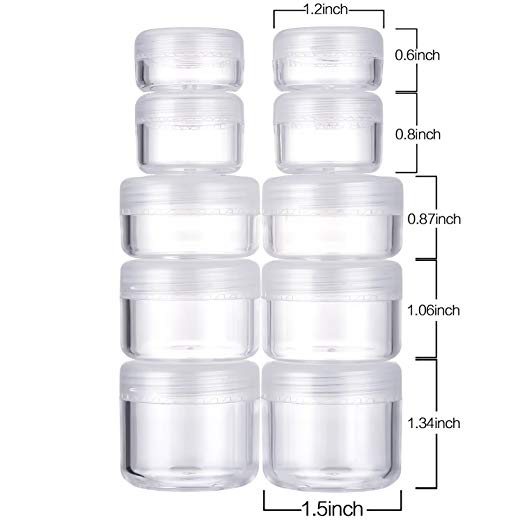 Set of 3/5/10/15/20 Clear Cosmetic Pots
How to Use Them: Use them for makeup and beauty products that you won't need often and to store individual products that you want to take in your purse. (A stack won't do so well thrown around in your day bag or purse.)
When to Use Them: Anytime. These travel containers can store your bath products on short trips or on longer trips for items you won't use often.
At home: Have you ever used a concealer container with a pump that gives you more than what you need? Stop wasting product. You can decant the liquid or gel into one of these containers so you only get a dab of what you'll use.
I like using the 5 gram size for concealer, eye cream, and face scrub while I use the larger 20 gram size for toothpaste, foundation, or face wash
Stackable Pots
This is my ultimate secret for fitting various toiletries into minimal space. Stackable pots will work extremely well for women that use a variety of different beauty products or have an extensive skincare routine.
How to Use Them: Use one stack for shampoo/conditioner/body wash and another stack for face moisturizer/body moisturizer/sunblock
When to Use Them: Use this strategy for weekend trips and take just what you need or if you have a longer trip and plan on buying products as you go – use the stacks for products that last a long time such as foundation, eye cream, or face moisturizer.
At home: Use these travel containers to store jewelry, and crafts, or to consolidate half-empty products and make more room on the shelves.
Available as an individual stack or in various sizes (better value!)
Cylinder Soft Tubes
I prefer pots to tubes but sometimes you need a little more product or a different type of cap. These are durable but soft containers and are a fabulous choice. They tend to be leakproof and long lasting making them the best travel containers in comparison to hard, plastic bottles. GoToob is the most popular brand and has a convenient 2 fl oz size. Other popular tubes are those from the Dot&Dot store. Or, you can also pick up this 14-pack travel set that has silicone squeeze bottles AND  includes 3 pots and 2 toothbrush covers! 
How to Use Them: Have several of each container type so you can play Tetris and make the most of the room in your toiletry bag. Use them for runny, thin liquids or for products you'd prefer not to dip your finger into.
When to Use Them: On trips of any length based on the products that just aren't quite right in a pot.
At home: Using the same principles as the pots, you can maximize limited storage room in your home by decanting any product – even cooking items too!
Flat Toiletry Pouches
Flat pouches are an amazing option, because they can fit a lot, but don't take up any extra space if you don't need to fill the container the whole way. They're slim and flexible yet super secure and leakproof. What's great about these handy space-saving containers is that the more you use, the smaller they get, so you'll have more room in your suitcase on the way back! 
These Kitsch pouches come in a set that can be bought on their own, or grab the 11-piece set that includes pots, pumps, and a spray bottle! Readers have also highly recommended this YSUOA 12-piece set of clear pouches that come in 30ml, 50ml, and 100ml sizes. 
One reader says, "For decanting liquids, I used refillable pouches on my two last trips overseas. They worked well because they pack so flat." 
How to Use Them:

Use them for liquids that you'll be using often, like shampoo, conditioner, and body wash, as they'll hold a decent amount.  
When to Use Them:

Anytime, from weekend trips to long-term stays. They can store a great amount and pack slim. 

At home:

Save tons of space in your drawers or cabinet by decanting products from your bulkier bottles into these cute ones! 
Take a look at our top ten toiletry bags!
When using your own travel containers, remember these golden rules:
Only fill 2/3 of the container in order to avoid compression leaks
 Use a piece of saran wrap under the lid for extra leak prevention
 Avoid water-like substances such as toner. The thinner the liquid the more likely it is to seep through.
Three more space saving "better than travel size" toiletry ideas:
If you're short on time and are always on the go, Convenience Kits sells one-time use toiletry sets. Buy a set and you're good to go!
These bulk packs are another good idea if you want to make your own one-time use sets.
 And when you don't have any more room for liquids just use some of these liquid-free wipes!
Download Our Free Toiletry Checklist
Start by downloading our Ultimate Packing Guide for Toiletries. It's FREE! You can click here or click the image above to open the editable file.
The list features unique categories to help you pack for your trip efficiently. It includes all the items listed in various categories and has spaces where you can fill in your own information.
With this guide, you can:
Write in an item's weight (lighter items means less overall baggage weight)

Note if you need to purchase something or if you already own it

You can organize where you'll pack each item including suggested packing organizers like these
Read this post for a printable packing list that includes clothes, shoes, and more!
---
What do you think are the best travel containers?  Please share in the comments below!
---
For more ideas on space-saving packing items, please read:
---
LIKED THIS POST? PIN THIS PIC TO SAVE IT!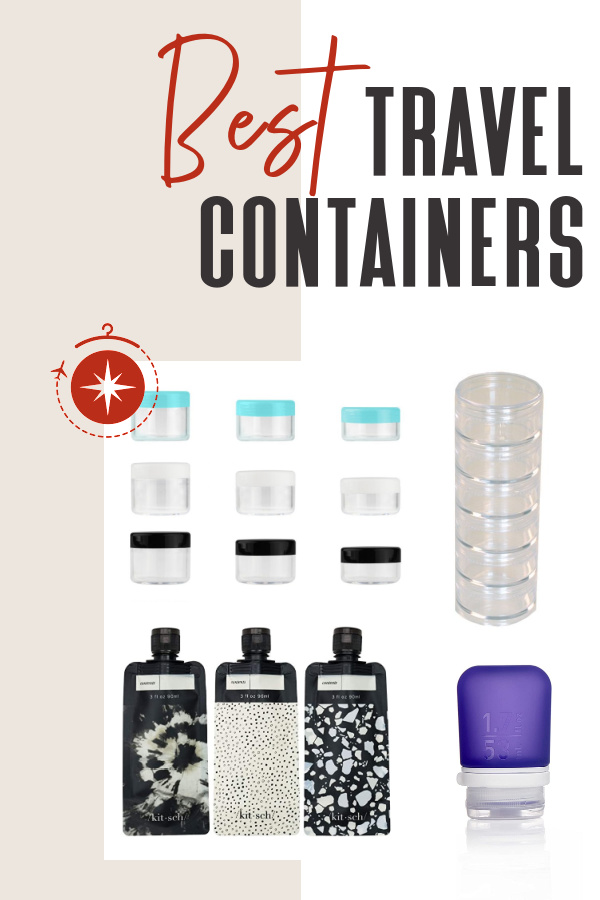 ---
Hope you liked this post on the best travel containers. Please share with your friends on Facebook, Twitter and Pinterest. Thanks for reading!
---