Support TFG by using the links in our articles to shop. We receive a small commission (at no extra cost to you) so we can continue to create helpful free content. As an Amazon Associate, we earn from qualifying purchases made on Amazon in addition to other retailers featured on the blog. Thank you, we appreciate your support!
For those of us with high-maintenance hair, traveling without the right tools is not an option. These are the best travel curling iron options for domestic and international trips to keep your luggage to a minimum!
---
Best Travel Curling Iron
---
Table Of Contents
One of the biggest secrets to chic style is great hair and makeup — without these, it doesn't matter how perfect your capsule wardrobe looks. Well-styled hair and makeup can create a polished look, even if you're decked out in a pair of sneakers with jeans and a T-shirt.
Unfortunately, not all of us travelers are blessed with easy-to-maintain, smooth, glossy locks. So, we feel it's worth it to sacrifice some suitcase space to make sure we have the best hair tools, like our favorite travel curling iron.
If a curling iron is on your must-have travel list, we've rounded up a few of the best travel curling iron options on the market. They are a collection of the most versatile and compaction travel curlers for your next trip!
Best Travel Curling Iron Reviews
6th Sense 2-in-1 Mini Flat Iron/Curling Iron 
2-in-1 Travel Curling Iron
If you need to curl and straighten your hair while traveling, then a 2-in-1 travel hair curler is a great option. You have access to both tools without sacrificing the extra space.
This travel sized curling iron by 6th Sense doubles as a flat iron, to give you a variety in your hair without having to worry about carrying multiple items. Plus, it's a dual voltage curling iron, which means you can cart it around to any country in the world and not have to worry about blowing a fuse.
I've always traveled with both a curling and flat iron (unless I've had my hair permanently straightened recently) so when I found this 2-in-1 travel hair curler, it was the perfect solution.
But there is one slight downside with the 6th Sense 2-in-1 travel curler — it only has one temperature setting. Single temperature setting styling tools are not ideal if you have curly hair. My hair is fine and wavy, but the roots carry some extra curl, so when I brought this on a four-week trip, it took a few extra glides.
All things considered, I have to say this 2-in-1 curling and straightening tool is one of the best travel curling iron tools out there. It works perfectly for the occasional curl and daily smoothing.
Looking for a dual voltage flat iron? See our list of the best ones!
VAV 2in1 Mini Travel Hair Curling Iron
Mini Curling Iron with Two Heat Settings
If you prefer that your hair styling regime mimics a salon-style treatment, then the 1-inch VAV 2in1 Mini Hair Curling Iron is the ideal choice. This mini curling wand is your standard ceramic-coated curling iron but with a compact design for easy storage during your travels.
It's an easy-to-carry mini curling iron that heats up quickly and creates smooth, shiny curls in seconds. It only takes 30 seconds to reach the hottest setting!
Not only does this travel hair curler heat up quickly, but you have control over the temperature with two heat settings — just flip the switch from high to low. For those of us with thin and damage prone hair, the low setting is built to be gentle enough to protect your hair while leaving you with amazing curls.
Learn how to make your blowout last for days!
A Travel Size Curling Iron that's Budget-Friendly
If you need a budget-friendly travel size curling iron, then the ultra-tiny Conair Mini Pro iron is a great choice. It is compact and can easily fit in any bag or purse without you needing to sacrifice the space for other necessities.
This travel size curler heats up quickly and gets to a high enough temperature for you to curl thick hair. That said, because of its smaller size, it might not be the best travel curling iron for travelers with extra long hair.
Need to dry your hair fast on the go? See our tips!
AmoVee 2 in 1 Mini Flat Iron Curling Iron

Mini Travel Curling Wand to Save Space
If you have limited space but want to bring a travel hair curler along with you on your next trip, then a mini curling wand might be the solution for you
A great option for a mini curler is the titanium AmoVee 2in1 styler, which creates curls or waves in your locks while adding shine and luster to your hair. Additionally, you can straighten with this small-size tool, too!
It is an easy to use travel curling wand that helps create fast hairstyles in a single stroke. Plus, the titanium barrel distributes heat evenly to eliminate kinks whether you're curling or straightening. It also heats up fast.
I describe myself as ultra lazy when it comes to hairstyling, but when I started using this travel curling iron, I became obsessed with how easy it was to use! Now I rarely travel without it, especially since it's dual-voltage.
We round up the best hair diffusers for travel!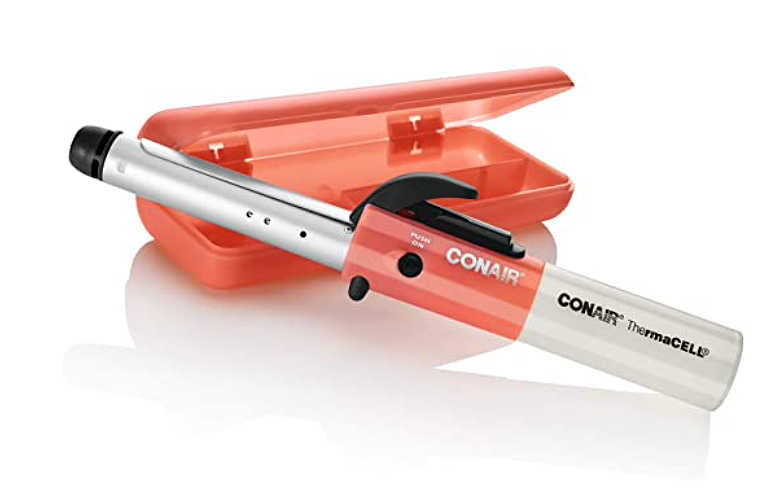 Conair ThermaCell Compact Curling Iron
Cordless Curling Iron for on the Go
When you travel with electronic devices or hair styling tools, you have to think about plugs, adapters, and voltage. Especially if you're traveling to somewhere like Europe, where the plugs don't match. Unless, you travel with a cordless curling iron.
I had always wanted cordless hair tools for road trips or places where access to power outlets aren't easy to come by. Measuring a mere 6.4 inches, the ThermaCell by Conair is the ultimate cordless curler to carry throughout your travels!
Our favorite feature of this cordless curling tool is obviously the fact that there are no plugs or batteries to fuss with. And the ThermaCell cartridges last several months, so you can style your hair anytime, anywhere without worrying about running out of juice.
The ThermaCell also saves you time by heating up in as little as 30 seconds, giving you plenty of time to hit the city and enjoy your vacation. This portable curling wand is a great addition to your packing list, and due to the lack of cord you don't even have to worry about the voltage. Roadtrip, here we come!
Check out our ultimate guide to hair while traveling!
Best Travel Curling Iron Comparison Chart
Here's a quick review of the best travel curling irons.
| BRAND / MODEL | DIMENSION | FEATURES | RATING | PRICE |
| --- | --- | --- | --- | --- |
| 6th Sense Styling Technology | 10.5 x 1.2 x 1.2 in / 0.3 oz | 2-in-1 Mini, dual voltage, 374 degree temperature | | Check Price |
| VAV 2in1 Mini Travel Hair Curling Iron | 1 x 9 x 3.75 in | Tourmaline -ceramic ionic barrel, two temperature speed | | Check Price |
| Conair Mini Pro 1" Ceramic | 1.4 x 5.1 x 0.6 in / 10.4 oz | Double ceramic curling wand, salon high heat, professional metal ceramics | | Check Price |
| AmoVee 2 in 1 Mini Flat Iron Curling Iron | 1 x 10 x 1 in / 8 oz | Easy to use travel curling, easy to use travel curling wand | | Check Price |
| Conair ThermaCell | 1.8 x 9.8 x 4.5 in / 8 oz | Fast heat-up, replaceable thermacell butane gas cartridge, no plugs or batteries | | Check Price |
The Importance of Dual Voltage Curling Irons
Before you head off to purchase you're favorite of the best travel curling iron options, we need to have a chat about the importance of a dual voltage curling iron. Voltage refers simply to electricity, and different countries you might travel too have different types of electricity. For example, here in the US, we use 110-120V, but in Europe they use 220-240V.
There's a good chance that your electronics are built for the same voltage as the country in which you bought them. That means that if you take your non-dual voltage hair curler with you while you're visiting another country, it might not work. In fact, you could even blow a fuse or destroy your travel hair tool if you try to use it. Not cool!
If you want a full run-down on voltage by country, you can check out this World Standards page.
Learn about voltage converters vs. adapters!
To use your favorite travel curling iron in another country, you're going to need two things:
Your hair styling tools, including blow dryers, curling wands and irons, and hair straighteners use a ton of electricity. That means it's important they they are used with the correct voltage.
Some hair tools are labeled "dual-voltage," which means they've been designed to be used in multiple countries. If you're traveling outside of the US (or a country that uses the same voltage) you're going to want to bring your dual voltage curler with you.
Once you have your hands on a dual voltage curling iron, you're also going to need a travel adapter. A travel adapter enables you to plug your electronics into international outlets while you travel. Since not every country uses the same type of plug, we highly recommend you buy an international adapter.
Visit this power outlet guide for travelers to see a full list of plugs and outlets by country!
The Best Travel Curling Iron for the US
If you're both from the US and traveling within the US, you won't need to get a dual voltage curling iron. But you might want to save some space by choosing to travel with a mini curling iron.
If you are traveling to the US from a country outside of the US, you'll need to travel with a dual voltage curler (you can still save space by getting yourself a mini iron). Make sure that you switch the voltage to 110V/120V before using your travel hair curler once you've arrived in the US.
The Best Travel Curling Iron for Europe
Is your travel curling iron dual voltage? If so, then that is the one you'll want to use if you're traveling from the US to Europe, Asia, Africa, or the South Pacific.
If the one you have at home is not a dual voltage curling iron, you'll want to look into purchasing a new one for your travels (but avoid the 1-inch Mini Hair Curling Iron because it doesn't have that feature).
Note that if you purchase a travel curling iron for Europe while you're there, it likely will be a curling iron with a European plug. If you're from the US, a European curling iron won't help much when you get home!
A dual voltage curling iron is not automatically set for travel, so make sure to switch your hair tools to 220V/240V before you use them at your destination!
So, are you ready to spend your vacation with beautiful curls without the fuss? The best travel curling iron can easily take your hair from flat to va-va-voom in a matter of minutes!
---
What are your picks for the best travel curling iron? Share in the comments!
---
For more tips on travel hairstyles, please read:
---
LIKED THIS POST? PIN THIS PIC TO SAVE IT!
---
We hope you enjoyed this post on the best travel curling iron. Please share it with your friends on Facebook, Twitter, and Pinterest. Thanks for reading!
---