Support TFG by using the links in our articles to shop. We receive a small commission (at no extra cost to you) so we can continue to create helpful free content. Thank you, we appreciate it!
Knowing what to wear in cold weather travel can be quite daunting especially if you want to pack light. To help you make the most of your winter gear and limited luggage space, I've put together this guide on how to pack for cold weather!
---
How to Pack for Cold Weather
---
Table Of Contents
Start by reading these general tips on packing for winter travel:
Use a Packing List
Refer to one of our international packing lists to determine how to pack for cold weather and what type of clothing you'll need for your destination. Make sure all pieces work well for the weather and the activities you plan to be doing.
Plan the items in your travel wardrobe using our Signature Capsule Wardrobes as your guide. Aim for ten pieces as shown in the Travel Essentials packing list.
Click here to access the editable Google Doc printable checklist shown above. You can also download the print-friendly, PDF version here.
Below you'll find a sample packing list for cold weather travel featuring clothes, shoes, and accessories.
Please note that the items shown in all of our visuals are meant to act as inspiration. We know now at women share the same body type, style preferences, or fall into the same age group so it's up to you to tailor each guide to your specific needs. Learn more.
Mix and Match
As with any travel capsule wardrobe, it's important that all items can mix and match to make the most of your clothing. Dresses are surprisingly versatile in the winter for moderate temperatures and can be worn over tights or leggings.
Read these posts for the best clothing for winter:
Below you'll see how we mixed and matched the pieces from the above 10-piece packing list:
Our packing lists don't count outerwear (jackets/coats), thermal underwear, or pajamas so these would be additional items in your total. However, even with these pieces you should still be able to pack carry-on only.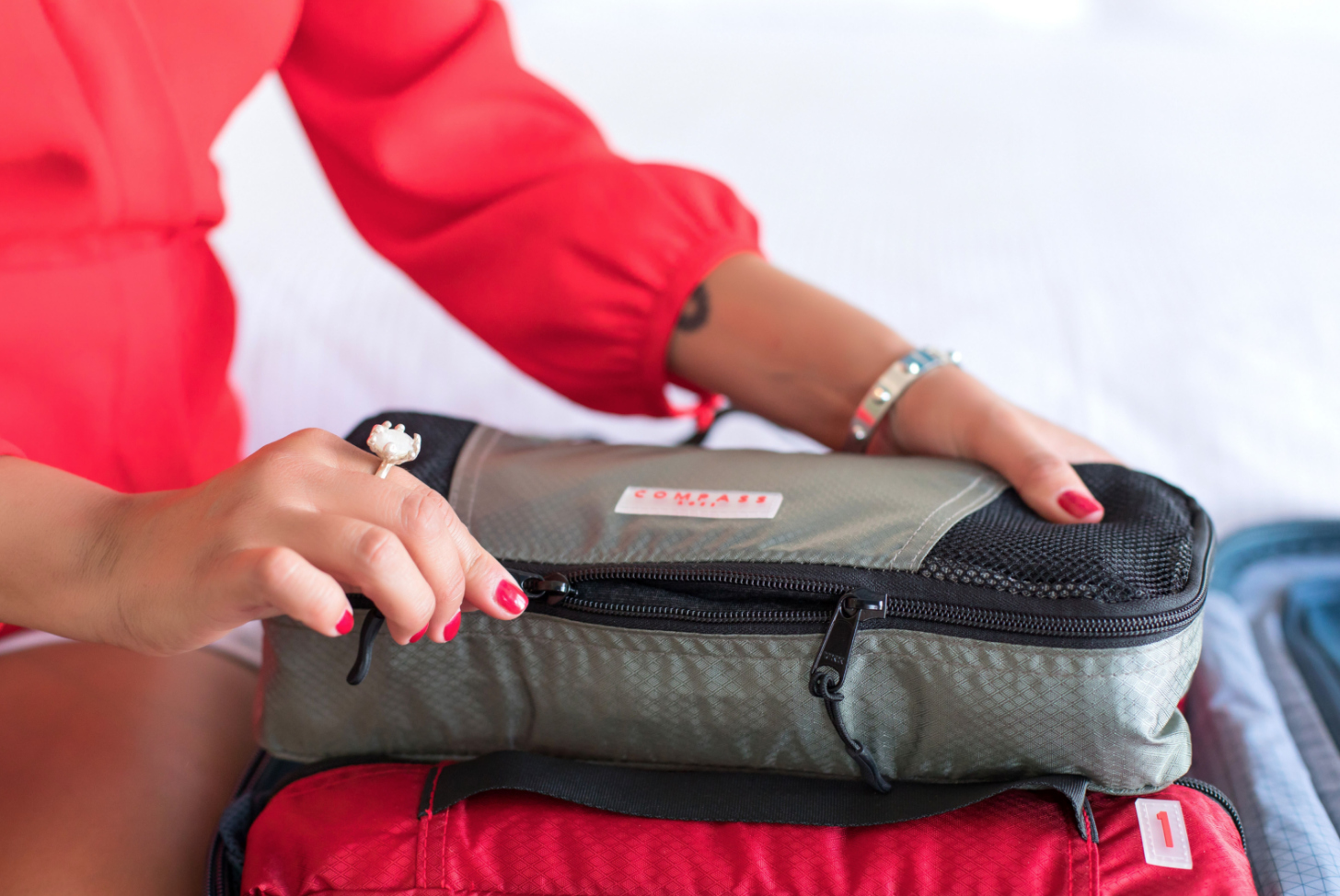 Learn How to Pack for Cold Weather Travel
Throughout the past nine years of full time traveling, I've used various other brands including AmazonBasics, eBags, Pro Packing Cubes, Travel Wise, and Dot & Dot, too.
While these packing cubes all have their benefits, I've now created my own version that will take your organization to the next level: the Compass Rose Compression Packing Cubes shown above!
Watch the packing tutorial on Youtube!
In 2017, I launched Compass Rose Travel Accessories and my very first product was a 4-Piece Set of Carryon Packing Cubes. These are the only packing cubes sized to fit the exact width of a carryon suitcase and they also have a unique color-coded and numbered organization system – the only kind currently available anywhere on the market.
I put together a five-part YouTube series showing you the different methods to use packing cubes. If you use this specific packing strategy, they can also compress your belongings. This is the secret to traveling carryon only!
Learn how to pack carry-on only for every single trip!
Here's a step by step breakdown of how to choose each item of clothing. Remember, this capsule wardrobe can be used for a one week vacation or more!
J Crew Tippi Sweater | Zella Live In High Waist Leggings
7 Tops + 3 Bottoms
Tops that fall below your hips are best paired with leggings and can also be tucked into jeans. Choose tops you can layer if needed. Pack a dressier top to pair with a skirt for formal events.
For a one-week trips, pack different tops for each day of the week. Mix and match with three bottoms to create seven unique looks or a total of twenty-on different outfits!
Alternate Option: Replace skirt with trousers or faux leather pants with thick leggings!
Blondo Villa Waterproof Ankle Bootie | Teva De La Vina Boot
2 Pairs of Shoes
Avoid items that look overly casual. Choose a basic pair that can be dressed up or down. Choose neutral colors such as tan, brown, or black because they need to mix and match with everything and comfort is key. Three pairs is also okay if you need a little more versatility.
A sample set of travel shoes for winter would include one pair of waterproof mid-calf or tall boots (wear on plane and on travel days), one pair of ankle boots, and one pair of ballet flats.
Struggling to choose shoes? Read our guide on how to choose the best travel shoes!
Wool and Cashmere Blend Cardigan | Wool and Cashmere Blend Coat
2 Outer Layers (Warm Cardigan + Coat)
When deciding how to pack for cold weather, choose items that you can layer or wear separately, and are not too bulky. Remember thicker fabric doesn't mean it's warmer fabric. Find out why here. Choose a statement jacket or classic coat you love- it will be in all your trip photos!
Here's a guide on how to choose the best travel coat!
Thermasilk Pant | Thermasilk Scoop-Neck Top
One Set of Thermals
Invest in one (or two) sets of thermals to wear underneath all your clothing. Here's a list of our favorite thermal underwear for women. One set should do but if you're going to an extreme cold weather destination then you can wear two sets if you plan to spend a large amount of time outside.
Wear your thermals underneath everything!
Merino wool or silk thermal underwear is the best. Find out why here!
Terramar Thermasilk Glove Liner | Tissue Print Wool & Cashmere Wrap Scarf
Warm Accessories
Last but certainly not least are your stylish winter accessories. These are essential and can save you even if your clothes don't keep you warm! Bring a warm hat, gloves, and blanket scarf to avoid the harsh cold winter weather
Tip: The sun might set as early as 4pm in some European destinations in the winter. Keep this in mind when you leave your accommodation for the day. Bring layers if you plan to stay out until the evening time.
It's important to note that bulky fabrics won't necessarily make you feel warmer! You have to choose the right cold weather fabrics and layer your items strategically as explained below.
---
What are your tips on how to pack for cold weather travel?
---
For more packing strategies, please read the following:
---
LIKED THIS POST? PIN THIS PIC TO SAVE IT!
---
Hoped you liked this post on how to pack for cold weather like a boss. Please share it with your friends on Facebook, Twitter, or Pinterest. Thanks for reading!
---