Support TFG by using the links in our articles to shop. We receive a small commission (at no extra cost to you) so we can continue to create helpful free content. As an Amazon Associate, we earn from qualifying purchases made on Amazon in addition to other retailers featured on the blog. Thank you, we appreciate your support!
When every other piece in your suitcase is the color black, you may have fallen into a fashion rut in the hopes of creating a compact travel wardrobe. (That is, unless you like an all-black wardrobe! Some of us do.)
The art of mixing and matching neutral colors is all part of creating the perfect travel wardrobe.
If you're not familiar with this idea, have a look at our popular ebook Pack Light Stylishly along with TFG's Signature Packing Guides.
In trying to navigate the dullness associated with wearing these shades, we've narrowed down a few additional neutral colors; clothing ideas that are sure to expand your palette. Versatile, flattering, and easy to coordinate – the five colors below are great additions to enhance your travel wardrobe options. Take a look!
---
5 Neutral Colors: Clothing Ideas for Travel
Written By: Niki Landry
---
Navy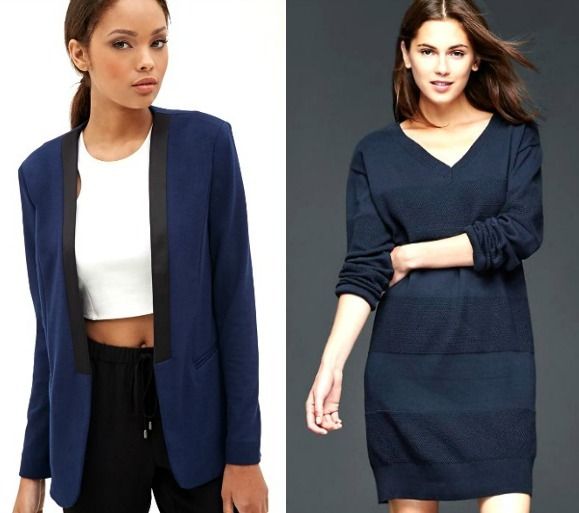 Collarless Blazer / V-neck Sweater Dress
It should go without saying that navy tops the list of neutral colors; clothing in Paris seemed to almost revolve around navy. I own and wear more navy than any other color, and it's a trend I don't see breaking anytime soon.
This classic color pairs well with neutrals (even black), most colors, and everything in between. It's like denim. If I would wear it with dark wash jeans, then it's a perfect fit.
Burgundy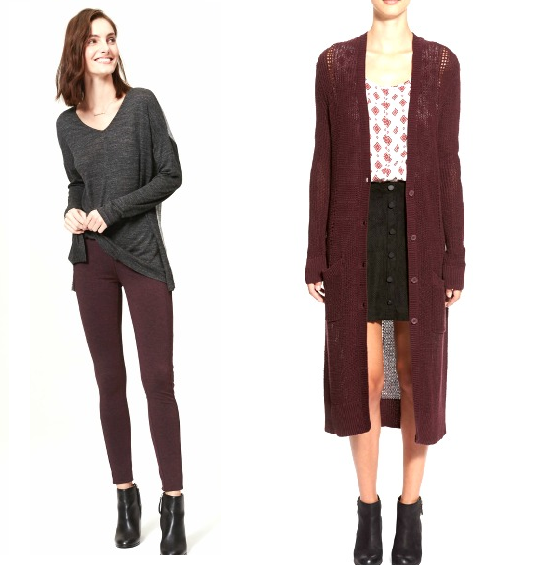 Seamed Ponte Pants / Knit Duster Cardigan
Burgundy is all over clothing stores right now so stock up while you can. The color is at the height of popularity, and it's easy to see why. It looks great paired with warm tones, and edgy when worn with black.
I love to mix it with other colors, like light blue, goldenrod yellow, or even light pink. Of course you can always go the simple route, and wear it with the above-mentioned navy for a no fail pairing.
Olive
Out of all the neutral colors, clothing in this olive hue has quickly become one of my favorite. It started slowly, but I now have a full-blown obsession with this color. I have quite a few clothing items in olive, and I reach for one every time I get dressed.
It's an easy color to travel with, because it hides dirt well and looks great with many colors. It helps to balance and tone down brighter or pastel colors in the summer, and it is warm and cozy in the winter.
Pale Pink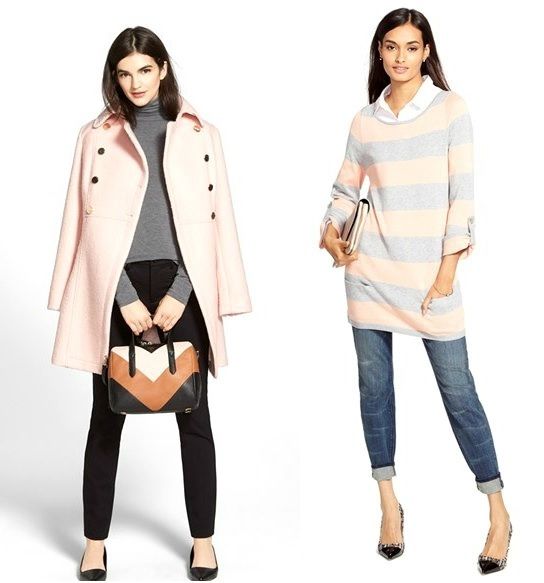 Double Breasted Bouclé Coat / Tunic & Shirt and KUT from the Kloth Jeans
Want to infuse a little femininity into your travel wardrobe? Pale pink is your answer. Similar to burgundy, it's everywhere for winter and makes a great addition to your options.
It's a sweet and sophisticated color to bring out your girly side. Pale pink goes well with any of the richly hued colors listed above or pair with a basic neutral for a simple look. I also like it with black leather to help balance the edgy material.
Dove Gray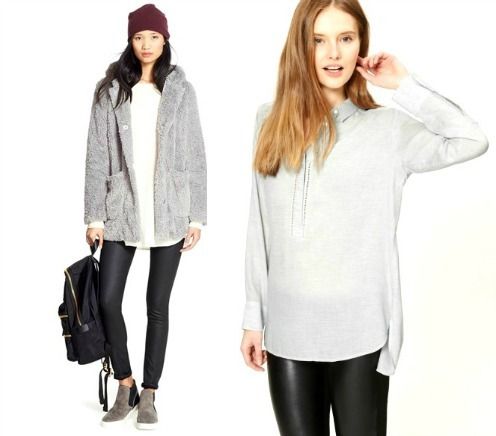 Grey is an easy to wear, no fuss color. I own and wear a lot of this color, and I've been drawn to this light dove shade lately. It's soft and a good alternative to white. It's hard for me to keep white looking fresh while traveling, so I opt for grey instead. It's also a good contrast to all of the warm rich hues listed above.
We love grey clothing! Find out some of our favorite looks!
The above neutral colors clothing offers a good opportunity to change the monotony of a lackluster travel wardrobe. In addition to my staple colors, I bring one or two of these on every trip. It helps to keep my outfits interesting, and stops me from getting bored easily with my wardrobe choices.
The key to packing light is to use packing cubes to compress your clothing as shown in this video!
---
If you're having a tough time downsizing your travel wardrobe or find yourself constantly taking way too much stuff in your luggage, take our master class on how to stop overpacking!
What are your favorite neutral colors, clothing tips for travel? Share in the comments below!
---
For more capsule wardrobe tips, please read:
---
LIKE THIS POST? PIN THIS PIC TO SAVE IT!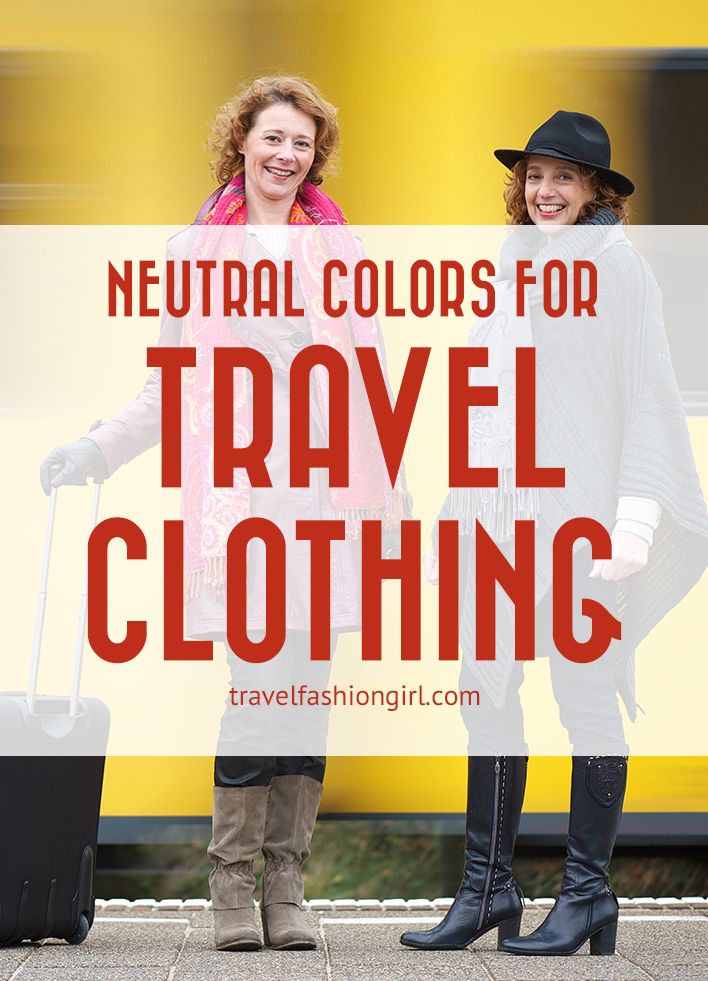 ---
Hope you liked this post on five neutral colors clothing ideas. Please share with your friends on Facebook, Twitter, and Pinterest. Thanks for reading!
---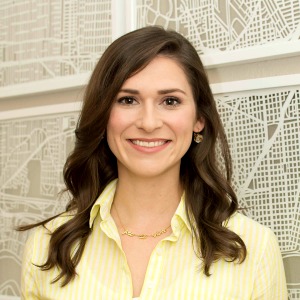 Author Bio: Niki is an interior designer and artist from Louisiana. In addition to her design work, she writes for local and online publications sharing her experiences and passion for travel. Niki is currently adding stamps to her passport while building her design practice, Niki Landry Designs.
---