This post contains affiliate links. Visit our Disclosure page for details.
Wondering what to wear in Lisbon in spring? Here are some travel essentials and outfit ideas!
---
What to Wear in Lisbon in Spring
Written by: Nina Thomas
---
Lisbon (or Lisboa) can be warm in the daytime, with high temperatures reaching to high 60s Fahrenheit and beyond. It's a beautiful place to be at any time of the year, but it's especially wonderful in spring.
Right before the mad rush of summer travelers, you may have parts of the city and the incredible Lisbon views entirely to yourself. With the beautiful, golden building hues, you'll be basking in the romantic feel of this great city.
Lisbon isn't as expensive or posh as some of its sister cities, which means you can wear casual but chic items.
Since the city is also a cruise port, you may see some people wearing their bikinis and cover-ups at major sites (even in the spring), but you'll surely be more prepared with some of these outfit recommendations!
Lisbon offers a lot of walking tours (some discounted for students and travelers under 25) and opportunities to see some of the buildings built after many were destroyed in the earthquake of 1755.
Here are some unexpected tips on what to wear in Lisbon in spring!
Poncho | Jeans | Shoes | Crossbody | Bracelet
You'll want a pair of good walking shoes because this town is hilly!
In fact, if you're visiting the iconic Bairro Alto district, prepare to break a sweat climbing the steep sidewalks. Sure, there are some funiculars to use on tough hills, but not always!
Be prepared with good shoes that are ready to carry you through the ups and downs of this beautiful city. No matter where you're going to eat, most likely you'll be walking, so comfy walking shoes are a must, especially with the hills.
Read this guide on how to choose the best shoes for travel!
The clothing style is pretty casual in Lisbon, but it is still the capital of a European country.
Dresses and leggings or tights are a great option, or pants with a flowy blouse. Comfy pants and short sleeve shirts make a great sightseeing option. For evenings, think dressy casual.
Shirt | T Shirt | Tunic |  Jeans | Shoes | Crossbody | Jewelry | Necklace | Sunglasses
No trip to Lisbon would be complete without a daytrip (or multi-day trip) to Sintra. Sintra has amazing castles, palaces, parks, and gardens, and it's no wonder this city is a UNESCO World Heritage Site.
There are many options for uphill climbs in Sintra, including the walk along the wall of the Castle of Moors. Today would be a good day for some active pants, but since you'll be visiting interior castles, you'll want something that is not so distinctively active.
Here are some stylish ways to wear workout clothes!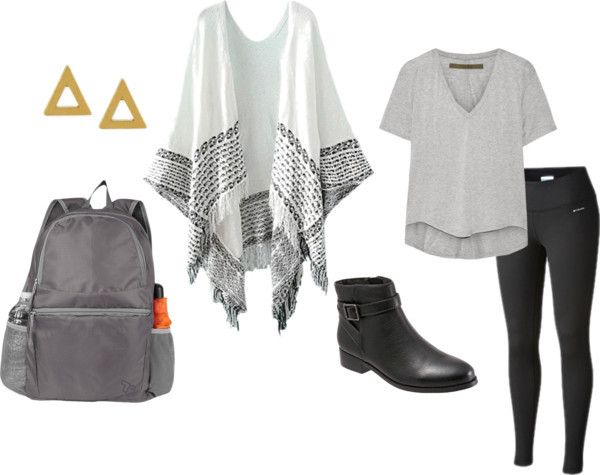 Top | Kimono (similar) | Leggings | Boots | Backpack | Jewelry
Leggings, a t-shirt, a poncho/scarf, and comfortable walking boots make a great outfit combination. Another option would be to wear a tunic and active pants.
Don't forget your backpack because you'll want to pack a lunch while you're out and about at all the major sites. There are so many beautiful parks and gardens to enjoy a view while eating your lunch. Some of the local grocery stores can make you a sandwich right there, without the hassle of trying to make one at your B&B.
Since it's spring, you will want to be prepared for the possibility of rain. You don't need to bring an umbrella, because if you need one, they'll be cheap enough to purchase there. A light rain jacket, leather boots, and a waterproof bag will be sufficient preparation for inclement weather.
Take a look at these rainy day outfits for inspiration!
---
What are your tips on what to wear in Lisbon? Share in the comments below!
---
For more on what to wear in Europe, please read:
---
---
Hope you liked this post on what to wear in Lisbon. Please share with your friends on Facebook, Twitter, and Pinterest. Thanks for reading!
---
Author Bio: Nina Thomas is constantly looking for a beautiful view and a good adventure. Her travel highlights include hiking in the Patagonia, sheep-gazing in the Cotswolds, and horseback riding in Ecuador. For practical travel tips from an Ohio Girl, check out her website Traveling with Nina or follow her on Twitter and Instagram.
---
Liked this article? Check out similar posts: