How Do I Pack For Vacation?
How Do I Pack For Vacation?
FOLLOW THESE 10 STEPS TO LEARN HOW
---
If you're traveling for 1-4 weeks, this packing guide is for you. Preparing your vacation packing list is no longer a challenge with these tips! Click on each of the below items to learn more about each one.
Step 1
If you're traveling for one to two weeks, pack one to two weeks worth of clothing. If you're traveling from three to four weeks, pack one week's work of clothing. Why? You'll just do laundry once a week!
It's true. No matter the length of your trip you can pack for one week and have everything you need.
To master the art of packing light, you'll need to use this key concept to help you pack strategically, efficiently, and even stylishly: a capsule travel wardrobe. Take a look at TFG's Signature Packing Lists for four unique travel wardrobe suggestions and if you need more help understanding how to mix and match, colors, styling, and essential clothing items, read Pack Light Stylishly  which will introduce you to the basics.
Step 2
Once you understand the idea of creating a strategic travel wardrobe, review our packing lists directory to get an idea about what type of clothing you need in specific destinations. If you don't see your destination listed, post a question onTFG's Facebook Page or search our tips by continent.
Step 3
If it's your first time traveling or you struggle with overpacking, review this packing course which shows you specific techniques to plan for an efficient and highly functional travel wardrobe for any trip. If you have a complicated itinerary or a trip with to varying weather, you might particularly benefit from reading the course.
Think you need to pack your entire closet? Take a look at how to create 3 weeks worth of travel outfits with less than 10 pieces of clothing. For more travel outfit ideas including what to wear on flights, visit TFG's Pinterest Page.
For warm weather travel, this is the easiest 7 day capsule wardrobe!
Step 4
Choose versatile shoes that match all your clothing and pack no more than 2-4 pairs. In fact, most travelers agree that three is the magic number! Read this 10 step guide to packing the best travel shoes for any trip.
Don't overpack shoes and always prioritize comfort over fashion. Yes, you read correctly. With shoes, comfort beats fashion because if your feet start hurting, you can say goodbye to enjoying the rest of your trip.
Browse our top travel shoe suggestions based on the footwear most recommended by TFG's readers.
Step 5
If you haven't already purchased your luggage, take a look at the top recommendations for:
Step 6
One of the most important aspects about packing efficiently is using travel organizers. Watch this packing video to learn how to use packing cubes to maximize space and ensure everything fits into one bag every time.
These are the top 12 reasons why I prefer packing cubes to other organizers.
Step 8
Check weather.com's extended forecast in advance and 2-3 days before you leave. The weather can change unexpectedly so you want to ensure you have the right clothing you need.
If you're traveling during Spring or Autumn or will experience variable temperatures on your vacation, please read the 10 step guide to packing for trips with both cold and hot weather.
Step 9
Sign up for Travel Fashion Girl's monthly newsletter and get instant access to free packing templates, downloadable checklists, ebooks, and more!
Step 10
Take a look at these posts for the best packing tips for vacations:
And popular vacation destination guides:
For more help, read our getting started page and…
►  Join our Facebook group to ask packing questions.
►  Also, read our Facebook page to find answers to similar questions. Don't forget to "like" the page!
►  Lastly, for additional visual inspiration, check out our Pinterest page and various clothing ideas.
►  For ideas on where to shop, check out our best online shopping sites.
Happy travels!
Alex
Editor of Travel Fashion Girl
LIKE THIS POST? PIN IT TO SAVE IT!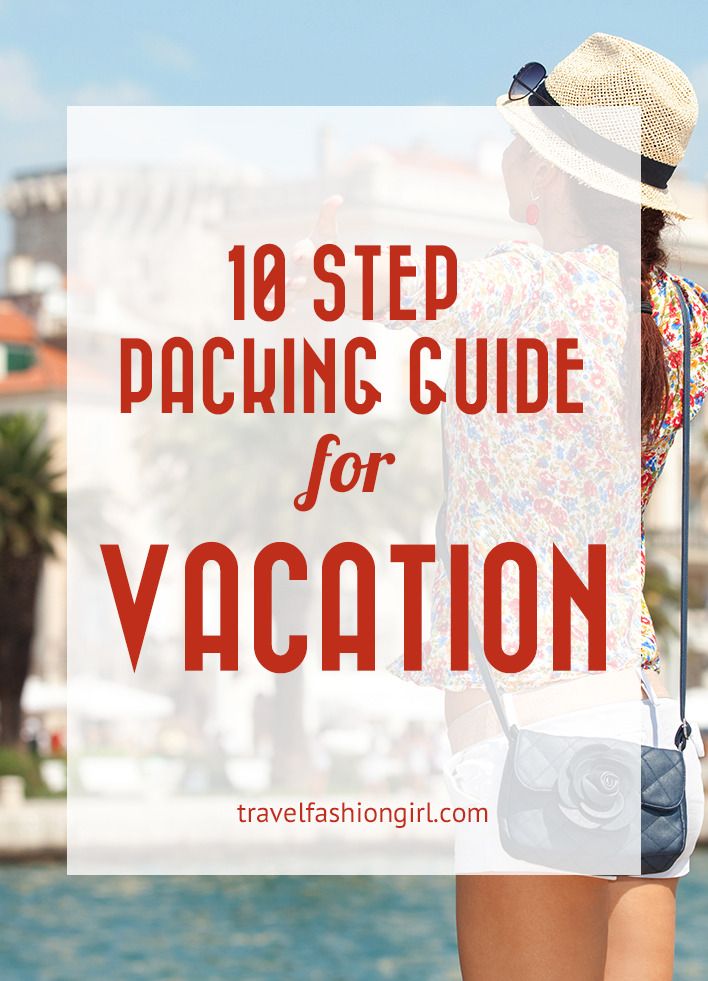 Did you find this article helpful? Please share your own tips or feedback in the comments below! Don't forget to share this guide with your friends on Facebook, Twitter, or Pinterest. Thanks for reading!