Support TFG by using the links in our articles to shop. We receive a small commission (at no extra cost to you) so we can continue to create helpful free content. We earn from qualifying purchases made to the featured retailers. Thank you, we appreciate your support!
Don't let the thought of packing stress you out! Give yourself a break and read our top 75 packing tips. Even the experienced traveler is sure to find some new tips!
---
Our Top 75 Packing Tips
---
Table Of Contents
Delsey Luggage Helium Aero International Carry On Luggage
15 Packing Tips if You're Going on Vacation
Pack a few essentials in your carryon or personal item if you're checking luggage. Don't assume your luggage will arrive at the same time as you. Having toiletries, a clean outfit, and electronics in your carryon can help avoid some angst.
Test out luggage first-hand in a store to determine what's most comfortable for you. Everyone's needs and body types are different. You can always shop online afterwards for the best deals! Here's everything you need to know about how to choose a suitcase.
Make sure the suitcase is easy to maneuver, doesn't hit you on the heels as you walk, or drag too far behind you. Try it before you buy it!
Pack a couple single-use detergent packs if you're on a trip that's less than a month long and plan to hand wash clothes. For longer travels, buy detergent as you go – but pack a few to get you started.
Plan your clothing options according to what you'll be doing on your trip and where you'll spend the majority of your time. If you're unsure of your exact plans, choose items that serve different purposes.
For warm climates, choose light and airy fabrics that dry easily and will keep you cool. (Read this guide on the best travel fabrics!)
Portable Handheld Fabric Steamer
Wrinkles in clothing can be avoided with packing folders or by using the bundle method. Alternatively, hang the garment in the bathroom while you take a hot shower, use a wrinkle-release spray, or a travel steamer.
When considering suitcase size, remember that there may be times when no one is around to assist you. Your luggage (and total weight) should be limited to what you can handle.
For rainy adventures, line the top and bottom of the suitcase with plastic, such as a dry clean bag. Even if your suitcase does get wet your clothing can remain dry. Packing cubes also help.
Use packing cubes to help you maximize the space in your bag. You can squeeze so much clothing into packing cubes that you'll wonder why you ever needed a large suitcase!
Practice walking up and down at least one flight of stairs with a packed suitcase before your trip. Can you do it comfortably? If not, you may want to consider removing some items and downsizing toiletries.
You don't need as much stuff as you think. Lay out all the clothes you intend to take…then put half of them away.
Don't forget to leave space in your luggage if you're the type that loves to shop and bring back souvenirs!
Get a refillable fragrance atomizer for your favorite perfume instead of packing the whole bottle.
Packing carryon is the best way to travel. It's not just about saving money on baggage fees. It actually makes your entire experience more enjoyable. Find out the true benefits!
Osprey Packs Farpoint 55 Travel Backpack
15 Packing Tips if You're a Backpacker
A backpack for travel is very special. Don't just buy any old thing. Here's everything you need to know about how to choose the best travel backpack. Use a rain cover for your bag to keep it bag protected, clean, and dry!
Walk around for 15 minutes with your fully-packed backpack to gauge your comfort level with carrying all your belongings. Is it too heavy? If so, you may want to consider removing some items and downsizing toiletries.
It's important to pack travel clothing that's durable but keep in mind that after you're on the road for a while, everyone gets tired of wearing the same things over and over. Choose items that won't fall apart after a few washes, but have a low enough price tag that you're comfortable giving it up.
Pack light and your back will thank you later. Unless you're going to the desert, you can always buy a few extra things you might need along the way.
In 2017, I launched Compass Rose Travel Accessories and my very first product was a 4-Piece Set of Carryon Packing Cubes. These are the only packing cubes sized to fit the exact width of a carryon suitcase and they also have a unique color-coded and numbered organization system – the only kind currently available anywhere on the market.
I put together a five-part YouTube series showing you the different methods to use packing cubes. If you use this specific packing strategy, they can also compress your belongings. This is the secret to traveling carryon only!
Save space in your backpack by using compression sacks.
Take a few plastic bags or Ziploc bags. You'll always find them useful and they don't take up any space.
Flip-flops are essential for every sun-chasing backpacker or budget traveler, especially if you're hitting the beach, lounging around, or just want to keep your feet clean from grimy hostel showers. These flips flops look like cute sandals and are wearable on and off the beach.
Merrell Moab 2 Waterproof Hiking Shoe
Do you really need hiking boots? Unless you're doing some serious trekking, you can get away with something lighter and more versatile such as outdoor trainers or sneakers.
Don't start your trip with clothing that's already worn out even if you plan to give it away at the end of your trip. It will fall apart very quickly when you're constantly re-wearing the same things over and over. There's no point in starting out with items that are unraveling. Everything new will look old when your trip ends.
A headlamp is an essential item in your backpacking checklist that comes in handy more than you'd think.
A sleeping bag liner is important because it means you always have clean sheets, even in a not-so-clean hostel. In fact, budget hostels may not provide sheets at all! Unless you're staying at boutique hostels or nice hotels, these are 5 reasons you should travel with a sleeping bag liner.
Don't forget duct tape. There are endless uses when you're on a backpacking travel adventure. Trust us.
eBags Pack-it-Flat Toiletry Kit
Choose a hanging toiletry bag with a handle or hook. Hostel showers aren't always the most functional and you don't want everything getting drenched.
Multi-use products help save toiletry space and weight. If you're not a fussy traveler, Dr. Bronner's "Magic" Soap can be used to wash clothes, as body and face wash, shampoo (if you have low-maintenance hair), toothpaste, and shaving cream, among other uses.
Learn to make a sock bun. It's a quick and easy way to get longer hair under control as well as create natural, heat-free waves.
Rebecca Minkoff Julian Gold Hardware Backpack
25 Tips for Every Traveler to Pack Light Stylishly
Each clothing item should mix and match with the rest. With limited clothing options, it's important to maximize your travel wardrobe. Choose items very carefully and plan clothing that's interchangeable. Read Pack Light Stylishly as soon as you know you're planning to travel. It's your instant shortcut to becoming a more efficient and fashionable traveler!
It is possible to have a portable closet. The Pack is a unique and highly functional backpack organizer that also works perfectly in a carryon suitcase, too. It makes packing and unpacking in a hostel or hotel a breeze. It has four drawers and you can hang it in your hotel closet or latch it to hostel bed rails (or even chairs). Want to unpack and pack in seconds? Learn more about The Pack – a genius suitcase organizer!
The secret to a stylish travel wardrobe is in the accessories. Items – such as a statement necklace – are light and don't take up much space in the suitcase, but can add so much to a simple outfit. (Shop TFG's favorite accessories!)
But don't overload on accessories. Pick and choose wisely. You don't need to wear jewelry and accessories from head to toe. Less is more.
Stick to one color palette if you're not a color pro. This helps you mix and match and maximize your capsule travel wardrobe. Remove any clothing items that are too close in style and color. For variation, choose prints in the same color palette.
Plan your outfits before the trip if you know your itinerary in advance. This way, you won't make any fashion "mistakes" and it makes getting ready easy. Get organized and sign up for our free Travel Outfit Planner.
Every item in your bag should have multiple uses. An item does not need to be a "convertible" piece for it to serve multi-purpose.
Don't forget about layers. For conservative countries or transitional weather periods, you can layer clothing – such as leggings or a long sleeve top – under a dress for more travel outfit options.
Choosing a jacket is like choosing a dress. Go with either a neutral color that will match all your clothing or select a vibrant color that will breathe some life into your basic travel wardrobe. These statement winter coats will breathe life into the most drab wardrobe.
Never pack traditional pajamas. For PJs, choose two items that you sleep in but use for other activities, like leggings or a t-shirt. Here's our quick guide on how to choose the best travel pajamas.
Scarves, scarves, scarves. Pashminas, wraps, sarongs, and scarves are versatile pieces and can be use in a million and one different ways. Here's why everyone loves a sarong!
If you're traveling in the heat, avoid dark colors. Beat the heat and wear white and light-colored fabrics that reflect the sun and keep you cool.
You need a sports bra if: you're planning outdoor adventures, trips with strenuous activities, or an overland safari. Unpaved roads can be brutal without support.
Convertible bras are great when traveling because they can be worn with various style tops without packing a bra for every top. Nude (or the color closest to your skin tone) can be worn under practically anything.
A bikini top makes a great backup bra option and is also commonly worn in place of bras when by the beach. If you use underwire bikini tops (or don't need much support), you might even be able to skip a bra altogether and just use a bathing suit top instead.
ExOfficio Women's Give-N-Go Bikini Brief
Save money on quality travel underwear at discount retailers by looking for fitness quality or microfiber fabric blends. These are good underwear brands to look out for.
Jeans are essential when visiting large cities and they're also the perfect travel clothing item in cold climates. Don't believe old travel clothing "rules" that say not to wear jeans when traveling!
Break in any travel shoes before you leave. Wear them around your town at least a couple times and take them out for a hike or two if that's what you're into. Make sure they match all your clothing so you don't end up with unwearable shoes.
Blondo Villa Waterproof Ankle Bootie
Three pairs of shoes is all you need. Treat your feet well by bringing proper footwear and by not over packing shoes that you just don't need. For travel shoes, three is the magic number. Sightseeing shoes, activity shoes, and one additional. Read this guide for everything you need to know about packing the best travel shoes.
Always wear warm layers for the flight; planes can be extremely cold. Here are some popular airplane outfit ideas.
Don't pack an equal amount of tops and bottoms. It's easy to re-wear bottoms many more times than tops. Pack more tops in the winter months and replace them with dresses in the summer.
Take double the amount of underwear that you think you'll need. A girl can never have too many pairs of clean undies and they hardly take up any space anyway.
Avoid falling into the travel clothing trap. Some trips require technical travel clothing due to specific activities, weather, or environment. However, for general sightseeing in towns, cities, and beaches, your normal (carefully-selected) clothing will do just fine. (Here's more travel style advice on avoiding this mistake!)
Travelon Anti-Theft Signature 3 Compartment Crossbody
20 Tips for Smart and Savvy Travelers
Keep all valuables and travel documents in your carryon or personal item.
Distribute the wealth and spread your valuables out in different places so if something does get taken – they don't get everything. Here's a list of anti-theft products and tips on how to keep your passport safe.
Don't be that traveler in the security line at the airport. Here's how to breeze through.
Make sure all your liquid items are inside a sealed bag. If one of the bottles spills, it won't get all over your entire wardrobe.
Use plastic wrap under bottle caps to avoid spills.
Items have unexpected uses. A regular bar of soap can be used as shampoo and laundry detergent if necessary. Likewise, shampoo can also be used as soap or laundry detergent.
Replace several beauty products with one. Olive oil and coconut oil are versatile and can act as a moisturizer, tame flyaways, and soften chapped lips. Here's more about why body oil is great for moisturizing!
BabylissPRO Nano Titanium Hair Dryer
Replace liquid beauty products with solid toiletries or travel wipes whenever possible. Everyone loves Lush solid shampoos, which last over 50 washes.
Should you pack your blow dryer? Find out.
Doing laundry is one of the secrets to packing less clothing. Find out how to do laundry while traveling.
If you plan to hand wash clothing, test it out! Wash the clothing you want to pack and let it dry indoors in the bathroom. If it takes longer than 24 hours, it may not be the best choice for your trip.
Use these helpful tools if you plan on hand washing frequently: consider taking a travel clothesline and sink plug or this cool device. Here's a tutorial on how to hand wash clothing when traveling.
Some travel size items are just useless. Find out why and when to avoid them.
Earplugs help neutralize sounds from a bus, plane, train, a crying baby, or the snores from a hostel mate. Sleep easier or just experience a quieter journey.
Don't pack more stuff just because you can. Just because your airline gives you 50lb baggage weight limit, it doesn't mean you need to use it all. Pack what you actually need and avoid stuffing your luggage to the brim only because you have the space.
Not everyone's travel essentials will be yours. Consider your own needs and preferences when planning your packing list.
Purchase an international adapter that works around the world. Take care of your electronics by choosing a travel adapter that also acts as a converter and has a surge protector to avoid blowing a fuse. Learn more about voltage and how travel adapters work.
Bring copies of prescriptions for your glasses, contacts, and especially medication in case anything happens to any of these items. Never pack these in checked luggage.
Here's a quick baggage allowance cheat sheet but as a general guideline: double-check the rules for ALL of the airlines you're traveling with to ensure accuracy. Different airlines have varying baggage restrictions and they change over time.
Don't pack "just in case" items. If you need it, you can probably buy it there.
Want the ultimate guides for packing light? Read our Pack Light Stylishly book to get started and take our master class if you're ready to Stop Overpacking!
---
What are your best packing tips? Please share in the comments below!
---
For more travel packing tips, please read:
---
LIKED THIS POST? PIN THIS PIC TO SAVE IT!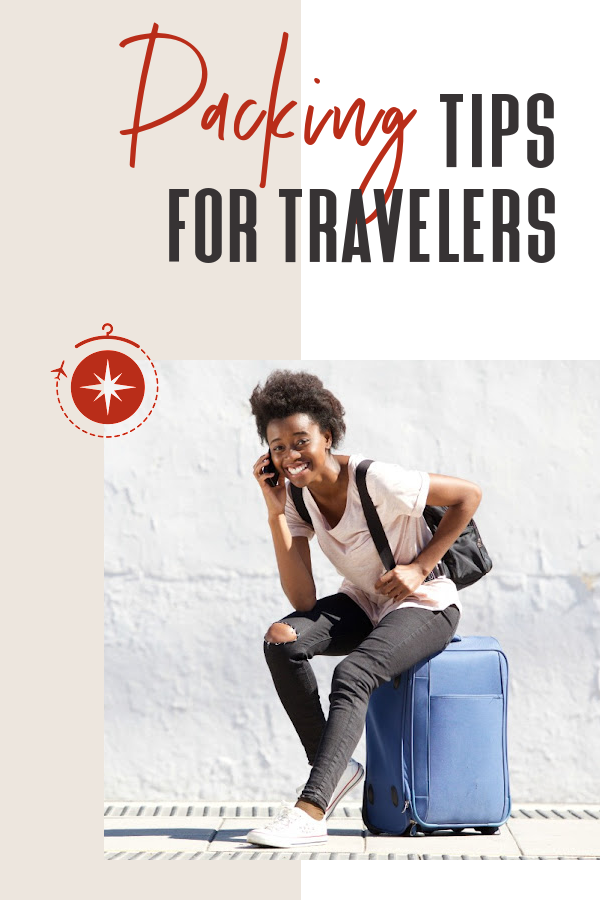 ---
We hope you enjoyed this post on our top packing tips. Please share it with your friends on Facebook, Twitter, and Pinterest. Thanks for reading!
---