10 STEPS TO PACKING FOR SOUTHEAST ASIA
To help simplify the packing process, we've created this 10 step packing guide for a trip to Southeast Asia.  Make this your first stop
when planning your next trip.  And don't forget to download your free packing checklist!
What Do I Pack for Southeast Asia?
This is a common packing question and we can help you by breaking it down in the following steps. Follow these 10 steps to learn how!
STEP 1
There are three important factors to remember when packing for Southeast Asia: modest clothing, heat and humidity, and outdoor activities.
Will you be visiting temples? You'll need to cover your shoulders and knees.
Will you be traveling in rainy season? You'll need to choose fabrics that can dry quickly.
Will you be climbing volcanos in Indonesia or trekking in Nepal? You'll need the appropriate gear.
Always begin by researching your trip and determining the weather using a website such as weather.com. Read this post on choosing the best fabrics for the weather.
Aside from cultural considerations and your planned activities, the weather in Southeast Asia tends to be hot year round. While you may encounter cold regions in higher altitudes and breezy winds near the beach, the majority of your clothing should be planned around high heat and humidity.
Unless it rains in the mountains, rainy season everywhere else tends to be too hot to wear a jacket. Depending on where and when you go, a disposable poncho may be all you need to protect you from the rain.
Because of the heat, travelers in Southeast Asia have distinct wardrobe choices. Similar to South America, backpackers or long-term travelers tend to adopt an extremely relaxed style featuring fisherman style pants and vests. However, this is not typically what locals wear (in either location).
This is exactly what travelers wear in Southeast Asia. You can also find street style pics for Bangkok and Bali.
STEP 2
Because of the hot weather, you're most likely only going to need summer clothing with a few warm pieces. Your clothing should be light, breathable, and breezy. Avoid things that stick close to your body.
The guides below offer tips on how to dress for the heat:
Tip: Breezy maxi dresses are ideal for Southeast Asia – they're pretty, they'll help you stay cool in the heat, and they'll cover your knees when you need to dress modestly – just add a light wrap around your shoulders!
STEP 3
Southeast Asia is an interesting place in the sense that cultural considerations in most countries encourage residents (and visitors) to wear modest attire but some times you will see locals wearing shorts, dresses, and other clothing that doesn't seem to follow this ideal.
You'll 100% need to cover your shoulders and knees when visiting temples in all countries, but you don't necessarily have to do this when you visit other places unless you're in a Muslim country such as Malaysia or Indonesia.
As a general guideline for Buddhist countries, you should wear modest clothing when visiting small towns while larger cities have a more relaxed dress code. Beach attire is the same as you would wear anywhere else but cover up your bikini when you leave the beach.
Major cities such as Singapore and Kuala Lumpur are cosmopolitan so you'll find that clothes that you'd wear at a major city at home would be more appropriate here.
Read these tips about choosing clothing for conservative countries.
STEP 4
Once you've done a bit of panning read this ultimate packing guide to South East Asia. For the most part, packing for this region is relatively easy and your clothing will mostly consist of lightweight breathable clothing because the temperature tends to be hot year round.
Use one of these Asia packing lists for clothing inspiration for your specific destination. If you don't see your city or country listed within the above regions, visit the Travel Fashion Girl Facebook Group and post any questions you may have for your trip. It's a fabulous community of helpful female travelers that love to share their best tips on shoes, clothes, and travel tips. It's free. Join here!
If it's your first time traveling or if you struggle with overpacking, review this packing course which shows you specific techniques to plan for an efficient and highly functional travel wardrobe for any trip. If you have a complicated itinerary or a trip to countries with varying weather, you might particularly benefit from reading the course.
STEP 5
The majority of locals and travelers in this part of the world wear flip flops on an every day basis. You can buy them here for $1-$5.
In addition to these types of shoes you also want to bring comfortable sandals. I can't stress this enough. It's hot, your feet swell, and sweat and they do need to breathe. If traditional walking sandals aren't your thing, these are currently popular travel shoes for travel in Southeast Asia.
If you plan on climbing or participating in adventure activities, bring a pair of trainers or appropriate outdoor shoes.
For more details, read this guide on choosing travel shoes.
STEP 6
One of the most important aspects about packing efficiently is using luggage organizers.
Watch this packing video to learn how to use packing cubes to maximize space and never check a bag again. These are the top 12 reasons why I prefer packing cubes to other organizers. We recommend these packing cubes – they're ours!
Start with luggage. If you don't already own a suitcase, choose one wisely. Read these tips on how to pick a suitcase and consider one of these top brands. Make your life easy with our best suitcase recommendations.
There are times when backpacks or rolling duffle bags are better than wheeled bags, especially in Southeast Asia – find out why.
If you're not staying at one resort your whole trip then a backpack is the suggested type of luggage for Southeast Asia due to broken pavement, sandy beaches, and less than functional sidewalks.
If you prefer to travel with traditional wheels, read these tips on how to pick a suitcase and consider one of these top brands. Make your life easy with our best suitcase recommendations.
Use packing organizers. Do you want to know the ultimate tool to travel in a carryon? PACKING CUBES! They changed everything for me and thousands of other travelers. See my packing tutorial on how to use them! Trust me, they are a must!
Confused about the best packing organizers? Read this guide to find out which type is the best for your type of travel.
Use tried and tested packing strategies. For a summary, read our top 75 packing tips.
I've recently taken on a few extreme packing challenges to show you that packing carry-on only is possible for any trip. If I can pack like an ultra-minimalist (with style of course) then you can pack more comfortably in a regular carry-on. Watch these packing videos to learn more:
STEP 7
The biggest mistake travelers make with toiletries is not considering how much product they actually use. There are five key steps when it comes to downsizing your toiletries properly for a trip:
Find combination items. You can find two-in-one shampoos and conditioners, body cleanser that can double as shave gel, a foldable brush with a mirror attached on the handle, and multi-use makeup products.
Purchase empty containers of various shapes and sizes and DO NOT default to choosing "travel size 100ml or 3oz" options. These are the best travel containers.
Stick to the basics. Simplify your skincare and pampering routine and bring a capsule makeup collection. It's only temporary.
Don't pack full size toiletries as you can easily replenish as you go. The most common drug store brands include Nivea, Oil of Olay, Loreal, and Dove.
Indulge in the cheap massages and nail salons!
For useful tips such as downsizing toiletries and choosing the best travel makeup, read our Ultimate Guide to Packing Toiletries. It includes a free printable checklist!
STEP 8
There are certain essentials that you might not think to bring when traveling to Southeast Asia. Here's our list of the most necessary items (you might be surprised).
You can find just about anything you need in Southeast Asia. Shopping in Bangkok, Kuala Lumpur, and Singapore is particularly exceptional and you'll find clothing and beauty products from home .
With the exception of Indonesia, tampons are readily available but you may want to consider a menstrual cup for convenience.
STEP 9
Don't forget about safety: While Southeast Asia is generally a very safe region for female travelers, take the same precautions you would at home: be mindful of your surroundings, avoid walking alone at night in desolate areas, and keep an eye on your drinks when out at night (especially buckets).
Research local scams online and never leave your valuables unattended – especially on long haul buses. If you put your main bag under the bus, do not pack any valuables in there and always lock your bag!
The biggest issue in Southeast Asia are the motorbike purse snatchers! Read these travel safety tips to learn more about how to avoid having your purse stolen in this part of the world. Add items like the Secret Stash Bra Pocket and Underwear with Pockets to conceal your money and cards in transit.
Keep your valuables safe with these anti-theft products:
Read these tips on how to keep your passport safe when you travel!
Travel Insurance:
On my round-the-world trip, having travel insurance saved me $800 in hospital fees when I got a skin infection in Southeast Asia. I used Travel Guard which had customer service 24/7 and helped me figure out all the doctor bills with ease no matter what part of the world I was in.
Just keep all your hospital receipts and get a check for any money spent when you return home. Easy enough!
STEP 10
Sign up for Travel Fashion Girl's monthly newsletter and get instant access to free packing templates, downloadable checklists, ebooks, and more!
BONUS: SOUTHEAST ASIA TRAVEL TIPS
Airfare
My favorite airline to fly economy to Southeast Asia is Japan Airlines and China Airlines has a very comfortable Premium Economy – it's more like business class!
I always browse for the cheapest dates to fly using Skyscanner.net then purchase my ticket on Travelocity.com or CheapOair.com.
for the best deals. (Travelocity has a 24 hour refund policy for women that find it hard to commit to a flight, like me!)
Read this post for my five step process to find the best flight deals.
Accommodation
When traveling to less expensive destinations such as Southeast Asia or Central America, I prefer to stay in local guesthouses rather than Airbnb because they're more cost effective. I book guesthouses and hotels or resorts, using Booking.com or Agoda.com. Depending on how long you're traveling you can also walk around to find good deals upon arrival.
You can stay in a lovely place for under $30 a night depending on the location. Generally speaking, anything between $30-$60 will get you very nice accommodation. As a budget travelers, I would usually spend between $12-$25/night; you get alot of value for your money.
OR if you want to splurge on a four star hotel, this is the place to do it. Luxury hotels are much cheaper here than anywhere else in the world.
Transportation
There are seemingly countless ways to travel around Southeast. For land travel, buses are a popular and inexpensive option. You can travel by bus and country-hop. It's also a lot less expensive than air travel and highly recommended if you have more time than money. Trains and tourist shuttles are only slightly more expensive and you can find low fares on budget airlines like Air Asia if you're low on time.
Motorbikes are a popular way to explore Southeast Asian destinations. However, they are also one of the most common ways to get injured as accidents are common. Always wear a helmet.
Money
To get the best exchange rate when I travel I pull money out at ATM machines and use xe.com for currency exchange rate information. Download their app for money updates on the go. Here are tips on how to exchange foreign currency.
Suggested Itineraries
You can find suggested overland travel itineraries for Southeast Asia here.
Suggested Travel Resources:
More 10 Step Packing Guides:
More Resources:
LIKED THIS POST? PIN THIS PIC TO SAVE IT!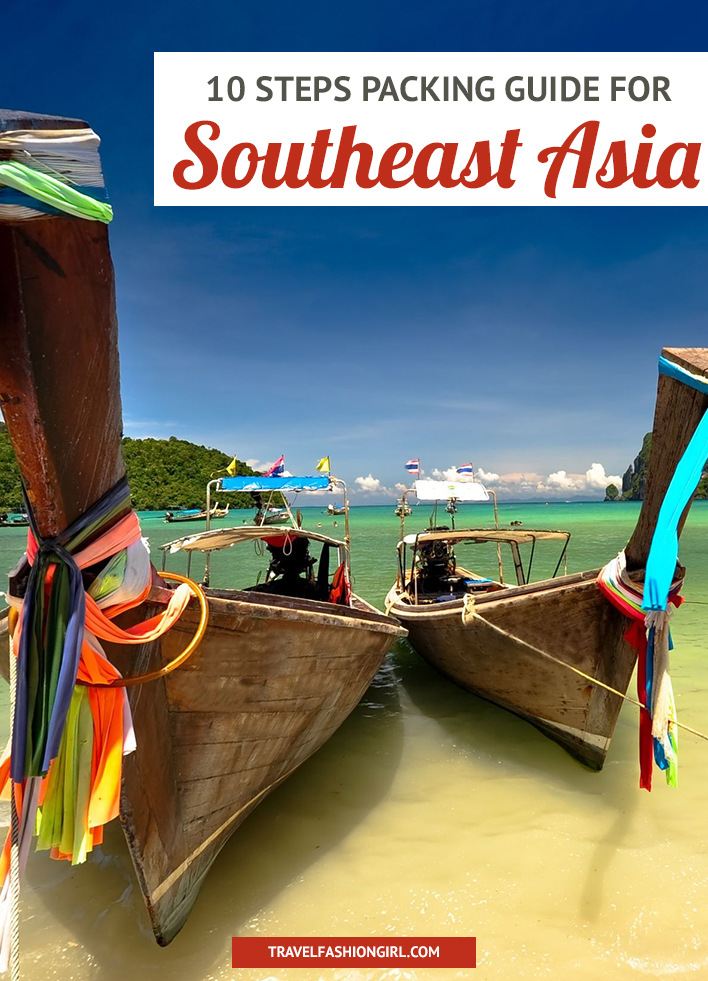 PRINTABLE TRAVEL CHECKLIST