Support TFG by using the links in our articles to shop. We receive a small commission (at no extra cost to you) so we can continue to create helpful free content. As an Amazon Associate, we earn from qualifying purchases made on Amazon in addition to other retailers featured on the blog. Thank you, we appreciate your support!
There are so many types of packing organizers it's confusing to know which one to choose. Keep reading to learn more about each type and find out the best luggage organizer for your trip!
---
Best Luggage Organizer
---
In 2017, I launched Compass Rose Travel Accessories and my very first product was a 4-Piece Set of Slim Packing Cubes. These are the only packing cubes sized to fit the exact width of a carryon suitcase and they also have a unique color-coded and numbered system – the only kind currently available anywhere on the market.
In 2015, I also helped co-launch the Pack Gear Organizer, a hanging backpack and suitcase organizer, which has four compartments and a hanging mechanism making it easy to unpack and repack your belongings.
Several of the readers commented that these two luggage organizers were completely different. They wanted to know which method offered the best packing option. Which was the right way to pack and which was the wrong way?
The answer to this is that there are a variety of packing organizers out there but each one serves a different purpose. Not all travel types are the same and not all travelers have the same needs.
While packing cubes may work for one person, another may prefer compression bags, or a hanging organizer like the one from Pack Gear.
Learn more about each type to choose the best luggage organizer for your trip:
Compass Rose Carryon Packing Cubes
PACKING CUBES
What: Packing cubes help you separate your belongings and can help you organize using the different methods shown in this Youtube series. If you use this specific packing strategy, they can also compress your belongings. This is the secret to traveling carryon only!
Who: everyone (makes carry-on travel a breeze)
Recommended product: Slim Size: Compass Rose Carryon Packing Cubes Multi-size: AmazonBasics 4-Piece Value Set
Packing cubes are the most popular option, many claiming they are the best luggage organizer – including us!
It's important to note that packing cubes can help you do much more than just separate your tops from your bottoms. They're traditionally sold to help you organize your clothing. However, the unique rolling method shown in this video helps you compress to maximize your luggage space, allowing you to fit more stuff in less space!
I developed the packing strategy in 2012 and have since helped over 20 million women travel carry-on only!
To use the packing cubes for compression, choose smaller sizes like the slim or small. To use packing cubes for organization, there are a variety of sizes available including medium and large.
AmazonBasics offers a value set with four different sizes, ideal for organization and Compass Rose (my brand) offers a 4-piece set in slim size, ideal for compression, carryon travel.
This article is going to tell you everything you need to know about packing cubes: how to use them (with video), the best ones to use, where to buy them, the best ways to pack using them, and if they're worth it.
But, if you don't need to pack much clothing for a trip and find that a you have a half empty packing cube, try the next organizer instead: a packing folder.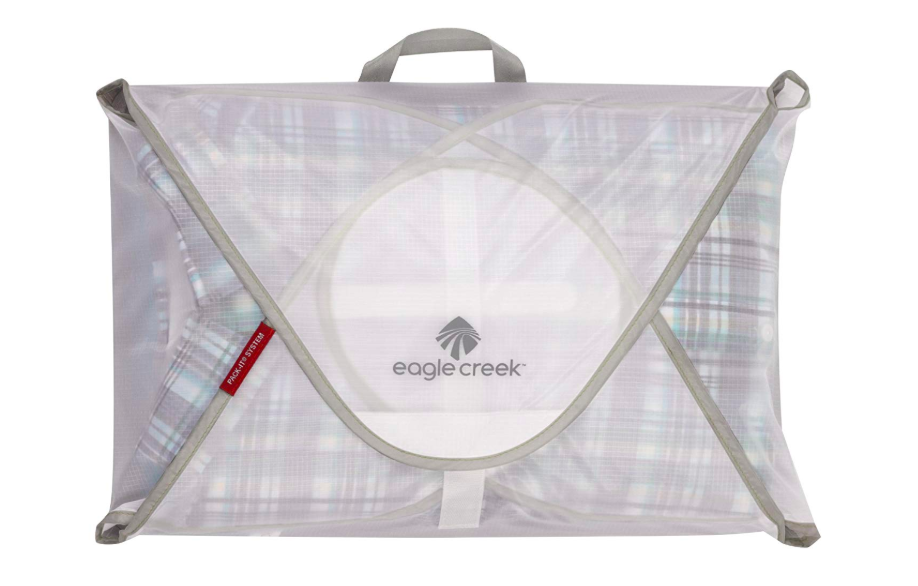 PACKING FOLDER
What: Packing folders are ideal if you travel with dress shirts or blouses. They help you organize your clothing and can minimize wrinkles, particularly beneficial for business travel.
Who: Business travelers, weekend trips, and minimalist vacations.
Recommended product: Eagle Creek Pack-it Folder
A packing folder is the best luggage organizer for people that appreciate the wrinkle-resistant benefits especially business travelers that use dressy and button up tops. They generally tend to be more popular with male vs female travelers.
Personally, I like to use packing folders for dressier tops on short weekend trips. They are more suitable for thin fabrics making them a better option in moderate to warm weather. Cold weather fabrics tend to be bulkier, in which case we recommend packing cubes or compression bags mentioned in the next section.
To minimize bulky travel gear such as down jackets and thick sweaters, consider using the compression  bags mentioned below.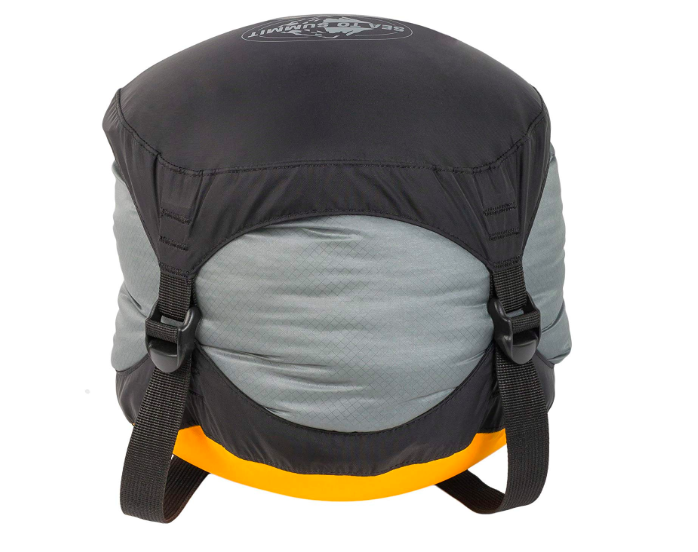 Sea to Summit Compression Dry Sack
COMPRESSION SACKS
What: There are two types of compression organizers: stuff sacks that tightly compress bulky items and compression packing cubes, mentioned below. Compression sacks are available in the form of a sleeping bag type pouch or a cylinder that uses straps to minimize the bulk.
Who: Adventure travelers, hikers, camping
Recommended product: with drawstring: Sea to Summit Stuff Sack with straps: Sea to Summit Compression Dry Sack
Compression sacks are the perfect packing organizers for travelers who need to pack bulky, trekking, and activity-based clothing items.
You simply stuff your clothes into the sack and compress, creating an easy, space efficient and flat packing aid. Compression sacks can be useful when packing with a top loading backpack.
Compression sacks are definitely not to be used on clothing you want wrinkle-free. They're also called "stuff sacks" which is just that: stuffing as much stuff and squishing it to make it fit.
Down jackets, socks, underwear, or sleeping bags would be ideal in a compression sack. They tend to be light, just bulky.
Creating an interchangeable capsule wardrobe is the key to simplified packing.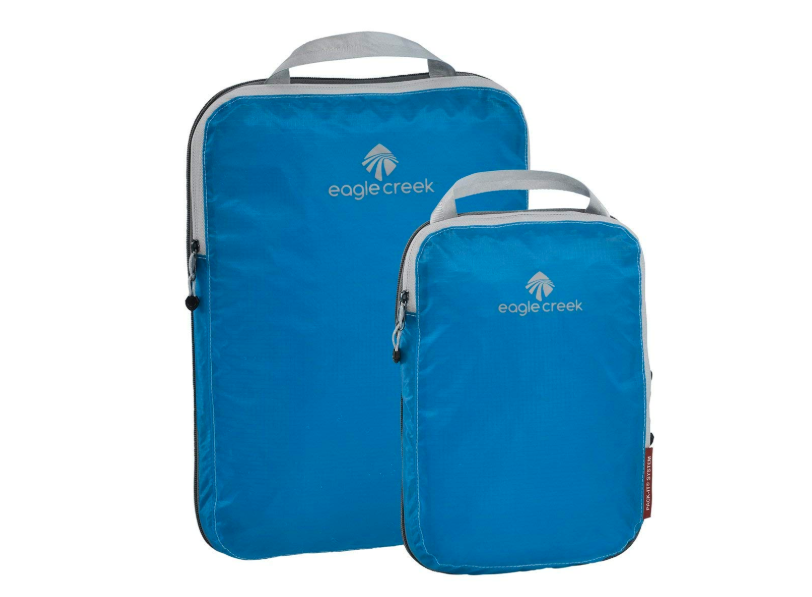 Eagle Creek Pack It Specter Set
COMPRESSION PACKING CUBES
What: Unlike compression sacks, compression packing cubes tend to have a bit more structure and are rectangular in shape. Instead of using a drawstring or straps to compress your clothing, they use a zipper.
Who: Adventure travelers, leisure travelers
Recommended product: Eagle Creek Pack It Specter Set
Compression packing cubes are popular for bulkier and larger items such as jeans, trousers, or sweaters. You place all your clothing in the main compartment then use a double zipper that squeezes your clothing together minimizing the bulk.
This can help you downsize the space your clothing would normally take inside your suitcase allowing to pack more in less space.
Regular packing cubes in small or slim sizes can also compress your clothing in a similar way. However, regular packing cubes work better for smaller items such as blouses, tops, short dresses, leggings, activewear, and soft fabrics whereas compression packing cubes are ideal for jeans, structured pants, long dresses, and sweaters.
The one benefit of using regular packing cubes vs compression packing cubes is the ability to separate your clothing in a more organized manner as compression packing cubes tend to take up a wider amount of space in your suitcase. Also, some fabrics don't compress as well as others so the double zipper compression feature may not always work.
PORTABLE CLOSET COLLAPSIBLE ORGANIZER
What: Portable closet for travel featuring four drawers and hanging hooks
Who: Backpackers (travel not hiking), tour groups, roadtrippers, cruisers, boaters
Recommended product: Pack Gear Hanging Organizer
The Pack Gear organizer conveniently removes all of your belongings from your suitcase or backpack and enables you to hang it in your hotel closet or hostel rail.
It's so easy and simple to unpack and repack! Plus it fits a 30L bag, which means you can fit it in a carryon size bag.
The hooks and drawers help hotel hoppers unpack and repack in seconds perfect for travelers on a whirlwind trip or coach tour. Hostelers can also make use of limited dorm room space by hanging their belongings on the hostel bed rail. It's particularly useful for toploading backpacks.
The Pack Gear is also popular with people traveling on RVs, boats, and cruises. It's an instant closet in small spaces!
In fact, for my own long-term travels, I actually pack all my clothing inside my slim packing cubes then bring the Pack Gear organizer separately so I can use it store my clothing upon arrival.
Note: the backpack organizer works well for travelers that don't overpack. Read my full review and video for The Pack!
Ultimately, while it's possible to use Ziploc bags to store your clothing, actual packing organizers have several more benefits and don't cost that much more money. Plus, you can re-use them throughout all your travels.
I can't travel without my packing cubes and many travelers feel the same way!
---
As you can see from the comparison above, the best luggage organizer is based on your specific trip. Each travel experience varies and your packing should, too!
What do you think is the best luggage organizer? Share your packing strategy in the comments!
---
For more packing tips, please read:
---
Thanks for reading this post on how to choose the best luggage organizer. Don't forget to please share it with your friends on Facebook, Twitter, and Pinterest. Thanks!
---