Support TFG by using the links in our articles to shop. We receive a small commission (at no extra cost to you) so we can continue to create helpful free content. As an Amazon Associate, we earn from qualifying purchases made on Amazon in addition to other retailers featured on the blog. Thank you, we appreciate your support!
This is the ultimate packing list for vacation in one of my favorite travel hot spots in Mexico – the idyllic and magical Riviera Maya coastline.
While the Thailand Islands are a massive holiday destination for Europeans, the Riviera Maya is a travel must for North Americans due to it's short flight to Cancun (the main airport in the area). Thousands of vacationers travel to Mexico's Yucatan Peninsula each year in search of sun, fun, and relaxation. The exquisite turquoise waters and shimmering white sand do not disappoint those seeking picture perfect beaches.
---
1-Week Packing List for Vacation in Riviera Maya
Written By: Laura Pulling
---
Table Of Contents
The Riviera Maya is a beautiful coastal stretch of Mexico, on the east coast, which meets the Caribbean Sea. Made up of delightful tourist hotspots, there's something for everyone to enjoy, whether you fancy some R&R, Instagrammable picturesque views, action and adventure, or simply to dance the night away, here you can do it all!
The weather is warm all year round, with summer highs hitting 90°F. During the colder period between December and January, it's still a balmy 70°F, but can feel cool in the evenings. With a temperate climate, you can fit your capsule wardrobe quite easily in a carry-on suitcase or travel bag, with the help of packing cubes.
You'll find that this part of Mexico can be affected by the late summer hurricane season (as the whole Caribbean area is) so from July to October it's also worth packing a small umbrella for the odd rainstorm (but no need for an actual rain jacket – even during a downpour it's still too warm to wear one!).

Travel Guide | Sunglasses | Swimsuit | Lotion
While most of your clothing will be cool summer clothes, you also want to take a light cover up for the evenings as the temperature can drop, especially by the beach.
Traveling longer? Here's a 2-week Mexico itinerary for the Yucatan!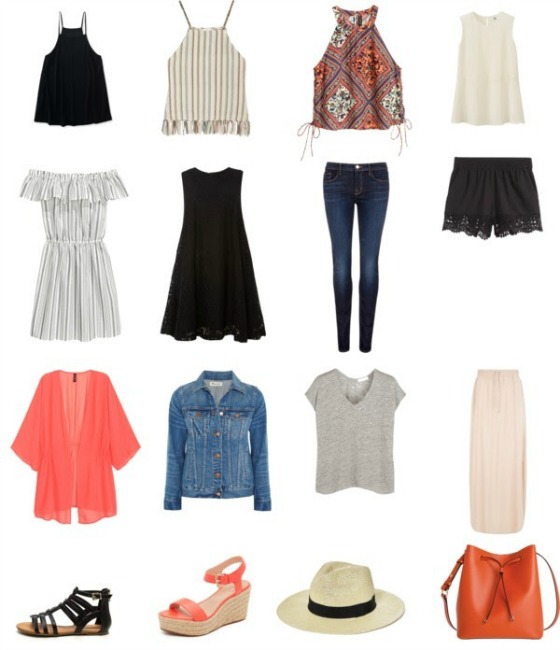 Tank | Sleeveless | Top | Blouse | Dress | Swing Dress | Jeans | Shorts | Jacket | Tee | Skirt | Flats | Sandals | Hat | Bag
A 10-Piece Packing List for a Riviera Maya Vacation
If you're heading south to Mexico, Travel Fashion Girl gives you a 1-Week packing list for vacation with just 10 pieces of clothing!
That's enough to visit the idyllic beaches, climb the ancient ruins or dance the night away. A one stop guide for travelers hoping to find a tropical escape (any time of the year).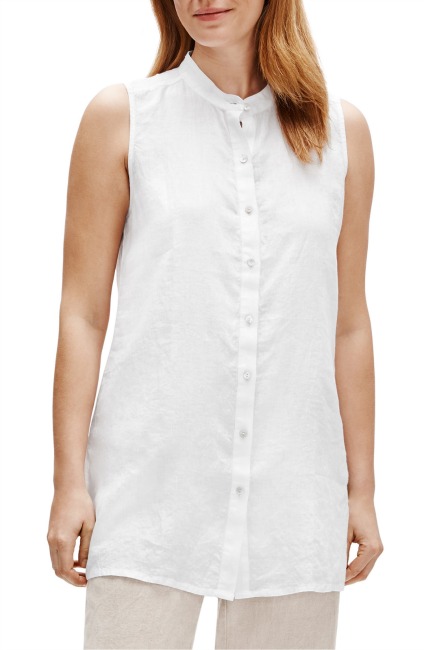 Eileen Fisher sleeveless linen tunic
3 Tops
For your packing list for vacation in Mexico, include three comfortable yet chic tops you can dress up with jeans or a skirt. Play with your travel outfits to make sure your tops are interchangeable with the rest of your travel wardrobe. Choose bright colors for tops and neutrals for the bottoms for an easy way to mix and match your travel outfits.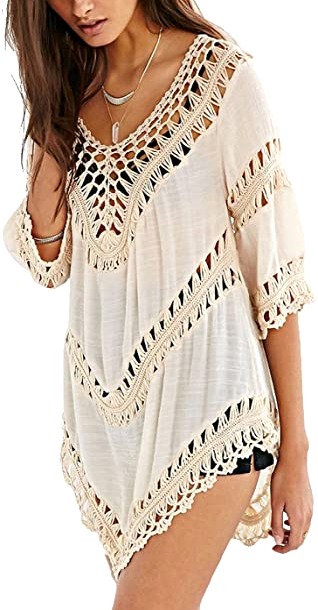 If you're heading to Tulum, you might want tops with a more boho vibe, as the laid back beach town is home to eco-friendly retreats and natural energies. Think embroidered cotton, crochet and kaftans, and you'll have a wardrobe that fits right in.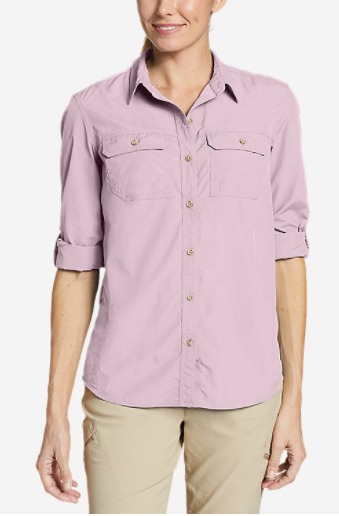 Eddie Bauer Mountain Ripstop Long-Sleeve Shirt
No matter where you stay in the Riviera Maya, there will be ancient Mayan ruins close by to visit. Whether you visit the picturesque ocean-front ruins at Tulum, the quieter (and still climbable) Coba, or the world famous Chichen Itza, you'll see some of the spectacular archeology that made the Mayans the infamous civilization of 1000 years ago. 
If you do visit these archaeological sites, you'll be subject to the glare of the scorching Mexican sun for most of your tour, so having a moisture wicking, but long sleeved top with UPF protection, like this Eddie Bauer option, will keep you from getting sunburnt and remain modest.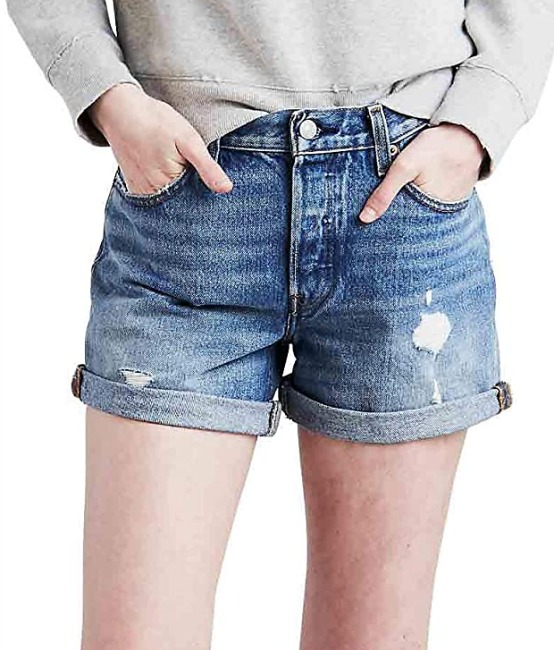 Levi's Women's 501 Long Shorts
3 Bottoms
Whether denim shorts or something more dressy, a pair of shorts is a must for your packing list for vacation to a beach destination. They're easy to wear and can usually be worn several days without a wash. Choose a length that's most comfortable for your style.
Denim shorts like these Levi's 501s are day to night wear in the Riviera Maya, especially in the relaxed island of Holbox, where nobody really 'dresses up' for a night out, and an outfit that works from the beach and straight to dinner is the norm.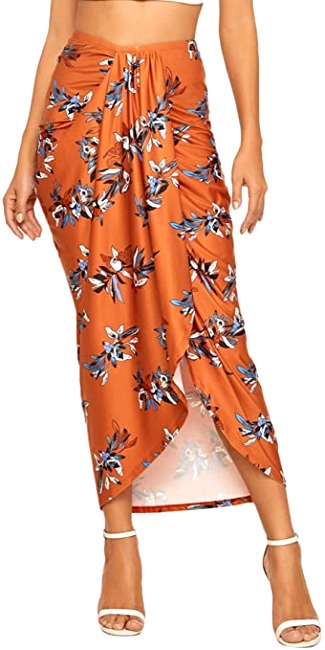 SheIn Asymmetrical Floral Maxi Skirt
Dressed up or down, a skirt allows you to create multiple outfits just by changing your top. Choose a versatile skirt that you can wear in town, for dinner, or at the beach. 
A casual maxi length number, like this gorgeous floral skirt, can be transformed simply by accessorizing, with flip flops during the day, and wedges and some statement jewellery giving you a night time outfit worthy of strolling along 'La Quinta Avenida' in Playa del Carmen, where you'll find most of the bars and restaurants.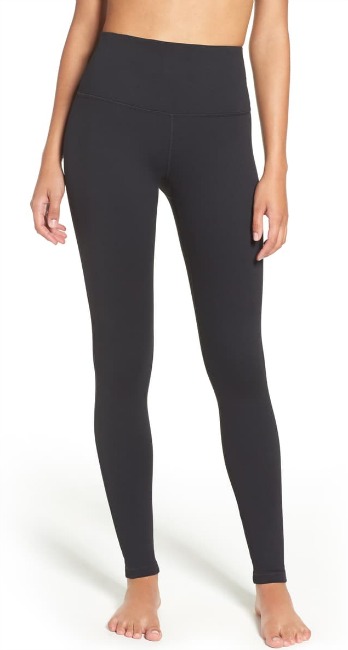 Zella Live In High Waist Leggings in Regular and Plus Size
For when you want to feel active, a pair of leggings is useful to have. There are a ton of yoga classes and workshops, across the Riviera Maya, and there's definitely something moving about spiritual breathing and holding a downward facing dog pose whilst overlooking the beach and hearing the sea waves that makes you feel more than relaxed. 
If you're sporting a true minimalist carry-on trip, a pair of leggings could work great for traveling in, to keep a little warmer on the plane ride, and could also work as pajama bottoms during your trip too. 
For thrill seekers, the Riviera Maya has a few different adventure parks too, with zip lining and ATVs to ride through the jungle. Though denim shorts could work for this type of excursion, longer leggings will stop any rubs from the harness and give a little extra sun protection and protection from bug bites during the day. (They are usually in the middle of the jungle – no escaping the pesky mosquitoes!)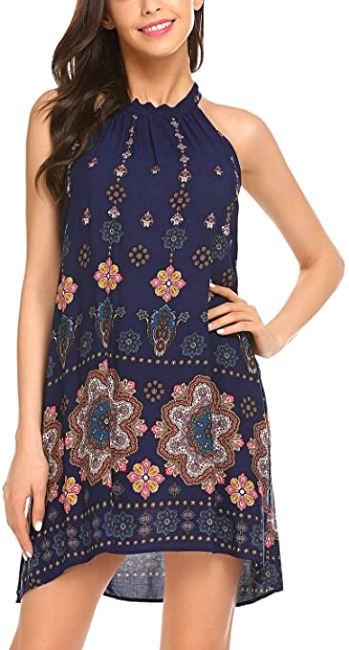 Halter Neck Boho Print Sundress
2 Dresses
Nothing is better than slipping into an easy, lightweight sundress for a day out. Add a scarf for extra coverage and style if you leave the beach area. A dress like this can be worn over a swimsuit during the day, or for an evening out enjoying a nice restaurant meal.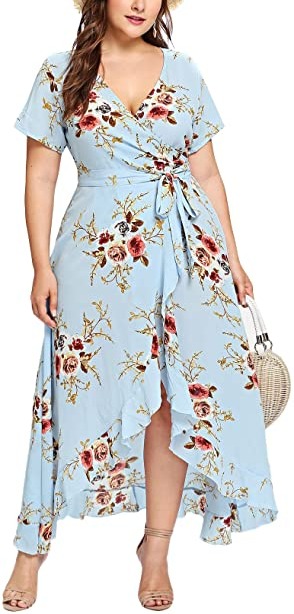 For a more modest look, that's still breezy, a maxi dress in a light fabric keeps you cool and can be worn in different settings, like if you choose to venture further inland in the Yucatan. 
Unless you stay in a fancier resort, ladies in towns in the Riviera Maya don't tend to get super dressed up unless it's for a very special occasion or club night. 
Check out these maxi dresses that are great for travel!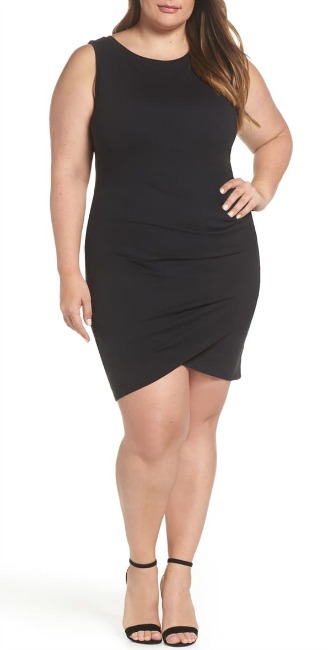 Nordstrom Leith Dress available in Regular Size and Plus Size
If you do want a 'ready for anything' number, pack a basic cotton LBD that can be dressed up or down, like our TFG favourite, the Leith dress. Or if you do want to glam it up – it is your vacation after all – throw in a sexy number you feel comfortable wearing out to dinner and on the dance floor.
Both Playa del Carmen and Cancun are home to the famous Coco Bongo Clubs, a spectacular party and show rolled into one, that visitors tout as a 'must do'. Here people dress to impress, and a cute dress will be perfect, but no need for heels, as you'll be dancing the night away, and you'll want to be comfortable too. Dressy sandals will do!
If you're going during New Year's, check out my post on How to Pack for New Years Abroad which gives you fun dress, accessories, and beauty options.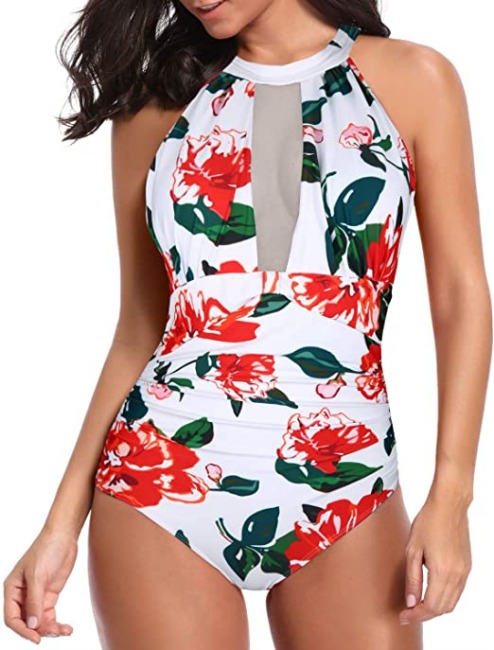 1 Swimsuit or Bikini
No matter where you visit in the Riviera Maya, you're never really more than a stone's throw away from the beach (or lagoon of 7 dazzling colors, if you venture to beautiful Bacalar). A swimsuit is essential for your packing list to make the most of the crystalline turquoise waters, and enjoy the wonderful snorkeling and even maybe try your hand at scuba diving along the beautiful reefs in the Riviera Maya. 
This high necked floral swimsuit is gorgeous and ever so flattering (I own it in two different prints and want more!) The ruching across the tummy hides lumps and bumps, and the high neckline holds in your bust and gives you comfortable coverage that still feels sexy.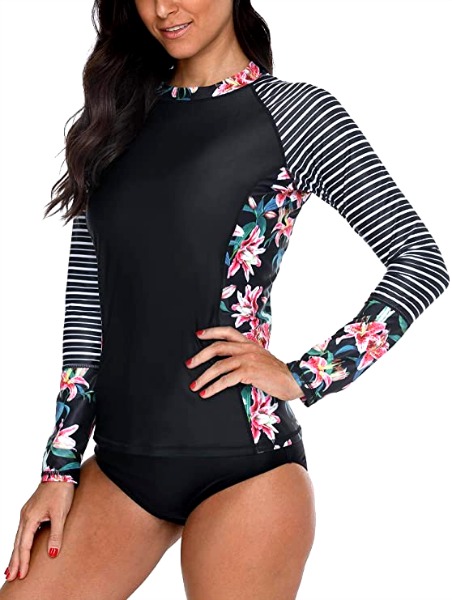 ATTRACO Long Sleeve Swim Shirt Womens
Cozumel is home to some of the best reefs in the world, according to scuba enthusiasts. If you do decide to partake in exploring the sea, either as a snorkeller or even just to swim, you may also wish to pack a rash guard to keep your exposed body safe from the sun's rays, whilst also protecting the coral from harmful sunscreen products.  
Summer months also bring whale sharks to the region, off the coast north of Isla Mujeres. A chance to swim with these gentle giants of the sea is a once-in-a-lifetime experience which you should try if you're a water lover like I am!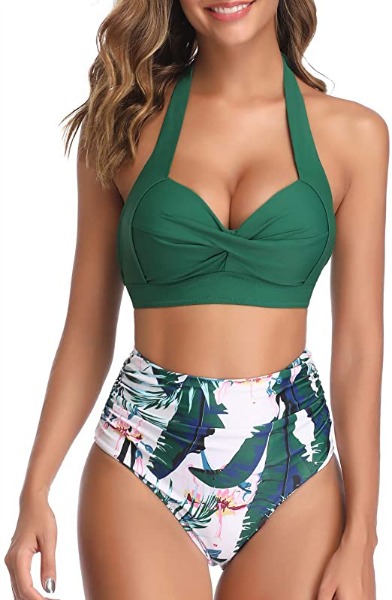 When lounging and soaking up the rays on the beaches of the Riviera Maya, skin is IN. It's not unusual to see Brazilian-inspired thong bikinis. Since the area draws in visitors from all across the globe, you'll see a little bit of everything. So if you're a two piece lover, bring your prettiest bikini. I love this high waisted one, as it feels cute, and rocks a vintage style.
The jungle inspired print is perfect for a dip in the magical waters of the cenotes, ancient sinkholes found only in this region of the world. The fresh water pools are famous to visit for their instagrammable beauty, but also the little fish that nibble on dead skin, giving you a free pedicure while you dip!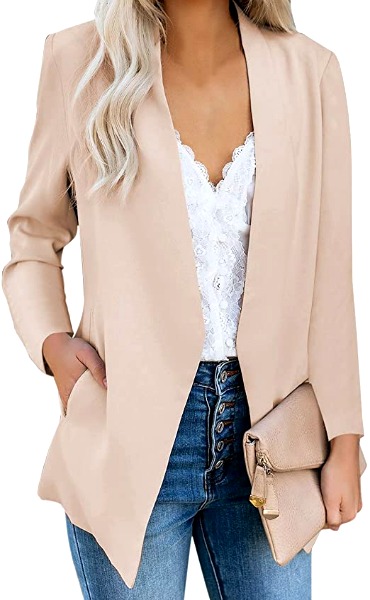 1 Outerwear Item
While the Riviera Maya coast doesn't get extremely cold, I did experience many chilly evenings while living abroad in Playa del Carmen. If you're visiting during the winter months, I'd definitely suggest you add to your packing list for vacation a light sweater, cardigan, or even blazer for the nights.
Choose a neutral color that goes with everything!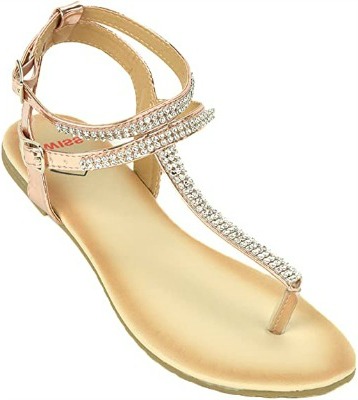 Alpine Swiss Slingback T-Strap
2 Pairs of Shoes
Nightlife in the Yucatan–in particular Cancun and Playa del Carmen–requires an including nice shoes; the relaxed Southeast Asia look isn't gonna fly here. Plus it's amazing how switching up day flip-flops to night sandals can change the entire look of an outfit. (Oh, how I love accessorizing!)
If you're on a resort vacation, you may want to add a sexy pair of heels to your packing list for Mexico. However, if you're a comfort seeker, nice flat sandals work, too. In fact, a pair of dressier sandals is a more versatile option if packing space is limited, especially by the beach where heels aren't convenient at some bars and restaurants.

Flip-flops. A must in every travel bag and on every packing list for vacation, these are essential if you're hitting the beach. I like these cute iPANEMA hybrid styles that don't look like the same old flip flops. You can find iPANEMA in several shoe stores on 5th Avenue in Playa del Carmen–that's where I first spotted them!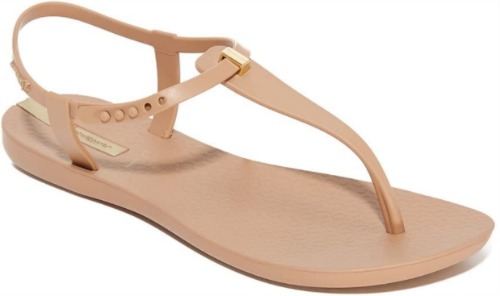 Depending on the style and material, if you're a Minimalista and you only choose one pair of shoes on a quick trip to the Yucatan, these are a good choice.
Accessories
Accessories can really make a look, without taking up valuable packing room. A bold pair of dangly earrings or a statement necklace turns a sundress into an outfit fit for dinner (with a carefully altered hair-do and slick of the right make-up of course)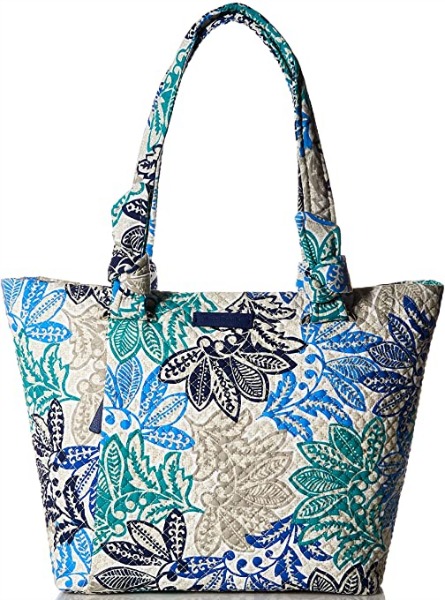 A beach bag will keep all of your day time essentials together. Choose one that's big enough for your travel towel, sunscreen and beachside romance novel (or kindle). This Vera Bradley Tote is big enough for a beach day, or for packing up souvenirs if you stroll along the malls and stores of Cancun. 
It could also double as your personal item during your flight, with enough room for your travel essentials and a zip closure for added security.

Ray-Ban 3025 Large Metal Non-Mirrored Aviators
Sunglasses are a MUST. What more can I say. It's bright almost every day, and you need to protect your eyes. Try to find a pair of sunnies that are polarized to give your eyes true protection. They're worth the step up in cost if you look after them. 
These classic Ray-Ban Aviators look good on practically any face shape and have been around for so many seasons, and won't be going out of style for the next decade or two, you can rest assured.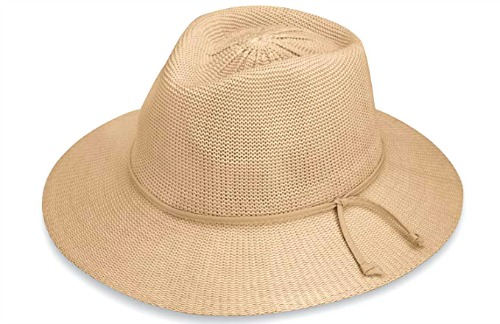 Last but not least, you're going to need a sunhat during your vacay. The heat of the sun can be overwhelming, and a sun hat with a wide shady brim will keep you cool whilst still looking effortlessly chic. This Wallaroo hat will go with any combination for a cute daytime look.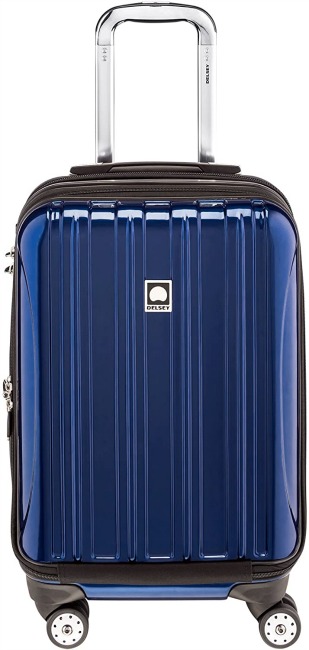 Delsey Luggage Helium Aero International Carry On
Luggage
If you're a true minimalista and follow our 10 piece guide for the Riviera Maya, you may be able to fit all of your packing into a carry on case. At TFG we love the Delsey Carry On for a get away, with the stylish looks but still the protection of the hard sides make a great packing option.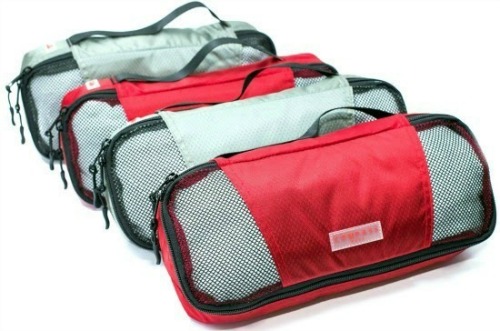 Packing cubes will change the way you pack. We designed our own brand of slim packing cubes, with a unique color and numbering system, so it's easy to remember where you've packed everything. The video below shows you how!
Learn our hacks with packing cubes in the video above!
We also put together a five-part YouTube series showing the different methods to use packing cubes for travel. If you use this specific packing strategy, packing cubes can also compress your belongings. This is the secret to traveling carry-on only!
---
When planning your final packing list for vacation, remember to cater your packing choices to fit your needs. If you plan on exploring several ruins and being active while you're there, add a pair of sneakers and skip the heels. If you don't plan to leave the beach, add an extra bathing suit and a kaftan in place of a dress.
What are your must-have pieces in your packing list for vacation to Mexico's Caribbean coastline?
---
For another packing list for vacation, please read:
Suggested Travel Resources:
---
LIKE THIS POST? PIN THIS PIC TO SAVE IT!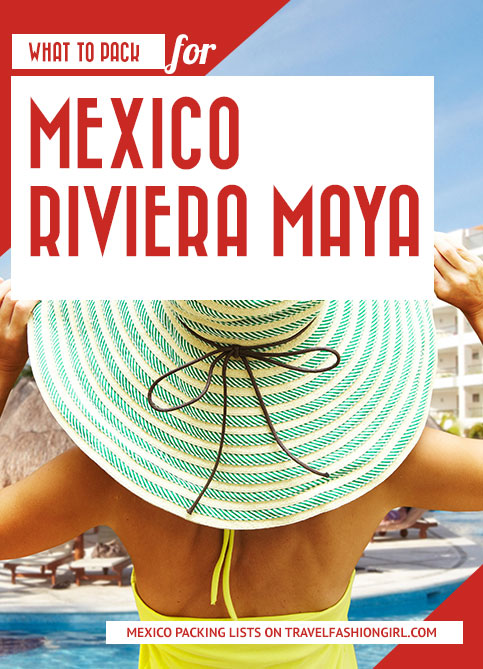 ---
We hope you liked this packing list for vacation in Mexico's Riviera Maya. Please share it with your friends on Facebook, Twitter, or Pinterest. Thanks for reading!
---