Support TFG by using the links in our articles to shop. We receive a small commission (at no extra cost to you) so we can continue to create helpful free content. As an Amazon Associate, we earn from qualifying purchases made on Amazon in addition to other retailers featured on the blog. Thank you, we appreciate your support!
I've taken over 500 flights the past decade and have worn all types of footwear when I travel. Find out what my fave shoes to fly in are!
Shoes in the above pic are the All Star Shoreline Converse.
---
Favorite Flying Shoes
---
Table Of Contents
I've logged a lot of miles in shoes over the years and one theme has been constant throughout my travels.
Because I'm going through airport security, walking through vast airport terminals, sitting on long haul flights, and perhaps getting lost and needing to backtrack somewhere in between, it's important for my footwear to be comfortable and easy to wear. 
And this is what I tell anyone asking me how to choose travel shoes: COMFORT is key.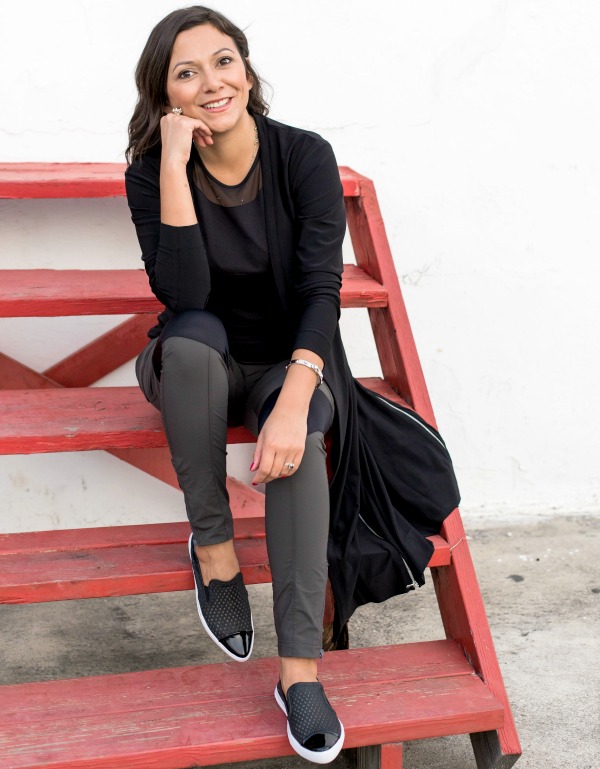 A few important features that should be in all your flying shoes:
Comfortable

– Because you may land in Heathrow and have to walk what seems like a hundred miles to get from your plane to the Tube or train.
Good condition

– So your soles don't fall apart as you're running through endless terminals trying to make a tight connection because your flight was late (true story).
Easy to remove

– Because you don't want to be that person holding up the line (and possibly missing your connecting flight) because you're busy untying and then retying your shoelaces at security. And you may want to take your

shoes off during a 10-hour flight and then put them back on quickly when the long bathroom line finally dies down and you don't want someone to beat you to the punch (so been there!).
Closed and secure

– Because it's hard to run through terminals and breeze through connections with flip flops or slides when you're struggling to make a flight due to an unforeseen delay.
Based on the above examples (that I've had to personally learn the hard way), after taking over 500 fights and traveling full time for over a decade, I've accumulated a list of best shoes to fly in.
These are my favorite shoes to wear while flying:

Buy Converse All Star Shoreline Slip On: Amazon | Kohl's | DSW
Slip On Sneakers
Generally speaking, slip on sneakers are my favorite to fly in! They're shands down the easiest shoes to wear on a plane. They're versatile, on-trend, and very functional and are particularly idea for traveling any season except winter when I'd wear my heaviest shoes on the plane (see the boots section below). 
If you choose comfortable walking sneakers, you can also use them as your sightseeing shoe.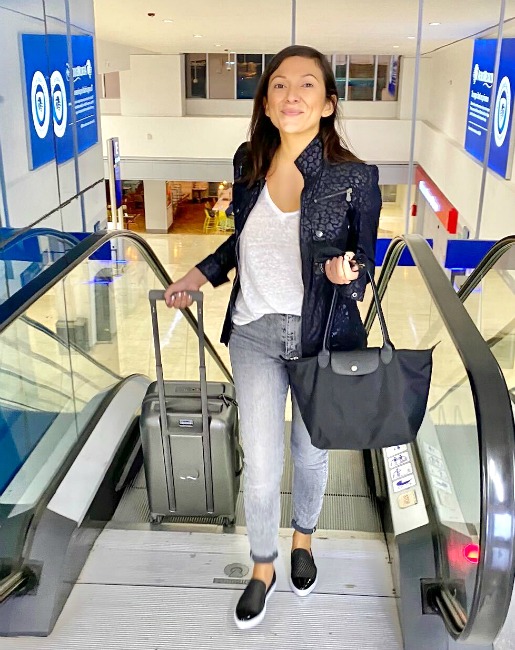 Pointy toe Jibs sneakers are my FAVORITE!!!!!
My personal favorite slip on sneakers are the All Star Shoreline Converse and the pointy toe Jibs sneakers. They wouldn't be my first choice for sightseeing because they lack arch support, key for long hours on your feet. However, they're perfect for the average trip when I'm not visiting somewhere new and don't plan on doing extensive touring.
To find the most comfortable styles that you can easily wear on the plane and to sightsee, too, take a look at our reader's recommendations for the most cute and comfortable slip on sneakers for walking.
Tip: Pair slip on sneakers with the Bombas no show socks. So worth the price! You'll never wear another no show sock brand again!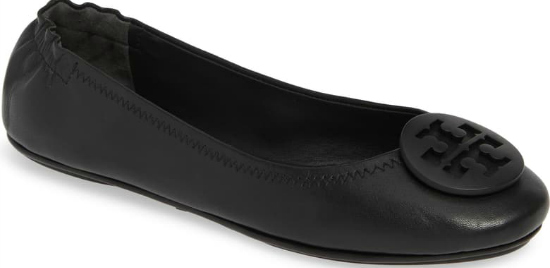 Buy Tory Burch Minnie Flats: Amazon | Nordstrom | Zappos | Shopbob
Ballet Flats
I absolutely fell in love with the Tory Burch foldable ballet flats for flying! They're perfect when I travel in any weather type because I usually use them only for flying and then either wear a winter boot or comfy sandals at my destination. (Check out my full review on Tory Burch flats!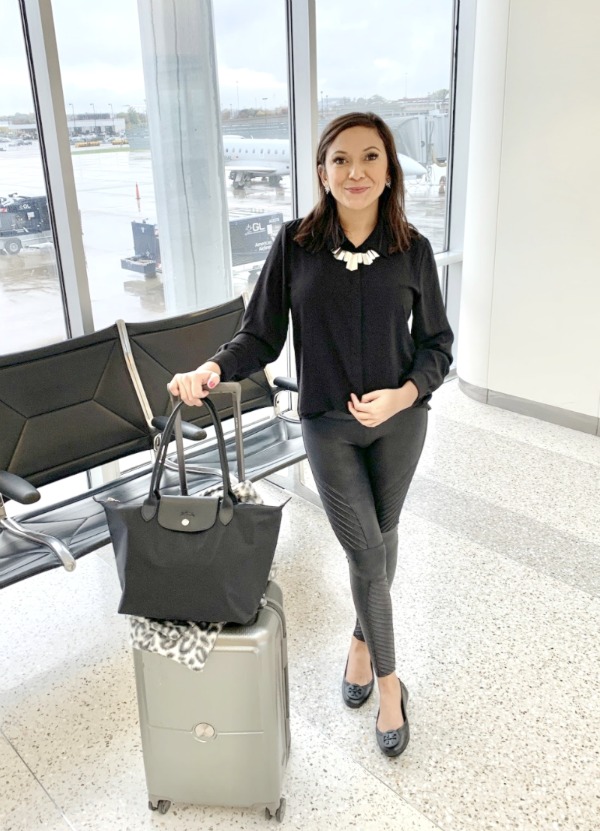 In Tory Burch Flats with Spanx Moto Leggings and H&M Blouse
I just fold them and pack them when I'm not using them and they don't take up any space at all because they're made from light soft leather. Ballet flats are not recommended for sightseeing because they don't have enough support for most people.
However, they're the ideal shoe to throw on when you want to dress up, including a flight when I want to look business class ready even if I'm flying economy! 
To find the most comfortable styles that you can easily wear on the plane or for light sightseeing, take a look at our reader's recommendations for the most cute and comfortable ballet flats for travel.
Tip: Pair ballet flats with the Bombas low cut no-show socks in a matching color. They're the perfect fit!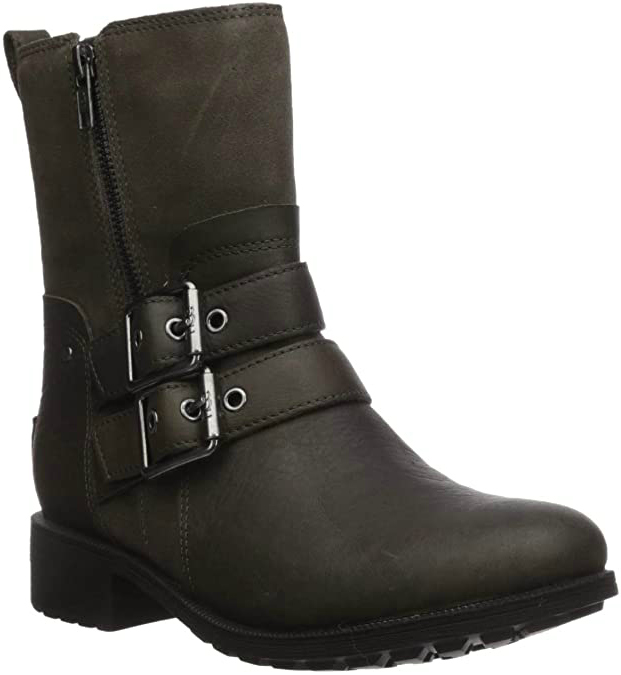 Boots (With Zippers)
When traveling in winter, I usually wear my boots on the plane because they're my heaviest and bulkiest item. However, the key thing here is to choose boots that have zippers so they're easy to remove at security! 
Or you could opt for a slip-on style if it's an option—no need to tie or zip just pull on and off!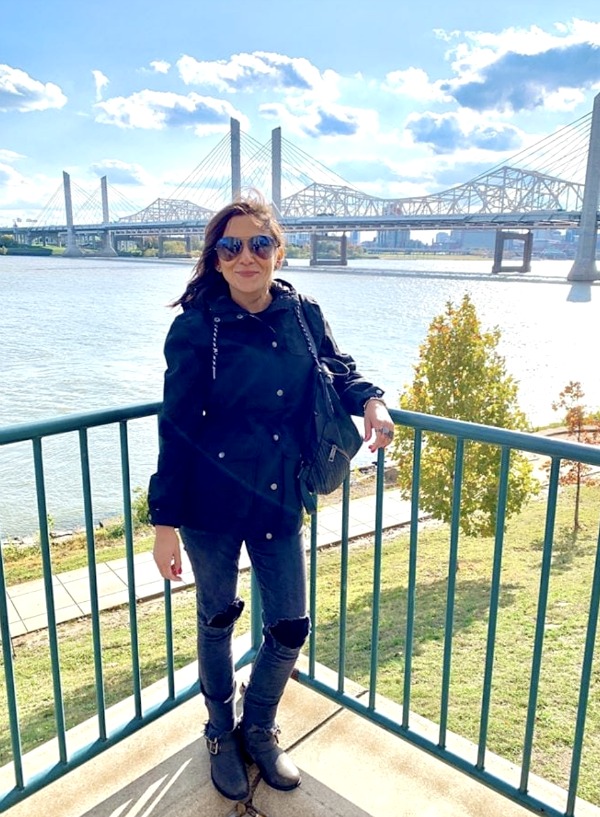 In UGG Wilde Boots with Eddie Bauer Jacket
My two favorite boots to travel with are my waterproof UGG Wilde for sightseeing and my Zara croc ankle boots for days when walking is minimal I want to amp up the style factor.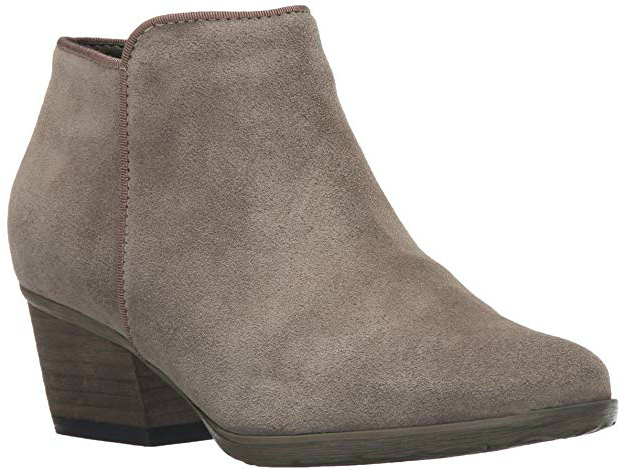 Blondo Villa Weatherproof Boots
My third favorite in past years has been the Bondo Villa boots, which is an awesome mix of versatility, style, and waterproof protection. I can get out of them easily at airports, no problem.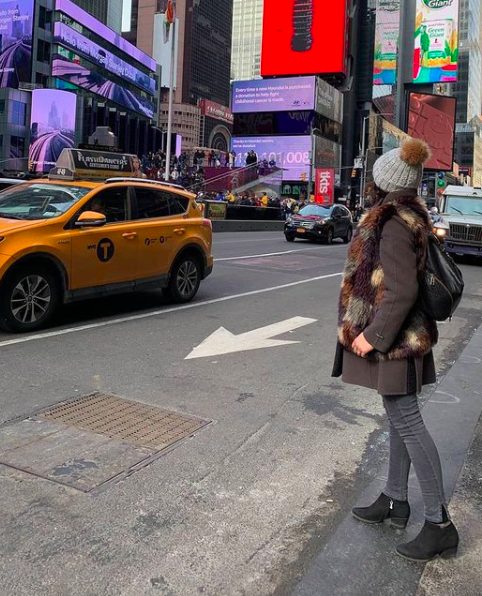 Wearing the Blondo Villa boots in New York
To find the most comfortable styles that you can easily wear on the plane and to sightsee, too, take a look at our reader's recommendations for the most cute and comfortable winter boots and the best ankle boots.
Tip: Pair winter boots with the Kirkland merino wool socks, highly recommended by the readers! For ankle boots, opt for something less thick yet cozy such as Icebreaker lightweight socks.

Buy Naot Sabrina Sandal: Amazon | Nordstrom | Zappos
Sandals
I don't love wearing sandals when I'm flying because I don't want to go through security barefoot and I get cold on the plane so closed-toe shoes keep me warmer.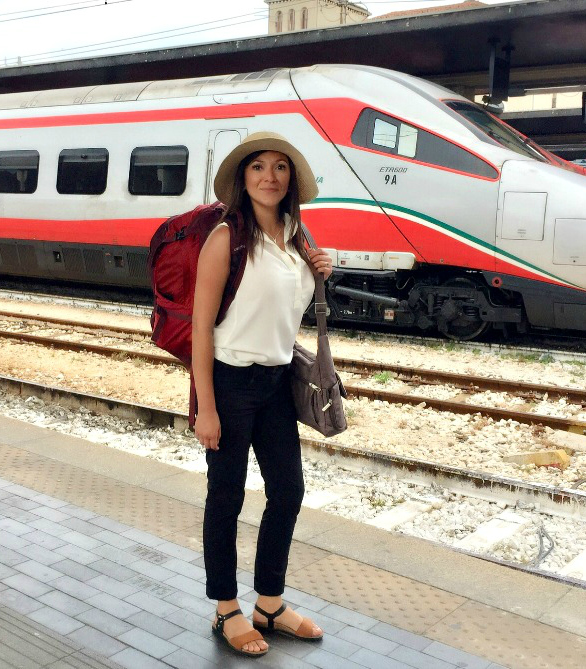 However, if I absolutely must wear sandals on the flight because of the limited space in my luggage, I'll bring a pair of socks to wear on board to keep my feet warm and toasty. In this situation, I'd wear my bulkiest sandals which would most likely be my summer walking shoe of choice: Naot Sabrina sandals.
Tip: use compression socks for long flights, which will keep your feet warm on a flight and also help with circulation!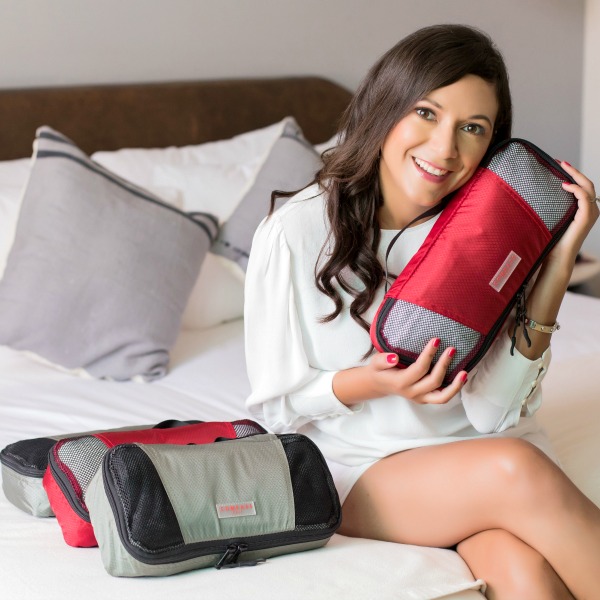 If You Want to Pack Your Flying Shoes, Here's How
There are times I switch up flying shoes and need to pack what I wore to a destination while wearing a different shoe back.  To begin organizing your shoes, start by selecting a container such as a shoe bag or a packing cube, then pack according to your type of luggage. See more in the video below.
Watch this video to start learning how to organize with packing cubes!
Whether you have a front loading or top loading backpack, it's crucial to put your shoes first, at the bottom. If you're planning to pack shoes in a rolling carry-on, remember that it stands sideways, so it's important to note how it functions when it is upright. Most often, your shoes will need to be packed close to the wheels, so that the luggage maintains its balance in transit. These are the keys to packing carry-on luggage!
More of the Shoes I Love to Fly In
---
What are your favorite flying shoes? Share in the comments below!
---
For more travel shoes, please read:
---
LIKE THIS POST? PIN THIS PIC TO SAVE IT!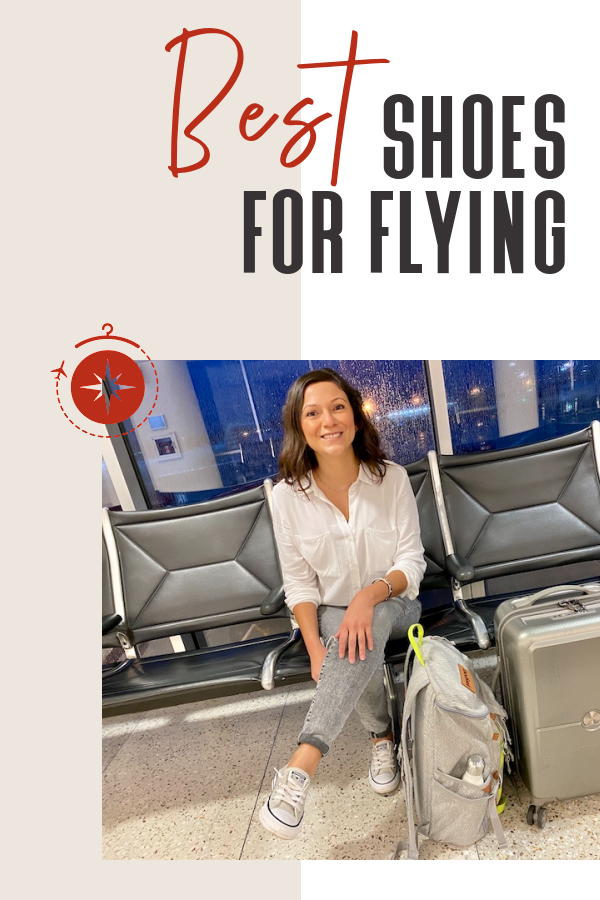 ---
I hope you liked this post on my favorite shoes to fly in. Please share with your friends on Facebook, Twitter, and Pinterest. Thanks for reading!
---