Support TFG by using the links in our articles to shop. We receive a small commission (at no extra cost to you) so we can continue to create helpful free content. As an Amazon Associate, we earn from qualifying purchases made on Amazon in addition to other retailers featured on the blog. Thank you, we appreciate your support!
The Longchamp brand has always been a well-regarded name in the world of fashion accessories, but are Longchamps the best travel handbags? Many Travel Fashion Girl readers say yes. Find out why!
---
Longchamps Bags Reviews
---
Table Of Contents
Every time I step into an airport, I feel like there's a sale on Longchamp Le Pliage bags — they're everywhere! With a price tag of around $145, I know they're not being given away, so I wondered: Why do so many women travel with them?  
Are Longchamps the best travel handbags? I turned to a trusted group of avid female travelers (the women on TFG's Facebook group, of course!) and asked what they thought of these handbags for travel. This is what they had to say.
Longchamp Basics
Here are some of the essential details to know about the signature Longchamp Le Pliage large tote bag:
Style: Large Tote Bag

Material: This tote is made of a nylon/pliage material, which makes it lightweight, easily packable, and water resistant.

Colors: The Longchamp tote comes in lots of colors, with the best seller Longchamp bag color being black, followed by red, navy, graphite, and billberry.

Weight/size/measurements: 12.2" x 11.8" x 7.5"

with 12" shoulder strap drop length

Travel type: This purse can be used as a carry-on, stowed away as an extra tote, used for a weekend trip, or brought along for a trip abroad — it's particularly popular in Europe!
Are Longchamps the Best Travel Handbags?
Our readers love Longchamp bags for a few reasons, from its stylish silhouette to its versatility. It's no wonder so many consider Longchamp to be the best handbag brand for travel!
Longchamps Bags Reviews: Best Stylish Bag for Travel
When we asked what our readers loved most about the Longchamp Le Pliage travel bag, many of them explained how stylish it was.
One reader says, "I saw an incredibly chic passenger with a well-worn, large Le Pliage on the ferry to Martha's Vineyard more than a decade ago. I still wonder where she was heading and what glamorous events her weekend entailed. I had to have one for myself! Alas, the Gatsby-esque lifestyle did not come with it."
Another reader says, "I used it on an island-hopping trip across Greece, and it was the best! I could fit a week's worth of clothes inside, and it did double duty as a beach tote! I love it so much that I want the other smaller sizes, but you can't fit much in those."
If style is important to you when you travel, be sure to read Pack Light Stylishly!
Most Versatile Travel Bag: Longchamp Le Pliage Review
Readers also say the Le Pliage is one of the most versatile travel bags as it can serve multiple functions and for many different occasions.
One reader says, "I have the larger one that doubles as a travel shoulder bag, and I use it all of the time! I use it as an everyday tote, a carry-on tote, or if I'm taking a wheelie, then it serves as an extra bag in my suitcase."
Another reader traveling with children finds it perfect for her family needs. "We've been using it in our travels as a nursing bag. We have two small children, and I have a larger shopper tote with longer straps. It holds a lot of the stuff we need on our travels with children.
"We've taken it on a plane with baby stuff (food, diapers, toys, wipes, etc.) and at the destination, it can be used as a beach bag or a shopping bag. It's easy to handle and carry-on your shoulder."
Watch the Fashionista's Guide to Ultralight Minimalist Packing video!
Small Longchamp Le Pliage Shoulder Tote
Best Foldable Travel Tote: Longchamp Review
The most popular way the Longchamp bag seems to be used on trips abroad is by folding it up and bringing it along as a spare tote or carry-on bag!
A TFG group member says, "A huge bonus is that it folds and neatly snaps together, so if you're on a longer trip and planning to pick up a thing or two, you can stow it away until needed as an extra bag for the journey home. This is a good investment."
Another reader says, "I purchased a large black one several years ago in Paris and have used it for everything from a purse, to a weekend tote, to a gym bag. It's an excellent carry-on bag and easy and light to throw into a larger suitcase if you're expecting to bring back some extra souvenirs. The real ones are durable and resistant to dust."
This reader finds many uses for her Longchamp tote: "I have been traveling with mine for years. I always pack it, because it makes a great extra bag if you need another suitcase on the return home. I've used mine as a beach bag, overnight bag, and a market bag for grocery shopping (in Europe you have to buy plastic bags and this is much better)."
Read about some of the best packable totes for travel!
Large Longchamp Le Pliage Shoulder Tote
Longchamp Most Lightweight Bag for Travel
Our readers explain that the light weight of Longchamp handbags is what makes them easy to pack and carry around the world!
One reader says, "I love mine, but if I'm using it as a travel purse, it must have a purse organizer in it. Otherwise, everything is hard to find. But with an organizer, it's great! I love how lightweight it is."
Another says, "When in Paris recently, everyone was carrying one! There was even a billboard near the airport — beware of imitation bags. I carry it mainly as a tote, but as a purse, I would add an organizer or use a cross body for overseas travel. I have a similar bag as my personal item for the plane — I love that I can throw in a light jacket and stuff it full since it's so lightweight."
Despite only one little pocket, this reader loves hers, saying, "My 17-year-old daughter and I love Longchamp bags. They are very lightweight and durable. We have used them on many trips and will again in June for her graduation trip to Italy. The main negative is that it has only one little pocket."
Our experts share the best carry-on luggage for traveling to Europe!
Large Le Pliage Neo Nylon Tote
Longchamps Reviews: The Perfect Weekender Bag
One Travel Fashion Girl reader explains that Longchamps are the best travel handbags for short weekend trips as opposed to long, international trips where you may need more storage. Use packing cubes to help compress your clothing for your short vacation! 
One reader says, "This may never take the place of a backpack for long-term travel, however it's perfect for shorter trips and when you don't really need to carry around your stuff all the time! Also, I personally haven't had any issues folding it up. There are sometimes some very cool airport exclusive designs to choose from!"
Another adds, "This is one of the best travel handbags for weekend travel. It's sturdy, holds a ton, and even marinara sauce and red wine stains wipe right off!"
We round up some of the best weekender bags!
Are Longchamp Le Pliage Bags Waterproof?
The nylon material of the Longchamp handbag line makes their purses water-resistant, but not necessarily waterproof. Thankfully, water resistance is usually all you'll need while traveling!
Water resistance will keep all of your items dry inside the bag whenever it rains or you spill something on it. It wicks away the moisture, which is great for any destination you may be headed.
What Size Longchamp Bag Should I Get?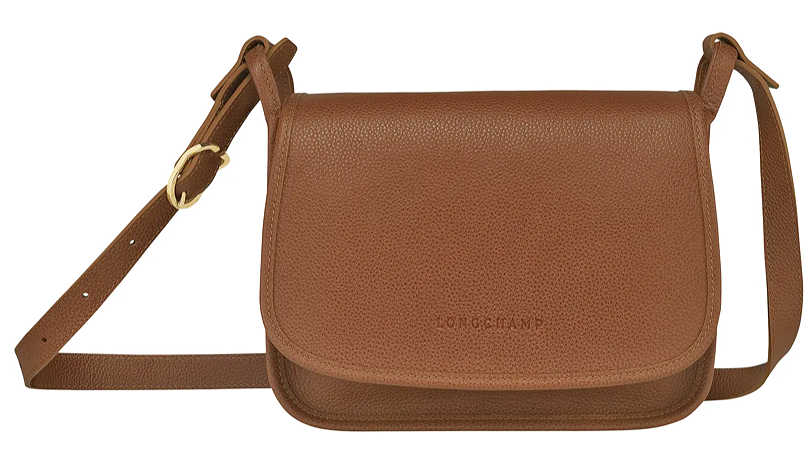 Le Foulonné Leather Crossbody Bag
Longchamp Travel Bag: Crossbody
Beyond the popular Longchamp tote, there are other options for travelers who want a different size or style of bag, but with the Longchamp quality.
As many of our Travel Fashion Girl readers will tell you, across body bag is one of the safest purse options for traveling abroad. The stylish Longchamp Le Foulonné Crossbody Bag is an easy pick. This compact bag is made out of a stunning pebbled leather that can easily work with both day and night looks.
One reader says, "I like the look of the Longchamp cross-body bag. There's lots of room, it's very light, and you get the benefit of being hands-free."
If you've been asking yourself the question, "What size Longchamp bag should I get?" This cross body may be the perfect in between.
Read about the top 5 anti-theft travel purses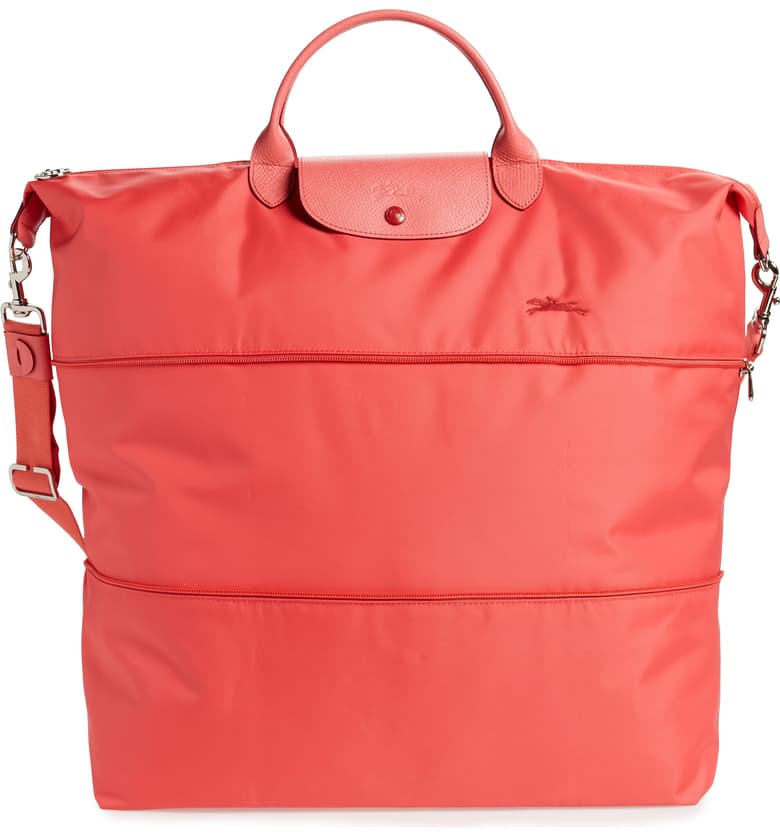 Le Pliage Expandable Travel Bag
Longchamp Weekend Bag
While the Le Pliage tote bag is the most popular Longchamp bag, the Longchamp expandable travel bag is another great option. It has a lot of room for all of your clothes and accessories, and it's extremely stylish. This oversize tote is perfect for any weekend vacation or short trip.
Check out these other alternatives to Longchamp!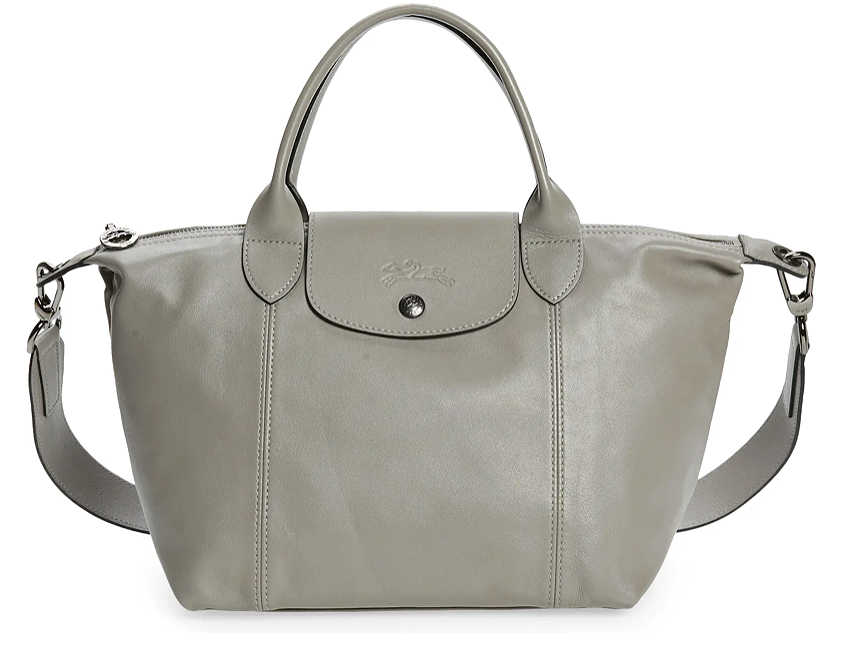 Medium Le Pliage Cuir Leather Top Handle Tote
Longchamp Leather Tote
Longchamp is a popular brand for travel, because their line of handbags includes so many different sizes and styles! This stylish Le Pliage Cuir Leather Shoulder Bag, can be used in two different ways, working as a crossbody bag and a handbag. It comes in several gorgeous colors and it's also available in "mini" size too! 
One TFG reader says, "I own several in different sizes and usually use two for travel. I use the handbag with a long handle for a normal day. It fits most things that I need during the day, like a water bottle, camera, scarf, etc."
Another reader says, "I use the travel bag as a carry-on to fit a jacket/coat, iPad, book, and one set of clothes if I'm on a longer trip. This bag is especially useful if I'm traveling with smaller luggage. Other bags like the Planetes range is classy for work trips but isn't foldable."
These are some of the best travel bag styles for sightseeing!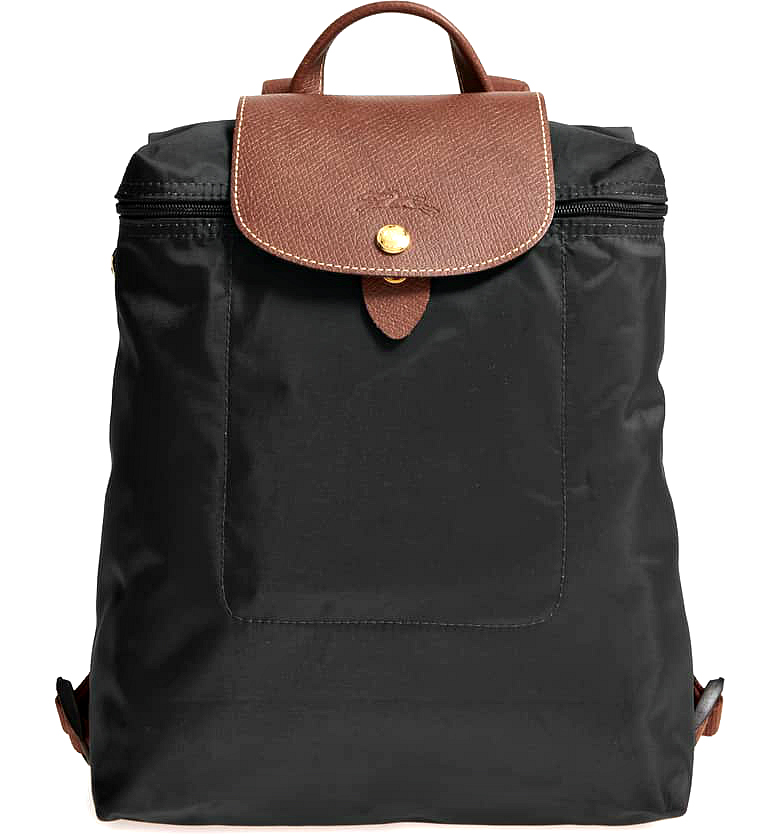 Longchamp Le Pliage Backpack
The elegant Longchamp Le Pliage Tote may be the inspiration for this bag. The oh-so-popular tote among female travelers still requires you to carry it by its handles. The Le Pliage backpack lets you go hands free, which is always a bonus!
Longchamp Le Pliage Nylon Tote Video Review
Watch this video to learn why I adore this bag!
Bags Similar to Longchamps
Large Travel Weekender Bag Duffle
If you like the idea of traveling with a Longchamp handbag but don't want to pay the hefty price, consider this bag similar to the Longchamp Le Pliage, which can be found on Amazon.
The ECOSUSI large travel weekender duffle bag has an adjustable padded shoulder strap to wear it as a satchel or cross body. Trolley handles allow you to slide it over the handle of your suitcase. It is water resistant and fabric lined, with a special pad to protect your electronic screens. At $39.99, it's a cheaper alternative to the Longchamp.
Find out why the ECOSUSI duffle bag is one of the most popular under-the-seat trolley bags!
---
What is your favorite use for a bag like Longchamp? Share in the comments!
---
For more Ideas on travel handbags, please read:
---
LIKED THIS POST? PIN THIS PIC TO SAVE IT!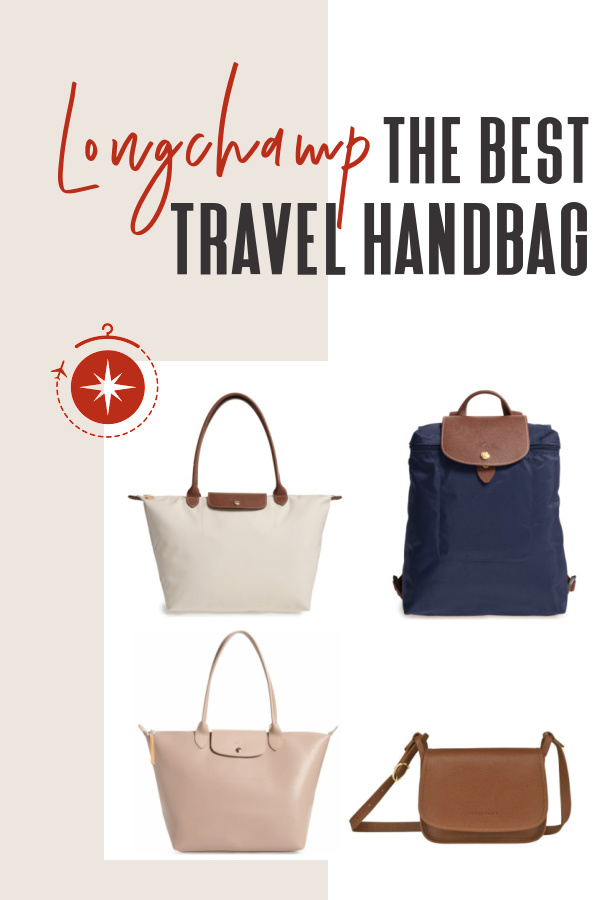 ---
Now you know why many women consider Longchamp to have some of the best travel handbags. Don't forget to share this post with your friends on Facebook, Twitter, and Pinterest. Thanks for reading!
---