Support TFG by using the links in our articles to shop. We receive a small commission (at no extra cost to you) so we can continue to create helpful free content. As an Amazon Associate, we earn from qualifying purchases made on Amazon in addition to other retailers featured on the blog. Thank you, we appreciate your support!
Wondering what to wear in El Salvador?  From the exciting beaches of La Libertad to the colorful pueblos in the Flower Route take a look at these travel outfit ideas. Plus, learn more about where to stay and what activities are worth doing in this delightful little country!
---
What to Wear in El Salvador
---
Table Of Contents
El Salvador is a country that seems to be known most for its turbulent past. While unfortunately overshadowed by news reports of crime and violence, El Salvador is truly an incredible country that steals the hearts of travelers as they traverse Central America. 
I've heard countless travelers speak highly about their experiences traveling in El Salvador, especially the kindness of the locals! 
In El Salvador, you'll get to experience a fascinating culture, see beautiful art, shop from talented local artisans, swim at the beaches that draw surfers from all around the world, and eat delicious Salvadoran cuisine. 
Like many other Latin American countries, El Salvador has a prevalent religious affiliation, and some areas can be conservative in dress. Generally speaking, (despite the heat) jeans, maxi skirts, or sundresses that come close to your knees are all appropriate when visiting small towns. But save your shorts to wear to the beach.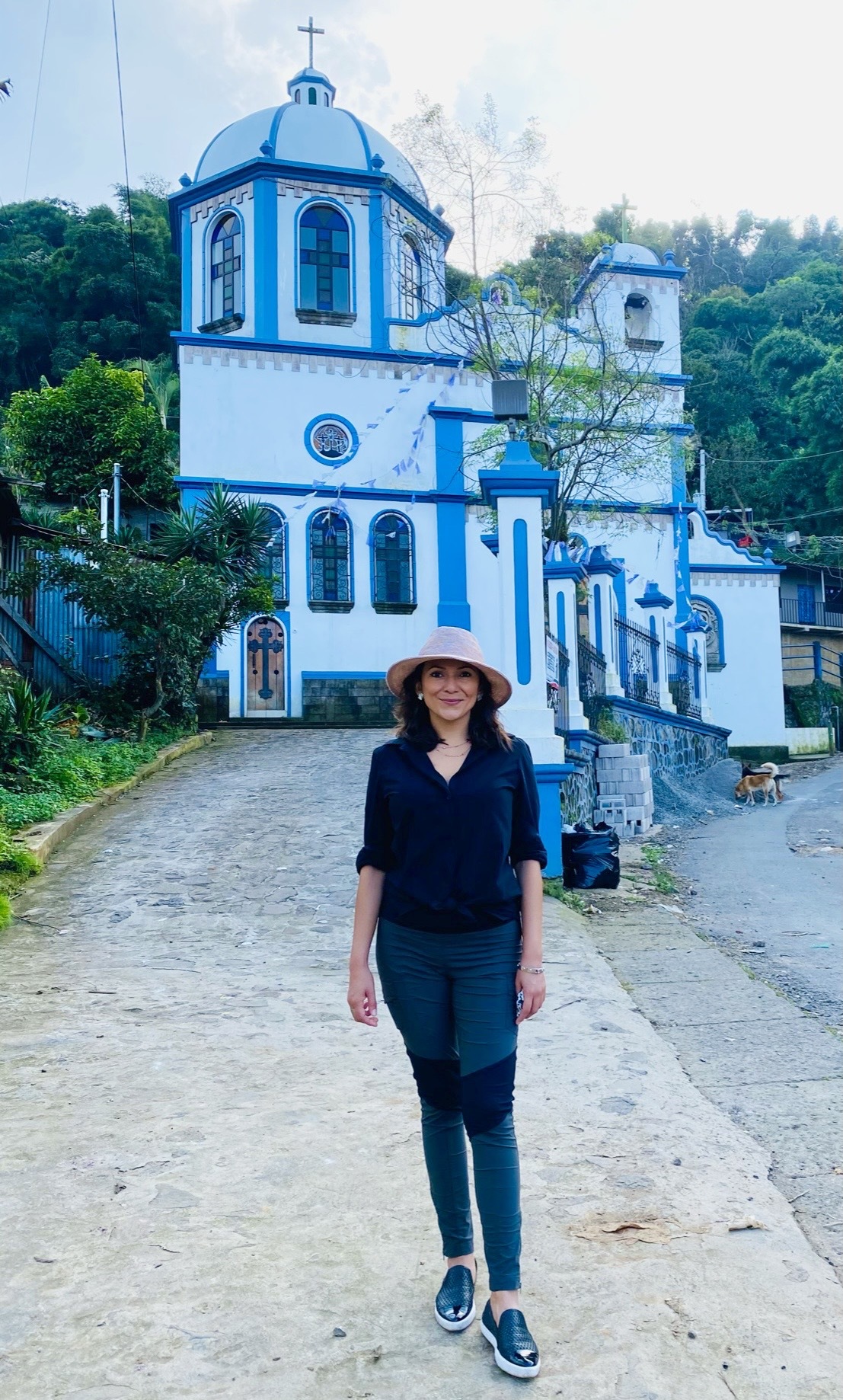 In El Salvador, wearing Jibs Slip On Sneakers
These aren't official clothing rules, but because women in El Salvador dress more conservatively than in most parts of Latin America, it's best to be respectful of the local culture, so stick to these guidelines to avoid drawing unwanted attention to yourself in certain areas. That being said, what you'll wear on a surf trip to an El Salvador beach town will be different from what you'll wear to a more conservative town. 
There are three main tourist destinations: La Ruta de las Flores, San Salvador, and the beaches of La Libertad. Keep reading to learn what to wear in El Salvador's top tourist destinations!
Take a look at this minimalist Central America packing list!
Ruta de Las Flores
Consisting of small, colorful, colonial towns, La Ruta de Las Flores, or "the Flower Route" is an extremely popular tourist destination for locals. Salvadorans from the capital flock to this area to escape the capital city's heat and enjoy the murals, restaurants, outdoor activities, and the overall charming atmosphere!
While the weather is typically hot year-round, the heat and humidity are at the highest in the summer, when tropical storms and temps over 99 are common! So definitely stick to cool, breathable fabrics when packing for this destination.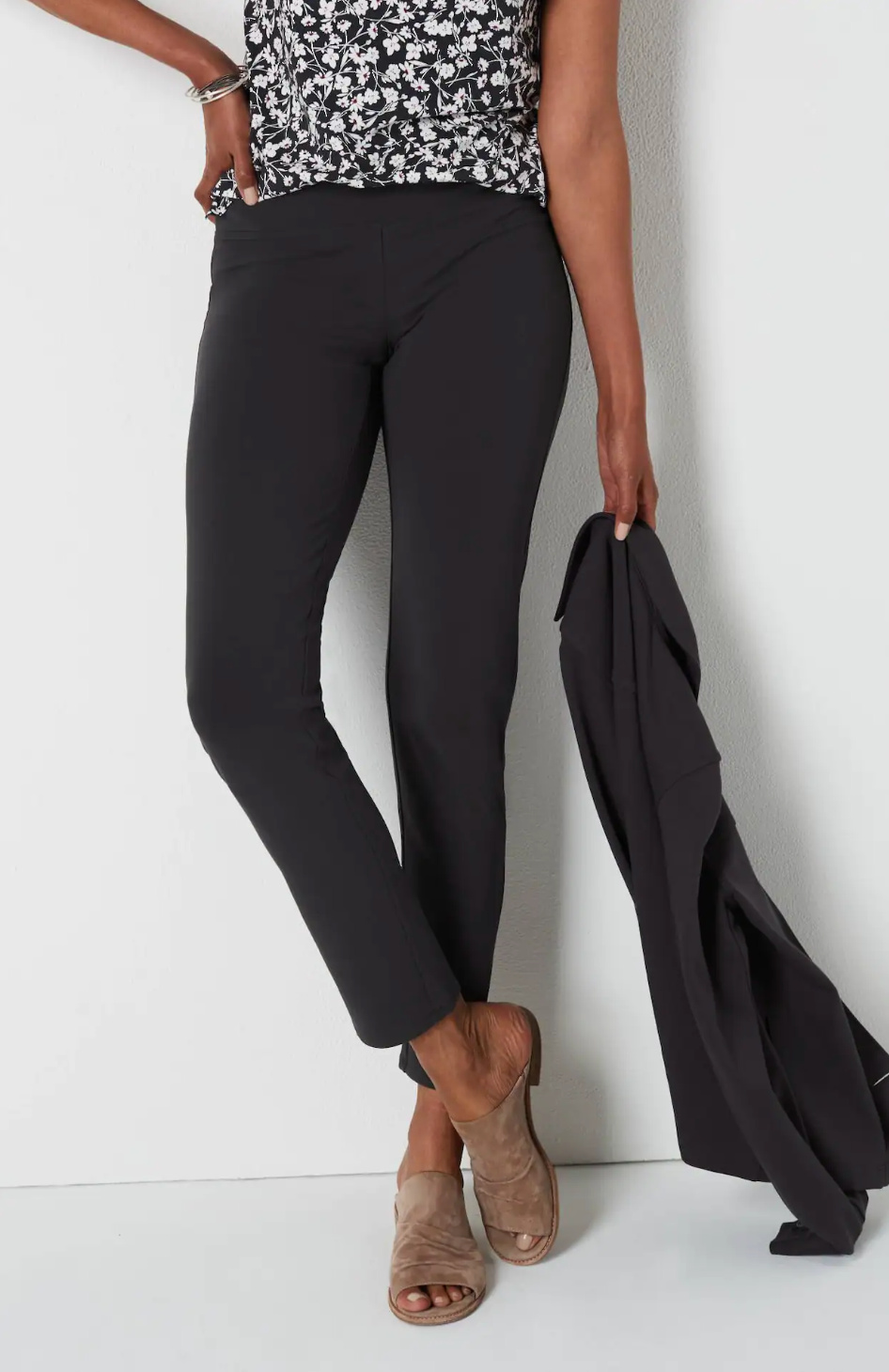 Shop Sizes XS-4X: J.Jill
In terms of bottoms, go for lightweight pants and trousers to pair with airy tops. Look for travel-friendly pants that aren't too thick, allow for lots of mobility, and can breathe. If you really can't stand the heat, opt for midi or maxi skirts that offer more airflow. The most popular travel pants are the very versatile J.Jill Wearever slim leg pants, as pictured above. They're stretchy, breathable, and chic-looking for whatever activity you  have in mind.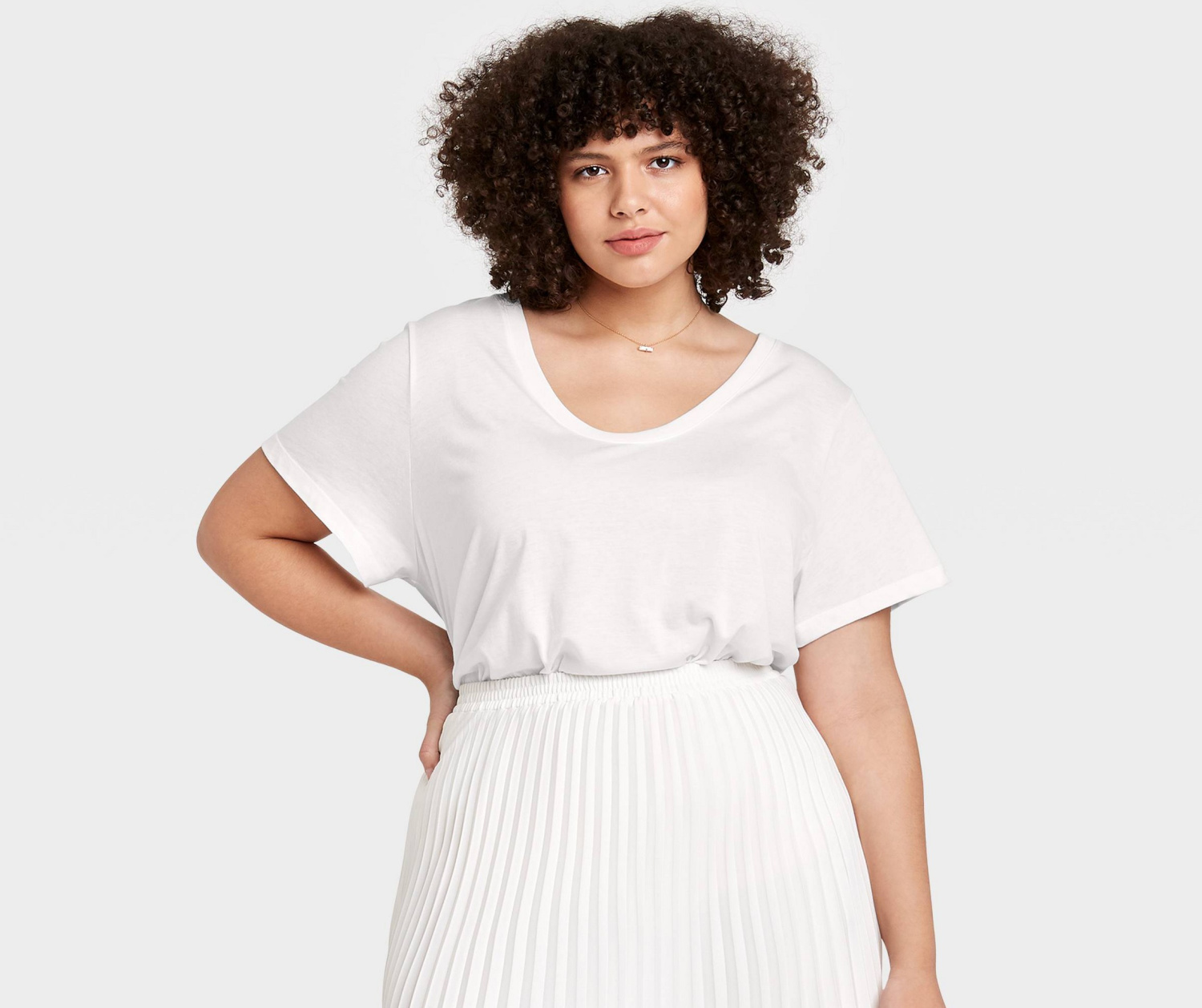 A New Day Short Sleeve Scoop Neck T-Shirt | Sizes Regular XS-XXL and Plus 1X-4X
When it comes to tops, think light and breathable. TFG readers love linen and cotton for hot destinations. Simple t-shirts with a relaxed fit and necklines that aren't too low, like this option above, will give you the perfect balance of modesty and comfort in the sweltering heat.  
And make sure to bring along a light jacket or wrap to cover your shoulders when needed or when it cools down a bit in the evenings.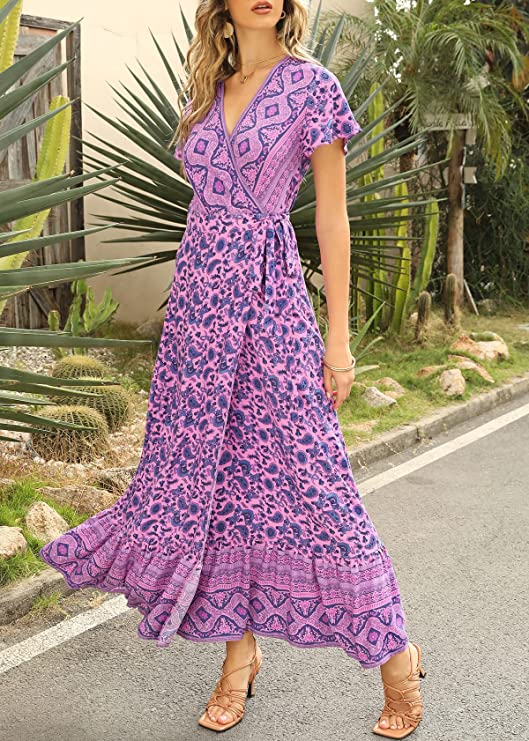 ZESICA Rayon-Cotton Floral Maxi Dress | Sizes S-XXL
Or you can also opt for a long dress instead of a long skirt, which is really versatile and can work in many scenarios. A maxi length can cover the legs but still feel airy as long as the fabric is light, so choose fabrics like rayon or a blend of cotton and rayon.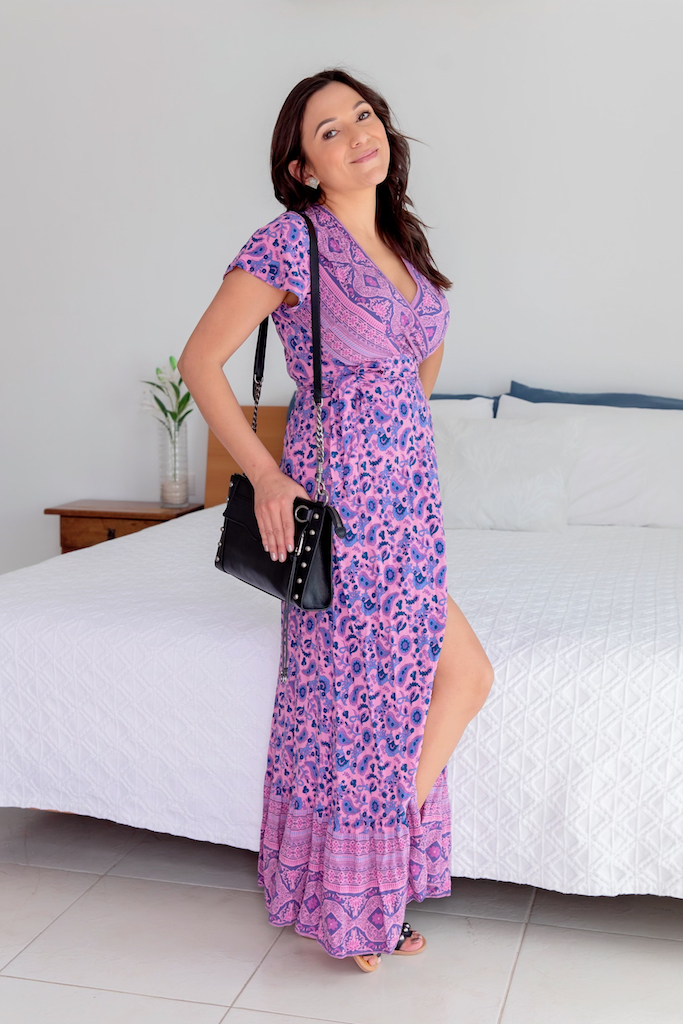 ZESICA Floral Dress with Vionic Clarisa Wedges
I really like the knee-length version of this floral wrap dress, and the long version is just as comfortable, ideal for this part of El Salvador. Truly, I love everything about this! It has a flattering fit, the rayon-cotton fabric is perfect for the heat, and I can wear it casually and comfortably yet still feel polished. If you want to know more about this dress, you can check it out, along with my entire 2021 spring/summer haul in this article!
In terms of other clothing, avoid wearing shorts in this area. The pueblos or "towns" on the Flower Route are beautiful and colorful, but they are also home to a conservative older generation.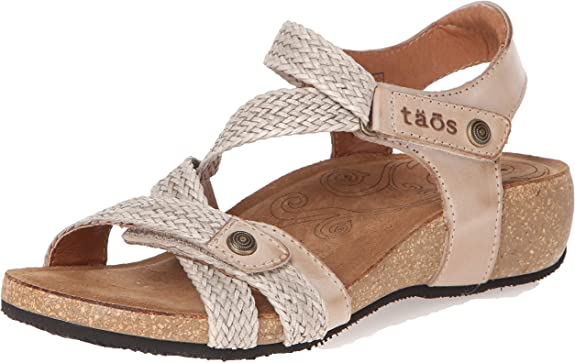 For shoes, I like summery sandals like the Taos Trulie pair pictured, as they'll keep your feet cool and comfortable as you explore. Lightweight and breathable sneakers are other great options, as you'll be doing lots of walking, especially over the cobblestone streets which you will encounter there.
Make sure the shoes you bring have sturdy rubber soles with traction so you can trek over the cobblestones and uneven surfaces with ease. Check out these cute walking sandals for more functional yet stylish choices! 
Here are the best sandals for women that love to explore at home or abroad!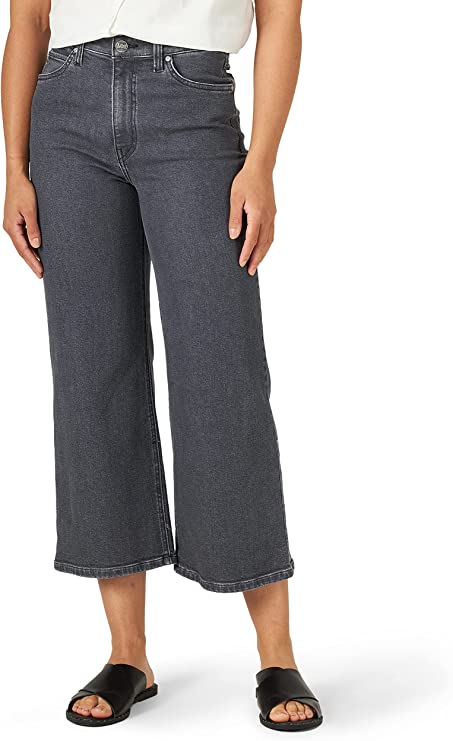 Lee High-Rise Relaxed Fit a Line Crop Jean | Sizes 00-20
Locals mostly wear jeans, so you'll definitely fit in with a comfy and practical pair like these Lee relaxed wide-leg jeans! While jeans may not seem like a top choice, many readers actually love them for travel. The right pair will offer mobility, won't be too heavy, and will go with absolutely anything. 
Plus, they'll give you ample coverage for visiting more conservative sites while still allowing you to flaunt your style!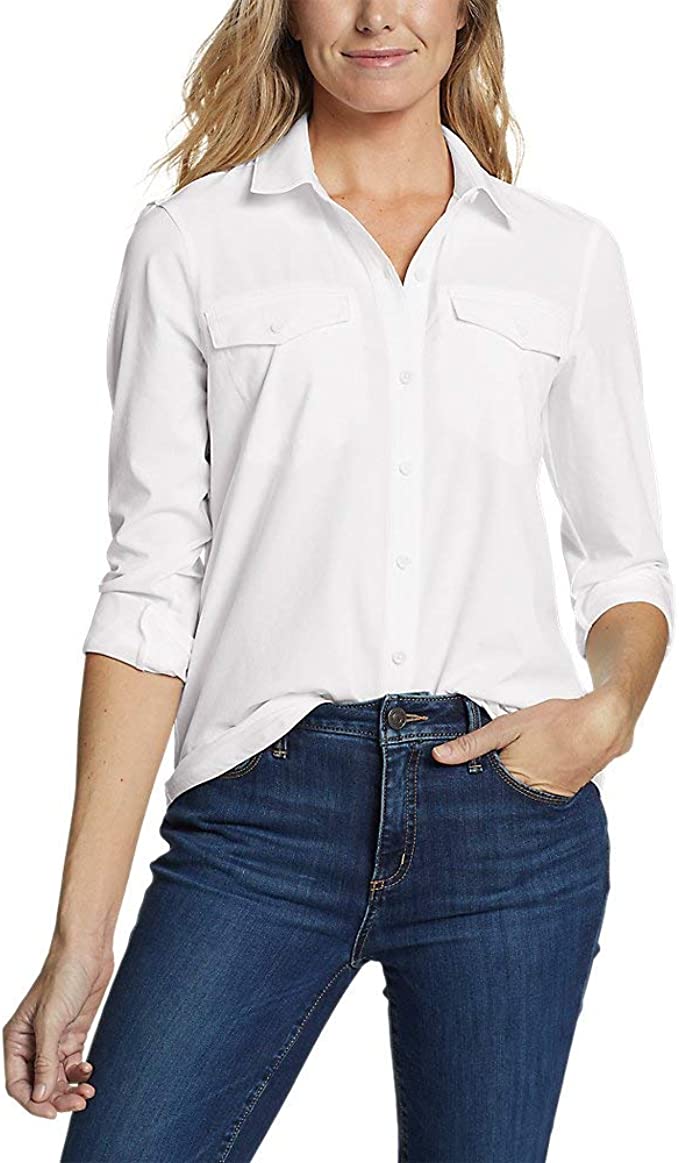 Eddie Bauer Women's Departure 2.0 Long-Sleeve Shirt | Sizes XS-XXL
It's always a good idea to have some more modest top options packed, like when you're visiting religious and cultural sites. On days when you want to be cool and comfortable but don't want to show off too much skin, a simple long sleeve shirt like this J.Crew one is great because it's made of light and very breathable cotton. 
Another popular option is the Eddie Bauer Departure long sleeve, which is a major TFG favorite. It looks super polished with buttons and a collar, but is also moisture-wicking, comfy with a bit of stretch, AND offers UPF 50+ sun protection, so it's wearable in the winter or summer in El Salvador!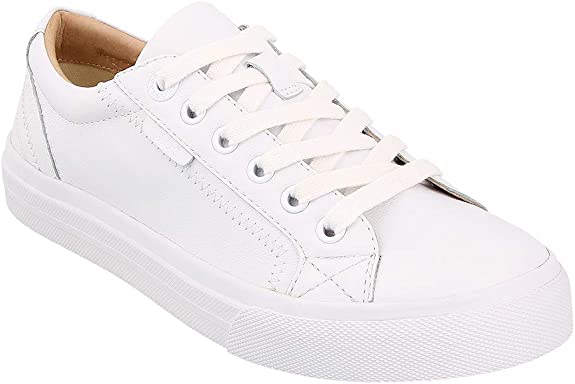 Taos Women's Plim Soul Lux Sneaker
In contrast to the humid summer, winters in Ruta de Las Flores are the coolest in the country, so closed-toe shoes like sneakers or even ankle boots may be a good idea. The Taos Star Sneaker is #1 comfort tennis shoe on the blog, but the Taos Plim Soul Lux sneaker is another excellent choice because it's made of leather, not canvas, so a bit more durable on a trip like this.
In terms of seasons, January is my favorite time to visit El Salvador – the weather is comfortably mild and pleasant, and it can actually get extremely cold in this mountainous area. In winter, I'd pack closed-toe shoes to combat the cold, in addition to a comfortable pair of sandals for sunny and warm days.
El Tunco
With world-famous waves, surfers and beachgoers alike flock to El Tunco Beach in La Libertad. Another hot spot for locals from the capital, this place gets packed with local tourists on the weekends who come to hit the clubs, bars, and beachfront seafood restaurants
This black sand beach is a must-visit! Once in the area, shorts and mini dresses are perfect if you wish to wear them. It'll, of course, be super hot and sunny, so make sure to be prepared with a cover up, accessories, water, and sunscreen!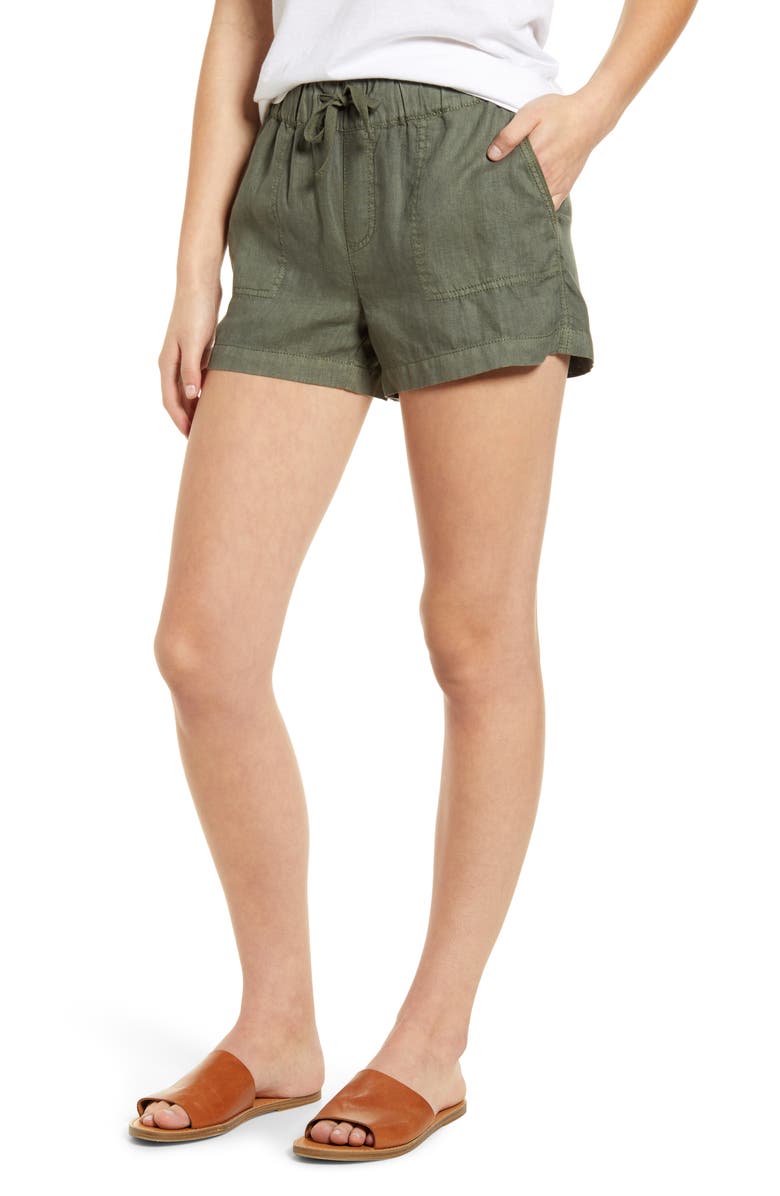 Caslon Women's Linen Shorts | Sizes XS-XXL
Because it's a little more relaxed by the beach, a cute pair shorts is perfect. Consider linen, as it's one of the best fabrics for hot weather, as it's cooling, breathable, and always chic. And the Caslon linen shorts are a continual TFG top pick, so excellent for the balmy temperatures at El Tunco.
If you'd rather wear pants but want your legs to breathe, definitely bring along a pair of linen pants. You'll look super stylish and feel amazingly comfy!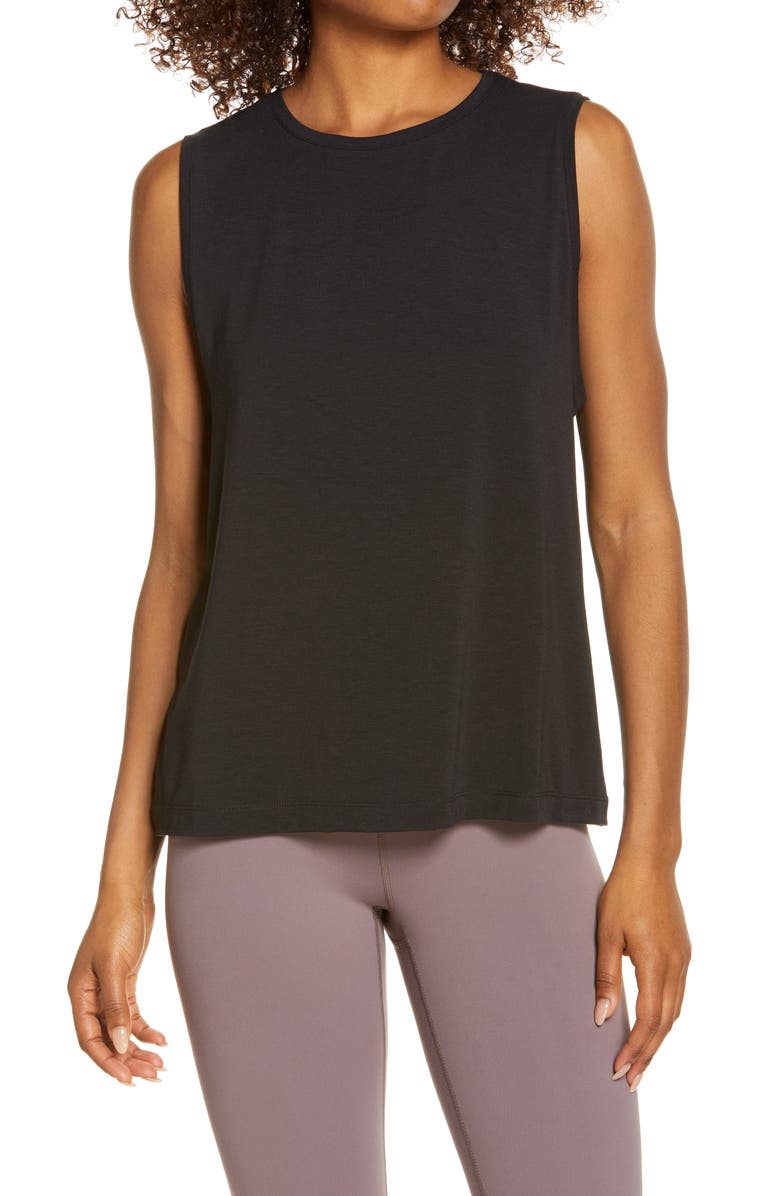 Zella Work For It Easy Tank Top | Sizes XXS-XL
If you're looking for adventure, El Tunco has some incredible activities to offer, so bring a sporty tank and some hiking shoes, and remember to bring a water bottle with you on each adventure!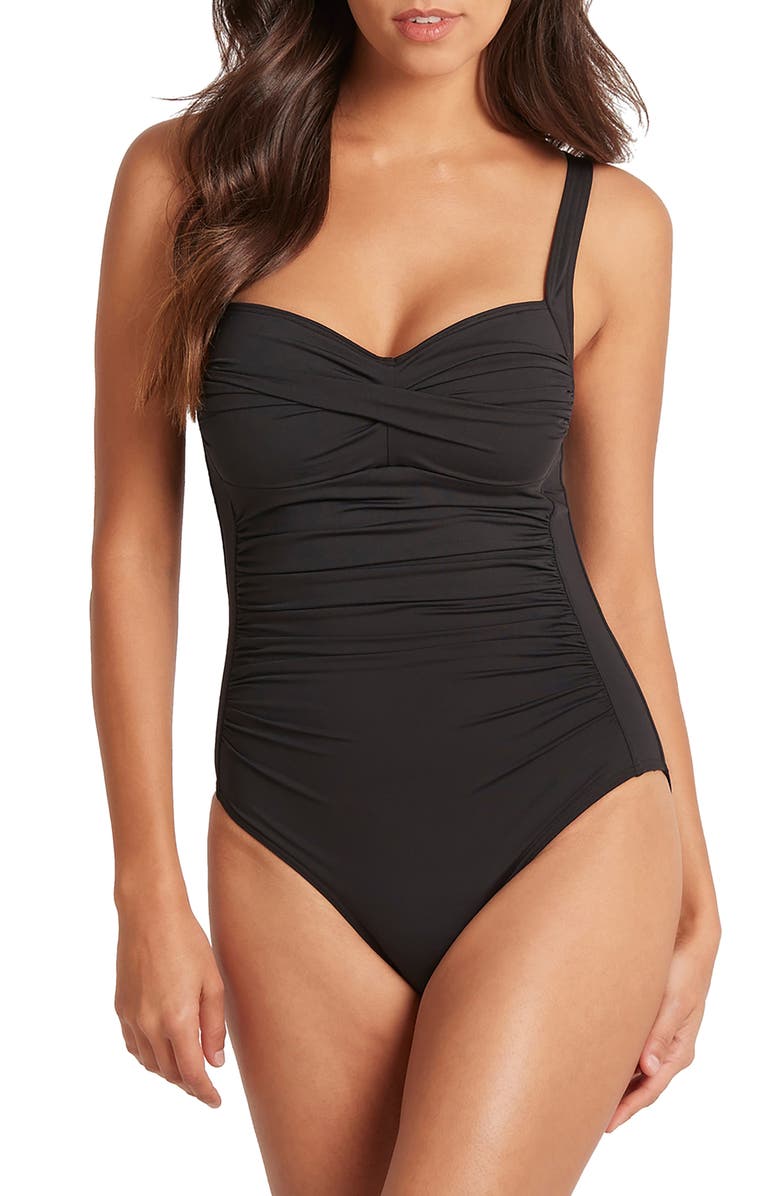 Sea Level Twist Front Multifit One-Piece Swimsuit | Sizes 4US-16US
You can definitely dress more beachy and show more skin in El Tunco, but still keep modesty in mind. In the less touristy beach towns, you're more likely to see locals in the ocean fully clothed in shorts and tees. 
Tourists aren't expected to do that, especially on busy beaches or at all-inclusive resorts in the northern part of the country. There, you can wear whatever you feel comfortable in, even if it's a bikini. But if you find yourself on a less touristed or more conservative beach, a simple one-piece, tankini, or rash guard with bottoms is a great choice.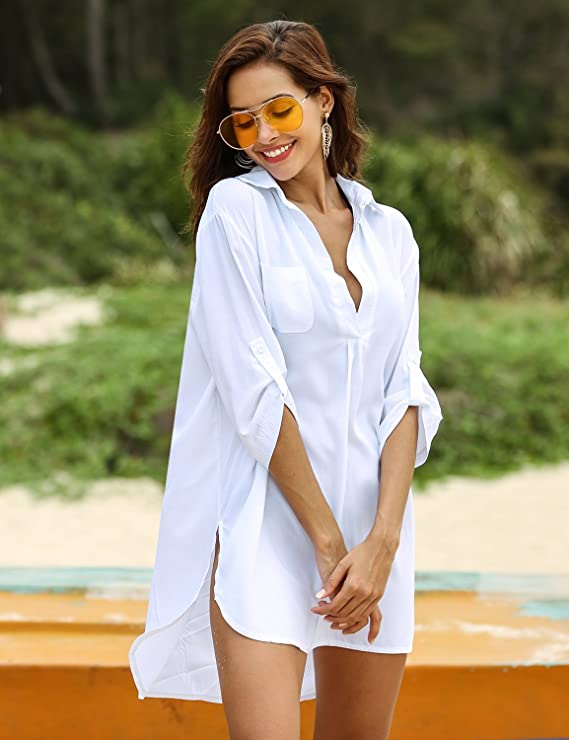 Ekouaer Women's Swimsuit Beach Cover Up | Sizes S-3XL
When you're not swimming, pack a cover up to protect yourself from the sun or for going into town to explore. This Ekouaer cover up is pretty and polished enough to transition into the evening, and you could even wear it to explore the exciting nightlife, hopping around to different beach clubs, bars, or restaurants.
Sun protection is a priority, so make sure to bring a hat and sunglasses, too! A packable sun hat is a must if you'll be under the sun for most of the day, and readers absolutely adore the Wallaroo Victoria sun hat for their beach days! Not only will it add a super stylish element to your look, but it's adjustable, packable, and most importantly, it'll give you UPF 50+ sun protection!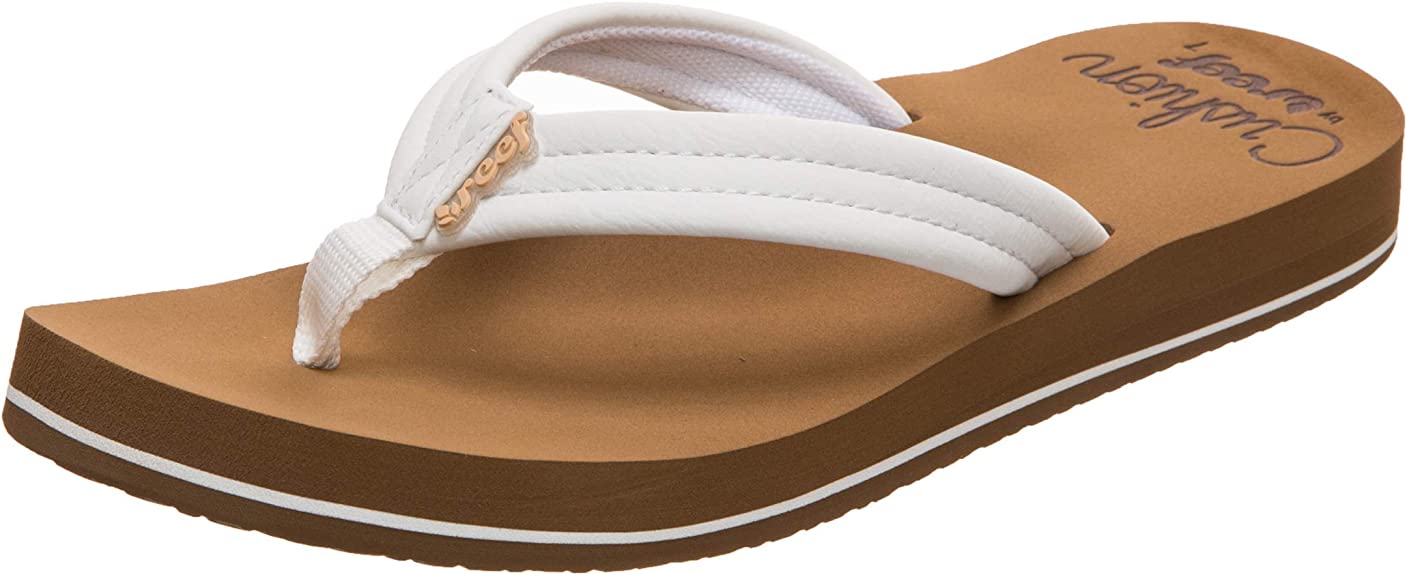 Reef Women's Cushion Breeze Flip-Flop
Bring along a pair of flip flops for beach days, and make sure they're comfy enough for strolling around to get lunch or exploring the gorgeous Tunco Caves. The Reef Cushion Breeze flip flops are reader favorites that have great cushioning and arch support.
San Salvador
San Salvador is the capital of El Salvador, and it's the biggest city there, too. Here you'll see a lot of historic buildings, such as El Rosario Church and the National Palace. And they'll definitely be a lot more people roaming around since this is the capital! 
Because it's a bit more crowded and there are a lot of cultural buildings around, it's best to keep your look neat, modest, and minimalist. You don't want to dress too flashy or have expensive-looking jewelry on, both to respect the culture and to not become a target for theft. But that doesn't mean you can't show off your fashion sense either!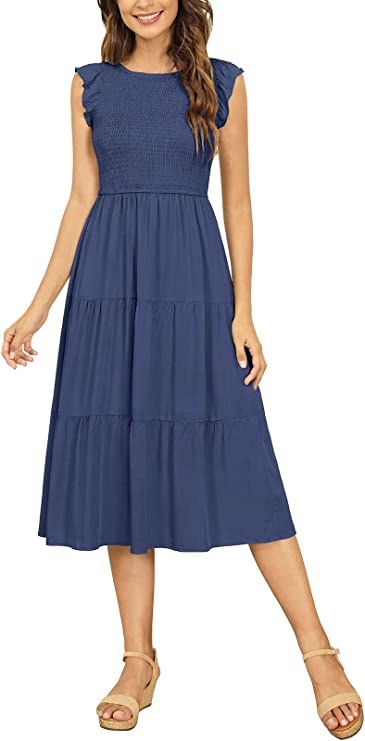 Zattcas Tiered Ruffle Cap Sleeve Smocked Midi Dress | Sizes S-XXL
San Salvador has amazing weather, typically in the 80s in the summer and the 60s in the winter. So breezy clothing is best, paired with comfy walking sandals or sneakers for a day of exploring the city. 
A suggested travel outfit for sightseeing or passing through would be a basic top and jeans during the day, but if you're going out to nice restaurants or bars, then definitely step it up a notch with a pretty dress, day or night!  
Midi dresses are a great choice, as they're a modest length but also really modern and stylish. The light and airy Zattacas mid length dress is so versatile for seeing the important sites or enjoying a carne asada dinner (grilled steak) in the pleasant evenings.  
And if you wear a sleeveless top, make sure to bring a light jacket for touring the cathedral and other religious or cultural sites. 
Checkout the most popular midi dress styles recommended by our readers!
Where to Stay in El Salvador
El Salvador has tons of hotel options all around the country, from beachfront resorts to charming little inns and B&Bs. There are also many hostels available everywhere, from the bustling metropolis of San Salvador to the smaller beachside towns. Because tourism is greatly increasing, there's a variety of accommodations to choose from, no matter your budget! 
In fact, earlier this year, I started working on a super-secret special project, and I'm FINALLY done! I bought a beachfront property in Costa Azul, El Salvador!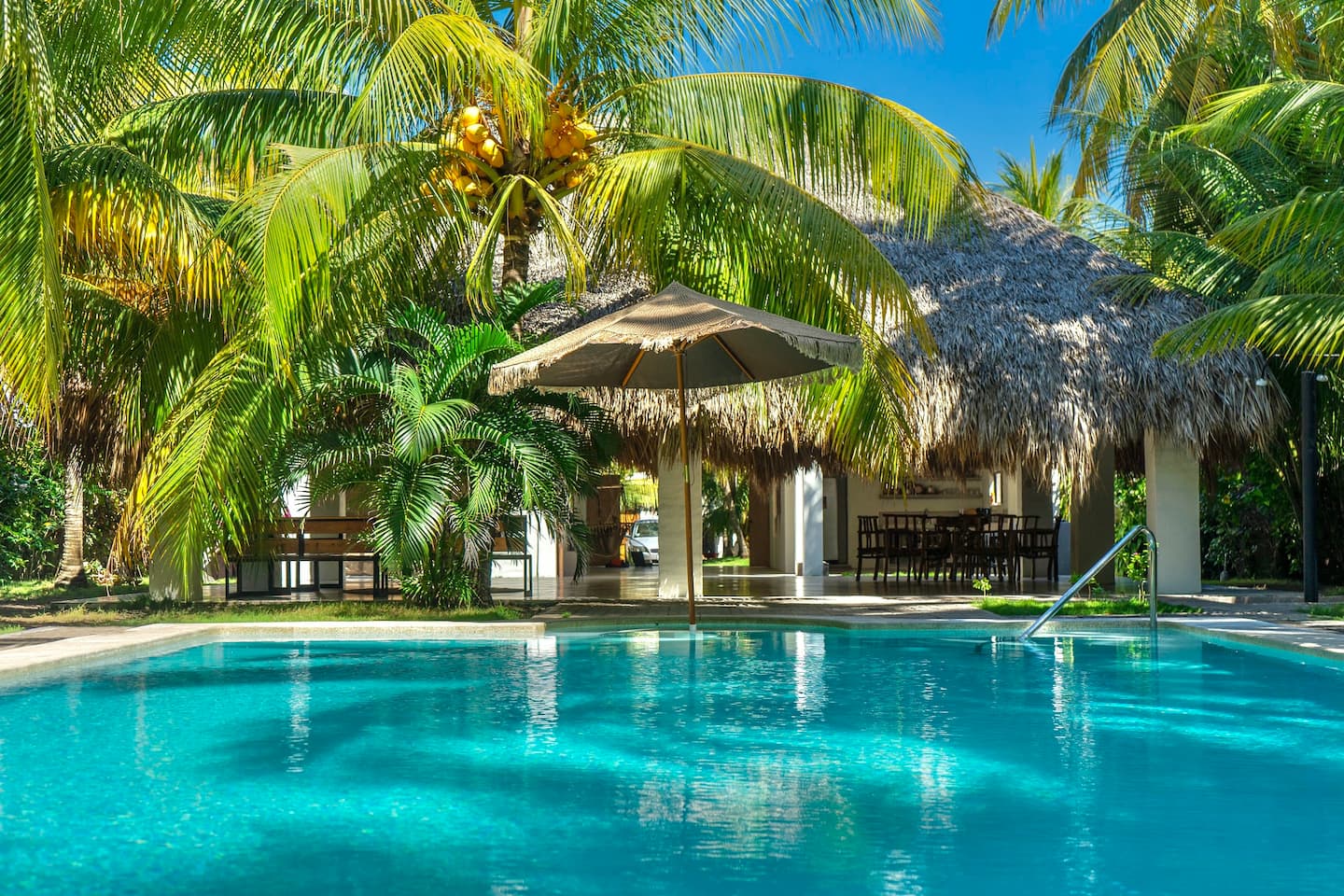 Here's a link to my new place in El Salvador: Beachfront Property Costa Azul. I hope you like it!
It's absolutely crazy and something I would've never imagined doing, especially since it was a TOTAL FIXER UPPER. But it was an attractive opportunity and way more affordable than anything I could ever buy in the USA, so I went for it! 
If you don't know this area of El Salvador, Costa Azul is a tropical paradise!! The beach is gorgeous, perfect for sunbathing, swimming in the warm and calm waters, playing beach games, and even spotting all the marine life! 
My property is right on the beach, and you can walk into town too! It's super accessible and is  surrounded by the natural, lush landscapes Costa Azul is known and loved for.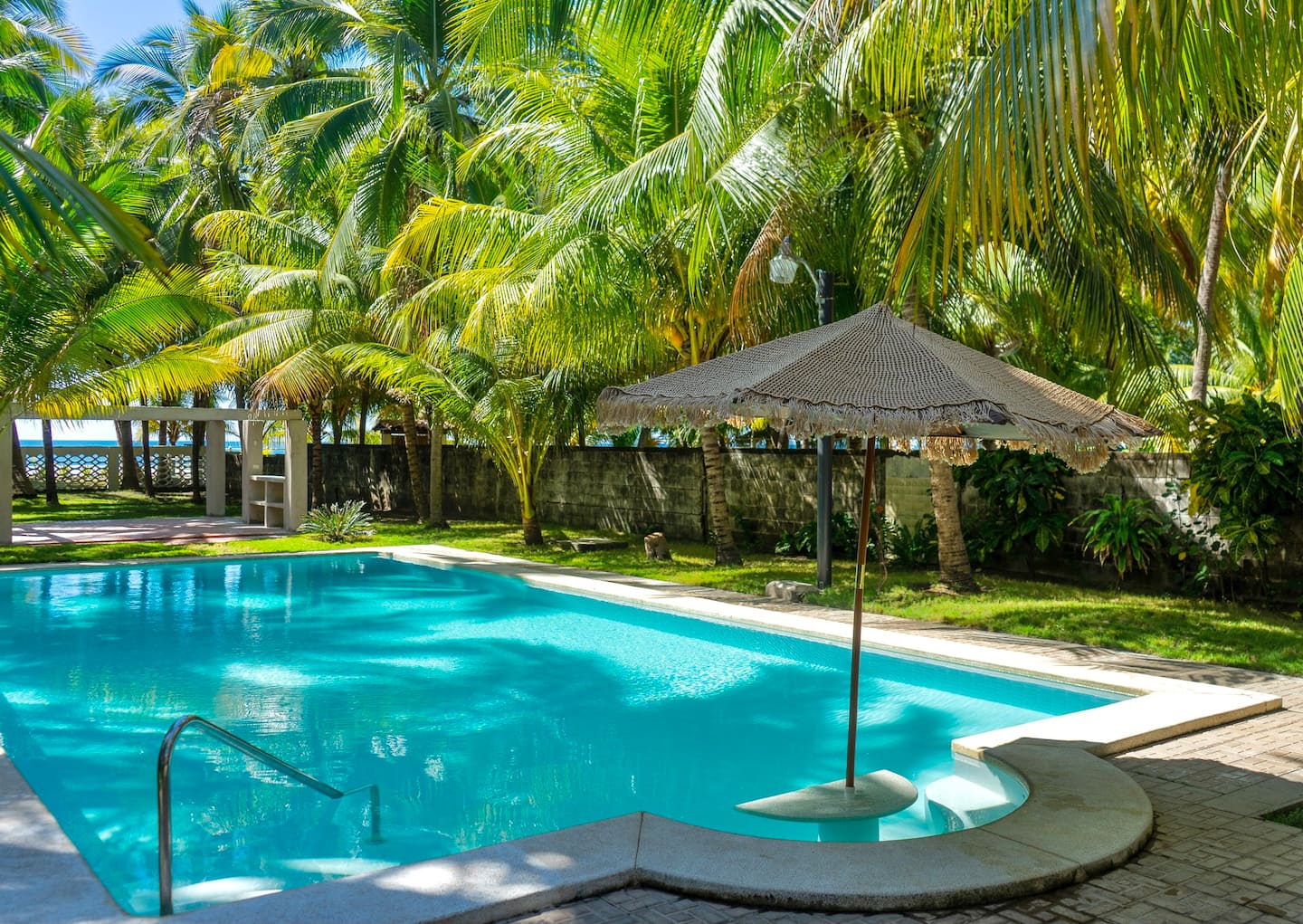 My Beachfront Property Costa Azul is a stone's throw away from the beach!
I also want to share some more B&Bs in El Salvador, another one on the beach in Costa Azul, and one in Puta de las Flores. 
The property in Ruta de las Flores is right in the heart of Ataco, which is a super cute small town known for its cobblestone streets, beautiful art, artisans, brilliantly colored colonial buildings, and lively religious celebrations. Not to mention the gorgeous wildflowers that grow along the Ruta de las Flores which translates to the "Route of Flowers".
It's also where my mom's side of the family is originally from, and we now have a little bed and breakfast called Casa Victoria there! It used to be my grandmother's house, and since her passing a few years ago, my mom and I have transformed it into a cozy and inviting B&B.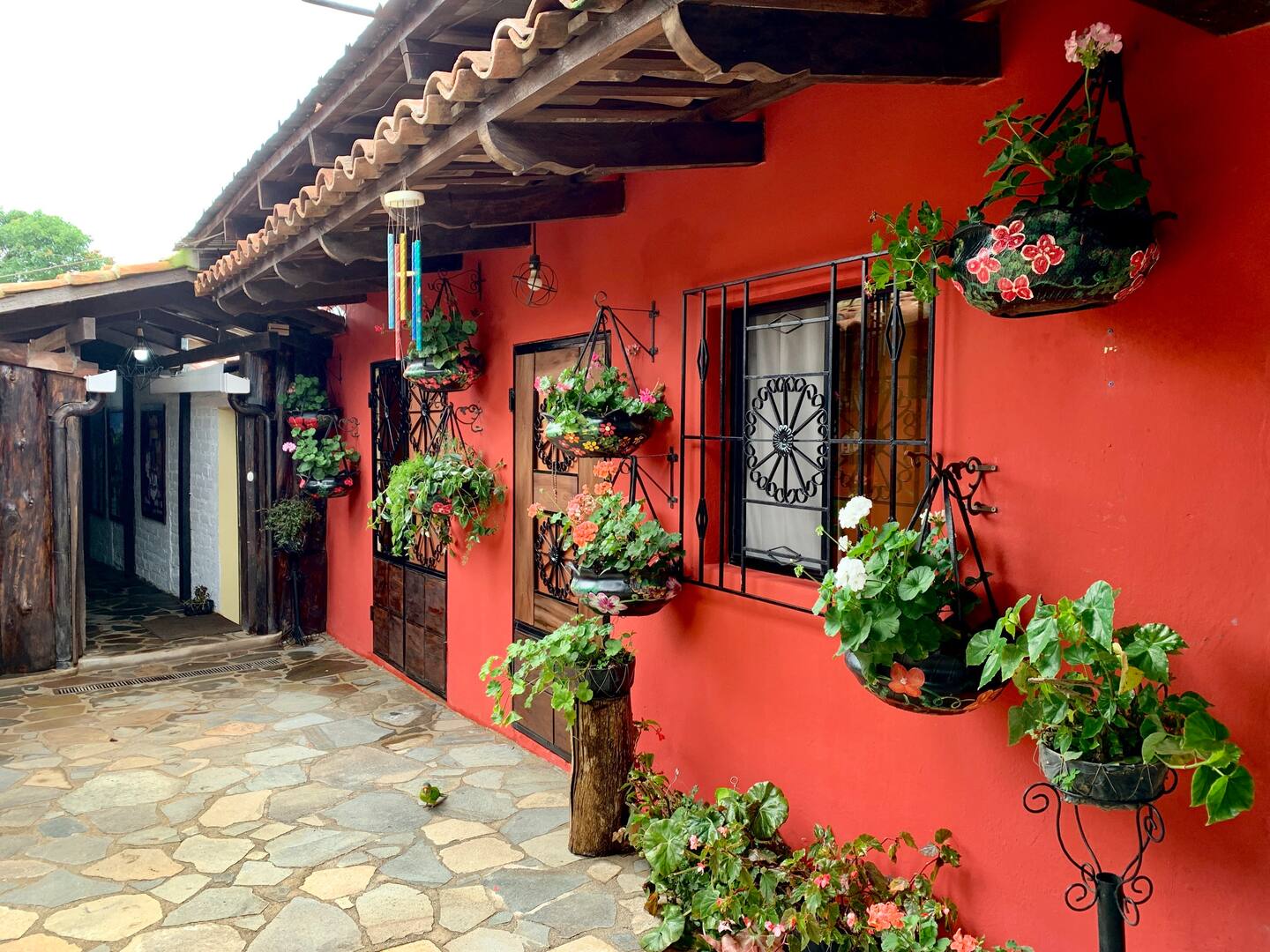 The adorable B&B in Ataco, is right along the Ruta de las Flores
Alyssa from My Life's a Travel Movie stayed at Casa Victoria during her trip to El Salvador, and shared, "Ataco is a small town with a lot of beautiful, vibrant wall murals! It has a lot of little shops, cute restaurants, and a really cute hacienda BnB to stay at called Casa Victoria! I'd definitely recommend eating at La Masero and Hotel 1800!" 
My mom also has a beachfront property in Costa Azul, which is breathtaking and beautiful, with plenty of space to kick back and relax by the pool.
What Activities to Do In El Salvador
El Salvador offers such a wide range of activities, so whether you're into rugged hikes, relaxing in natural saltwater pools, shopping for souvenirs at street markets, or getting lost in art, you'll have the best time in El Salvador! 
The capital is home to many museums, big beautiful churches, and cultural buildings. You can learn about the history of El Salvador, discover new artists, and visit the National Palace. There are some really fun cafes, restaurants, bars, and speakeasies to check out, too. 
If you're feeling adventurous, definitely take advantage of the surf lessons offered along the beach in El Tunco! And if you're already a surfer, you'll have a blast in the waves that surfers travel to from all around the world! (You can easily rent a board and a wetsuit at the many surf schools.) 
You can also take a break from the beach and hike to the Tamanique Waterfalls! Travelers who have experienced this say it'll take your breath away, and while it's a tough hike, the view makes it more than worth it. And nothing beats jumping into the ocean when you get back! 
If you want to embark on a tour, Tunco Life comes highly recommended by world travelers Alyssa (My Life's a Travel Movie) and Claire (Claire's Itchy Feet). Tunco's most popular tours are: 
Flower Route Tour

– Visit the various colonial towns along the Ruta de las Flores where you can look at art, zipline, go through the biggest maze in Central America, stroll through street markets, relax in hot springs, drink fantastic coffee, and eat delicious food! 

Jiquilisco Bay Tour

– Take a tour of the beautiful Jiquilisco Bay, and see incredible wildlife, including birds, crocodiles, and monkeys! Explore tropical forests and then relax on a private beach to watch the sunset. 

Day Trip to Surf City (Zonte, Tunco, La Libertad)

– Spend the day learning to surf in El Salvador's most popular surf spot! You'll also get to stroll through Surf City to check out the various shops and local restaurants, too. 

Santa Ana Volcano Hike

– Hike to the top of the active Santa Ana Volcano and see a breathtaking view! 
And if you want more specific travel information about El Salvador, read My Life's a Travel Movie's guide or Claire's Itchy Feet guide, both are full of useful information.
El Salvador Safety Tips
Alyssa from My Life's A Travel Movie says, "I was there for two weeks with a tour guide and felt very safe." She explains that because she traveled solo, having the local guide (Tunco Life) and a driver was a big part of that, but also because El Salvador's new president has made big changes in recent years in terms of increasing safety and promoting tourism! It's becoming an increasingly popular tourist destination, so it's generally very safe, even for a solo traveler! 
Regardless, it's always important to take certain precautions to make sure you and your belongings are as safe as possible. If your journey brings you to the capital, keep a low profile in certain areas. Do not leave your money, phone, or other electronics sitting out or even casually in your hand as you stroll around. 
You could also use anti-theft items such as money belts, pocket underwear, and bra stashes to keep your valuables safe. In this region, even a theft-proof purse could be taken from you if confronted, so whatever bag you use, make sure it's inconspicuous such as a canvas bag or even a backpack. See a full listing of anti-theft products.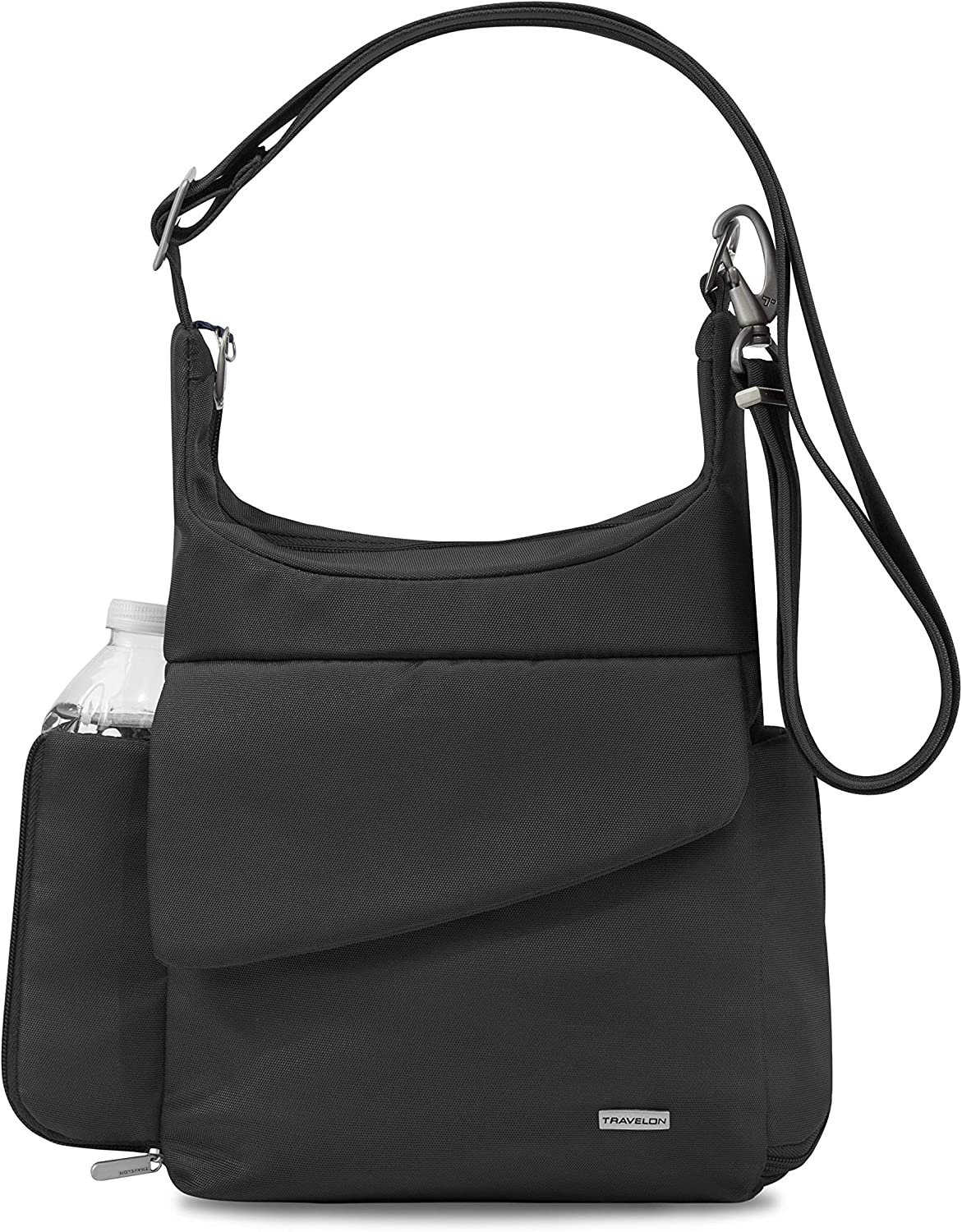 Travelon Anti-Theft Classic Messenger Bag
In Central America, I carry a dupe wallet with a fake credit card and a 20-dollar bill over a few singles. If anyone asks me for my money, I can hand it over and run. 
As a safety precaution in my accommodation, I also leave this dupe wallet as an "offering" in my hotel room, hoping that if a thief finds this easily, he'll be more likely to leave without going through all my belongings.
Find out the anti-theft purse options our TFG readers love the most!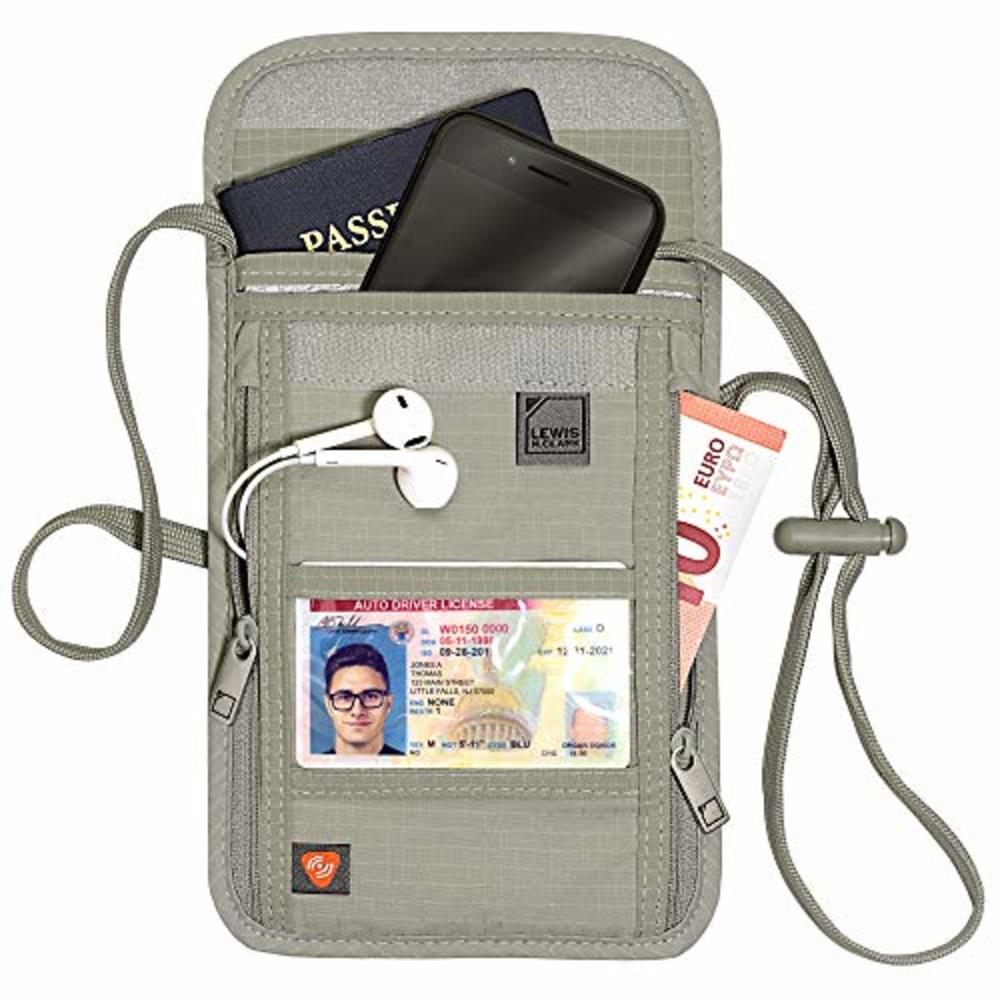 Lewis N. Clark RFID Blocking Stash Wallet
This tactic worked in a hostel in Antigua, Guatemala, where someone with a room key stole the dupe wallet that we purposely left in a visible location, but nothing else was taken. Overall, taking typical precautions is enough to ensure you have a fab time!
El Salvador is a small country filled with untouched treasures. This unexpected country offers a rewarding and memorable experience. Make sure to add it to your Central America travel itinerary and follow the above tips on what to wear in El Salvador!
For more safety tips, please read this article on how to keep your passport safe while traveling.
---
Do you have any tips on what to wear in El Salvador? Comment and share below!
---
For more Latin America packing tips and ideas, please read:
 Suggested Travel Sources:
---
LIKED THIS POST? PIN THIS PIC TO SAVE IT!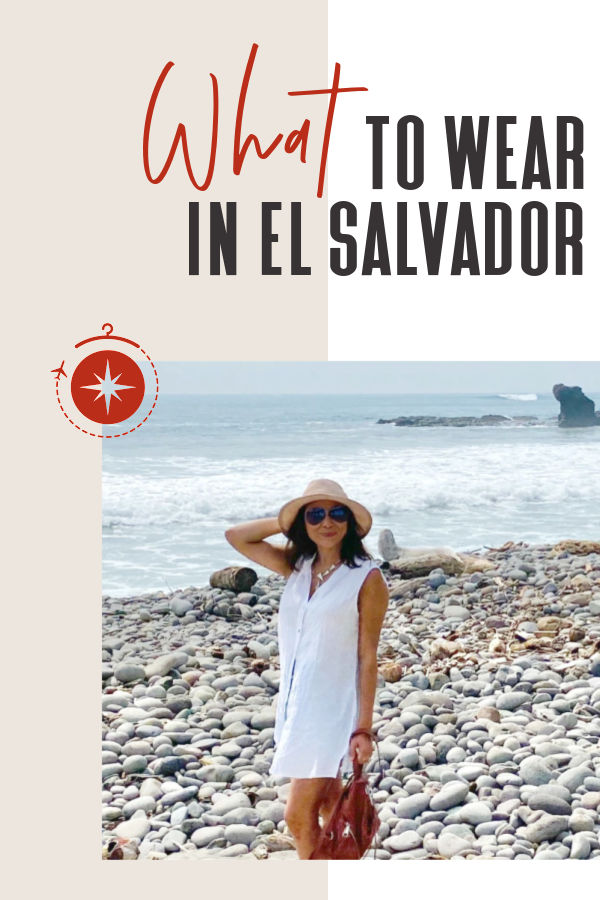 ---
Hope you liked these tips on what to wear in El Salvador. Please share it with your friends on Facebook, Twitter, or Pinterest. Thanks for reading!
---