Support TFG by using the links in our articles to shop. We receive a small commission (at no extra cost to you) so we can continue to create helpful free content. As an Amazon Associate, we earn from qualifying purchases made on Amazon in addition to other retailers featured on the blog. Thank you, we appreciate your support!
Shoes can make or break your vacation. Choosing the right shoes for travel is absolutely crucial! In Part 2 of my 3-Part series on what I packed for 2 weeks in Europe, I'm showing you the exact shoes I packed including my must have walking sandals that are oh-so comfortable for every single trip!
In the other articles in the series, I discuss my clothing choices, luggage, and other essentials. Read Part 1 and Part 3.
---
Shoes for 2 Weeks in Europe
---
Table Of Contents
Countries I Visited: Italy, Switzerland, France, England
My mom, and I took a 2-week summer trip to Rome, Venice, Basel, Paris, and London. (See my trip Itinerary here.) We all traveled carry-on only with one personal item and one item of luggage. We flew Ryanair and EasyJet, which are two budget airlines in Europe, meaning the baggage restrictions are very strict.
This is one of the lightest times that I've packed. I'm really happy with everything that I took, and even though I packed light, I mostly only wear two out of the three pairs of shoes I brought for the trip.
Traveling to Paris or London? Find out about our new ebooks for European destinations!
Weather in June: 55F – 82F (13C – 28C) 
The weather was slightly varied in June. The hottest weather I experienced was 82F / 31 C in Rome and the coldest weather was 55F / 13C in Paris at night. It even rained a bit in Venice and Paris, too.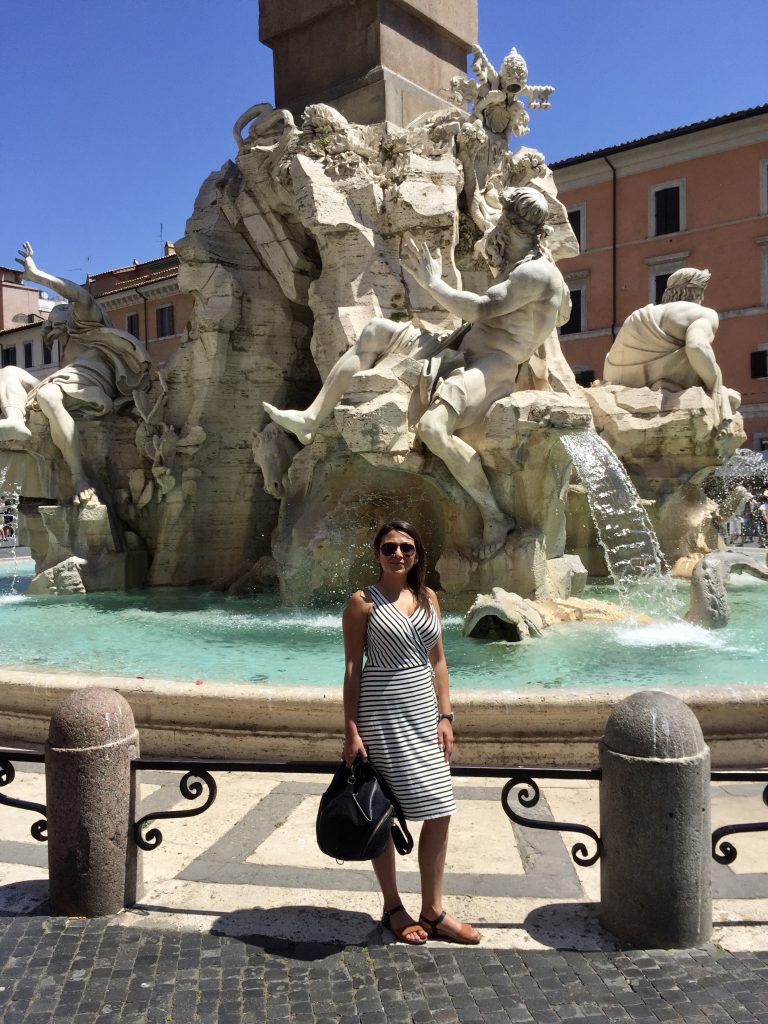 My Packing Strategy for Shoes
Generally speaking, I follow the three-shoe rule for all of my travels, because it's served me well. For just about any trip, for any length of time, you can get away with just three pairs of shoes.
If you take a summer trip, typically you will pack sandals and sneakers, whereas for winter, you might have two pairs of boots or a pair of boots and sneakers.
Find out how and why to choose the best walking shoes for Europe!
These 3 Pairs of Shoes I Packed
For my two-week summer trip to Europe, I packed just three pairs of shoes: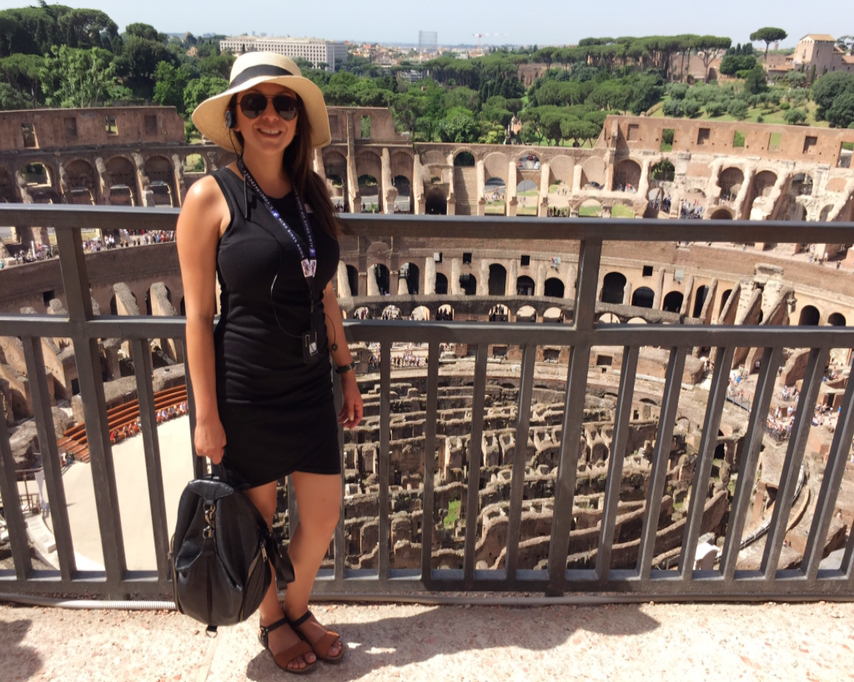 It was the perfect mix. The sandals were perfect for long days on my feet and I could alternate with the sneakers if needed. However, the slip-ons were mostly there to keep my toes warm when the temperatures dropped.
My feet swell in the heat so sneakers are a no-go for me when it's over 78-80F. Enclosed shoes make my feet feel like they're being crushed into a million pieces. My Sabrina Naot Sandals are a life saver! I actually bought the same pair twice.
I only travel with heels for conferences, special events, and special occasions. In this case it was my mom and my birthday so we wanted to dress up in the evenings. Alternatively, I could've packed a pair of ballet flats or dressy flat sandals instead of the heels.
Naot Sabrina Comfortable Sandal
My Hot Weather Sightseeing Shoes: Naot Sabrina Sandals
As this was a summer trip, I knew I needed a sandal. However, so many sandals are flimsy or aren't meant for a lot of walking. It's difficult to find durable sandals that don't look overly utilitarian or clunky.
Luckily, the Naot Sabrina sandal is both cute and comfortable. This is one of the best pairs of shoes I've ever bought, and I think they're one of the reasons why I didn't have as much back pain. These were my main sightseeing shoes, and they served me well.
Before the trip, I was on the hunt for a new pair of comfort sandals. I tried Birkenstocks, and they are super comfortable, but I wanted to go with something that was a little more suitable for my preferences. I like them because they're neutral, so they match with just about anything, and they're comfortable.
They have rubber grips on the soles, so you don't slip in them, and the hardware adds a little bit of edge. I'm so grateful I went with these sandals instead of trying out something new. These were everything.
This is not an exaggeration: I wore them every single day of the trip! My legs were tired from walking all day, but my feet didn't hurt at all. These are definitely some of the best travel sandals! 
Here are more comfortable walking sandals that are stylish, too!
Skechers Bobs Woven Mary Jane Flat in Taupe
My "Cold" Weather Sightseeing Shoes: Skechers Slip-ons 
Having an alternate pair of sightseeing shoes is a must for long travels and extensive walking. I like Skechers slip-ons as my airplane shoes, because they're so lightweight and comfortable. The only reason I wore the Naot sandals instead of these for sightseeing is because I don't like wearing closed-toed shoes when it's hot out. My feet tend to swell and feel sweaty.
Normally, however, I wear these slip-on sneakers to walk comfortably around San Diego during winter months (when it's not raining). But for this trip, I wore them in transit and when the weather was below 65F.
If you don't mind closed-toed shoes in summer, then I would definitely recommend these as some of the best slip-on sneakers for travel. Thanks to the V-cut in the front, they have a modern appearance, and the neutral color matches with just about anything!
Some of our readers have raved that Skechers have the best shoes for plantar fasciitis, too!
Naturalizer Talan Casual Slingback Sandals
My Shoes for Evening Dinners: Naturalizer Comfort Wedge Heels
I always like to bring a pair of dressier shoes if relevant for my trip, such as ballet flats or dress sandals. For this trip, I chose to bring a pair of heels to wear for nice dinners and a trip to the Moulin Rouge.
Since this trip was for my mom and my birthday, I figured we'd go out to a few nicer restaurants, so I brought the above Naturalizer heels. But these aren't your standard heels; they're actually made by a comfort shoe brand!
Ultimately, I didn't end up wearing them because I bought some super cute heels at Zara during my trip, but wedges or block heels are the ideal choice for travel to Europe – avoid stilletos due to the cobblestone streets.
These are the best wedges for travel according to our readers!
Alternative Shoe Options for Europe
Comfortable Sightseeing Sandals
If you're looking for an alternative to the Naot Sabrina sandals, Vionic Rest Kirra Sandal are an excellent choice. They are comfortable, functional, and fashionable. On top of that, they average $39 on Amazon, so they're less expensive than other comfort shoe brands.
You can dress these sandals up or down, from sightseeing in the city to visiting the beach. This popular brown color would be dressy enough for dinner out, too. If you want to pack light for Europe, these won't take up much space in your carry-on bag.
If you need more arch support, take a look at these other comfort sandals.
ECCO Aimee Perforated Black Slip-on Sneaker
Comfortable Sightseeing Sneakers
If you'd like a shoe that offers superior fit, durability, support, and flexibility, ECCO shoes are a good option. They are perfect shoes to pack for Europe for long days of walking and sightseeing. The Aimee Perforated slip on offers a removable leather-covered inlay sole for comfort. Pair them with sleek outfits to match chic European style.
Take a look at the best black sneakers for travel according to our readers!
Clarks Annadel Eirwyn Wedge in Sand
Comfortable Day to Night Wedges
As an alternative to a heel, I always recommend a wedge, especially when choosing shoes to pack for Europe. They are perfect for walking on cobblestone streets when you need a dressier shoe.
Clarks Annadel Eirwyn are some of the most comfortable wedge sandals. (Aerosoles is a close second.) Our readers love them and so do we! Clarks specializes in creating travel-friendly footwear, and these are particularly stylish.
These Clarks wedges have a soft footbed that molds to your feet, and the lightweight materials that make them travel-friendly and easy to pack, even for 2 weeks to Europe. 
See the most comfortable wedges for travel!
Blondo Villa black leather ankle boot
Comfortable Sightseeing Boots (for Cold Weather Trips)
While this trip was during summer — and you wouldn't want an ankle boot in hot weather — these waterproof black ankle boots are my go-to travel shoe for fall through spring travel.
Ankle boots for Europe are perfect because they go with everything. Wear them with jeans, pants, skirts, dresses — even shorts with tights! You can dress them up or down. They keep your feet dry when it rains and warm when you have cold weather.
Read this Blondo Villa review to see why the readers and I love these ankle boots!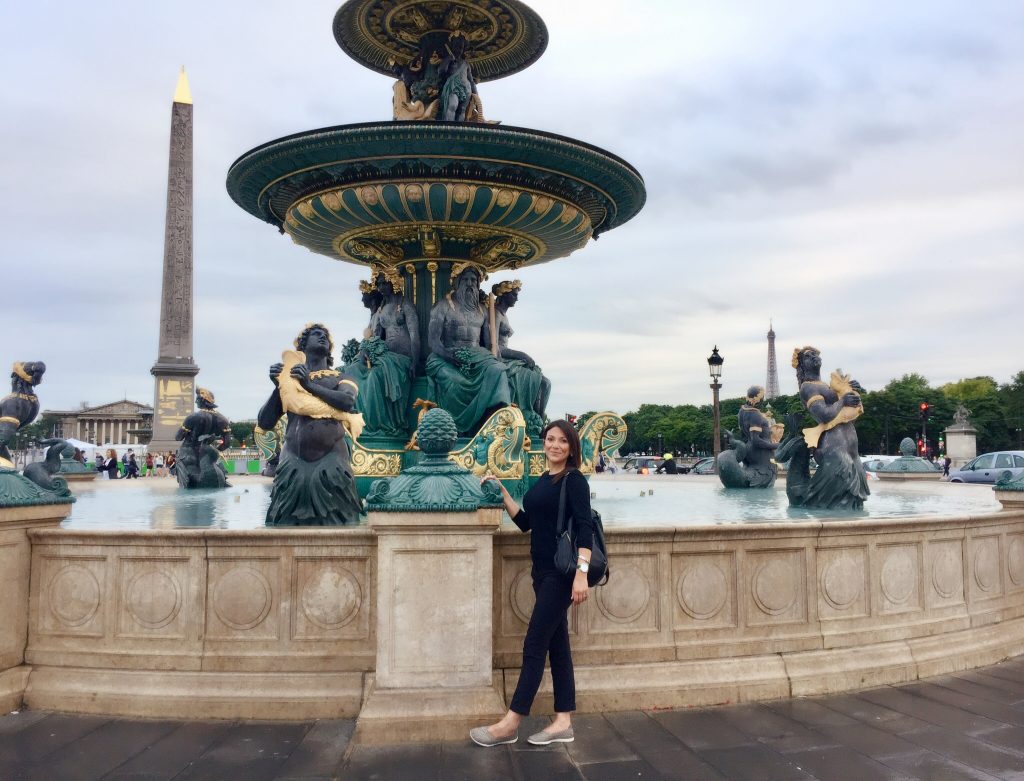 Sightseeing Survival Tips for Your Feet
If you're not used to spending long hours on your feet, you're likely to feel foot pain even if you have the most comfortable shoes on the planet. Start a daily walking routine as far in advance as you can before your trip. Exercising your feet muscles will help them feel less sore when you're traveling.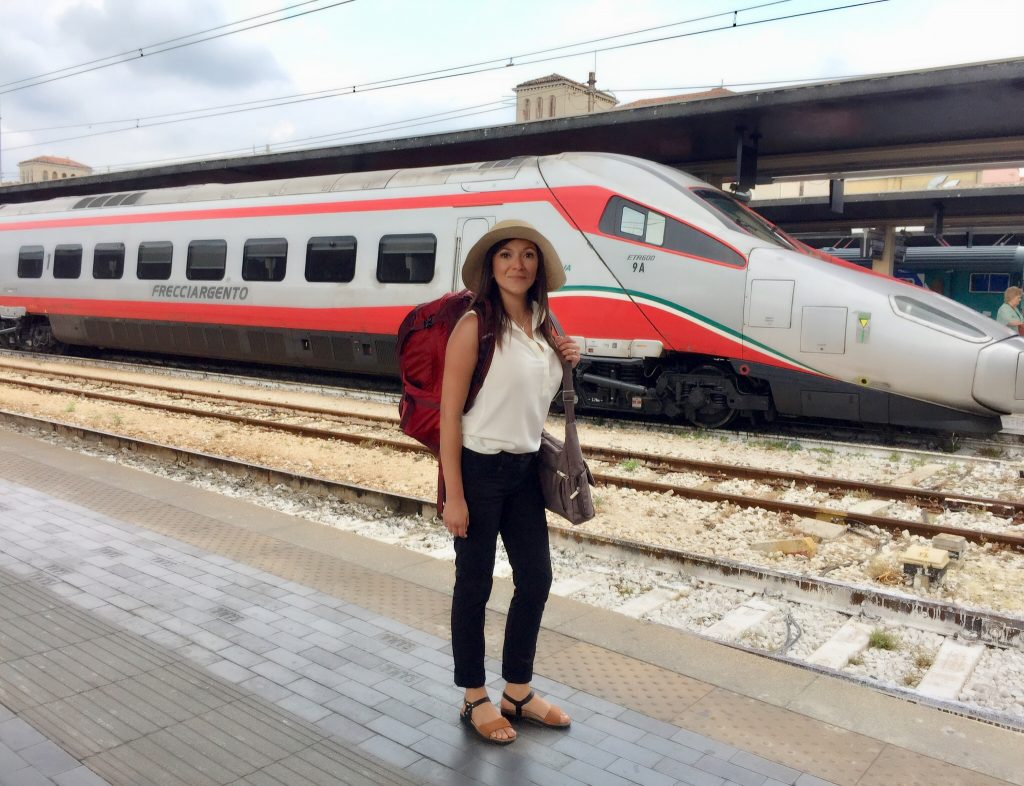 Make sure to break in all shoes before you leave! Wear them around town at least a couple times. Take them out for a hike or two, if that's what you're into. The last thing you want is for your comfortable shoes to give you blisters.
When traveling, take care of your feet; they literally take you everywhere! You must be good to those toes – you will enjoy yourself much more by not worrying about blisters and pain. Follow these tips on how to prevent blisters when traveling!
This video shows you how to choose the best shoes for Europe's stone streets.
It also pays to spend a little extra money to ensure the quality of your footwear when you're trying to decide on the best shoes for travel. Some travelers swear by insoles such as Dr. Scholl's Massaging Gel Insoles. They're definitely worth a shot!
If all fails, and your footwear isn't working out, you can buy shoes anywhere in the world. Just pick up a new pair if you didn't make the best choices – it has happened to me!
Read these tips on how to soothe sore feet after long sightseeing days!
Packing Video of My Trip
Watch this video to learn everything I packed for my 2 week trip to Europe using my Osprey Carry-on Backpack
I hope you liked Part 2 of this series about all the clothing that I packed for Europe in the summer. In the other two parts, I discuss my clothing choices, luggage, purses, and other essentials gear.
---
What are your recommendations on the best shoes for Europe? Please comment below!
---
For more Europe packing tips, please read:
Suggested travel resources:
---
LIKED THIS POST? PIN THIS PIC TO SAVE IT!
---
I hope you liked this post on the shoes to pack for Europe. Please share it with your friends on Facebook, Twitter, and Pinterest. Thanks for reading!
---