Support TFG by using the links in our articles to shop. We receive a small commission (at no extra cost to you) so we can continue to create helpful free content. We earn from qualifying purchases made to the featured retailers. Thank you, we appreciate your support!
Traveling to Europe for more than a week and not sure what or how to pack? You're in luck! This is exactly the clothing I brought for my 2-week summer trip!
In Part 1 of this series, you'll find out all the clothing that I packed for Europe in the summer. In the other articles, I discuss my travel shoe choices, luggage, and other essentials. Read Part 2 and Part 3.
---
Clothing for 2 Weeks in Europe
---
Table Of Contents
Countries I Visited: Italy, Switzerland, France, England
During the summer, my mom visited me in England so we could take a 12-day tour around Europe. I had been wanting her to visit for a while, and I'm very grateful that we finally had the chance to spend some time together and travel around Europe.
We went to Rome, Venice, Basel, Paris, and London. (See my trip Itinerary here.) She visited for two weeks, so I wanted to take advantage of having her here and showing her as much as I could. We flew Ryanair and EasyJet, which are two budget airlines in Europe, meaning the baggage restrictions are a lot more strict but we were still able to travel carry-on only for two weeks
This is one of the lightest times that I've packed. I'm really happy with everything that I took, and even though I packed light, I still packed a few things that I didn't end up needing, so it's possible to overpack even in a carry-on!
Weather in June: 55F – 82F (13C – 28C) 
Wherever you travel, always check the advance 10-day weather forecast and also the day before you fly. There might be an unexpected heat wave or storm. Don't underestimate the wind even when it's sunny.
Also, compare the weather at your destination with the weather you're used to at home. What feels cold for one person may be hot for another and vice versa.
The weather was slightly varied in June. The hottest weather I experienced was 82F / 31 C in Rome and the coldest weather was 55F / 13C in Paris at night. It even rained a bit in Venice and Paris, too.
Because the majority of my trip would be in hot weather, I mostly packed for the heat and planned to wear dresses on most days. I also brought along a light jacket, merino wool sweater, and travel pants I could wear together for colder days. This was sufficient for 55F weather (as a Southern California girl, I get cold easily).
For shoes, I wore slip-on sneakers with this outfit and this strategy was perfect! I didn't need to pack a bunch of stuff I was only going to wear a couple of times.
If you want to play it safe, you can do as I do, and bring layers. Even though I knew it would be warm this trip, I still brought jackets and sweaters. While I didn't end up using all of them, a couple came in handy.
Traveling to Paris or London? Find out about our new ebooks for European destinations!
This was my Europe Packing List for 2 Weeks in Summer:
How I Packed My Clothing
When I traveled in Europe for two weeks, I went carry-on only using my Compass Rose Slim Packing Cubes. Since they have numbers on them, it was easy to organize my clothing.
I used the No. 1 cube for my main clothing items, such as tops and dresses, and then use the No. 2 cube for extra items. I put my undergarments and pajamas in the No. 3 packing cube. While I didn't need to use the No. 4 cube on this trip, I could've used it as a shoe bag for my sneakers or sandals.
The packing cubes also helped me fit everything into a smaller carryon bag because I used a packing method I developed where you roll your clothes then compress within the cubes. This method has helped over 20 million women travel carryon only. Learn about it here!
Here is how I packed the clothing I took for Europe in summer and the destinations where I wore the items:
I packed 2 Tank Dresses, grey and black (similar) 
Packing Cube #1: Main Clothes
For this trip, I used my packing cube #1 for all of the main clothes I wore. In this cube, I packed:
All of these items have fabrics that are wrinkle-resistant, so I folded and rolled each item in this cube.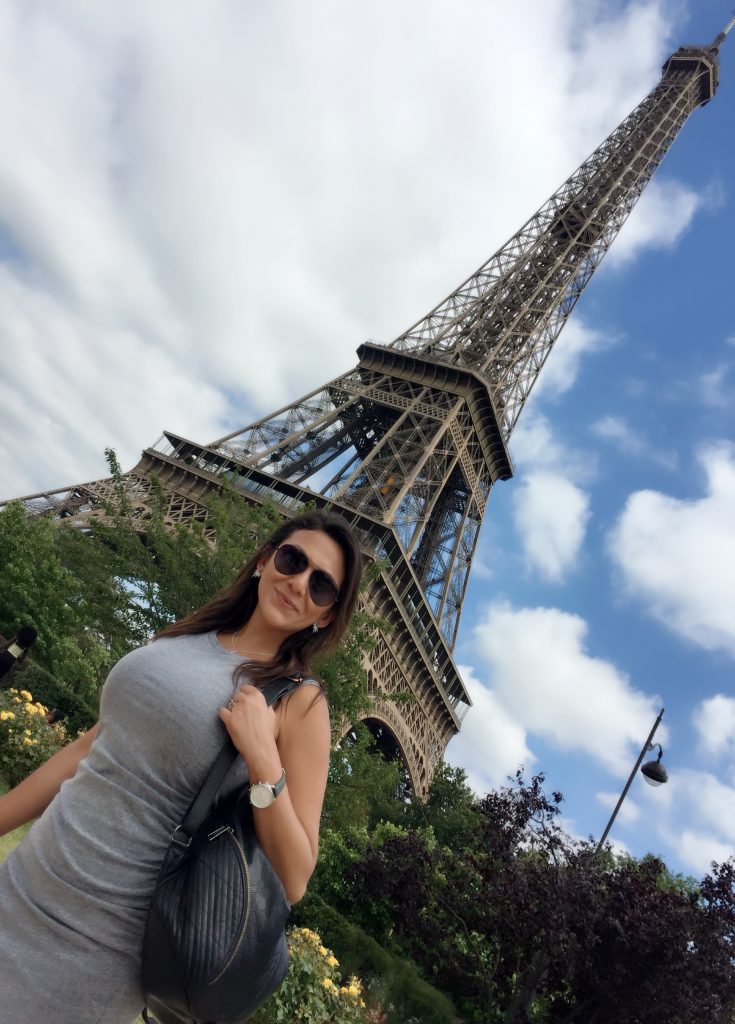 Since it was hot out, I spent most of my trip in dresses. My Toad & Co. Sun-Kissed maxi dress has an amazing fabric that is lightweight and moisture-wicking. It dries quickly, and even if it gets crumpled up in the cube, the wrinkles fall out easily. And thanks to the higher neckline, it's bra friendly. I wore this dress in the Venice heat, and I was comfortable the whole time.
I also packed a Bravissimo dress that was also bra-friendly. It's just a striped wrap dress of a modest length that I could wear in cathedrals and churches. I wore this a lot in Rome. And my Michael Stars dress, I didn't even wear.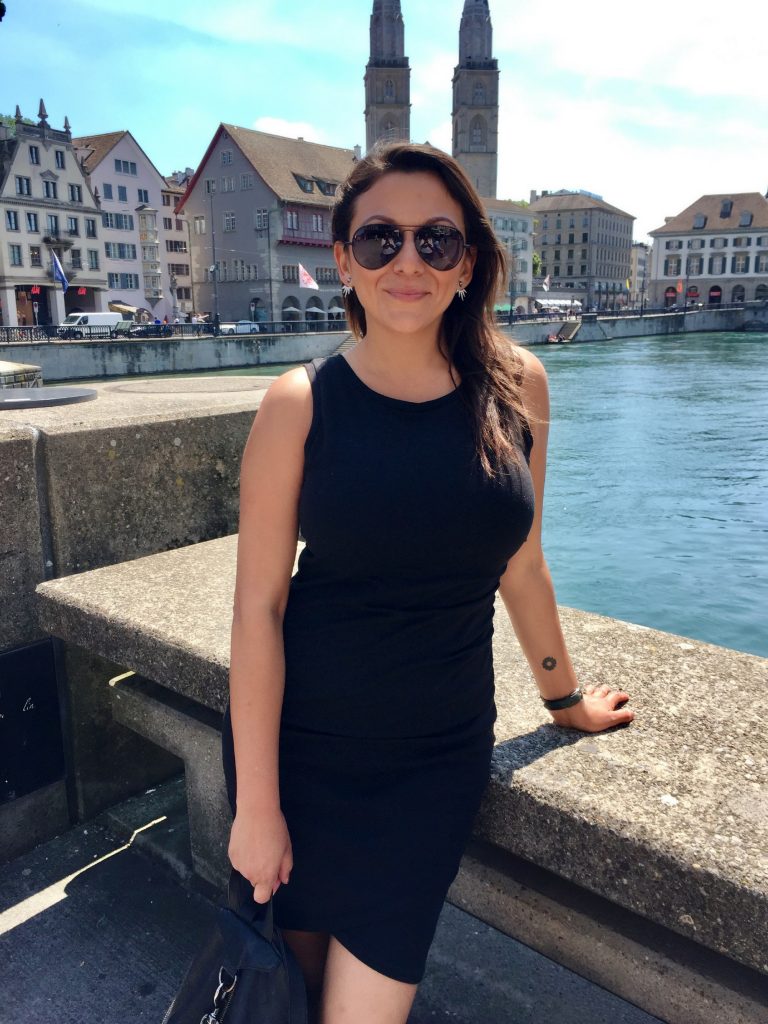 Lastly, I packed two of the same dress, which may sound weird, but it's because I love this dress that much. Like this Michael Stars shirt and black merino wool sweater, these dresses are staples in my wardrobe that I wear over and over again.
They're easy to wear and comfortable in the Rome heat. The dresses have a very flattering ruching on the side that flaunts your figure without being tight. The classic cut will never go out of style, and they're available in so many colors if I wanted to mix up my wardrobe. Not only do I love this dress, but so do many of our readers.
Note: the colors in my travel wardrobe are neutrals because of my personal preference. I really like black. You should choose colors that can mix and match but also colors you enjoy wearing. More tips for creating a capsule wardrobe here!
Packing Cube #2: Additional Clothing
In the packing cube #2, I packed a lot of miscellaneous items, some of which I didn't even end up using on the trip. But, you live and you learn! In this cube, I packed:
My airplane outfit was my tried-and-true pants and Michael Stars top, but I wanted to have a second top option, just in case, so I took a lightweight sleeveless top from J. Crew. I also packed two other blouses that I wanted just in case I didn't want to wear dresses, but I never used them on this trip.
The same goes for the blazer. Ultimately, it was too hot to wear it but I have a habit of bringing two items I can wear as outerwear on any trip. When it got chilly at night, I wore either my sweater or my jacket. I didn't need a heavier jacket.
These are the best merino wool sweaters according to our readers!
Under Armour ColdGear Leggings (similar)
Packing Cube #3: Pajamas, Underwear
My packing cube #3 usually isn't entirely full, especially for summer trips where I don't need heavy duty pajamas. For this cube, I packed:
I start by packing the pajamas, since they're the largest. The lightweight leggings are great for lounging, and I can also use them as pajama bottoms if it gets colder at night or the A/C is on. Additionally, if I wanted to do a workout or yoga class, I could.
I like to take two bras so they work with all of my tops and dresses. I lay the bras flat and along the edges of the packing cube. Then, in the cups of the bras, I put all of my underwear. 
I like having a variety of underwear styles. Some provide tummy control while others are great for tighter dresses where you don't want to see any underwear lines.
Zip it up, and you're done with the final cube!
Underneath my bra, I wore my RFID Secret Bra Wallet (similar). This bra stash is an anti-theft travel product that's part of my own travel line: Compass Rose. It's RFID lined for digital protection, and it actually has an extra long bra strap that allows women of all bra sizes to wear it. I wear it on the side of my bra, underneath my arm, and I use this instead of a money belt.
Here are more of the best money belts and anti-theft travel accessories!
This is the outfit I rewear on travel days. More info below!
The Outfit I Rewear on Travel Days
It's so important to have a comfy travel outfit, and I usually re-wear the same outfit for each travel day, whether I'm flying or taking a train. I've really nailed down an outfit that works for me for almost any travel day, regardless of where I am.
Michael Stars Drape Neck Black Top
Drape Sleeveless Top
My favorite top is this Michael Stars versatile top. I love it because it's incredibly easy to wear. You can actually adjust the straps to turn it from a sleeveless top into a dolman short sleeve. It looks a little bit dressy, but it's also comfortable, so it's great for travel days.
Shop Sizes XS-4X: J.Jill
Black Pants for Travel
I paired my top and jacket with black travel pants like the one featured above. I pretty much live in jeans at home, but pants like this pants are more comfortable, so they're perfect for travel days. Not only did I wear these on planes and trains, but I also for sightseeing, as well, because they're so comfortable and versatile. 
For travel pants in different price points, read this post on our readers' favorite black travel pants!
Shop Sizes XS-XXL: Style & Co Safari Jacket
Lightweight Jacket
A lightweight jacket is one of my staple jackets. I'm obsessed with it, I love it, and I take it absolutely everywhere. During my European adventure, I not only wore it on travel days, but I also kept it in my purse during sightseeing days to wear in the evenings.
Check out the best packable and beautiful cardigan sweaters that you'll want for your next trip!
My Secret to Traveling Light: Laundry
For our trip, we flew Ryanair from London to Rome. We stayed in Rome for three nights, took a train to Venice where we spent two nights, flew on EasyJet to Basel to visit my cousin in Switzerland for three nights, and finally took the train from Basel to Paris for three nights. We finished the trip with a train ride from Paris to London.
How did I make so few items last for so many destinations and days? Laundry.
In Rome and Venice, we stayed in an Airbnb, and in Basel, we stayed with my cousin, so we had access to a washing machine throughout the trip. This was a lifesaver!
We did laundry every day after we came back to our accommodation following a day of sightseeing. It didn't cause any delays in our day. We simply threw our clothing in the washer when we went out to dinner, and then dried it overnight. As it was really hot while we were traveling, the clothing dried very quickly.
Tip: Many Airbnbs that have laundry available also provide detergent. However, even if it doesn't, you can take small travel laundry pods with you that won't take up any space.
Packing Video of My Trip
Watch this video to learn everything I packed for my 2 week trip to Europe using my Osprey Carry-on Backpack
I hope you liked Part 1 of this series about all the clothing that I packed for Europe in the summer. In the next two parts, I discuss my shoe choices, luggage, purses, and other essentials gear.
---
What did you pack for your summer Europe trip? Please comment below!
---
For more Europe packing tips, please read:
Suggested travel resources:
---
LIKED THIS POST? PIN THIS PIC TO SAVE IT!
---
I hope you liked this post on the clothes I packed for my 2 week summer trip to Europe. Please share it with your friends on Facebook, Twitter, and Pinterest. Thanks for reading!
---