This post contains affiliate links. Visit our Disclosure page for details.
Throughout my four months of travel in Asia this year I could pack all my belongings in just ten minutes as opposed to one-two hours packing used to take me. Not only was my husband surprised that I was always ready on time but I felt accomplished at how much my packing has improved over the years.
My secret to packing fast as lightning? Packing organizers!
---
How to Pack in Less than 15 Minutes
---
Packing organizers are the key to being an efficient and organized traveler. Each item has a dedicated place within my luggage which means not only can I find anything easily I can also unpack and especially repack in minutes!
Because every item has a home, I pack in an easy three step process:
Look for organizer where item belongs
Place item inside organizer
Place organizer inside suitcase
Done!
Take a look at how I compartmentalized my belongings for my four-month trip to Asia earlier this year so you too can pack in fifteen minutes or less! (EVERYTHING in my packing list totals 10kg!)
Please note: this packing strategy applies to when you're already on the road and have already finalized what you plan to bring.
Electronics Pouch
Description: The larger style shown above, black and white print neoprene zip case. I like the thick fabric of these pouches because they form a protective barrier around my valuables.
Contains: portable charger, external hard drive, underwater camera case, camera, memory cards, keyboard brush, flash drive, portable mic, power cables (see specifics in my Digital Nomad Packing List)
Scuba Diving Accessories Pouch
Description: The smaller case shown above, polka-dot black and white print neoprene zip case. My dive gear is expensive and I like this thick fabric to protect it. It saves space as opposed to the hard plastic case it originally comes with. Unfortunately, Built NY no longer makes these cases but I will update the post with any similar styles I find.
Contains: scuba dive mask, dive computer, and compass (see specifics in this Scuba Diving Packing List)
Toiletry Bag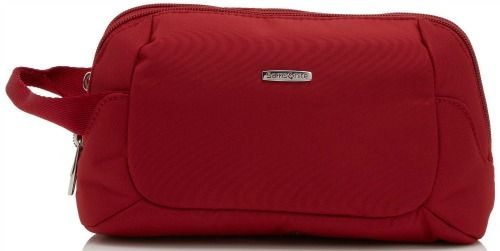 Description: red expandable toiletry bag with two compartments. I usually leave for a trip with the bag expanded and then zip it up as items get used and i don't need as much space.
1st compartment contains: 4 bottles of prescription medication, 1 strip of pain killers, 2 alka seltzers, 5 motion sickness tablets, 1 chapstick, ear buds, menstrual cup, wax strips
2nd compartment contains: shampoo, conditioner, body wash, body moisturizer, face moisturizer, face wash, toothbrush, toothpaste, razor, foot scrub, loofah
Makeup Bag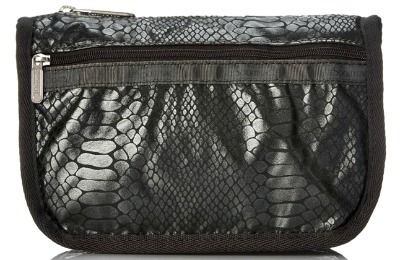 LeSportsac Travel Cosmetic Case
Description: standard small easy to clean black makeup bag
Contains: eyeshadow palette of 4, eyebrow pencil, eye liner, mascara, concealer, foundation, blush brush, double sided eyeshadow brush, blush, lip gloss, ribbon hair ties, bobby pins, nail kit, chapstick (see more in my What's in My Travel Makeup Bag)
Clear Pouch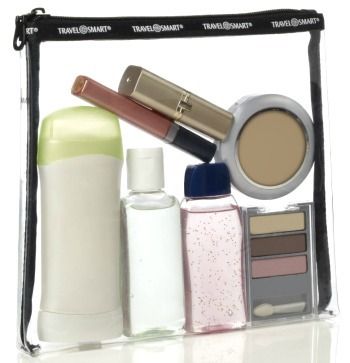 Description: zip closure clear pouch for each access to daily essentials
Contains: small daily essentials such as chapstick, sunglasses, eyeglasses, tampons, kleenex, eye drops, pill box, dental floss, breath mints, one allergy pill, one painkiller pill, one motion sickness pill, ribbon hair tie, bobby pins, clothes pin, hair brush
Packing Cubes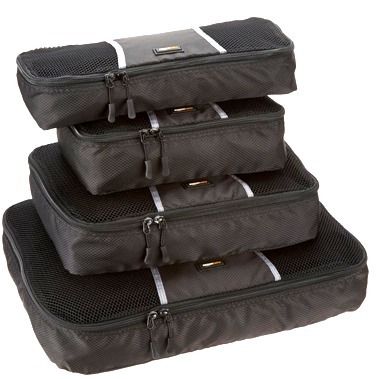 AmazonBasics 4-Piece Packing Cube Set
Description: I've used a combination of the following over the years – Pack Gear Organizer, eBags slim three piece set, Pro Packing Cubes set in various sizing, and the Dot&Dot Packing Folder (for shorter side trips). I am currently using the above AmazonBasics cubes.
I usually use two cubes for clothes and one for underwear.
Packing Cube #1: Tops and dresses
Packing Cube #2: Bottoms and layers
Packing Cube #3: Underwear, socks, bras, and bathing suit
Learn more about why I love packing cubes in this video tutorial!
Suitcase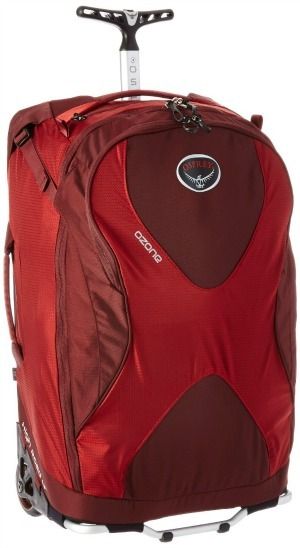 Description: Osprey Ozone 22″, capacity is 46L, fits carry-on for major airlines. In addition to packing organizers, I also use the compartments within my suitcase to further organize. I use the external pockets for things I use regularly or need easy access, too (but things that are not of high value if lost). I've also traveled with these three other Osprey packs.
Internal large mesh pocket contains scuba diving accessories: Aqualung rash guard, fish id booklet, dive socks, bathing suit, board shorts
Small internal side pockets: don't really use these only sometimes for the occasional random items
External right pocket: outerwear such as scarves, jacket, sweater and other accessories such as (empty) purse or belt
External left pocket: packable tote, sleeping bag liner, travel towel, silk pillowcase, inflatable neck pillow, sleepwear, and daily essentials. (Daily essentials are usually in my daypack but they're stored here to board a carry-on flight.)
External small top pocket: headlamp and extra travel lock
External back pocket: important docs, notebook, laptop and separate clear pouch containing laptop cord, iphone charger, international adapter. (Items from the external back pocket are usually in my day pack but I place them in the back luggage compartment to board a flight using one carry-on.)
---
At this point, I know my packing organization strategy so well that I've completely memorized it. Each trip the organizers may vary slightly but the idea is the same. Once you're on the road it's easy to re-pack when everything you own has a dedicated place. Now it's your turn to pack at lightning speed!
What's your packing strategy? Please share it below!
---
For more packing tips, please read:
---
Hope you enjoyed this post on How to Pack in Less Than 15 Minutes. Please share it with your friends on Facebook, Twitter and Pinterest. Thanks for reading!
---