Support TFG by using the links in our articles to shop. We receive a small commission (at no extra cost to you) so we can continue to create helpful free content. We earn from qualifying purchases made to the featured retailers. Thank you, we appreciate your support!
It's no secret that Venice, Italy is one of the most beautiful places in the world. The "Queen of the Adriatic" is also one of the most fashionable cities in Italy. Wondering what to wear in Venice? Take a look at our four Venice packing list for travel in summer, spring, autumn, and winter!
---
Venice Packing List
Written By: Lola Mendez, Maggie Fogg, and Nina Thomas
---
Table Of Contents
Venice is a city of romance. Historically, it's known for its opulence, decadence, and love of the fanciful. The city is situated across a group of 118 small islands, separated by 177 canals, and linked by 409 bridges.
Venice is one of the most popular tourist destinations in the world, receiving up to an estimated 60,000 tourists per day, attracted by the city's art, architecture and beloved canal transportation system.
Read our complete Italy packing list for more tips!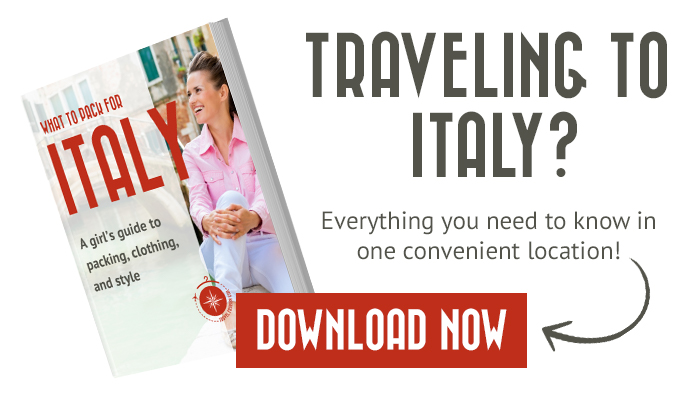 Venice Clothing Style
Traditionally, Venetian style is fanciful and somewhat opulent. Renowned for pretty things, from its Murano glass – colorful, elaborated and crafted in the city for centuries – to its well-documented history of courtesan-culture, style-wise, Venetians have an affinity for the floral, the feminine, and the decadent.
Fashion at the height of the Renaissance looked very different from what you would see a typical Venetian woman wearing today, but there is still a lingering air of romanticism in popular fashion.
As Venice boasts a more sophisticated, classic look, aim for a mix of fitted dark pants and classic-cut shirts when creating your travel capsule wardrobe. You'll notice many people wearing neutral colors, but the items are fitted and polished. Think Audrey Hepburn's style in Roman Holiday and Sabrina. Fitted, dark and classic.
Keep in mind that dress codes are enforced at some of the most prestigious establishments, such as Harry's Bar, where you can toast to your trip with the original Cipriani bellini. This means you'll need to add a few dressier and conservative pieces to your Venice packing list.
Check out this Italian outfits for multi-city trips to Italy!
Top | Blouse | Tank | Tee | Longsleeve | Pants | Jeans | Skirt | Dress 1 | Dress 2 | Jacket | Cardigan | Flats | Boots | Scarf | Backpack
What to Wear in Venice in Spring
Weather can change rapidly in Venice in the spring, which will impact your choices on what to wear in Venice. In the months closer to summer, days are often warm and pleasant, and nights refreshingly cool. However, in the early spring months, days can range from warm and sunny to dreary and rainy.
If you want to avoid tourist season, visiting Venice from April to June is your best bet. You'll see a significant number of sunny, clear days – much more than if you were to visit in the fall.
Start by reading these general tips on packing for spring travel:
The city of Venice experiences unpredictable weather year-round. However, Venice is not a city you visit for its weather. By adding a few key items to your Venice packing list, you can be prepared for any weather conditions the city may bring while fully enjoying its stunning historical sights.
Venice Packing List for Spring
When wondering what to wear in Venice, go for a selection of pretty dresses, which are on-point packing items for spring. From shorter shift dresses to lady-like wrap dresses to midi-length for day and night, dresses are must-haves for a trip to Venice.
When the weather feels slightly cooler, a silk duster jacket in a soft, pastel color is a stylish choice that transitions well from day to night, and has a somewhat dressy, yet modern feel that works very well with the style of the city.
Check out these tips on how to dress like a local in Italy!
If this isn't your style, opt for a lady-like trench coat. The spring is a perfect time to test out a non-traditional color like a magenta hue or steely blue-grey.
For evening activities, dress to impress. Give a nod to elaborate jewelry with a pretty bib necklace or statement-making cocktail ring while you sip on cocktails at the infamous Harry's Bar, where the bellini was invented. Statement jewelry is quite versatile in Venice, so opt for a style and color that can be worn to dress up many of the outfits you pack.
 Here are a few trench coat outfits to inspire your travel wardrobe this season!
Longsleeve | Blouse | Top | Tank | Tee | Jeans | Pants | Shorts | Dress 1 | Dress 2 | Cardigan | Blazer | Flats | Sandals | Swimsuit | Bag
What to Wear in Venice in Summer
Venice can be absolutely scorching in the summer but don't let the high temperatures ruin your style. Summer is also the wettest season and Venice always floods, so you'll likely have to walk on elevated paths to get around, which will impact what to wear in Venice, at least in terms of shoes.
Don't include leather footwear on your Venice packing list, as they'll be ruined in the rain. The weather is much more manageable in the fall, but wet weather and sunny days are still highly likely.
Start by reading these general tips on packing for summer travel:
Venice Packing List for Summer
Summer is one of the best times to visit Venice because of the beautiful nearby beaches. Avoid the heat by sightseeing early in the morning and visit nearby islands for beach days in the afternoons.
Evenings cool down greatly and should be spent wandering aimlessly around the tiny canals until you find the perfect spot for a romantic candlelit dinner under the stars as gondolas float past singing opera tunes that echo off of the historic buildings.
Want some stylish cover-ups that you can wear on and off the sand? Read this!
For mornings exploring the city, pack an outfit that is comfortable and chic. If you're not sure what to wear in Venice, an all-black is an easy way to look put together.
Try an off-the-shoulder blouse with wide-leg trousers and ballet flats or loafers. Make your outfit unique with accessories. If you're visiting churches, you'll need to have a scarf to cover up your shoulders if you're wearing a tank top.
For beach days at Lido beach, wear a versatile floral dress that can be worn as a frock or a beach cover-up and toss it over your favorite swimsuit. Classic one-pieces with low-cut backs and fun patterns are a great choice for sunbathing.
These are the most cute and comfortable ballet flats for travel!
Sweater | Blouse | Top | Tee | Longsleeve | Skirt | Pants | Jeans | Jumpsuit | Shirtdress | Blazer | Coat | Boots | Flats | Scarf | Bag
What to Wear in Venice in Fall
Fall is the absolute best season to visit Venice, as the weather is mild and days are typically sunny. The crowds from summer also start to dissipate, so the streets aren't as busy.
While the weather is much more manageable in the fall than summer, wet weather and sunny days are still highly likely, so keep this in mind when creating your Venice packing list.
Start by reading these general tips on packing for autumn travel:
Venice Packing List for Fall
When it comes to choosing what to wear in Venice, pack pieces that can be mixed and matched, such as a thin sweater, A-line skirt, booties, floppy hat, dark denim, and sophisticated blouses. Every day in Venice is like dressing for a special event. A jumpsuit is one of the most comfortable ways to look sharp, so add one to your Venice packing list.
Venice is not the place for heels–whether they're stilettos or low chunky heels. The cobblestone streets are uneven and there are many slippery bridges to cross.
Here are some tips on how to wear ankle boots for fall travel.
There are no cars in Venice, so you have to walk everywhere. So when deciding what to wear in Venice on your feet, go for comfort. Comfy footwear will make it much easier to climb to the top of the St. Mark's Campanile and explore the city for hours on foot.
A floppy hat will protect you from the warm autumn sun and strong breeze, while a duster jacket or cardigan will add layers to your outfit and keep you warm. A scarf is also a Venice packing list must for evenings dining al fresco. Rain is possible at any time so bring a compact umbrella to avoid getting soaked.
Here are eight different ways to wear a scarf when you travel!
Longsleeve | Blouse | Sweater | Shirt 1 | Turtleneck | Skirt | Jeans | Leggings | Dress 1 | Dress 2 | Coat | Cardigan | Boots | Flats | Beanie | Bag
What to Wear in Venice in Winter
Venice can be quite cold in the winter. In November and December, the temperatures are highs in the 40s-50s and lows in the 30s. January is the coldest month, and you may very well see some snow.
When you're walking through the pedestrian-only streets, the taller buildings will block some of the cold winds. However, when you're out by the water in Piazza San Marco, you shouldn't be surprised by some bone-chilling winds. So when building your Venice packing list, stick to cozy layers.
Start by reading these general tips on packing for winter travel:
Venice Packing List for Winter
When creating your Venice packing list, you'll want to bring a very warm coat that is functional and stylish. For daytime, bring a warm, wool peacoat with room to also wear a thick sweater underneath is optimal.
For pants, consider bringing dark corduroys, dark denim or black wool leggings. For tops, you'll want solid-color button-downs and neutral-color thick sweaters. Aim for classic cuts and colors. If you want to add some color, consider a dark green or burgundy.
Don't forget to pack weather-appropriate gear like a waterproof coat.
For a dressier option, go with a wool pencil skirt or a black shift-style dress. Bring warm boots, preferably a pair of black leather boots, as these are a classic look that many Italians have as a staple in their wardrobe.
For extra warmth, pack a pair of black leather gloves, wool beanie and scarf. Thick socks are key because Venice is a very walkable city, and you'll be spending a lot of time outside. Keep those toes warm!
Find out why leather boots are some of the best travel shoes to Europe!
Venice Travel Essentials
The perfect accessories to add color to any outfit are a handbag and a scarf. You can use your handbag, belts, and scarves to brighten up an otherwise neutral outfit. Don't forget the perfect daytime accessory: sunglasses.
The perfect travel bag is a crossbody bag, so be sure to add one to your Venice packing list. To take your look from day to night, use a removable chain or strap to transform it from a crossbody into an elegant clutch.
These are the best travel shoulder bags for women!
Venice Packing Don'ts
Along with knowing what to wear in Venice, you'll want to know what not to wear, too. One unexpected issue that many travelers discover once they get to Europe are the cobblestone streets.
While great to look at, stone streets aren't always the easiest to walk on and can make for sore feet even if you don't normally have discomfort. Depending on the city, these streets can also be hilly, slippery when wet, and uneven.
In addition, we all love to dress up, but leave heels off your Venice packing list because they'll leave you feeling uncomfortable. Opt for wedges if you must bring a heel. Do include one pair of shoes and one outfit that can be worn for dining out or experiencing the local nightlife.
Before Travel Fashion Girl, I made a lot of packing mistakes, including an epic disaster on a two-week trip to Europe. Here's a tip on how to avoid a packing disaster!
Venice Luggage Tips
So the hard part's out of the way; after much turmoil you've finally perfected your travel wardrobe and created a chic capsule collection – now it's time to get packing! Which luggage will work best for you?
Depending on how many days or weeks you're traveling, you may want to use packing cubes, which allow optimum use of the space in your luggage, keeping everything organized and in place during your travels, and making the task of unpacking and repacking simple and stress-free.
As you're headed to fashionable Italy, use an equally stylish carry-on, such as the Osprey Ozone, which is a personal favorite. Keep in mind that most of Europe's budget airlines have a carry-on bag allowance of 55cm x 40cm x 20cm. Always check your airlines individual baggage rules and regulations in advance.
Here's a list of the best carry-on suitcases for traveling Europe!
Venice Accommodations
Venice is never not full of tourists and hotel prices are always steep. The city is suffering from mass tourism so support locals by booking Airbnb's or homestays–they'll likely be more affordable offer a cultural exchange. It is also less expensive to stay outside of the city center. The city outskirts are well connected to Venice via the train.
We love Airbnb for accommodation in Venice and other parts of Italy. Sign up here for a free $40 credit!
I prefer to book "the entire home" instead of opting for shared accommodation on Airbnb. Aside from safety, I also like to feel like I'm living in the destination. It's a small taste of local life plus you get more amenities than you would at a hotel such as a kitchen and washing machine.
Venice Transportation
There are no cars in the Venice city center, and the area is made up of tiny islands, canals, and bridges. You'll have to carry your luggage from the train station or ferry port. Most transportation is done over water via the water buses, vaporettos, private boats and gondolas, or targhetto crossings over the grand canal.
The best way to get around Venice is by way of their water taxis, and of course walking. The water taxis are used by everyone to get around. If you're traveling during a busy time of the day, you may have to sit in the outdoor seating area, which can be very chilly in winter and hot in summer.
What To Do in Venice
Venice is spectacular, from the glistening St. Mark's square, endless charming canals, and world-renowned museums. Stroll along tiny colorful alleyways, view fantastic architecture, and partake in the divine Venetian cicchetti.
Cicchetti Venice happy hour where bacaro (Venetian wine bar) serve giro di ombre (small glass of wine), and bite-sized seafood dishes. Don't miss the Venice Biennale art exhibits that open mid-May.
After you've seen all the sites in Venice catch a vaporetto out to Burano to see the colorful fishing houses and handmade lace and Murano to purchase Venetian glass. Make sure to pack a bag large enough to hold a book.
Nothing is better than a lazy morning in a quiet corner off-the-beaten-path reading a book by a canal such as Hemingway's Across the Ringer and Into the Trees which is based in Venice.
These are a few popular Italy guidebooks:
Venice Safety Tips
Be cautious about where you stash your cash so you don't fall prey to muggings and pickpocketing. Make your clothing theft-proof and choose items with strong zippers. Jeans are handy for this reason: you can put important items, like your wallet and phone, in your front pockets, where it's very difficult for a wandering hand to snatch it. Add items like the Secret Stash Bra Pocket and Underwear with Pockets to your Venice packing list.
And be mindful of purse snatchers! They either slash the bottom of your bag so the content fall out or slash the strap. Wear your purse strap across your body and the zipper towards the front. For extra security, check out the "theft-proof" bags featured in this post about crossbody purses.
These are articles with other suggested anti-theft products:
Remember, the safest place for your passport is locked in your accommodation. Carry a photocopy or other ID when you're sightseeing or are out at night.
Read these tips on how to keep your passport safe when you travel!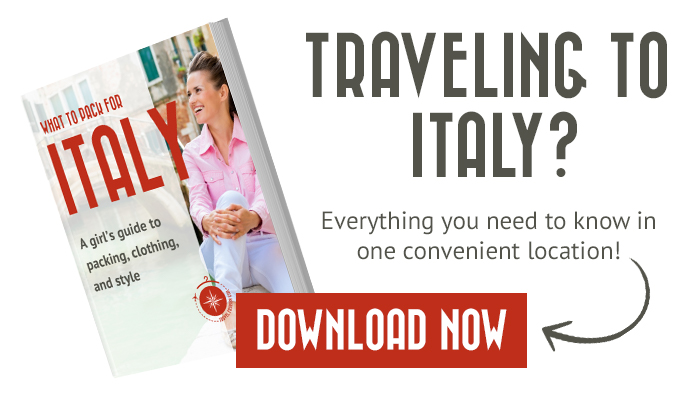 ---
What are your tips on what to wear in Venice? Share in the comments!
---
For more ideas on how to pack for Europe, please read:
Suggested travel resources:
---
LIKED THIS POST? PIN THIS PIC TO SAVE IT!
---
I hope you liked this post on what to wear in Venice, Italy. Share it with your friends on Facebook, Twitter, and Pinterest. Thanks for reading!
---
Author Bio: Lola Méndez is a full-time traveler sharing her adventures on Miss Filatelista as she adds to her collection of passport stamps. She travels to develop her own worldview and has explored 46 countries. Passionate about sustainable travel she seeks out ethical experiences that benefit local communities. You can follow her on Facebook, Instagram, and Twitter.
---
Author Bio: Maggie Fogg is a full-time traveler and writer. She left Toronto with a one-way ticket to Spain and has been making her way around the globe ever since. Currently, you can find her dancing and hiking her way around South America. Follow Maggie on Instagram.
---
Author Bio: Nina Thomas is a travel lover and freelance writer from the United States Midwest. Traveling mostly as a couple with her husband, she is constantly looking for a beautiful view and a good adventure. For more practical travel tips and ideas from a Central Ohio Girl, check out her website: travelingwithnina.com or follow her on Twitter.
---