Support TFG by using the links in our articles to shop. We receive a small commission (at no extra cost to you) so we can continue to create helpful free content. We earn from qualifying purchases made to the featured retailers. Thank you, we appreciate your support!
Wondering what to pack for Iceland in March? We've got everything you need to know! You even can travel carry-on only with these tips!
---
What to Pack for Iceland in March
---
Table Of Contents
Traveling to Iceland in March is one of the best times to go if you want to see snow, hike glaciers, and get a glimpse of the Northern Lights.
Knowing what to pack for Iceland can be a challenge, because it's cold, windy, and activities can range from city life, to swimming, to all sorts of adventurous outdoor activities.
Start by reading these articles on winter travel:
Thankfully, we've created a comprehensive list of both what to wear and what to pack to make your Iceland vacation easy to plan and an unforgettable experience!
In terms of what types of fabrics to choose, the video below can help you select smart fabrics or brands that work well in winter so you can layer properly!
Watch this video to find out the right fabrics to layer for winter!
What Shoes to Wear in Iceland in March
Blondo Villa Waterproof Ankle Bootie
Walking Shoe: Waterproof Ankle Boot
When it comes to Iceland gear for your feet, you're only going to need closed-toe shoes. You'll probably be doing a lot of walking on this trip, so it's important that all of your shoes are comfortable. Bring one pair of comfortable shoes for walking.
We recommend a waterproof ankle boot, like the Blondo Villa. It's comfortable enough for sightseeing, waterproof to keep out the elements, and stylish enough to wear with all your outfits. This boot is so popular among readers and the TFG Editor-in-Chief, we did a video review on them and a post. 
Watch this video review on the Blondo Villa Waterproof boot!
Read my review to see why our readers and I love them!
Columbia Newton Ridge Plus Waterproof Hiking Boot
Activity Shoe: Hiking Boot
It's very likely that you'll want to bring hiking boots or hiking shoes to Iceland. One of the best activities in Iceland is hiking up glaciers, and while the tours will provide you with crampons for the bottom of your shoes, proper hiking boots will still be very helpful.
You can wear your hiking boots as your everyday walking shoe if you wish! You'll see many people in Iceland doing this.
See the best hiking shoes for women!
Sorel Tivoli IV Tall Waterproof Boot
Additional Pair: Winter Boots
Our readers always are recommending boots from Sorel as being perfect for traveling in colder months and to colder destinations. The leather and suede design of the Sorel Tivoli boots with the soft microfleece lining will keep your feet cozy and warm, no matter how chilly it gets.
Our readers particularly like these cold-weather boots for traveling to more extreme winter destinations, such as Iceland. One reader says she spent two weeks in Iceland when it was hit by the biggest snow storm in 40 years, and her Tivoli boots kept her toasty and dry.
Because good, solid shoes are so vital for winter, the video below gives an overview of the right boots or shoes to help carry you through winter.
Figure out how to choose winter shoes in this video!
Check out these women's waterproof boots for winter!
What to Wear in Iceland in March
Down Jacket | Beanie | Pants | Gloves | Sweater | Thermal Top | Boots | Scarf
Suggested Day Outfit:
Staying warm is all about layers. You'll want a thermal top and bottom layer next to your skin to keep you warm. Then, add tops, pants, warm socks, and sweaters to your travel capsule wardrobe. You'll want to be able to take off layers when you go inside where it's warm but bundle up when you head outdoors.
Look for lightweight layers, such as merino wool tops and sweaters. Avoid bulky clothing, because it won't be any warmer, and it will take up valuable space in your suitcase!
Find out why merino wool is the ultimate fabric for travel here!
Sweater | Scarf | Backpack | Tights | Bracelet | Skirt | Earrings | Boots

Suggested Night Outfit:
Iceland is casual, so just a little effort goes a long way if you want to dress up. Add a dressier scarf and a knit skirt for a dressier night-time outfit. These items work well in a capsule wardrobe that fits in a carry-on suitcase.
The key to packing light for Iceland is to bring layers that can be worn many times, such as merino wool or other "unstinkable" fabrics.
To offer more help, we put together a video on how to prepare for winter travel, which you can watch below.
Learn how to travel light and efficiently for winter travel in this video!
It can be grey and dark in Iceland sometimes, so it is nice to have a spark of color. I wear lots of black/grey, and I especially loved the pops of color I brought along! You can add these through sweaters, coat, hats, and scarves.
Read this post on how to choose the best fabrics for travel!
Columbia Carson Pass II Jacket
Weather in Iceland in March
When planning what to pack for Iceland in March, be prepared for extreme variation in weather.
Expect almost every type of weather — cold, sunny, blizzard, windy without snow, snowy without wind, fog, rain, sleet, or small hail.
We were relaxing in the Blue Lagoon hot springs spa outdoors in our bathing suits, and we experienced all of the above weather (minus sun) in the span of one hour!
It will be cold, so you'll need winter gear, such as a long down coat with a hood, hats, scarves, gloves, warms socks, and warm, waterproof winter boots. Bring at least two hats and scarves so all of your photos aren't identical!
 The Columbia Carson Pass II jacket works well with winter fabrics. Not only is it 100% waterproof but the insulating Omni-Heat material also helped keep me warm, too. The video below shares more on this awesome winter jacket! 
Find out the benefits of the Columbia Carson jacket in my video review!
Blouse | Sweater 1 | Turtleneck | Thermal | Sweater 2 | Jeans | Skirt | Pants | Dress 1 | Dress 2 | Down Jacket | Coat | Tall Boot | Short Boot | Beanie | Backpack 
Iceland Packing List for March
Clothes
Shoes
Learn to Pack Light Stylishly with my e-book!
Essential Packing List for Iceland in March
Osprey Packs Farpoint 55 Travel Backpack
Luggage: Backpack
Packing light is always the most convenient way to travel. It may be harder when packing for winter conditions, although you likely will be wearing your bulkiest items — a winter coat and boots — as your travel outfit.
There are various things to consider when choosing the best luggage for Europe including a difference in carry on size and strict weight restrictions.
For a European carry on size bag, a backpack is always a safe option. It's also the perfect fit for those of us who prefer to travel hands-free. And if you prefer a suitcase, these are our readers top picks for carryon luggage International flights will accept. 
Find out whether a backpack, wheeled suitcase, or even a hybrid is best for your travel adventure to Europe!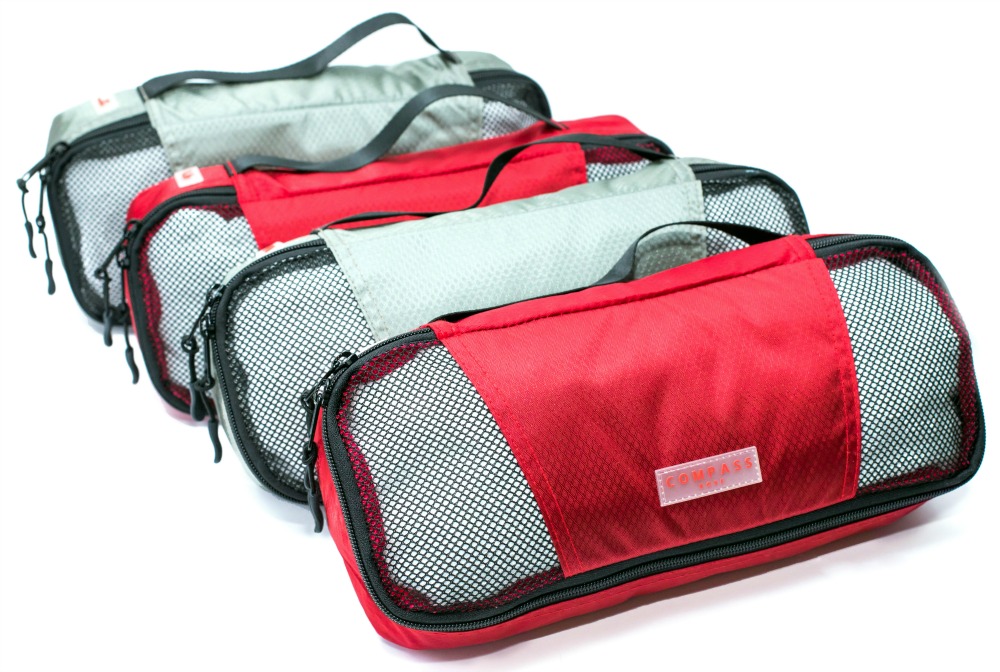 Compass Rose Travel Packing Cubes
Packing Cubes
Packing cubes are a great way to organize your suitcase and save space when traveling. We recommend the Compass Rose Carry On Size Packing Cubes — it's our brand! — to make your Iceland packing experience as simple as possible.
Watch this video tutorial on the best way to use packing cubes!
eBags Pack-it-Flat Hanging Toiletry Ki
Toiletry Bag
Keeping your liquids and toiletry items in a waterproof toiletry bag will ensure that nothing spills inside your luggage and leaks onto your clothing.
You'll need to pack these standard, essential toiletries, including:
Shampoo and conditioner

Body wash

Moisturizer (face and body)

Razor

Makeup (we recommend keeping it simple: mascara, concealer, and a lip tint that doubles as a blush)

Hair ties and bobby pins

Dry shampoo
Worried that all your toiletries, makeup, skincare, and hair styling tools won't fit into your suitcase? Read these tips on how to travel size toiletries to learn how to make the most of limited space without sacrificing your routine!
We recommend you take the most important products in travel containers like these and try to either buy basics like shampoo and shower gel in Europe or use the items provided by hotels.
Also, consider your makeup – in many European cities, women opt for natural makeup focusing on a well groomed but not over-the-top appearance.
While a daily salon blow out isn't necessary, be mindful of your hair and makeup. Find out if it's necessary to bring a travel blow dryer here.
When choosing your styling tools, choose items that have dual voltage and bring along a travel adapter for all your electronics. Just make sure to add all these items to your backpacking packing list for Europe so you don't forget them.
Check out our guide to toiletries for more tips!
Travelon Anti-Theft Two Pocket Crossbody  Bag
Travel Purse: Travelon Two Pocket Crossbody
There are many great options for travel purses, but a slim cross body bag will be your best choice in Iceland, because you can wear it under your coat.
A popular model among travel shoulder bags, the Travelon crossbody bag featured above comes with an adjustable strap that allows for either cross body or over shoulder wear, while a number of its zippers come with a lockable clip.
It sits slim and comfortably against the body while in use, and its adjustable straps are, once again, slashproof.
Read why cross body purses are the best purses for travel!
Compass Rose Secret Bra Wallet
Anti-theft Accessories
While Iceland is one of the safest countries, it's always important to keep your money and valuables close when traveling internationally. The Compass Rose Secret Bra Wallet is a great way to keep your credit cards and excess cash in your bra and underneath your winter outerwear. These items will be easily accessible to you and out of sight from everyone else.
Remember, the safest place for your passport is locked in your accommodation. Carry a photocopy or other ID when you're sightseeing or are out at night.
These are articles with other suggested anti-theft products:
Read these tips on how to keep your passport safe when you travel!
International Universal Travel Adapter
Electronics
Don't forget to bring any electronics you may need, such as your phone, camera, and chargers.
A travel adapter is one of the items many people don't think of when traveling internationally, but it's going to be essential if you want your plugs to fit overseas. This Universal Travel Adapter works with plugs in all countries, so this is a great one-time buy for all of your travel destinations.
If you plan to use your phone, you may need a Wi-Fi hotspot, pre-paid phone, or international SIM card.
Here's a list of electronics you may need to pack:
Converter

(if you aren't using a dual voltage item)

Laptop/tablet charger (if you bring a laptop or tablet)

Battery pack

Camera charger (if you bring a camera)

Personal Wi-Fi hotspot or SIM card (if you won't have phone connectivity and need access)
Do's and Don'ts of What to Pack for Iceland in March
Quince Australian Merino Wool Crew Sweater
What do people wear in Iceland in March?
When looking for what to wear in Iceland, you can look to the locals for inspiration, because Icelandic people are used to the cold and have the proper clothing to deal with these temperatures year round. Some of the best material for cold weather is sheep wool, which you'll see in many Icelandic clothing stores.
Sweaters made from merino wool are super packable while provide the utmost warmth, without overheating the body! I'm obsessed with merino wool sweaters because they're light yet incredibly warm. I've had them for years and they remain in good quality even though I've worn them repeatedly. Depending on how cold it is, I'll layer two of them to keep me warm. Made of 100% merino wool, it regulates body temperature to keep you warm but also keeps you dry and comfy. To get a full list of choices, check out the best merino wool sweaters for women!
While merino wool reigns supreme for many travelers, some are allergic or don't like wool; cashmere has always been a suitable replacement but a costly option in comparison. It seems things have now changed with new brands emerging and offering products with these natural fibers at relatively affordable price points. Readers love these cashmere sweaters for their polished and timeless look, incredible warmth, and versatility.
A merino wool sweater I've loved for years is the J.Crew Tippi sweater (sadly no longer available) but watch the video below to find out why a merino wool sweater is amazing for winter!
This video reveals why the merino wool sweater is a hit for winter!
Dress code for Iceland in March?
There is no particular dress code for Iceland in March other than to STAY WARM! You'll want to wear insulated boots, thick socks, hats, scarves, coats, thermals, etc. While the temperatures in Iceland may not seem all that low, the cold in Iceland is harder to deal with due to wind, sleet, and snow.
What should I not wear in Iceland in March?
Iceland in March is not the time to sacrifice style over comfort or style over warmth! While being fashionable may seem like a priority, you'll regret packing lighter clothing as opposed to clothing with warmer materials.
In Iceland, put your fashion sense aside for the sake of keeping yourself warm. You'll enjoy your trip much more this way!
Do you wear bikinis in Iceland in March?
While a one-piece swimsuit may be more comfortable when jumping out of the Blue Lagoon or other hot springs simply because the temperatures outside are cold, wearing a bikini in Iceland is a suitable option.
This is a matter of preference, so it's completely up to you which swimsuit to bring! The Icelandic culture is not modest when it comes to showing skin.
Should I wear jeans in Iceland?
Jeans are a great option, however, it's important to bring jeans that are either stretchy or loose enough to layer thermals underneath. Otherwise, your legs will be cold.
If you don't have any jeans loose enough, leave your jeans at home and opt for some windbreaker style pants or stretchy pants instead.
Our readers recommend the best cold weather pants for travel!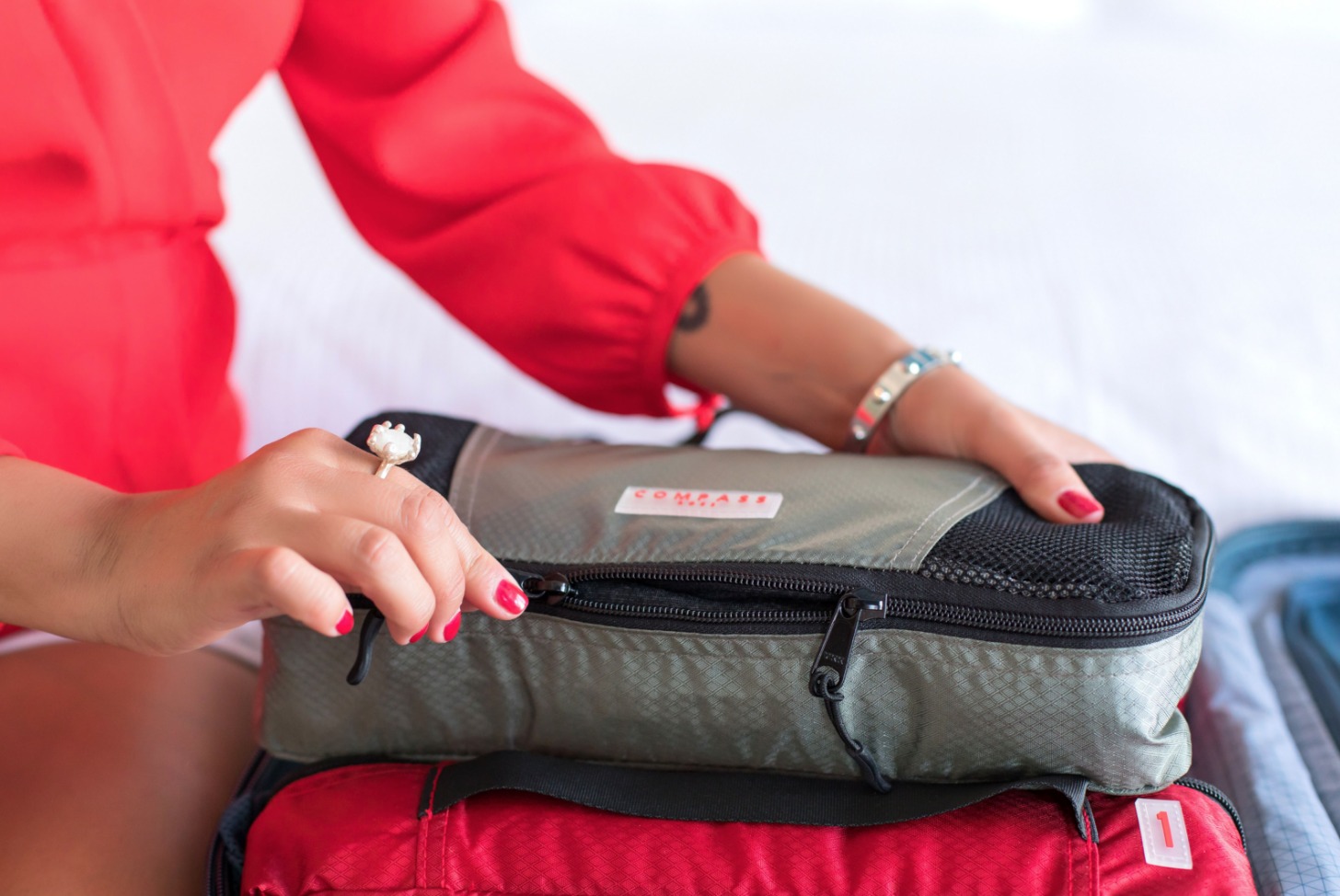 How to Pack for Iceland
Packing cubes will change the way you pack. We designed our own brand of slim packing cubes, with a unique color and numbering system, so it's easy to remember where you've packed everything—ESPECIALLY for winter! It's not uncommon to pull out warm clothing while you're on the go, layering a little or a lot for the weather conditions, so packing cubes can keep you organized!
Learn our hacks with packing cubes in the video above!
We put together a five-part YouTube series showing the different methods to use packing cubes for travel. If you use this specific packing strategy, packing cubes can also compress your belongings. This is the secret to traveling carry-on only!
Activities in Iceland
One of the most important ways to plan what to wear in Iceland in March is to consider your itinerary. The packing tips provided here are based on the following activities:
We stayed two days in Reykjavik (one at the beginning and one at the end). The downtown area was magical in the snow. We'd been there before, so this time we toured HARPA and definitely recommend it. Try to make time for the concert if possible — it has won many awards.

We loved the nearby Blue Lagoon natural hot springs spa, but the main purpose of the trip was to photograph the Northern Lights, so we spent the majority of our nights outdoors.

During the days, we traveled around the Golden Circle seeing the geysers and gorgeous waterfalls. We also drove east to Vik to see the basalt columns and sea stacks, and then even further east to visit the glacial lagoon Jokulsarlon. I highly recommend a glacier walk on Solheimajokull and the glacial lagoon Fjallsarlon.
Read this post for an awesome Iceland road trip itinerary!
(Editable) Printable Checklist
Printable Travel Checklist
If you need an all-in-one resource for planning what to pack for Iceland in March, look no further, because we've developed a printable travel checklist that will make it all super simple!
The travel checklist features unique categories to help you pack for your trip efficiently including a list of things to bring on vacation and other helpful reminders. It includes all the items listed in various categories above and has spaces where you can fill in your own information:
Write in an item's weight (lighter items means less overall baggage weight).

Note if you need to purchase something or if you already own it.

Organize where you'll pack each item.



Our readers looove our checklist! (Editable) Printable Checklist to access the editable Google Doc printable checklist that corresponds to this article. You can also download the print-friendly, PDF version here.
---
What are your tips on what to pack for Iceland in March? Comment below!
---
For more winter packing tips, please read:
---
LIKED THIS POST? PIN THIS PIC TO SAVE IT!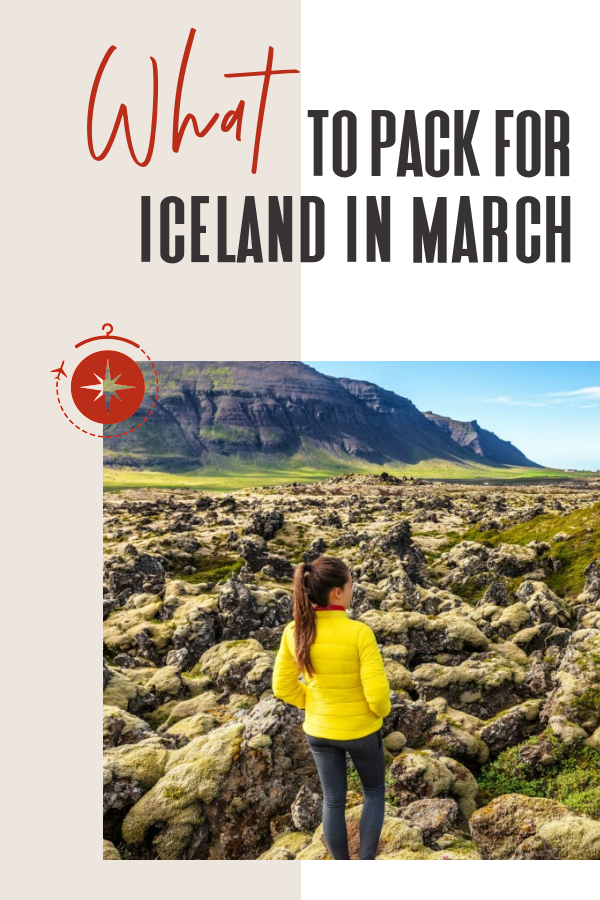 ---
Hope you like this post on what to pack for Iceland in March. Please share with your friends on Facebook, Twitter, and Pinterest. Thanks for reading!
---