Fleece is a synthetic fabric that has a range of awesome properties; it is lightweight, durable and has the ability to wick away moisture from the skin, making it the better choice over wool. Fleece has the ability to insulate the body whilst being wet; it also requires little maintenance making it the perfect travel fabric.
All these features make fleece the popular choice for outerwear, however finding a stylish option can be tricky… enter the TFG'S Facebook readers to the rescue!
---
13 Top Fleece Travel Jackets
---
Travel Fashion Help! Reader asks:
Is it possible to own a fashionable fleece? If so please tell me the details on how to find cute fleece travel jackets! I want something cosy, small when packed, and yet not something that looks like I've been hiking.
Fashionable fleece…Surely an oxymoron right…
However, after posting this predicament on TFG's Facebook there was an amazing response from the Travel Fashion Girl readers, providing stylish options ranging in price and style. Your answers provided a selection of 13 fleece travel jacket alternatives to suit everyone.
It's important to note that bulky fabrics won't necessarily make you feel warmer! You have to choose the right cold weather fabrics and layer your items strategically, as explained in the preparation video below.

Watch this video to learn what to pack and prepare for winter travel!
Fleece can either be heavy or handable, depending on what type you choose. We also created a three-part video series on how to prepare for winter travel overall; including the right fabrics, shoes, and accessories to stay warm during your winter adventure! 
 Here are the best fashionable, fleece travel jackets recommended by our readers:
Scuba Hoodie Light Cotton Fleece
Great for Color – Lululemon
Lululemon carries a great variety of "stylish" fleeces! The Lululemon Scuba Hoodie is available in the most gorgeous selection of colors including aquamarine, fresh teal and bleached coral, there's also a variety of two tonal colour options – you'll want one in every shade! Made from cotton fleece fabric, the jacket doesn't look like your ordinary fleece but still scores high on the cozy scale, bonus point's right there!
The hoodie is designed to be soft, stretchy and breathable, ribbing in the waistband, cuffs and under arms provide additional stretch, so movability is increased.
The jacket comes with some pretty cool features such as a deep lined hood and high scuba collar to keep your head and neck warm, a 'zipper garage' to keep the zip from scratching your chin and thumbholes and snug cuffs to keep the sleeves down and make layering easy, plus there's complimentary shipping to Canada and the US!!
You'll want to look your best when you travel! Read my travel tips to Pack Light Stylishly!
The North Face Womens Osito Classic Fleece Jacket
Great for Softness – The North Face
So far my favourite is The North Face light blue fleece with hoodie. I have travelled with this North Face fleece a lot (I have it in pink) and it has been fantastic. Not too heavy, layers well, looks nice and even great for sleeping in when needed.'
The North Face Osito jacket is such a cute fleece, available in an array of chic colours such as ion blue, magic magenta and mojito green, it is made from lavish fabric of insanely soft and silken fleece – making it crazy comfortable. Designed to be worn as a casual outer layers in cold weather conditions, the jacket is stylish enough to wear out and about without looking like your off hiking.
This plush looking fleece is warm, breathable, soft, lightweight, and easily packable and comes with nifty added features such as elastic cuffs to keep in the warmth and a full zip front closure with interior wind flap. Something to look out for – some reviews have noted problems with shredding.
Your fleece jacket can easily fold or roll up into a small bundle to fit into a packing cube without any issues
Great for Sport Performance – Adidas
I think the big sports brands like Adidas, Nike or Under Armour have nice ones! If you're looking for a sport brand fleece, look no further than Adidas, they have an awesome range of stylish fleeces, a diverse design range means there's something in the collection for everyone.
The Adidas ClimaWarm jacket is crafted out of specialised CLIMAWARM fabric that is guaranteed to keep you warm and comfortable in warm weather conditions, whilst allowing sweat to escape from the body, it also has a soft fabric lining that provides extra warmth and comfort, whilst allowing sweat to be wicked away efficiently.
The jacket comes with features such as an inner and outer fleece chin guard to protect you against the elements and two side zipped pockets acting as secure storage for your valuables.
adidas Women's Essentials Linear Full Zip Fleece Hoodie
The Adidas Essentials Fleece is a sleek yet sporty look that can be dressed with jeans or joggers and has the ability to keep you snug in harsh winter climates.
Nike Dri-Fit Element Sphere 1/2 Zip Running Top
Great for Sport Performance – Nike
If you want something that is tech, will offer warmth you can go the route of Nike Sportswear. Their new global apparel director Kristin Rieter of Bleachblack.com fame is really changing it up over there.
The Nike Sphere running top is a great alternative to the classic fleece, the jacket provides maximum insulation from the cold and width whilst having little weight and bulkiness.
The specialized Nike Sphere thermal fabric is light so can be easily packed and has the ability to keep you super warm without having to endure heavy, bulky layers. The paneled sections on the side and under the arm are crafted from the high performance Nike Dri-FIT fabric that wicks away sweat, allowing it to evaporate the body, keeping you super dry.
This high tech jacket includes features such as an asymmetrical half zip design to minimise chaffing and thumbholes to offer comfort and keep the sleeve cuffs in place.
The North Face Campshire Fleece Wrap Jacket
Great for the Slopes – The North Face
The North Face is known for being reliable on the ski slopes but this cozy, plush hoodie wins hands down for "most pretty" ski accessory!
The North Face selection of jackets totally fit the bill, fashionable yet still able to keep you warm, priced at around $175, it's worth the investment.
This Arctic jacket from the brands range offers all the features you would want from a winter fleece jacket and looks super cool, made from 100% polyester shearling fleece, with a cozy hood, deep front welt pockets, and ribbed cuffs to keep your hands and mitts insulated well.
Great for Storage – Scottevest
Scottevest's products have many pockets to help offset checked luggage fees, I love mine.
The Scottevest website provides a cool feature; a warmth chart is available allowing you to find the perfect jacket for every season, you can also compare garment features ensuring you end up with your ideal jacket.
The SeV Chloe hoodie is a super cute jacket claimed by Scottevest to be the 'most useful hoodie in the world!' can the jacket live up to this high praise, it certainly includes characteristics that would say so.
The hoodie features 14 (yes 14!) discreetly placed pockets, perfect for travel; you have an insane amount of compartments to keep your holiday essentials safe, the garment has also been tested to ensure style, fit and function even when the pockets are filled, bonus!
The jacket has a super plush interior, an ergonomic zipper pull, folding cuffs with added thumb holes and is available in Kiss (grey with pink lining) or Magic (black with black lining).
Columbia Women's Benton Springs Classic Fit Full Zip Soft Fleece Jacket
Great for Water Resistance – Columbia
Try Columbia's Benton Springs Classic – is a fleece in the real sense of the word, able to layer on top or underneath with 100% polyester filament fleece. 
The jacket is lightweight, breathable and regulates your body heat – realizing moisture to keep you dry and comfortable, it features characteristics such as cuffed sleeves for warmth, and zippered pockets to store small items like headphones or hotel keys.
Bobeau Drape Front Faux Fur Cardigan
Great for Wraps – Nordstrom
It is not fleece but a stylish wrap is the Bobeau Wrap sold at Nordstrom, great on airplanes!
Check out the Bobeau wrap from Nordstrom, a great alternative to bulky jackets and an awesome choice for plane wear, crafted from nylon and rayon bamboo, the soft wrap can be worn open and draped or wrapped to contain heat and keep you warm.
Great for Classics – LL Bean
LL Bean has a few fleece jackets that are fitted, lightweight but warm
LL Bean offer a classic range of fleeces, created form Polartec fleece and a touch of Lycra, the jackets are insanely soft and comfy, great for both indoors and out. The pill resistant exterior keeps the jacket looking like new, even after many washes, perfect for long travel trips, the added Lycra elastane ensure durability and better shape retention.
Great for Style – Burton
You can always try a brand like Burton. They always make outdoor gear that is somewhat more stylish. This won't stop a grizzly attack, but it's warm enough to feel like you're living inside one.
The jackets available at Burton, primarily for snowboarders, look insanely snug especially the pullover fleece – crafted from DRYRIDE Thermex fleece, the fabric had the ability to keep you super warm whilst being highly breathable and water repellent.
The fleece has a feminine cut and has some pretty cool features such as a kangaroo pocket to warm hands, a media port to play tunes, and an adjustable drawstring on the hood. 
Vera Moda Katrine Brushed Fleece Jacket
Great for Hoodie Alternative – Vera Moda
Vera Moda makes a stylish fleece. If you're after an alternative to a jacket or hoody try this coat, created with brusched fleece and having a notched collar, it guarantees super warmth without being oversized and bulky, but actually quite fashionable.
Berghaus Prism Micro Polartec Half Zip Jacket
Great for Pullovers – Berghaus
I have one from the brand Berghaus, I tried to look it up online, but it`s not in their collection anymore, go with a hoodie, slim fitting and a bright color, that makes it a bit more stylish.
Berghaus are a brand that has a great selection of casual fleeces for everyday use; they can be worn as either a mid-layer or as an outer garment to keep you nice and toasty, the pullovers are crafted from a micro fleece fabric that is light, durable and engineered to minimize pilling and guarantee super comfort.
Columbia Women's Kaleidaslope II Jacket, Waterproof & Breathable
Great for Traveling – Columbia
In my experience, the Columbia Kaleidaslope is a fantastic cool/wet weather jacket that's equally suited to chilly aircraft, sea excursions, or cool evenings spent sightseeing, as it is to hiking or climbing.
This jacket is perfect for travelers – suitable for all types of cool and wet weather situations, ranging from hiking or climbing to city sightseeing. The jacket is crafted from polyester, with an insulated liner and Omni-Heat reflective technology that is tough, lightweight, and provides a superior barrier against the elements.
In addition, the coat is lovely and comfy, and packs down into a small package whilst remaining wrinkle free, bonus!
How to Pack Winter Clothes for Travel
Packing cubes can help organize all the layers you have in mind for winter travels. We designed our own brand of slim packing cubes, with a unique color and numbering system, so it's easy to remember where you've packed everything as demonstrated in the video below.
Learn our hacks with packing cubes in the video above!
We also put together a five-part YouTube series showing the different methods to use packing cubes for travel. If you use this specific packing strategy, packing cubes can also compress your belongings. This is the secret to traveling carry-on only!
---
Do you have anything to add to our fleece travel jackets? Comment and share below!
---
For more tips and ideas on travel jackets, please read:
---
LIKED THIS POST? PIN THIS PIC TO SAVE IT!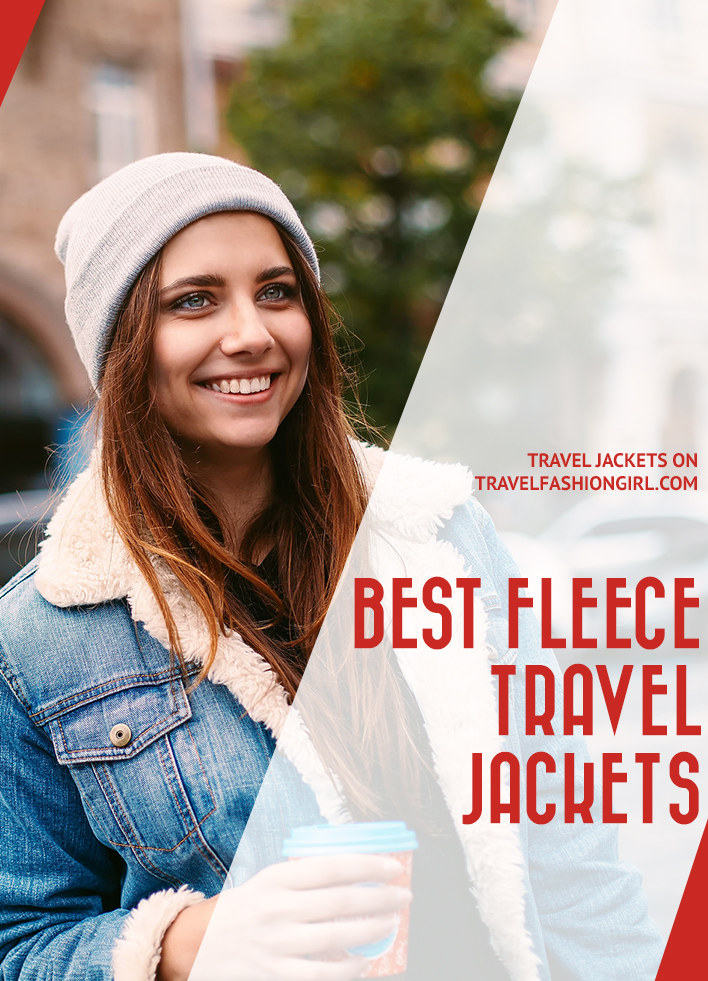 ---
Hope you liked this post on readers choice top 13 fleece travel jackets! Please share it with your friends on Facebook, Twitter, and Pinterest. Thanks for reading!
---