Support TFG by using the links in our articles to shop. We receive a small commission (at no extra cost to you) so we can continue to create helpful free content. As an Amazon Associate, we earn from qualifying purchases made on Amazon in addition to other retailers featured on the blog. Thank you, we appreciate your support!
Layering doesn't always have to be so practical and not all winter trips call for icy or snowy weather. Sometimes you want to layer your clothing just to showcase your style, personality, and take a risk in fashion. Keep reading to find out our stylish strategies on how to layer clothes for winter!
---
How to Layer Clothes for Winter
Written By: Niki Landry
---
Almost anywhere you turn on Travel Fashion Girl, you will find its writers highlighting the importance of layering for travel. It's an essential strategy to battle the unknowns of weather and activities that you may discover while on a trip.
Layering your clothing has two main benefits besides making a fashion statement.
It allows you to stay warm and cozy while out and about in winter weather, but still easily remove layers when entering a warm building.
It also makes your travel capsule wardrobe more versatile, by allowing you to wear clothing that may be more appropriate for a warmer season.
Read these tips on how to pack for multi-climate trips!
Thermal Top | Sweater | Fleece Jacket | Long Sleeve | Thermal Bottom | Winter Jacket | Turtleneck Top | Pants | Gloves | Beanie | Ankle Boots | Mid Calf Boots
Of course there aren't any hard and fast rules for layering clothes when it comes to fashion, but there are a few tips and tricks to help a beginner start the process of learning how to layer clothes for winter. Once you become familiar with the steps, you can experiment with lots of different options.
All of the most interesting layering combos start at the top. Not that you can't have some interesting things going on at the bottom, but it is a little more limiting. Therefore, I will go through the steps with the top half of your clothing.
You can still pack light with a small suitcase even when you travel in cold weather by using packing cubes to compress your clothing as shown in this video!
Terramar Thermasilk Pointelle Top | Terramar Thermasilk Pointelle Pant
First Layer
How to layer clothes for winter begins with your first layer. Ideally this layer will be well fitting, light, and hug your body like the Terramar Thermasilk Pointelle top and pants shown above. You will normally only see a peek of this layer, either at the neck with collars or turtlenecks, possibly a portion of the sleeve or cuff, or at the hemline. Depending on your outer layers you may sometimes see a sliver of this item down the center.
For extremely cold weather, you may want to add a set of thermals underneath. Merino wool or silk are most effective and the fabric you choose should be based on how many fashion-worthy layers you plan to add afterwards. Here is our list of the best thermals for women!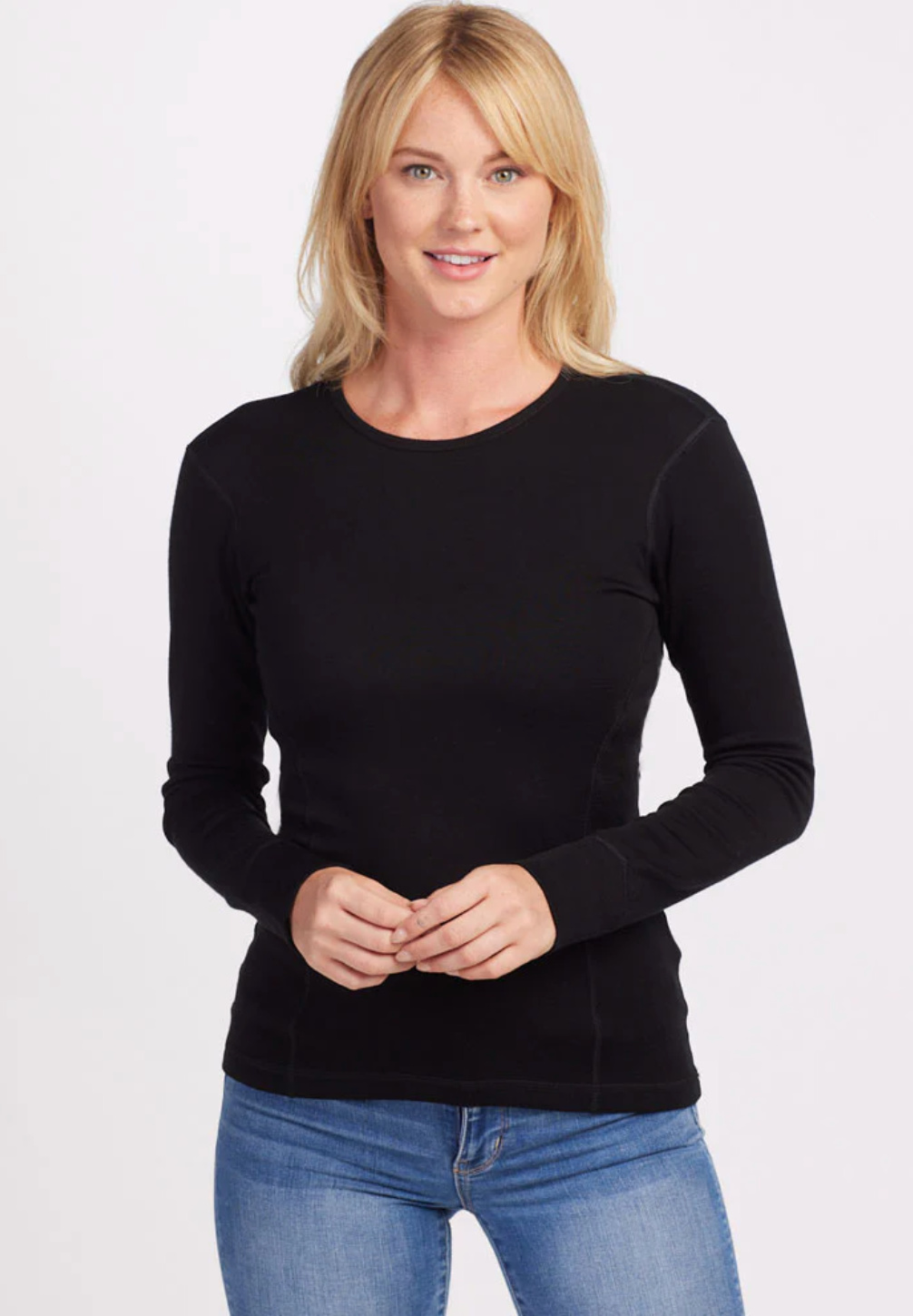 Woolx Hannah Longsleeve Merino Wool Sweater
Mid-Layer
The middle layer is where things start to get interesting. Vests, crop tops, sweaters, open or knotted button downs, blazers and cardigans are all good options for your mid layer. Since more of this clothing item will be shown, think about introducing texture, color, and patterns.
This item still needs to fit well and be comfortable when worn above your base layer.
Patagonia Better Sweater Womens Fleece Jacket
Why stop at one layer in the middle? If you feel like you are on the right track, opt to add an additional mid layer. I find this works best when your mid layer isn't open in the front, and when your two layers are different textures/materials.
For example, if you have a collared button down base, add a slightly more tailored sweater mid, then you can have workable layers that contrasts beautifully before your final outerwear.
Here are more fleece travel jackets for women!
Columbia Carson Pass II Thermal Reflective Warmth Jacket
Outer Layer
For the outer layer, any type of coat, jacket, trench, poncho, cape, shawl or even a vest can work. Obviously this will be the most exposed piece and the wrap that ties all your other layers together. Think about the length of your outerwear in relationship to all of the other clothing.
Going longer is the typical route, but a crop jacket may work best with your other pieces. This layer is left open to expose the layers below so consider the fit and drape of your outerwear before finalizing your outfit.
How to layer your clothes for winter and styling yourself in general is all about balance and proportions. A sleek slim bottom is usually appropriate when wearing lots of layers. If you opt for volume below, keep your tops very tailored and form fitting.
Check out these highly recommended picks for the best winter parka for women!
Villa Waterproof Ankle Bootie | C.C Thick Cable Knit Beanie
Accessories
Now that you have all of your layers in place, it's time to add accessories. Use a scarf, jewelry, hat, or handbag to compliment your individual pieces or add an extra level of interest.
If your coat has bracelet-length sleeves, think about adding a leather opera glove. If your outfit is comprised of mostly solids, let a plaid scarf hang down each side. The possibilities are endless for layering clothes!
Once you know the method to the madness of how to layer clothes for winter, you can start to play with textures, mixing patterns, going monochromatic, or color blocking. The importance with any strategy is ensuring that all of your clothes fit well, and highlight the parts of your body you deem worthy.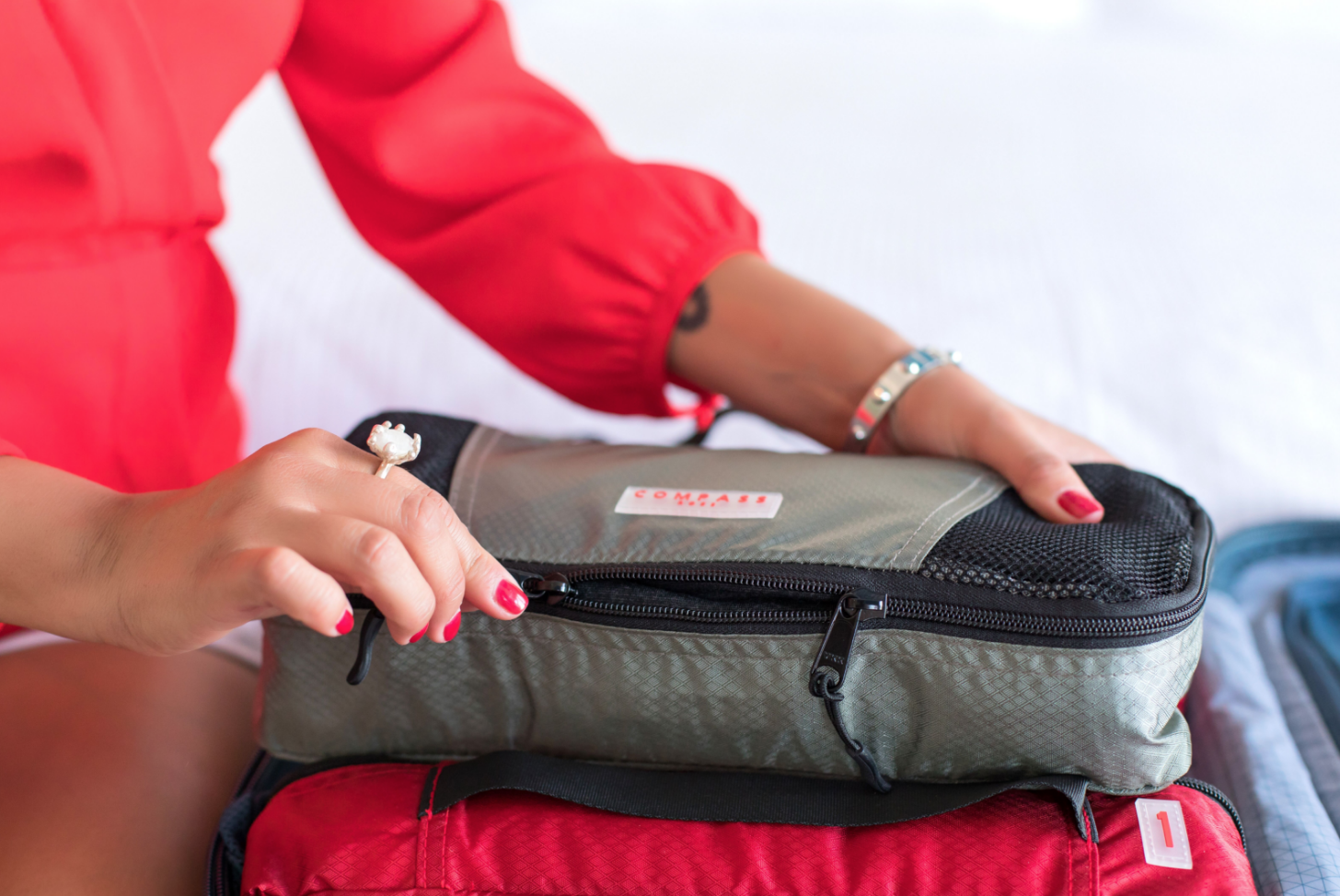 How to Pack Clothes for Winter
Packing cubes can help organize all the layers you have in mind for winter travels. We designed our own brand of slim packing cubes, with a unique color and numbering system, so it's easy to remember where you've packed everything.
Learn our packing hacks with packing cubes in the video above!
We put together a five-part YouTube series showing the different methods to use packing cubes for travel. If you use this specific packing strategy, packing cubes can also compress your belongings. This is the secret to traveling carry-on only!
---
What are your tips on how to layer clothes for winter? Share and comment below!
---
 For more winter fashion tips, please read:
---
LIKE THIS POST? PIN THE IMAGE BELOW!
---
Hope you liked this post on how to layer clothes for winter. Please share with your friends on Facebook, Twitter and Pinterest. Thanks for reading!
---
Author Bio: Niki is an interior designer and artist from Louisiana. In addition to her design work, she writes for local and online publications sharing her experiences and passion for travel. Niki is currently adding stamps to her passport while building her design practice, Niki Landry Designs. nikilandry.com  nikilandrydesigns  niki-landry-designs-llc
---