Support TFG by using the links in our articles to shop. We receive a small commission (at no extra cost to you) so we can continue to create helpful free content. As an Amazon Associate, we earn from qualifying purchases made on Amazon in addition to other retailers featured on the blog. Thank you, we appreciate your support!
Taking over 500 flights and traveling for a decade full-time, I consider myself a pretty experienced traveler. However, no one's perfect, and there are just some mistakes I make time and time again. These are my worst offenses! What are yours?
---
Most Common Travel Mistakes
---
Table Of Contents
Though I've been traveling full-time for more than a decade, there are still the occasional "whoops" moments I experience now and then! 
One thing I have down stat is my travel gear and airport outfits. Here are a few things that I do right before I share with you the few things I get wrong:
Now, let's get to my top travel mistakes (and lessons learned!):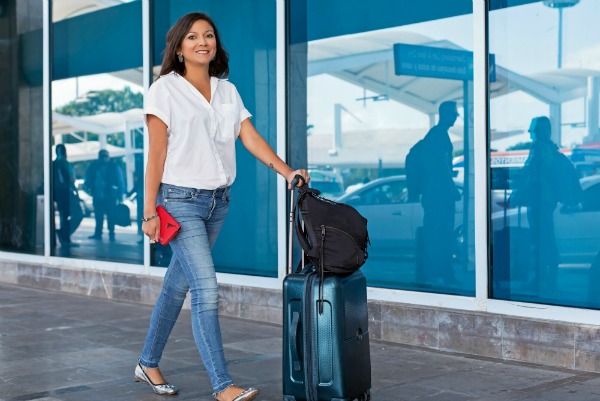 With my carry-on Delsey Suitcase at the airport
Using a Bulky and/or Overweight Suitcase When Traveling Europe
If you're going to Europe, assume that you'll be on a train or train station at some point or the other. 
Picture a scenario that you're running short on time to make your train, or worst but quite common, the escalator is broken and you have to walk down an insane flight of stairs to get to the train. Even if you have a carry-on, you better be able to pick it up and carry it yourself.
Now imagine that you don't have a carry-on size bag and instead have over packed for Europe. Now you're trying to lug a huge suitcase into a tiny crowded train or walking into the wrong cabin and attempting to maneuver a suitcase that's wider than the aisle.
Almost every single time I've been at a European train station (for reference, I used to live in England), it seemed that I witnessed someone dealing with one of the above scenarios. Save your back and discomfort by packing light and traveling with a small suitcase.
If you're traveling to Europe, download one of our ebooks so you're perfectly prepared for anything!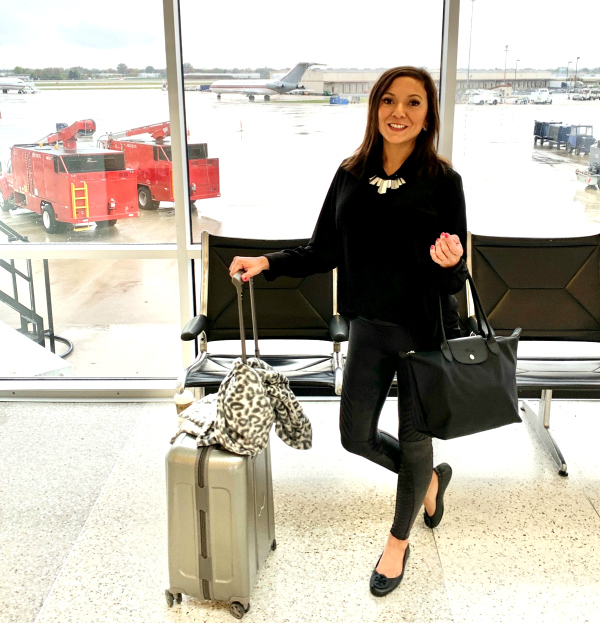 Waiting to board in Tory Burch Minnie flats, H&M blouse, and Spanx Faux leather leggings
Not Wearing Sturdy Shoes for a Flight
I have to admit this is not a mistake I make any more, but I've had a few bad moments when I was a less experienced traveler. Don't be me. I make the mistakes so you don't have to.
Expect the unexpected at airports. Sometimes security lines are longer than usual, perhaps there are traffic delays on the way to the airport, or most commonly for me, it seems flights are always delayed.
I've run through the airport more times than I can count! Whether it's been a tight connection, a delayed flight, or bad timing on my part, I've had my fair share of instances when I've run from one end of a massive airport terminal to the other end of a massic airport terminal. Do not underestimate the magnitude of some airports! For example, London Heathrow is notorious for having what seems like the longest walk from the plane's exit to immigration.
Never fly with flip flops, flimsy sandals, or old ballet flats with soles that will unknowingly come undone when you hit an unexpected storm (guilty). In fact, never travel with uncomfortable shoes, period. It's about the worst thing you can do, so save yourself and check out a COMPLETE list of the most comfortable shoes for travel. 
It's only taken me 12 years to figure out all my favorite shoes for flying. Find out what they are!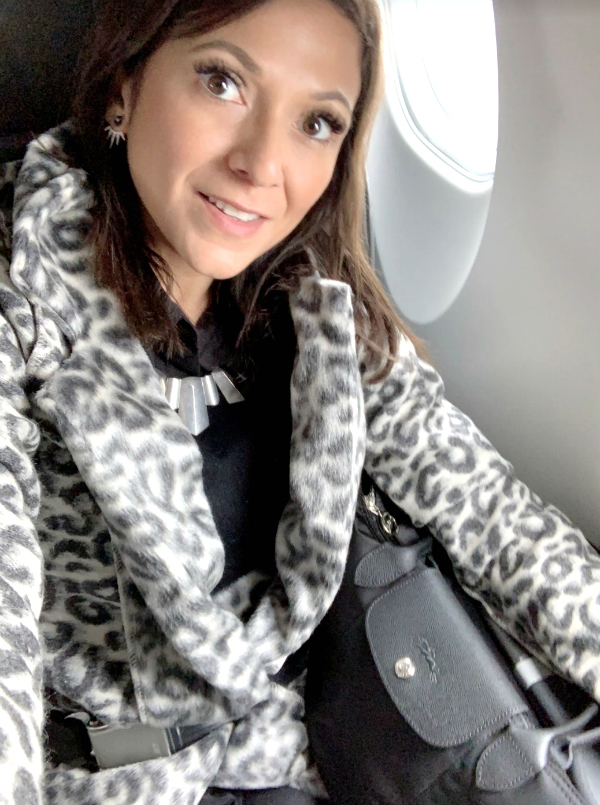 Onboard with my Longchamp Le Pliage Neo Tote
Using an Awkward and Overweight Bag as Your Carry On
Speaking of running through airports, another thing to consider is how difficult this would be if you're either carrying way too many bags or are using a heavy carry on. There's no better way to slow you down as you run to make your connecting flight than with a suitcase that's heavier than you can carry or a bag that keeps slipping off your shoulder.
I started Travel Fashion Girl to cure my overpacker ways, but once upon a time, I was a new traveler that just didn't know how to pack for a trip correctly. With that being said, I've been in situations where I had way too many bags in addition to shoes that were falling off. Sigh. I know.
Learn the secrets that helped me stop overpacking!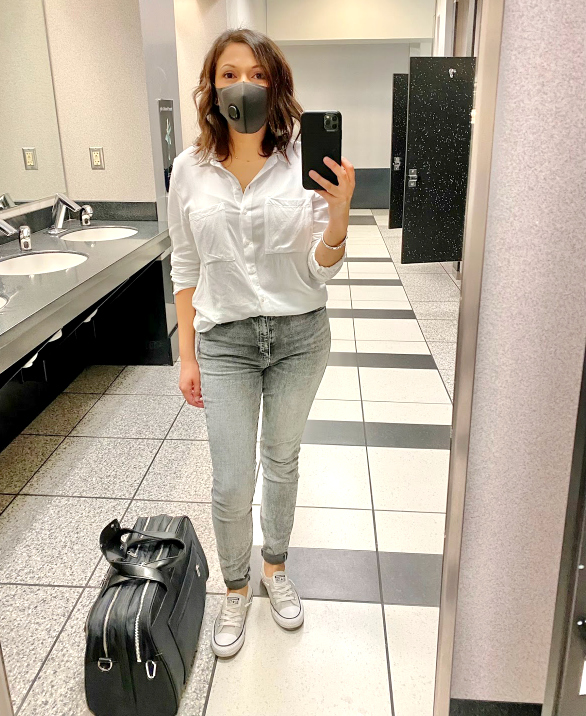 Preparing to fly in my Converse All Star slip ons
Wearing Shoes That Are Difficult to Put On and Take Off
Have you ever been desperate to use the bathroom on a plane but the lines are neverending so you wait so long that you forget? And then suddenly you notice the line is gone and you make a break for the bathroom before someone beats you to it but then realize you still have to get your shoes on?
While I've now learned from this mistake, I've had instances of wearing complicated shoes that were hard to get on and off and this is a horrible situation to be in when nature calls. Running to the bathroom in your socks or even barefoot (oh the horror!) feels like the most disgusting thing in the world. However, when you just can't wait you might get desperate and have to deal with that scenario. 
Avoid it by just wearing slip on shoes.
In addition, choose Chelsea boots, and shoes with zippers, or velcro so you can get in and out of them with ease. Avoid shoes or boots with laces and sandals with hard to work clasps. This is a surefire way to hold up the line at security. 
Tip: Slide sandals seem like a no brainer choice, but don't forget the part about needing to run through an airport.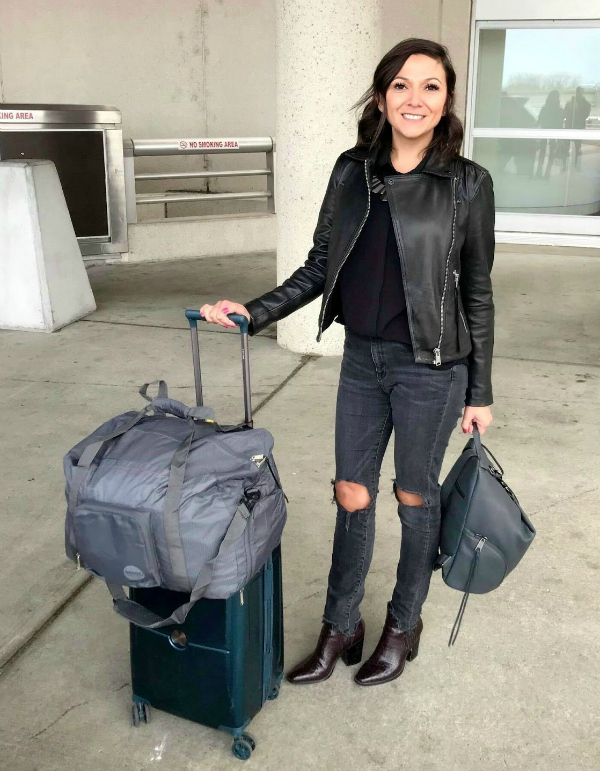 Arriving at the airport in my All Saints leather jacket, Delsey suitcase, and Rebecca Minkoff backpack
Underestimating How Much Time It Takes Me to Get Ready
Even if I've prepared everything from my pre-trip routine the night before I travel, there always seems to be something. Perhaps I get overly confident and move a little more leisurely than I should or I think I have time to answer one more email, it's never enough time. 
I truly need at least two hours to get ready before I depart for the airport to get ready comfortably and still have time for all the little things that seem to come up.
Don't want to forget something important while traveling, download our free travel packing checklist!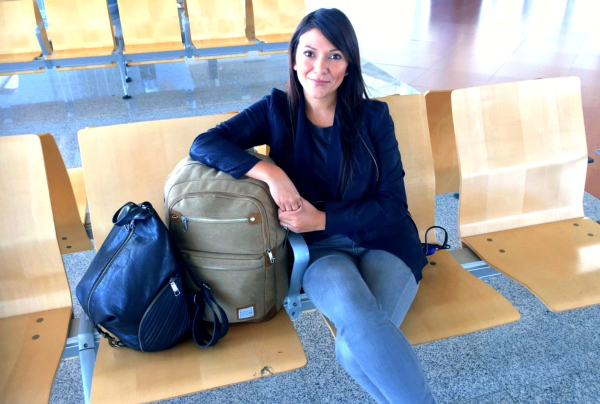 Definitely not hoarding water in my Rebecca Minkoff backpack or Travelon backpack
Forgetting That I Have Water in My Personal Carry On 
Seriously. This is a mistake that I make way too often especially since I've taken over 500 flights in the past decade. How does that always happen I ask myself?
I drink a ton of water so I always make sure to travel with a reusable water bottle to avoid plastic waste (and avoid paying for overpriced water at airports). Many readers ask me why I drink so much water. Well, the truth is, I'm always thirsty (I don't have Diabetes), and I don't drink of any beverages other than water—and Gin and Tonic when I'm on a night out.
Because of this, I fill up my bottle before I leave the house to ensure that I have water for my journey to the airport. There are many times when I don't get thirsty and consequently don't drink the water. I walk straight to security, and there it is. I'm that person in the security line that gets dinged as has to go back.
My solution: unless it's a particularly long journey, now I only fill up half my water bottle before leaving for the airport.
Here are some tips to breeze through security, and yes, ironically not forgetting to empty your water bottle is one of them.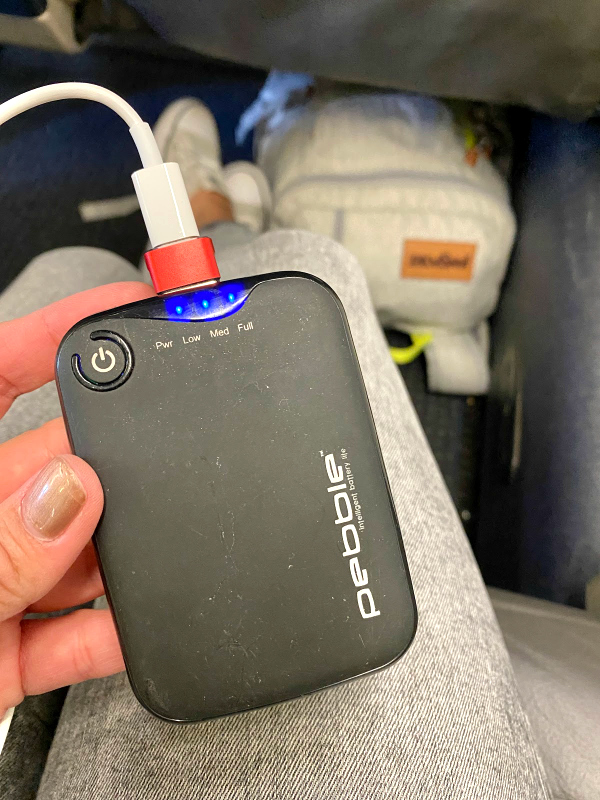 Plugged into my Pebble Portable Charger in-flight
Assuming That Every Plane Has Charging Points
I like to make sure my phone's fully charged while flying. Not only do I use my phone for my digital boarding pass and Priority Pass lounge membership, but I also use it for in-flight entertainment to listen to podcasts, Audible books, or music and read a book or write a blog post. (Note: some planes don't have screens so you're required to download their app in advance and watch shows and movies from your own device.)
To avoid this, one of my must-haves when flying is this small portable charger. Mine is pretty beat up by now but it's small and I get a full charge. For long haul flights, in particular, I extend my phone and portable chargers' battery life further, by charging them on any planes that do have charging points or during my connection at the airport.
These are some other long haul flight essentials to consider!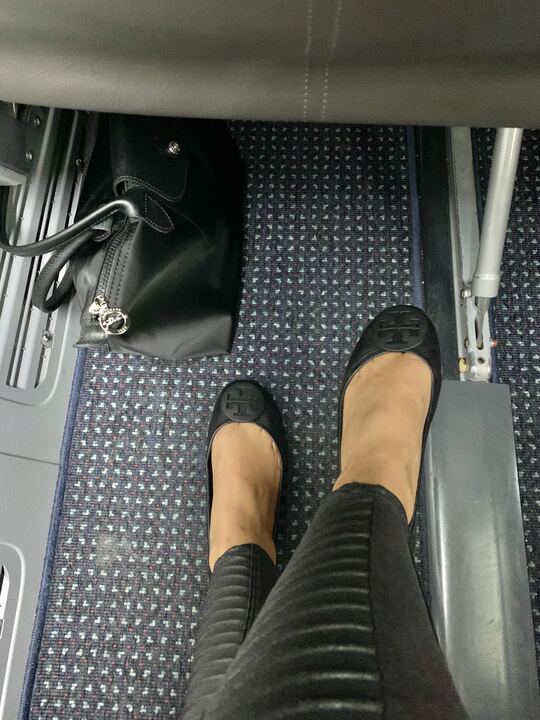 Keeping a pen stowed in my Longchamp Le Pliage tote
Forgetting a Pen
When traveling internationally, you need to fill out customs or immigration forms for certain countries such as Mexico. I usually keep a small pen in the in-flight kit I usually keep prepared. Every so often I change my personal item, switch my in-flight kit pouch, and then forget my pen.
Stick it in your purse or somewhere easy to access.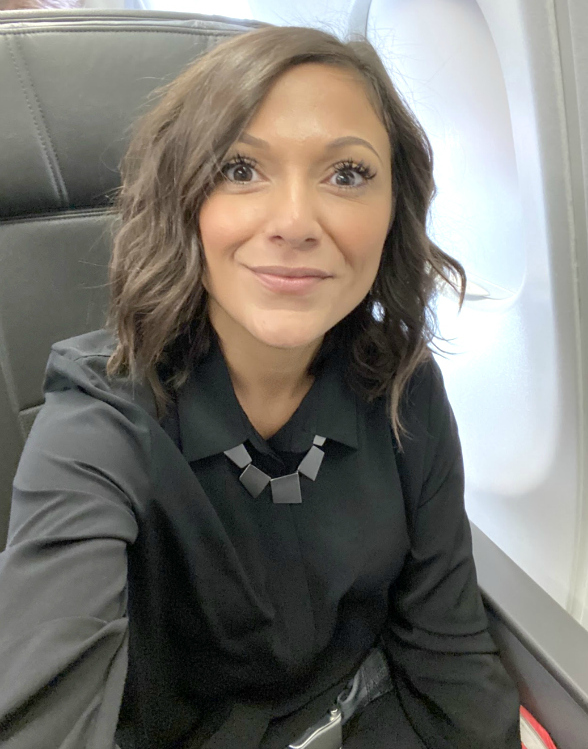 Preparing to get the proper immigration forms
Not Asking the Flight Attendant for Immigration Forms
Speaking of immigration forms, I always seem to miss the flight attendants when they pass out immigration forms on the plane. I love to breeze through the airport so forgetting to fill out my immigration forms in advance slows me down. And then when I forget my pen… well, it's not my favorite moment when I'm eager to get to my destination.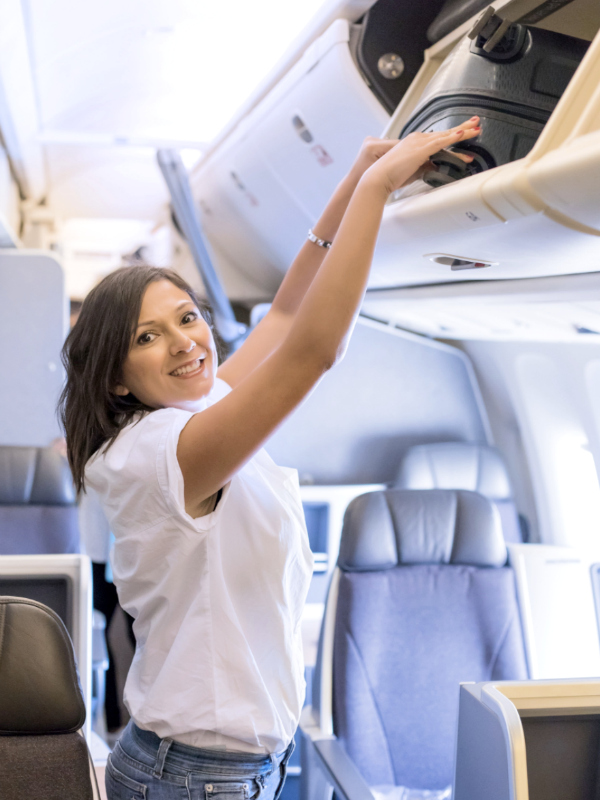 Storing my Delsey Suitcase properly before a bathroom break
Not Locking the Door Properly on the Plane
When using the bathroom on the plane, make sure the doors are shut completely and you've pushed the lock on as far as it goes. I've witnessed countless passengers get a surprise visitor while they're using the bathroom so much so that it's a constant reminder for me to avoid making this mistake. I haven't done it but be aware that this happens way too frequently.
---
What are some of the travel mistakes you've learned from? Share in the comments below!
---
For more travel tips, please read:
---
LIKE THIS POST? PIN THIS PIC TO SAVE IT!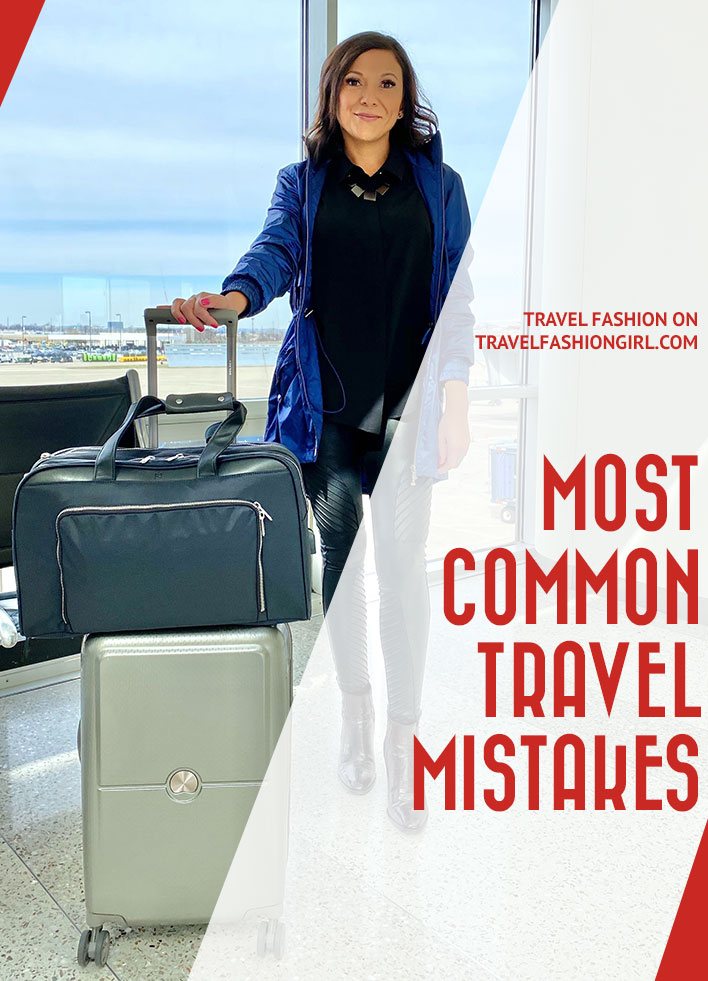 ---
I hope you liked this post on my travel mistakes and lessons learned. Please share with your friends on Facebook, Twitter, and Pinterest. Thanks for reading!
---