Support TFG by using the links in our articles to shop. We receive a small commission (at no extra cost to you) so we can continue to create helpful free content. As an Amazon Associate, we earn from qualifying purchases made on Amazon in addition to other retailers featured on the blog. Thank you, we appreciate your support!
We shared the Best Real People Travel Outfit Ideas from Europe that showcased ensembles seen in European airports in November. Now we bring you more fashion inspiration for your trips in December.
From trendy to cozy, traditional to classic, and chic to edgy – get out of your travel fashion rut with these nine fashionable plane outfits for the winter!
---
9 Fashionable Plane Outfits for the Winter
---
Table Of Contents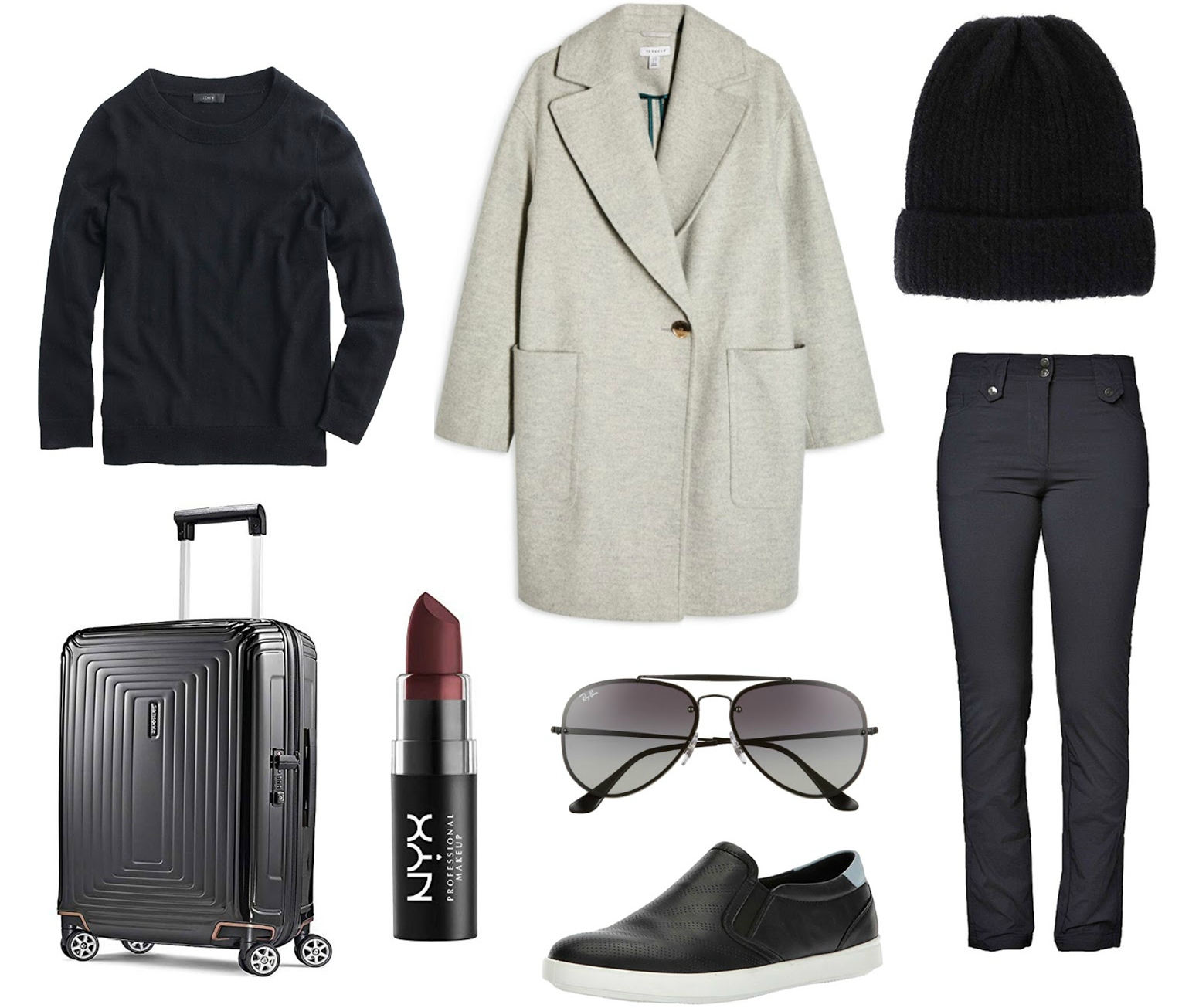 Sweater | Coat | Hat | Luggage | Lipstick | Sunglass | Shoes  | Pants
It's edgy, trendy, classic and absolutely editorial worthy – this winter travel outfit says fashionista from head to toe. This is an incredibly versatile choice for women that know how to rock a comfortable but chic style.

The trainers ooze travel shoe comfort, while the structured coat offers a sophisticated touch to balance the more casual jeans and easy to wear turtle neck. This is definitely one of our top picks!
You can still pack your capsule wardrobe in a small suitcase even when you travel in the winter by using packing cubes to compress your clothing as shown in this video!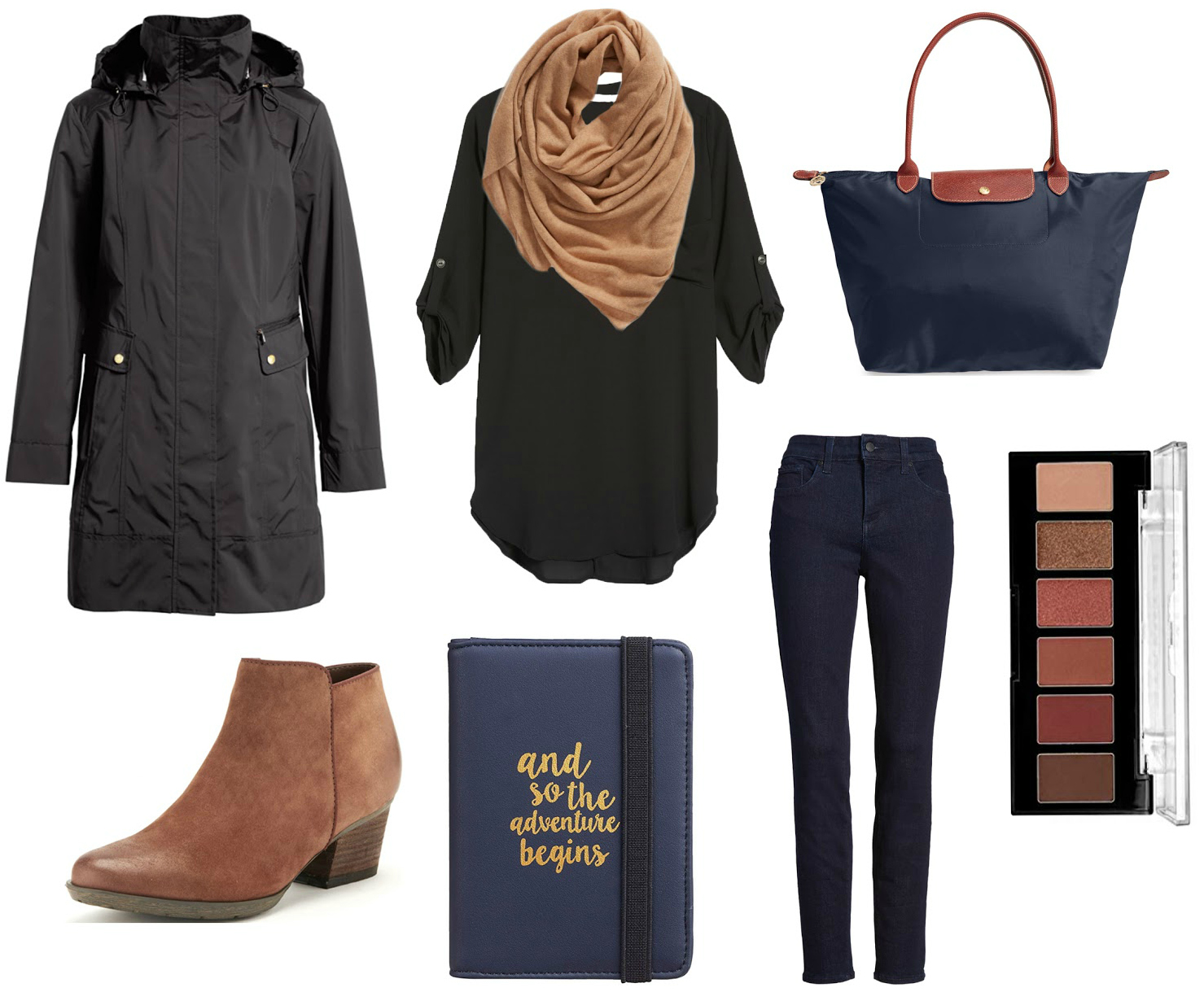 Raincoat | Tunic | Scarf | Tote | Boot | Cover | Jeans | Palette
A perfectly prim look for destinations that won't greet you with torrential rain or snow, this winter travel outfit offers timeless style that you can wear for years to come without worrying that any piece will go out of style.
To wear an outfit like this it's all in the fit. Make sure your jacket isn't too bulky for your frame and the length of your jeans is hemmed to your height. Having a great tailor guarantees you'll always look on point whether you're rocking an investment coat or even a pair of sweats. They way a garment falls on your body is everything.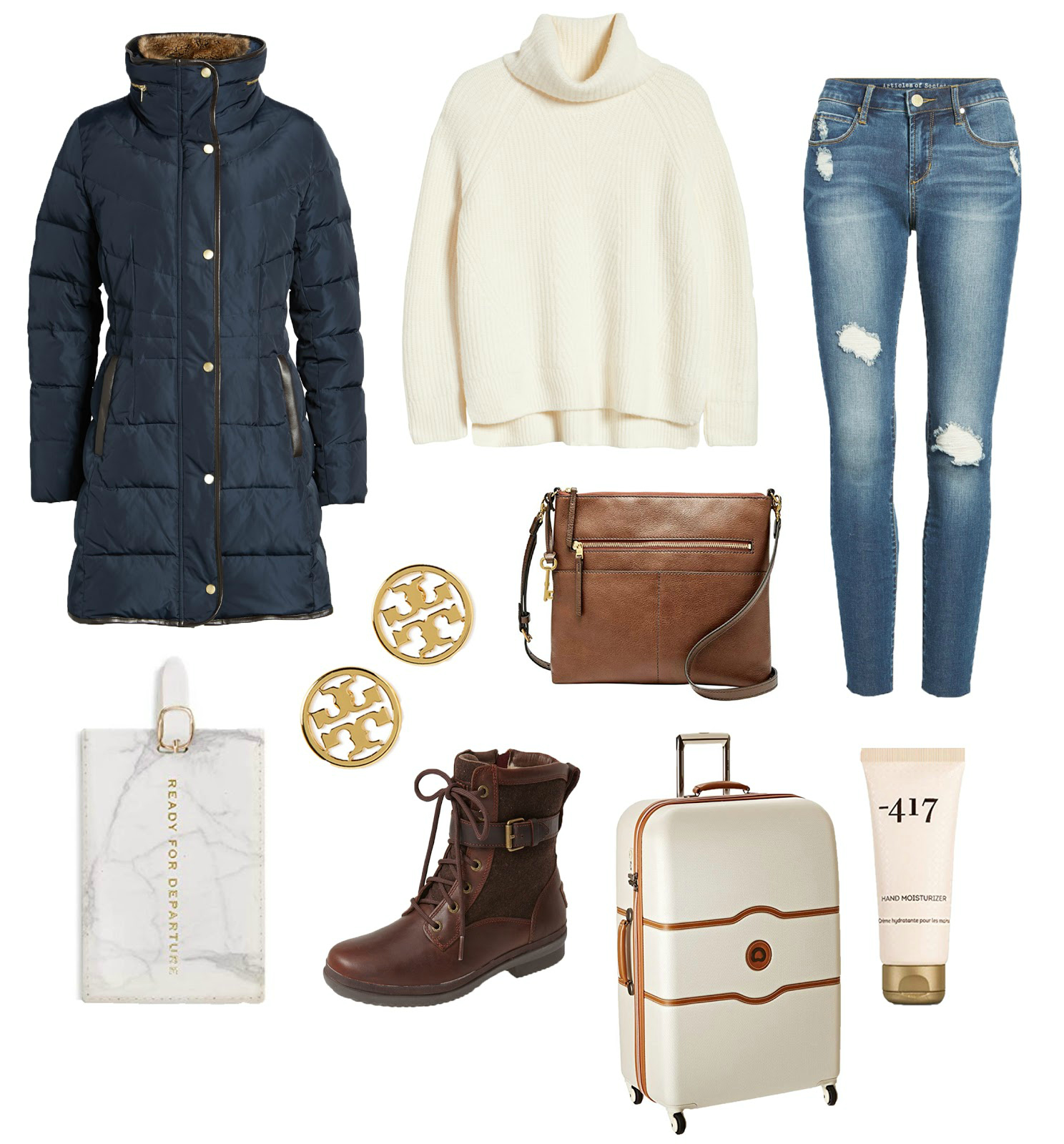 Jacket | Sweater | Jeggings | Tag | Earrings | Boot | Purse | Luggage | Cream
If all you ever wanted in a travel outfit was a basic look that offered more function than fashion, keep your accessories top of mind. A pair of understated feminine earrings plus statement purse can make even a standard puffer vest and cable knit sweater look Insta-ready.
Wondering how the most simple outfits look great on fashion bloggers? The hair and makeup adds a nice touch as we've learned from this Europe travel outfits post!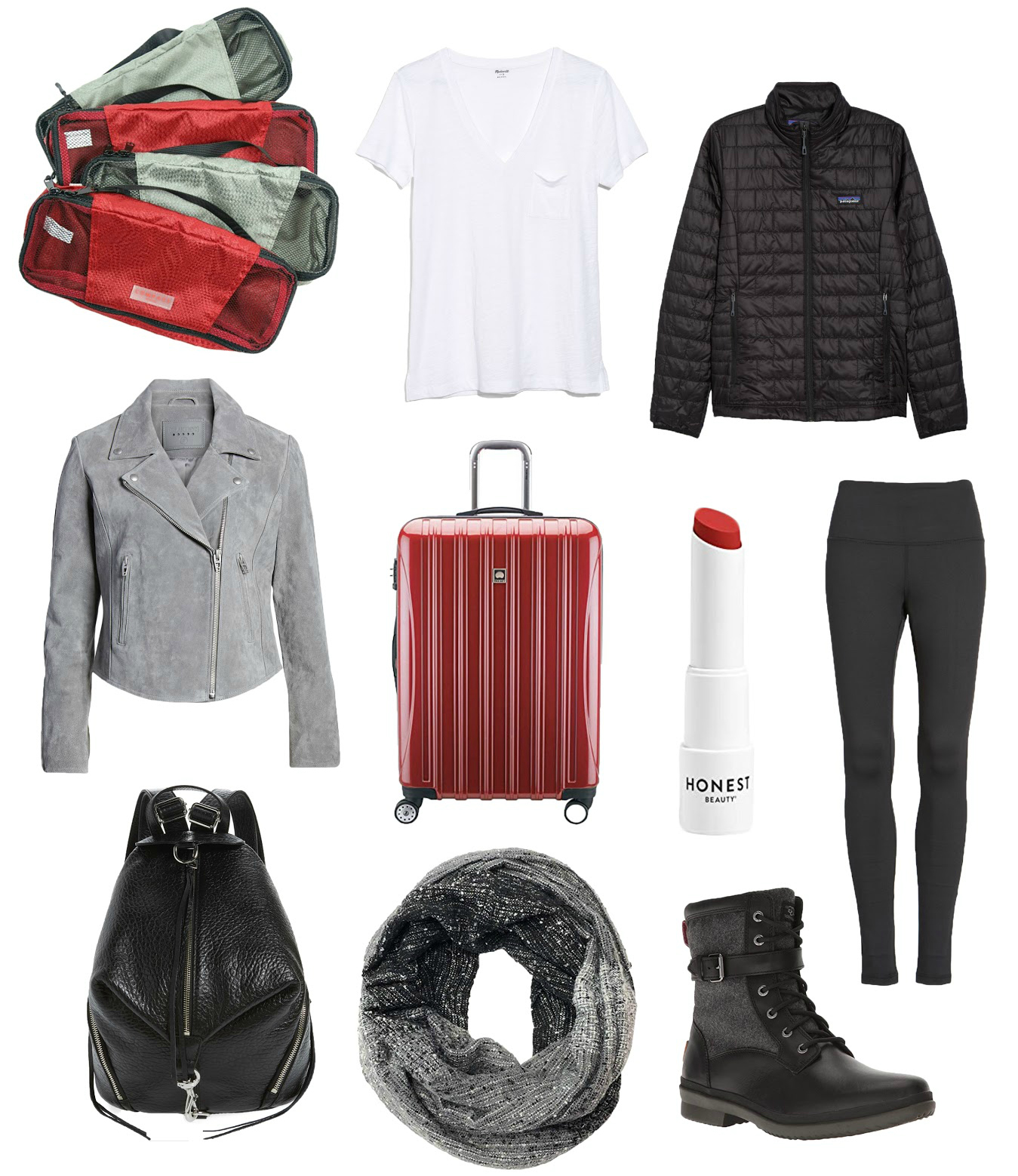 Packing Cubes | Tee | Jacket | Jacket | Luggage | Lipbalm | Leggings | Backpack | Scarf | Boot
How did a pair of leggings and oversized tee ever look so good? Again, it's all in the accessories!
Even the very functional, weather-appropriate rain boots enhance the look with a neutral color that isn't the ever-popular black. Add a structured handbag and a beautiful winter coat and your weather-appropriate from the moment you get on the plane. Read this post for even more waterproof boots!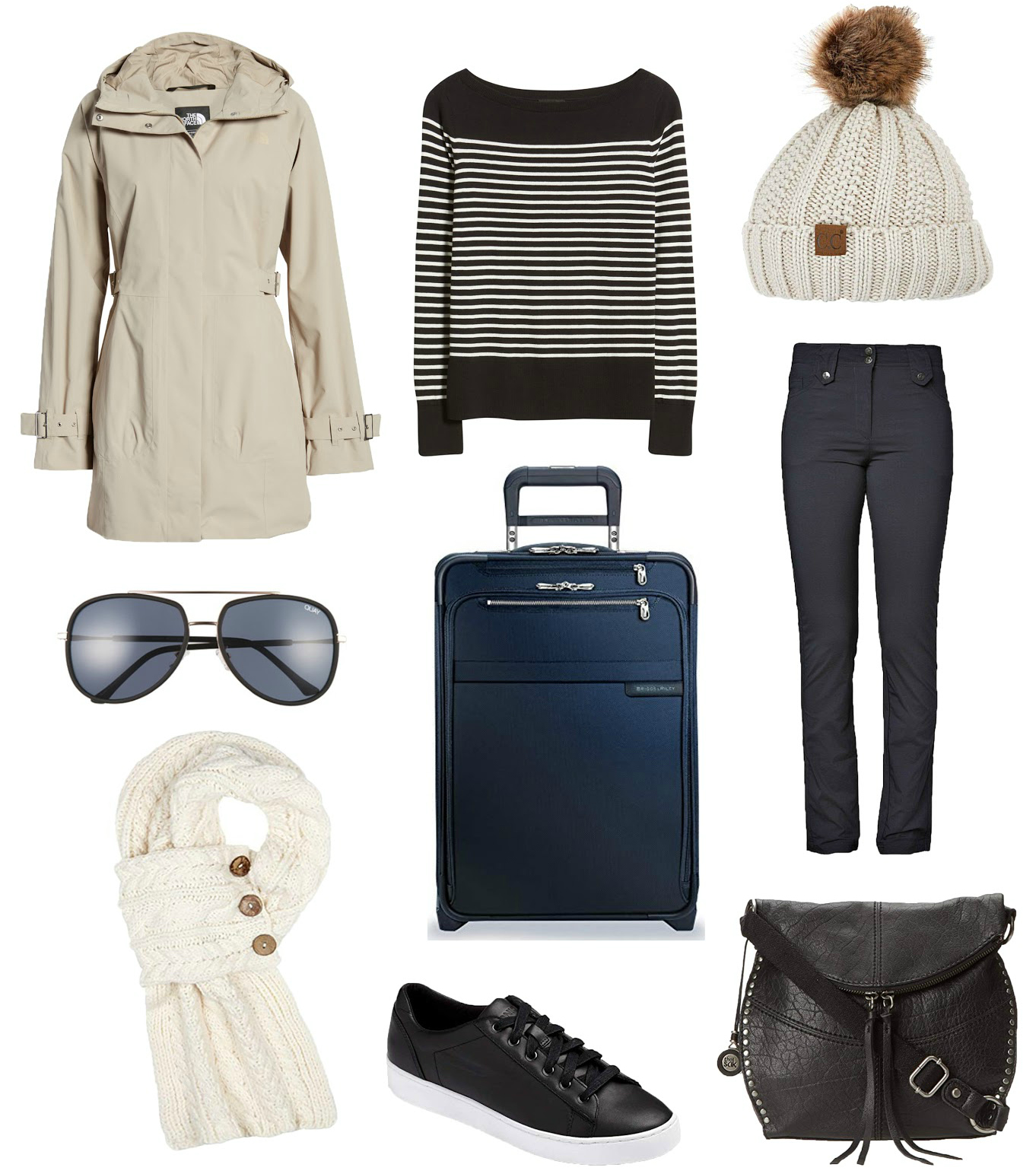 Raincoat | Sweater | Hat | Sunglass | Luggage | Pants | Scarf | Shoes | Bag
This look is not for the fashion-novice. Pulling off an oversized trench, sweats, and casual sneakers can be translated in many ways when it comes to airplane fashion.
However, this seems to be the winter travel outfit of choice for many fashionistas as I saw at the airport two weeks ago. If you can pull it off, you get bonus points. Are you up for the challenge?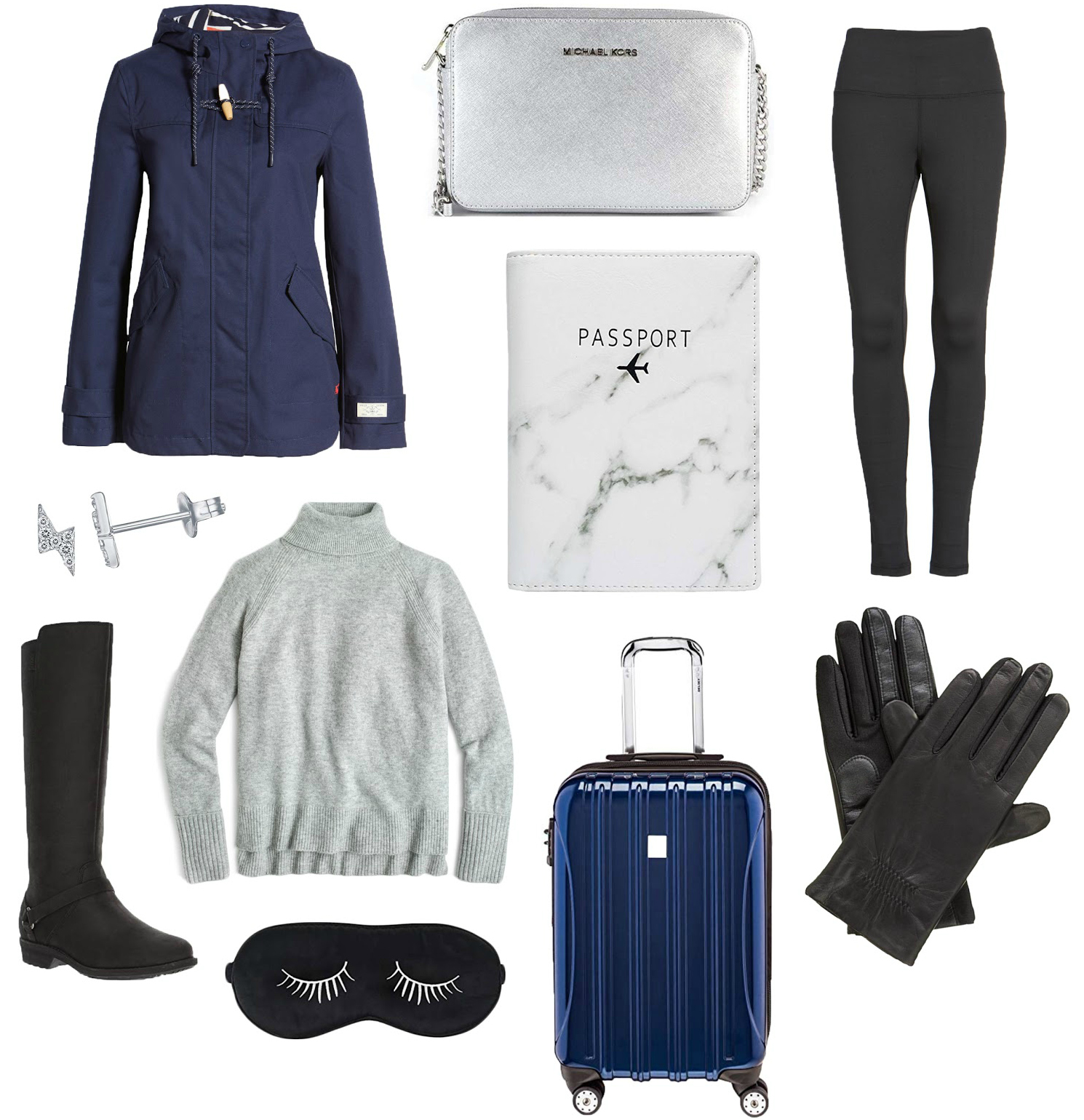 Jacket | Purse | Leggings | Earrings | Sweater | Cover | Boot | Mask | Luggage | Gloves
Oh how I love this look. It has all the hues in my favorite capsule wardrobe color story: black, grey, white, and blue. Plus, I totally need to add this passport cover to my wish list!
If you're stuck in an all-black outfit rut or want to break-free from a monotone wardrobe, this is a safe selection without steering to far away from your comfort zone. Purple lipstick optional.
This winter travel outfit may seem a bit much but in reality it's only a sweater dress with leggings – anyone can wear that! Plus, it's comfortable and functional, too. Want a safer bet? This is my go-to merino wool travel dress.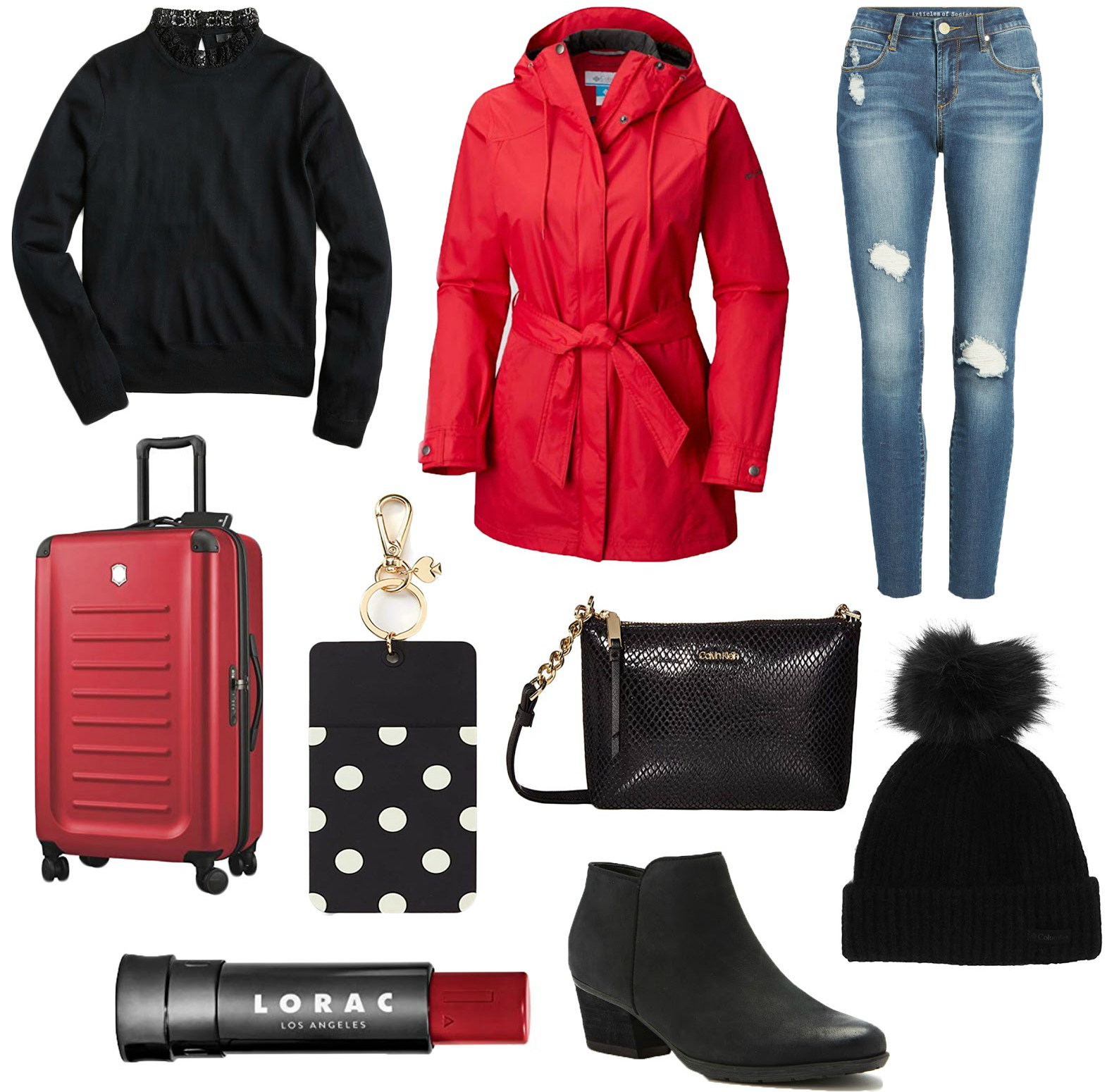 Sweater | Jacket | Jeggings | Luggage | Clip | Crossbody | Hat | Lipstick | Boot 
Loving these statement winter coats for winter. From red to pink and bright vivid blue –  they sure can pack a punch! Another reason why we love them this season is because a bright color looks amazing against a grey, drab, and even rainy backdrop.
Not only will they breathe life into your travel wardrobe but they'll make your travel pictures fashionable, too. Love it!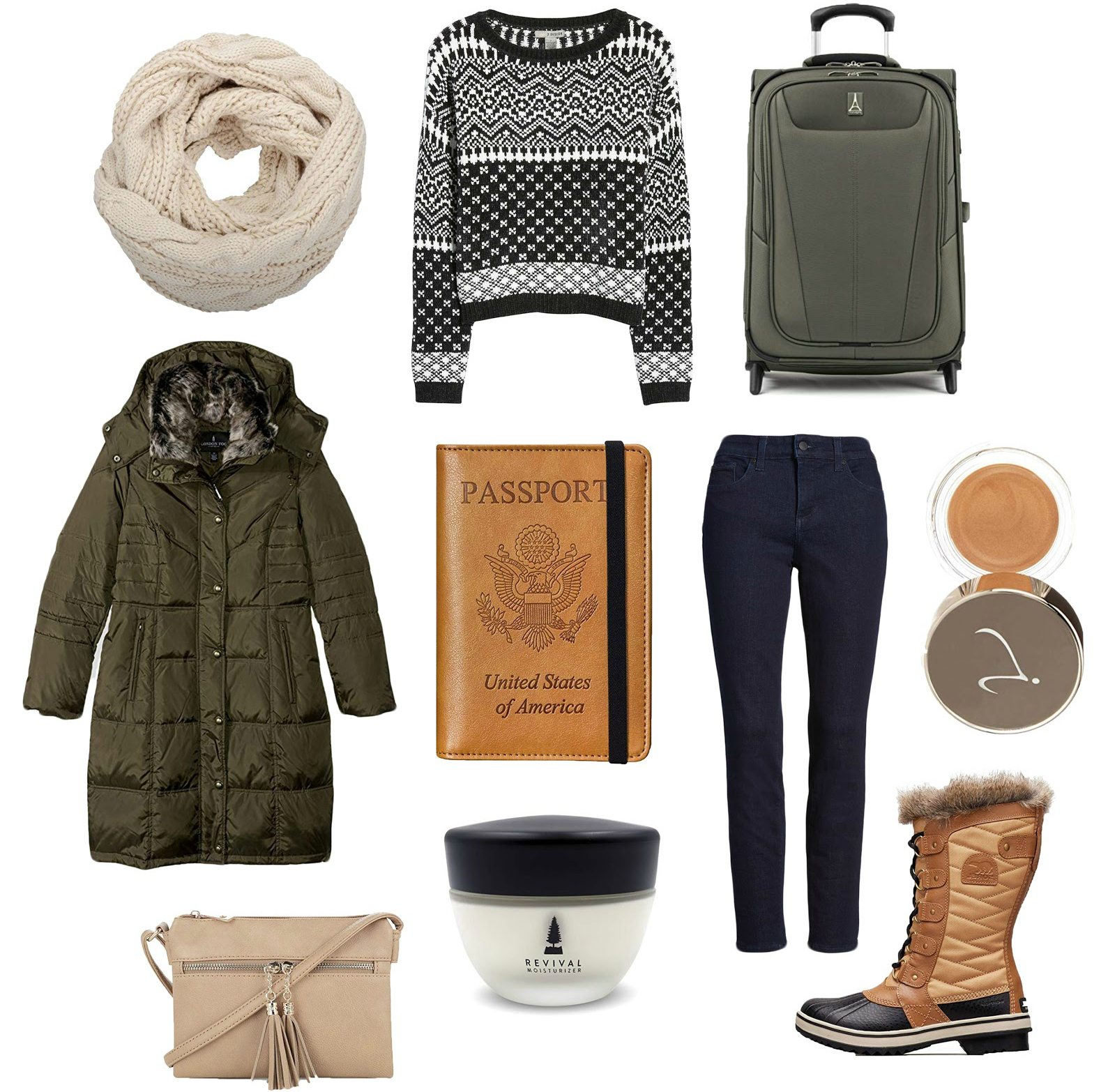 Scarf | Sweater | Luggage | Coat | Cover | Jeans | Eye Shadow | Bag | Cream | Boot
As the temperature drops, our gear gets a bit warmer to suit the snowy weather. Sorel's boots are the must-have footwear of the season and pair well with leggings or basic jeans. Add a packable down jacket and stay warm all winter long!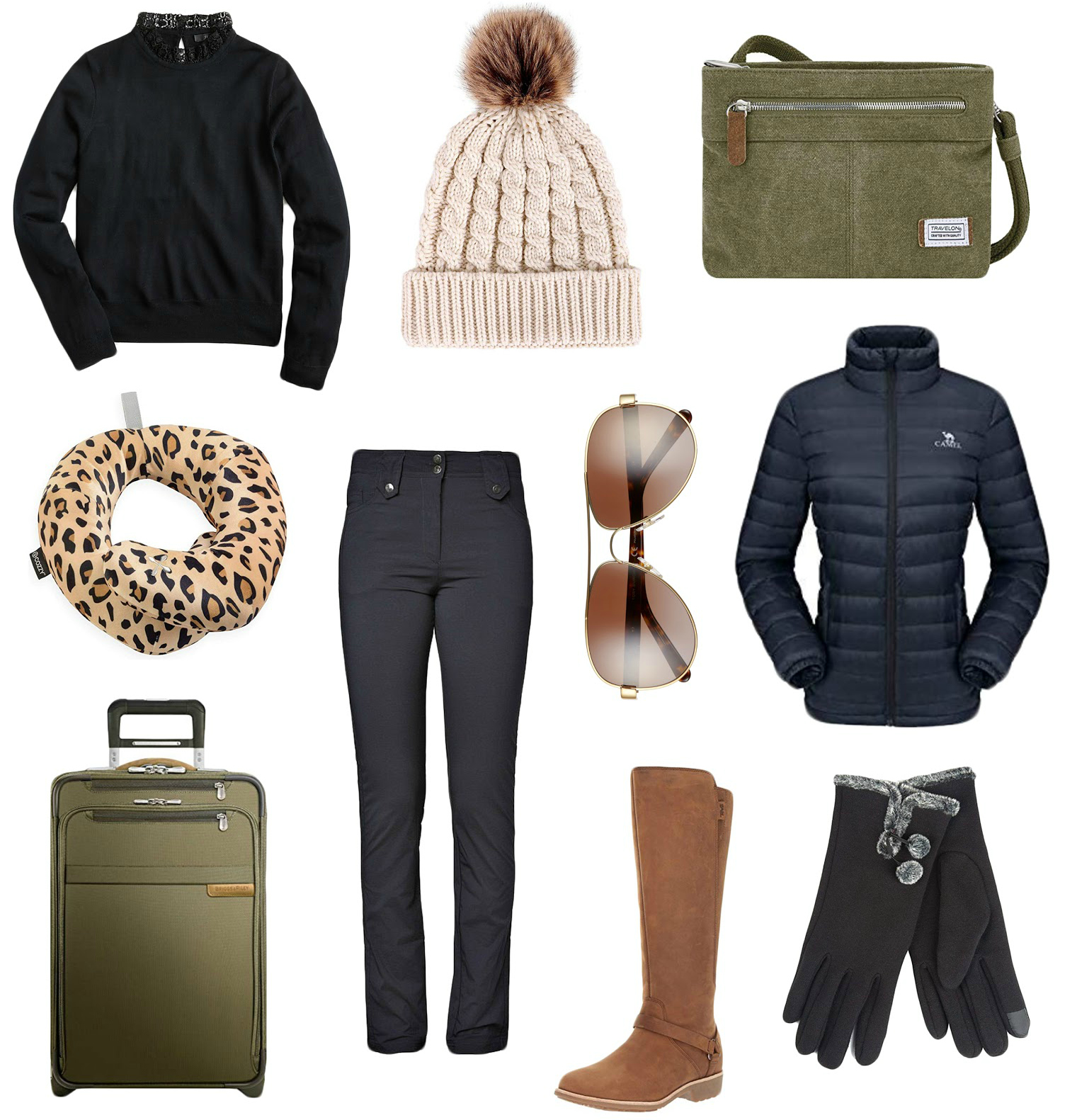 Sweater | Hat | Bag | Pillow | Pants | Sunglass | Jacket | Luggage | Boot | Gloves
For a snowy visit with a slightly less casual look, this set is weather-ready and features a more traditional boot-like option. A touch of fur is totally on trend this season and a nice collection of non-boring neutrals to bring a bit of interest to a basic-black winter travel wardrobe.
Here are a few tips on how to efficiently get through security as your travel clothing thickens for the winter:
Place all jewelry or metal accessories in your personal item or coat pocket

Wear boots with faux-laces that can easily zip on and off instead of being laced

Take your shoes off before you get to the front of the line, why wait?

Always remove your shoes, scarf, hat, and coat – even before security tells you to

Be prepared to place all the above items into a bin through security
These are steps that you can always take in advance so you are never held up in security, no matter if you're wearing flip-flops or boots.
Read these posts for more tips on how to breeze through security this season as well as the disastrous packing mistake to avoid with heavy winter clothing!
How Editor-in-Chief Alex Rocks Plane Outfits
Get more ideas on what to wear for winter travel in the video above!
Three-Part YouTube Series on Winter Clothing and Shoes
We hope the above tips and ideas help you choose the best winter outfits for airplane travel but if you want more inspiration on warm and comfortable fabrics, and the best winter shoes to wear or pack, we put together a three-part YouTube series on how to prepare for winter travel. Check it out!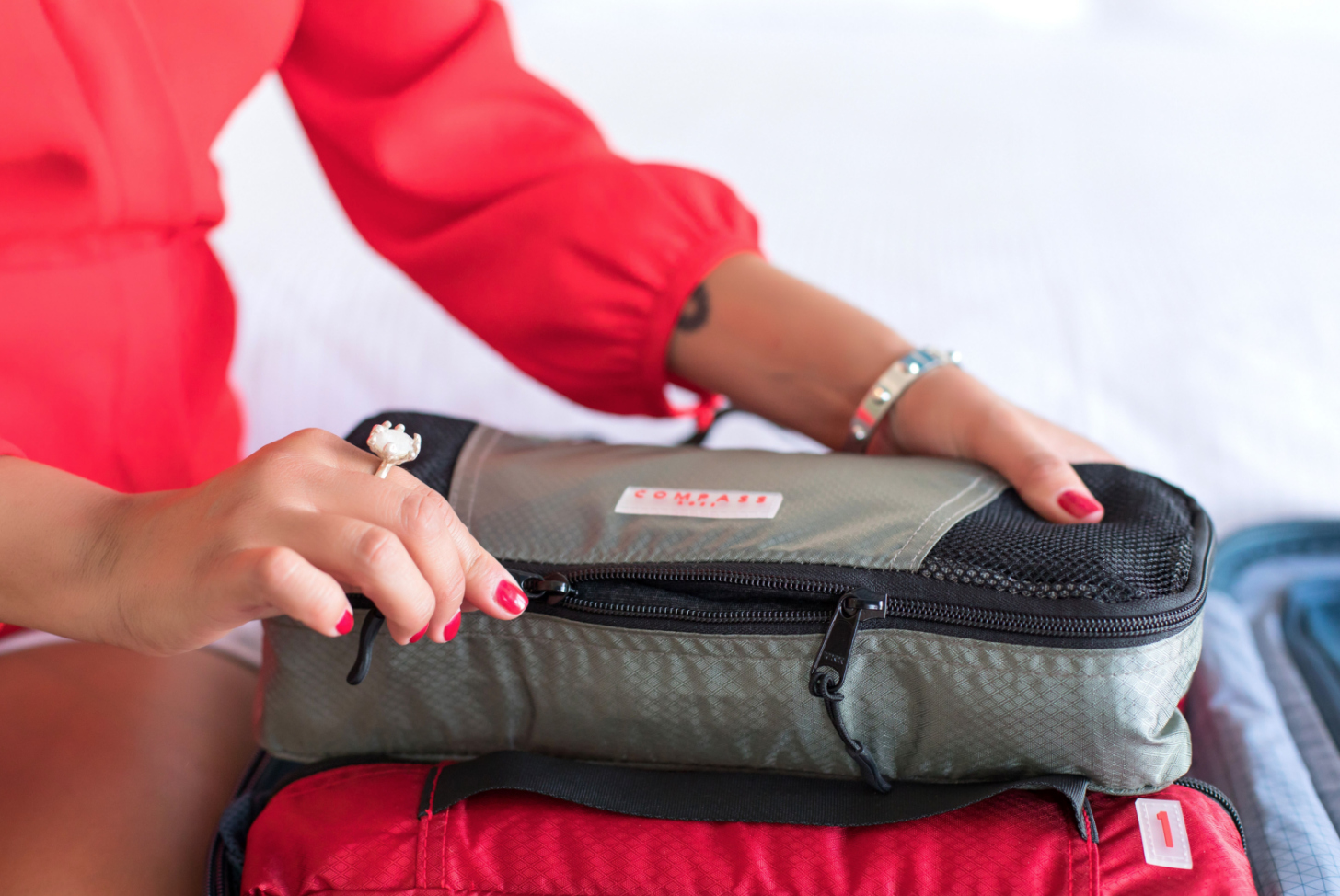 Packing the Rest of Your Winter Travel Wardrobe
Once you have a plane winter outfit figured out, use packing cubes to help organize the rest of your packing list. We designed our own brand of slim packing cubes, with a unique color and numbering system, so it's easy to remember where you've packed everything. 
We put together a five-part YouTube series showing the different methods to use packing cubes for travel. Check out the first video below:
Learn our hacks with packing cubes in this video!
If you use this specific packing strategy, packing cubes can also compress your belongings. This is the secret to traveling carry-on only!
---
What are your favorite types of plane outfits for the winter? Share and comment below!
---
For more winter travel clothing ideas, please read:
---
LIKED THIS POST? PIN THIS PIC TO SAVE IT!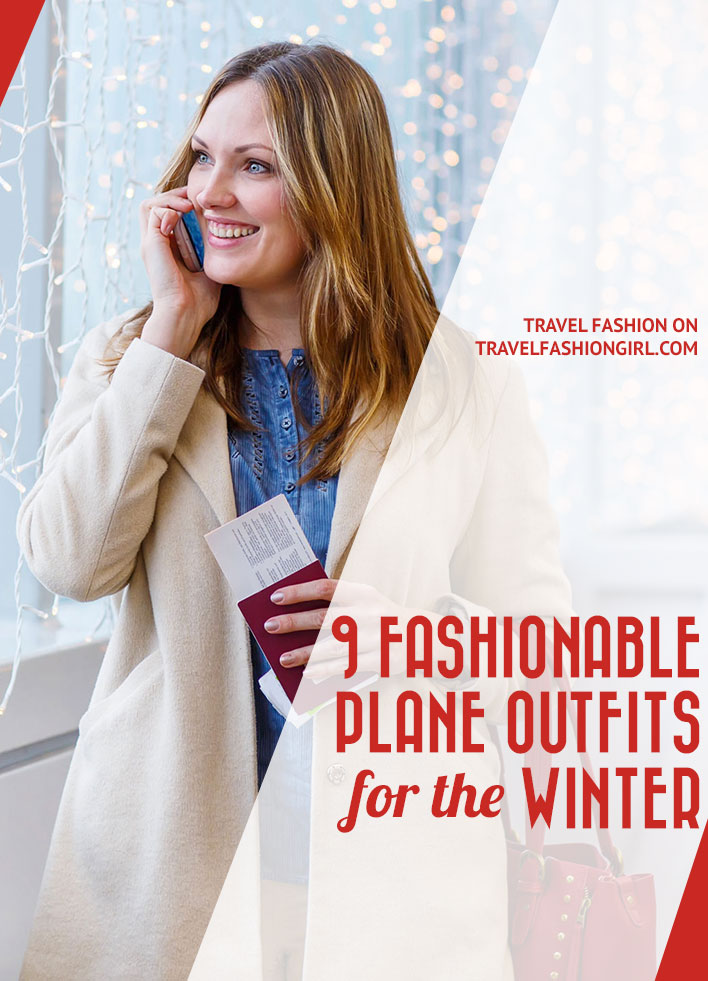 ---
We hope you found these Winter Travel Outfit ideas useful. Please share with your friends on Facebook, Twitter, and Pinterest. Thanks for reading!
---