Support TFG by using the links in our articles to shop. We receive a small commission (at no extra cost to you) so we can continue to create helpful free content. As an Amazon Associate, we earn from qualifying purchases made on Amazon in addition to other retailers featured on the blog. Thank you, we appreciate your support!
Travelers can get caught off guard when traveling to England. I know I did on my first summer visit! Whether you're headed over for summer or winter time, we've got some tips on exactly what to wear in England. Keep reading to learn more!
---
What to Wear in England
Written By: Annie Jarvis, LC, and Lottie
---
England is such an incredible country to visit. While it may appear to be a small island, it offers a huge variety of vacation destinations for all travelers to explore!
For a small country, England sure does experience an awful lot of weather. It can be warm-ish down south and snowing up north. You can leave the house equipped for a rainy day and have the sun shining on you by mid-afternoon.
Here are few more guides to help you plan for your trip:
"Unpredictable" sums up the English climate pretty darn well, meaning that you have to prepare for any and every situation when choosing what to wear in England. That stereotype of the British being obsessed with the weather? Well, it exists for a reason.
Always, always, always, check the weather forecast before your trip. Once you've researched the weather, you can focus on creating a travel capsule wardrobe, which should easily fit in a carryon suitcase with the help of packing cubes to compress your clothing.
So, how do you prepare for a trip which may take you from one end of the country to the other and choose what to wear in England? With a little planning, of course.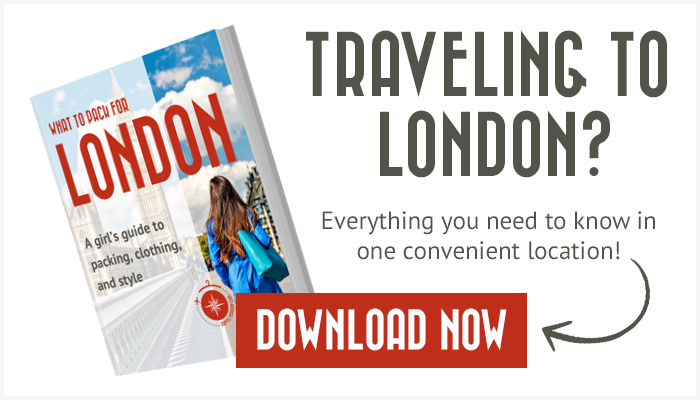 Table of Contents
England Clothing Style
In Britain, it's easy for the traveler to stick out like a sore thumb in walking boots, convertible zip leg trousers, an SLR camera, guidebook, and a backpack. Wearing all this in the middle of London screams, "tourist"! That level of travel gear is more appropriate for countryside treks in the Lake District, for example, not a city.
British fashion isn't quite as chic as the French, and it isn't always as slouchy as American fashion or as zany as Australian fashion. It can be edgy or conservative. But one thing's for sure: just like the rest of Europe, a good fit is key. And when in doubt, choose dressy over casual.
In general day-to-day European style is more dressy than American style. This DOES NOT mean business clothing. When deciding what to wear in England, think dressy top (or the type of top you'd wear to work) plus nice jeans (dark colors are always a good choice).
Slim or skinny fit jeans are the preferred denim option. If that's not your thing, having tailored denim always makes for a smart appearance no matter what the pant style. For example, hemming the leg length so there's not an excess fabric at the bottom.
Tip: ankle jeans are an easier way to get this look without a trip to the tailor.
Like anywhere, what to wear in England depends on the environment. Are you spending your time café crawling in the cities or getting lost in the wilderness?
Also remember that if you forget anything, you'll be able to pick it up when you get there, so don't be afraid to pack light. Try to stick to a small selection of colors to make it easier to mix and match your items.
Need help downsizing your travel clothing? Read TFG's Pack Light Stylishly eBook!
Shirt | Tee | Longsleeve | V Neck | Jersey | Trouser | Jeans 1 | Jeans 2 | Dress 1 | Dress 2 | Jacket | Raincoat | Boots | Flats | Scarf | Bag
What to Wear in England in Spring
Spring in England can be unpredictable. In the earlier months, it can be rainy and chilly and it doesn't always warm up until summer.
In spring, you'll definitely need a jacket and an umbrella. There's a good chance it won't get above the low 60s.
Start by reading these general tips on packing for spring travel:
England Spring Packing List
Just because it's chilly doesn't mean you can't wear spring clothing! If you want to wear a floral dress, pair it with black tights, ankle boots, and a leather jacket.
You may also want to pack some long-sleeve or three-quarter length shirts that you can layer with a jacket and scarves. This way, you can remove layers when you pop into a warm shop or museum.
Don't forget a couple pairs of skinny jeans, either in a dark blue or black wash.
Along with ankle boots, you may want to pack rain boots and pair of heels or dressy flats for nights out on the town.
Top | Blouse | Sweater | Tank | V Neck | Skirt | Leggings | Jeans | Dress 1 | Dress 2 | Jacket | Cardigan | Sneakers | Sandals | Scarf | Bag
What to Wear in England in Summer
It may be hard to believe, but the UK can heat up in the summer months of June, July, and August. Like most European countries, the weather can be unpredictable, which means you have to be prepared for all climates.
When choosing what to wear in England, check the weather forecast in advance, such as around three days before your trip. Generally speaking, on a one week trip, expect three days of sun and four days of gray, cold skies.
Start by reading these general tips on packing for summer travel:
England Summer Packing List
If you're exploring different cities across the country throughout the summer, then the perfect "what to wear in England" outfit would be a summer dress (with layers) or jeans and a blouse.
Throw on a pair of cute but comfortable sandals, ballet flats (super popular), or sneakers to walk around in and you've got yourself the perfect outfit for a summer in England.
Find out how to wear summer dresses in spring and autumn–perfect for England!
It's not always warm, so if you're used to a hotter climate, then you should consider packing layers for extra warmth on your trip. (Learn how to layer here.)
A denim or leather jacket would make a great addition to your summer wardrobe; a lightweight scarf is a perfect accessory and can add warmth, keeping you nice and toasty.
For those cooler days, throw on a pair of dark jeans, a cute top, leather jacket, and a pair of comfortable sneakers that will allow you to walk around for hours on end.
A good alternative to sneakers is a pair of leather ankle boots. They go with a range of different outfits and are perfect for lots of walking and getting caught in the rain.
Find out why ankle boots are the perfect shoe for traveling Europe in spring, fall, and even summer!
Tip: Don't forget to carry an umbrella in your bag even in the summer, as the weather in England can change in an instant.
Sweater | Turtleneck | Blouse | Longsleeve | T Shirt | Jeans 1 | Jeans 2 | Skirt | Dress 1 | Dress 2 | Jacket | Coat | Boots 1 | Boots 2 | Scarf | Bag
What to Wear in England: Fall
England is beautiful in fall. September and October can be so pleasant, which temperatures ranging in the 60s. Rain isn't as predominant in fall as it is in winter and spring, but you may still need an umbrella.
Keep in mind that by the end of October, England starts to get really chilly. Winter comes early and you'll need some layers to stay warm, especially at night when temperatures will drop even more. Keep this in mind when deciding what to wear in England.
Start by reading these general tips on packing for fall travel:
England Fall Packing List
If you love fall and dressing for this season, you'll love choosing what to wear in England. With the chillier weather, it's the perfect time to wear your chunky knit sweaters, beanies, scarves, and boots.
Pair an oversized sweater with skinny jeans and knee-high boots. Layer with a scarf and add a coat or parka in the evenings when it gets colder at night. For a dressier look, pair a long-sleeve blouse with a blazer for day or a coat for evenings, along with heeled booties.
As for jackets, stick to a leather jacket for early fall days and transition to a heavier coat by the end of the season as it gets closer to winter.
Shirt | Longsleeve | Sweater | Blouse | Pullover | Jeans 1 | Jeans 2 | Pants | Dress 1 | Dress 2 | Jacket | Coat | Boots | Boots | Beanie | Bag
What to Wear in England in Winter
Winter in England can be really mild or unbelievably cold. Some days there can be showers with just a little sunshine. However, other times, it can just be a little nippy like fall weather.
Snow isn't too common in London, but happens in other areas of England. Snow can fall anywhere from January through early March, and temperatures can drop to the low 30s.
Before choosing what to wear in England, prepare by packing cold weather layering essentials that allow you to adjust to the weather accordingly.
Start by reading these general tips on packing for winter travel:
England Winter Packing List
If you're exploring towns and cities, then a pair of jeans is a great place to start when deciding what to wear in England. If you find that you get extra cold, pack thermal leggings to wear underneath.
Layer up with a long sleeved top, a warm sweater, and a waterproof jacket to keep extra toasty and avoid getting soaked by the inevitable rain.
We recommend these waterproof rain coats!
If you're the type of girl who loves wearing dresses then I'd recommend choosing a thick fabric material as well as thick tights and ankle boots.
Accessories like hats, scarves, and gloves are also great for winter in England as they look stylish and add an extra layer of warmth.
If you're planning on spending time in the English countryside, then your outfit choices will definitely vary.
When visiting areas like the Lake District, it's worth investing in comfortable hiking boots that will allow you to go on long walks no matter the weather. For festivals like Glastonbury and muddier adventures, wellies (rain boots) are an absolute must.
Here's exactly how to stay warm in cold weather (written specifically for England)!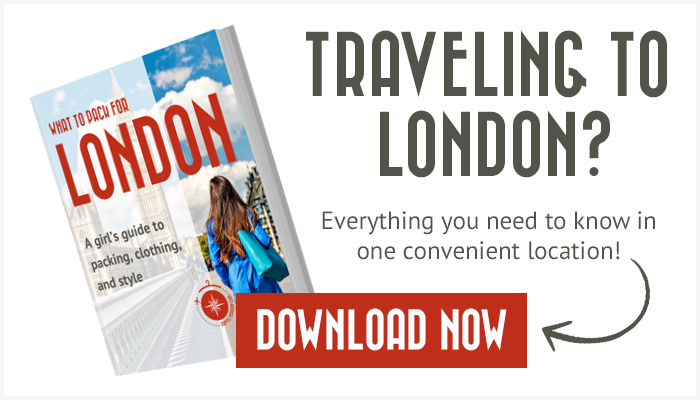 Now let's look at some outfits to wear to some of the most popular cities in England:
V Neck | Top | Long sleeve | Shirt | Tee | Jeans 1 | Jeans 2 | Leggings | Dress 1 | Dress 2 | Sweater | Coat | Sandals | Boots | Necklace | Bag
What to Pack for Newcastle
Bring your best party dress and highest heels. Seriously.
Newcastle is renowned for its nightlife and girls tend to get glammed up to the max before heading out to paint the town red. The higher both the hem of your skirt and your own heels, the better you'll fit in.
If your travels call for heels, here are practical styles of comfy heels to choose from!
If you have an aversion to the cold and don't like heading out without bundling up, be warned–you may stick out like a sore thumb. Northern women tend to leave their coats at home, braving the cold (and sometimes snow) to walk from club to club. Geordies are made of strong stuff!
During the day, you'd blend right in with jeans and leggings and a cute top, so keep this in mind for what to wear in England. Wear your ankle boots out and about to give your feet a break from the heels.
And if you're visiting Newcastle during the winter, bring a warm coat. It gets quite cold up north, as I'm sure you can imagine!
Find out our stylish strategies on how to layer clothes for winter!
Tee | Shirt | Sleeveless | Blouse | Tank | Jeans 1 | Jeans 2 | Leggings | Shirtdress | Dress | Jacket | Hoodie | Boots | Sneakers | Necklace | Bag
What to Pack for Leeds
Leeds is a student city, so if your style is a bit quirky, this is where you'll shine. Either way, if you're a fan of casual styling, you'll probably feel right at home in Leeds.
I love t-shirt dresses as they're super comfortable and can be worn with jeans, tights, or leggings. The same can be said for white linen shirts, especially when paired with a pair of black jeans. You can glam them up with a leather jacket, cheap chunky necklaces, and bracelets for a night out.
Find out how to turn all of your dresses into versatile dresses!
Due to the high population of students, some bars and clubs in the city are pretty darn lax on the dress code, but others require patrons to dress a little more on the "smart" side of smart-casual. Any potential hiccups can be avoided by looking up the requirements of nearby establishments before you head out for the night.
Longsleeve | Tank | Blouse | Top | Shirt | Jeans | Skirt | Tights | Dress 1 | Dress 2 | Raincoat | Jacket | Boots | Shoes | Beanie | Crossbody
What to Pack for Manchester and the Peak District
You'll find two types in Manchester: the artsy types and city girls who are dressed to the nines. No matter which category you fall into, you'll fit right in with a pair of nice jeans and a cute top. I'm a fan of hats and like to bring a couple of beanies when traveling through England, which I can then rotate accordingly.
It gets a bit humid in the city in the summertime, so try to keep select wardrobe pieces made of natural fibers, which won't get too damp or sweaty.
Manchester tends to get a fair bit of rain. Bring some wet weather gear, or buy some while you're there. No matter the weather, I take my favorite raincoat everywhere in England during the summer months. That way I'm not caught out should the weather turn and I have to say–it photographs quite well! It's my top recommendation for what to wear in England.
Take a look at these stylish and Insta-friendly travel raincoats for women!
Manchester can also play gateway to the nearby seriously underrated Peak District. Should you visit the area, the same rules apply anywhere else in the country–the weather can and will change, without warning.
Even in the summer months, you'd do well to bring along a pair of sports leggings that you could swap out your shorts for, if you find you're chilly. If you plan on doing some serious hiking, bring your boots and wear them with a pair of merino wool socks.
If you don't fancy bringing your full wet weather gear, a reusable poncho will do in a pinch.
Find out the best leggings for women who travel!
Tee | Top | Sweater | Sleeveless | Blouse | Skirt | Pants 1 | Pants 2 | Dress 1 | Dress 2 | Jacket 1 | Jacket 2 | Boots | Sneakers | Swimsuit | Bag
What to Pack for an English Beachside Vacation
Summertime in England can be a bit all over the place, to put it delicately. One day it's bright and sunny, then a chill comes in and you're hit with an afternoon shower.
My advice for what to wear in England when visiting the beach? Layer up.
Read these tips on what to wear on a rainy day!
The vibe in the southwest parts of the country is outdoorsy, even a bit "surfy" or "earth mother". Jeans or leggings are a good bet, or a pair of loose linen trousers.
I like sleeveless blouses made out of lighter fabrics like cotton, particularly if you can tie them up at the hem. These look quite effortlessly nice when paired with long skirts–more so if the tops are cropped.
I also find scarves to be an invaluable accessory in England. You can always tie it to your bag so it's ready and waiting should the weather turn and you find you suddenly need it!
Pack a couple of nice summer dresses that you can wear a leather or denim jacket over. I have a pair of vintage cowboy boots, which pair up really well with this kind of look.
There's little need in general for heels in places like Devon or Cornwall. I'd opt instead for a pair of plimsolls (canvas shoes) or a pair of cute ankle boots in black or tan. These shoes are perfect if you're planning on doing a bit of walking along England's beautiful coastline.
Tan or brown leather is extremely versatile and popular in boots. Find out why ankle booties are the best travel shoes for Europe!
And of course, pack your swimsuit! If it's a warm day, I'd advise heading to the beach earlier rather than late, as they tend to get packed. Don't forget your sunglasses and a non-toxic sunscreen.
No matter where you are in England, you'll be ahead of the game simply if you check the weather report online before you head out for the day. That way you'll be prepared come rain, shine, or whatever else Old Blighty decides to throw your way.
Tee | Blouse 1 | Blouse 2 | Sweater | T Shirt | Skirt | Jeans 1 | Jeans 2 | Dress 1 | Dress 2 | Jacket | Coat | Flats | Boots | Scarf | Bag
What to Wear in England: London
What to wear in England when visiting London has everything to do with the weather. British fashion is partly defined by the country's infamous grey skies. It's unpredictable and changeable, but here's a rule of thumb: when the weather forecast tells you that it will be sunny all week, be prepared for rain anyway.
No matter the time of year, always keep a travel-size umbrella in your purse.
For city exploring, bring your jeans. They aren't appropriate for hiking, but I can't think of anything more ideal to wear while walking around London. Slim or Skinny fit jeans are a go-to stylish option for London, especially if you're not visiting in the few summer months.
Tip: ankle jeans are an easier way to get this look without a trip to the tailor.
In terms of tops, your picks will depend on the season. In fall and winter, you'll want to wear lots of layers and sweaters. As spring is a transition period between winter and summer, layers are still important when planning what to wear in London, but in the later months think about swapping that chunky coat for a regular jacket.
In summer, bust out the dresses, sunglasses, and hats. Once again, be aware of the breeze and consider layering. Sometimes jersey skirts and dresses hold their shape better than wispy skater styles.
Ultimately, you'll want to dress for the weather, activity, and environment; make sure you're comfortable and always carry an umbrella with you.
Scarves are extremely versatile. In the winter, a chunky knit will keep you snug, while in the summer, a lighter scarf can help protect you from the sun. If you're not used to colder climates, still plan for "winter" weather year-round.
Follow these tips on how to pack for cold weather and find out why layers are the key!
England Travel Essentials
The perfect accessories to add color to any outfit are a handbag and a scarf. You can use your handbag, belts, and scarves to brighten up an otherwise neutral outfit. Don't forget the perfect daytime accessory: sunglasses.
The perfect travel bag is a crossbody bag. To take your look from day to night, use a removable chain or strap to transform it from a crossbody into an elegant clutch.
England Packing Don'ts
One unexpected issue that many travelers discover once they get to Europe are the cobblestone streets.
While great to look at, stone streets aren't always the easiest to walk on and can make for sore feet even if you don't normally have discomfort. Depending on the city, these streets can also be hilly, slippery when wet, and uneven.
In addition, we all love to dress up, but avoid heels because they'll leave you feeling uncomfortable. Opt for wedges if you must bring a heel. Do include one pair of shoes and one outfit that can be worn for dining out or experiencing the local nightlife.
England Shopping
Having trouble deciding what to pack for England? If in doubt, bring an empty suitcase and head to the nearest Primark or H&M to stock up on cheap clothing that is both weather appropriate and local-approved.
For a popular and stylish shop that's found almost anywhere, visit Topshop and Zara. These are all very popular chain clothing stores in England.
If you're looking for a fancy department store, try Harrod's, which is the Bloomingdales of England. Like America and Canada, there are Westfield shopping malls throughout England where you can find a bunch of shops.
England Luggage Tips
So the hard part's out of the way; after much turmoil you've finally perfected your travel wardrobe and created a chic capsule collection – now it's time to get packing! Which luggage will work best for you?
Depending on how many days or weeks you're traveling, you may want to use packing organizers, which allow optimum use of the space in your luggage, keeping everything organized and in place during your travels, and making the task of unpacking and repacking simple and stress-free.
As you're headed to fashionable Europe, use an equally stylish carry-on, such as the Osprey Ozone, which is a personal favorite. Keep in mind that most of Europe's budget airlines have a carry-on bag allowance of 55cm x 40cm x 20cm. Always check your airlines individual baggage rules and regulations in advance.
England Accommodations
For accommodation, we love Airbnb for accommodation in England and other parts of Europe. Sign up here for a free $40 credit!
I prefer to book "the entire home" instead of opting for shared accommodation on Airbnb. Aside from safety, I also like to feel like I'm living in the destination.
It's a small taste of local life plus you get more amenities than you would at a hotel such as a kitchen and washing machine.
Read these Airbnb tips for more info!
If you prefer the convenience and comfort of a hotel room, I like using both Agoda.com and Hotels.com. Tip: Hotels.com gives you a free night for every ten nights you book!
For flights, I like booking through Travelocity or Cheapoair (whichever one's cheapest). Although I prefer Travelocity because they have a 24 hour money back guarantee.
To maximize your vacation time, fly into the city where you're starting your trip and out of the city where your trip ends. Many times it's the same price and saves you from having to spend extra time and money to go back to where you started your trip.
For hostels, we recommend Hostelworld and Hostelbookers. Always read the reviews before booking to get the best idea if the hostel is right for you. Some are quiet and family friendly while others are known for their party atmosphere.
Not sure about staying at a hostel? Read this.
England Transportation
England offers some of the best public transportation in the world. The underground tube in London is very efficient and stops all over the city. To get in and out of the city, England has a fantastic train system, which is easy to access and use to get around the country.
To reach smaller destinations off the beaten path, you can take a bus, or even rent a car. Just remember, if you're not from England, Australia, or Japan, it may be confusing driving on the opposite side of the road!
For flights, I like booking through Travelocity or Cheapoair (whichever one's cheapest). Although I prefer Travelocity because they have a 24 hour money back guarantee.
To maximize your vacation time, fly into the city where you're starting your trip and out of the city where your trip ends. Many times it's the same price and saves you from having to spend extra time and money to go back to where you started your trip.
England Must-See Sites
There are so many amazing sites to see in England. As many people start or end their journeys in London, make sure you check out Big Ben, the Tower of London, Westminster, and the Eye.
Outside of London, the world is your oyster, depending on which landscape you love most. For a beautiful seaside trip, consider Brighton. For style and history, visit Bath. The Lake District offers a beautiful landscape and a chance to immerse yourself with nature. Or, keep trekking up north and stop by Scotland or Wales.
For city tours, New Europe has excellent tours. And the best part? They're free! All you have to do is tip your guide.
These are a few popular England guidebooks:
England Safety Tips
Be cautious about where you stash your cash so you don't fall prey to muggings and pickpocketing. Make your clothing theft-proof and choose items with strong zippers.
Jeans are handy for this reason: you can put important items, like your wallet and phone, in your front pockets, where it's very difficult for a wandering hand to snatch it. Add items like the Secret Stash Bra Pocket and Underwear with Pockets to your packing list.
And be mindful of purse snatchers! They either slash the bottom of your bag so the content fall out or slash the strap. Wear your purse strap across your body and the zipper towards the front. For extra security, check out the "theft-proof" bags featured in this post about crossbody purses.
These are articles with other suggested anti-theft products:
Remember, the safest place for your passport is locked in your accommodation. Carry a photocopy or other ID when you're sightseeing or are out at night.
Read these tips on how to keep your passport safe when you travel!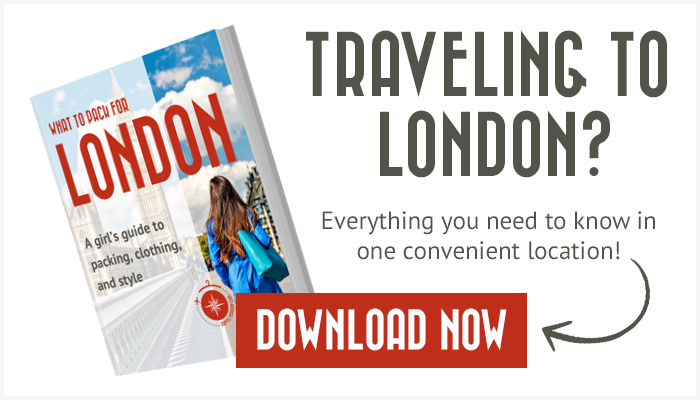 ---
What are your tips on what to wear in England?  Please comment below!
---
For more packing tips, please visit these Europe Packing Lists:
Suggested travel resources:
---
LIKED THIS POST? PIN THIS PIC TO SAVE IT!
---
I hope you enjoyed this post on what to wear in England. Please share it with your friends on Facebook, Twitter, and Pinterest. Thanks for reading!
---
Author Bio: Annie Jarvis is relatively new to the traveling world and just completed a five month journey around Southeast Asia, India, and the US. She loves diving, skiing, cooking, hiking, and writing about her adventures on her Refreshing the Page blog.
---