Support TFG by using the links in our articles to shop. We receive a small commission (at no extra cost to you) so we can continue to create helpful free content. As an Amazon Associate, we earn from qualifying purchases made on Amazon in addition to other retailers featured on the blog. Thank you, we appreciate your support!
Have you ever been at an airport and witnessed unprepared travelers causing delays in the check in or security lines as they haphazardly fumbled with their belongings? No one wants to be that person. As the busiest flying time of the year quickly approaches, here are some of my best air travel tips to help you get through the airport with ease!
---
Fly like a Pro: 5 Steps to Breeze Through Security
---
Step 1: Carry-on only
Check in to your flight in advance. Flying carry-on only lets you skip long check in lines if you print your boarding pass at home.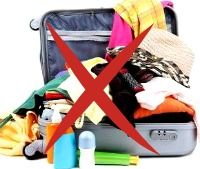 Make sure to verify the carry-on baggage restrictions for your airline in advance to avoid unexpected fees. (Not sure of the luggage restrictions for your airline? Ask the airline on social media for a quick reply!)
When flying carry-on only, make sure all of your liquid or gel toiletries including lotions and scrubs are all under 100 ml or 3 oz. They should all fit in one quart size Ziploc with reusable travel organizers. (TSA travel size rules may change but your goal to pack light shouldn't. Don't pack full size toiletries.)
Pack your Ziploc in a convenient location or keep it in your personal item until after you go through security.
Remember: You don't always need to pack the maximum quantity of toiletries allowed. Pack only what you need. Read this post to learn all about how to down size toiletries.
Step 2: The Security Line
Head straight for security upon arrival with boarding pass in hand or on your phone if applicable. Check for your gate on the signs throughout the airport. This is usually posted 1-2 hours before boarding time.
Before security even warns you, prepare yourself with the following: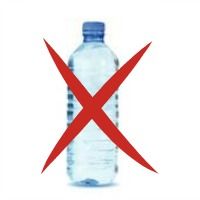 Finish your water bottle and throw it away or finish your water. (You can keep empty water bottles to refill them at available water fountains on the other side.)
While you wait in line at security, begin removing small items like jewelry and metal accessories. Even if you don't think a small pair of earrings, rings, or bobby pins will trigger the metal detector just remove them. Why risk getting searched?
Put small items and jewelry in a jacket pocket or your purse to keep them safe while they get scanned.
Be proactive and remove closed toe shoes, jackets, scarves, and hats.
After, remove your laptop (if applicable) and have it in hand to place on a tray on its own as you approach the front of the line.
When it's your turn to go, place your carry-on first then grab a tray or two and place your loose belongings in one and your laptop in another.
Quickly place them on a tray and walk through the metal detector or body scanner.
Step 3: When you pick up your items
Once you're through security, grab your items and MOVE AWAY QUICKLY. Please do not hold up the line.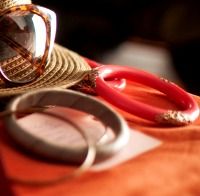 DO NOT stand in line to put away your laptop, shoes, jewelry, coat, scarf, etc. Get them and move. This avoids you causing a traffic jam and makes you look like a pro.
Retrieve your belongings from the conveyor belt and take them to the seating area just past security. Sit down comfortably and take your time without delaying other travelers. This also gives you the chance to re-organize items and place them in the correct location. Find out how I organize my belongings.
Step 4: Before boarding the plane
Determine what items you want to use during the flight and remove them from your luggage BEFORE boarding the plane.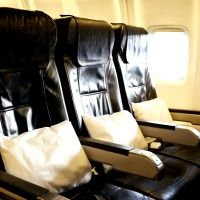 Be prepared and organized so you're not the person stopping the line as people try to find their seats.
For items you want to use in-flight, place them into your purse, a packable tote, an Airpocket, or hold them as you board the flight. You can replace them in your suitcase once you disembark the plane upon arrival at your destination.
Struggling with strict baggage restrictions? The key is to choose a lightweight suitcase and follow these 7kg packing hacks.
Don't forget to bring some form of entertainment, ear plugs, and neck pillow for comfort! Read these tips on how I organize my in-flight travel essentials.
---
 What are your best air travel tips to fly like a pro?
---
For more tips and ideas on how to fly like a pro, please read:
---
Hope you enjoyed this post on the best air travel tips to fly like a pro. Please share it with your friends on Facebook, Twitter, and Pinterest. Thanks for reading!
---