Support TFG by using the links in our articles to shop. We receive a small commission (at no extra cost to you) so we can continue to create helpful free content. As an Amazon Associate, we earn from qualifying purchases made on Amazon in addition to other retailers featured on the blog. Thank you, we appreciate your support!
Soaring temperatures are bad enough. It's even worse if your clothing doesn't breathe or is too heavy. If want to stay cool during your travels, read our readers' tips on how to pack light for hot weather!
---
Packing Light for Hot Weather
---
Table Of Contents
Travel Fashion Girl help! A reader asks:
"Question for all you experienced travelers. How do you pack light for a destination that's hot and humid? I'm traveling to Vietnam and would like to pack as light as possible."
Packing light for hot and humid destinations can be just as hard, if not harder, than packing for cold weather. While in winter you can re-wear items, in hot weather it can be more difficult thanks to the sweaty weather.
Rather than over-pack, follow our readers' tips on how to pack light for hot and humid weather.
Choose Hot Weather-Friendly Fabrics
Look for fabrics that are breathable and airy like the  J. Crew 365 Stretch T-Shirt. Polyester and chiffon can be really hot, so instead reach for our readers' favorite fabrics for travel in hot weather. 
Watch the video review to discover why TFG editor loves this white tee!
Quick Dry Fabric
Many athletic and outdoor brands use quick dry fabrics that are specifically created to wick sweat and moisture to keep you feeling dry. One reader says, "I swear by quick dry clothes from REI, Academy, Athleta, and Columbia. My Anatomie Skyler pants are fantastic, and Eddie Bauer has some nice quick dry shirts." If you're a style-conscious female traveler that's always on the go, these are perfect for you. Watch the video  below to learn why!
Learn more about the Skyler Anatomie pants in this video review
Find out what's the best travel pants for women!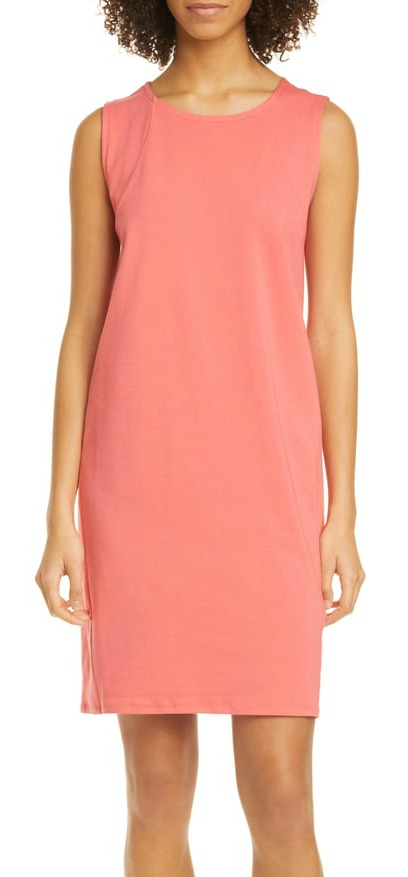 Eileen Fisher Jewel Neck Sleeveless Organic Cotton Shift Dress
Cotton
If you don't like the look or feel of quick dry fabrics, cotton is perfect for hot weather. But as one reader says, "make sure it's 100% cotton, not cotton knit. It makes a difference!" The great thing about cotton is that it's breathable, so heat can escape the body and help keep you cool. Plus, it's readily available and inexpensive.
Linen
Similar to cotton, linen is another breathable fabric that's easy to wash on the go and dry quickly. One reader says, "I like to bring linen pants and tops. They are cool to wear and easy to wash. Plus they dry easier than other fabrics," while another adds, "linen is very airy. I wouldn't have believed it until I wore it in 100-degree humidity!"
Linen clothing is perfect for summer and warm weather travel!
UPF Clothing
There are a number of brands that create UPF clothing, which is clothing that actually has SPF infused in it. Because they provide SPF protection, they're made with sunny weather in mind. These fabrics are lightweight and can be worn for city exploration or more vigorous walking and hiking.
Here are some of the best UPF clothing that will keep you protected from the sun, and looking great, too!
ExOfficio Give-N-Go Bikini Briefs
Pack More Undergarments and Less Clothing
When in hot and humid weather, the layers closest to your body will sweat the most. Rather than fill up your luggage with bigger items like pants and shirts, pack more travel undergarments. This way, you can feel fresh by changing them regularly and then re-wear your outer garments, like dresses, tops, and bottoms.
One reader says, "pack fewer of the outer garments and more of the under since you sweat through the under layers more. You can usually pack more undies and undershirts since they are so light and take up little space."
Here's the best travel underwear for women and the brands that top our list!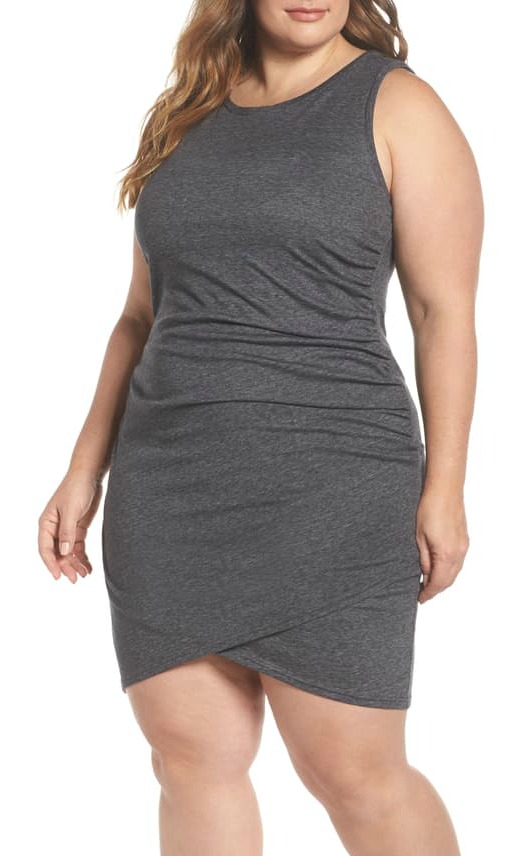 Swap Pants and Shorts for Dresses
Dresses are the perfect clothing piece for hot and humid destinations, as well as for packing light. For one, dresses are a top and bottom all in one, so you can save space when packing. Additionally, dresses offer more movement than shorts or pants, letting your body breathe.
The womens Leith dress above is offered in XXS-XL and 1X-4X, able to accommodate various shapes and sizes, which is what makes this item so popular with readers. Read my review why Leith dress is a reader and TFG editor-in-chief favorite!
This video shows why the Leith dress works with boots or other accessories!
One reader says, "I always go with skirts instead of pants or even shorts when I travel too warm and especially hot places. Dresses are even better. Much cooler!"
Stay cool in the heat with these airy dresses!
Travel Laundry Clothesline Kit
Wash Clothing During Your Trip
The easiest way to pack light is to do what one reader does: "take enough clothing to last half of your trip. If you can't re-wear it, do laundry halfway through the trip." Some hotels and Airbnbs have washing machines, while in other areas it's inexpensive to pay for laundry service.
One reader says, "I hand washed a lot in Thailand. It was often hot and sunny during the day so my clothes dried fast if I hung them to dry outside."
Find out how to handle dirty laundry while traveling!
Purchase Items at Your Destination
Depending on where you're headed, it may be worth purchasing inexpensive items that you can donate at the end of your trip. One reader says, "buy a few items there so you can take the washing of clothes off of your list of concerns." 
In Vietnam and other countries in Southeast Asia, clothing is really cheap. You can purchase some during your trip and donate it to a charity before you leave for home.
Make sure to always pack some packable tote bag when you travel. This Baggu Reusable Shopping Bag are remarkably versatile nylon tote bags that can easily be slipped in your luggage!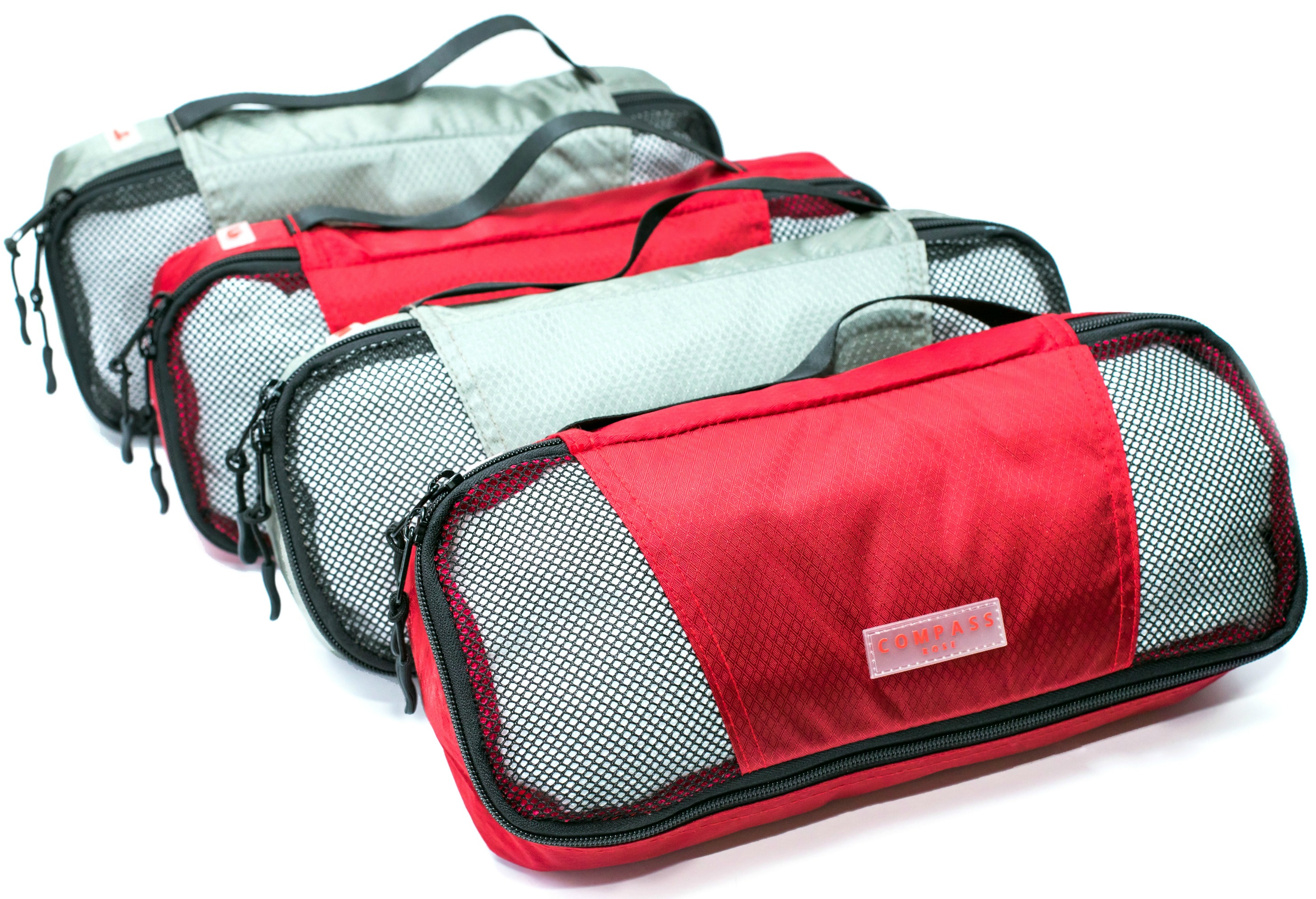 Compass Rose Compression Packing Cubes
Use Packing Cubes
Throughout the past nine years of full time traveling, I've used various other brands including AmazonBasics, eBags, Pro Packing Cubes, Travel Wise, and Dot & Dot, too.
While these packing cubes all have their benefits, I've now created my own version that will take your organization to the next level: the Compass Rose Compression Packing Cubes shown above!
Learn our hacks with packing cubes in the video above!
In 2017, I launched Compass Rose Travel Accessories and my very first product was a 4-Piece Set of Carryon Packing Cubes. These are the only packing cubes sized to fit the exact width of a carryon suitcase and they also have a unique color-coded and numbered organization system – the only kind currently available anywhere on the market.
I put together a five-part YouTube series showing you the different methods to use packing cubes. If you use this specific packing strategy, they can also compress your belongings. This is the secret to traveling carryon only!
Buy Compass Rose Packing Cubes here!
---
Do you have any tips on how to pack light for hot weather? Share in the comment section below!
---
For more travel packing tips, please read:
---
LIKED THIS POST? PIN THIS PIC TO SAVE IT!
---
I hope you liked this post on packing light for hot weather! Please share it with your friends on Facebook, Twitter, or Pinterest. Thanks for reading!
---